Ezra Pilpus' Mac and iPhone setup
January 11, 2016
Every week we post a new interview with someone about what software they use on their Mac, iPhone, or iPad. We do these interviews because not only are they fun, but a glimpse into what tools someone uses and how they use those tools can spark our imagination and give us an idea or insight into how we can do things better.
New setup interviews are posted every Monday; follow us on RSS or Twitter to stay up to date.
---
Who are you and what do you do?
Hello, my name is Ezra Pilpus, living in Brunei Darussalam. Most people know me as a photographer, shooting portraits mostly. I'm also running a site – We Shoot Souls. I do have a full-time job teaching Math at a local high (or secondary, as we call it here) school. I've also recently become a father to our first daughter.
What is your current setup?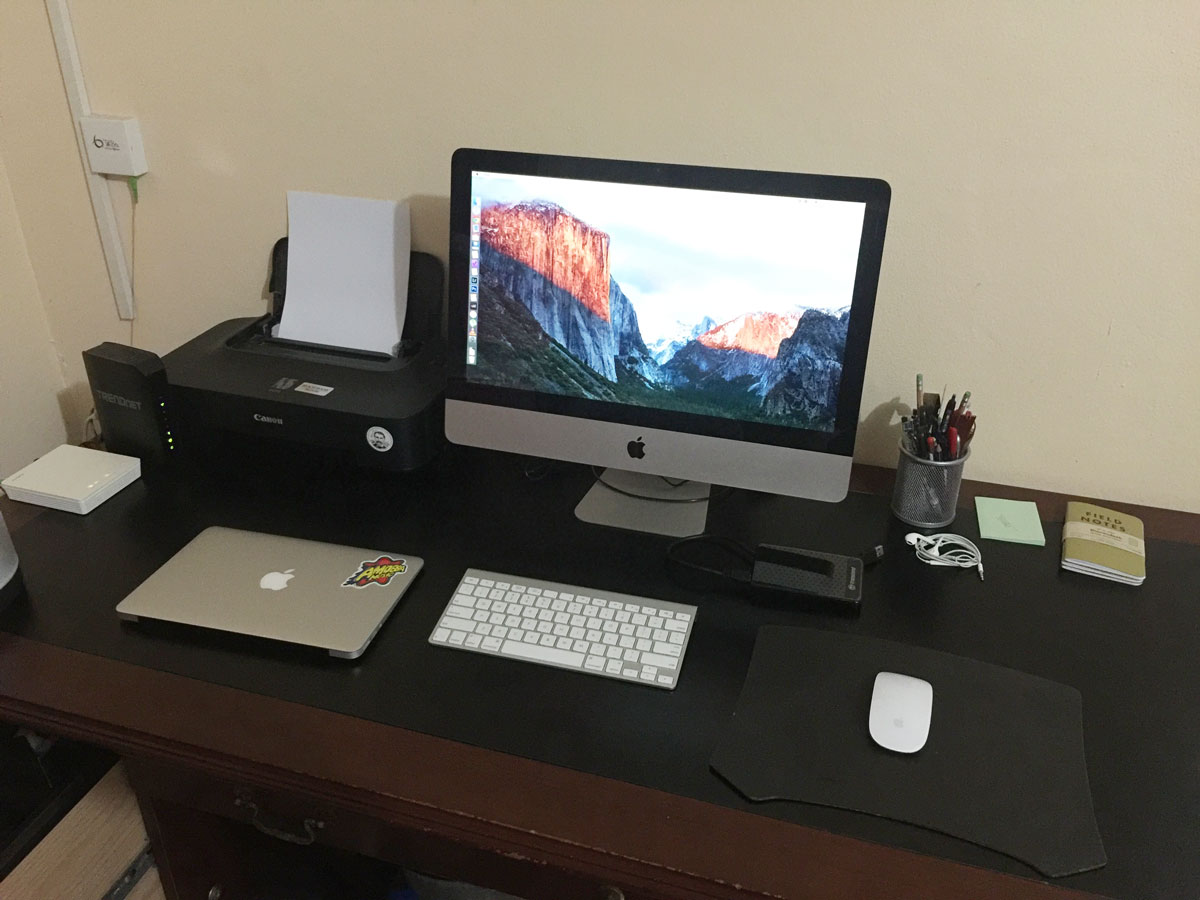 I've been using a mid-2011 iMac for 4 years now. I'm so impressed with how solid this computer is, and I've never encountered a major problem so far. Attached to the iMac is a Canon Prima iP2772, which I use mostly to print out any school-related documents and worksheets, and a Trendnet AC1200 Dual Band Wireless Media Bridge, which is our Wi-Fi hotspot at home.
Next to it is my little analog setup where I put my pens, Field Notes, several business cards, etc.
I have a 1TB external hard drive by Transcend inside my drawer to store photos and purchased music outside iTunes.
I also carry a Macbook Air (11″, mid-2012) as a primary portable device when I'm at work or on holidays.
What software do you use and for what do you use it?
I use OmniFocus all the time. This is my primary tool to handle all tasks and projects for school, family, photography, reminders to pay bills, etc. I recently upgraded to OmniFocus Pro and I totally love how you can create your own perspectives. I created my own perspective – Today – so I can focus on all the flagged tasks I need to do that day. I also use the native Reminders app to share grocery lists with my wife.
For regular browsing, online shopping, or payments, I can't live without 1Password. I regularly clean out my browser's history list weekly, including any saved passwords. So, when I need to log in to a certain website, 1Password already has my logins, plus my credit cards details whenever I need to make an online purchase.
As a photographer, I use Adobe Lightroom to import photos. The best images will then be processed using VSCO Film or Mastin Lab presets. Any minor tweaks or adjustments to the photos will be used in Adobe Photoshop. The final images will then be exported to Dropbox and Copy as backups.
As a teacher, I use Microsoft Office 2016 (which I feel is a great upgrade to the previous one) to create my weekly plans, worksheets, memos etc.
For productivity and entertainment purposes:
Day One – to document what I've done every day.
Fantastical 2 – to check my daily schedules.
Tweetbot for Mac – to check tweets, basically. I love its new Stats tab.
iTunes/Deezer – to listen to music. I use Deezer just because Spotify and Apple Music are not available here.
I use the native Mail app for emails. I don't know, this one works for me.
I recently transferred all my notes and drafts to the new Notes app. I love it! I wish it had the ability to create tags, but I like it so far.
How would your ideal setup look and function?
I'm actually happy with my current setup, but I would love to upgrade to a new iMac with Retina display. I don't have a proper backup system, so right now everything is stored in Dropbox. If anyone can teach me to set up a backup system, I'd be happy.
---
What iPhone do you have?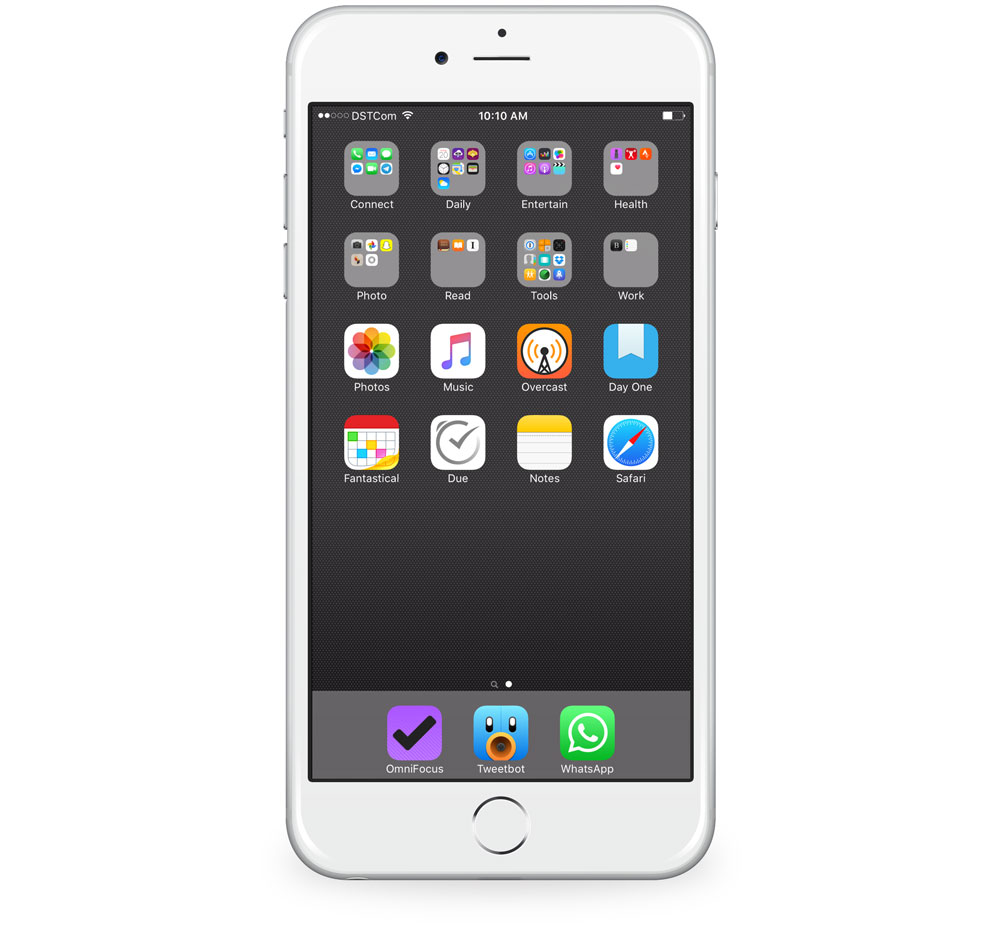 I'm using a silver 128 GB iPhone 6 Plus with a 0.35mm The Veil by Caudabe as a case.
I decided to keep one home screen only since listening to CGP Grey's method in the Cortex podcast. Though, I currently have 2 rows of folders instead of 1 because I feel it's easier to classify apps into the appropriate folder. And, three apps in the dock looks nicer!
What apps do you use the most, and why?
OmniFocus – it's my primary tool for doing today's tasks.
Safari – browsing.
Tweetbot – I don't really check it when I'm on the go. I find the icon nice to look at, especially when it's put in the middle of the dock
WhatsApp – I'm not a big fan of WhatsApp, and I would rather use Messages. I use it just because my family, colleagues, friends, and online sellers communicate through WhatsApp, so it leaves me with no choice!
Overcast – I'm a huge fan of podcasts, and right now I'm listening to Lore, the Black Tapes Podcast, Reply All, Song Exploder, and Limetown.
VSCOCam – This is my go-to app to edit the iPhone photos. They recently added the horizontal/vertical perspective editing which is a huge win for me.
Notes – This has become my recent go-to note taking app.
Due – I use this for any quick chores and errands that I need to take care of outside of OmniFocus. The timers are amazing as well – especially power nap. It works!
Instagram – I share my photography work here and follow others that I find inspirational. Right now, I'm taking a sabbatical from Instagram for a few weeks. It can be quite addictive!
Which app could you not live without?
I think when you strip down all the fancy features and apps, I'd say Phone and Messages. I can communicate with my family and friends outside home, and that's all I need. I'm fine not having the rest. Oh yeah, I also can't live without the camera!
---
There are more Sweet Setup interviews right here.