Event Notes in Craft Are Awesome for Time Blockers
February 15, 2022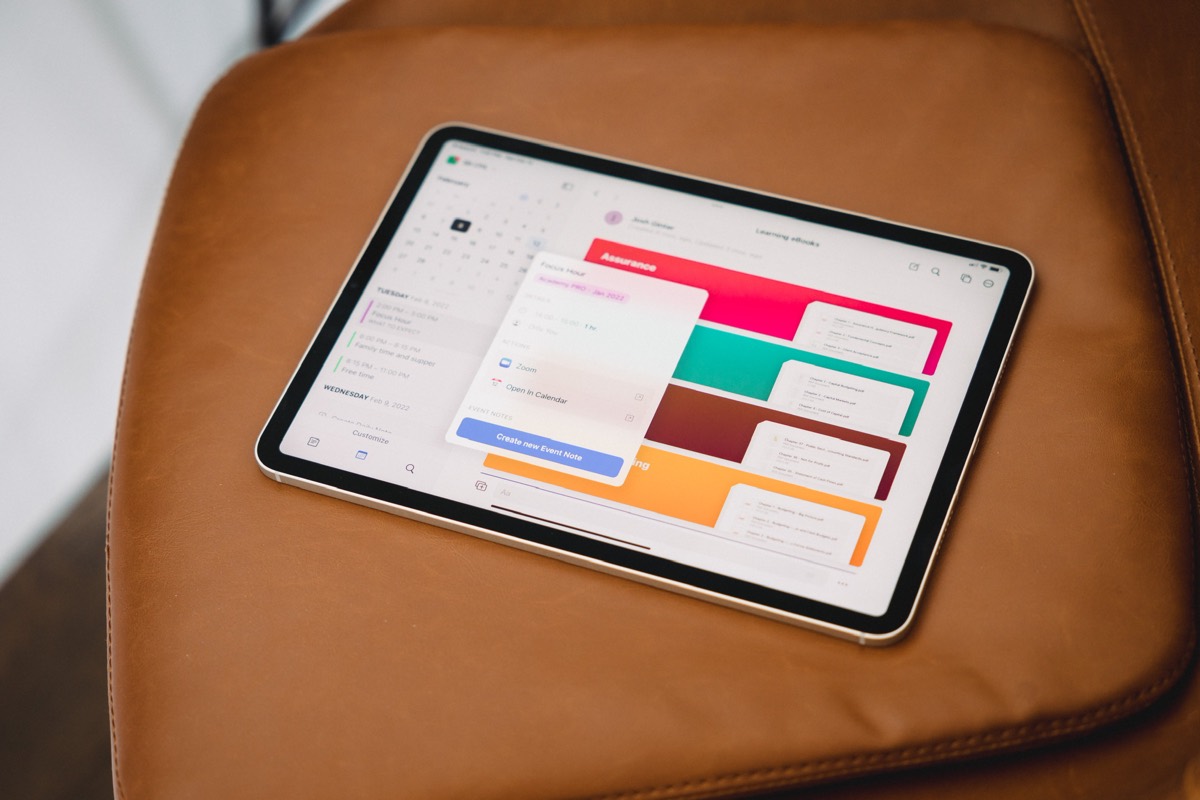 Daily Notes became a hallmark feature in Craft in short order. The quick and easy ability to create a note, specific to a calendar date, that could be linked and back-linked across your entire Craft database made the feature a perfect option for collecting digital paraphernalia.
However, flying under the radar were Event Notes — a note page specific to a calendar event (rather than a calendar date). Event Notes are equally as powerful Daily Notes.
Especially if you're a time blocker.
Event Notes are so good that I'd like to see calendar apps consider implementing such a feature. There's something particularly appealing about searching for a specific event you know you attended to find all your notes from that event, all in one spot.
How to Create an Event Note in Craft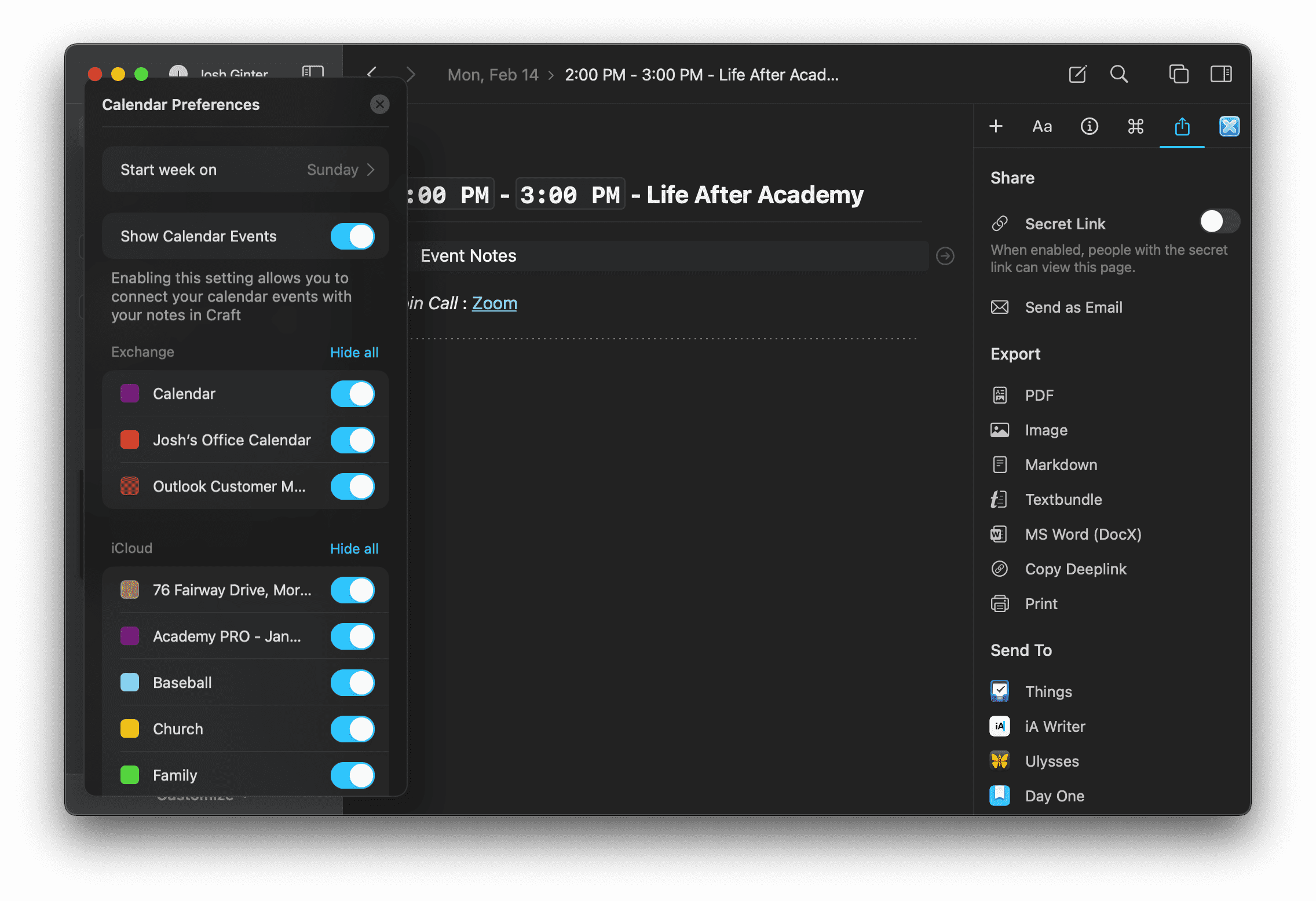 Before you can do anything with calendar events and daily notes, you need to ensure Craft has access to your calendars. In Craft's left sidebar, click the little calendar icon and then click Customize at the bottom of the sidebar. Toggle Show Calendar Events on. Then re-click Customize and click Restart App. After Craft has restarted, clicking Customize again will provide you the option to turn certain calendars off and focus which calendars Craft will integrate with.
At the bottom of each calendar date in that sidebar, you'll note the Create Daily Note button. Clicking this creates a new daily note with that particular date as the title. Easy peasy, exactly how you'd expect this would work.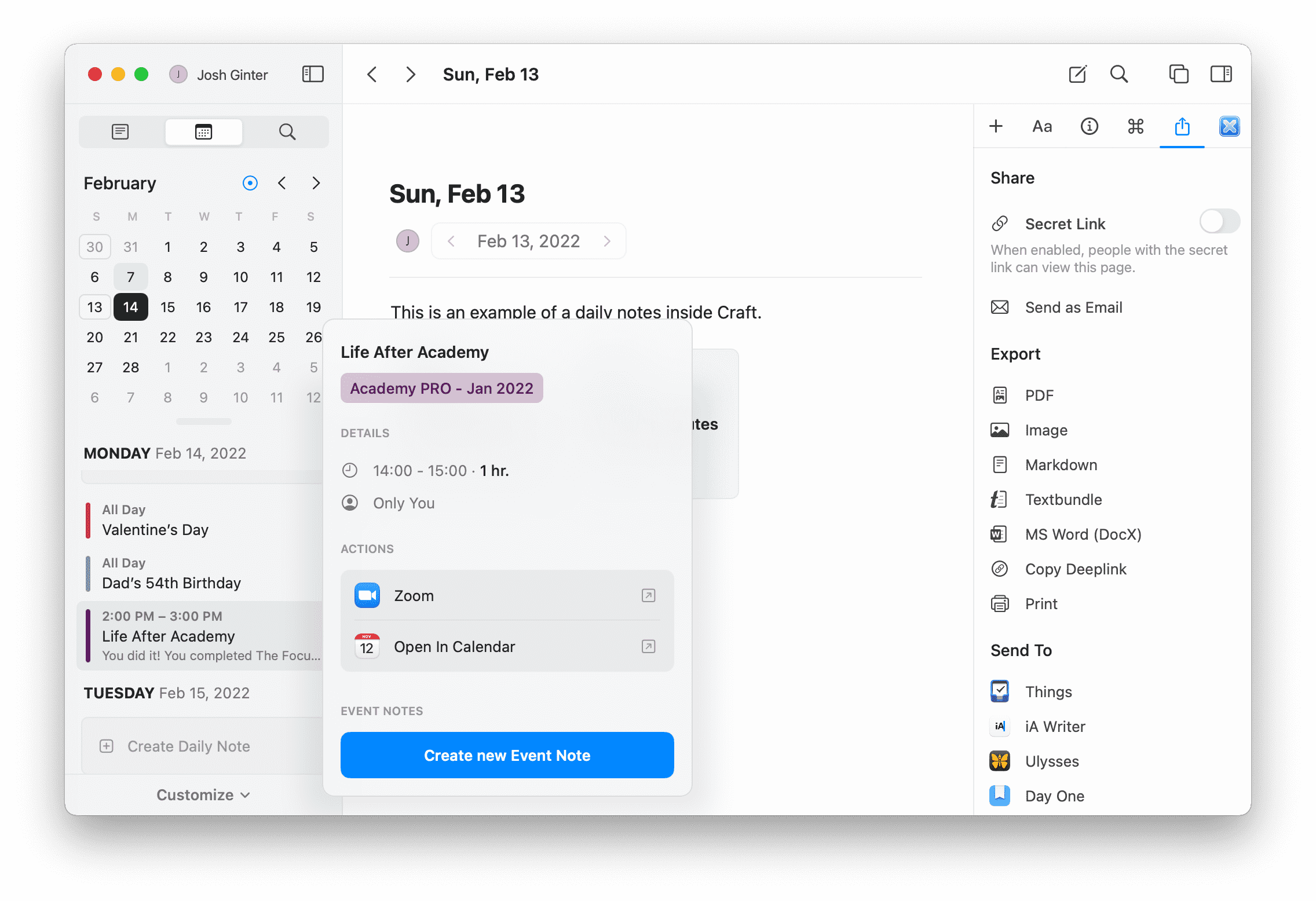 You can also click on any calendar event that shows in the sidebar to view the event's details, an option to open the calendar event in Calendar.app, or to Create New Event Note.
A new event note contains a variety of pre-filled data, such as the start and end times, the name of the event note, and any notes that were stored in the Notes section of the event's metadata. Below this section is an area for you to take meeting minute notes, store screenshots or photos pertaining to the event, or documentation that was shared with you during the event. This is an immediately obvious place to take meeting minutes, but given Craft's flexibility to handle all sorts of media, you can use this section however you'd like.
Time Blocked Event Notes
Time blocking is all the rage right now and you've likely heard each statement by now — "You can make more money but you can't make more time", etc., etc.
In reality though, our minds and our lives all work in different ways. Some folks have occupations that perform distinct start-and-stop projects — think home builders, or perhaps website builders, or a wedding photographer. Each job has a specific start and stop point and anything related to that project can be stored with that project.
Other folks don't have delineated start and stop projects. A relationship with a client could last a lifetime if handled correctly.
Note-taking processes for start-and-stop projects probably don't align that closely to non-time-constrained relationships. For instance, the first thing I need to know when working on a client's file is when something happened, whereas I imagine time-constrained projects probably ask if something happened, or what happened first.
Since "when" is my first question, tying a calendar to my note-taking makes a ton of sense. And therefore, some form of tying your work to the calendar — such as Craft's event notes — makes good sense for a non-time-constrained occupation.
I prefer time blocking inside Fantastical. Fantastical is the best calendar app for iPhone, iPad, and the Mac, and it's only slated to get better throughout 2022. Fantastical is exceptional on the Mac, where keyboard shortcuts make building out your time-blocked day a 10-second exercise at the beginning of the day.
Fantastical doesn't have any sort of event notes like Craft, however. As such, they can work well in harmony.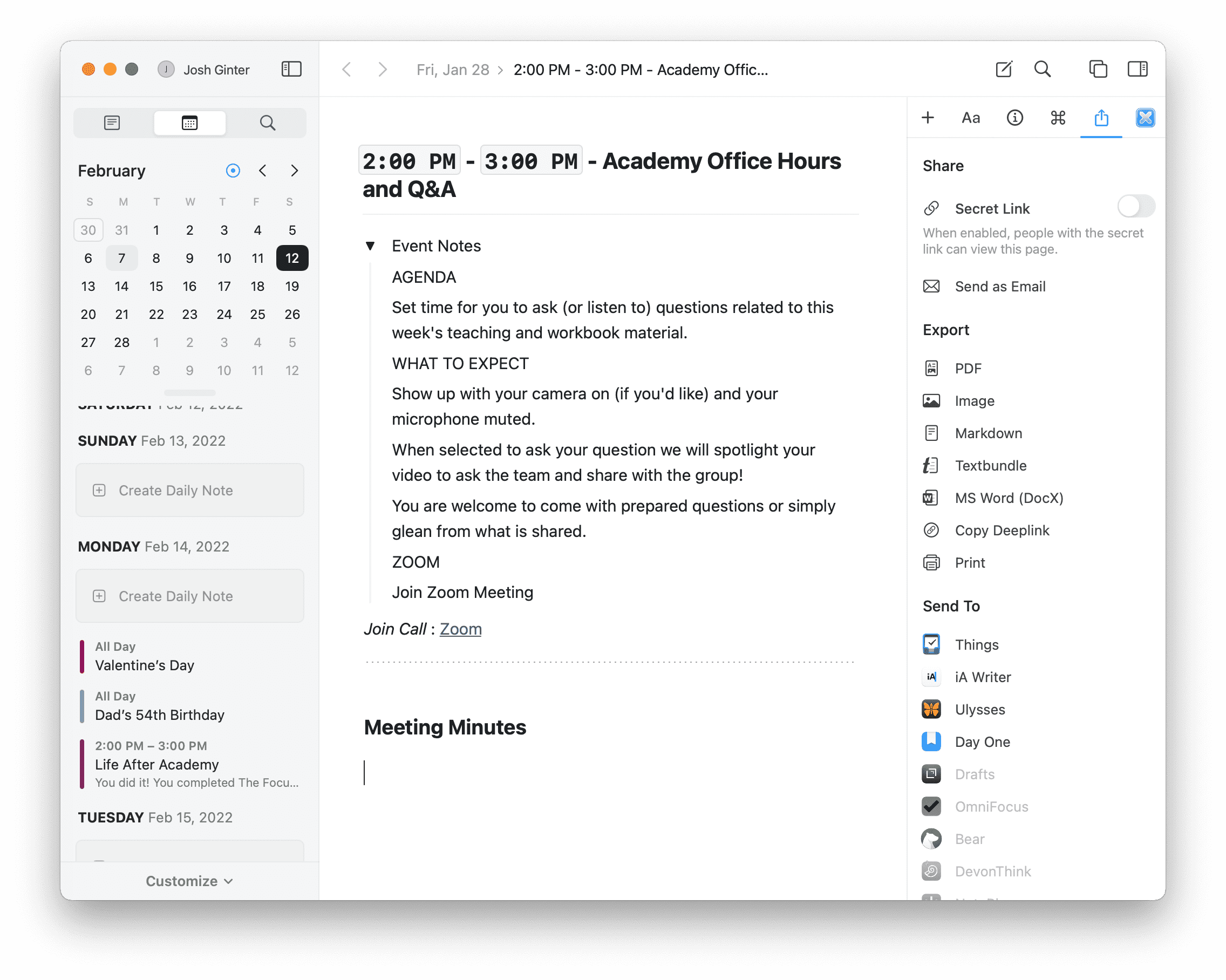 Time blocks created inside Fantastical are automatically created as events in a calendar that can be accessed in Craft. If you put in event meta details, such as invitees for a Teams or Zoom call or location information, that data can be pulled right into the Craft event note, with a nice note-taking spot down below.
From here, any work you complete inside that time block can be documented inside Craft and saved in a chronological manner. Craft of course handles all sorts of media, so you can create typed notes, handwritten notes if working on an iPad, screenshots, PDFs, videos, photos, and more.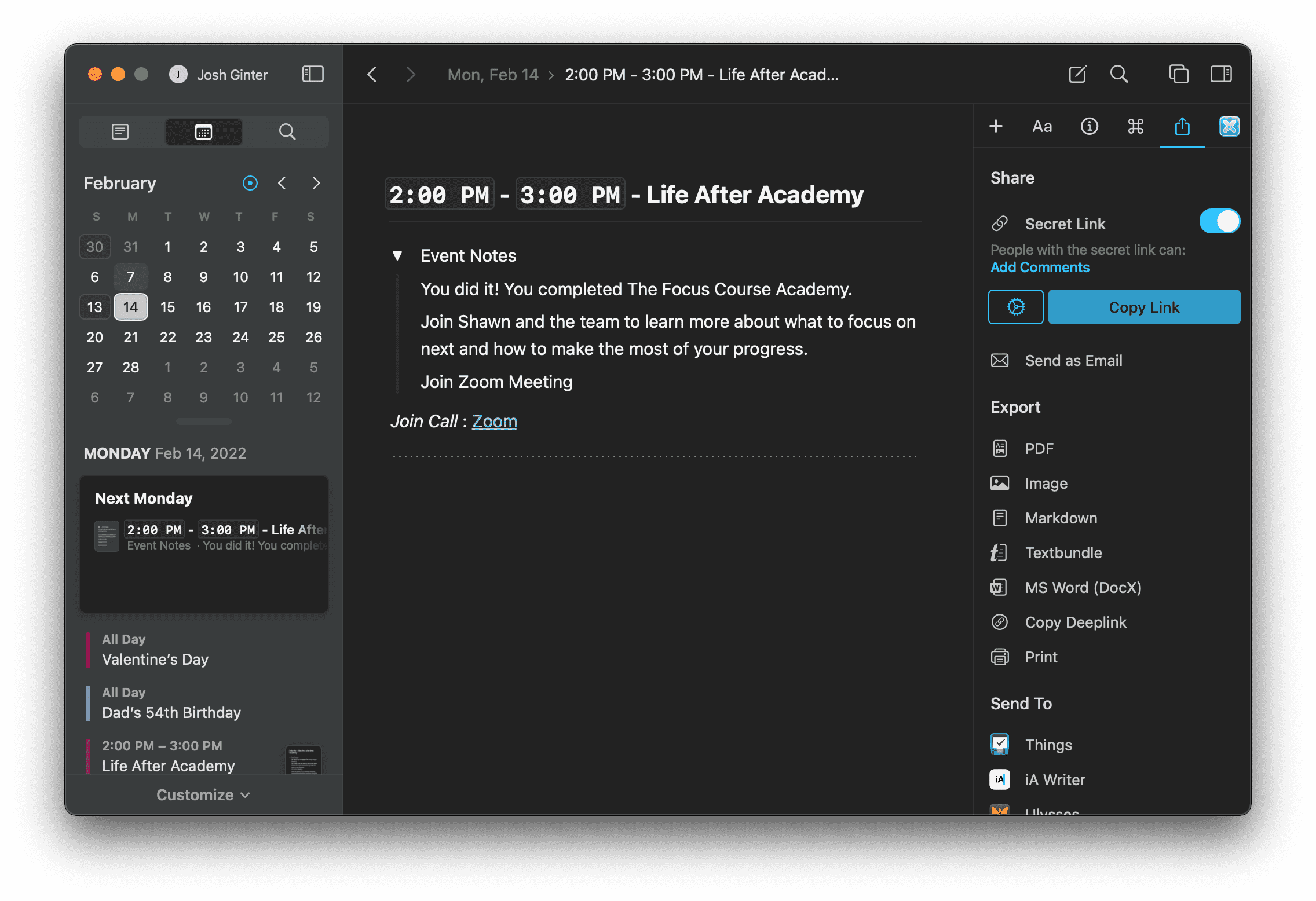 Craft's ability to share notes on the web with folks who aren't Craft users is also helpful here. If you have colleagues and are working on a project with a team, any work or notes performed during that specific time block can be shared with the entire team from the web in just a couple clicks. No copying and pasting email notes back and forth with your team.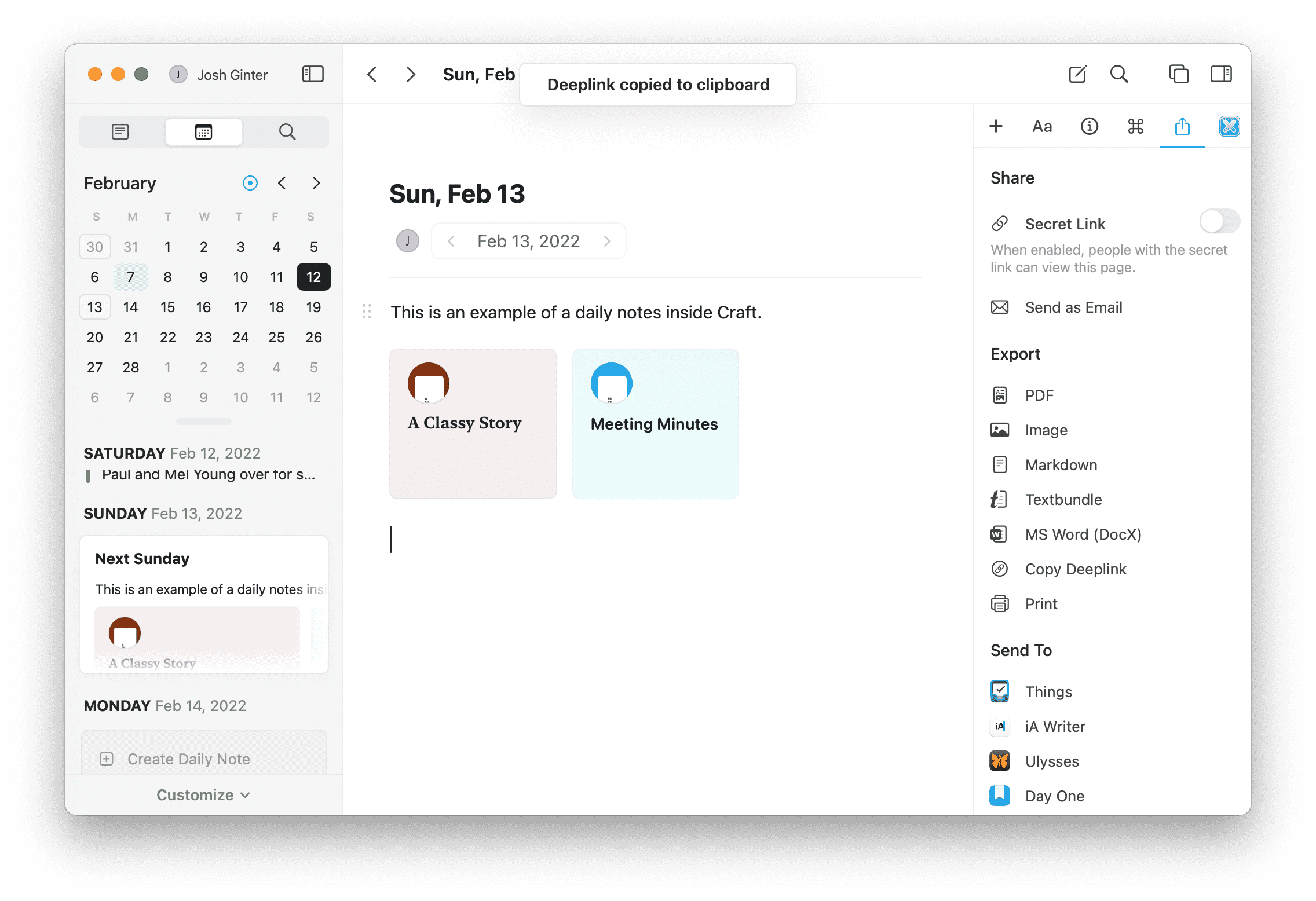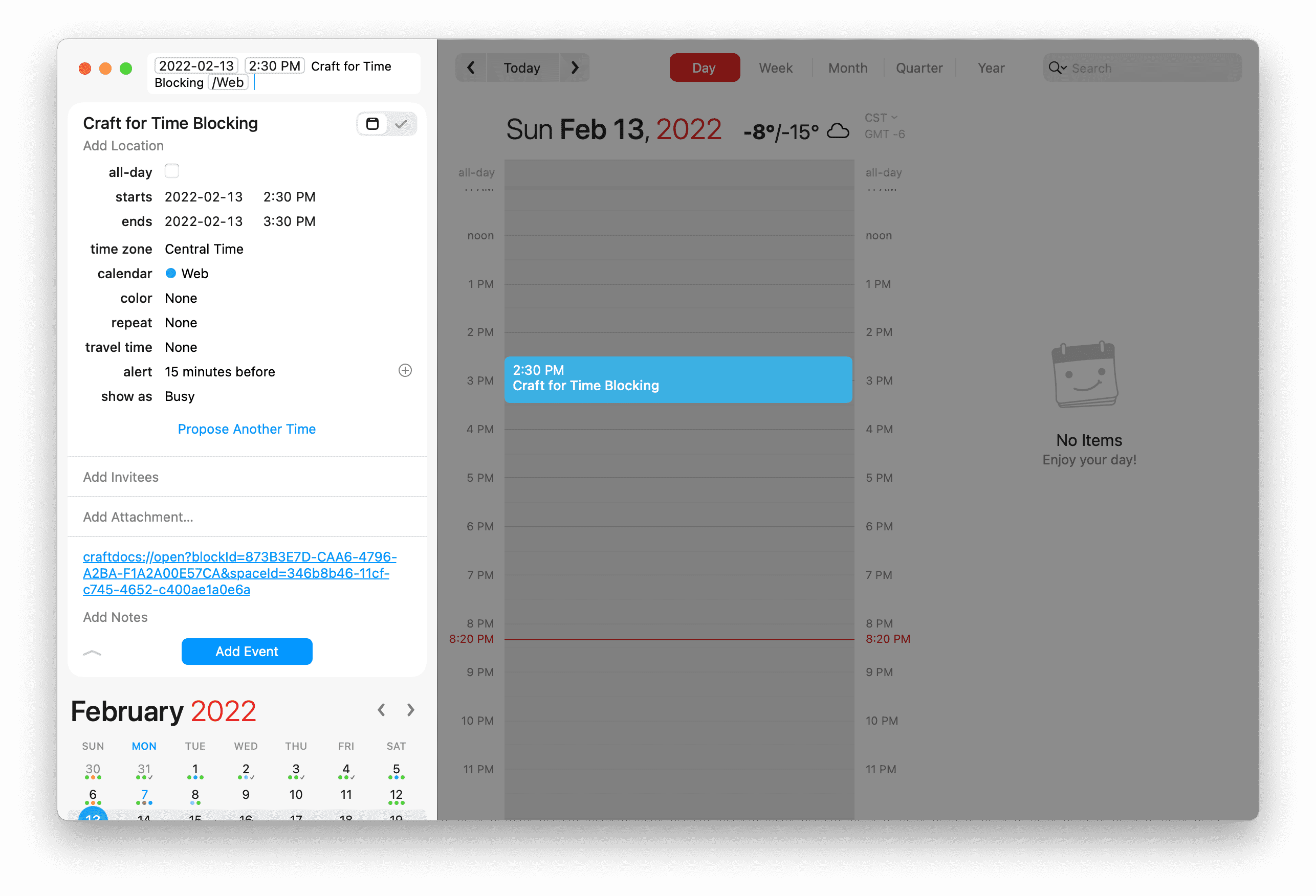 You can also work the other way — inside Craft, you can open the right sidebar, click on the share sheet icon, and click Copy Deeplink. This deeplink can be pasted anywhere in macOS, allowing for a quick click to get to that specific note in Craft. So if you're searching for a specific thing you completed at some point six months ago and you find it in your calendar, a quick click of the pasted Craft deeplink in the event's metadata will get you there.
Wrap Up
So, full transparency: I don't use Craft to document my time-blocked notes each day. But it's not because Craft isn't up for the task — our office works on a variety of Windows and Mac hardware and software, and we need a tool that spans operating systems and hardware. Craft's web version could handle this, but Notion handles it better. As a result, I use Notion.
But I use Notion for this basic workflow — creating events inside Fantastical first and then creating notes for those time blocks throughout the day. The issue is that Notion doesn't sync with our Exchange calendars in the office. We had to make a trade-off between functionality for the whole office and 100% functionality for my Fantastical-and-Craft note-taking workflow. We chose the former.
Craft is a worthy partner to a time blocking workflow, whether that is done inside the stock Calendar app or a third-party app like Fantastical. If you need to take notes that need to be tied to a calendar, I can't think of a better workflow than Craft.
---
Win the Game of Time Management