Elements of a Sweet Setup: Desks and Chairs
July 12, 2022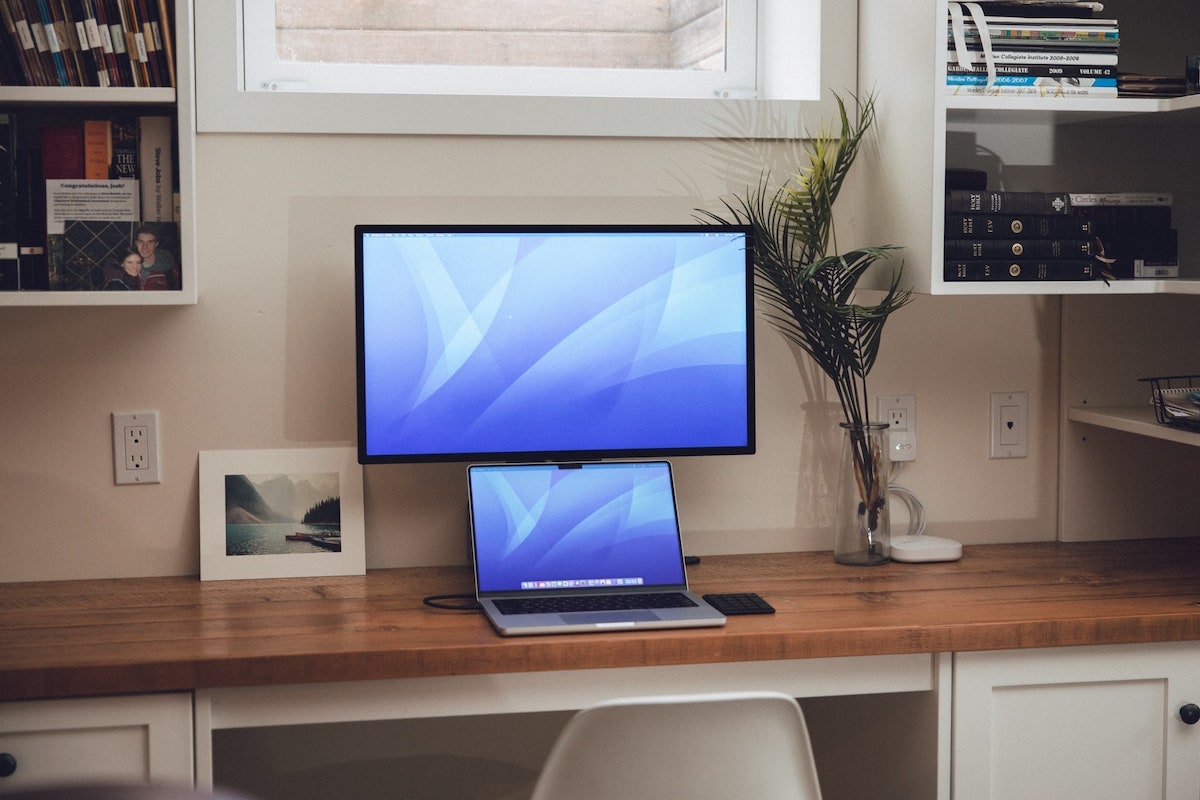 Raise your hand if you've spent hours scrolling the amazing setups in r/macsetups or r/battlestations. Some setups are insane. Others quirky. Undoubtedly though, each setup provides inspiration for new ways to setup your own workstation.
There's a lot of hype around building out a home office right now given the dramatic shift toward work-from-home or hybrid remote work. There are so many accessories and so many ways to build your setup — it can be overwhelming. And it's important, right? You're spending 8-plus hours in your workspace every day, so you want the space to be inspiring, healthy, and productive.
Well, we're here to help with that overwhelm. Below you will find the different areas and categories to consider when building your ultimate work setup. Whether you're working from a downtown corporate office or your own cozy spot in the basement of your home, we're hoping you find some inspiration in the categories below.
Some Inspiration
Before we get too far into all the recommendations and considerations, here are a few of our favorite workspace setups we've discovered over the years. You'll note these all have a variety of setups, hardware, tools, and environments. Each space works for their owner.
The first bit of inspiration is little more than a desk with a display, keyboard, and mouse. But if you look closely, there's also a keyboard here, suggesting a musical creator and artist. This workspace has great light, great tools, and fits the user's needs perfectly.
Some more inspiration; this one is all about ambiance: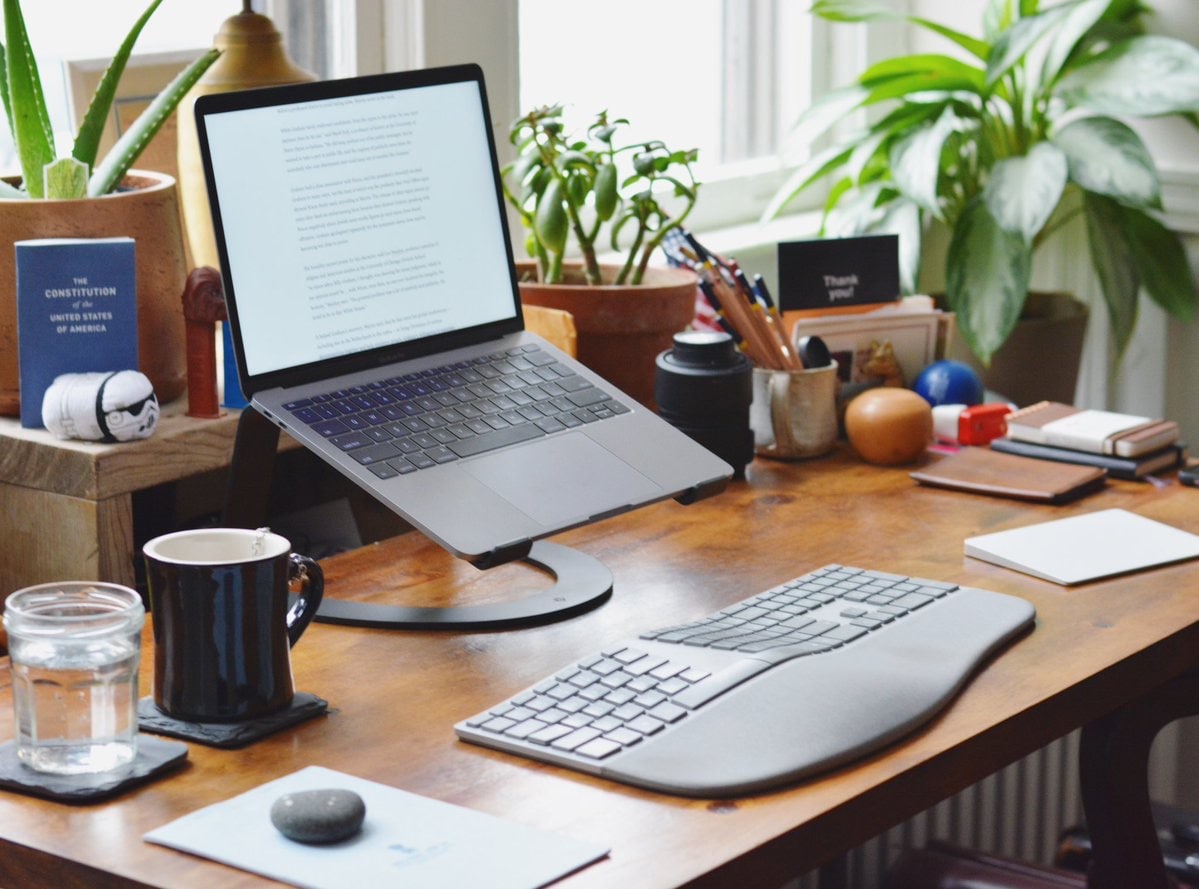 Here, we have little more than a laptop with an ergonomic keyboard and trackpad. But looking around, we see lots of greenery and plant life, creating an inviting environment dripping with inspiration.
Some more: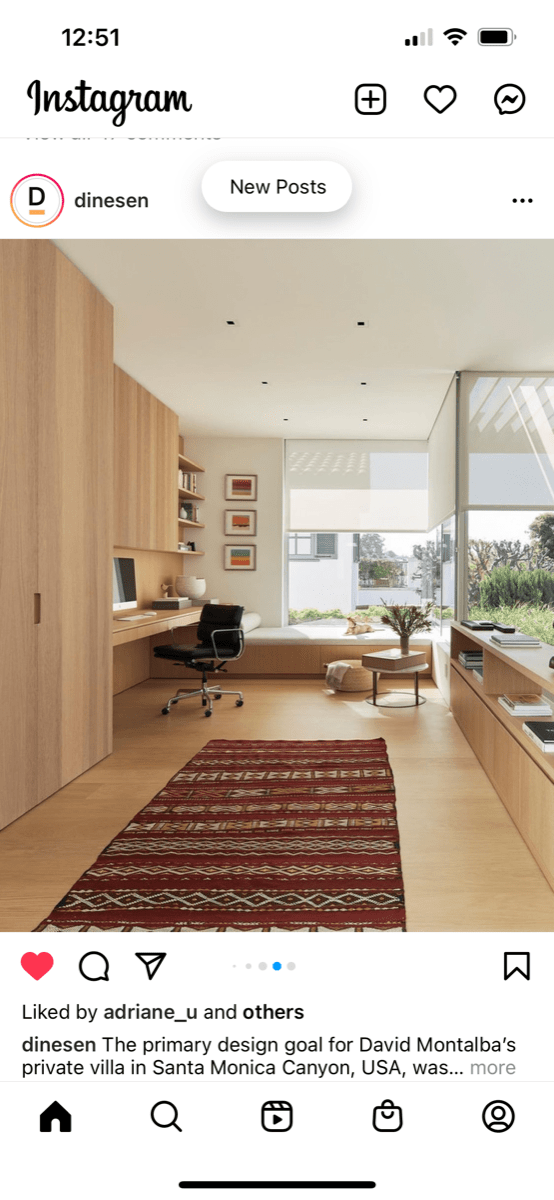 Sure, there's a ton of woodwork here, but the combination of brightness and huge cabinetry make for a splendid workspace fit for someone with big storage needs.
Finally, this one — the one I find myself designing my current office around: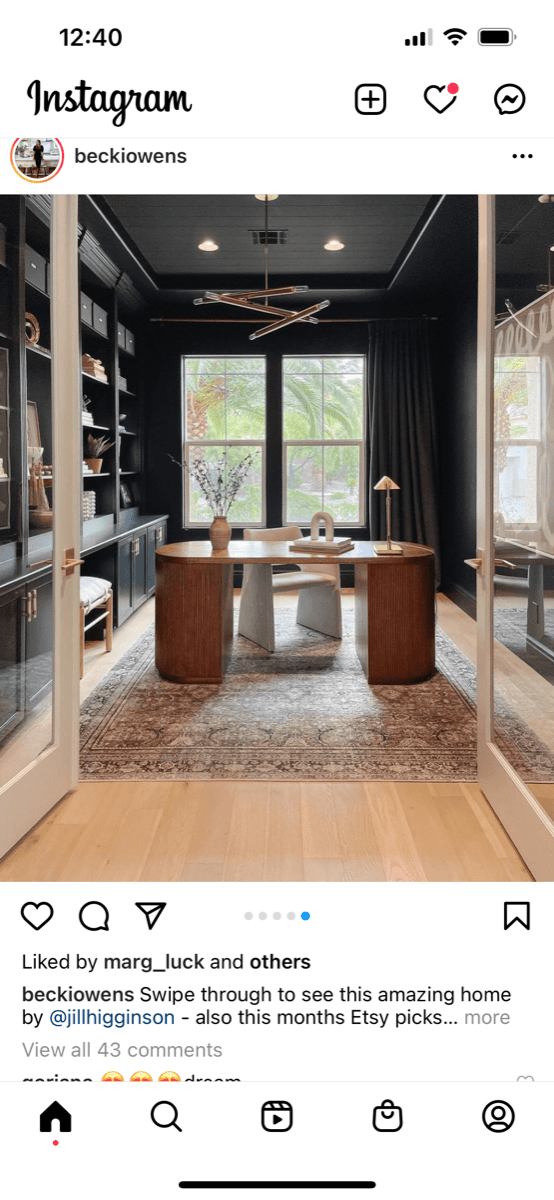 I love the black paint here. Combined with the woody centered desk and the simple pendant above, this workspace exudes style and sophistication.
Each workspace above has a piece of its owner shown off, from utility to style to preferences and tools. Your workspace is all about how you make it.
So let's dive into the first few core elements of a sweet setup: desks and chairs.
Desk
Where does every workspace start? If there is one make-or-break category, it's definitely the desk. Every good workspace needs a good desk — a desk that suits your needs, suits your taste, and suits your ergonomics and health. It's easy to just recommend a straight and huge standing desk from the least expensive place around, but you may need to meet clients each day or you need to shoot photos and videos of your setup.
The desk you choose needs to fit your needs, first and foremost. If you meet clients, you may want to consider an L-shaped desk — one wing for working and the other wing for meeting. Perhaps you get distracted easily. If so, L-shaped desks may not be the best option, as there is a lot of horizontal eye movement each time you have to reference something on the other wing of the desk. Perhaps you need to consistently collaborate with others, requiring a second small desk in the office for bouncing ideas back and forth.
The long and short: Your workspace needs to suit your needs and a solid working desk is fundamental to meeting your needs.
A pretty standard recommendation today is a height-adjustable desk. This may not be possible in all circumstances, but it is a core component to a healthier working style. Height-adjustable desks can have a manual crank for manual height adjustments or they can have motorized adjustments with pre-programmed heights for consistent standing heights. The latter will come with a higher price tag of course.
All told, this is a category to be taken seriously.
Here are some great options we've tried that could fit a variety of needs.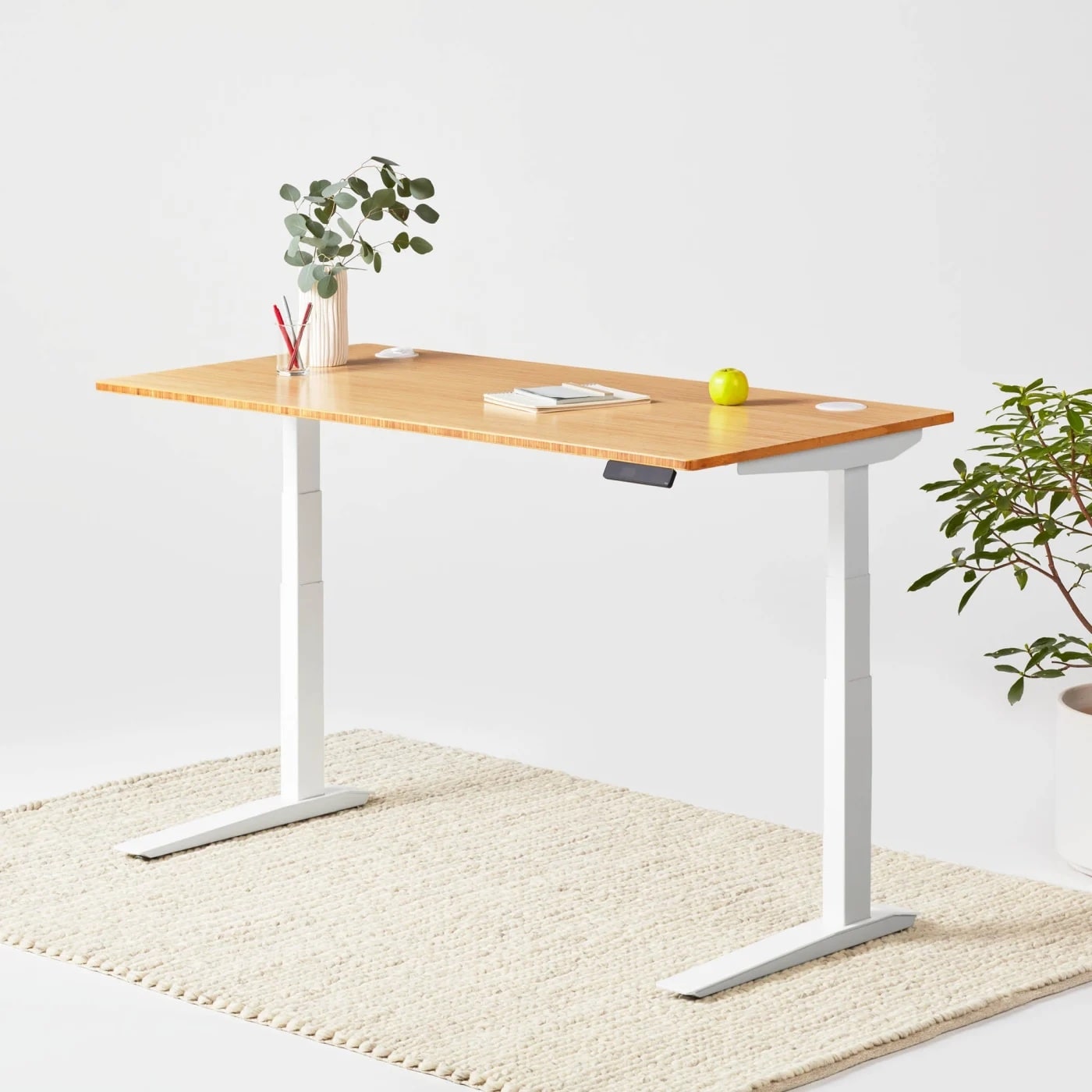 The Jarvis Standing Desk is basically the original standing desk, so to see the price tag for this simple and effective standing desk stay at the lower levels is relieving. This standing desk comes in all sorts of sizes with all sorts of customization options. You can keep this desk inexpensive or run up the tab — entirely up to you.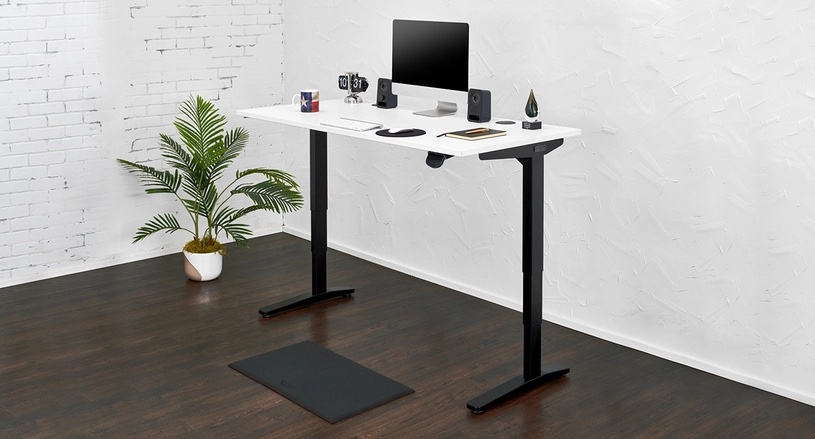 The Uplift V2 desk comes in at a slightly more expensive option than the Fully Jarvis and has an equal number of customization options. I especially love how many wood options there are for the tabletop, even if they cause the price to hit a new level.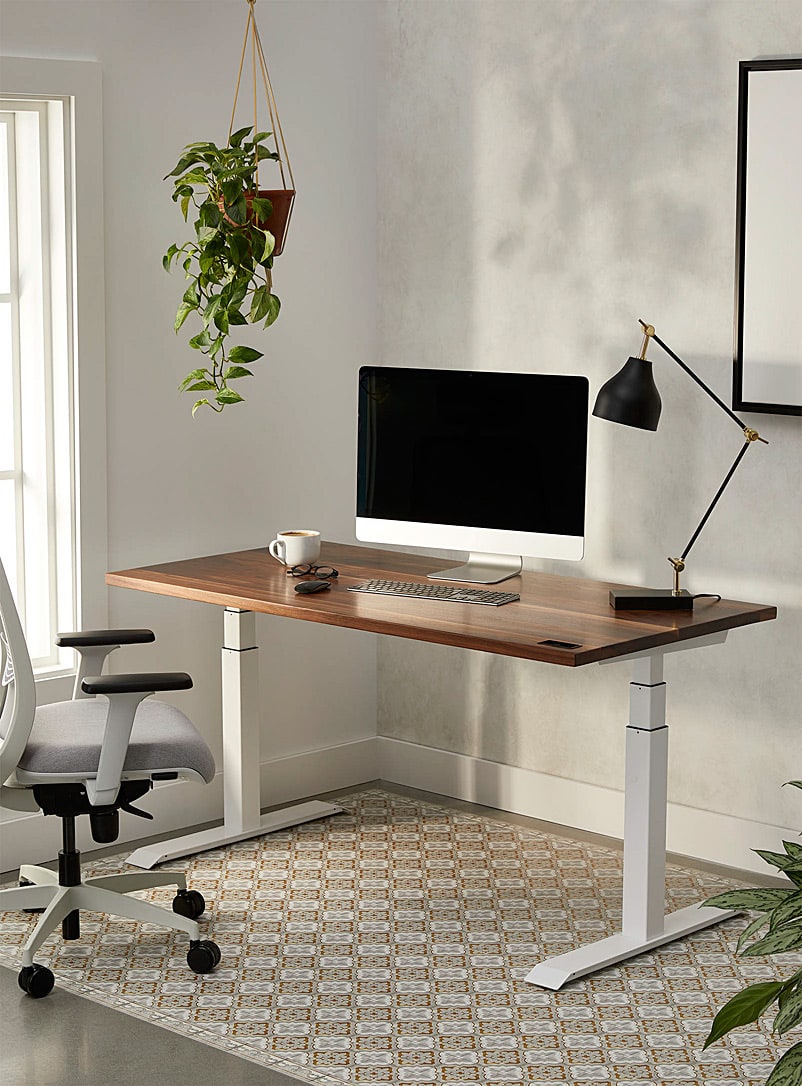 The Sway standing desk certainly hits the upper echelon in pricing, but comes with a North American-made quality you won't find from too many other places. The wood tabletop options are very trendy, the desk is built extra sturdy, and wood tabletop options are all local wood species. Keep in mind though, Ergonofis only ships to Canada and the United States.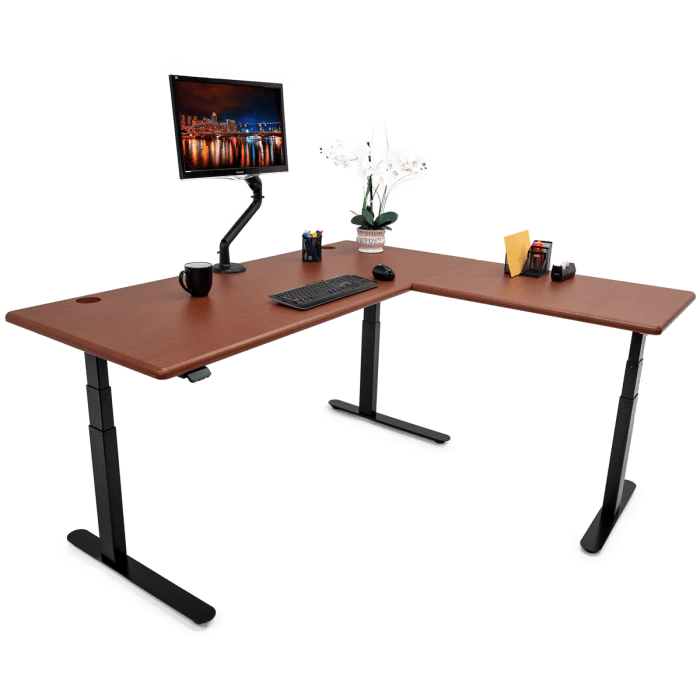 I only discovered this L-shaped standing desk in my research for this article. It looks well-made and comes with a higher price tag to match. L-shaped desks in general have higher prices given the increased amount of material, so the Lander fits right in. If you need to meet clients each day, configure the Lander and see where you get.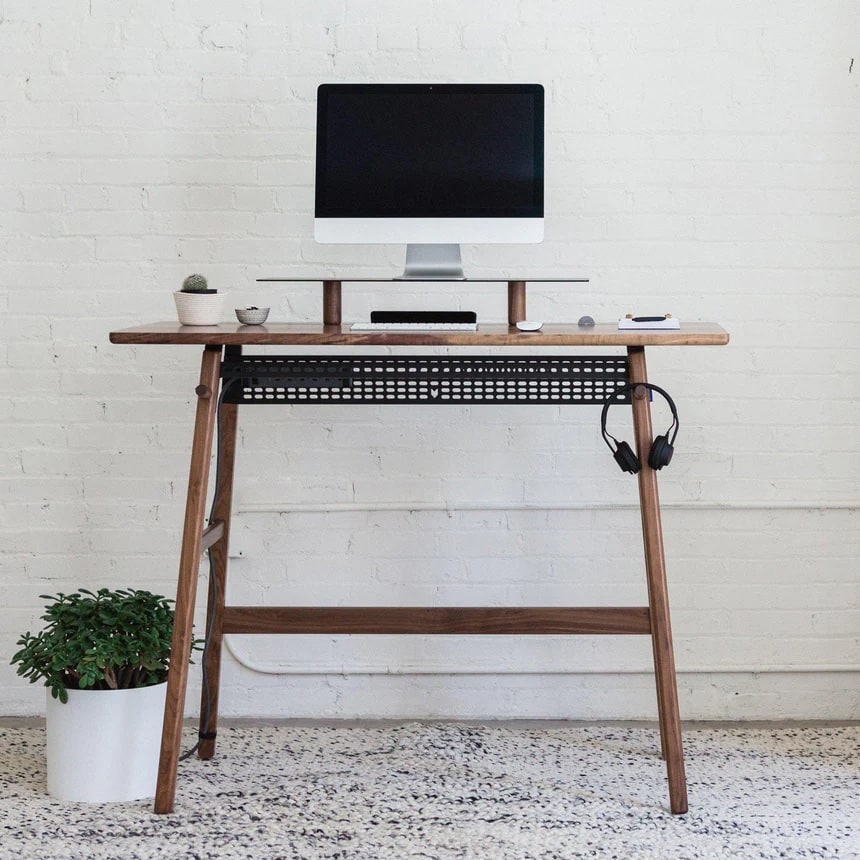 Artifox's simple desks have been at the top of my dream wish list for years. Artifox has a unique desk system that incorporates a variety of other add-on accessories, all of which are made of the highest quality and style. Artifox doesn't have an adjustable desk — you're either buying the sitting desk or the standing desk, and both have a higher price tag. If neither of these options fit your needs, consider Artifox's much larger table, which can double as a big desk.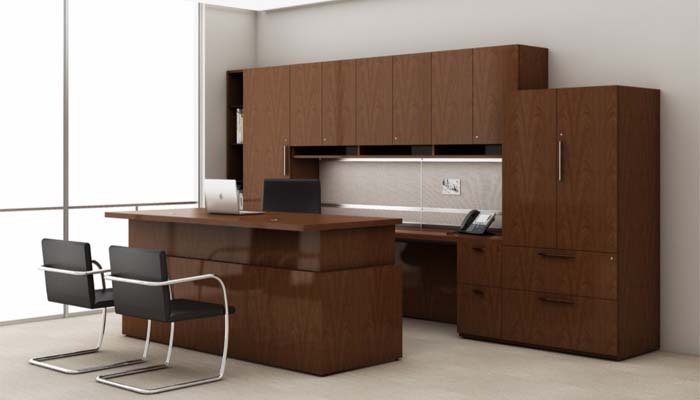 If you are in a position to revamp your office workspace, if money is very little consideration, and if ultimate style is at the top of your priority list, consider Knoll's Reff Profile Height Adjustable Desks. The adjustable legs fit inside wood desk legs, making for a more private and highly stylish standing desk option. Keep in mind this is a Knoll product — it will double or triple the highest cost item on this list with ease.
Chair
Like a desk, the chair you decide to sit on will have numerous implications, from comfort and ergonomics through to sound and durability. Unlike a desk though, ideally you won't be sitting in the chair all day, every day.
You will find office chairs of all types, from the standard, every-day chair like the Ikea Alefjäll (below) or the Herman Miller Aeron — a classic in terms of office chairs. But you can also search for more design-specific chairs, like those from Vitra (Apple famously chose the Vitra Pacific chair as one of its chair picks for the new Apple Park) or a high-end executive chair like this one.
If you're going to be sitting in the chair for a good chunk of the day, perhaps an ergonomic chair is a better option. You will find ergonomic chairs of all sorts, but members of our team here at The Sweet Setup have the Herman Miller Embody, which has been an ergonomic favorite for years now.
Here are some great chair options at all price ranges.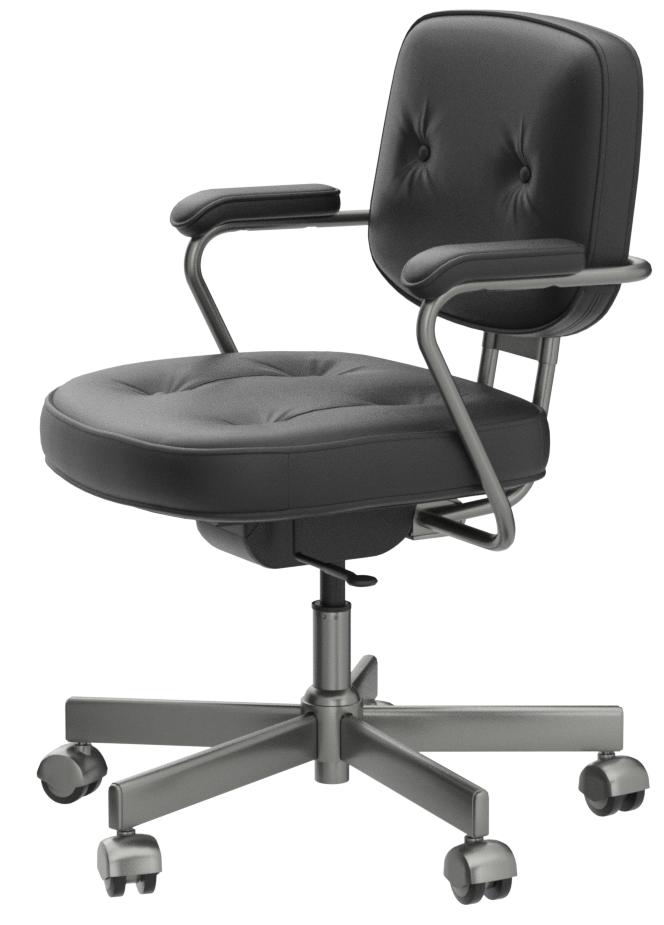 This chair nicely fits at the least expensive end of the chair spectrum. Style and substance are all here, though long-term quality, durability, and ergonomics may not match that of other options on the list. If you're looking for an inexpensive solution, give the Alefjäll a hard look.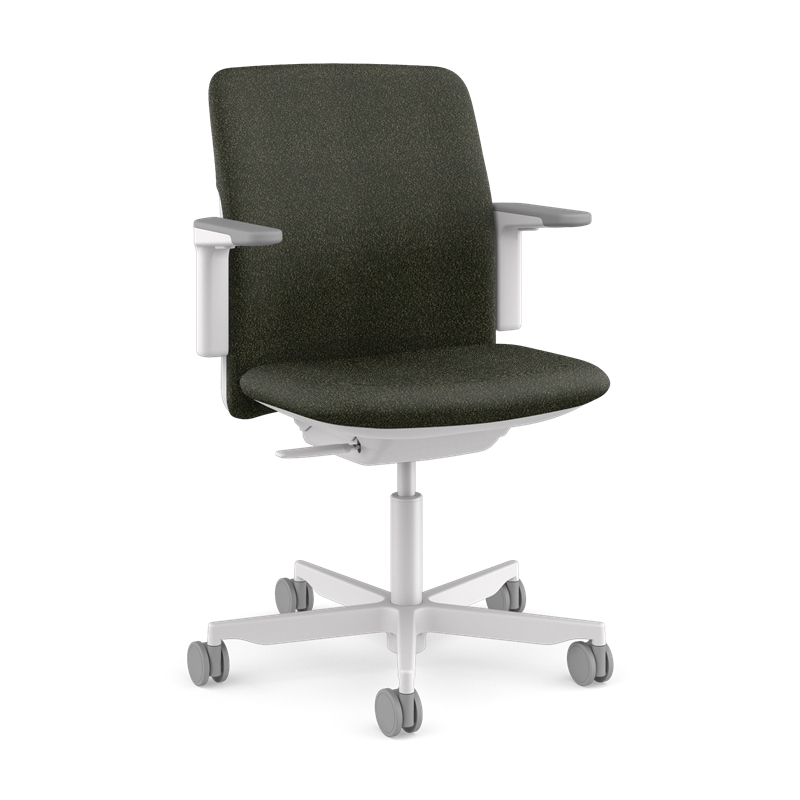 Humanscale's chair options tend toward the mid-to-upper end of the price spectrum, but provide a much higher level of durability, style, and ergonomics over less expensive chairs. The Path has a very utilitarian design and will fit right into any home office.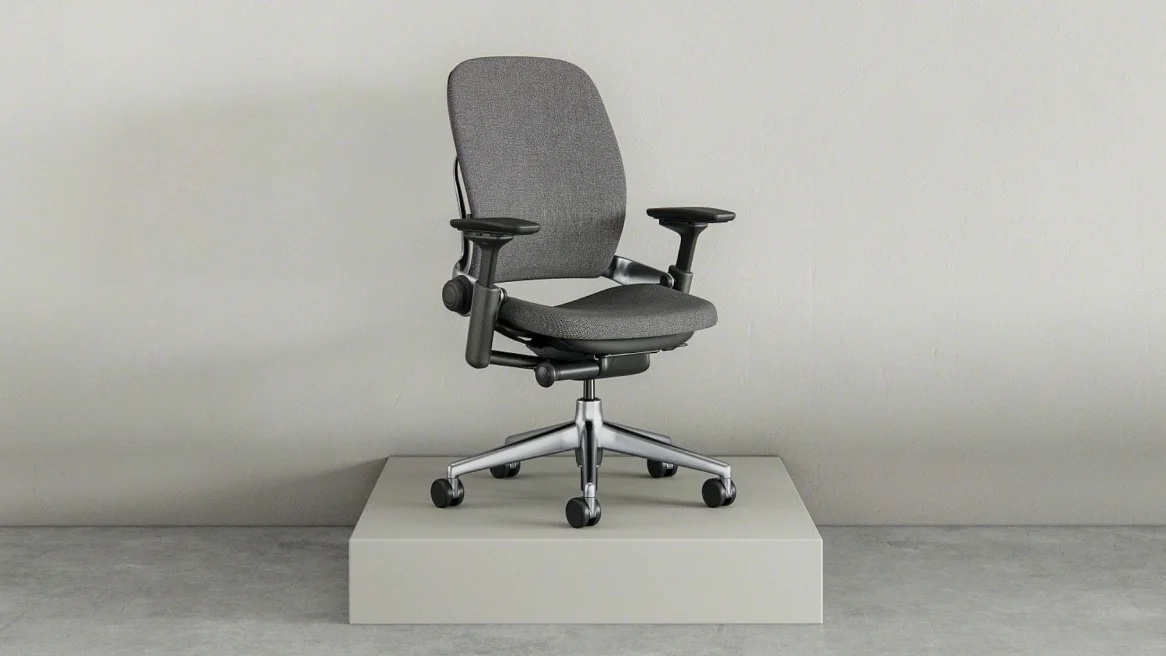 The Steelcase Leap and Humanscale Path must be direct competitors, as they pack most of the same features with a very like-design and an equal price tag. If something about the Path doesn't sit right with you, consider the Leap instead.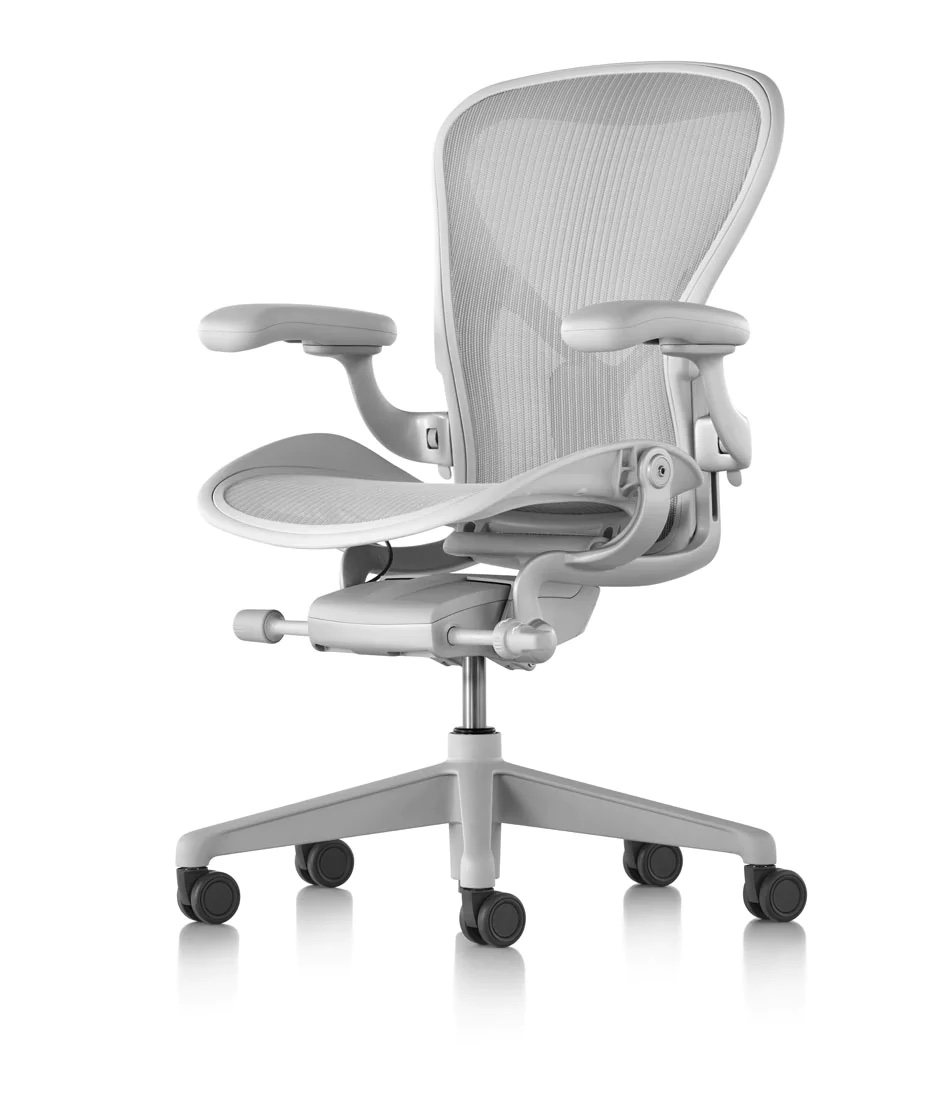 This is the classic of all classic office chairs. The Aeron has been around for ages and has been recently refined in the last 5 to 10 years. The Aeron's unique fabric moulds to your body, while the fall-off front provides blood flow to your feet. Strong lumbar support make this a dream chair. It also has the price to match — you're probably going to spend $1,500 by the time it's all locked in with the features you want.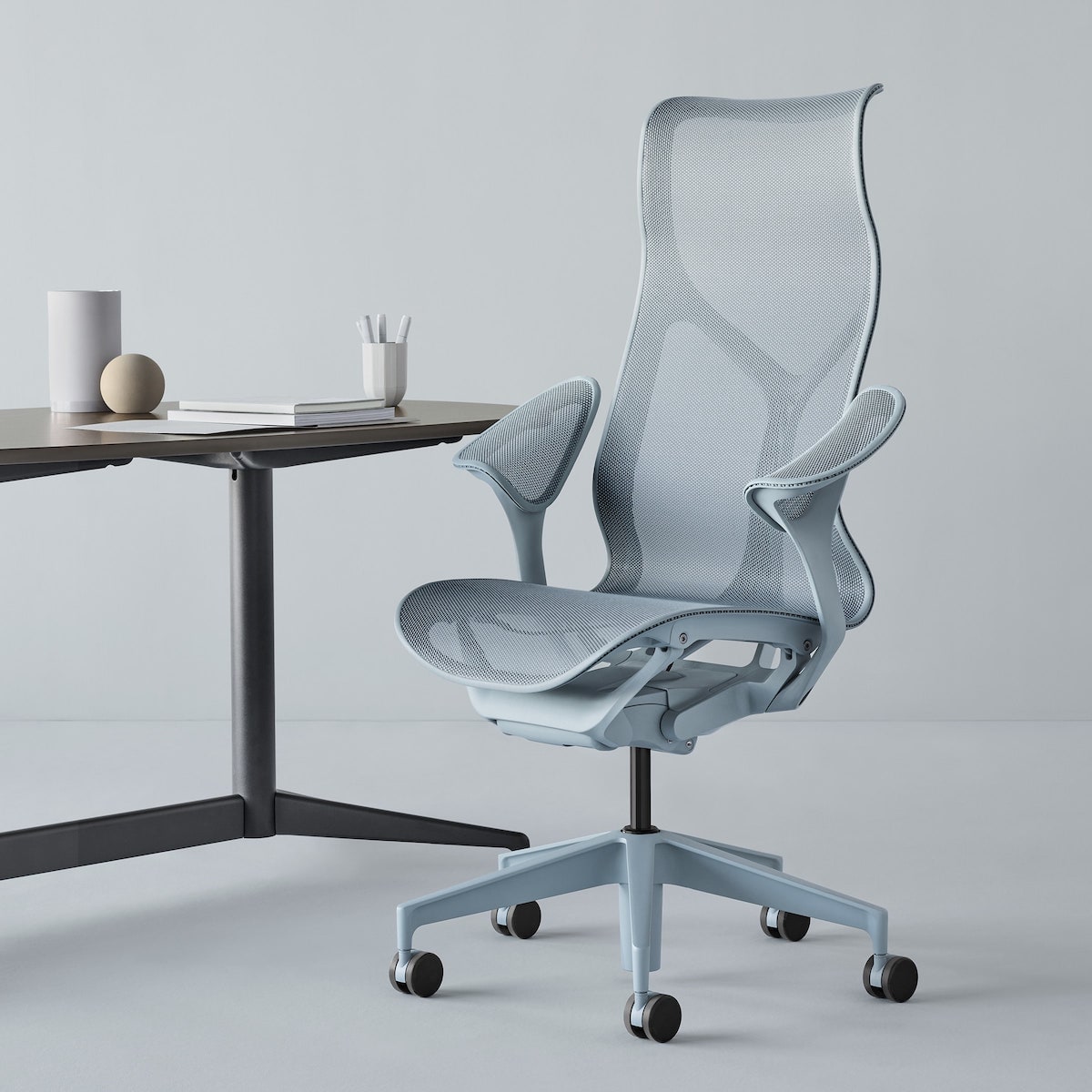 The Cosm is one of Herman Miller's newest ergonomic chairs. It combines the fabric of the Aeron with a higher back design of something like the Embody chair. In many ways, the Cosm acts as the successor to the Eames and Embody. It also has a reasonably approachable price tag for bearing the Herman Miller name.
Wrap Up
There are many considerations to be had when building out your workspace, but a useful desk and an ergonomic chair are core pieces to a productive workspace. You can choose something sleek and stylish or something ultra utilitarian — whatever suits your needs.
Next week, we'll dive into some computer peripherals to get your desk and chair off the ground and into a productive flow zone.
The Sweet Setup Staff Picks for 2022
We spend an inordinate amount of time sorting through hundreds of apps to find the very best. Our team here at The Sweet Setup put together a short list of our must-have, most-used apps in 2022.