Dean Sherwood's Mac and iOS setup
May 25, 2015
Every week we post a new interview with someone about what software they use on their Mac, iPhone, or iPad. We do these interviews because not only are they fun, but a glimpse into what tools someone uses and how they use those tools can spark our imagination and give us an idea or insight into how we can do things better.
New setup interviews are posted every Monday; follow us on RSS or Twitter to stay up to date.
---
Who are you and what do you do?
My name is Dean Sherwood, and I'm a filmmaker / photographer working in the music industry for a UK band called The Vamps. If I'm not out with the band travelling on tour documenting their lives, then I'll be sat here at this desk editing videos and photos for YouTube, VEVO, internal EPK's (Electronic Press Kits), or DVDs.
What is your current setup?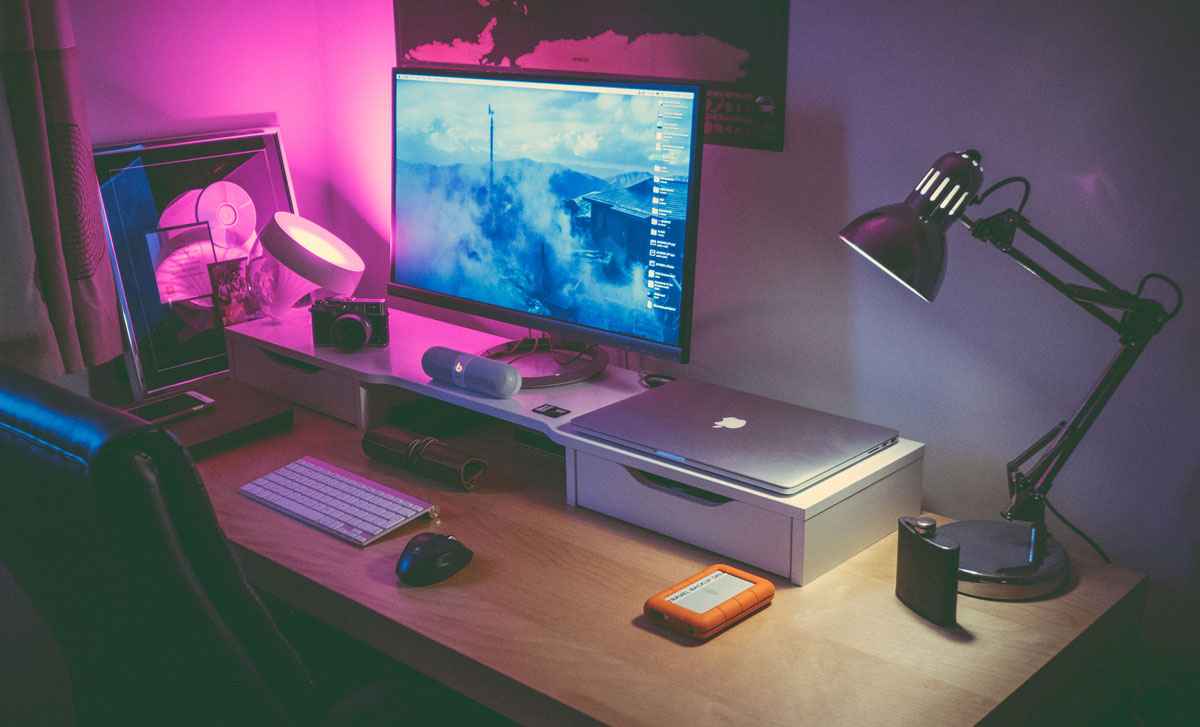 I'm currently running on a late-2013 15-inch Macbook Pro Retina with a 2.6 GHz Intel i7 processor and 16GB RAM. I have 1TB of flash storage inside and it's connected to an Elgato Thunderbolt Dock to a Pegasus 18TB SAS RAID Drive. I have an ASUS screen for extra space when I edit, and a Philips Hue lamp for mood. I also have an IKEA lamp for late night note taking.
Also on my desk is one of my cameras, the Fuji X100S, a Beats Pill for sound, two 64GB SanDisk SD Cards, a Lacie Rugged 2TB Thunderbolt drive (I use these on the road), a hip flask (purely for show of course), Logitech mouse (I prefer it to the Apple Magic Mouse), an Apple Bluetooth Keyboard, and a This Is Ground Bandito lifestyle roll (the leather roll next to the keyboard, which houses a bunch of USB cords, sunglasses and loads of little 'loseables' I carry around with me). My iPhone 6 and iPad are in a This Is Ground Mod, which also has my Moleskine notebook and iPad peripherals in it.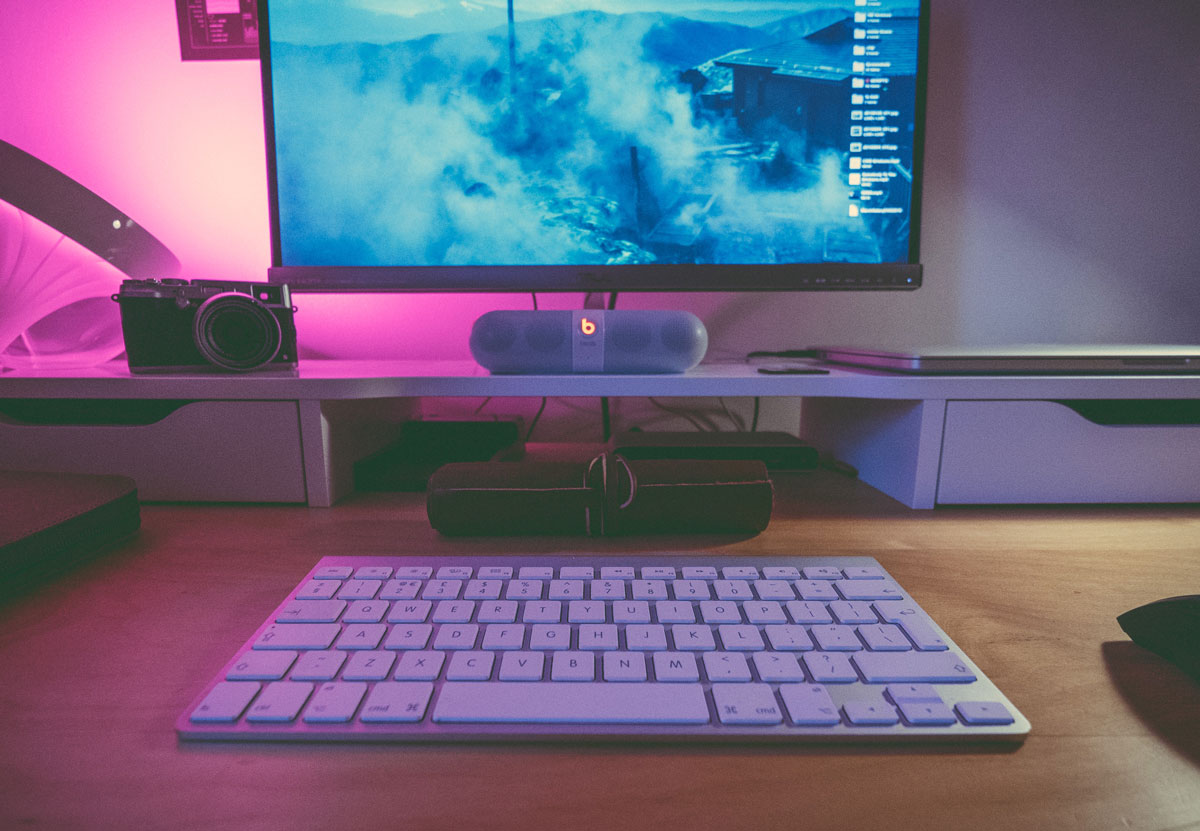 I have a standard office chair from Staples that I really need to upgrade. My desk is from IKEA. Oh, and there's a Platinum record in the frame from the band presented to me over on the far side. My wallpaper is a photo I took whilst we were on tour in Japan looking over a geiser across Mount Fuji.
What software do you use and for what do you use it?
I use Final Cut Pro X for video editing. It's revolutionised the speed and quality of my edits in the past two years. I colour grade in Davinci Resolve and edit photos in Lightroom and Photoshop. I use Pages for things like invoicing and Evernote as my digital brain. I make notes in Byword, though I use that less and less as I like to write things down. I'm an avid user of the Bullet Journal. Pocket is where I store things I want to read or watch later. I write an online diary (http://www.deansherwood.com/deansdiary/), so I use Day One for that — it's awesome and I wouldn't even consider anything else. I tweet using Tweetbot and I'm looking forward to the new update for Yosemite. I use DiskTracker to keep track of all my files across my drives.
How would your ideal setup look and function?
I'd have a standing/sitting option for my desk. I suffer with lower back and upper back problems at times, so that would help my health for sure. I'd also like a better chair. I'm looking at the 5K iMac as a definite possibility soon, as I have the option to shoot 4K with one of my video cameras, so that'd be great. I love my MacBook though — speedy little beauty.
---
What iPhone do you have?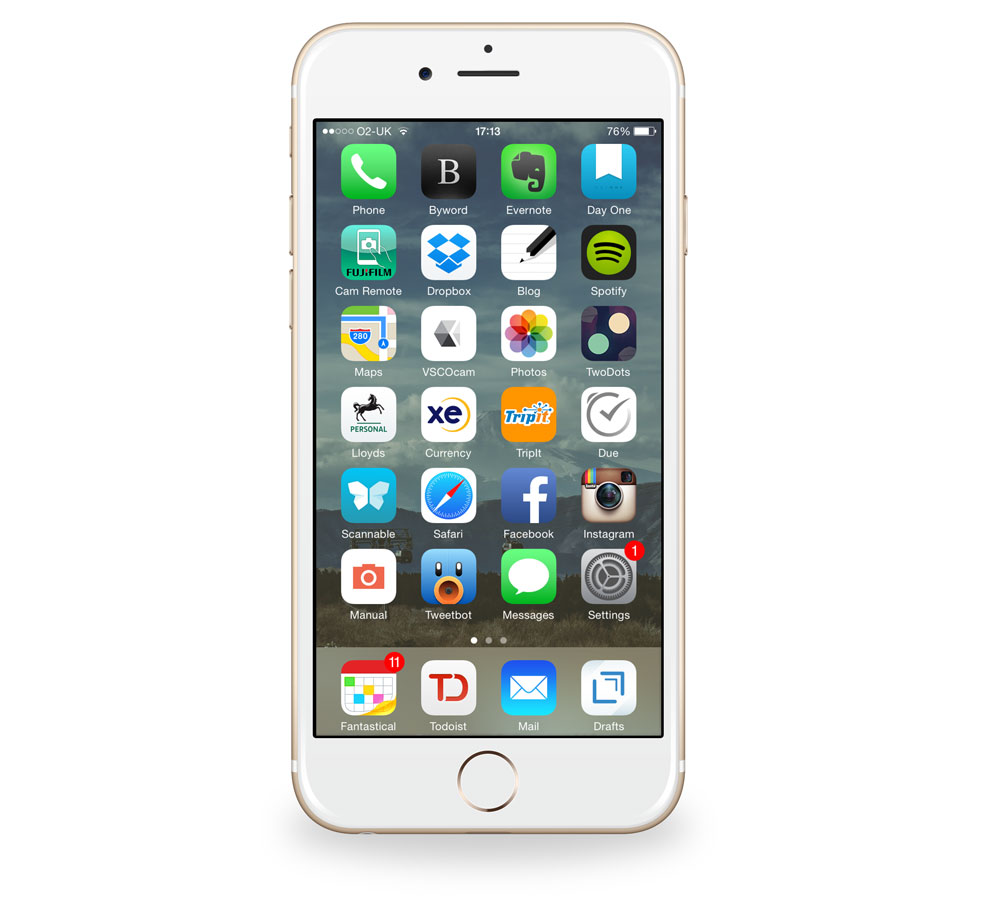 I have a 64 GB gold iPhone 6 with a Mujjo leather case on it. I did have the 6 Plus for a few months, but couldn't get used to a phone that required two hands. I also got some kind of strain in my thumb from trying to use it. The 6 is perfect for me and how I use a phone.
What apps do you use the most, and why?
I use Tweetbot, Instagram, and Facebook Pages a lot as I run my own accounts as well as posting sometimes from the band accounts.
I try to lead a paperless lifestyle, so receipts, letters, and documents go through Scannable and into my Evernote. I take photos using the Manual app as it gives me control over settings, and I edit them all in the VSCO Cam app. I love VSCO Cam and have a grid if you want to take a peek.
I'm coming to grips with Workflow. I use it to select multiple photos of the band from my Dropbox account, add them to an email, and send it to the group along with a text to let them know the photos are available. It's incredible!
Due is my app of choice for getting things done. I love the fact it annoys the hell out of me by constantly notifying me if something is overdue. I have Todoist too, but don't really use it much, opting for my notebook more often.
Tripit stores all my flights/hotel bookings and venue locations when we are on tour. I also sync photos from my Fuji X-T1 camera to my phone and iPad via the Fujifilm Camera Remote app. It's very stable compared to others I've tried.
Which app could you not live without?
Evernote is literally my brain outside my brain. I store everything in it from my personal documents, to VISAs, to inspiration I find on the web.
---
Which iPad do you have?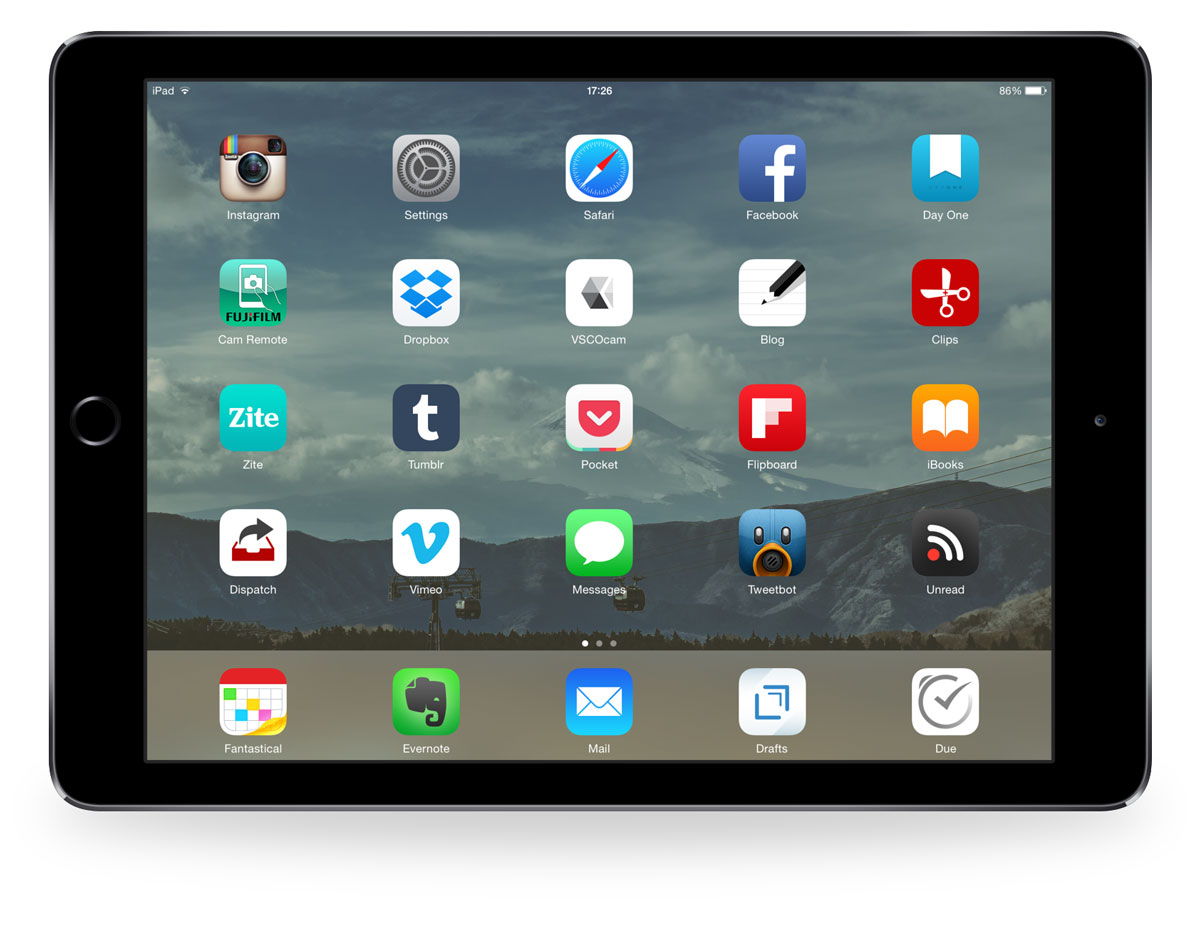 I have a 64GB iPad Air 2 and I keep it in a This Is Ground Leather Mod case.
How are you using your iPad on a daily basis?
My iPad is the one item I could do without, but I end up using it the most. It goes everywhere with me. I use it for work in conjuction with my Dropbox account. I write on it (using a Logitech KeysToGo keyboard) a lot with Day One and Byword.
I also use Drafts on it a lot as well as Due, though that's used way more on my iPhone. It's my go-to 'having a break' device. I'll read on it with a cup of coffee for 15 minutes in the morning and in bed at night, which I know is a bad habit, but there are worse bad habits, right?
What apps do you use the most, and why?
I use Pocket a lot on my iPad to read stuff I've been saving. I follow RSS feeds from sites I like with Unread via my Feedly account.
Flipboard and Zite keep me up to date on all things video, film, technology, and style. I watch a lot of online videos using the Vimeo app and blog using the Squarespace Blog app, which is OK for how I blog, but I can imagine others would find it limiting. I also use Curator as my inspiration board for photo shoots at times.
Which app could you not live without?
I've said Evernote, so this time I'll go for Day One. My online diary is important to me and Day One makes it so easy for me to write it.
---
There are more Sweet Setup interviews right here.