Day One 3.7's Instagram Importer Automates Common Workflow
June 26, 2019
Day One 3.7 launched a few weeks ago, so admittedly, we're late to the party. However, while 3.7's new Instagram Importer is a feature that may not drum up a lot of praise and celebration, it's a feature that has a potentially profound impact on how you compile your Day One journal.
Instagram Importer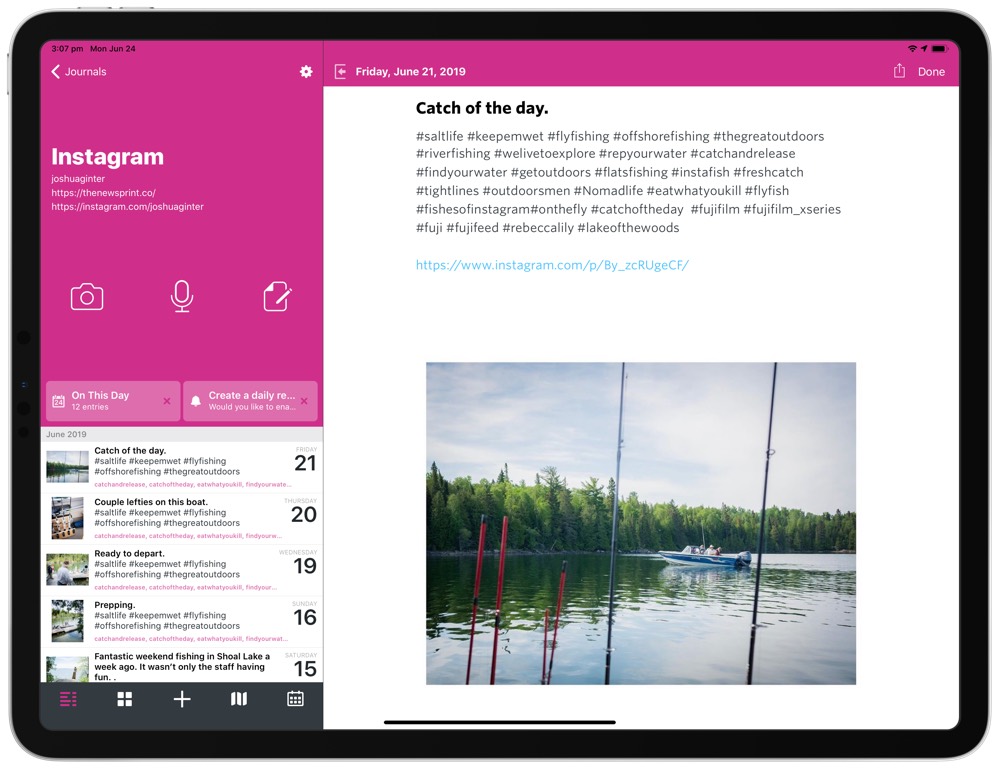 For years now, I've manually inserted all my Instagram posts to my Day One journal. At first, that journal was included in the exclusive journal inside Day One, and then I branched out to include a specific "Instagram" journal when multiple journal support came to Day One.
For a long time, this meant adding photos manually in two different spots: first on Instagram and then secondly inside Day One. Day One's Activity Feed shortened a lot of this workflow by linking Day One directly with Instagram and bringing all your Instagram posts into Day One with a single tap.
With Day One 3.7, Paul Mayne and his team have eliminated even that single tap from the process.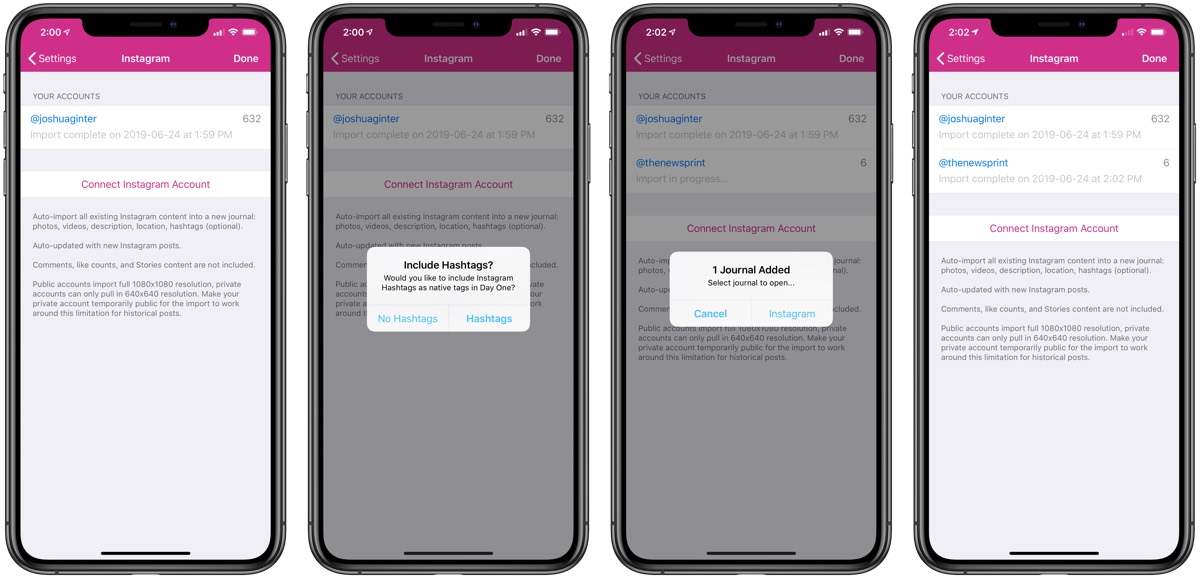 Under the settings menu, you can tap Instagram → Connect Instagram Account to set everything up. You can choose to include Instagram hashtags as dedicated Day One tags if you'd like, and the app then zips you over to Instagram's login page to get started. Throw in your login information, authorize Day One to connect with Instagram, and you're all set.
Once you return to Day One, you'll see the Instagram Importer feature has already begun importing items directly from Instagram. On your first go-around, Day One will ask if you want to create a dedicated Instagram journal. It may take a little bit for all your Instagram posts to import (especially if you're a prolific Instagrammer), but it all works without a hitch after the import process.
The Instagram Importer will auto-import all your existing Instagram posts into this new journal, including photos, videos, descriptions, locations, and optional hashtags. The Importer will not include comments, like counts, or your Instagram Stories. Finally, if you have a public Instagram account, the Importer will import full 1080 x 1080 resolution photos, while private Instagram accounts will only import 640 x 640 resolution.
Two other notes regarding the Instagram Importer:
History: Day One's Activity Feed served as an easy way to create journal entries from your Instagram posts. However, since you had to go in manually, it was easy to forget to add new journal entries whenever you posted, and Day One's Activity Feed could only go back a few months worth of time before it cut off your historical activities. With the Instagram Importer, you can import all your Instagram posts from the beginning.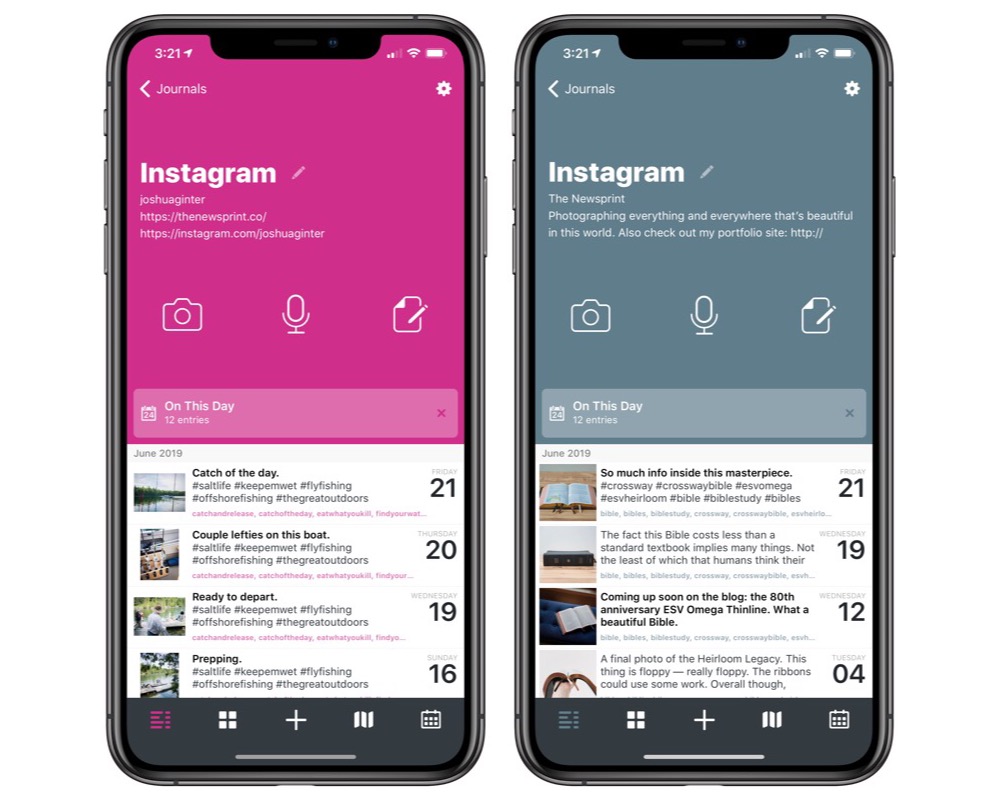 Journal Metadata: When you create a new Instagram journal, it also imports your Instagram username and account description to build out your journal metadata. Normally, this is a "who cares," but since you can also print these Instagram journals as physical books, having everything automatically populated for you will save time when you want your book to look picture perfect.
Day One 3.7's Other New Features
There are a whole range of new features that hit Day One 3.7 a few weeks ago that don't involve the Instagram Importer.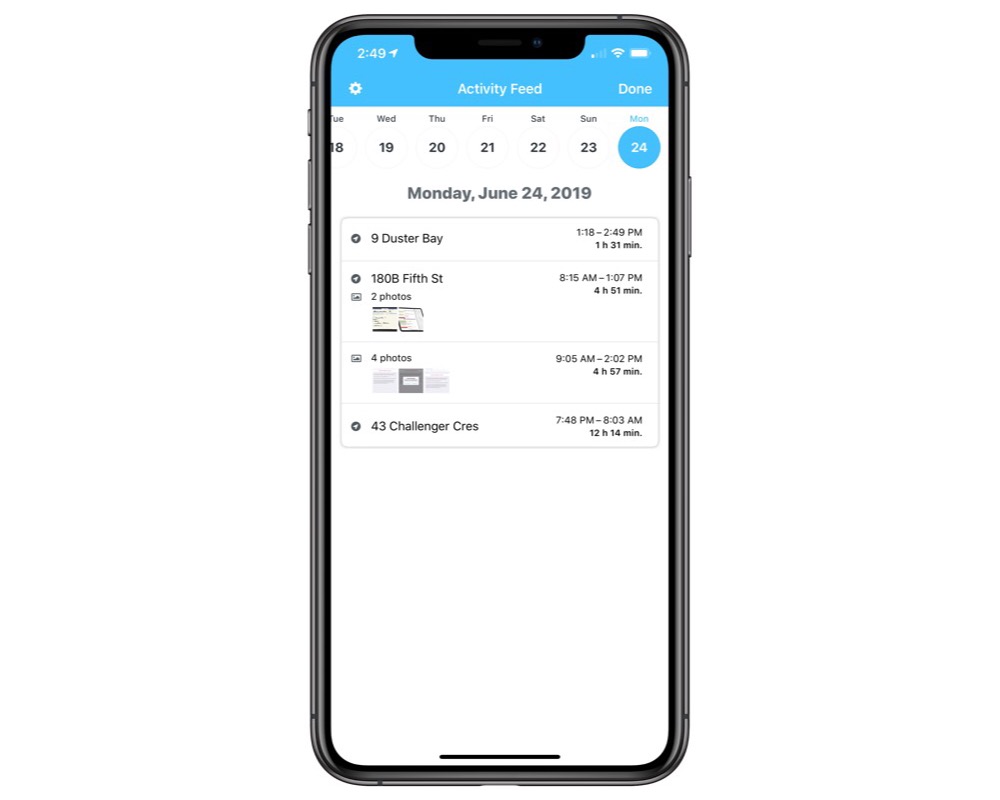 The Activity Feed has been redesigned from the ground up to look and work better. Activity Feed has now been scaled back to not include Instagram social media posts (for obvious reasons). In the activity card for each day, simply tap the event from the day to add it to your journal.
There are also new formatting styles, new options to browse in Files.app in the paperclip menu, and more.
---
Day One's 3.7 update didn't seem like much when I first saw the release notes, simply because I was already performing this task manually and under a relatively habitual schedule.
However, once my Instagram account(s) were connected to the app and once the initial import was out of the way, that habitual schedule went out the door. I've heard of other folks using IFTTT workflows to automatically import Instagram posts to their Day One, which is mostly obsolete after this update.
Day One continues to improve with each and every release, and the app continues to be one of our must-have apps for every iPhone, iPad, and Mac. To get a better idea of all the things the app can do, check out our in-depth review, and don't forget to check out our very recently updated Day One in Depth screencast course which provides a thorough and broad education of everything Day One can do for your life.
Wait! There's more….
How to Use Day One in Your Life
For a the best journaling app, you won't do better than Day One. And if you want to discover how to use this app more regularly, and take full advantage of all its features, then we have some video screencasts that can help you.
In our course, Day One in Depth, you get 8 video screencasts that will take you line by line through every feature, setting, preference, and option found in Day One.
We'll show you…
Complete walkthrough of the Mac and iOS apps.
How to create and customize your journal entries (from text, to photo, to audio)
How to find, filter, export, and more.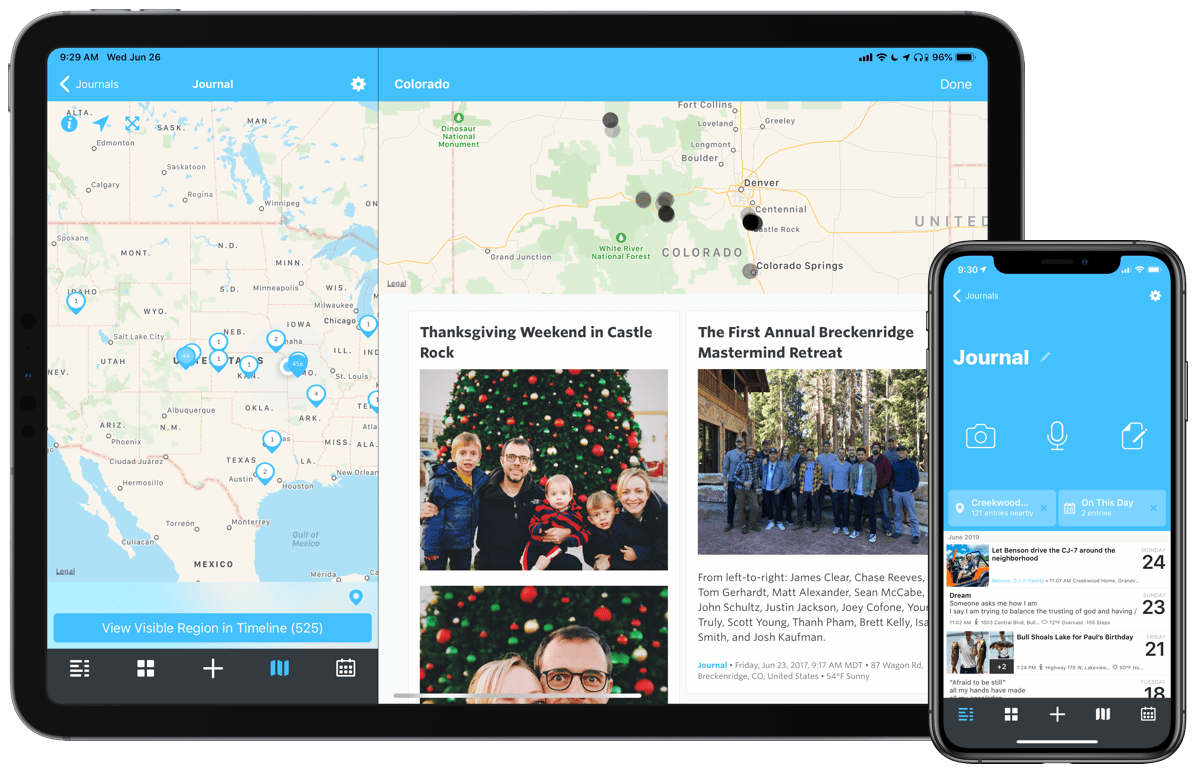 Plus! You will get bonus tips, workflows, and tutorials for how best to use Day One to suit your own needs: from a morning writing time to a photographic travel log, to weekly reviews and productivity journaling — Day One can do it all and we will show you how.