Christine Chan's sweet iPhone setup
December 15, 2014
Every week we post a new interview with someone about what software they use on their Mac, iPhone, or iPad. We do these interviews because not only are they fun, but a glimpse into what tools someone uses and how they use those tools can spark our imagination and give us an idea or insight into how we can do things better.
New setup interviews are posted every Monday; follow us on RSS or Twitter to stay up to date.
---
Who are you and what do you do?
My name is Christine Chan, and I am a writer and editor over at AppAdvice.com. I cover reviews and news of iOS and some Mac apps on a daily basis. I also try to write for my own personal blog over at christinechan.org when I have some time, but that is few and far between.
What iPhone do you have?
I am currently rocking a Space Gray 64GB iPhone 6.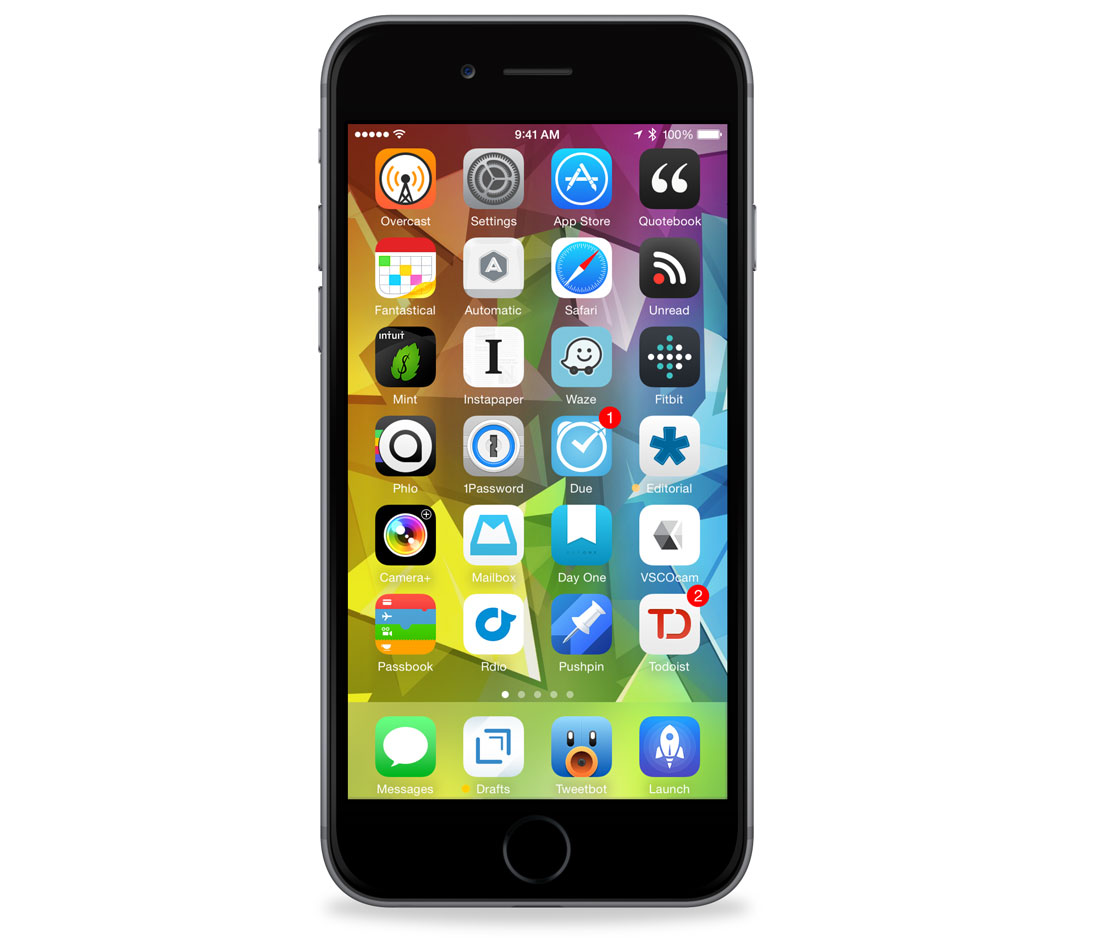 Editor's note: You can find Christine's wallpaper here.
What apps do you use the most, and why?
Messages is a built-in app, but I cannot be without it. It's the way I communicate with my boyfriend throughout the day, as well as a couple of other friends and family members. It's vital to my daily communication, so even though I don't have many stock apps on my home screen, Messages will always remain.
Another app that I use very frequently throughout the day is Tweetbot. Twitter is where I get most of my news and iOS related topics to write about, so I'm on it often. I also like to keep up with my mentions and chat with friends on the network.
1Password is a necessity because I have been using very complex passwords for my logins, which I can't even remember offhand. This is a must-have to help me gain access to the dozens of services that I use daily, as well as those that I don't use often.
Mailbox is always there because I get a lot of email for work, and I need to take care of it in a timely manner. The swipe gestures and snooze options in Mailbox really help me tackle my mail efficiently.
Todoist is a new one, which I've only added in the past month, but it's become my go-to app for keeping all of my tasks organized. In fact, it's replaced OmniFocus, which I've been using for years, so that's saying something. I love the way projects are organized in Todoist, with the labels, reminders, priority levels, and support for notes and attachments. Cross-platform support is nice, and the sync is the fastest I've seen. There's also a lot of integration with other apps so it's easy to send something to Todoist, and the karma system keeps me motivated to get things done.
Fantastical 2 is my favorite calendar app because of the natural language input. It also looks lovely, and the Day Ticker and month views are top notch. The widget is the easiest way for me to see my schedule every morning.
Instapaper is my preferred read later app of choice. The simple design, typography, folders, and search keep me a paying subscriber. I save a lot of links that I can't read at the moment into Instapaper, and I like to catch up on my list at the end of the day when I'm winding down.
Unread is my RSS app that I check constantly to stay on top of the news each day. I used to use Reeder, but Unread's design is gorgeous, and I've learned to skim through a lot of articles with it quickly thanks to the swiping gestures. I just wish it had a faster way to add something to Instapaper.
Day One is the place I like to keep memories (words or photos) about my life. I used to try writing in it every day, but lately I've been using it mostly for more special moments that matter to me. It's also a great way to record the unexpected events that happen in life, whether they're good or bad.
Rdio is used every day when I'm in the car, as I need music playing and I enjoy the convenience of streaming. Plus, Rdio has a nice interface and the discovery is top-notch for me. Overcast is another option for audio in the car or when I'm exercising or doing things around the house. I listen to a lot of tech podcasts, and Overcast has been the best app for the job due to the Voice Boost and Smart Speed features.
I'm trying to get in shape again, so Fitbit is used to track my exercise when I go on my daily walks. Plus, I use their tracking devices so I always need to sync to track my progress each day.
VSCO Cam has been my photo editing app of choice for a while now. I love all of their filters (I've bought pretty much all of them), including the freebies they give out, and the editing tools are essential and intuitive to use.
Launch Center Pro is the shortcut app for launching a plethora of other apps that I use often but not enough to warrant a spot on my home screen.
Which app could you not live without?
The native iOS Camera. Even though I have Camera+ on my home screen (I use it for set up photo sessions, not spontaneous captures), I've found that most of the time I just launch the Camera from the Control Center or lock screen to capture something quickly. I love taking photos with my iPhone, so without this, it would always be a hassle to launch another app and wait for it to get set up — by that time, the moment may already have passed.
Also, 1Password is very important, because if I didn't have that, well, I'd be pretty much screwed when it comes to logging in to a lot of websites. It's always one of the first apps I install on a fresh device, regardless of platform.
---
There are more Sweet Setup interviews right here.