CARROT Weather for iPad Adds Multitasking, Keyboard Shortcuts, and More
August 5, 2019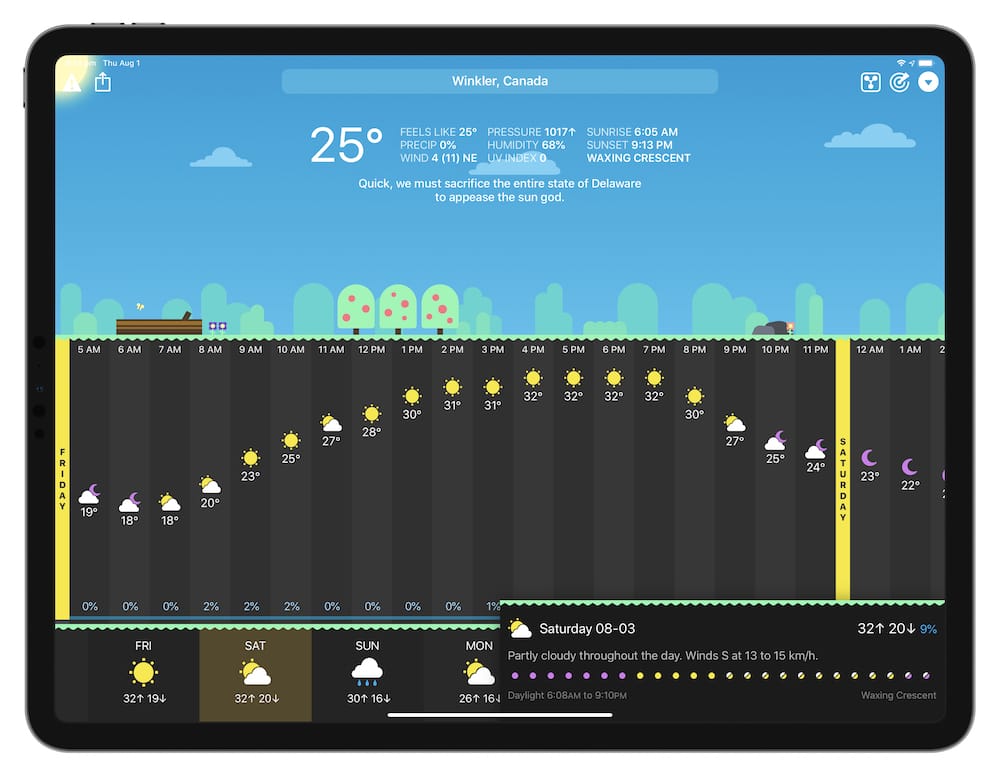 CARROT Weather is our pick for the best weather app for the iPhone and iPad due to its extensive features, ease of use, constant development, and hysterical character. But despite being constantly updated, CARROT Weather's most recent major improvements have come to the iPhone and Apple Watch — the iPad has largely been left out of the party.
This time around, CARROT Weather 4.12 introduces a bunch of great iPad enhancements, bringing the iPad app back to par with its iPhone and Apple Watch brethren. From design improvements for the largest iPad Pro 12.9-inch display, to Split View and Slide Over support, to keyboard shortcuts and iCloud sync for settings, CARROT Weather 4.12 for iPad is a huge update.
Split View and Slide Over Support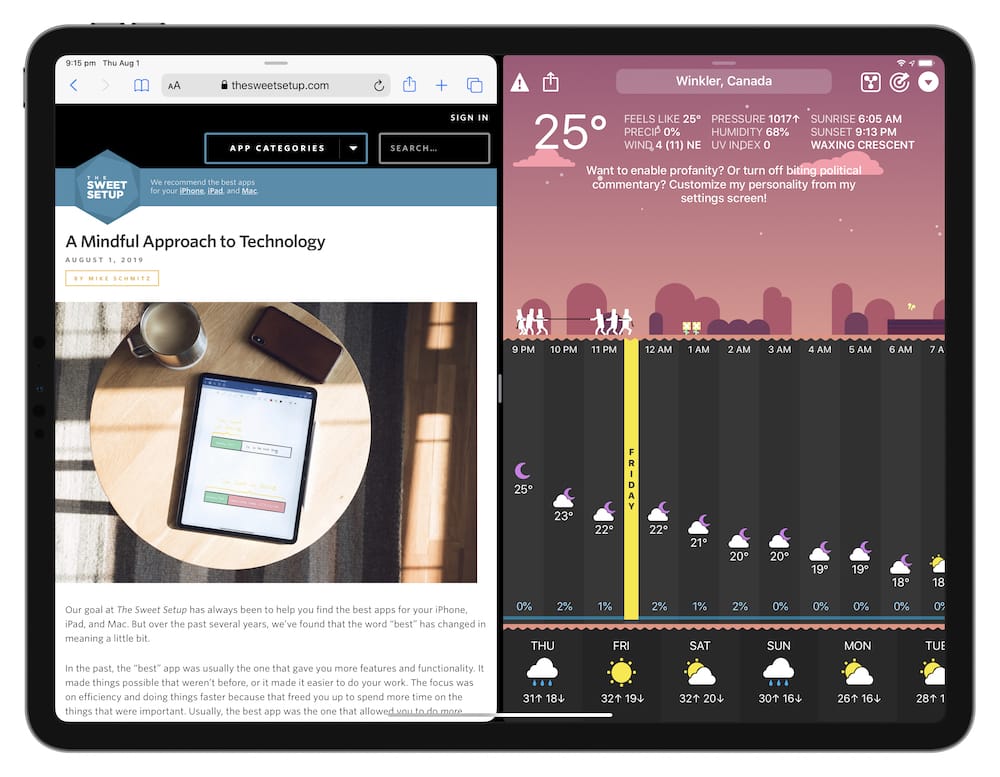 First and foremost, you can now put CARROT Weather into any of iOS 12's (and iPadOS's) multitasking views. You can insert a second app next to CARROT and work with it in Split View (great for quickly referencing weather patterns while, say, chatting with someone in iMessage) or throw the app into Slide Over. Slide Over is particularly powerful in the iPadOS beta, as you can quickly and easily jump into CARROT to check the weather and get out of the app to get back to what you were previously doing.

These two improvements on their own help to bring the CARROT Weather iPad app back to square with the iPhone, Apple Watch, and iOS in general.
Keyboard Shortcuts
All the best iPad apps are utilizing more and more keyboard shortcuts these days, and for good reason — having to tap all over the screen when you're working with the iPad at a desk can be taxing. Apps like Things 3, Ulysses, Bear, and more have implemented navigational keyboard shortcuts so you don't even have to tap to go back.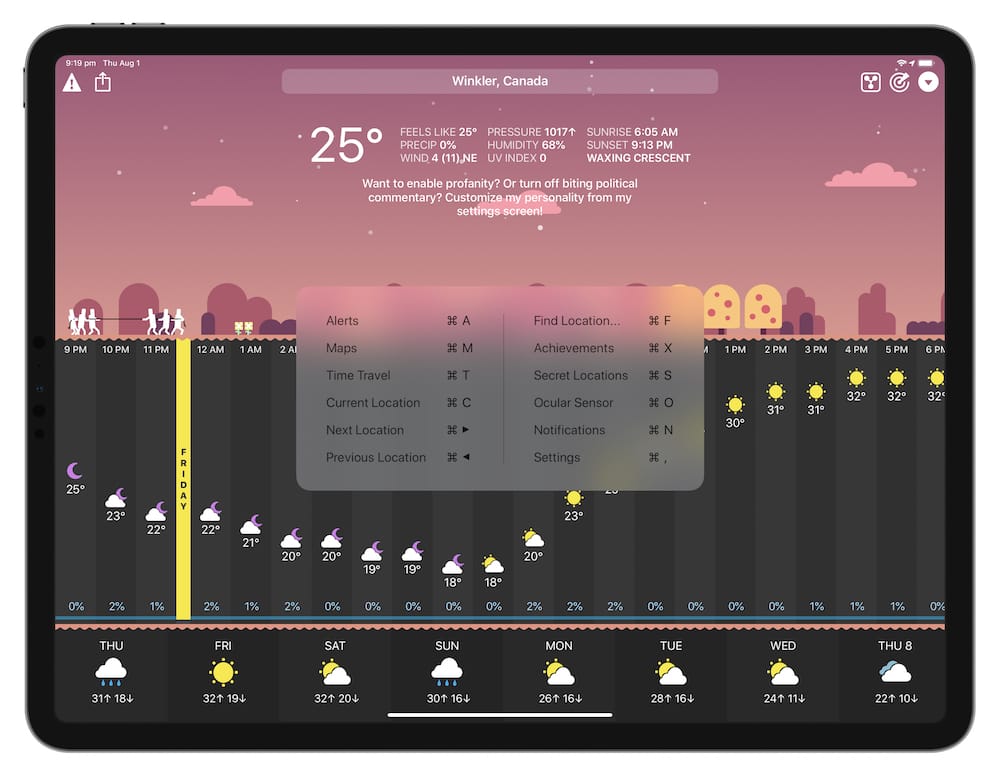 While we don't have navigational keyboard shortcuts in the latest CARROT Weather update, we do have a range of keyboard shortcuts for more efficiently working with a keyboard in the app.
Using the Command key and a variety of letters, you can move into the Maps view (a giant radar view), Time Travel (jump ahead to a future date to see a forecast), notifications, settings, and even scroll through your different saved locations, all with the keyboard.
These keyboard shortcuts, in combination with Split View support, make CARROT Weather an app that can work within a productive iPad Pro environment, rather than the app that clogs up a period of focus because it's not updated with the latest features.
iCloud Settings Sync
CARROT is a settings-heavy app. By that, I mean that there are a wide variety of customizable features to suit your specific needs. Spread across three tiers of subscription pricing, it'd be a pain to constantly update all customized settings on multiple devices.
CARROT 4.12 introduces iCloud settings sync to get around just this problem. Now, set your customized settings and forget about them — they'll automatically show up on both the iPhone and iPad once you've logged in.
Wrap Up
CARROT Weather is the very definition of stellar development. From its ease of use and design to its unparalleled level of weather features and notifications, there's no doubt it's the best weather app available for iPhone and iPad. (And that's not to mention the app's one-of-a-kind character.)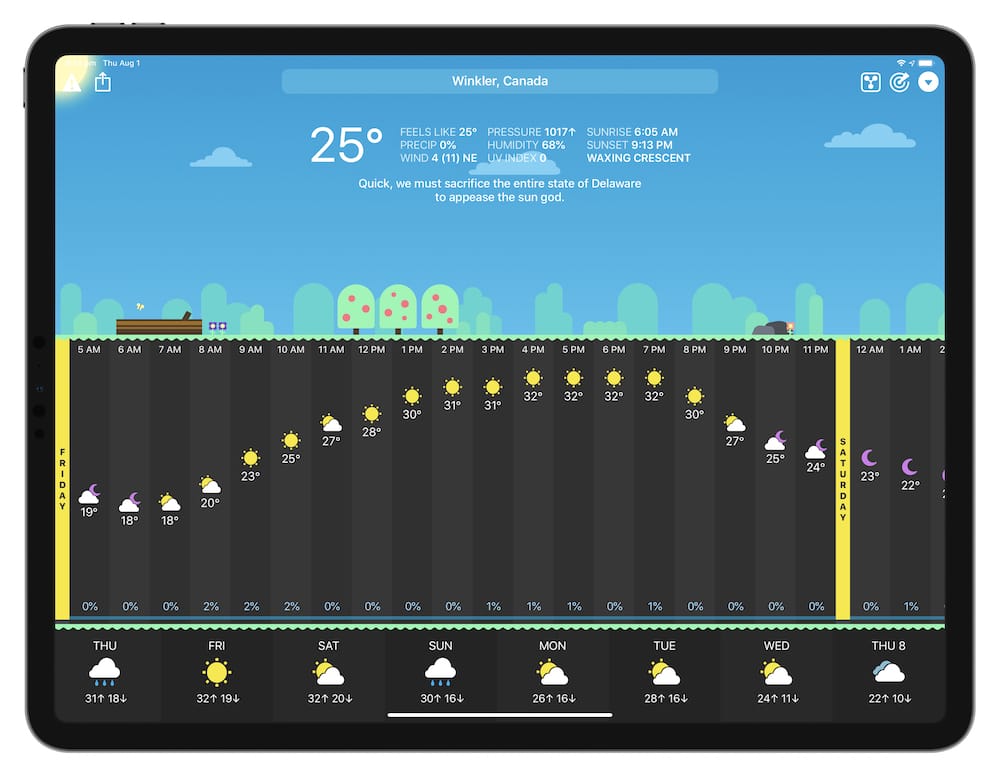 With CARROT 4.12, that same development now sits consistently aligned across the iPhone, Apple Watch, and iPad. Keyboard shortcuts and multitasking support are bound to re-insert CARROT into a power-user's iPad Pro workflow.
For more information about CARROT Weather, check out our full review. If you've already purchased CARROT Weather, you can download the free update to CARROT Weather on the App Store. Otherwise, the $4.99 price tag is well worth it.
Wait. There's a Bonus…
Curated List of Must-Have Apps
We spend an inordinate amount of time sorting through hundreds of apps to find the very best. And based on our own usage, plus the feedback of our readers, we have put together a short list of our must-have, most-used apps in 2022.
You will get…
The current list of The Sweet Setup's top 8, must-have apps.
A special, pro tip for each app to help you save time and become more of a power user.
A hidden feature of each app that you may not have known about.
These apps work on iPad, iPhone, and Mac. And they range across several different categories but are mostly focused on productivity. We hope this will help you get the most out of your devices and your day.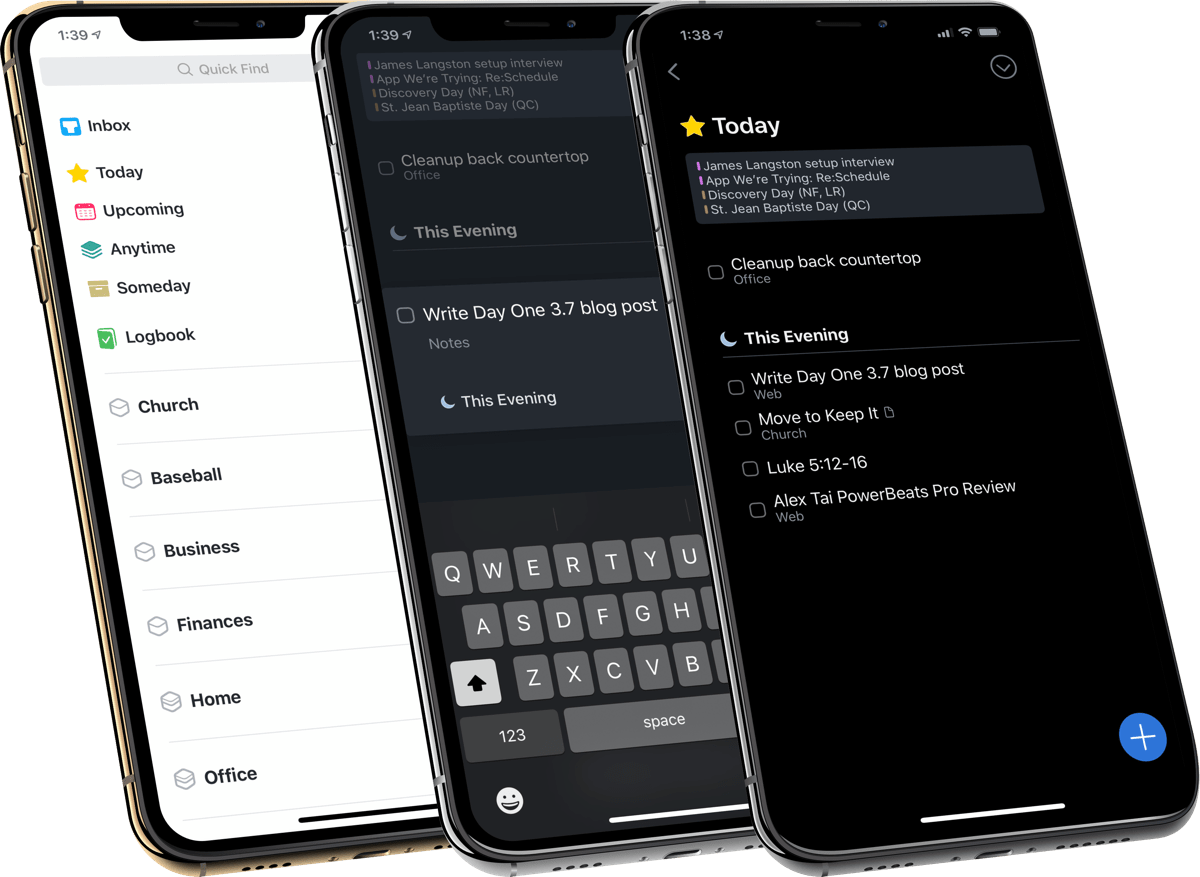 This guide is available for FREE to our email subscriber community. And you can get it right now. By joining the Sweet Setup community you'll also get access to our other guides, early previews to big new reviews and workflow articles we are working on, weekly roundups of our best content, and more.