Brian Hendrix's Mac setup
July 10, 2017
Every week we post a new interview with someone about what software they use on their Mac, iPhone, or iPad. We do these interviews because not only are they fun, but a glimpse into what tools someone uses and how they use those tools can spark our imagination and give us an idea or insight into how we can do things better.
New setup interviews are posted every Monday; follow us on RSS or Twitter to stay up to date.
---
Who are you and what do you do?
My name is Brian Hendrix, and I'm a U.S. Air Force veteran having served for eight years in the medical field in Radiology and Nuclear Medicine. My father also served for 20 years. I also met my wife while serving — she was in the U.S. Army in military intelligence.
Being raised in the military and serving has definitely defined a lot of how I work and think. I am now a Senior Technical Engineer for Ascension Health (largest not-for-profit healthcare system in the U.S.). I work on a national team so I'm 100% "work-from-home" and coffee house!
What is your current setup?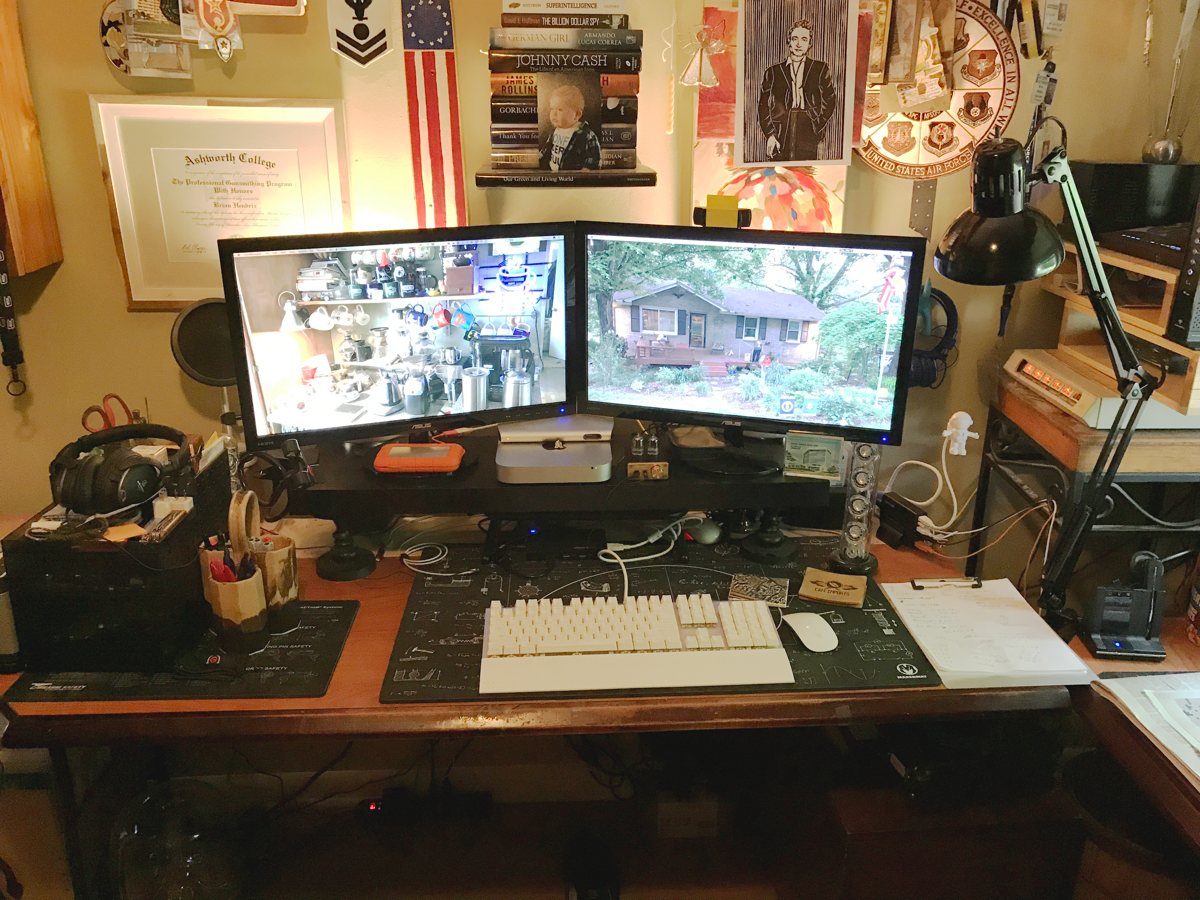 My day starts Windows 7 in Parallels on my left 27-inch screen, and I will work 10-12 hours taking care of emails, tickets, and servers for my out-of-state sites. The Windows 7 VM is a very basic setup using Office.
However, being a Mac fan, the right screen is reserved for everything non-work related. I'll watch documentaries, movies, and videos during the day while I work and check personal email.
Some new applications I'm trying are Airmail 3 — I'm looking for something that is an improvement over Apple Mail. Another new app I'm really loving (and I'm part of beta team) is Atlas Recall. It essentially remembers everything I do and lets me search my past activities. Some new things coming with this app can literally let me get rid of Evernote and other similar apps.
As for "security", I always have 3 backups: local, on-line, and offsite. For backups, I use:
Local: Time Machine with Netgear NAS102 (RAID).
Offsite: Hard drive attached via USB Hub with back ups performed via Carbon Copy.
Online: Tresorit (zero knowledge) with synced "Hive" folder for all devices.
For Virus/Malware, I use Bitdefender Antivirus for Mac. All disks and attached disks are encrypted.
For music, I use real vinyl played on a real record player that is cabled via USB and direct line to a Bose SoundLink III Bluetooth speaker.
For lack of a better word, I like to be semi-cluttered — I like everything to be within reach without being messy. I don't like pristine, completely clear desktops!
Because my wife and I do a lot of auctions, I also like "smalls," and if you saw the other 4 sides of the man cave, you'd see them!
Detailed list of gear in my office:
Where can we find your macOS wallpaper?
My wallpaper is always personal photos I take myself. I'm an amateur photographer and take lots of photos.
What software do you use and for what do you use it?
How would your ideal setup look and function?
The biggest issues I have is power and cable management. I've been lazy in cable management and just try to hide them well.
My man-cave (spare room) only has 4 power sockets on the 4 walls, so I have to use safe, high-end power strips.
---
There are more Sweet Setup interviews right here.
Want to share your setup? We'd love to hear from you. Just fill out this form with some basic information and we'll be in touch.
---
The 5 Best Productivity Apps (Sweet Setup Favorites)
Download: We spend an inordinate amount of time sorting through hundreds of apps to find the very best. This list of must-have productivity apps includes app links, quick-start info, and pro-tip workflow recommendations for each app.