Brandon Wentland's sweet setup
October 27, 2014
Every week we post a new interview with someone about what software they use on their Mac, iPhone, or iPad. We do these interviews because not only are they fun, but a glimpse into what tools someone uses and how they use those tools can spark our imagination and give us an idea or insight into how we can do things better.
New setup interviews are posted every Monday; follow us on RSS or Twitter to stay up to date.
---
Who are you and what do you do?
My name is Brandon Wentland, and I run a 14-person digital marketing agency called Optimal. We help brands make money online by driving lots of traffic to their sites and converting them into buyers. We also do custom website design and development.
What is your current setup?
I have experimented and tinkered with my setup endlessly over the years and I feel like I finally found something that really fits my needs (for now!).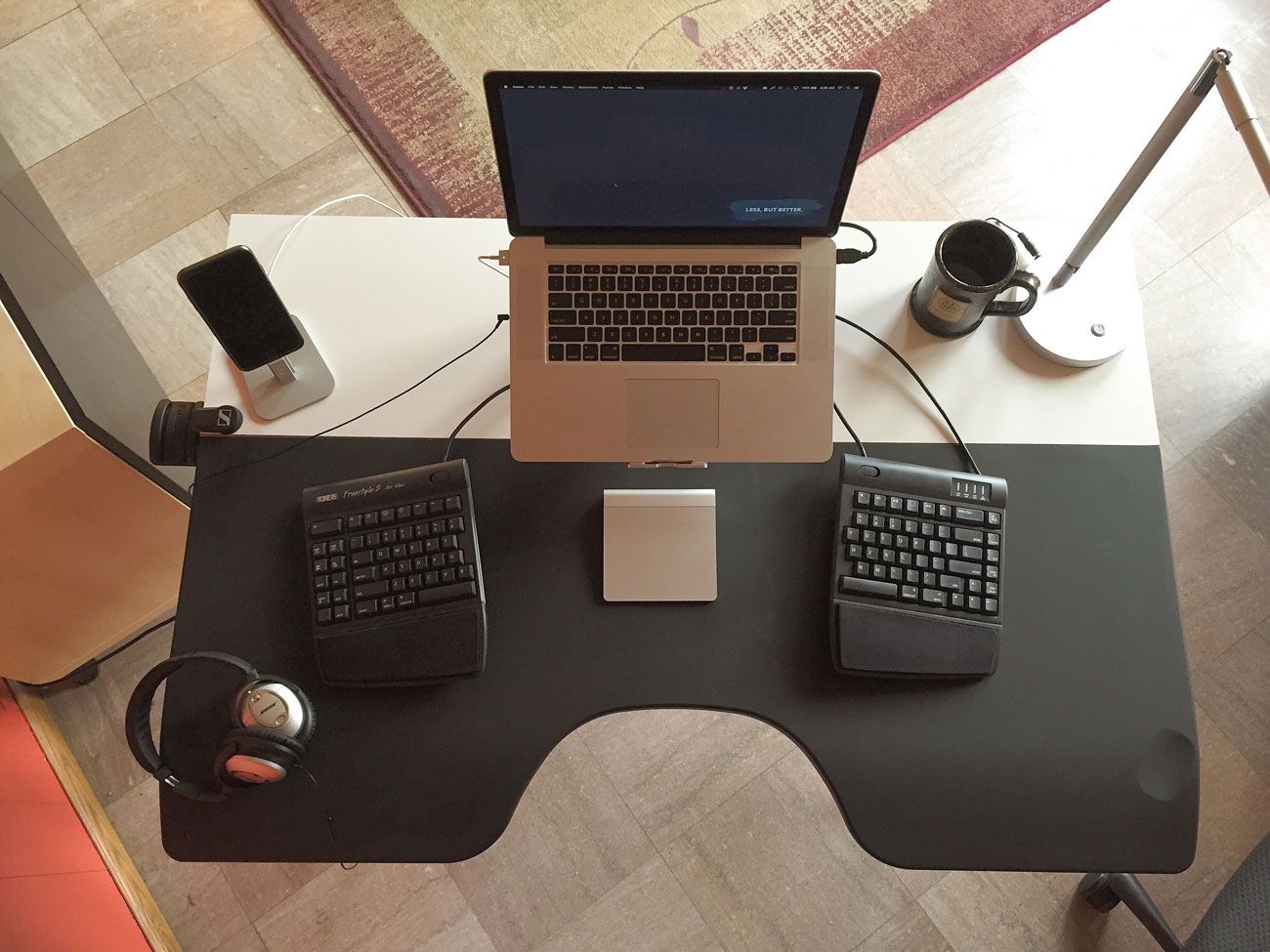 Ergonomics are really important to me. For years I have struggled with chronic pain in my neck and shoulders, and this setup makes it possible for me to keep working long hours at my Mac. Initially, I could sit in any chair, in any position, for endless hours, but those days are long past.
Split Keyboard Reduced My Shoulder Pain
To help my shoulder pain, I purchased a Kinesis Freestyle2 split keyboard. This article is what convinced me to get a split keyboard. I agree 100% with him: a split keyboard relieves a tremendous amount of tension in your neck and shoulders. I never had any sort of hand pain but decided to opt for the accessory kit that takes pressure off your hands. It took me about 1 month to retrain my muscle memory, and now my hands fly on this keyboard. I have used high quality Das keyboards in the past, and though the Kinesis isn't as good, it's still very nice.
I pair this with the Apple trackpad which, although not as efficient as a mouse (in my opinion), feels more organic/natural and completes the ergonomic setup with less hand strain.
Herman Miller Chair and Desk Reduced My Neck Pain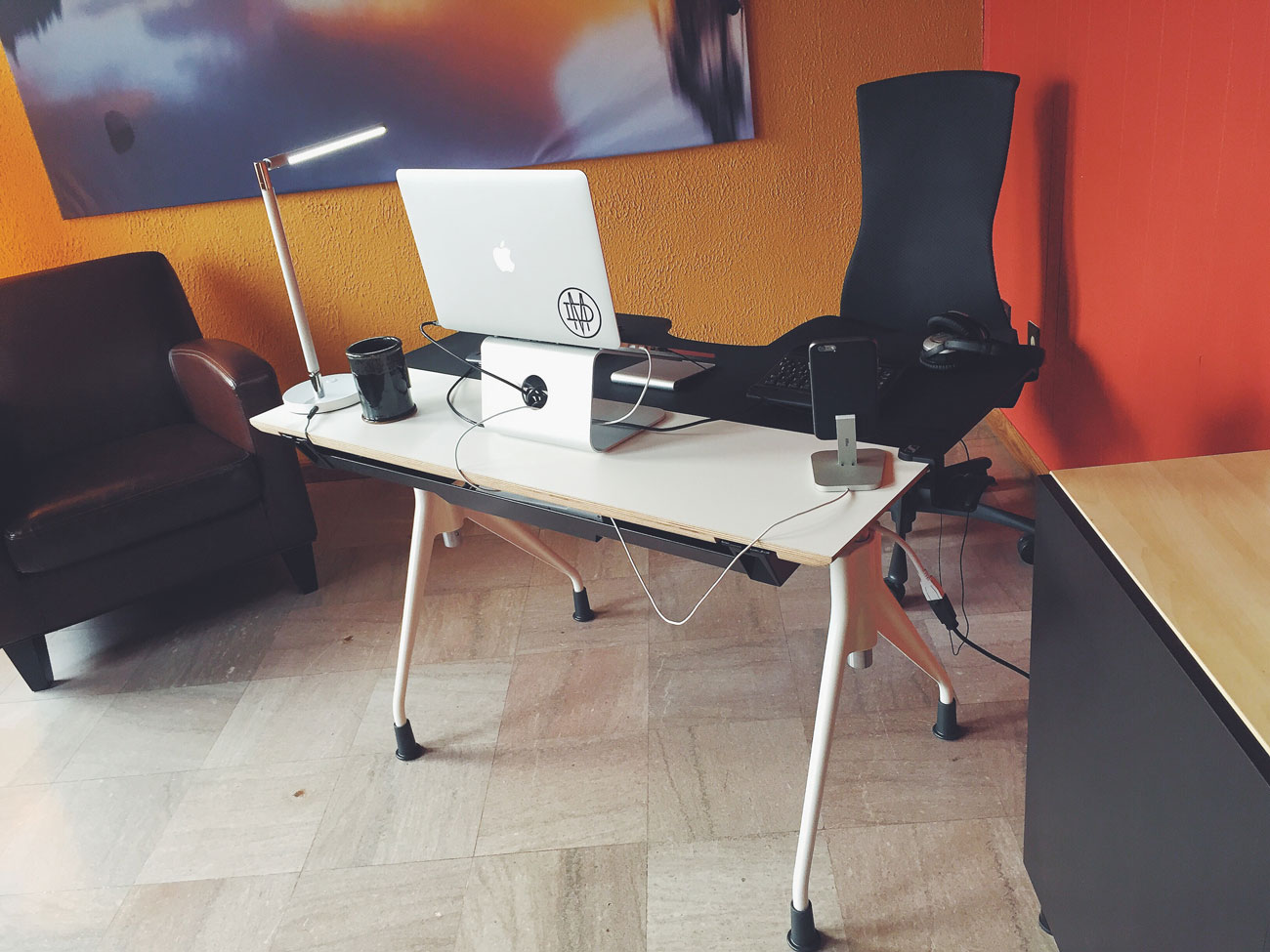 To relieve my neck pain, I invested (a lot) into Herman Miller's excellent Envelop desk and Embody chair. The two were created to work together. The Envelop desk fully envelops me (clever, right?), and I can pull it back to recline while working. The reclined position is ideal for taking pressure off of my back, and the Embody is the best chair for this. What I like about this setup is the Envelop desk forces me into good posture. It will push against me if I slouch forward. That's a life saver because no matter how hard I try to avoid slouching, once I get in the flow, I turn into a hunchback.
Finishing Touches
To finish off my setup, I purchased the mStand Laptop Stand for my MacBook. I use a late 2012 Retina MacBook Pro decked out with the maximum of 16GB of RAM. It is total overkill for what I need, but I love it. I just wish it was not so heavy and that the battery life was similar to the Airs. To the side of the stand, I added a simple and cheap LED lamp I picked up on Amazon, and to the left is the excellent HiRise iPhone stand from TwelveSouth. I was super happy to find that it fits the new iPhone 6 Plus.
What OS X software do you use and for what do you use it?
I use a lot of the same software mentioned in previous Sweet Setups so I'll just mention my favorites:
How would your ideal setup look and function?
The only thing I would change is to make the rMBP lighter and thinner if possible. I am also excited to see if Apple comes out with retina Thunderbolt displays. Other than that, I feel I have the perfect setup (for me, anyway).
What iPhone do you have?
I was one of those suckers who stood in line on launch day this year. It was actually a lot of fun and I'd do it again.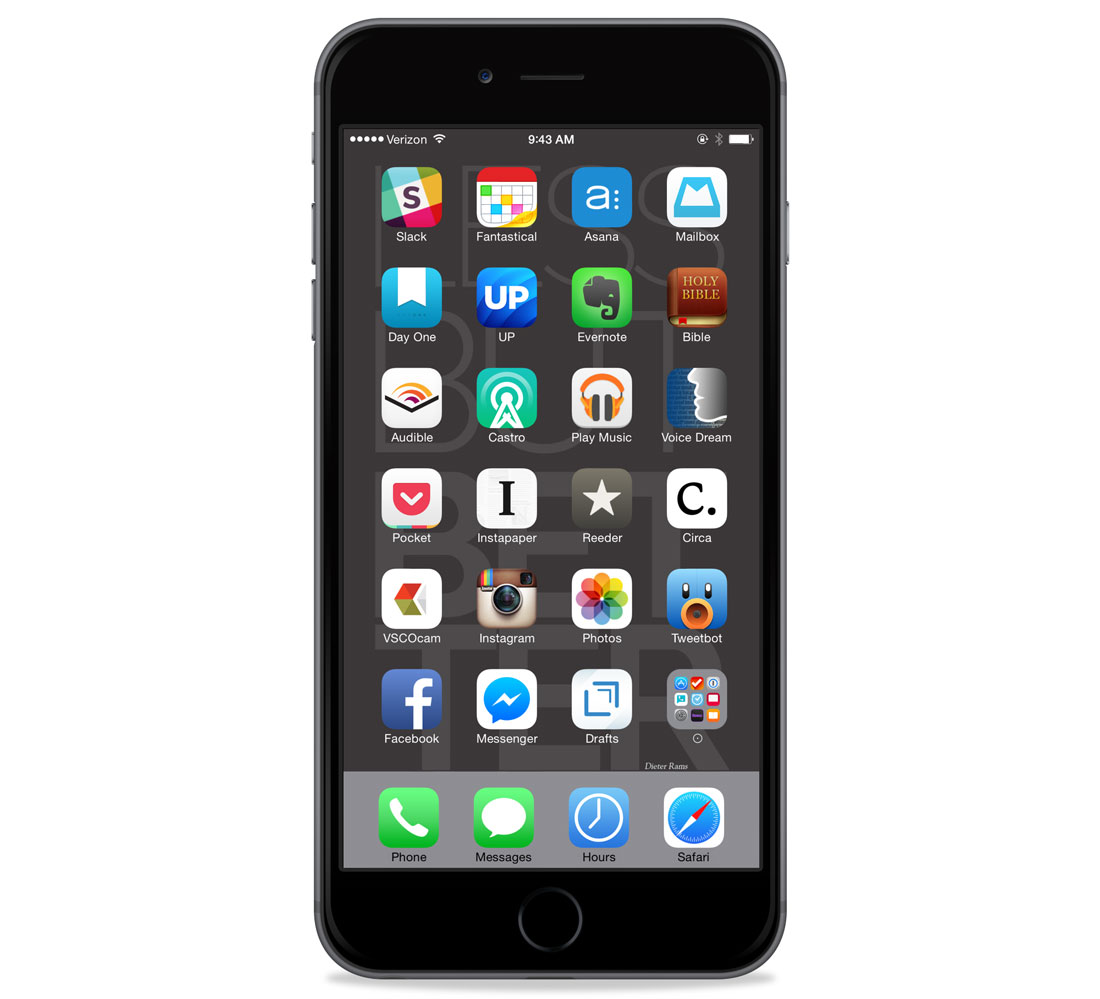 I took the plunge and got the iPhone 6 Plus, space grey, 64GB. I owned 3 iPads previously but I rarely used them. It was just one more thing to carry around and charge, and I typically pulled out my iPhone instead of going across the room for the iPad (supreme laziness, I know).
My goal was to condense down to one device, and it's working. There are some compromises, of course. I had to figure out a new, funky hand grip to hold and use it one-handed. And I'm always aware there is a giant phone in my pocket. Still, it's worth it.
What iOS apps do you use the most, and why?
One of my favorite things about the evolution of the Mac and iOS is how apps are linking between platforms to create continuous clients. Most of my iPhone apps fit into this category:
The rest are things that are iPhone only or just work best on the iPhone:
Which iOS app could you not live without?
According to my iPhone's battery usage, it's Safari. I know, it's not the sexiest answer, but I use this app for everything. It's the killer app.
---
There are more Sweet Setup interviews right here.