Brad Dowdy's sweet setup
November 3, 2014
Every week we post a new interview with someone about what software they use on their Mac, iPhone, or iPad. We do these interviews because not only are they fun, but a glimpse into what tools someone uses and how they use those tools can spark our imagination and give us an idea or insight into how we can do things better.
New setup interviews are posted every Monday; follow us on RSS or Twitter to stay up to date.
---
Who are you and what do you do?
My name is Brad Dowdy, and I am a pen addict. By day, I write pen reviews at The Pen Addict and make pen cases at Nock Co with my partner, Jeffrey Bruckwicki. By night, I am a UNIX admin at a datacenter. All of the other hours I am a husband and father. There is sleep in there somewhere, too. Maybe.
What is your current Mac setup?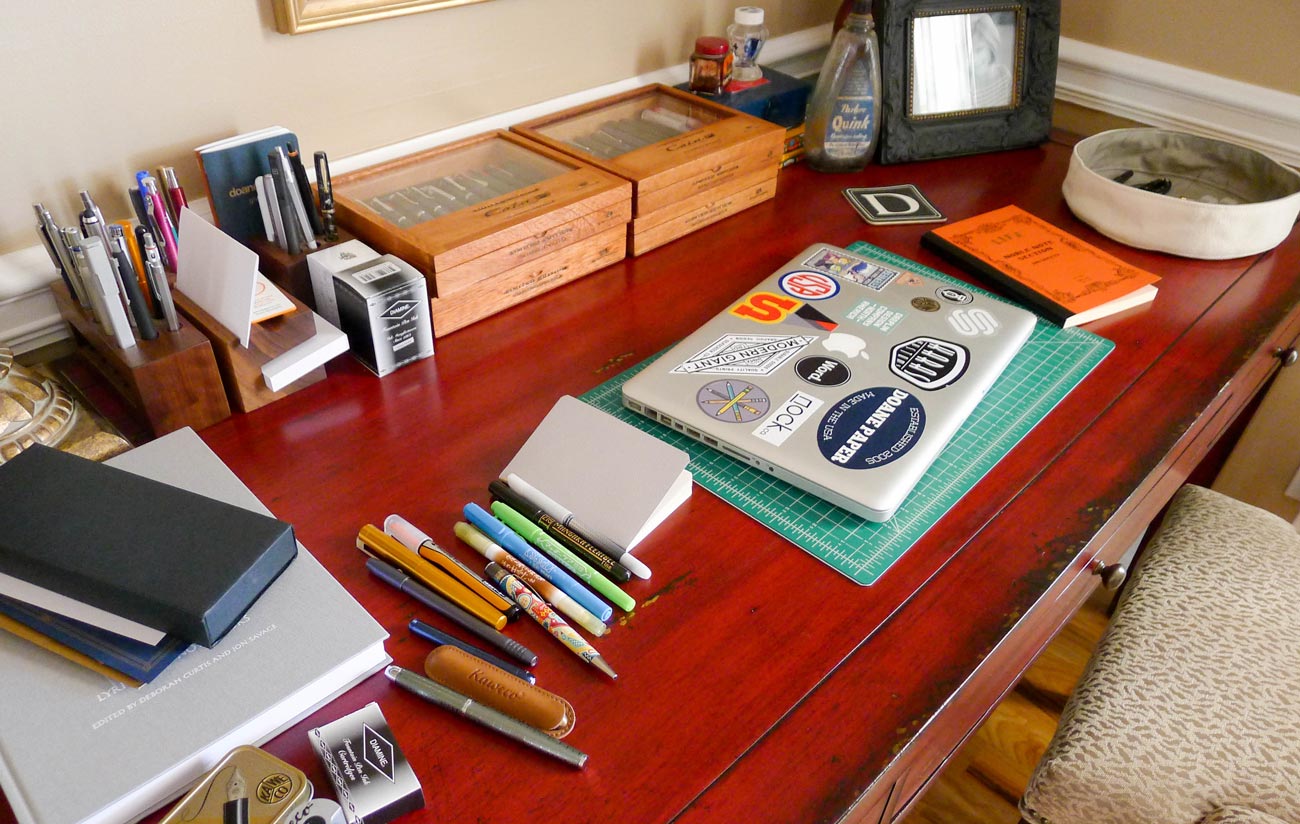 You can find Brad's OS X wallpaper here.
I do the vast majority of my work on an early-2011 MacBook Pro sitting at a desk surrounded by pens and paper. I didn't straighten it up much for this picture since this is how it looks most of the time. I take that back — this is on the calmer side of things. I test out a ton of products, so the stacks pile high.
The setup feels comfortable though. My pens are within arms reach, with fountain pens stored in refurbished cigar boxes by BamaPen and all other pens happily contained in various walnut block storage from Dudek Modern Goods. A wide range of paper – Rhodia, Doane, Maruman, Tomoe River – fils up the main desk drawer. The computer is an afterthought most of the time.
One accessory I do like having on my desk is my Alvin cutting board. While I don't mind getting ink all over myself, I don't want it on my desk. The cutting board keeps it contained when I'm cleaning or filling pens.
What OS X software do you use and for what do you use it?
I am a recent convert to Ulysses and I'm mad that it took me so long to start using it. It allows me to organize posts better than I ever have and the writing experience is smooth and, dare I say it, sexy. Byword was my previous go-to and I still use it frequently for quicker notes and ideas.
When I'm not writing, Safari and Tweetbot are burning my eyeballs, with window sizes mananged by the very underrated Moom. It lowers window-resizing frustration greatly. Alfred is another friction-reducing app, along with 1Password and TextExpander. Besides Dropbox, those are the first apps I would put on a new computer.
The supporting cast includes QuickBooks for managing the business side of things at Nock Co. and Lightroom for making my horrible pictures look slightly less horrible.
How would your ideal Mac setup look and function?
I am a realtively low-maintenance computer user, so if I have internet, a browser, and a nice writing app, I'm set. If someone could make a decent email app for the Mac, life would be much better. I've tried them all and I keep going back to Gmail in Safari.
Outside of that, a meaningful pen, quality paper, and a good view is all I need.
What iPhone do you have?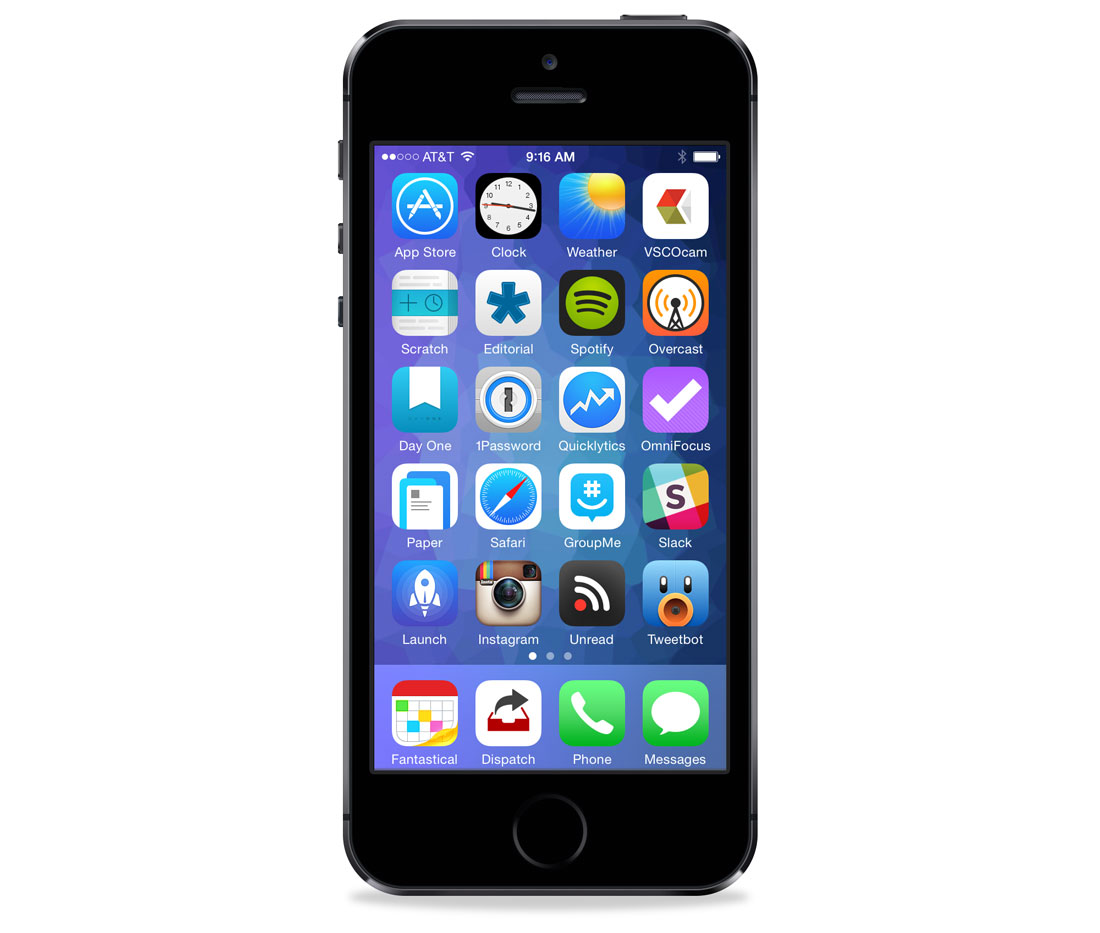 You can find Brad's iPhone wallpaper here.
I'm currently using the Space Grey 5s, 16 GB.
What iOS apps do you use the most, and why?
Dispatch is probably my most used app. As poor as the mail experience can be on the Mac, it is quite good on the iPhone. Again, I feel like I've used them all and nothing compares to Dispatch for me. The workflow, gestures, actions, and snippets fit me well. This is how I want mail to work and is why I try to answer as much mail on my phone as possible.
Tweetbot is another heavyweight for me. I love everything about Twitter, and Tweetbot makes it easy to manage my accounts. I'm a big RSS guy too, and Unread―backed by Feedbin―is how I keep up to date with the latest news. Instagram is a constant supply of information, especially for someone like me who enjoys products not readily available in the US. The breakdown of people I follow skews heavily toward Japanese.
Fantastical 2 is as good as advertised. Everyone in our family has their own Google calendar so my wife and I can see everything we have going on at all times. Our schedules are insane and Fantastical keeps us in check.
Which iOS app could you not live without?
Check the Weather, because I check the weather constantly and would probably get the shakes if I didn't have a good weather app. This is another area where phone apps beat most anything you can get through a computer browser, primarily due to location awareness. Having exact, detailed weather information at your fingertips can literally be a life saver.
---
There are more Sweet Setup interviews right here.