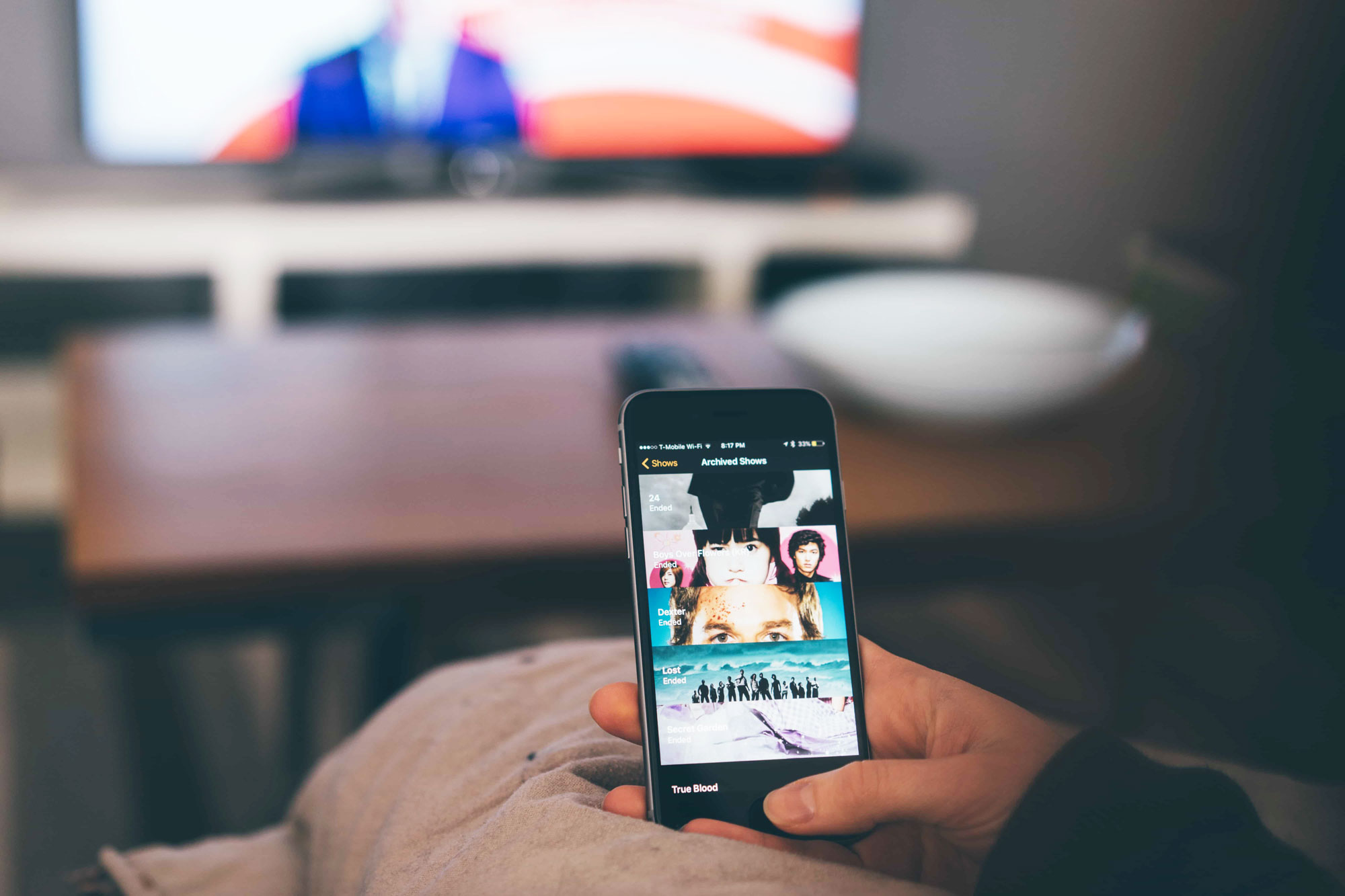 The best TV show tracking app
Television Time
September 6, 2016
TV consumption used to be fundamental. Before streaming services and over-the-top boxes, you would pick a cable package with a set number of television channels. To find out when your favorite show was on, you either purchased a TV Guide, flipped to a channel and stared at a scrolling list, or most recently, accessed an interactive guide via a cable box.
But now, with cord-cutting becoming more popular and hit shows releasing exclusively on streaming services like Netflix, to find out what's available, when it's available, and what episode you are on could become a time-consuming chore. This is where a TV tracker app can be of help.
We tested a bunch of apps and found that Television Time is the best TV tracker for iOS.
Tracking down the right tool
Before testing a variety of TV trackers, we determined what attributes made one the best. The following became our criteria:
Search – If you can't find all of your shows, then why bother? We are looking for a tracker that can find programming locally and internationally. It's also important for us to add shows that are announced, but not yet released.
Tracking – Show tracking should not only cater to live viewers, but also time-shifted viewers. We are looking for an app that can support tracking features such as push notifications, timeline views, syncing, statistics, and an easy way to mark off episodes.
Services – Backup and sync services are a must-have feature in a TV tracker. If you are using the app on multiple devices or have to start fresh on a new device, it's nice to know that you don't have to spend time re-adding shows, marking off what seasons you have seen, and any other reconfiguring you may have to do on first setup.
Design – The app should be designed to give you information on all of your shows at a glance and make it convenient for you to search and discover in an intuitive way.
Ease of use – The whole purpose of this app category is for you to spend more time watching your favorite shows and less time researching them. From its first-run setup to its daily interaction, this tracker has to feel effortless to use.
Our Pick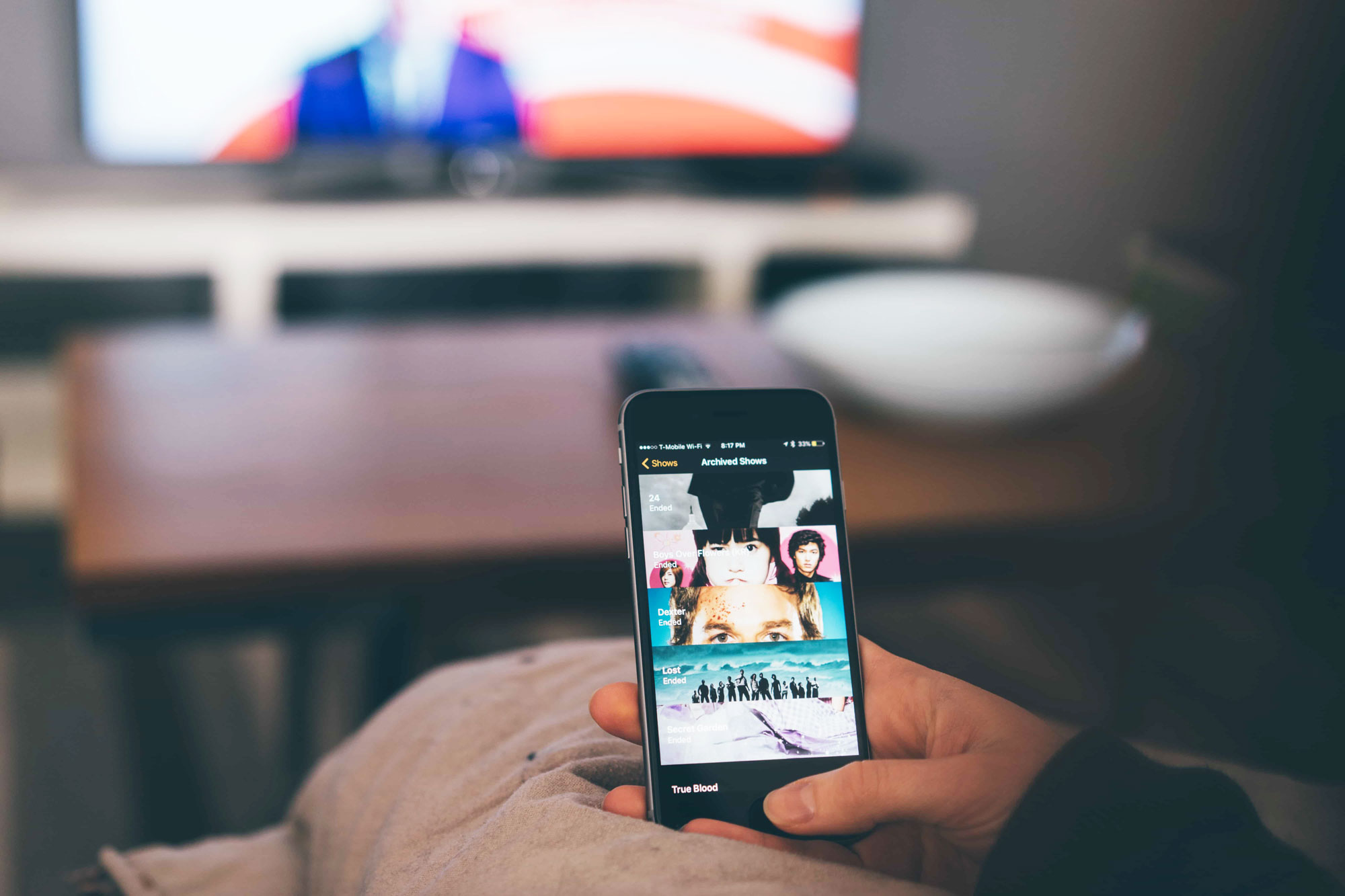 Television Time by Maximilian Litteral doesn't compromise as a TV tracker. Where its competitors fell short in search, design, or user experience, Television Time is refreshingly easy to use, well-designed, and incorporates impressive search and tracking. Along with Apple Watch and iPad support, it is worth the $2.99 price tag.
Television Time's layout is straight-forward. Along the bottom of the app are tabs for Shows, To Watch, Discover, Stats, and Settings.
Shows
On the top left of the Shows section, there is an icon for archived shows. Archived shows are a nice feature for those who want to keep track of ended series they have watched. On the top right of the Shows section is a magnifying glass icon that represents search.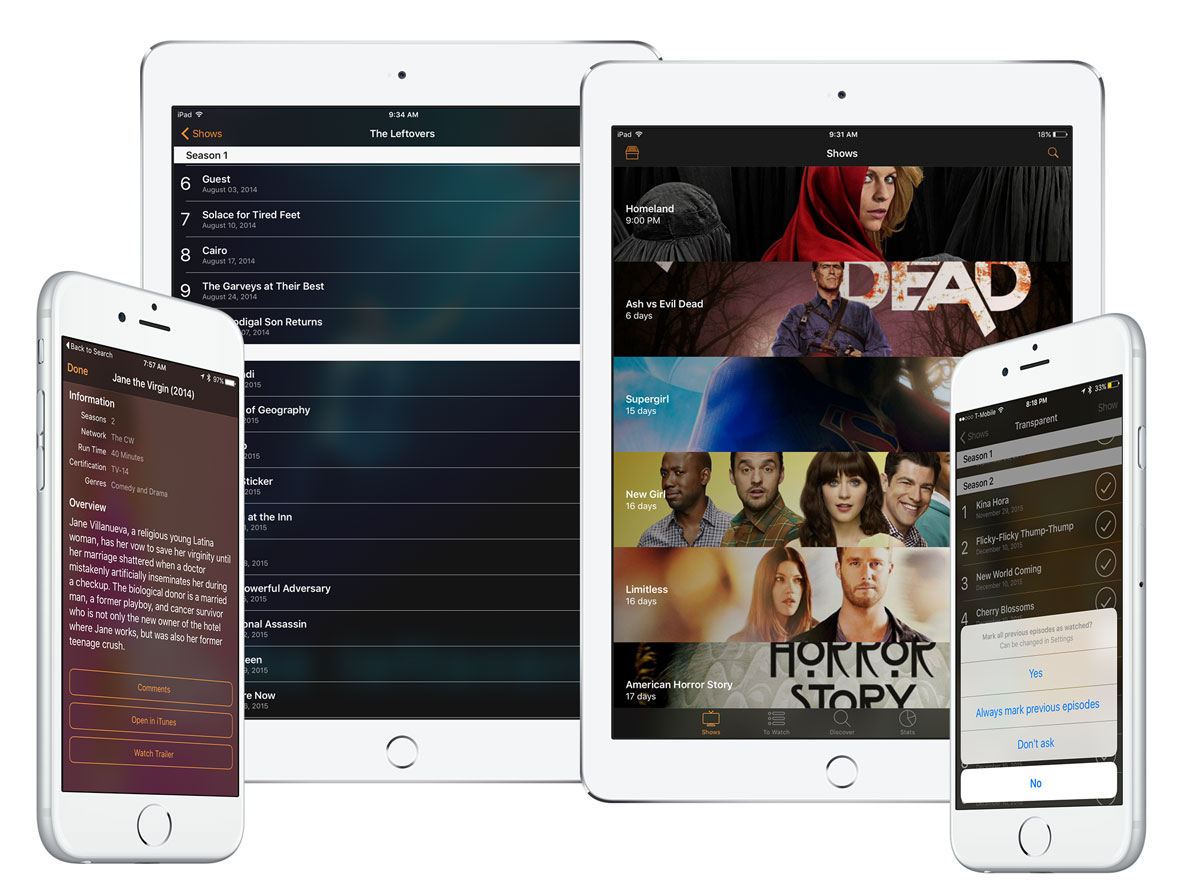 Once you have begun searching and adding shows, they are listed by air date from the most upcoming to the furthest away. Shows are displayed nicely with their current season's poster artwork. When you tap into a show, you are brought to its episode list sorted by season.
Marking off multiple seasons as watched is very easy. For example, if you are already four seasons into Homeland, you can tap the check mark next to the last episode in season four and Television Time will ask you if you'd like to mark all the previous episodes as seen. In settings, you can turn this feature off completely or have it mark previous episodes without warning you.
In addition to the episode list, there is a Show button on the top right corner. Tapping it brings you to a page that provides basic information about the show, other user's comments about the show, an Open in iTunes button, and — if available — a link to watch the trailer.
To Watch
The To Watch section of Television Time lists the next episode that you are on in each of your shows. If you tap the check mark next to an episode, it will mark it seen and increment accordingly.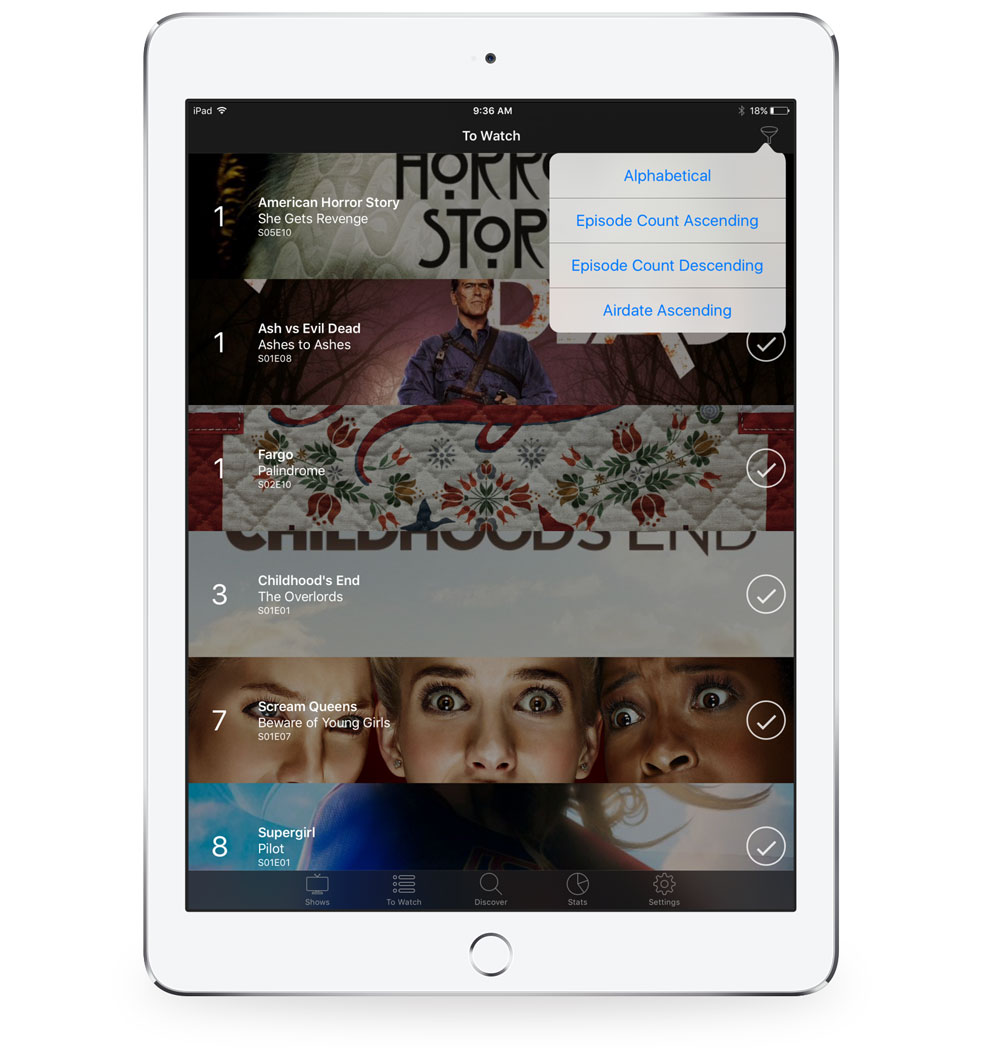 On the top right of To Watch is a filter button where you can sort your shows alphabetically, by episode count, or air date.
If you swipe to the left of an episode, you'll be brought to a page with information about the network, air date, and episode synopsis.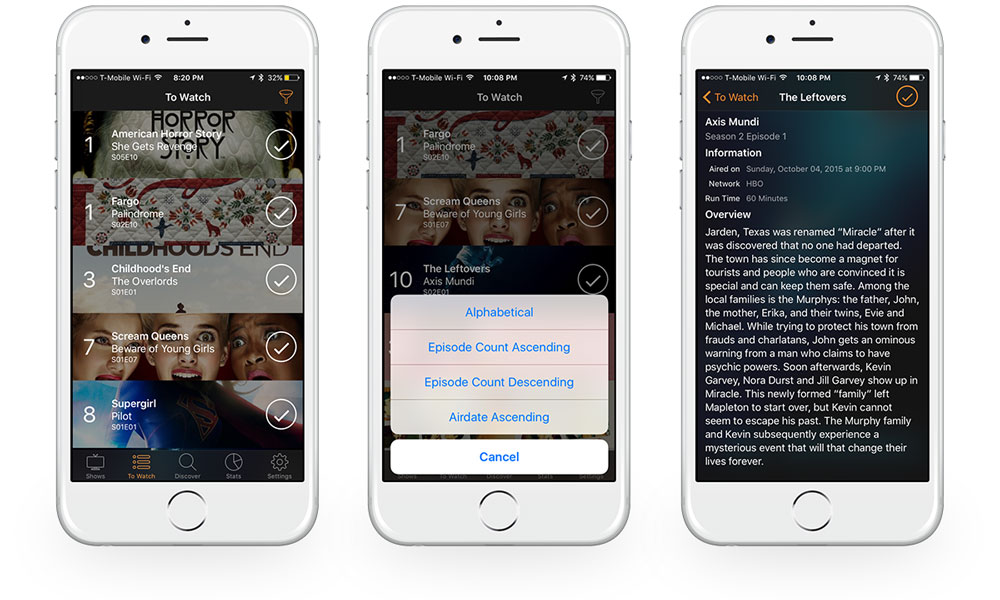 To Watch is our favorite part of the app because it gives you a quick overall view of where you are in your TV shows and allows you to sort them based on your preference.
Discover and Search
In the Discover section, you have the same searching option as in the Shows section, but Discover's main purpose is to display popular and trending TV shows. This helps in a two-fold way. First, if you are watching popular shows, it's a quick way to add them to your Shows list when you first download the app. Secondly, it does a terrific job in finding new shows that you may not have heard of.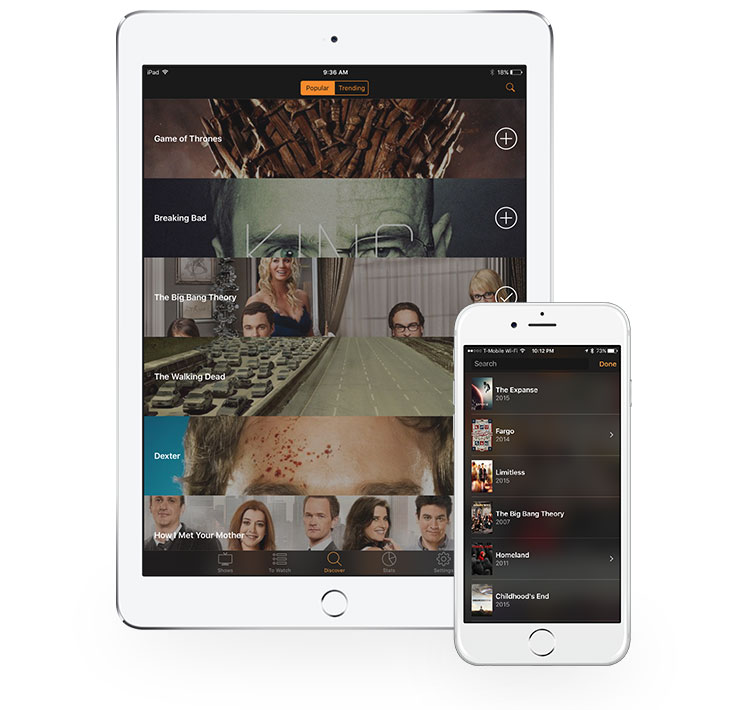 Great search was very important to us, and Television Time was up to the task. It found all the Korean dramas and other international shows that we looked for. Its results included shows exclusive to streaming services, and it also found yet-to-premier shows that were six months out.
Spotlight search adds another fast way to get to your favorite shows. When you find the one you are looking for, tapping it can bring you to its show information, list of episodes, the next episode to watch, or the next episode to air. These options can be configured in settings.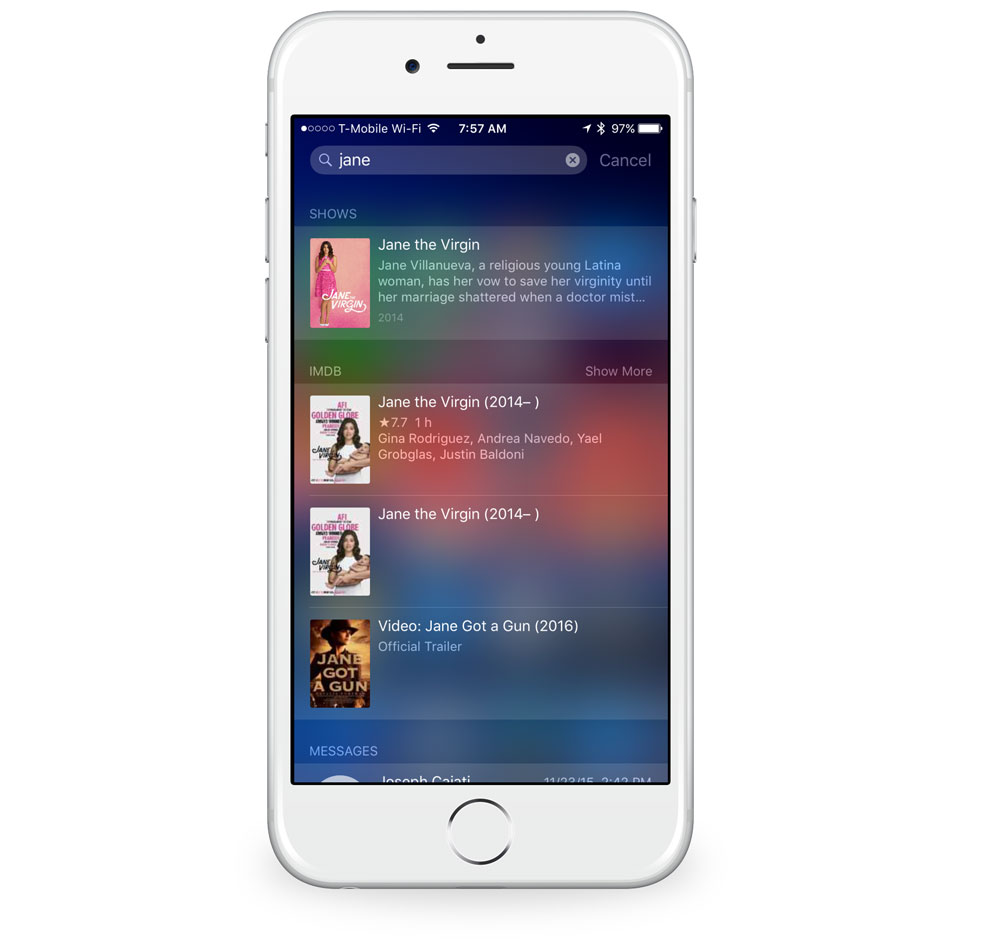 Notifications
If you want to be reminded about when a show is airing, Television Time offers you fine-grained options. In Settings, you can toggle which individual shows you'd like to be notified of and set the amount of time before or after the show airs to send you a notification.
These notifications are actionable, and you can mark an episode as watched directly from your lock screen, Notification Center, or Apple Watch.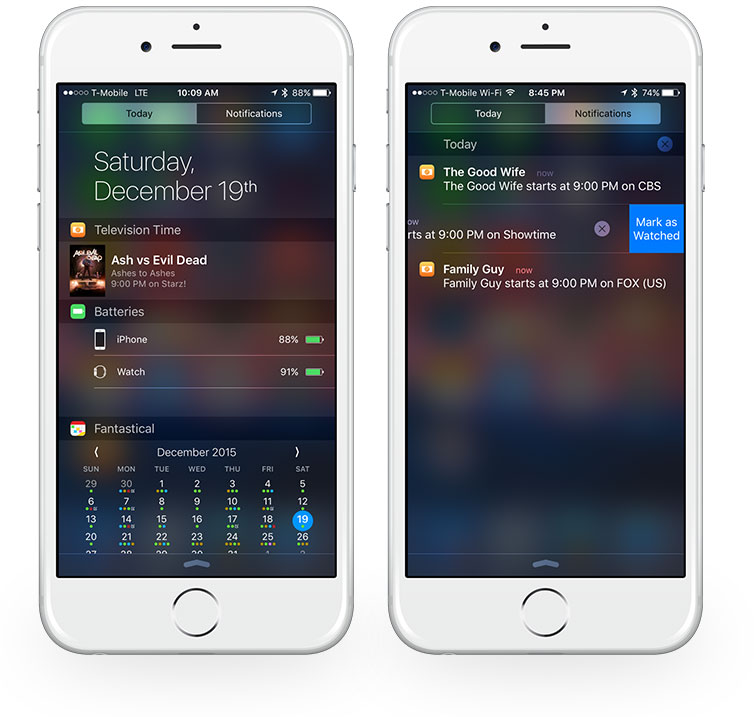 Stats
The Stats section may not be appealing to everyone, but it does provide interesting data on your TV viewing habits. It displays the following:
Time on TV
Episodes Seen
Episodes Unseen
Number of Shows
Number of shows returning
Number of shows that ended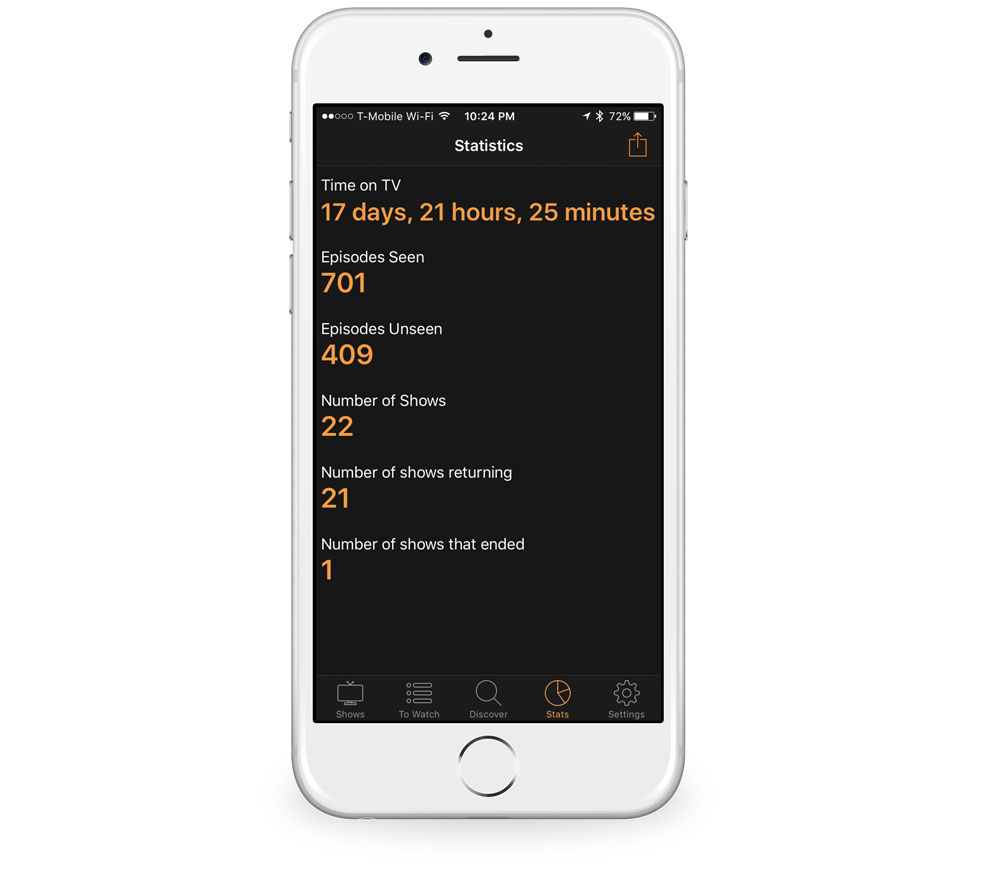 Syncing
Television Time provides two ways to sync using Trakt and iCloud. If you are unfamiliar with Trakt, it's an online tracking service for TV and movies. The benefit of using Trakt over iCloud is the ability to jump to another tracker app in the future without having to re-add data.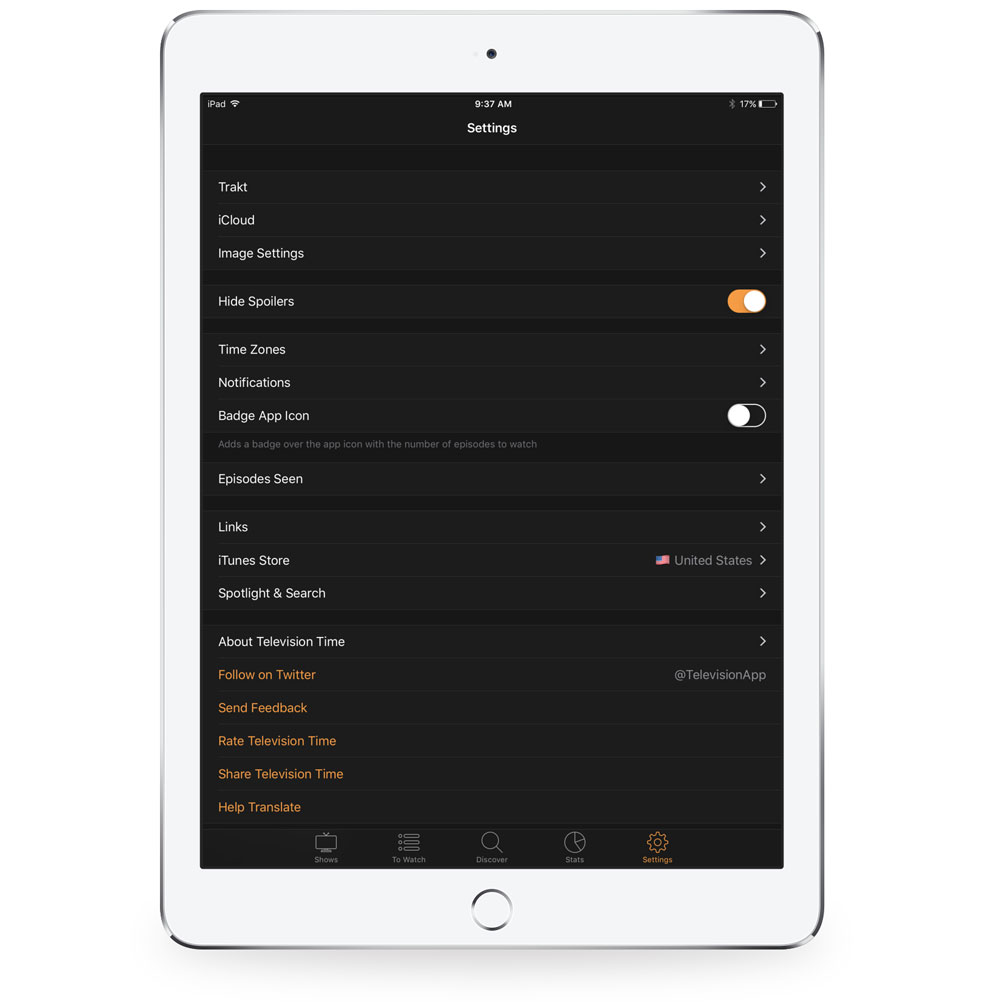 Both Trakt and iCloud performed equally well when syncing information across devices, and for those who plan on using just one device, it serves as a nice backup.
Apple Watch and 3D Touch
Television Time's Apple Watch app — although rudimentary — is nice to have. On launch, your two sections to choose from are upcoming shows and to-watch shows. Within each you can mark episodes as watched.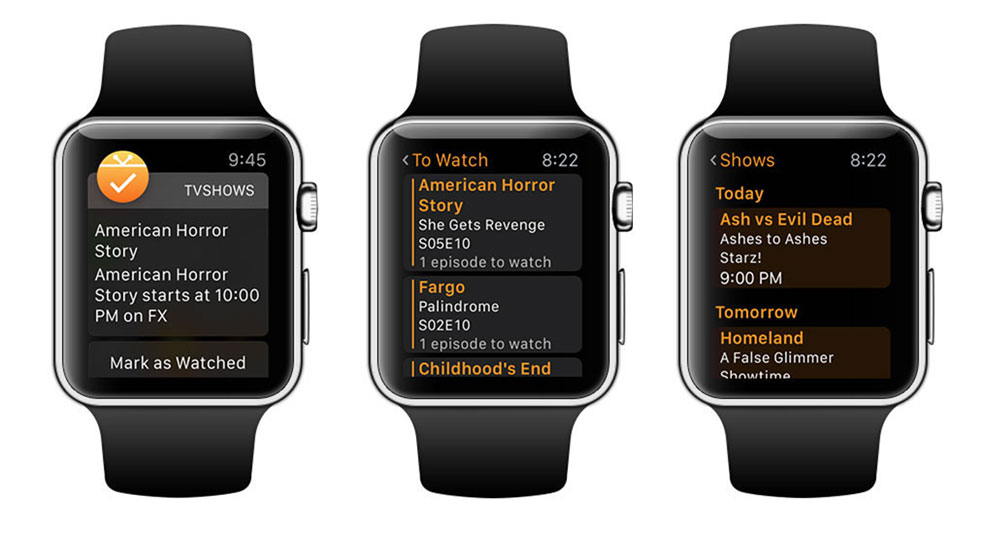 For 3D Touch-enabled devices, a quick action on the home screen will let you jump into a search or an upcoming show to see its synopsis and mark as watched.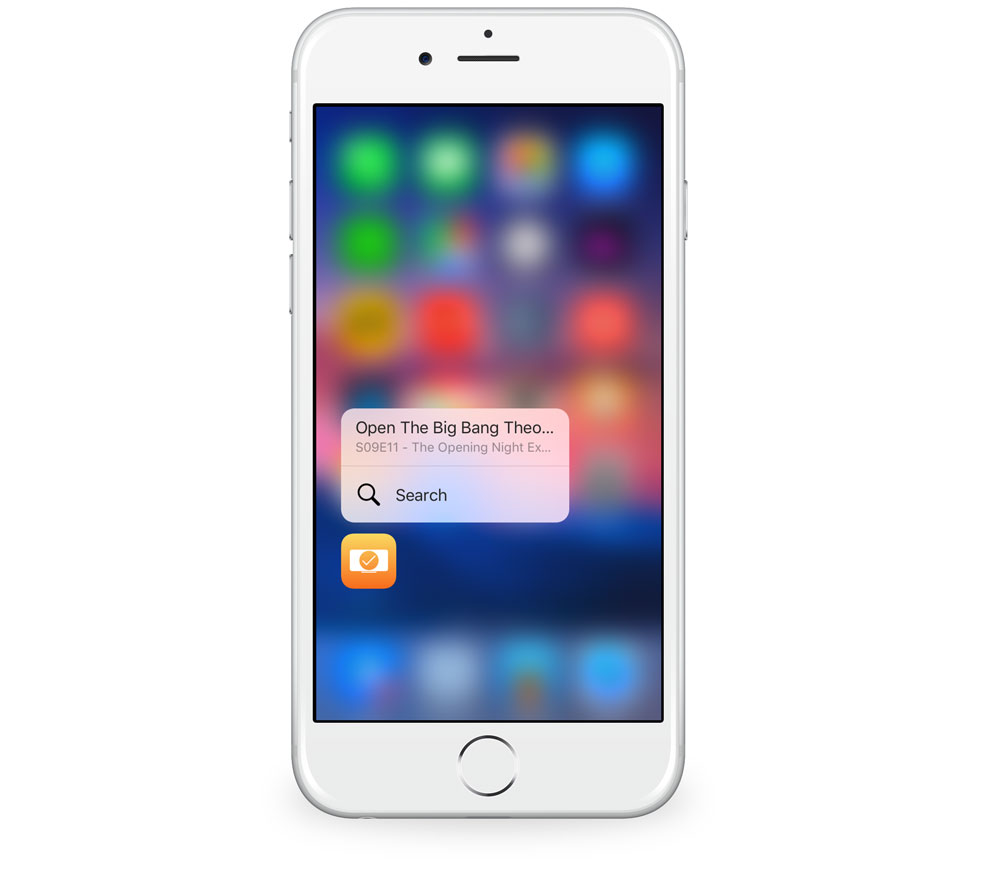 Worthy Mentions
Conclusion
The goal of a TV Tracker is to keep you informed, track your shows, and stay out of the way so that you can enjoy your favorite programs. Television Time accomplishes that with ease and will hopefully make your TV-life more enjoyable.
$2.99
Television Time is refreshingly easy to use, well-designed, and incorporates impressive search and tracking.
App Store

$2.99