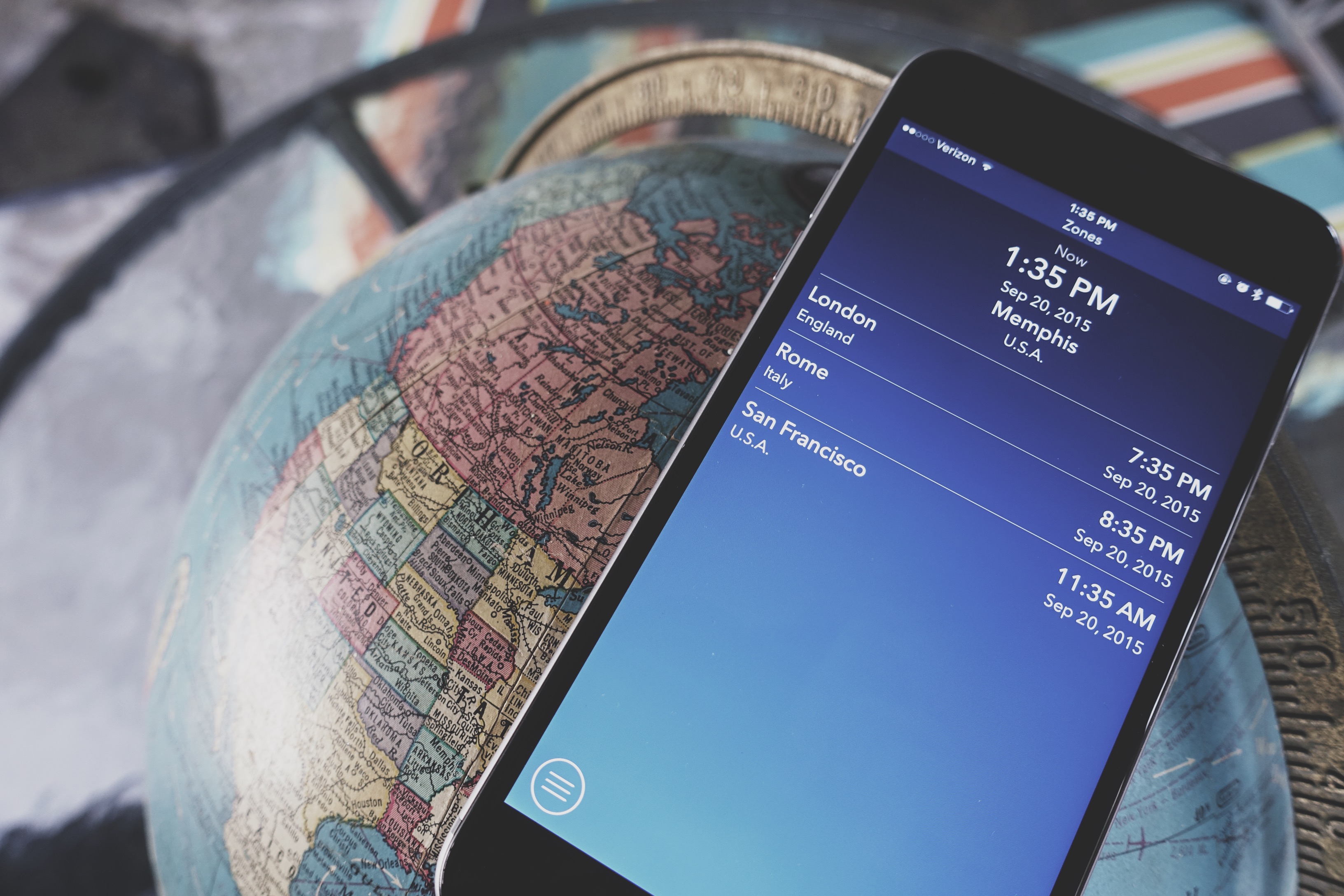 The best time zone calculator for iPhone
Zones
September 3, 2017
Zones is our favorite time zone calculator app for iPhone because of its simple UI, minimal functionality, and ability to look at specific future times in many time zones.
We spent several weeks looking at over two dozen time zone iOS apps to determine which one makes dealing with multiple time zones easy and simple. If you have colleagues, family, or friends in other parts of the world, you know how much of a headache converting time zones can be — especially if you're dealing with more than just two zones.
Use Case
I frequently have to set up meetings between groups of people that span several time zones — sometimes up to 5 or 6 different zones across the world. I rely on my iPhone to convert time zones while I'm trying to schedule a meeting so everyone can attend. I quickly realized that using a world clock that only shows current time wasn't very helpful for scheduling meetings in the future. In some time zones, you're not even on the same day of the week.
Macs and iOS devices have world clocks built into the OS, but they can only show you the current time. For scheduling meetings in the future, it's imperative that the app can show you those future times across all time zones.
I needed an app that could allow me to set future times in different time zones (not just my own local time) so that I could find a great time for us all to meet without causing any confusion with the group. And, I wanted it to be simple and fast. This was the basis for creating our criteria for this app category.
Criteria
Our criteria for a time zone converter are simple, but also make it easy to remove many from the list. In case you haven't looked, world clocks is a very congested genre in the App Store. We needed specific criteria to narrow down the test group.
Easy to use. Converting time zones is already difficult, so an ideal app for this job needs to be easy to operate. Some apps try to offer too much functionality or make it difficult to discover and learn critical features. Our ideal app makes the process of exploring different times in several time zones effortless.
Limited functionality. We're not looking for a Swiss Army Knife of time zones, world weather, alarms, lists, and more. We want an app that does one thing well: show us several time zones and let us look at future times across all those zones.
Ability to look at future times. Like I mentioned earlier, just being able to see the current time across many time zones isn't enough. We need the ability to set future times starting from any time zone.
Pleasant design. This usually goes without saying, but we want something that's kept up-to-date with current iOS design trends and looks great in the process.
Steady updates. Similar to the point above, we want an app that we can depend on when new iOS updates come out. We don't want to fall in love with an app only to find that it starts stagnating and developing bugs over time that aren't fixed.
Today widget. For those times when you want to quickly glance at several current times, a Today widget is crucial. On iOS, Apple doesn't offer a widget for this, so our pick needs to have one.
Price. Price isn't a huge factor in this category of apps, but we do appreciate a simple pricing scheme and the ability to turn off ads. Also, we love supporting the developers that make these tools we come to depend on over time.
Our pick: Zones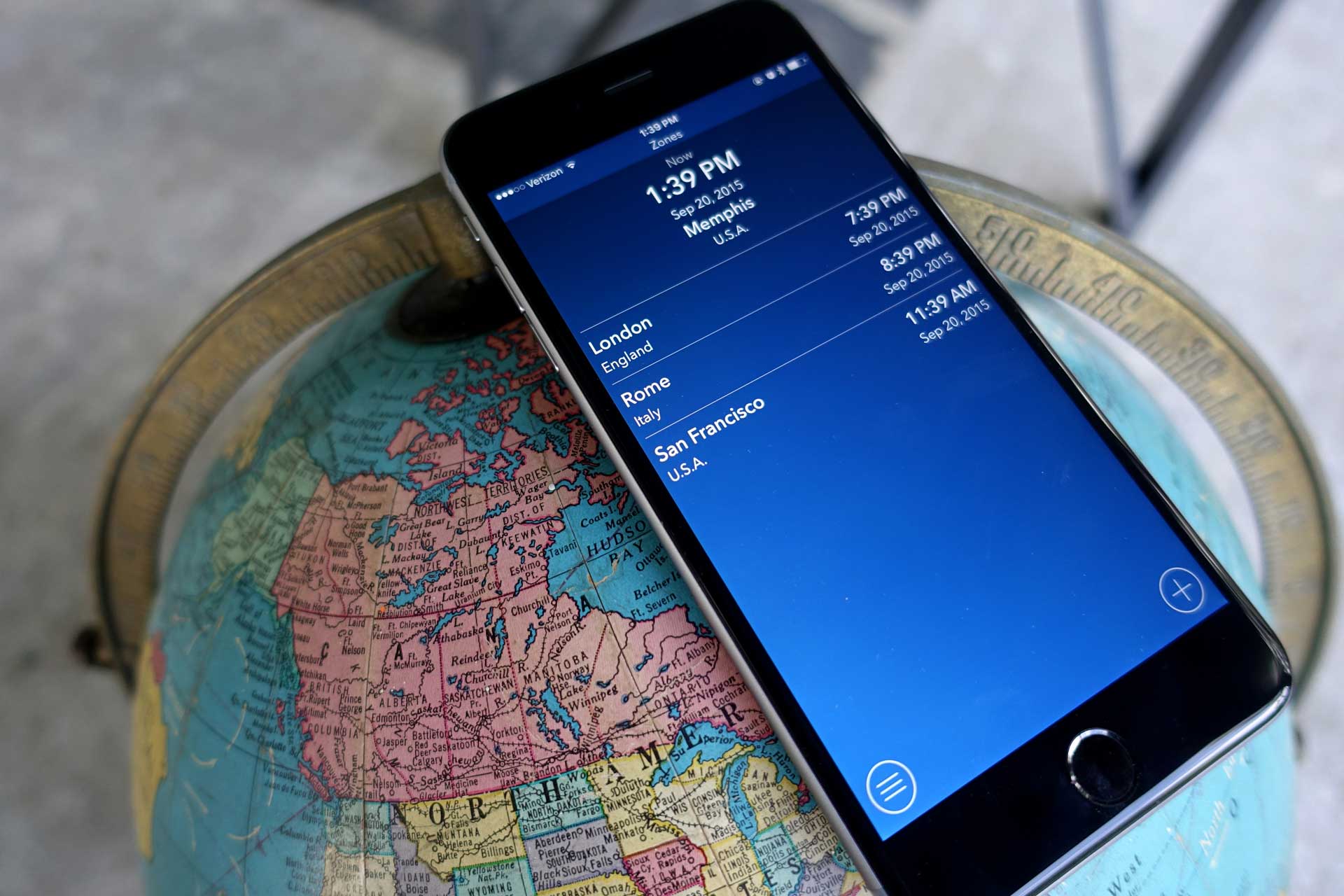 After several weeks of trying out several different apps for converting time zones, we landed on Zones because it looks great, is easy to use, and makes the process of converting time zones effortless.
First use
The first time you use a time zone converter can be overwhelming because you have to add several different zones, the app might have a long default list to begin with, and you have to figure out what the baseline zone is.
Zones is one of the few apps that uses your location to determine your local time. It only uses your location data while you're using the app, and from what I've seen, it uses this privilege very infrequently.
When first launching the app, there aren't any time zones displayed except for your current time. To add more zones, just tap the plus button in the bottom right corner.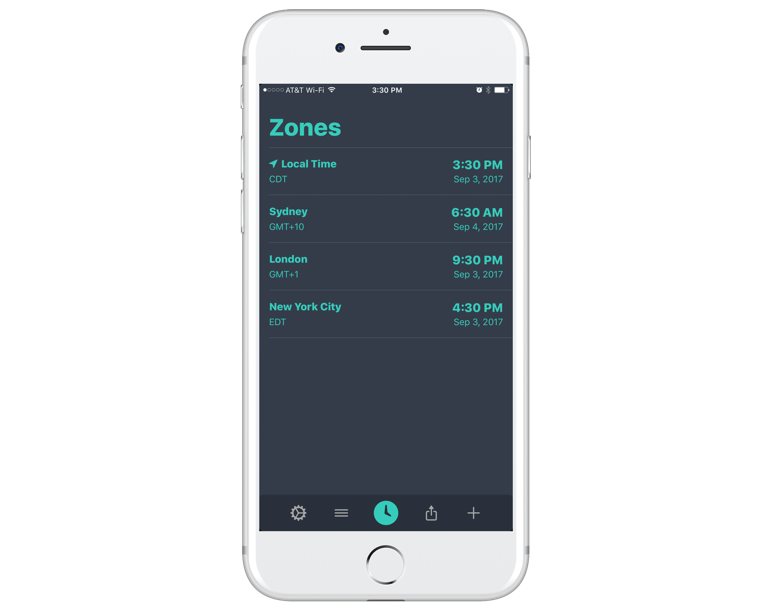 Using the app
To add a time zone, just tap the + icon, search for the city, and tap it once it comes up. Zones does this process extremely quickly. Other contenders were a bit slow with the process of adding more time zones. Also, another key factor here was the information included while searching for a city. It displays city, country, and time zone name. You can search by typing in the name of the city, or you can scroll through the entire list.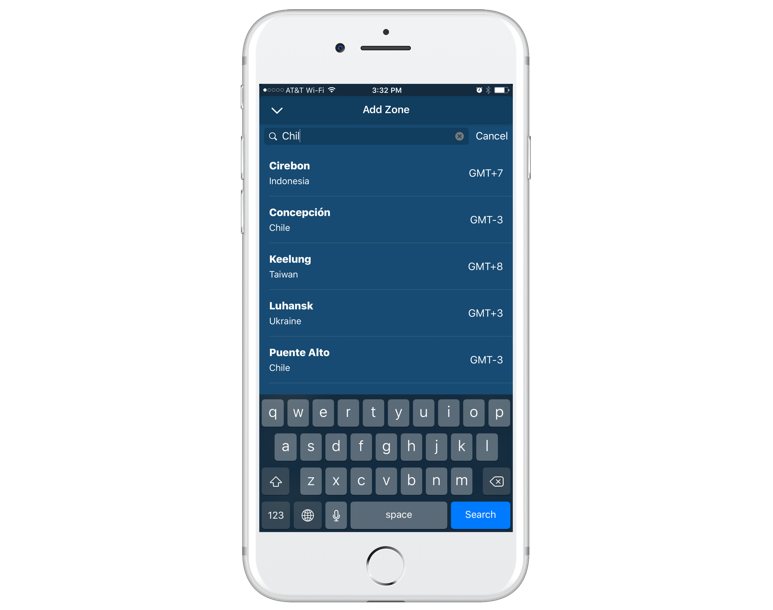 If you purchase the the "Go Pro" in-app purchase, there isn't a limit to the number of time zones you can add to the main view. But, in the event you need to remove a zone from the list, just swipe left and tap Delete.
If you need to do more editing to your list, there's a convenient edit button that allows you to bulk delete and reorder your list.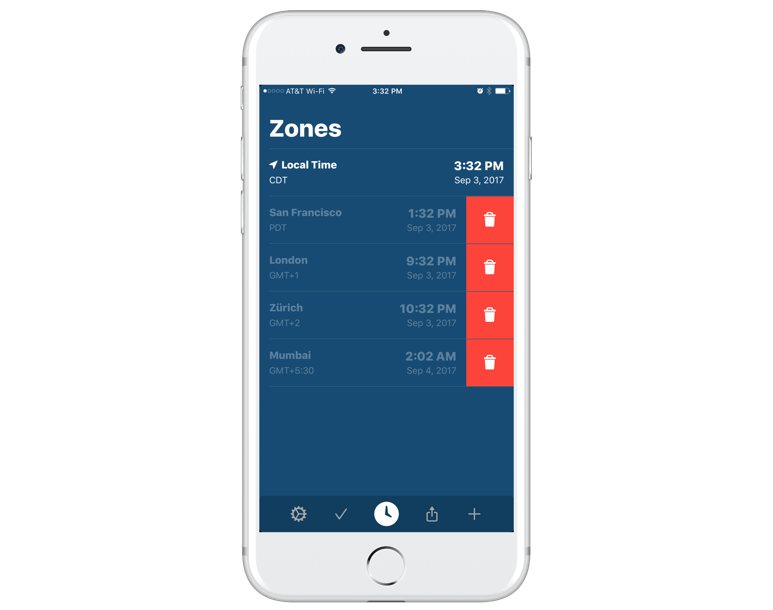 In a recent update, Zones also includes an option to automatically sort your time zones. You can turn off sorting (manual drag-and-drop), sort alphabetically in ascending or descending order by city, or sort in GMT or reverse-GMT offset. I prefer the "Reverse GMT Offset" option, as that makes the most sense for how I use Zones and where I live.
Once you've set up your time zones, you have a simple, easy-on-the-eyes view of the current times.
To change the time on any time zone, just tap it. A small date and time selector pops up for you to dial in the time you want to view. Tap Done, and all the zones update instantly. This was a big deal to me, as many apps make this process difficult or bury the feature under several additional taps. Zones keeps this process at the very top, which is fantastic.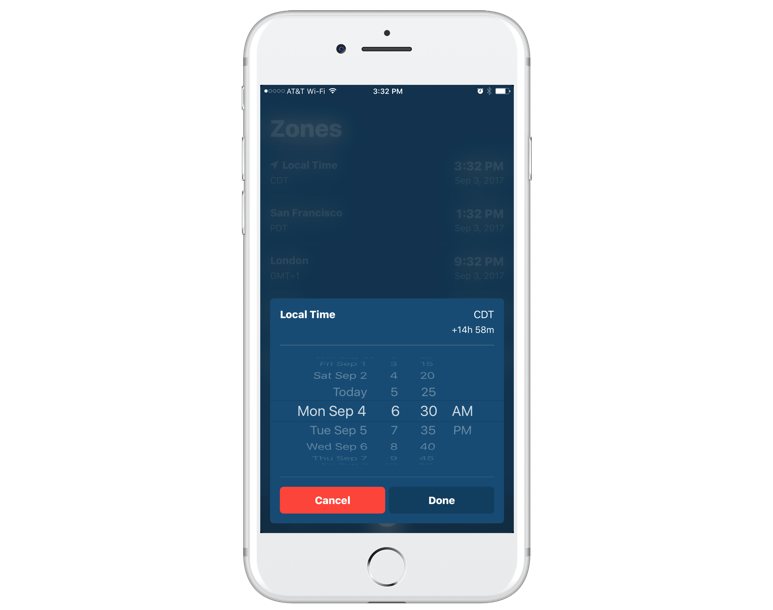 When you're done looking at future times, just tap Reset to current time at the bottom of the screen to return to your current time. Again, this wasn't as straight-forward and obvious in other apps, so I appreciate the simplicity here.
One other feature that appears when you tap the gear icon in the bottom left is a settings screen. Along with the option to purchase a Pro option to unlock unlimited time zones, themes, and more, there are a few other minor settings to customize the app.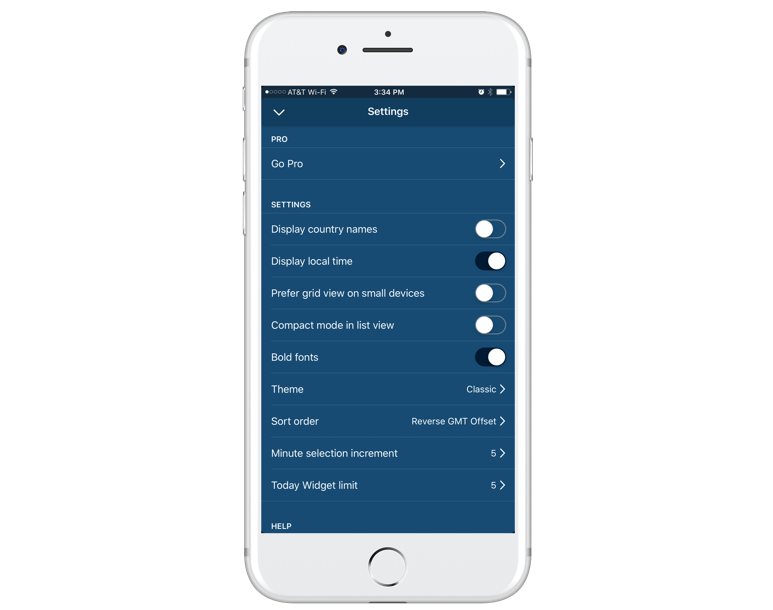 You can choose to display country names, display your local time, and a few other view options. You can also select one of four themes (with the Go Pro purchase), sort order, minute selection increment, and a Today widget limit.
Finally, there are helpful links for getting support with the app, and rating or sharing Zones with someone else.
Design
The design was updated in the latest update, and while I'm not a fan of the typeface and color choices, it's still clean, calm, and easy to take in. There's a lot of information being displayed in this app, but it doesn't feel overwhelming, and it's also very fast when making changes. I've used this app to figure out meeting schedules from California, Missouri, Chile, Switzerland, New Delhi, and Perth. It was an easy process and I actually found it delightful because of all the not-so-great experiences I've had in the past with this task. Instead of a chore, it's now an easy task that takes seconds instead of minutes.
One complaint I have with the newest version of the app is the presence of a prominent button that apparently does nothing. At the bottom of the app, there's a clockface icon that responds to taps, but does nothing. In general, if a UI element has no function, it needs to be removed. I hope this oversight is addressed in a future update, as it only causes confusion.
Today Widget
Zones features a Today widget that is helpful for quick glances at current times in the zones you've set up, and you can also make quick time adjustments. Simply tap a time zone and use the +/- buttons to adjust the time, and the other time zones automatically change. After you're done, just tap the time zone row again to return to the current time.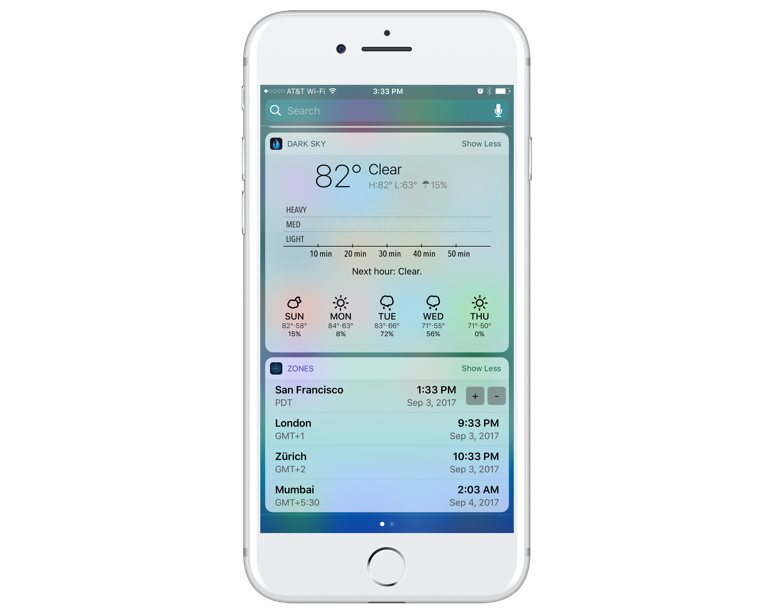 The Zones widget offers the same information in the Today view as the main app. When pulling down the Today view, the time zone data populates instantly. Other apps we tried took a couple of seconds to retrieve data before populating in the widget.
Overall, the widget is a great addition for quickly glancing at time zones across the world or making quick time calculations.
Price
Zones is free to download and offers a simple in-app purchase to remove ads, unlock unlimited cities, themes, and more. The price is extremely fair (maybe a bit low) and very competitive. It also gives us confidence that it will be around for quite a while.
Runners up
TimeZoner
TimeZoner is another great app that does one thing well. It has the same features as Zones, but it requires an extra tap to change times on a time zone since you have to select a time zone first. TimeZoner also lacks a Today widget, which is one of our requirements for quickly glancing at current times.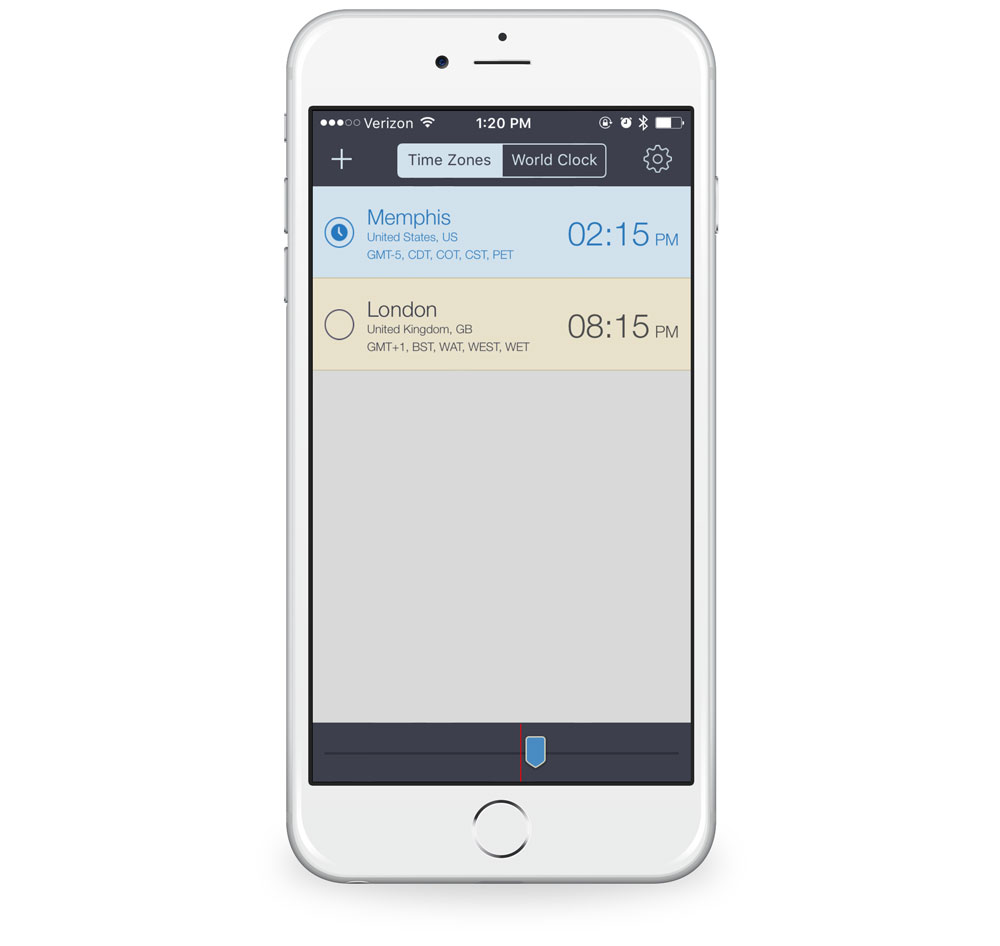 While we prefer Zones, TimeZoner is an equally well-built, fantastic app. You can't go wrong with either one.
TimeZoner is either free (with ads) or a full version.
Time Zones +
Time Zones + was my personal favorite earlier this year. It offers the functionality we expect based on our criteria, including a nice design and a Today widget, but it requires several more taps to operate than Zones and TimeZoner. It's a nice app, but it's not as easy or well-designed as others out there.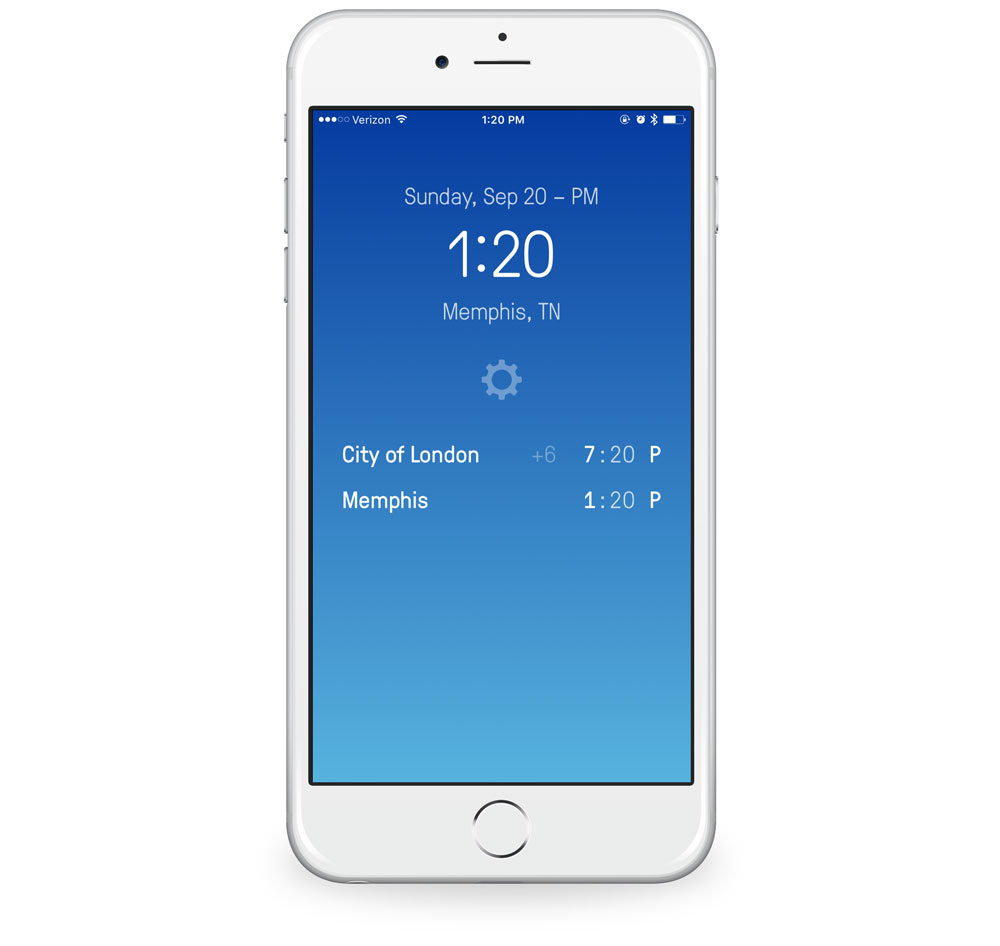 Honorable Mentions
Circa
Circa employs an interesting and unique visual design and interaction, but requires more time to use. Basically, time is represented visually on a 24 hour clock dial. As you rotate the needle, the times in the lower portion of the app update accordingly. This is fun to use, but ultimately not as easy and straight-forward as others. Another downside is that you can only view 3 time zones at a time. Circa also lacks a Today view widget, but, strangely enough, it is the only app that we tested that features a watchOS app.
World Clock Pro Mobile
Similar to Circa, World Clock Pro Mobile uses the same visual design of placing time zone charts against a clock dial to represent different time zones. Like Circa, this is a fun and visual way to look at time zones, especially how they interact with each other. But, at the end of the day, we prefer the design of Circa over World Clock Pro Mobile.
Globo
Globo is unique in this category, as it offers much more than time zone conversions. It also features latitude/longitude information, maps, weather, and time zone-specific alarms for each time zone you add.
This would be a major contender with our picks if it was easier to figure out how to use the time zone converter. The time zone information is buried in the 3rd tab of each time zone, and it took us longer than it should have to discover how to set a time zone as the primary by which all others would relate.
All in all, Globo looks great and offers an abundance of good information, but it doesn't quite fit our criteria for this pick.
Time Buddy
Time Buddy is one of the more well-known time zone converter apps, but the design and functionality just didn't compete with our pick. Each time zone is represented by a row of blocks that represent hours. These rows line up by each time zone, and all you have to do to change the time is swipe left and right to increase or decrease the time. It works really well, but the overall aesthetic feels dated.
Also, one of the main points of this app is setting up meeting invites that you can send to people straight from the app. Since this feature is so important to the app, you can't get away from it. So, for someone who just wants to calculate different time zones, this feature can get in the way and cause some frustration. Still, it's well-built and does a great job at what it was designed to do.
Clock.app
An incredibly useful clock app is delivered as part of iOS, and it even features an extremely useful time zone section in the World Clock tab. If you only need to look at the current time in several time zones, you really can't go wrong with this one. It doesn't have the features of our pick, like the ability to look at future times or the option of a Today view widget, but it's the best at what it does. Even better, you can use this same functionality in OS X with the Today pane.
Conclusion
Zones is our favorite time zone calculator because of its simple, intuitive design and competitive price. And, it offers additional perks in the way of a Today widget, and is extremely easy to understand and use from the beginning.
$0 - $2.99
Zones is our favorite time zone calculator app for iPhone because of its simple UI, limited functionality, and ability to look at specific future times in many time zones.
App Store

$0