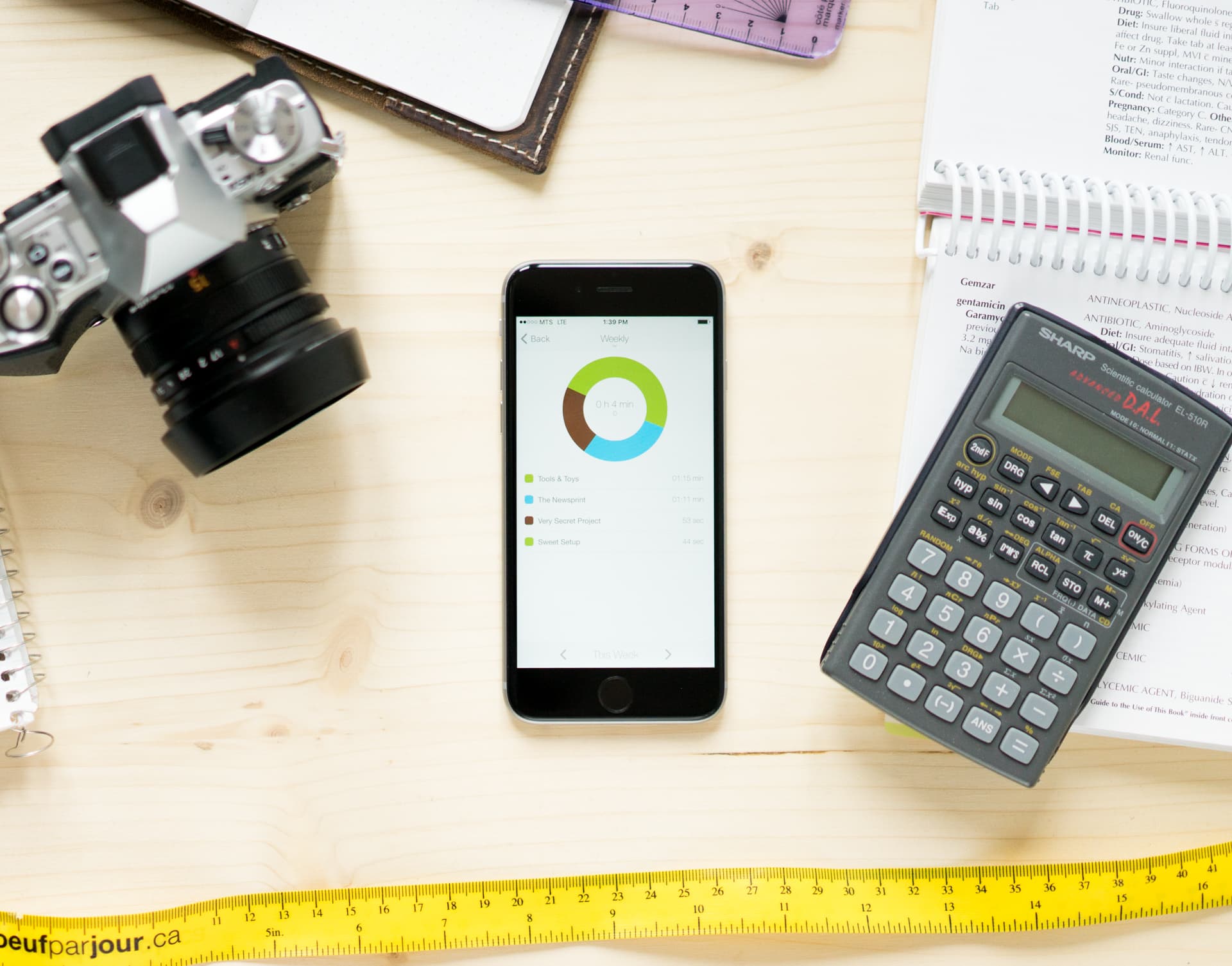 The best time tracking solution for freelancers
Toggl
June 30, 2018
For freelancers, time tracking is a blessing and a curse. On one hand, you want to be paid for your time, but on the other hand, punching a clock is the worst.
Thankfully, modern time tracking tools have made this a lot easier, but there are trade-offs everywhere. Cloud-based solutions give easy reporting and access on all our devices, but come with subscription fees. Dedicated apps may mean missing out out on the ease of access, but often don't require monthly fees.
After testing several popular apps, pondering the implications of the various business models, and thinking about how my clients interact with with my time tracking, I settled on Toggl as the best overall time tracking system for freelancers.
Toggl offers native apps for Mac and iOS for tracking time, while also including a robust website for overall account management. The free option offers plenty for the freelancer with one or two clients, and the paid options offer a nice step up for people with additional needs. Toggl offers the ability to build clients and projects, but also maintains the simplicity of a simple time tracker. As a freelancer with a full-time job and three kids, the last thing I need is fiddly software. Toggl meets all of my needs without getting in the way.
The 5 Best Productivity Apps (Sweet Setup Favorites)
Download: We spend an inordinate amount of time sorting through hundreds of apps to find the very best. This list of must-have productivity apps includes app links, quick-start info, and pro-tip workflow recommendations for each app.
Criteria
Like always, when we sat down to look at apps, a list of criteria was developed that we would consider for each app.
Design
How does it feel when using it? Is it a natural part of my workflow? Does it feel like it's staying up to date with iOS design trends? Does it offer support for plug-ins? Is it a full-featured Mac app, or is it just a widget to start and stop timers? How does the website work? How does its design compare to the other apps?
Ease of Use
Things like client, project, and task creation should be extremely fast and easy. Starting and stopping timers should also be very simple. There should not be a steep learning curve here.
Platforms
Since the way we work has evolved, so must platforms that track our time. While I do a lot of my work on the Mac, I also do work on my iOS devices. This might be responding to email, writing, or doing research. If these are billable tasks, then I need to be able to track them regardless of the device. Things I do on iOS should sync back to a central database. I would also like the option to start a task on my Mac, open the app on iOS, and be able to interact with it (stop, view current time, etc) seamlessly.
Clients, Projects, and Tracking
While supporting data types for clients and projects might seem like a fundamental task for a lot of time trackers, if it's missing, the platform will struggle to keep up. I have multiple clients I work for, and I have multiple projects running at any given time. I need the ability to create projects and start timers for said projects with maximum speed and simplicity.
Export
With time tracking, it's often not simple enough to simply track your time. You must also be able run reports and create spreadsheets for clients. I use Freshbooks for invoicing, so double bonus if it can export natively into a format that can be used by other tools.
It's important to note that we are not looking at apps that turn tracked hours into invoices. If they do, that's great, but we are focused only on the time tracking aspect.
Cost
While I am not opposed to paying for a solution, I don't want to be saddled with a service that is loaded with features I am not using.
The Winner: Toggl
After researching various options, I settled on Toggl as the best overall time tracker for freelancers.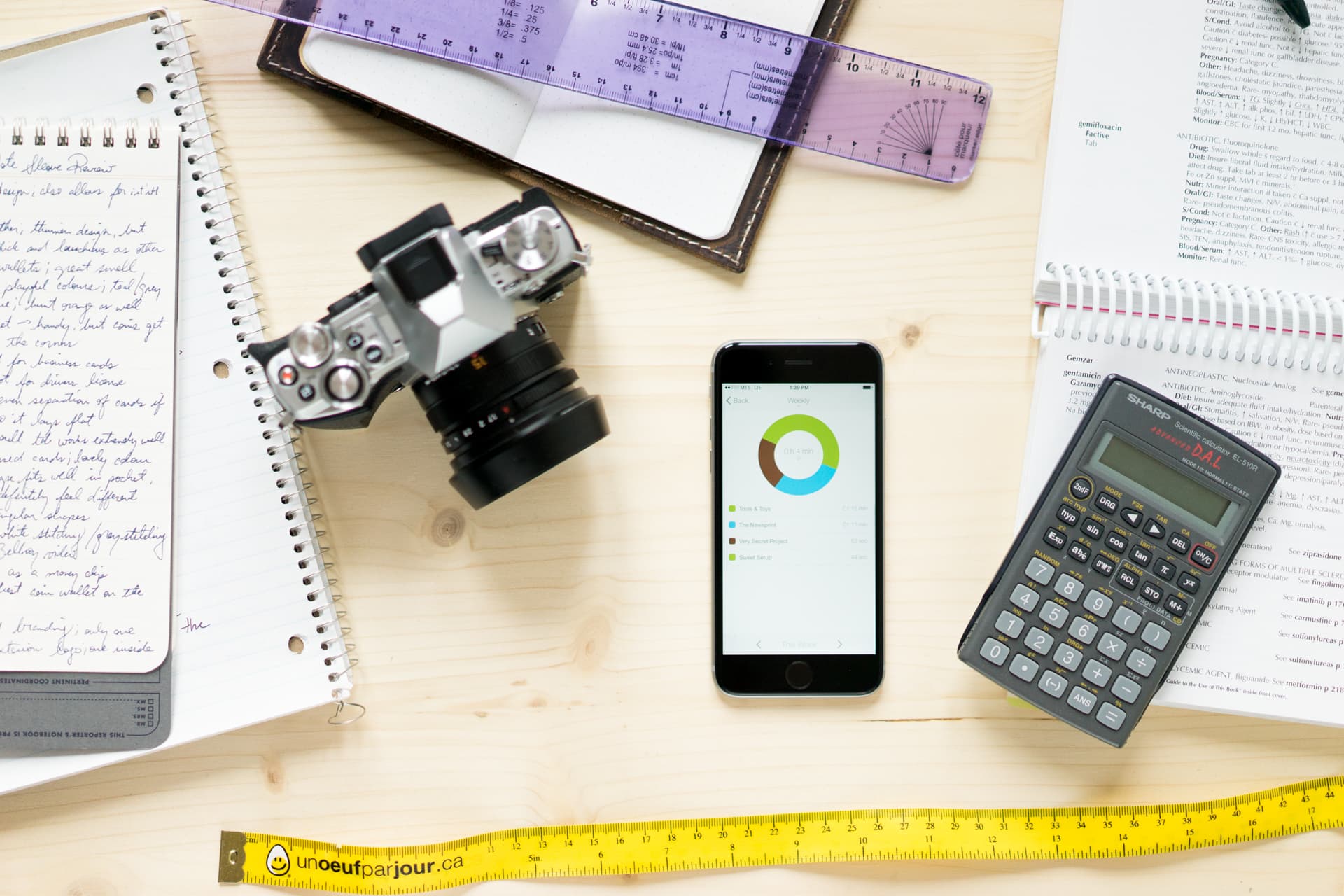 There are many ways to use Toggl: on the Mac, on a PC, from an iOS or Android device, or directly on the web.
Web
The web interface is what I would say is the "hub" of the service. It features the most detailed design, with all the bells and whistles the service offers. The interface features a very friendly layout, and it's really a pleasure to use.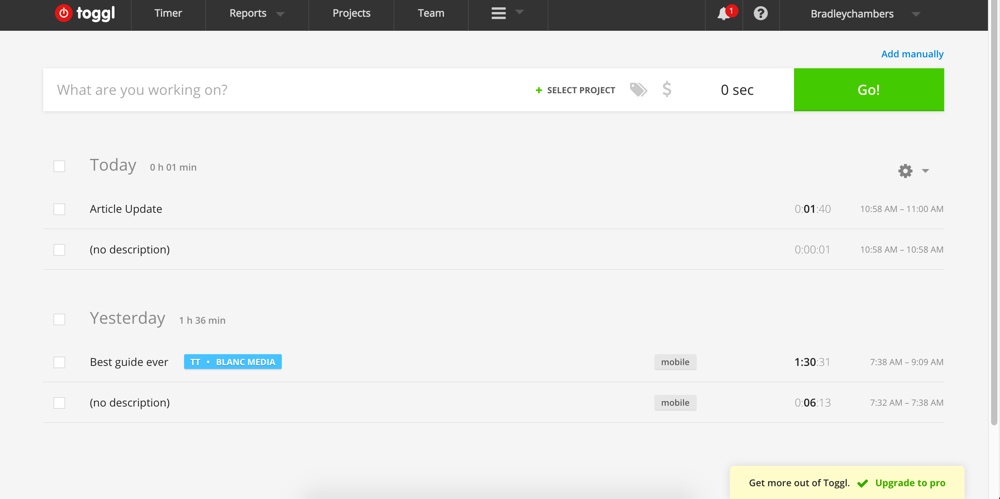 The web interface is also a full-featured timer. The beauty of the platform is you can start a timer on one device, but stop on another. The web interface feels modern, but still finds the right balance of utility and simplicity. Starting and stopping a timer is a key focus of the main screen, so you can get right to work without a lot of fuss.
Mac
The Mac app lets you track time, assign time to projects/clients, create projects, and even add new clients. It's minimal, but for this category of app, that's what works best.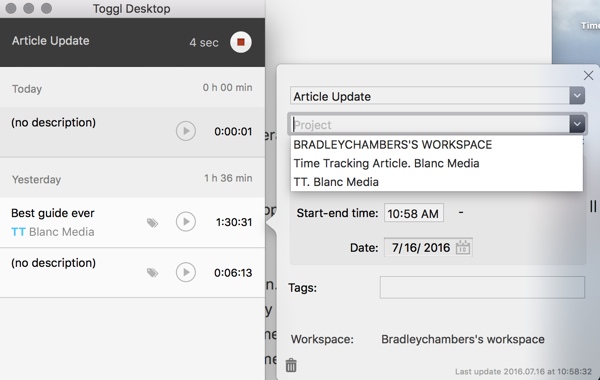 Toggl on the Mac finds the right balance in simplicity and power and feels like a streamlined timer app with lots of power waiting in the wings. I don't want to click five different buttons every time I want to start and stop a timer. For example, on the Mac, it supports keyboard shortcuts for bathroom breaks, etc.
iOS
On iOS, we see the same simplicity as the Mac version. When you launch the app, you see a green start button in the top right corner. Tap that, and the timer starts. You can change the defaults to where you choose a client/project before the timer starts, but the default is to immediately start tracking.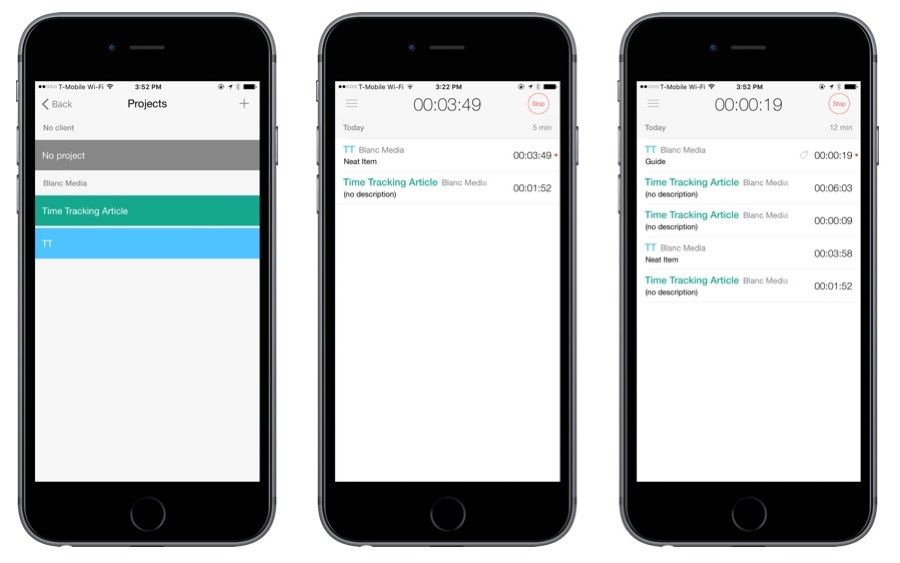 The mobile app is not just a simple timer either. You can also add new projects and clients. This saves you from being forced to use a Mac/PC to actually manage your account if you try to use mobile devices as much as possibe. There is also built-in reporting in the app, but it's mainly for viewing as opposed to exporting into other services.
Clients and Projects
Toggl supports clients, projects under those clients, and then tasks under those projects. This feature allows you to easily show how time spent under a specific project was used. Tasks might be research, client follow-up, design brainstorming, etc.
Support for clients, projects, and tasks is a key feature of a product like this. It's really what sets a product like Toggl apart from a basic stop-watch and spreadsheet combo. Even on Toggl's free plan, it includes access to this feature, but it really starts to take off on the paid plans. It includes a "billable rate" feature that allows you to assign billable rates to certain tasks. This allows you to better track how profitable your time is.
Exporting
Tracking time is great, but being able to bill time is even better! Toggl supports a number of export options. On the free plan, you can use CSV and PDF. On paid plans, Excel support is added (CSV files can be opened by Excel, though). Paid plans also includes time audits that can help you find misplaced time entries (long durations, etc).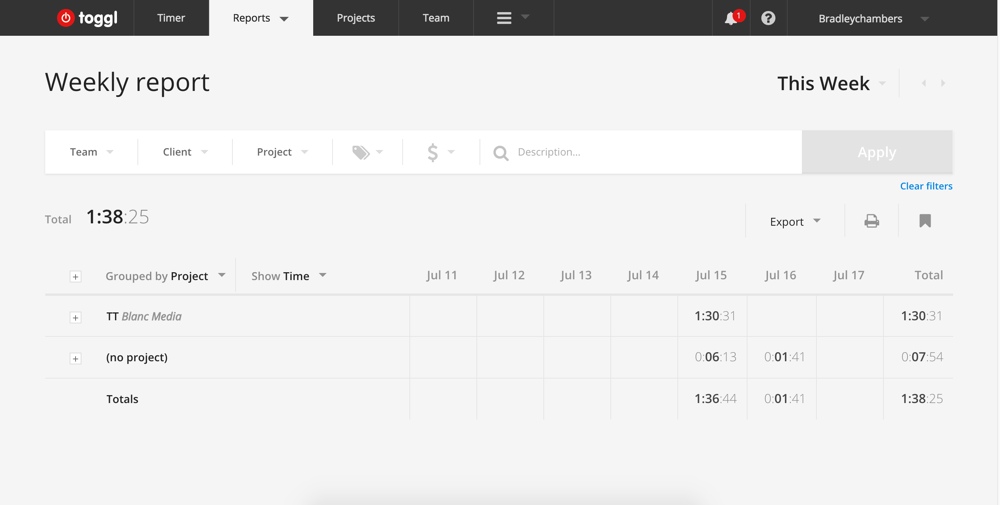 One of the cool things about Toggl is its third-party support. They support integrations with Freshbooks, Asana, Basecamp, Github, and Teamweek.
Pricing
As great as a product may be, price can often make or break its usefulness. The free plan offers a lot of features that will cover you if you just need basic time tracking. If you need detail reporting and project management, the pro options might be useful to you. The first upgrade step is $9/month (billed annually), so it's not terribly expensive if those features are essential to you. As you step up in price, you get additional team features that a single freelancer likely won't need, but larger teams will love.
Overall, Toggl is fantastic. It finds a great balance of powerful features, but remains simple, and its pricing model is fair. The free version will cover a lot of people, but the paid plans offer enough to make them useful. If you are in the market for a time tracking tool, be sure to check it out.
The 5 Best Productivity Apps (Sweet Setup Favorites)
Download: We spend an inordinate amount of time sorting through hundreds of apps to find the very best. This list of must-have productivity apps includes app links, quick-start info, and pro-tip workflow recommendations for each app.
Runner Up: Harvest
Harvest, one of the more well-known brands in this space, came in a close second. It's a great service, and I don't have a ton of complaints. Toggl shined brighter in a few areas, and they also offer a free plan.
From a design point of view, Harvest has clearly put a lot of resources into the design of their apps. Similar to Toggl, the Mac app is more of a basic timer than anything. It's quite simple to start and stop timers, as well as create new projects.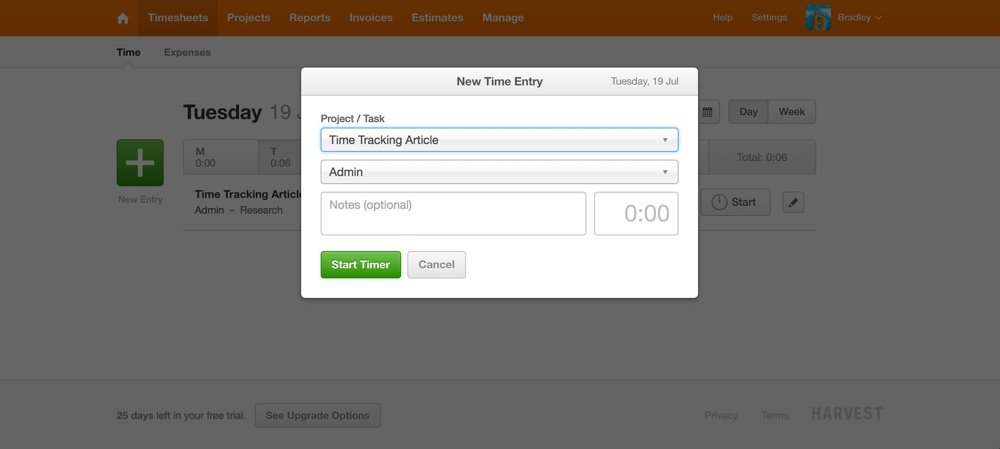 Harvest comes with many more tools than Toggl. It can manage expenses and actually invoice clients as well. Since we are just looking at time tracking, that didn't play into this review, but it's still important to note. On the web, you have full access to the platform. You can start timers, build new projects, add clients, etc.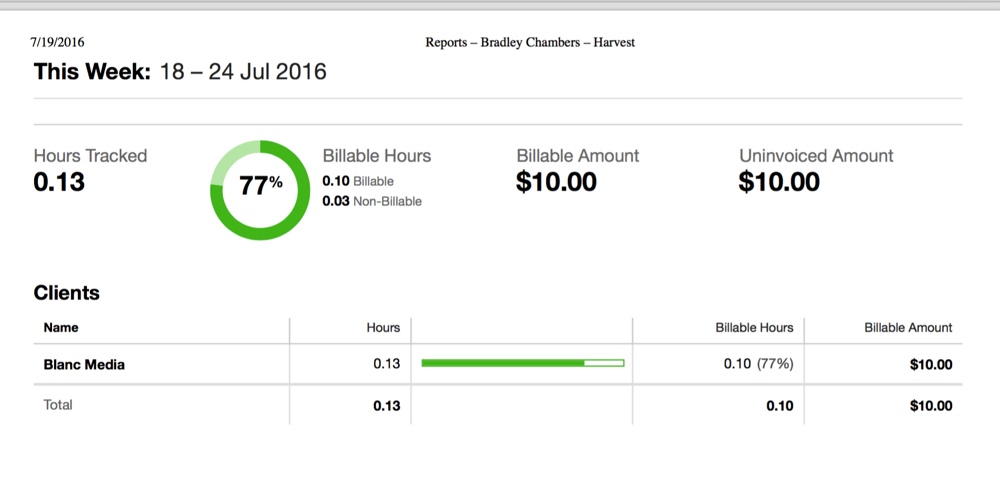 On the iOS side, you can start timers, build projects, and add clients. It's a lot more powerful than the Mac app in a lot of ways.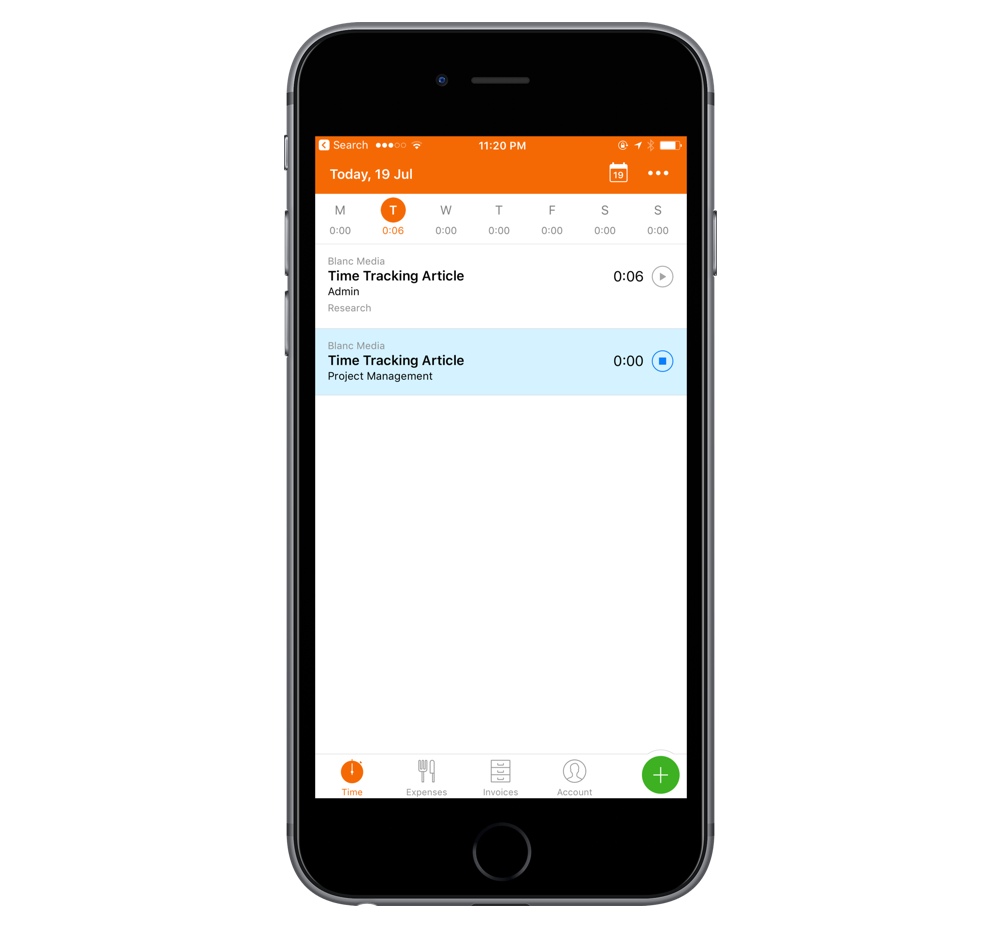 Overall, I found Harvest extremely easy to use. The time tracking aspect allows you to get to work without a lot of taps. It does require you to select a project/client prior to starting the timer, but that is only a minor complaint. The platform feels very mature, and I can tell they take pride in the overall user experience.
Harvest works on iOS, the web, Mac, and Android. At this time, there is no Windows app, but they have extensions for Chrome and Safari.
Harvest supports a full range of options for clients, projects, and tasks. You can build individual tasks under projects and bill different rates depending on the task (admin, project management, development, etc). This feature is really well done!
Exporting from Harvest is similar to Toggl. You can export to XLS, CSV, or PDF (via print to PDF). Harvest also supports a number of third-party integrations , including Quickbooks Online which is a big bonus for small/medium businesses.
Cost is one area where Toggl especially shines over Harvest. Harvest starts at $12/month for one user and goes up as you need more people.
However, After some digging, I found a free plan. It includes 2 projects, 4 clients, and unlimited invoices. Toggl's free plan is much more generous, and their monthly pricing isn't as high for the immediate step up. Harvest does offer a lot more features than Toggl outside of time tracking, so take that under consideration depending on your needs.
The 5 Best Productivity Apps (Sweet Setup Favorites)
Download: We spend an inordinate amount of time sorting through hundreds of apps to find the very best. This list of must-have productivity apps includes app links, quick-start info, and pro-tip workflow recommendations for each app.
The Others
Hours
Hours is another popular option. With an iOS app and a web app, it aims to be a complete time tracking tool. Unfortunately, the web app is really confusing. Upon launching it, it feels like I am running an iPad app on the desktop. The buttons are huge and everything feels optimized for touch vs mouse pointer. The time tracker at the top is also a bit confusing in my opinion.
The iOS app is a completely different experience, however. I find it much easier to use, and it feels really well-designed from a UX perspective.
You can find pricing for Hours on their homepage.
HoursTracker
HoursTracker is another app I looked at. One huge flaw I noticed is the lack of client management. You create a "job" and then can clock in and out to charge time to it. While there is no web or desktop access, you can subscribe to a cloud backup option. The free plan includes cloud backups, while the paid plan allows you to keep multiple backups. I can't recommend it due to the lack of client support and being iOS exclusive.
Hours Keeper
The final app I looked at was Hours Keeper. It's free with a paid "Pro" in-app purchase for unlimited clients and more features. Sadly, I couldn't find anywhere on the web or in the app that said what these extra features included. Overall, the app is nice, but like some of the others, I just can't recommend an iOS-only app when people work on other platforms as well.
Conclusion
The market for time tracking apps seems to be cornered by Toggl and Harvest. Both services are great, but Toggl would be my choice for pure time tracking. If you need additional features like invoicing or expense management, you might want to look into Harvest. Both platforms have free trials/free plans, so find the one that meets your needs. With apps on multiple platforms, fair pricing, and a great UI, Toggl is the clear winner for this category.