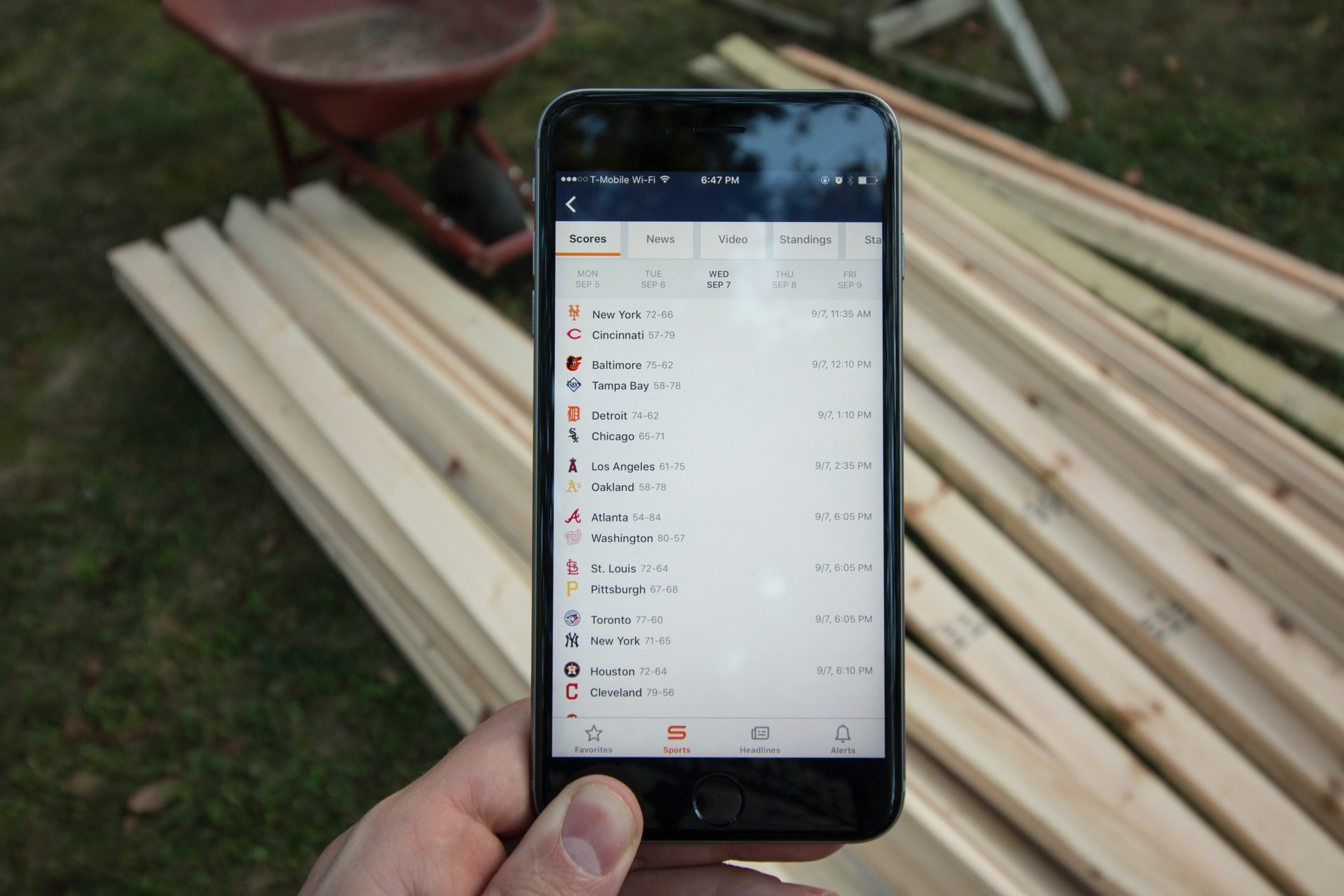 The best sports scores and news tracking app
Yahoo Sports
September 6, 2016
After much research, testing, and comparing, we've picked Yahoo Sports as the best overall sports app for iPhone. It's been my go-to app of choice since it was launched in the early days of the App Store.
It features a clean design, customizable push notifications, relevant news, and in-depth results for your favorite games. ESPN and theScore are both worthy alternatives, but neither of them can replace Yahoo Sports on my homescreen.
I've really been preparing for this article since iOS 2.0 and the release of the App Store. Yahoo Sports started life as Citizen Sports, and it was one of the first apps I installed.
Sports and all things related to it have long been a common use of smartphones. Prior to the iPhone, I remember refreshing ESPN.com on my Motorola Q scores during football season. These apps can be incredibly handy while at home, at the game, or even while you're out and about.
When I started looking at various apps, I noticed there were a lot of paths that apps liked to take. Some focused on specific sports (MLB At Bat), while others are only focused on scores (Scores). This review is aimed at the more general sports app that will cover scores, news, standings, etc. Here is some of the criteria I looked at:
Design
How does it look? How does it feel? Are the fonts appealing to the eye? Can you adjust the font size to see more scores at a time? Are advertisements (if there are any) placed in appropriate places as to not completely distract from the content?
Ease of use
Sports apps are not the type of apps I spend a lot of time in, so I want them to be easy to use. I want to see the information (news, standings, scores, etc), and I want to get out. How quickly can I find the information I want? How many taps does it take?
Price
Price for an app in this category is generally going to follow this model: free with ads and a possible in-app purchase to remove ads. I am a big fan of paying to remove ads inside content driven apps, so bonus points for apps that offer this option.
Scores
This is my primary reason for keeping a sports app on my phone. I want scores to all my favorite teams in all my favorite sports. All of the apps considered definitely included scores, but the criteria here is how accessible they were upon launch.
News and Commentary
From recruiting news to trade talks, the sports world is dominated with news and commentary. Does this app includes this information? If so, is it exclusive content or are they linking from elsewhere?
Social Media
Does the app offer social media integration (news and content from around the game)? Does it offer the ability to share unique content about the game to your social networks (clips, GIFs, etc)?
Sports available
Does the app cover the major sports in the US and abroad (baseball, North American football, basketball, football/soccer, tennis, hockey, etc.)? Does it allow you to hide the sports you aren't interested in?
Notifications
Notifications are a tent pole feature for this category. It's something that we expect all apps to have, but the biggest thing is speed and customization. For example, I only want end game alerts for baseball. For the NFL, I want ALL scoring alerts. For NCAA football, I often don't want anything because I am hopefully at the actual game.
The Winner: Yahoo Sports
After spending some time with a host of apps, I came away realizing there are two types of sports apps: Scores and news and News and scores. There are some apps that are more score focused and treat news as a secondary feature.
The other side of that is apps that are really great at news for your favorite teams, but the scores section is just not as good.
Team Stream from Bleacher Report is probably the best app for news about your teams, but there are so many other things I do not like about it that I can't choose it as the best overall option. With all that said, the best app for sports scores and news on iPhone is Yahoo Sports.
The UI
Let's start by looking at the design. Yahoo Sports just went through a major redesign, and I am a big fan of the update. It's not a pure white theme or a dark theme. It takes on more of an off-white theme, so it stands out nicely as a unique app while staying true to iOS. It's broken up into 4 sections: Favorites, Sports (Scores), Headlines, and Alerts.
The Favorites section is where the app pulls in news about your teams, it shows today's scores, and also shows information about the Rio Olympics. (The Olympics were in full swing when this review was written.) This is where I go 99% of the time when launching the app.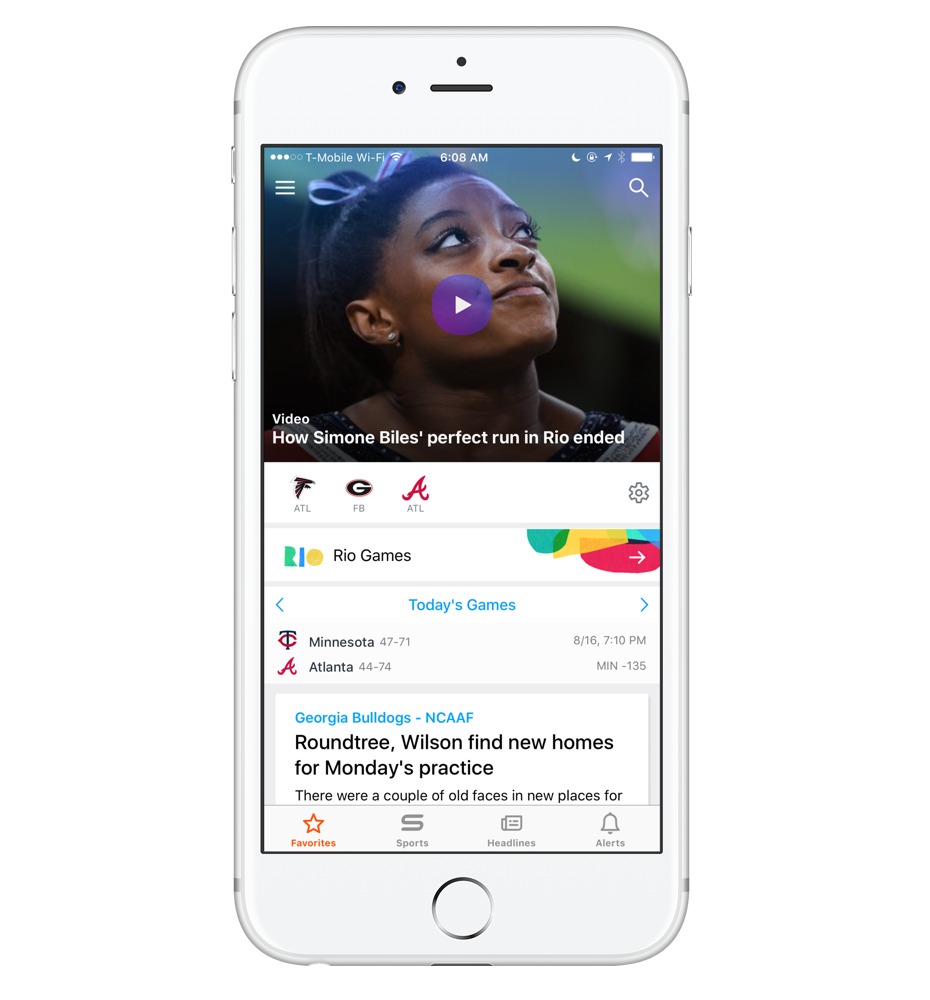 Favorites is the perfect section for when I just need a quick update on how my teams are doing today, as well as catching a quick update on any news (hoping for no injuries), and to see the upcoming schedules.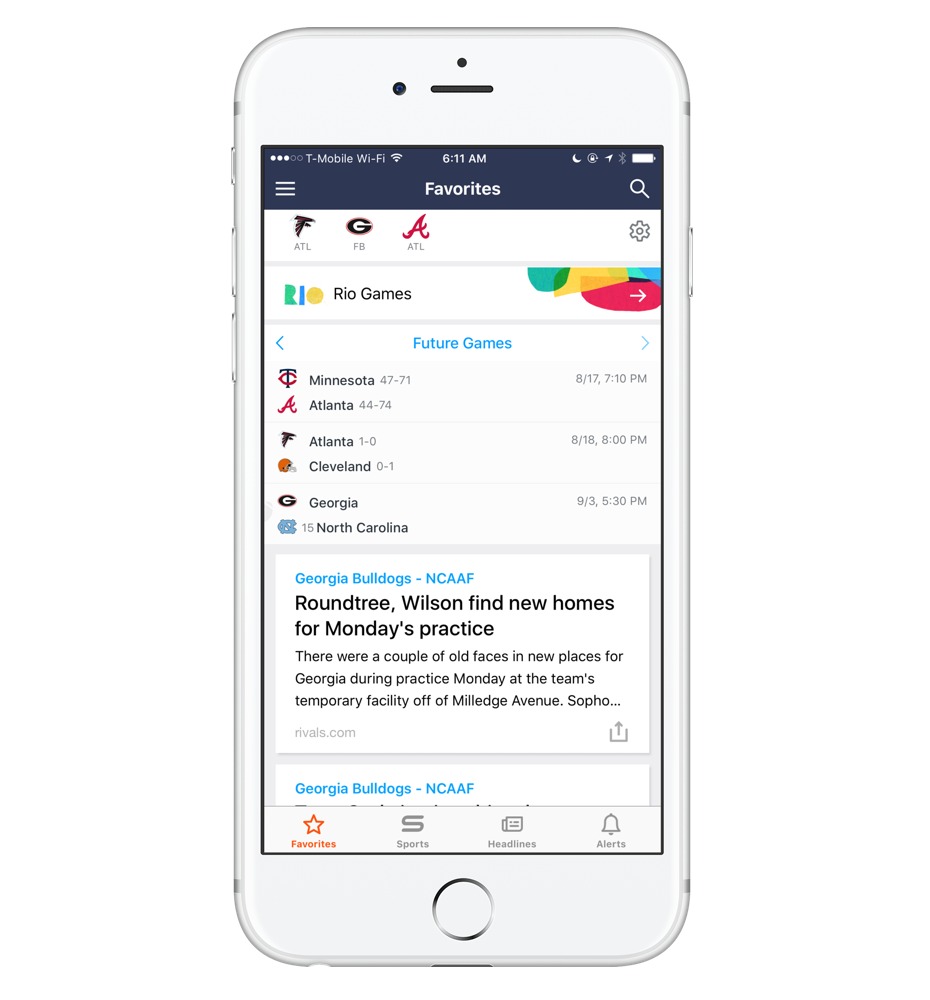 The Sports section (they should rename it to Scores) defaults to My Sports at the top. You set these by tapping the gear in the top right of this section. I mainly follow MLB, NFL, and NCAA Football, so it shows these at the top.
It then has a Featured and USA/Canada section. I honestly wish I could hide these. This is a great section for checking out who your team's rivals are playing day to day/week to week. You can also easily drill down into each league and check standings (Atlanta is 44-74 in baseball)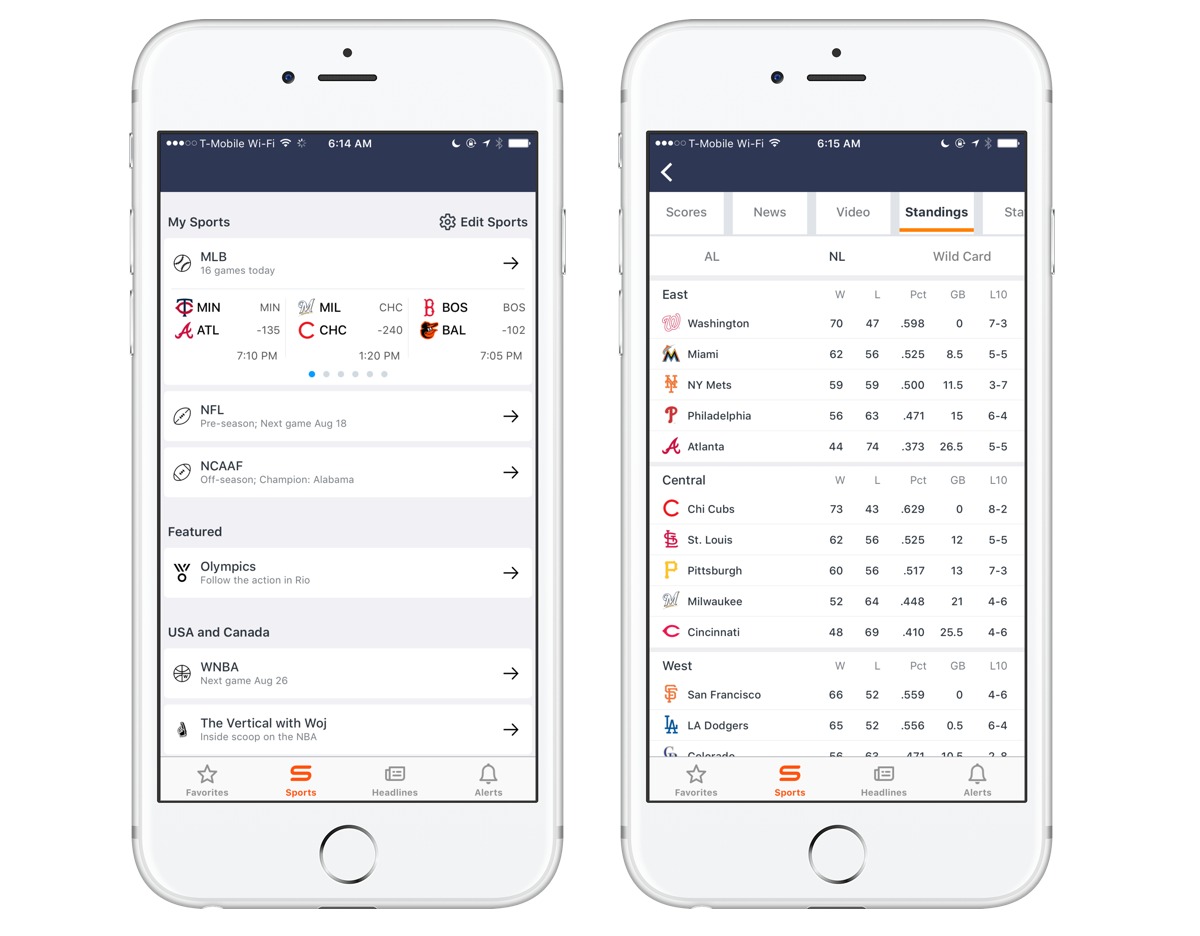 Moving on from Sports/Scores, Headlines is the section where Yahoo pulls in news from all the sports you follow. My only complaint with this section are the ads. They appear as large as the stories. I don't spend a ton of time here since the Favorites section pulls in the news I am most likely to read.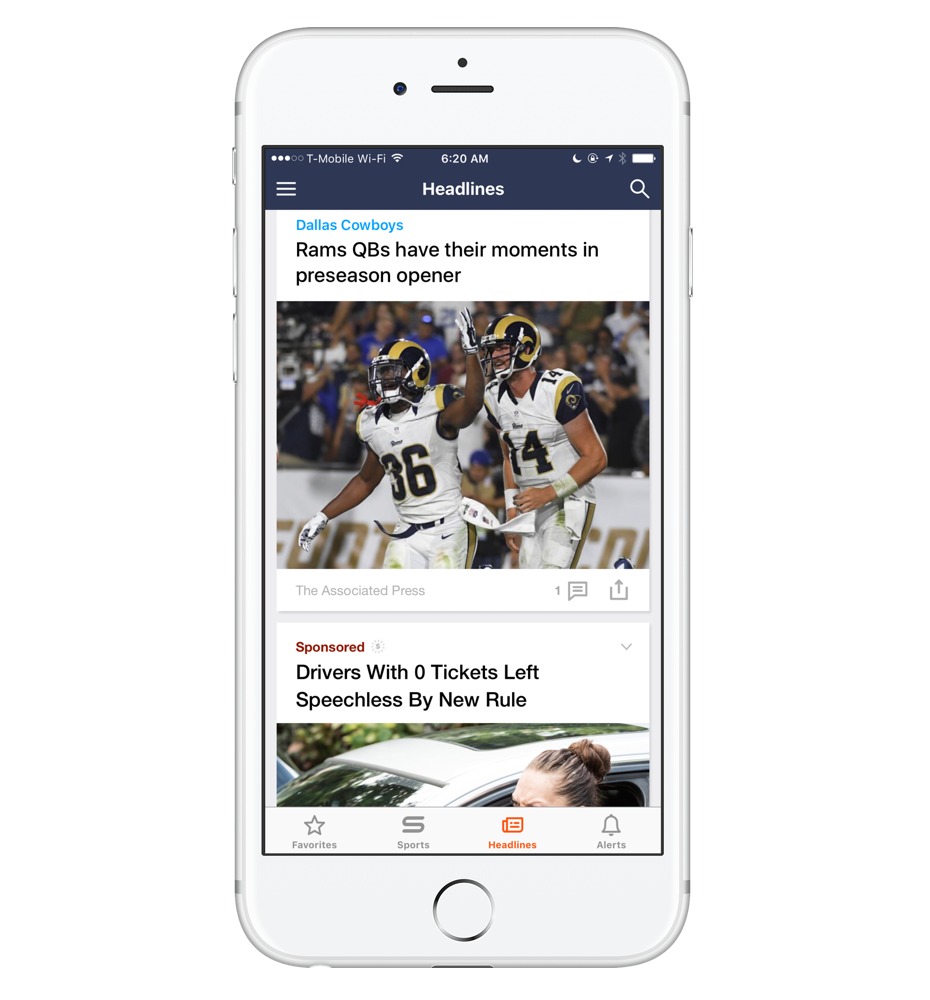 The alerts section is something that a lot of iOS apps could stand to add. It allows you to see what you've been sent, and tapping on it takes you to more information about it. I'll discuss the various alert options later in this review.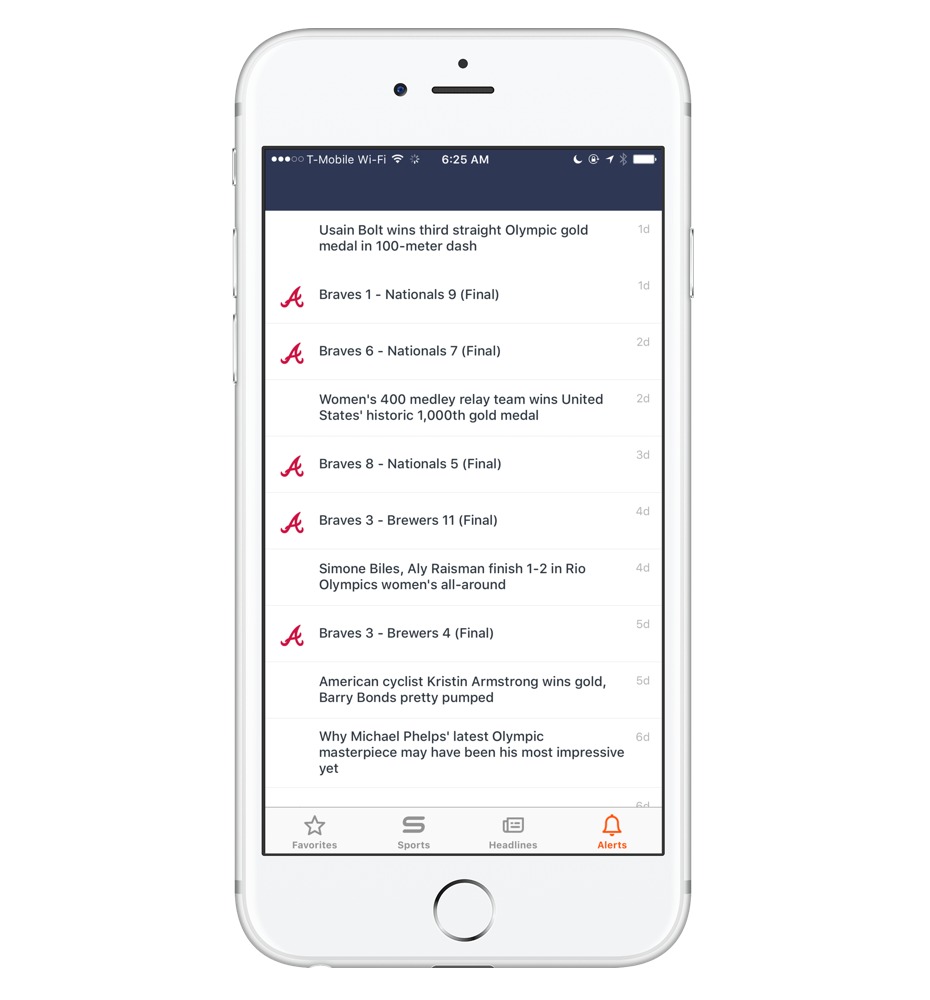 Ease of use
One aspect that I thought through after design was ease of use. Sports apps really shouldn't dominate my time. If I am launching the app, I want fast scores, news, and other information. In Yahoo Sports, most everything I want is within 1-2 taps. Tap targets are a nice size, so it's easy to quickly bounce around. Most things inside the app are tappable as well. See a score and want more information? Tap on it. See a player stat and want to know more about them? Just tap. It's all very intuitive.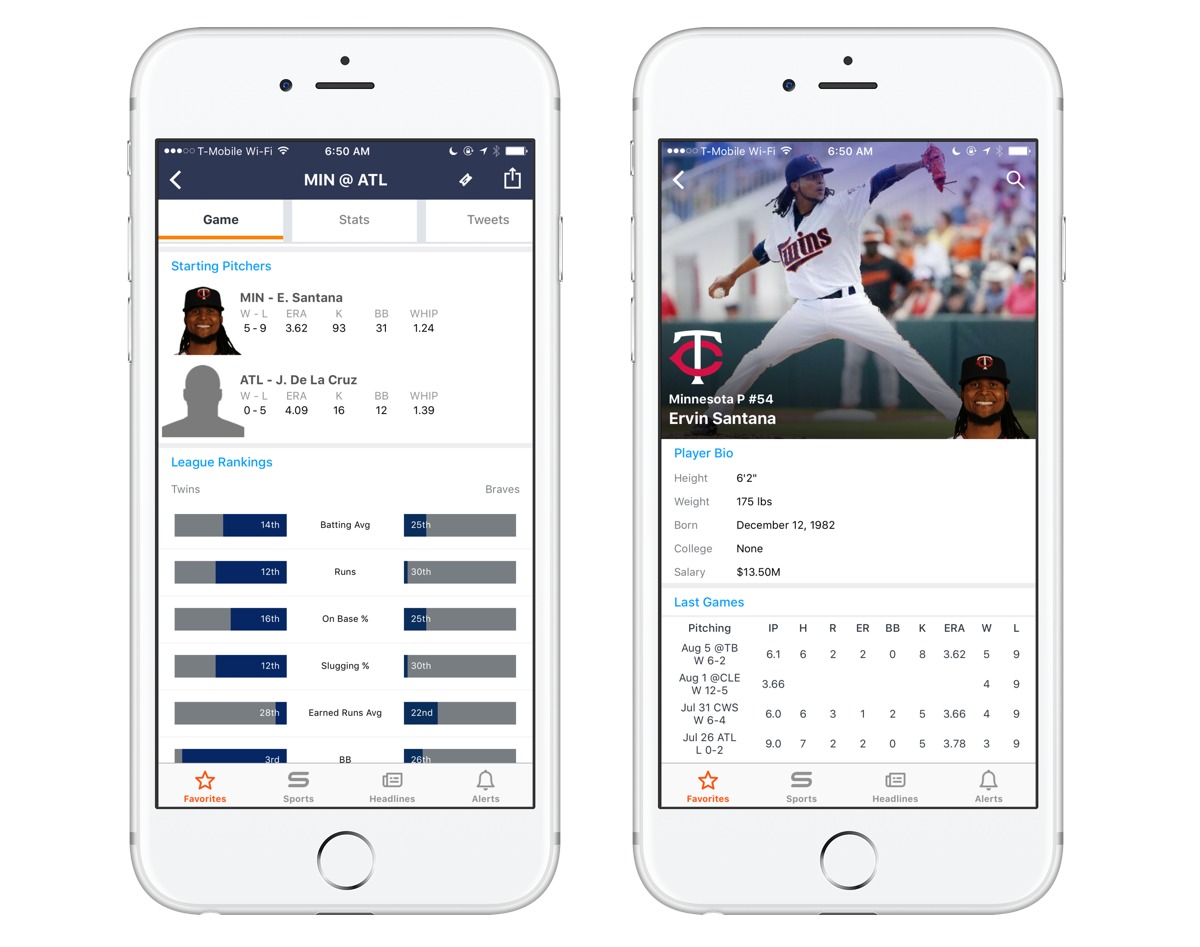 Yahoo Sports, being from a major media company (and now Verizon) is free. They used to offer a Pro version without ads, but that was phased out years ago. I know it's difficult to charge for this type of app because the money comes from from advertisements. I do wish there was an option to pay to remove them. I'd even be willing to pay a small yearly subscription as well in order to remove the ads.
When thinking through scores and news from outside a design perspective, Yahoo Sports still excels. The news isn't just Yahoo produced news, but they are also finding the most relevant news around the web and linking to it.
When clicking on news about the Georgia Bulldogs, one link goes to Rivals.com where another goes to DawgNation. Scores are also updated at lightning speed. I've noticed that NFL scores are often 3-4 seconds ahead of the actual WatchESPN live stream.
Social aspects
Social commentary is another area where Yahoo Sports absolutely shines. It not only pulls in information about the game as it happens, but it also pulls in information from beat writers as well. This could be reactions after the game or pregame injuries. While Yahoo contains plenty of built-in video highlights, this social stream allows you to pull in highlights from the official team Twitter accounts as well.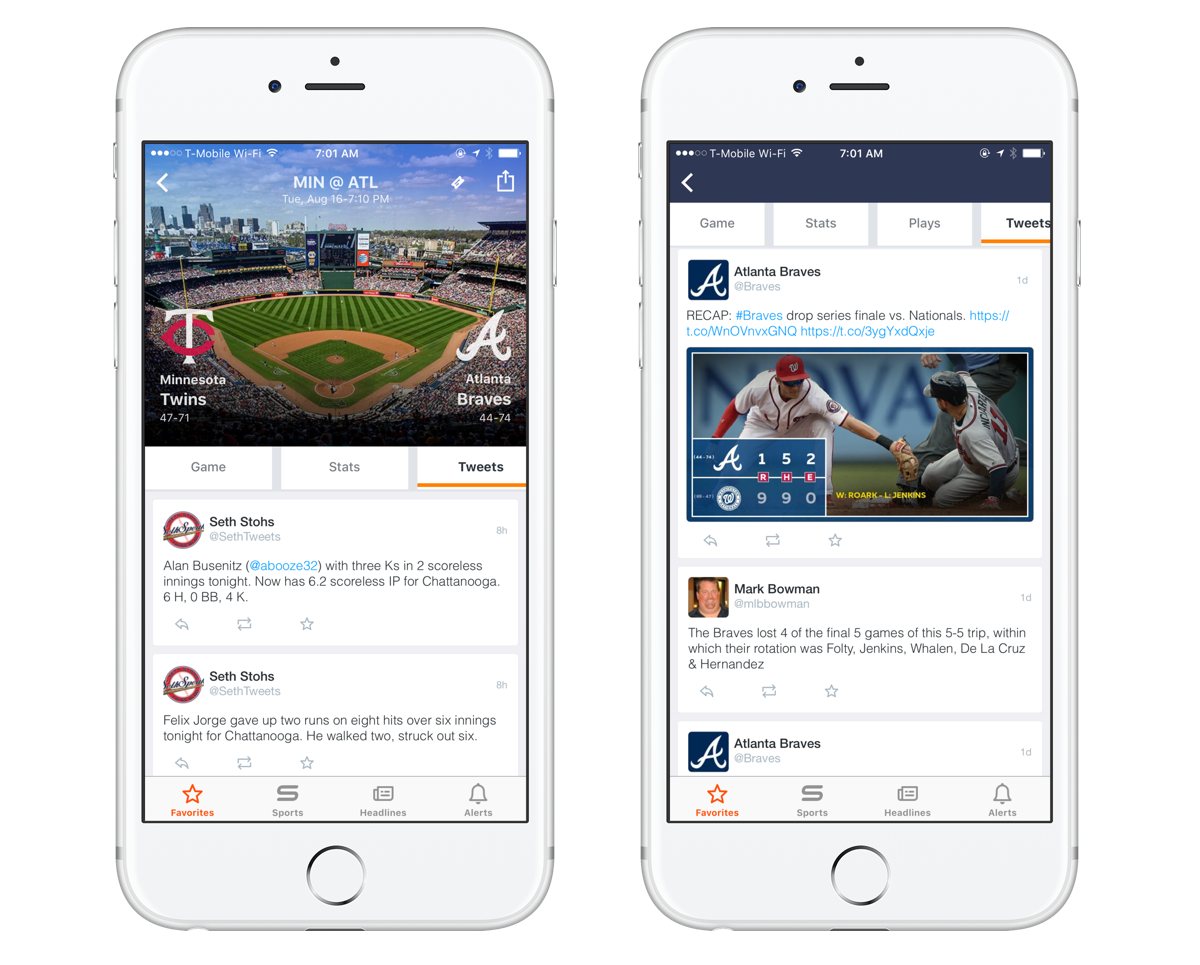 While I follow a small set of sports, there is a huge world out there. Yahoo Sports cover a wide variety of sports. this includes football, basketball, MMA, hockey, soccer (tons of variety among different countries), racing, golf, rugby, and even cricket. Regardless of what you follow, Yahoo Sports likely has you covered.
Notifications were one of the original things I loved about Citizen Sports, and Yahoo has kept it great. From customizations for leagues, teams, and individual games, you stay informed without being overloaded. As I mentioned earlier, I don't watch all the Braves games, but I love getting end game results. I don't need scores for the Georgia Bulldogs because I watch every game live. While I try to watch every Falcons game, I don't always get to. Yahoo allows for great customization of how often you want to be alerted.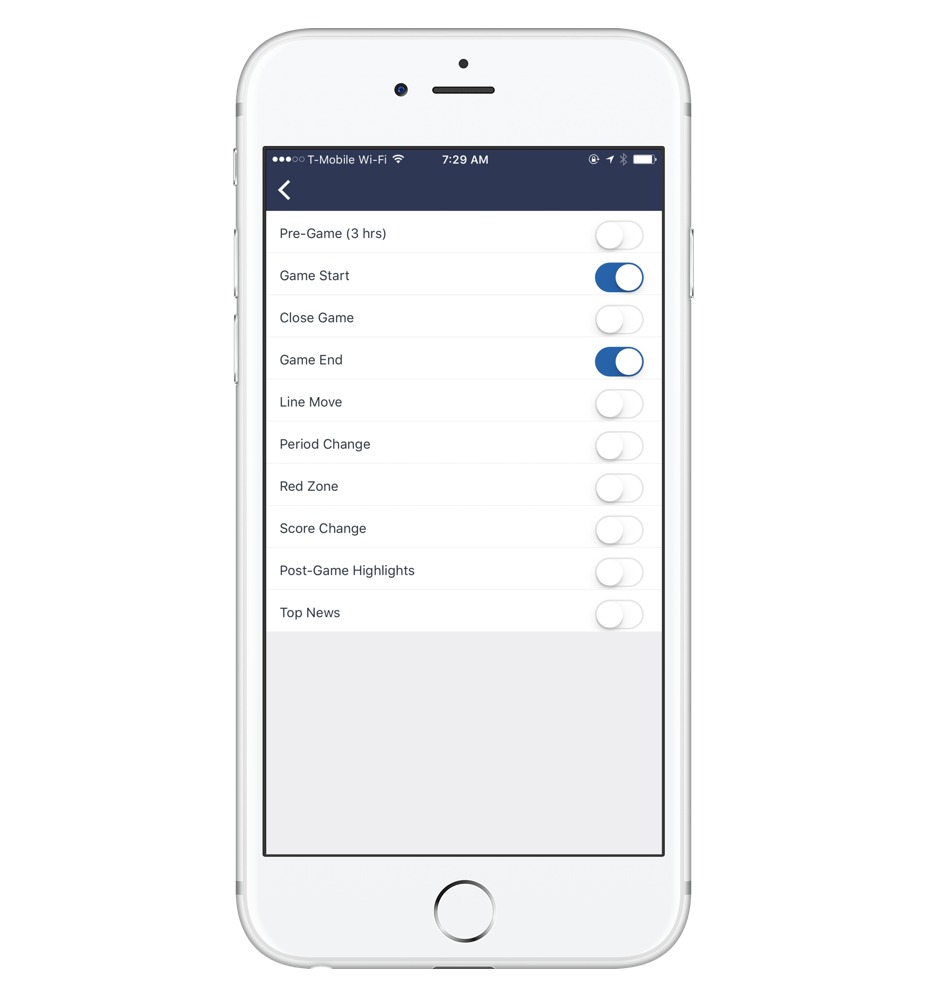 Yahoo Sports is free on the App Store.
Runner Up
ESPN
In some ways, picking the runner up was harder than picking the winner. While Yahoo Sports was the clear winner, ESPN and theScore both have strong points. ESPN, in some ways, is sports coverage. They own TV contracts for a lot of the major sports franchises and really dominate the news cycle. While FOX Sports is coming on strong, ESPN is still the dominant media player.
There's a lot to like about the ESPN app. If you have a cable subscription, you can watch their TV lineup live. They also have a built in podcast player (ESPN produces a ton of podcasts).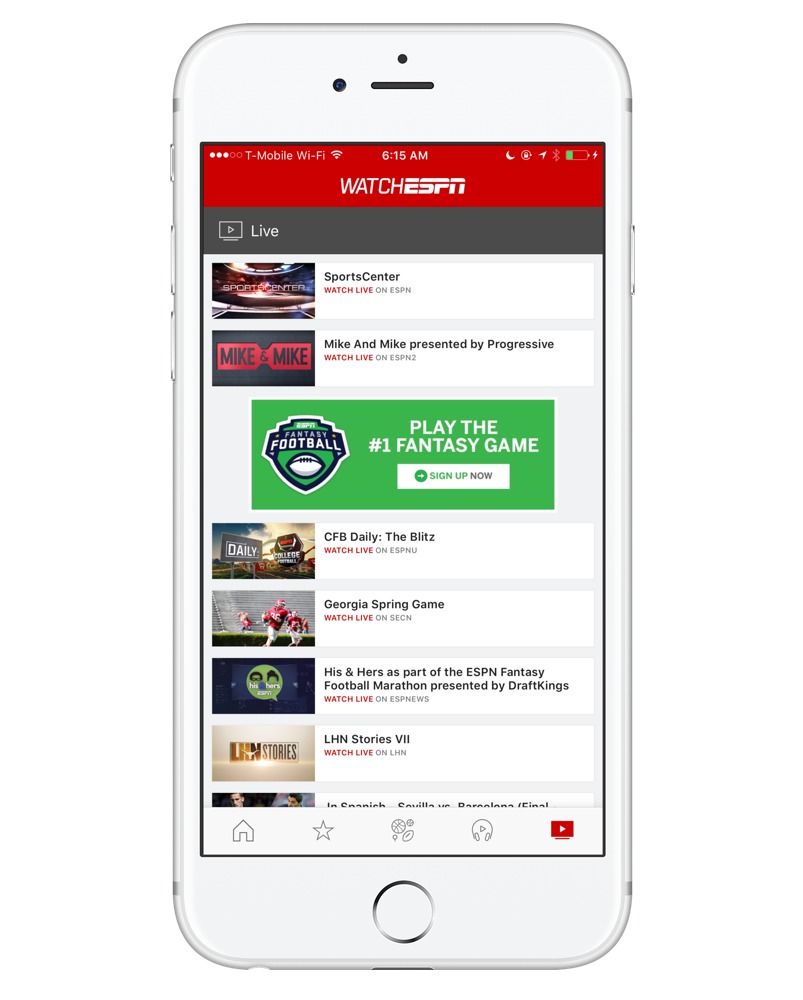 ESPN offers similar functionality to Yahoo for news and scores, but with a more confusing interface. The buttons at the bottom of the screen don't have labels, so it's somewhat confusing on first launch or if you don't use the app often.
Overall, ESPN does a lot of what Yahoo does, but not as well. They have detailed game results, but no social feeds. They allow you to save your favorite teams, but the overall interface isn't as easy to work through. They offer a lot of news, but it only comes from ESPN (and not other partners). They do offer TV/Radio integration, so it still may have a place on your iPhone if you want those features. As a pure sports app for scores and news, Yahoo Sports is a bit better.
ESPN is free on the App Store.
Others
theScore
TheScore is another popular iPhone app for scores and news.
As I mentioned earlier, I considered it really closely with ESPN. Why didn't it surpass ESPN? One reason is that I don't care for the color scheme. It has a lot of blue text on a black background. This makes it hard for me to read against other parts of the interface having white text. I am not a fan of dark-only mode, but getting rid of blue text would go a long way.
They have some nice features that I would love to see Yahoo integrate. The first is the ability to add filters to the news. If you want to avoid certain teams/players, you can do that with Yahoo Sports. Another is the ability to follow certain players. This would be helpful if you play any fantasy sports.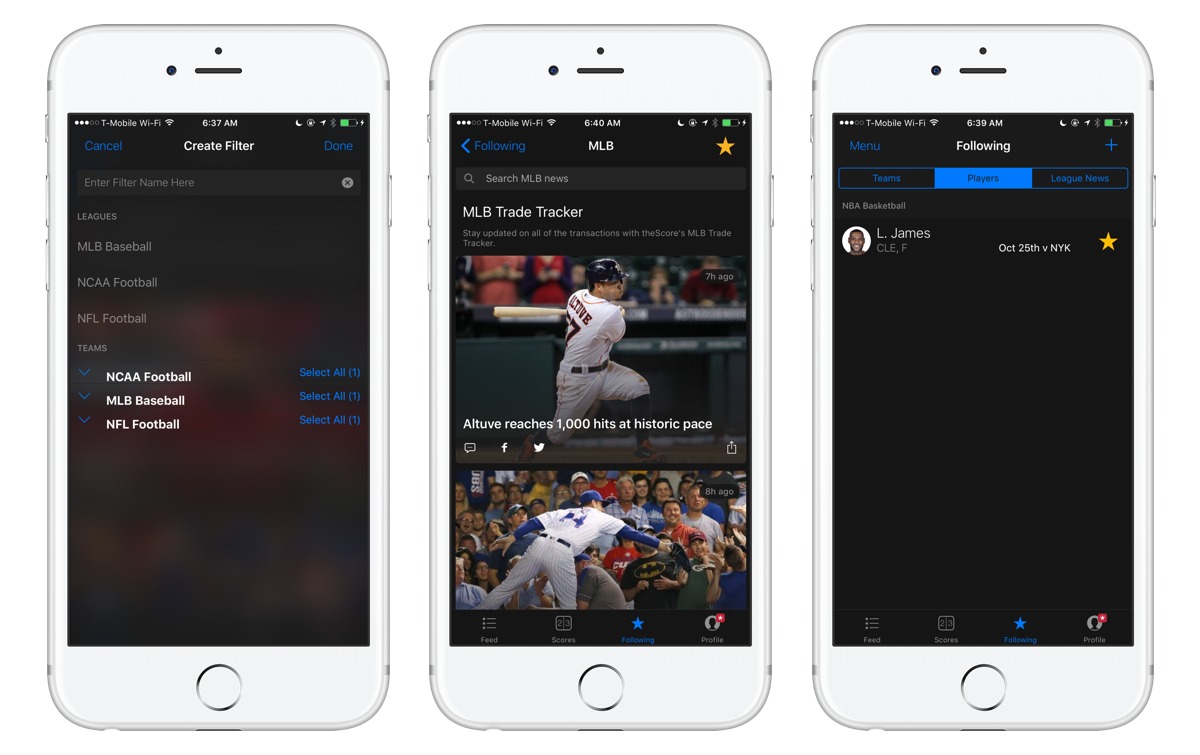 Overall, the interface is subpar compared to Yahoo Sports, and it does not have as many features as ESPN.
theScore is free on the App Store.
Team Stream
Team Stream from The Bleacher Report is an interesting application. It's an interface unlike anything I've seen (and not in a good way). It has really odd font selection, but also heavily relies on web UIs for a lot of things you can tap on. The app does a really great job on news alerts, though. In fact, if news is your primary focus, this might be a good 2nd app to have installed. As a primary app, I can't recommend it because I can't get past the interface.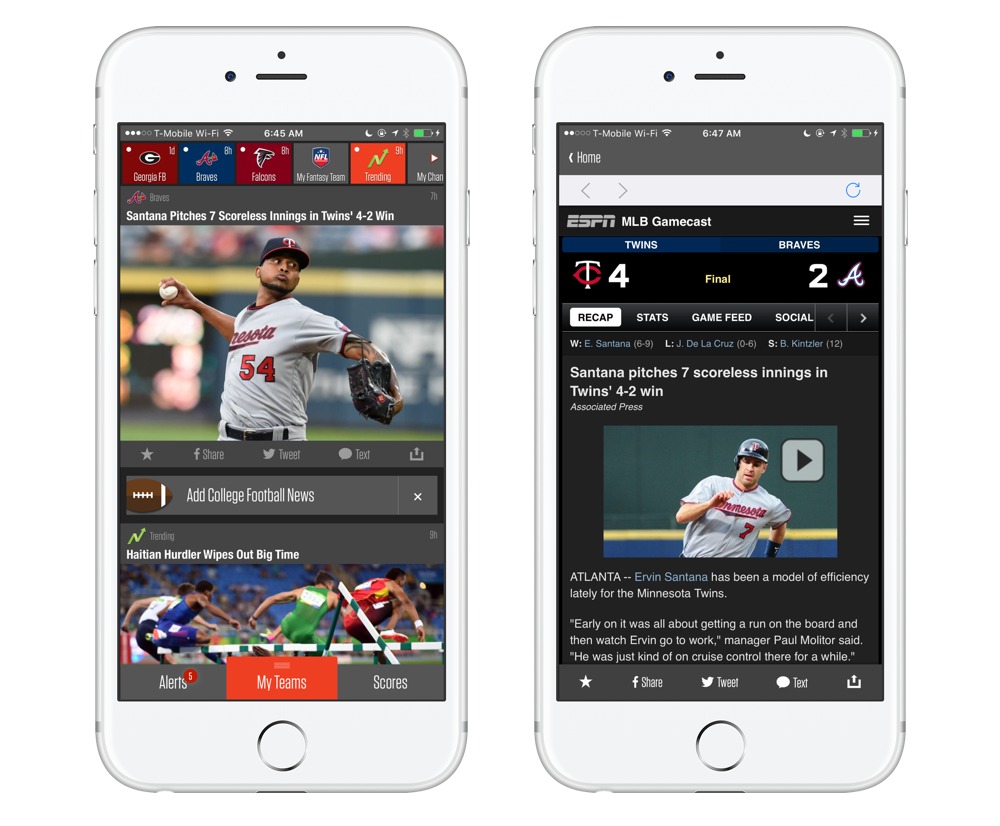 On a side note, they are running giant ads for a movie called "Sausage Party" that is actually offensive to me as a male, so I would assume that it's extremely offensive to women. A tip for media companies is not to let your sales team sell ads for things like this.
Team Stream is free on the App Store.
ScoreStream
ScoreStream is a really interesting app. While most of the sports apps I looked at covered professional and college sports, this app covers college and high school. While I can't recommend it as a primary app due to the lack of pro sports scores/news, it's definitely worth looking at if you follow your local high school sports.
ScoreStream is free on the App Store.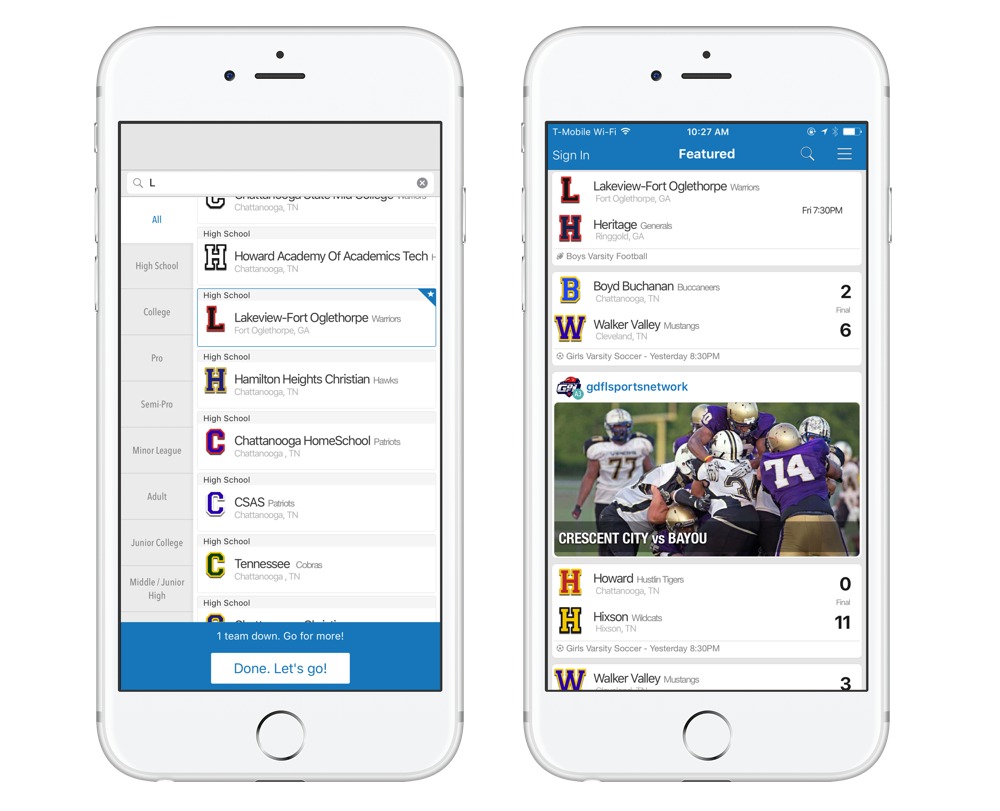 CBS Sports
CBS Sports is another app I considered. While I don't dislike it, it doesn't do enough to stand out above ESPN or Yahoo Sports. It offers similar features, but with a more confusing interface.
You can download CBS Sports for free on the App Store.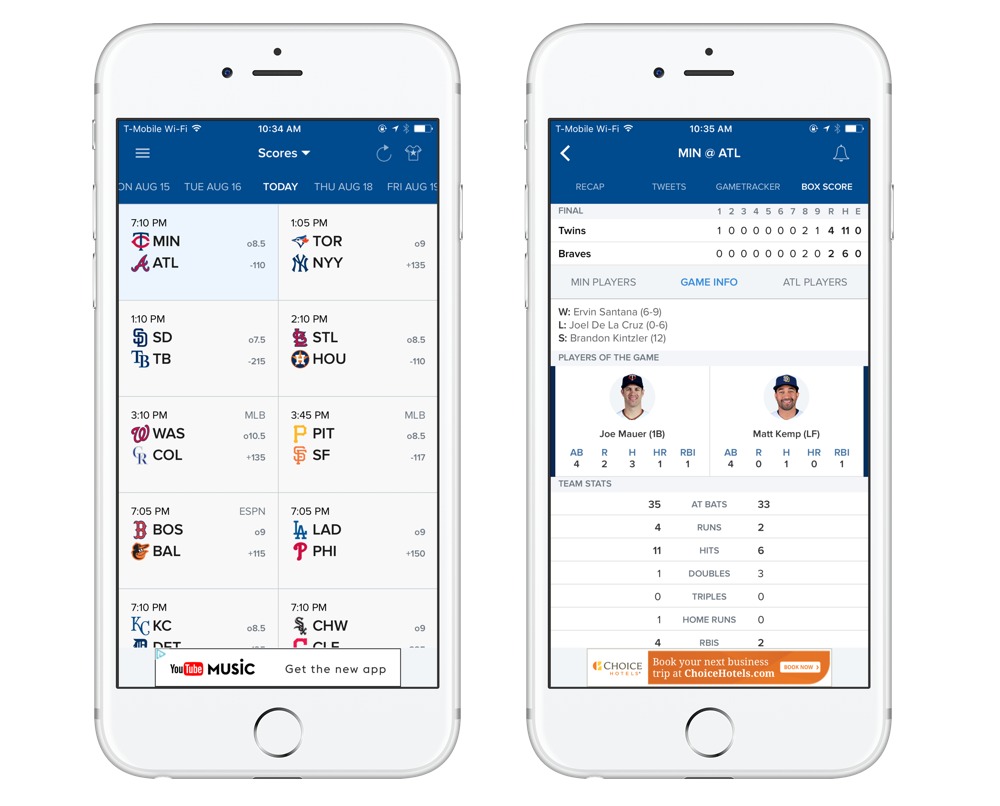 MSN Sports
MSN Sports is similar to CBS. It's a fine app, but with a somewhat strange interface. A lot of the results pages are web UIs with a back button. It's not bad, but it's nowhere near the best.
You can download MSN Sports on the App Store.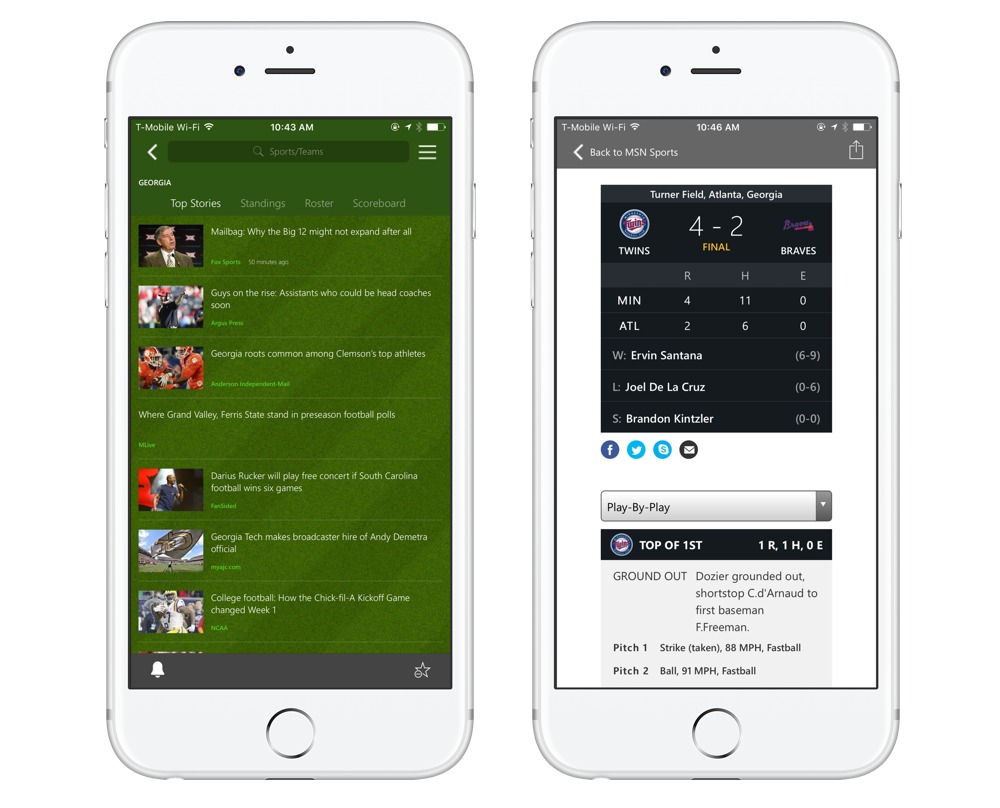 Fancred
Fancred is an interesting app. Does it do scores? Yes, but it's not as much the focus as live streaming is. The idea is that while you watch the game, you can live stream your thoughts, trash talk, etc. It's about building a sports community. According to news reports, it may not be around much longer, though.
Fox Sports
Fox Sports was the final app I considered. It really falls into the same category as MSN and CBS. It's fine, but does not offer enough to put it above the rest of the field. It has the usual crop of features: scores, news, and alerts. Its design is okay, and while I don't care for some of the font selections, it's not horrible. Fox Sports, as a brand, is certainly on the rise, but it's still behind ESPN. They don't pull content from other sites, and they aren't as good as ESPN in terms of daily coverage.
Conclusion
Yahoo Sports is the app I went into this review leaning toward, and it's the one that came out on top as the best option. I've tried various apps in this category over the years, and Yahoo still remains the best. It's got a great layout, lots of content, and great alerts. It strikes a nice balance of simplicity and depth, which is why I highly recommend it.
$0
Yahoo Sports is the best sports scores and news app because it utilizes a great layout, plenty of content, and great notifications.
App Store

$0