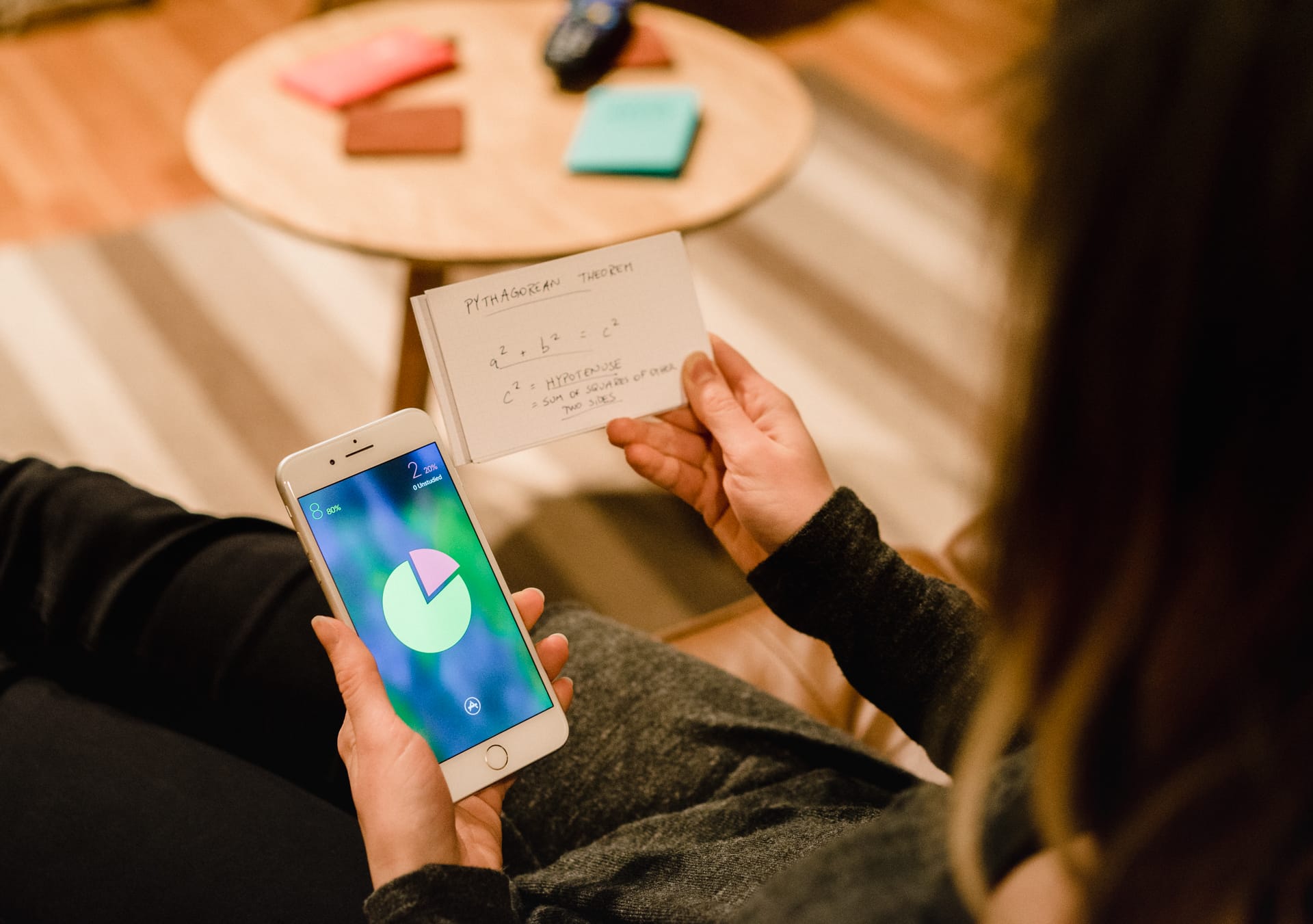 The best flashcard study app
Studies
March 21, 2017
Flashcards are an effective and time-tested way of studying. Whether you're cramming for a test or learning a new language, flashcard apps help you study smarter, not longer. Our recommended flashcard app, Studies, does just that by striking a healthy balance of features for casual and power users.
---
The 5 Best Productivity Apps (Sweet Setup Favorites)
Download: We spend an inordinate amount of time sorting through hundreds of apps to find the very best. This list of must-have productivity apps includes app links, quick-start info, and pro-tip workflow recommendations for each app.
---
Why flashcards?
As a college student, I couldn't wait to graduate and be done with studying forever. As an adult, I realize how naive I was back then. I thought I was done with flashcards.
But the truth is, regardless of age, flashcards are still an effective learning tool.
In school, your ability to remember key facts, concepts, and definitions are critical to your GPA and future success. Particularly when studying for standardized tests like the ACT, SAT, GRE, LSAT, or MCAT.
Outside the classroom, learning still applies.
Anyone who stops learning is old, whether at twenty or eighty. Anyone who keeps learning stays young. The greatest thing in life is to keep your mind young. -Henry Ford
What better way to keep your mind young than actively engaging it with flashcards?
Countless studies over the years have proven the effectiveness of flashcards — particularly when used with a learning technique called spaced repetition.
Spaced repetition is a system for prioritizing more difficult information so you review it more often than information you know well. It helps minimize the forgetting curve.
For a more detailed look at this as a topic, check out this video.
Bottom line: whether you're a student or a life-long learner, flashcards are a terrific way to remember information and keep the mind sharp.
Studies: Our Recommended Flashcard App
Now that you understand spaced repetition and why flashcards are useful, let's take a look at our recommended flashcard app: Studies.
Here's the criteria we looked at in our testing:
Cost: Is the app worth paying for? How about any in-app purchases?
Ease of Use: Is there a learning curve to get started, add flashcards, and start studying?
Supported Card Types: What flashcard types are supported (text-only, multimedia, two-sided, multi-sided, etc.)?
Study Options: Are there different ways to study (multiple choice quizzes, reversing cards, etc.)?
Content Libraries and Sharing: Does the app support content from Quizlet or other flashcard libraries? Are flashcards easily shareable, like a teacher to students or friend-to-friend?
Design and Organization: Does the design enhance or hinder app usage? Are flashcards easily organized?
Cross Platform and Sync: Can flashcards be studied on an iPhone, iPad, and/or computer? Are flashcards synced across devices?
Advanced Features: Does the app support different learning options, reports, or templates?
Cost
Studies is available as an iOS or macOS app. While the iOS version is free, the macOS version is a paid app.
What's impressive about Studies for iOS is you get a full-featured app for free. No in-app purchases required or even available. And to top it all off, the app is ad-free.
Ease of Use
Studies' on-boarding process isn't the best in class. While Studies does provide a tutorial, the main challenge to new users is understanding how to view the tutorial.
As a new user, I thought the play button would be an intuitive place to start. However, clicking the play button brought up a screen of study options with unfamiliar, app-specific terms. It wasn't clear to me what option I should choose to view the tutorial.
Once I figured it out, the tutorial immediately dove into the app features without any introduction to navigation, which is the most critical piece of the tutorial.
In the app's defense, navigation is explained if the user clicks a question mark in study mode.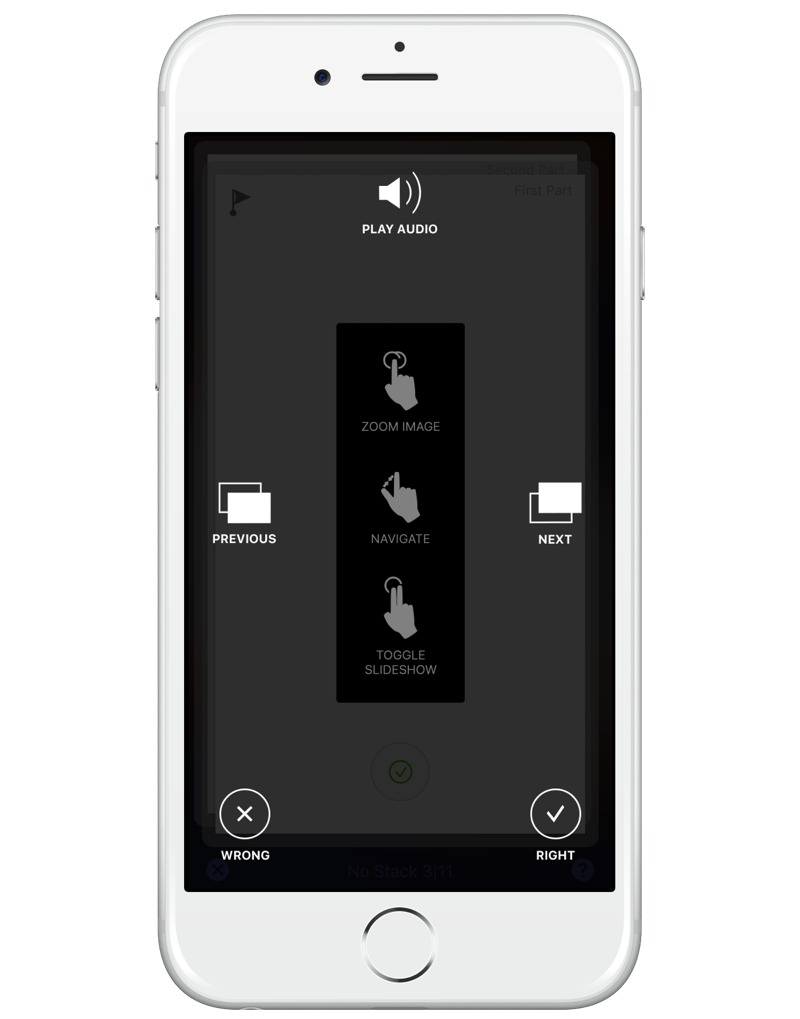 However, navigation instruction should be given to the user instead of forcing them to seek it out. Having been through other app tutorials where navigation was the first thing taught, Studies noticeably hindered quicker understanding of the app by excluding navigation from its tutorial.
All that aside, once I went through the tutorial and got a basic understanding of the app's terminology and features, things began to make a lot more sense.
Unfortunately, Studies tends to use its own words over more common equivalents (notes instead of flashcards, facets instead of sides, and stacks instead of folders).
That's why for new users I would recommend reading through the built-in help before going through the tutorial. Namely, I found the Introduction, Important Concepts, and Study Sessions sections worth reading first.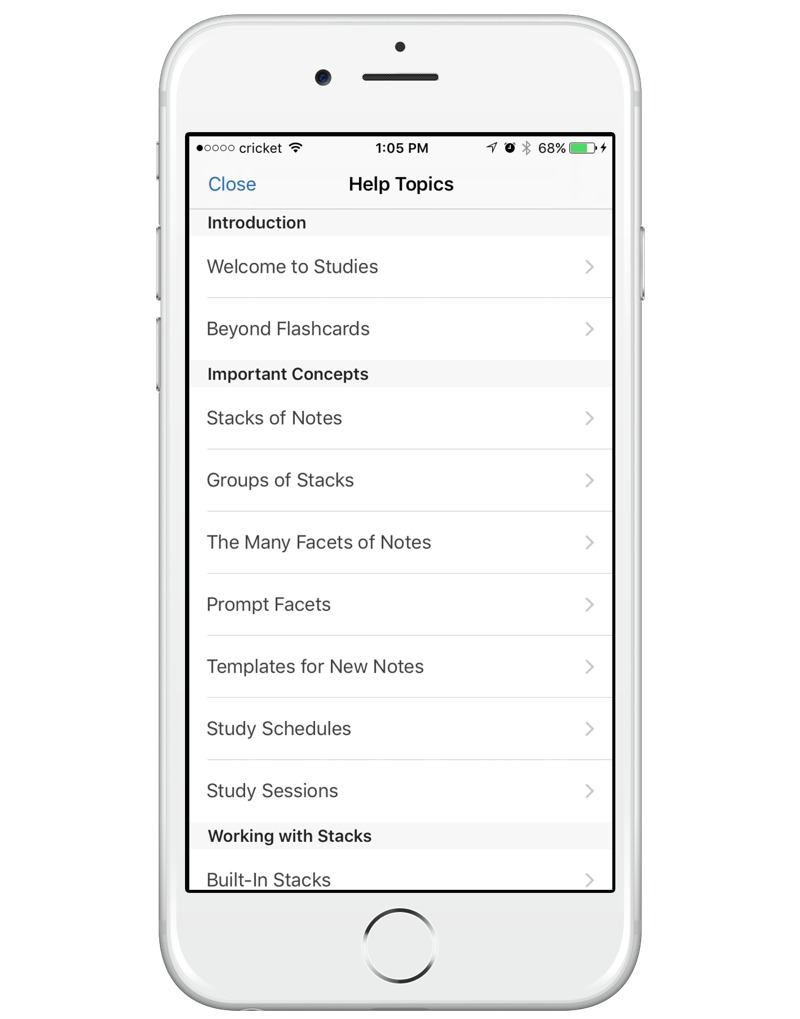 After overcoming the initial learning curve, I came to appreciate how well-designed the app is. The basic task of adding notes is simple while still giving power users lots of options to tweak. The same goes with studying. Casual users can use any of the built-in study options while also supporting custom study sessions.
Supported Card Types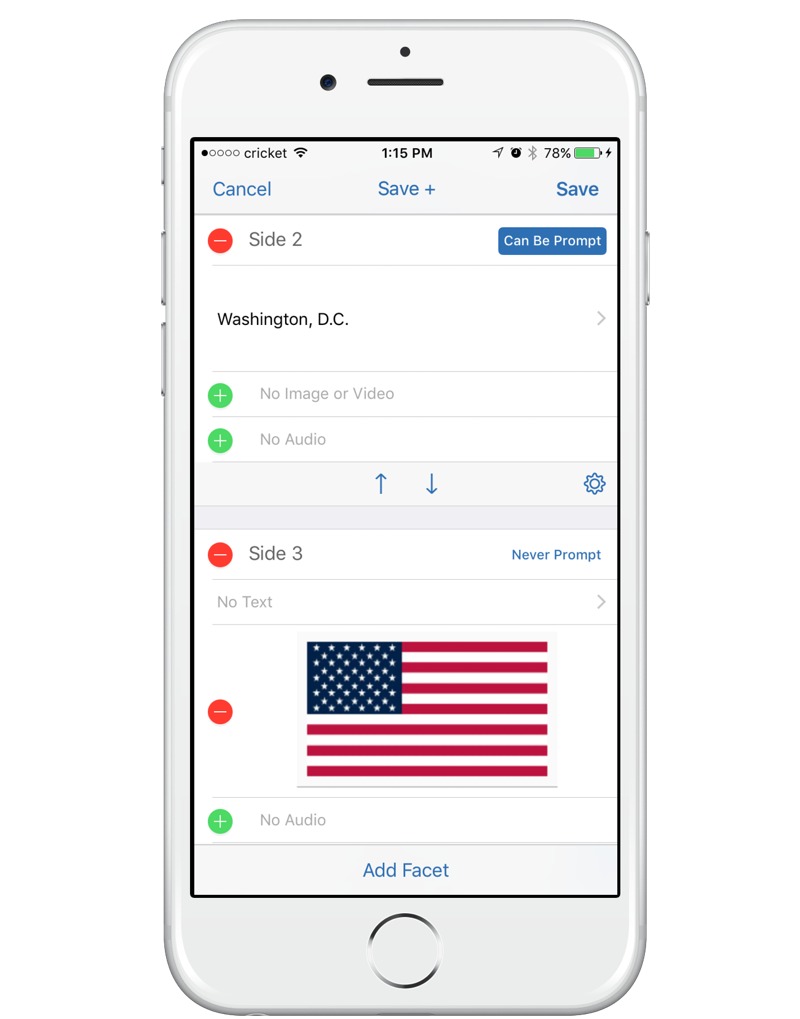 Studies has one of the most flexible flashcard builders of any app reviewed. Where most apps only support two-sided flashcard, Studies and Flashcards Deluxe both support multi-sided flashcards.
For example, a flashcard could have these three sides:
Side 1 with a country name
Side 2 with the country's capital
Side 3 with a picture of the country's flag
Each side supports text, images, audio clips (recorded from the app), or videos. The background color, font, text color, font, and text alignment can also be customized.
Despite the many options and customizations available, the flashcard builder is well-designed and pleasant to work with.
Study Options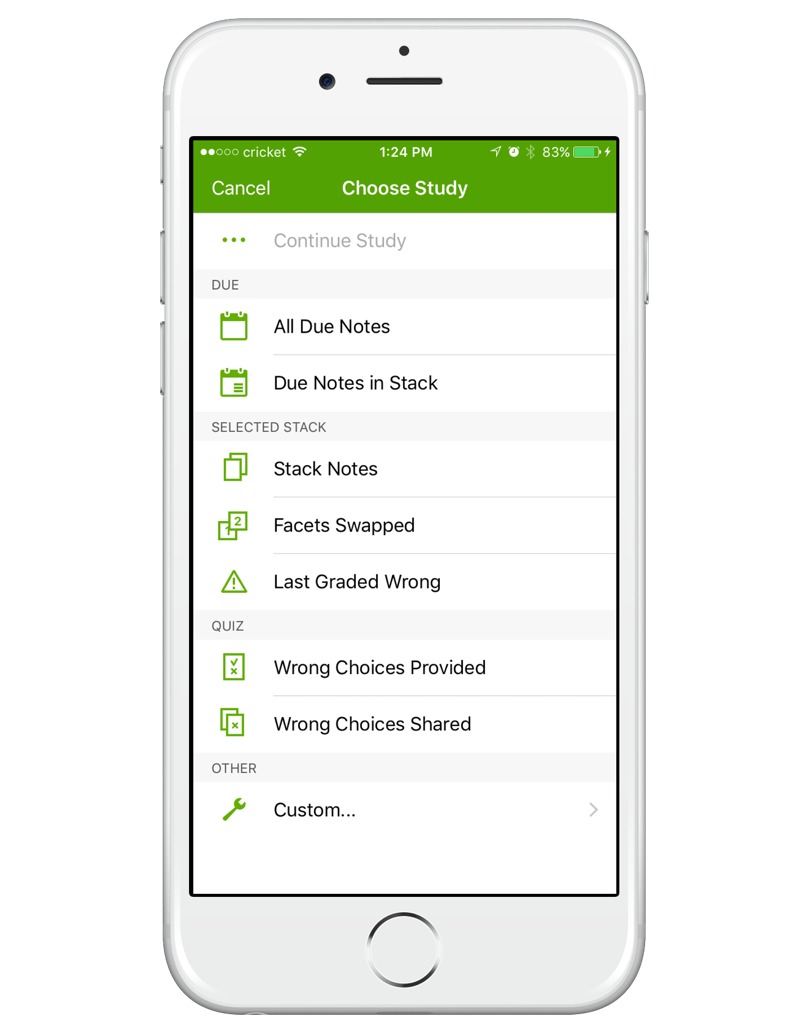 Studies provides plenty of options for reviewing flashcards. The options let you tailor your study sessions depending on how much time you have, what you want to study, and how you want to study.
All Due Notes: All due flashcards (notes) in your entire library.
Due Notes in Stack: All due flashcards in a group (stack).
Stack Notes: All flashcards in a group.
Facets Swapped: Instead of showing Side 1 (facet) first, show a different side. This is useful for language learning where you can have the Spanish word (Side 2) be the prompt instead of the English word (Side 1).
Last Graded Wrong: Flashcards you've gotten wrong recently.
Wrong Choices Provided: A multiple choice quiz where each flashcard has the same set of right and wrong choices (defined by you).
Wrong Choices Shared: A multiple choice quiz where the wrong choices are randomly picked from other flashcards.
Custom: Create your own study session.
The Custom option will let you mix and match many of the options above into your own custom study session.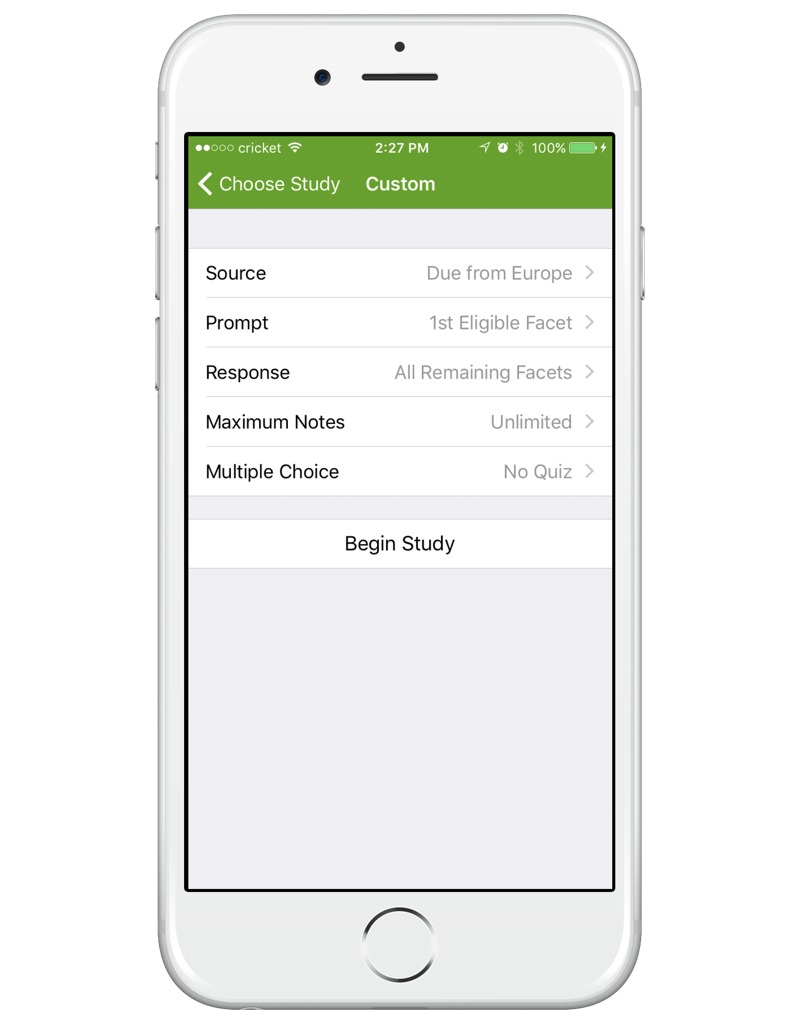 Content Libraries and Sharing
All the apps reviewed support importing cards from Quizlet's database of 152 million study sets.
Unfortunately, there's no way to preview flashcards before importing (a common limitation with other apps as well), so I'd recommend searching Quizlet first and then importing when you know the specific set you want (making note of the name and creator).
Because Studies supports Quizlet, teachers can create sets there and have their students import them into Studies. This is probably the best sharing option for teachers.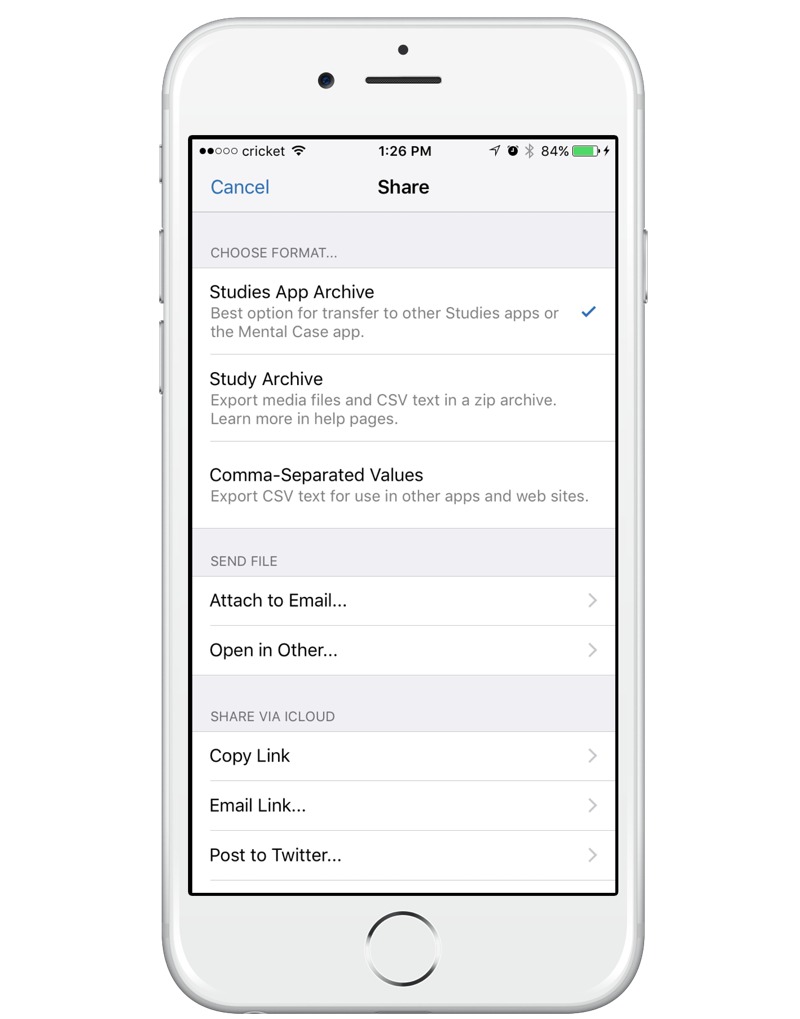 Studies, along with Flashcards Deluxe, provide the most sharing options of any app reviewed. Other options include:
Studies App Archive: For sharing with Studies for iOS or macOS.
Study Archive: A zip archive including a CSV file and any media files.
Comma-Separated Values: A CSV file for use in other apps.
It's worth noting that while Studies is able to export those formats, the iOS app is only able to import Quizlet and Studies App Archives. It doesn't support importing CSV or Study Archive files.
If you're logged into iCloud within the app, there's also the option of sharing the chosen format using an iCloud link.
Design and Organization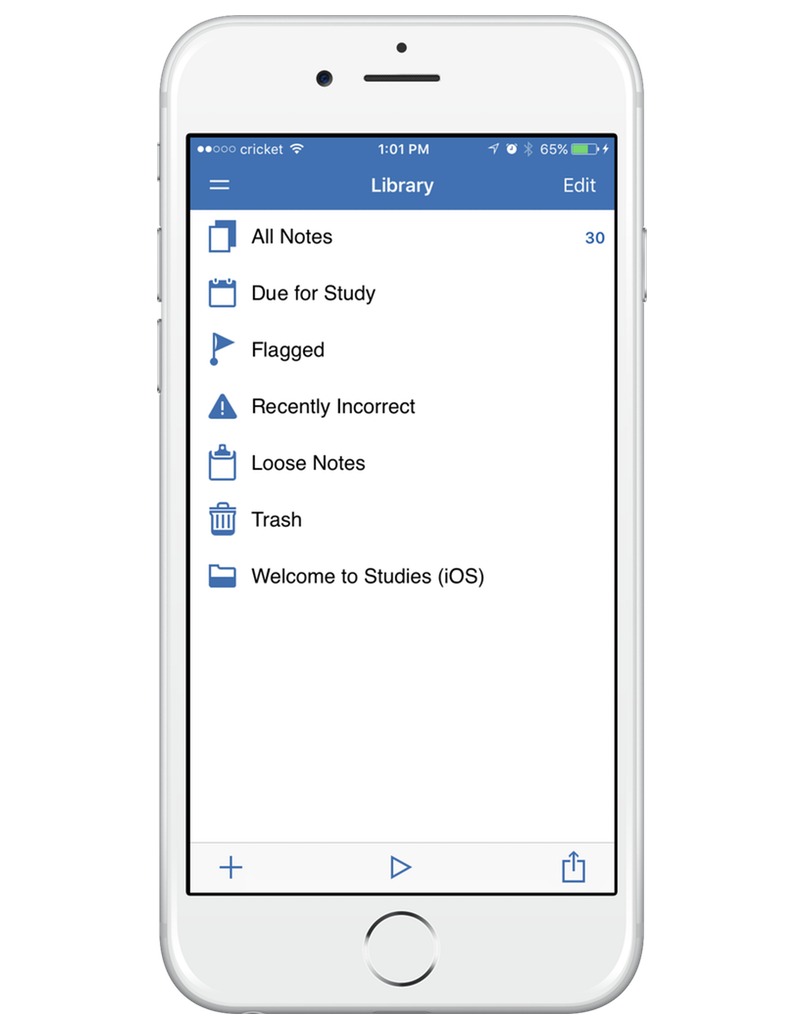 The design is modern, clean, and subtle. It does well serving the primary purpose of the app (helping you study flashcards) without getting in the way.
Organizing a large collection of flashcards in Studies is also a breeze thanks to the clean design.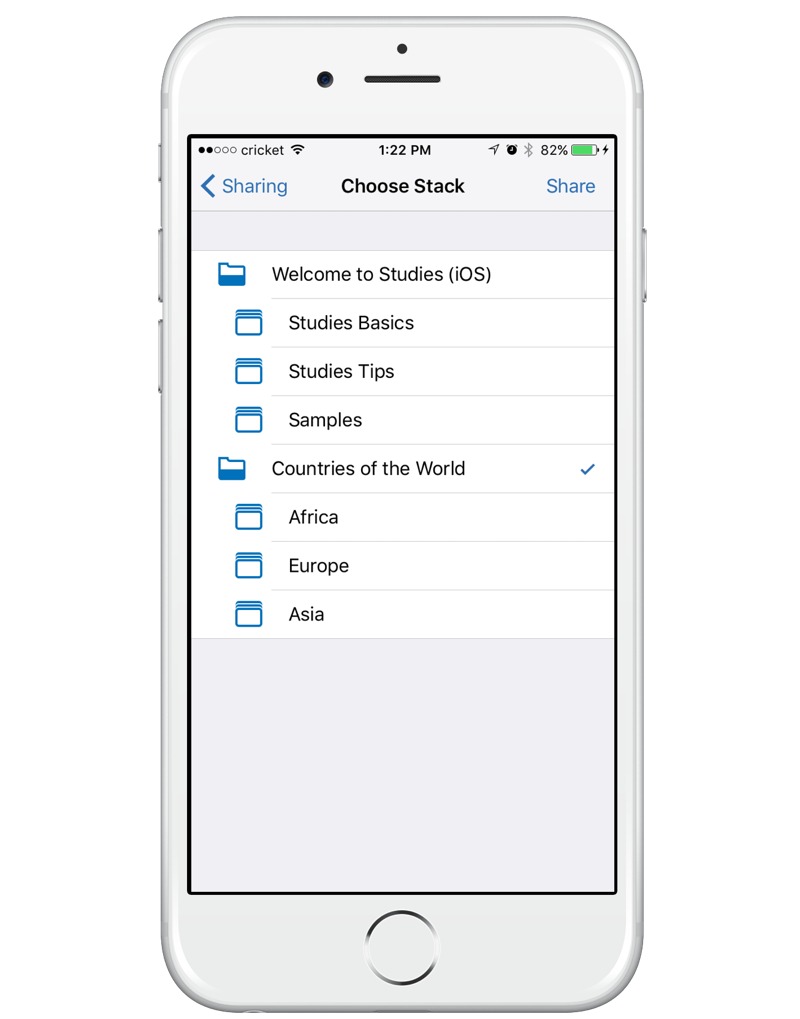 Studies organizes flashcards (called "notes" in the app) through the use of "stacks" and "groups." Stacks are a collection of flashcards, and Groups are a collection of stacks. Groups can also be nested within other groups.
As an example, you could have a group called "Countries of the World" and stacks for each continent underneath. Organizing flashcards into groups and stacks also lets you narrow your focus when studying; you can focus on one stack at a time or all the stacks in a group.
Cross Platform and Sync
Studies is available as an iOS or macOS app.
Both versions of the app support iCloud, so flashcard data is synced between all devices. I found syncing worked well between the iPhone and macOS apps.
The developers have done an exceptional job making the interface on the iOS app similar to the macOS app. You'll be able to seamlessly go from one to the other without difficulty.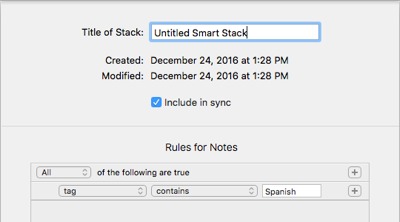 Studies for macOS also has a few noteworthy features not found in the iOS version.
Tags: Flashcards can be assigned any number of tags.
Smart Stacks: A constantly updated list of flashcards that meet certain conditions. For example, any flashcards tagged with "Spanish" or all flashcards with audio.
Importing: The ability to import CSV and Study Archive formats.
Rich Text Formatting: Additional support for bold/italicized/underlined text, bulleted/numbered lists, and more font options.
Statistics: Basic charts showing study session results and an estimate of how long you'll remember the information.
Advanced Features
There were also a couple standout features that helped Studies become our recommended flashcard app.
Learning Schedules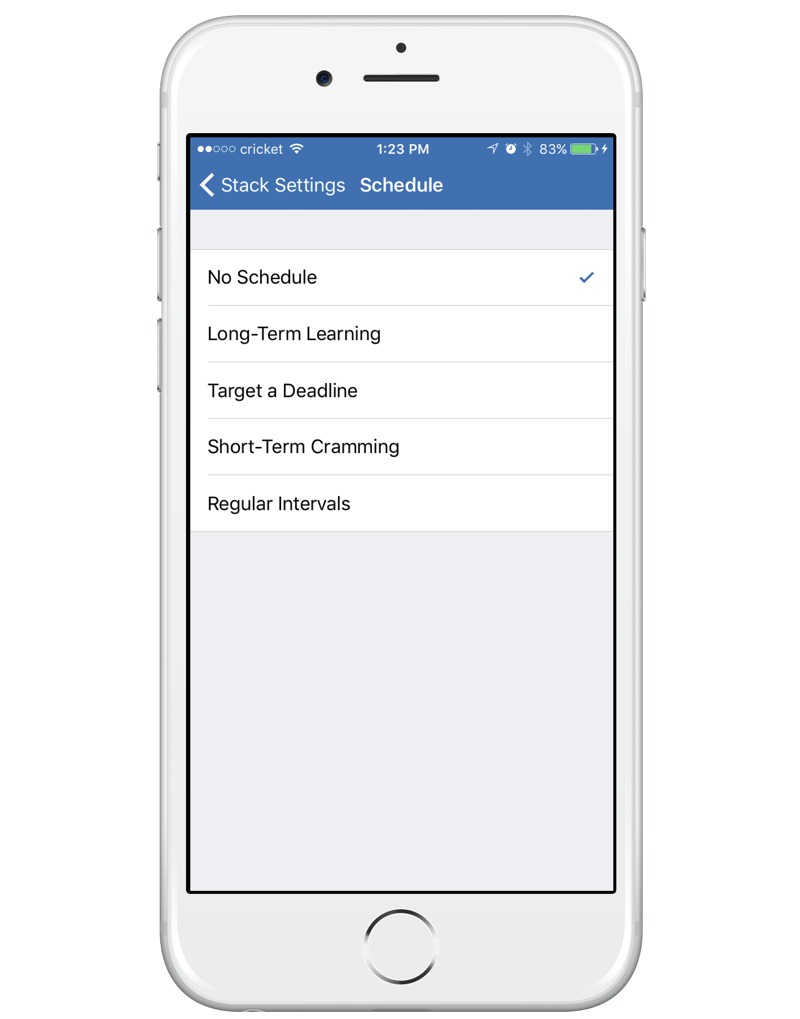 Earlier, I mentioned how effective a learning technique called spaced repetition is at helping you remember things longer.
One handy feature of Studies is that it supports different learning schedules, and some use spaced repetition. Learning schedules tailor how frequently flashcards are "due" (for review) based on your learning goals.
No Schedule: Flashcards are never due.
Long-Term Learning: Uses spaced repetition to make flashcards due at increasing or decreasing frequencies depending on how well you know a card. Cards are due at most once a day.
Target a Deadline: Similar to Long-Term Learning, but modified to target a specific date.
Short-Term Cramming: Based loosely on the Leitner system (another form of spaced repetition). Study flashcards as often as you'd like. Cards progress through a series of levels until they're considered learned.
Regular Intervals: Lets you pick how often cards are due (based on a fixed interval).
The long-term, deadline, and short-term schedules are particularly useful because of how they intelligently pick flashcards for you to review.
As you review flashcards and get them right or wrong, the app learns which ones you know well and which ones you struggle with. It will then start showing missed cards more often than ones you consistently get right.
It lets you study smarter, not longer, and is definitely a feature worth using.
Templates
One feature that sets Studies apart from other flashcard apps is the ability to create templates that can be applied to future flashcards. This saves time when re-creating flashcards with the same number of sides, colors, and settings.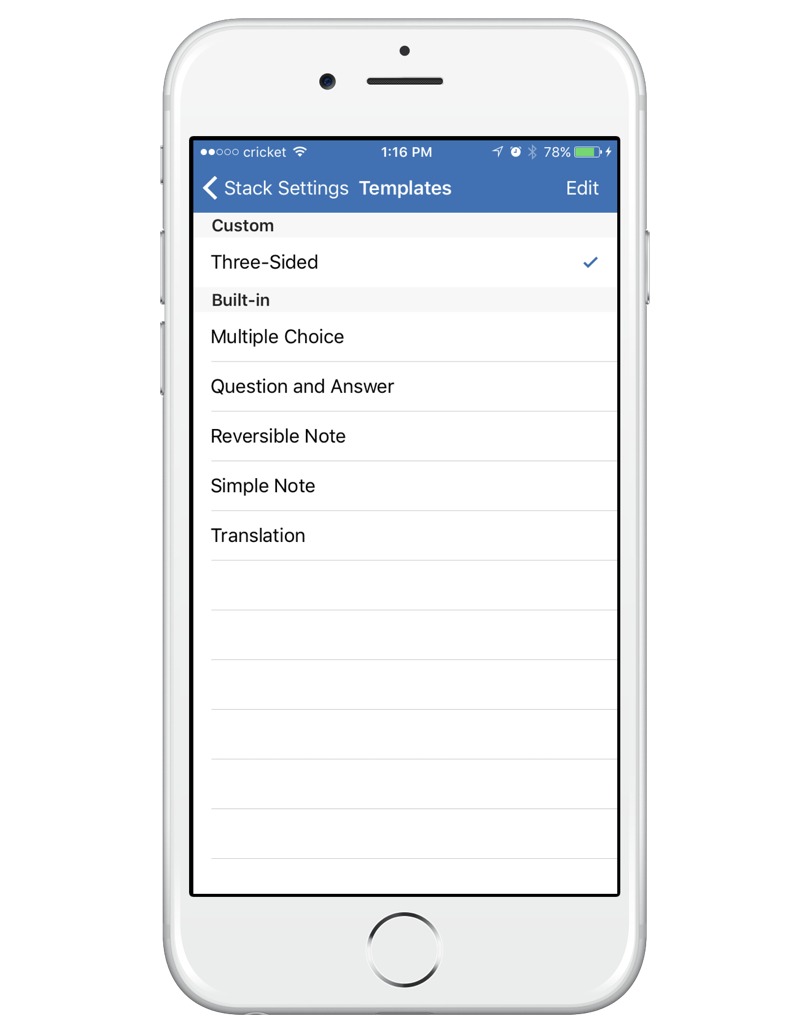 Pre-built templates include:
Multiple Choice: Allows a correct answer and multiple incorrect answers. This template is useful in conjunction with the Quiz study mode.
Question and Answer: A question on one side and the answer on the other.
Reversible Note: A two-sided flashcard where either side can be used as the "prompt" (the side shown first).
Simple Note: A flashcard with just one side.
Translation: Similar to a Reversible Note but specifically used for language flashcards.
Reports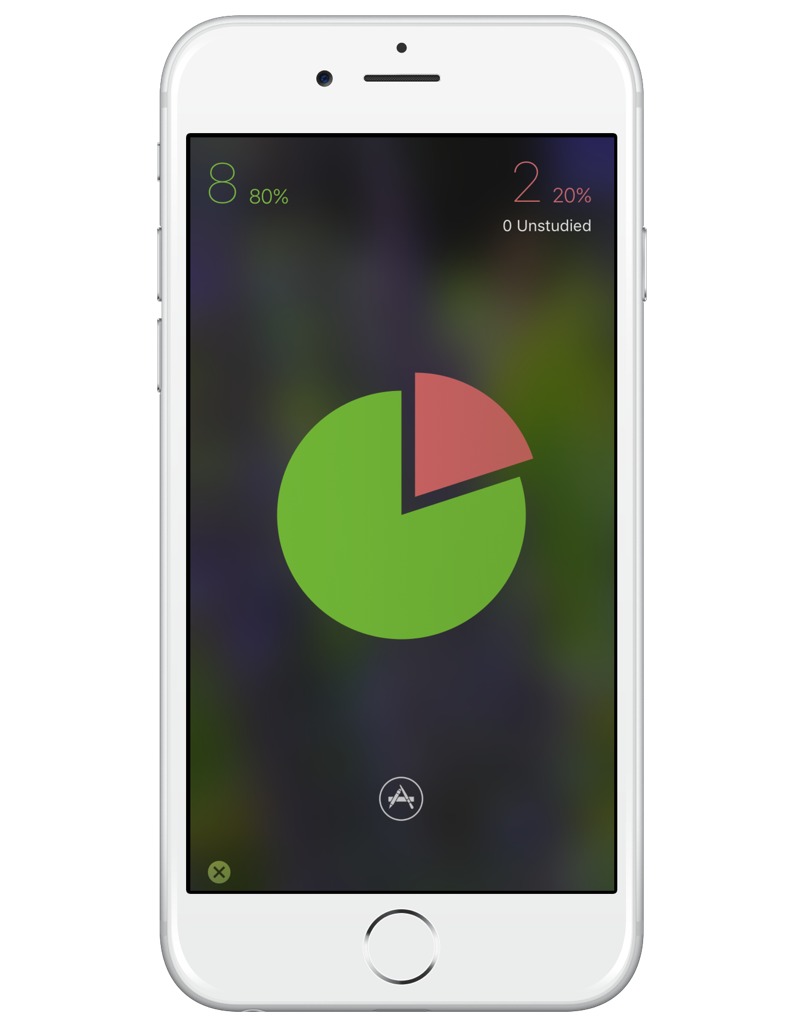 Outside of a quick summary at the end of study sessions, there aren't many other reports to look at. You can look at an individual flashcard's study history which does does give a few stats. Unfortunately, it's not really useful because it's only for one flashcard and it's not convenient to access.
This is an area Studies could improve.
Quizlet: Our Runner Up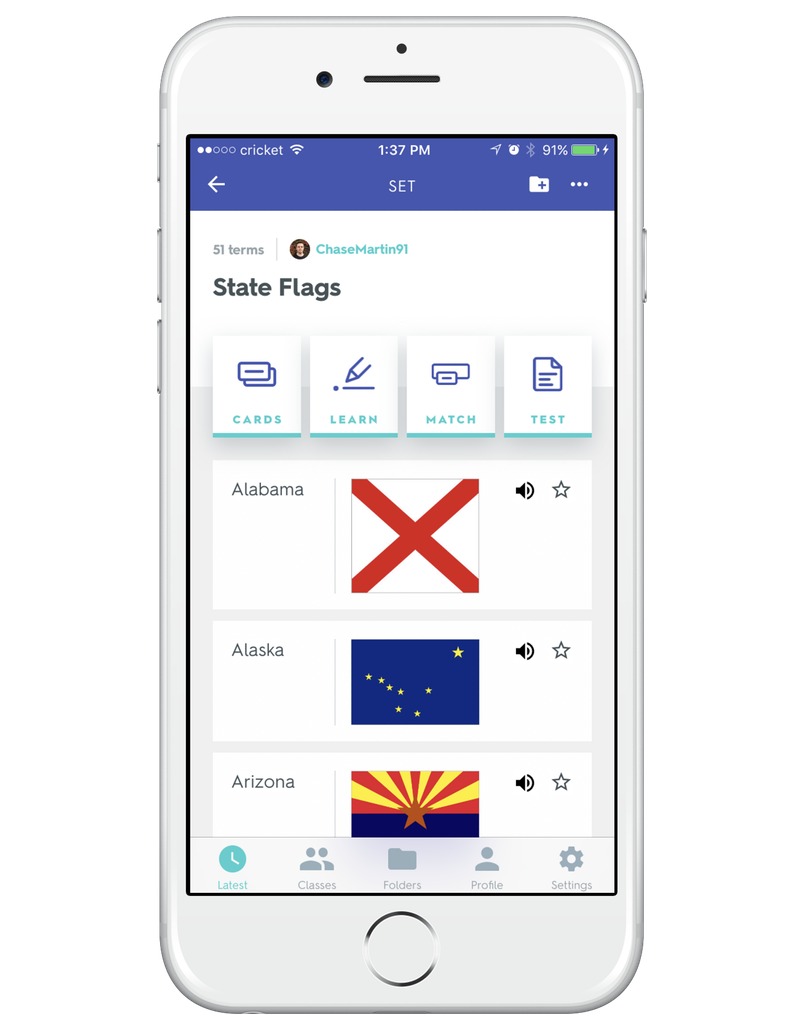 With Quizlet having one of the largest libraries of user-generated flashcards, it's no surprise they have a solid app to go with them.
If you don't need all the power and flexibility of Studies, Quizlet is worth checking out.
Here are some of the noteworthy features of Quizlet:
Well-designed and simple to use.
Extremely quick and easy to create new flashcards. Definitely the fastest of any app reviewed.
Automatically splits large sets of flashcards into study rounds. Rather than study all cards at once, you only study a handful of cards at a time.
Provides a matching game and test mode that are helpful for studying flashcards in a different way.
The ability to preview flashcards when searching their database. This is a feature unique to Quizlet. Other apps supporting Quizlet are not able to show you a preview before importing them into the app.
Teacher-specific features for helping students stay motivated and engaged.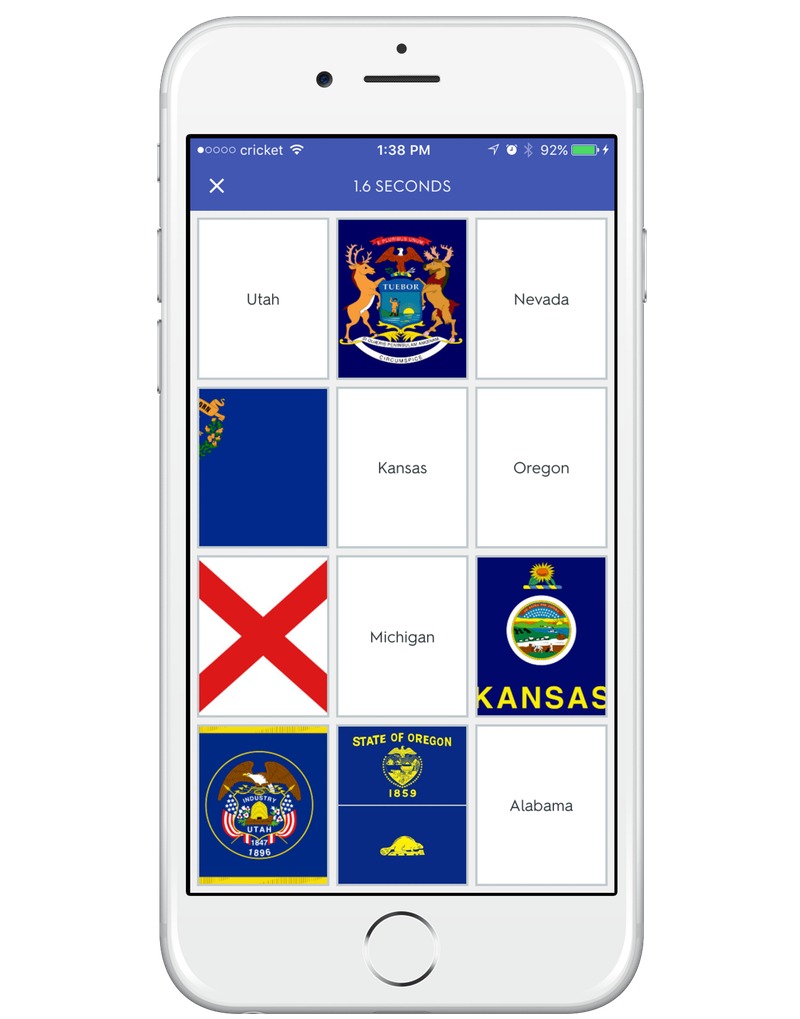 It's also worth mentioning Quizlet only supports two-sided flashcards.
While free, Quizlet does have Quizlet Plus for $19.99/year offering the following:
Image uploading: Upload your own images, diagrams, or photos to enrich your lessons.
Long-Term Learning: Learn efficiently and remember over time with study reminders.
Voice recording: Add audio to any of your study sets.
And more: Unlimited classes, faster support, and early access to new features.
However, if you need those features, you'd probably benefit from using Studies instead since those features are available for free.
Other Contenders
Other apps tested include AnkiMobile, AnkiApp, Flashcards+, Flashcards Deluxe, gFlash+, and Tinycards.
A few of them are worth mentioning for either unique features or strengths in other areas.
Flashcards Deluxe
Any app with an option to "Show Advanced Menu" is definitely geared toward power users, and Flashcards Deluxe is no exception.
In many ways, the app is similar in features to Studies. Flashcards Deluxe, however, gives you many more options to tweak in a more complex interface. It supports an impressive number of flashcard types (my jaw dropped a little when I went through its samples tutorial). If you're not able to build it in Studies, chances are Flashcards Deluxe can build it.
One unique flashcard type is the ability to draw answers. This is great for learning to write languages like Chinese or Japanese that don't use the Latin alphabet.
Flashcards Deluxe also supports importing flashcards directly from a Google Spreadsheet or by copying/pasting cards from a spreadsheet to their website.
Tinycards
Tinycards landed in Apple's Top Ten apps of 2016.
Its strength lies in a collection of beautifully created flashcards covering popular topics in geography, history, science, languages, and more.
Flashcards created by Tinycards and Duolingo (the app creators) are a visual delight. It seems that's part of the "culture" of Tinycards since cards created by its userbase are more design/image focused than other apps.
The app turns studying into a game where you unlock new levels and try to keep your memory strength bar full.
If there are pre-built flashcards you want to study, this app is a fun one to use. However, it has one of the most limited and barebones flashcard creators of the apps tested.
We wouldn't recommend Tinycards if you want to create or import your own flashcards.
AnkiMobile
AnkiMobile (not to be confused with AnkiApp) takes the opposite business model of Studies. Where Studies has a free iOS app and a paid macOS app, AnkiMobile has a paid iOS app and a free macOS app (called Anki).
Anki has a niche following among the academic, scientific, and technical communities because it supports LaTeX, a specialized document language. If that's a requirement, it's the go-to among flashcard apps.
Final Words
Whether you're looking to ace that next test, stay sharp on the job, or just push yourself to keep learning, Studies for iOS is free and jam-packed with features. Once you get past the initial learning curve, you'll find it's intuitive, flexible, and powerful enough for most users.
Or, if you're looking for a simpler option, you can't go wrong with Quizlet.
Happy studying!
---
The 5 Best Productivity Apps (Sweet Setup Favorites)
Download: We spend an inordinate amount of time sorting through hundreds of apps to find the very best. This list of must-have productivity apps includes app links, quick-start info, and pro-tip workflow recommendations for each app.
---
$0
Studies is our favorite app for studying flash cards on iOS and macOS because of its powerful features and ease of use.
App Store

$0