Answers to Your Calm Inbox Questions
October 5, 2020
Last week, we announced Calm Inbox, our new video course to help you get less email and more focus.
This is the most ambitious course we've ever made, with over 50 videos covering everything from setting up email rules to eliminating dual focus to a complete and detailed walkthrough of the TSS email workflow we shared in the webinars we did last week.
In addition to the ins and outs of the email system, the course covers a lot of the mindsets that will help you take back control of your inbox and make your life a little less crazy.
Side note: Today (Monday, Oct 5) is the last day you can save 20% during our launch week pricing.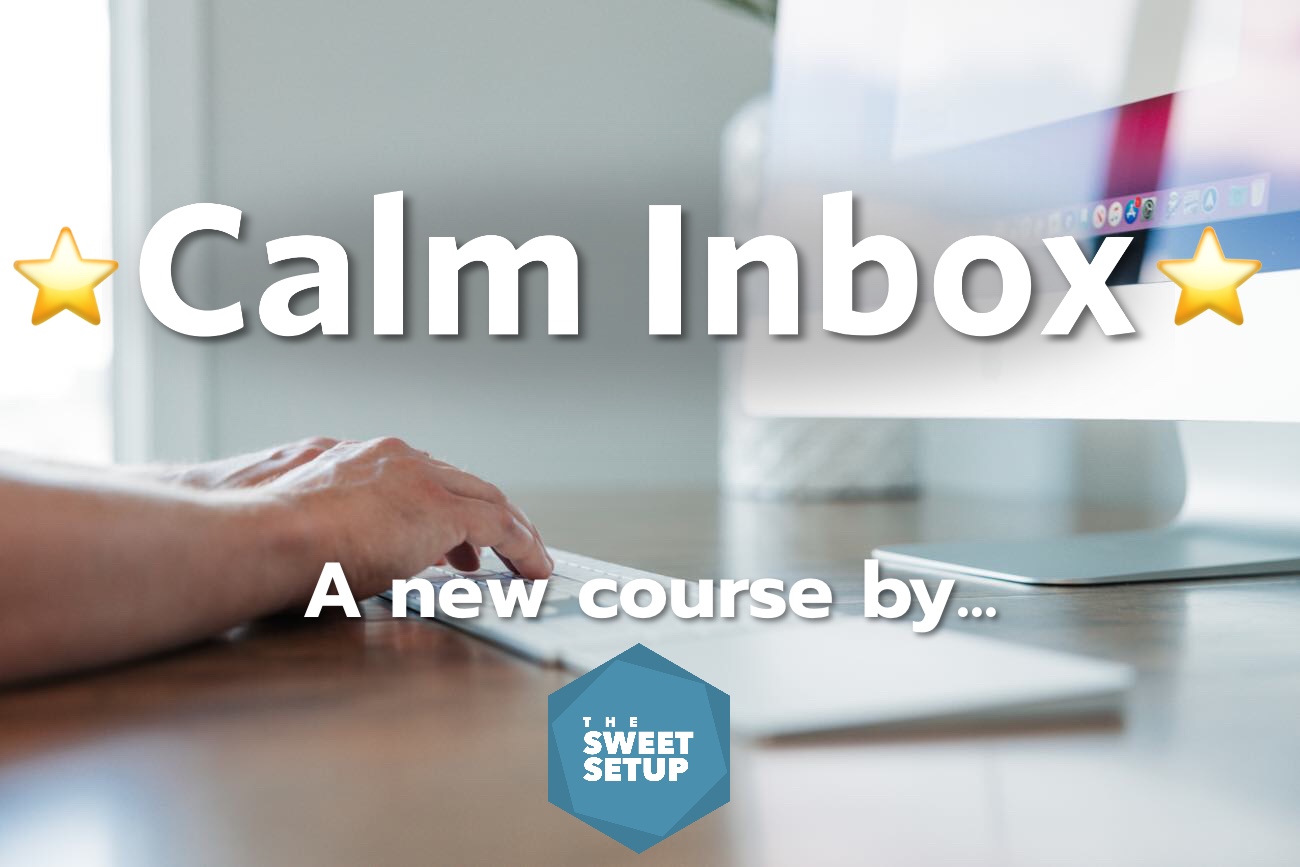 The response to the course has been fantastic! It's been awesome to hear from people who are already benefiting — and if you're one of them, thank you!

One of the questions that has come up during launch week has been around how the Calm Inbox approach can also help with the other inboxes in your life. The constant flow of incoming email can bring unexpected todos and be a major source of stress, but it's not the only inbox you have to deal with on a daily basis. The principles we teach in the course can be used to bring calm to any inbox in your life.
As someone that's taken this course, it's not only helped me with my email, but it's allowed me the completely handle my RSS feeds, social media, and tasks that come to me.

It's not a magical course, you get what you put in but Shawn and TSS have made a great track to success! https://t.co/6dGejLYbhS

— Jeff Perry ?⌨️? (@iamJeffPerry) September 29, 2020
Here are some of the other common questions about the course.
Q: What email apps do you cover in Calm Inbox?
A: We know that for different folks, you have different needs for email. So, we have screencasts covering Gmail, Apple Mail, Spark, Hey, Airmail, Postbox, MailMate, and SaneBox. Moreover, it's also important to note that the principles we teach can easily be applied in any email client (even if you use one that we haven't covered specifically).
---
Q: How much is this focused on Apple-only users? Are you guys teaching the course on Apple-only email apps? Or is this more generally applicable? I'm on Android, iPad & Windows, so kinda all the platforms there.
A: Modules 1–3 of the course are completely platform agnostic. PC user? No problem! These lessons teach you how to create and maintain your own calm inbox in whatever email app you decide to use.
As mentioned above, The Vault section of tutorials includes how-to setup videos for several popular Apple apps (Spark, Airmail, etc.), but also covers Gmail and a whole section on making the most of the SaneBox service (which can be used with any email client). So even if you don't self-identify as an Apple user, there's still a bunch here for you.
---
Q: I have trouble keeping my Task List folder from becoming a black hole with important emails that don't get dealt with in a reasonable timeframe. Will the course help me manage my email tasks better?
A: Yes! In the course, we talk about the two different types of email related tasks and give you some strategies for how to deal with them.
PLUS… In The Vault we show you how to send tasks directly to your task manager (in the email clients that support this feature), and show you a workflow for managing tasks using flags in apps that don't.
---
Q: I have multiple email accounts: Personal, Work, Blog, one for social media, and one for newsletters only. Is this too many inboxes for me to manage?
A: That's up to you, but we believe that the simplest solution is always the best solution. Make your system as simple as possible to eliminate the friction in using it, but don't oversimplify.
In the Calm Inbox course, we will help you identify the major buckets you need for things so you can identify which inboxes are necessary and which ones aren't.
---
Q: I get so many email messages that I don't know how to prioritize what really needs my attention. Will the course help me cut through the clutter and identify what really matters?
A: The workflow we teach in the course is designed to surface the emails that truly need your attention so that you can take the appropriate action on them and hide everything else that isn't important. The course also has a bunch of tips for creating rules and automations to keep your email sorted no matter how many inboxes you have.
---
Q: Inbox Zero Feels impossible for me! Can this course help me with the disaster of having 100,000 emails and SOME are important to keep historically, even though most aren't?
A: Yes it can! First, Calm Inbox explains why Inbox Zero is really a mindset, not a number. It's about having a solid email system you can trust so nothing falls through the cracks. Second, it shows you how to construct search queries in a way that can help you find anything the moment you need it — no matter how big your archive folder is.
---
Q: Do you cover the right way to set up notifications in the course? I am a "No Notifications" type of person, but I am not sure this is the right thing to do.
A: Yes we do! We have a couple lessons devoted specifically to wrangling notifications — including the topic of VIP notifications.
Email clients that support VIPs allow you to only get notifications from someone who you designate as important, while silencing everything else. It's a great feature for people who want to break away from their inbox but still need to know if their boss or significant other emails them.
The course also includes step-by-step videos that show you how to set this up in the email clients that support this feature.
---
Q: I work in a company that relies heavily on email, and it's extremely frustrating. Will this course work for someone like me in a large organization that is very email focused?
A: Yes! Arguably, this is where the Calm Inbox is most important and we have a lesson in the course that speaks directly to this.
Shifting expectations around email is not something that can be changed overnight, but the course will help you develop a bias toward focused action keep a calm inbox — even in the midst of a chaotic company culture.
---
Q: I consider myself an email power user. Will I still benefit from going through this course?
A: Absolutely! As a power user, you already understand how the more familiar you are with a particular tool, and the more frequently you use it, then the greater the return will be from just one single improvement to your workflow and productivity. Here's one piece of feedback we received from a fellow power user:
Please pass along my thanks to the team for creating this course. Even for someone that's been considering himself an email ninja for years, it was most helpful and sparked a lot of thought about my workflows."

– Adam Winfield
Q: I'm pretty busy. How much time will it take to go through the course?
A: The course is broken into 4 different modules. We recommend you go through the first 3 modules in order. These sections have 21 videos, and each video is 5-8 minutes long. Once you understand the Calm Inbox workflow, The Vault has another 29 videos but you won't need to watch them all. The Vault videos are shorter (2-3 minutes) and show you how to set up the concepts talked about in the first 3 modules in your app or service of choice.
Just like all of our courses, Calm Inbox includes a 30-day money back guarantee and purchasing gives you access to the entire course. It's made by all of us here at The Sweet Setup, so you get a variety of perspectives from people who have different areas of expertise. This course is for everyone who want to improve their email workflows and give their focus and productivity a boost.
---
Calm Inbox is normally $99, but is currently $79 during launch week. Today is the last day to get the course at 20% off, so if you want to join in and save a few buck you better act fast!
Save 20% when you buy Calm Inbox before midnight, Monday, Oct 5.