Álvaro Serrano's sweet setup
November 17, 2014
Every week we post a new interview with someone about what software they use on their Mac, iPhone, or iPad. We do these interviews because not only are they fun, but a glimpse into what tools someone uses and how they use those tools can spark our imagination and give us an idea or insight into how we can do things better.
New setup interviews are posted every Monday; follow us on RSS or Twitter to stay up to date.
---
Who are you and what do you do?
My name is Álvaro Serrano and I live in Madrid, Spain. I'm the author and publisher of Analog Senses, a website about the human side of technology featuring links and articles on design, photography, Apple, and the tech industry in general, as well as other interesting things currently happening on planet Earth.
For the past six years I used to work as a researcher and software developer at Technical University of Madrid. During that time I did quite a bit of software development in several major platforms, including iOS, OS X, Windows, Linux, Android and the Web. Right now I'm in the middle of a career transition and I'm trying to grow Analog Senses into a sustainable business. As of the end of July, I consider it my full-time job.
Mac setup
What is your current Mac setup?
My Mac setup can be divided in two parts: my home office and my remote setup.
This is what my home office looks like: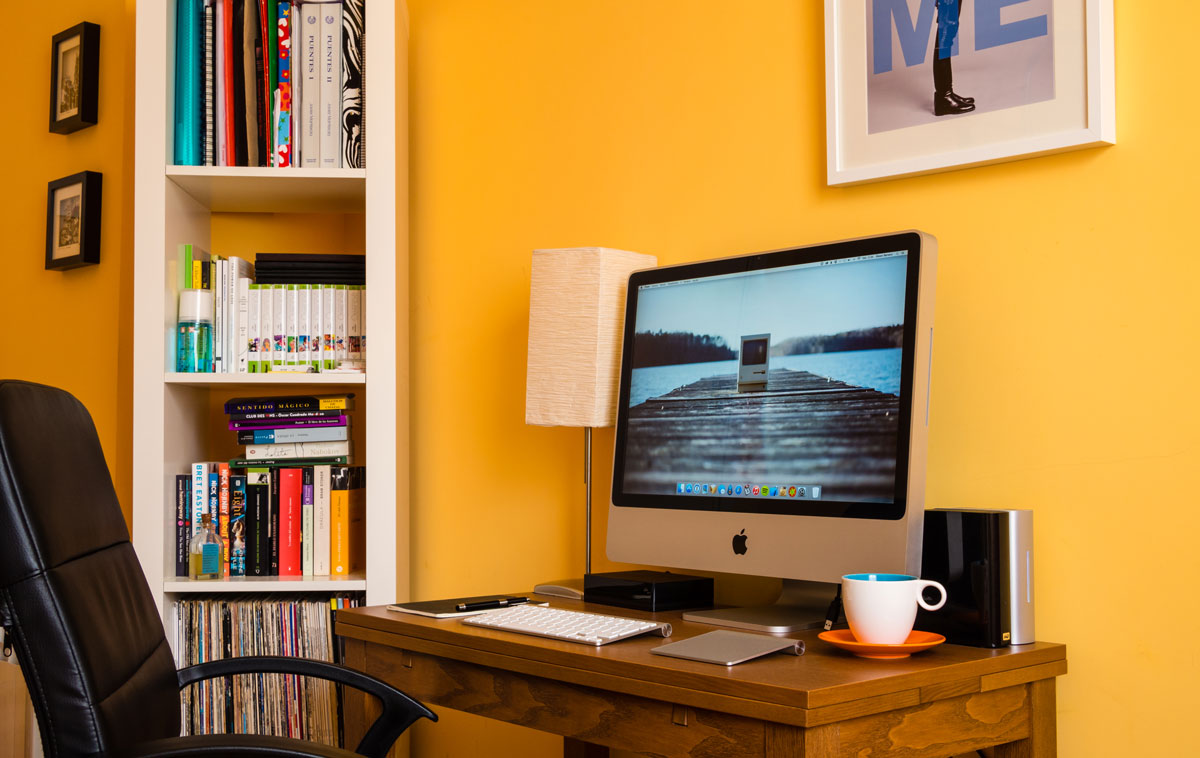 I live with my girlfriend in a small, 1-bedroom apartment, and I like to joke with her that I got the corner office. I mean that quite literally, though: my office is basically a couple square meters that I managed to carve out of one of the living room corners. Still, even though it may not be big in physical space, it's a pretty cozy corner and it's got everything I need.
My main machine is a 2008, 24″ iMac (3.06 GHz Intel Core 2 Duo) running the latest version of OS X (as of this writing, Yosemite). It was the top of the line iMac back when I purchased it. Since then, I've added a Magic Trackpad and an Apple Wireless Keyboard, and I've upgraded the RAM to 6GB. Apple officially supports only up to 4GB, but these iMacs have been repeatedly tested and confirmed to accept up to 6GB without issues. I also upgraded the original 500GB spinning hard drive to a 250 GB Samsung 840 EVO SSD, which I installed myself. It's really given it a new lease of life.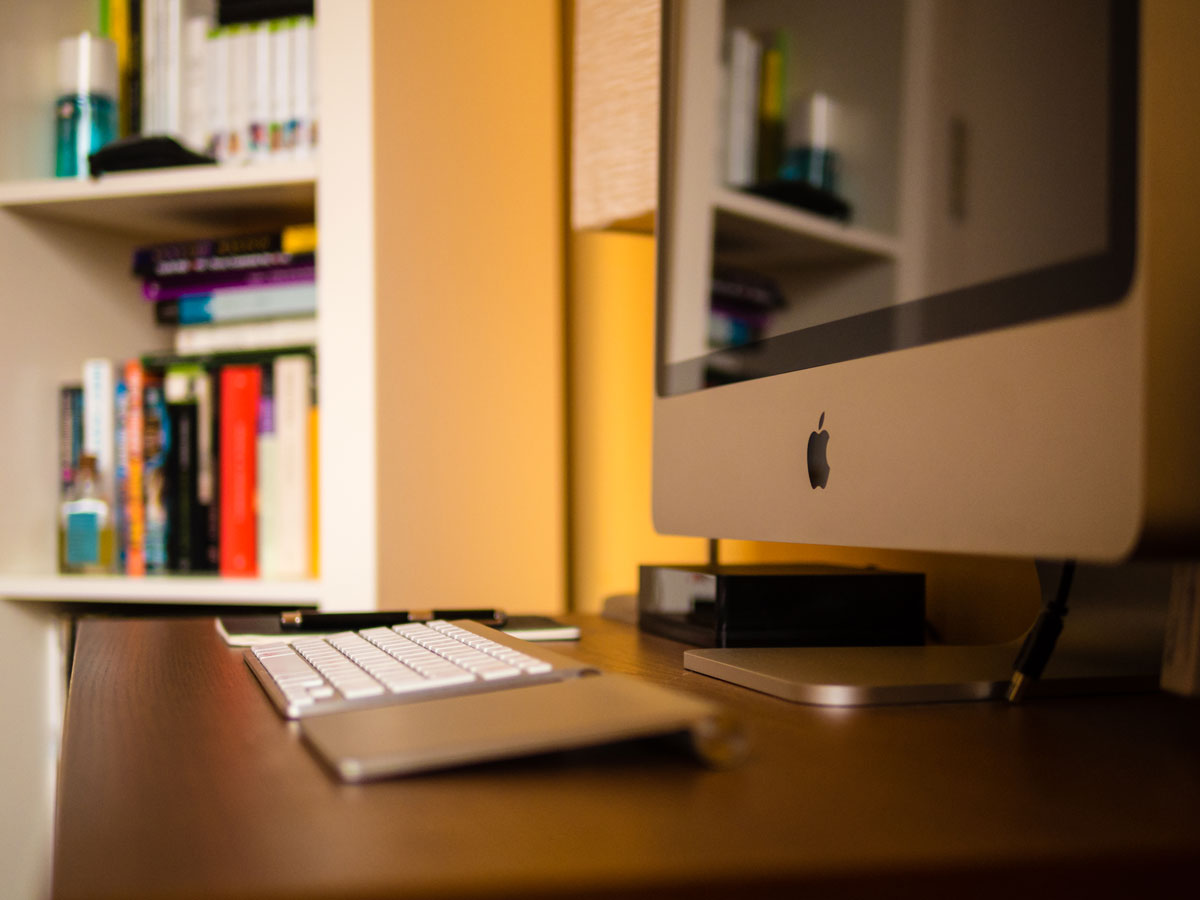 My current wallpaper is a beautiful picture of an original Macintosh by the incredibly talented John Carey of Fifty Foot Shadows.
I always keep three external drives connected to the iMac, which I use to store my backups and my media collection. These drives are:
On the analog side of things, I love sketching ideas and drafting articles on actual paper. For that I use use a Waterman Perspective fountain pen, black ink and a plain, non-ruled notebook, usually a Moleskine or a Field Notes.
The desk is an Ikea BJURSTA and it was here when we rented the apartment. It's just the right size for my needs and I like it a lot more than I thought I would when we first moved here. I find that having a smaller desk helps me stay organized and keep distractions at bay.
Other items that complete my home office are: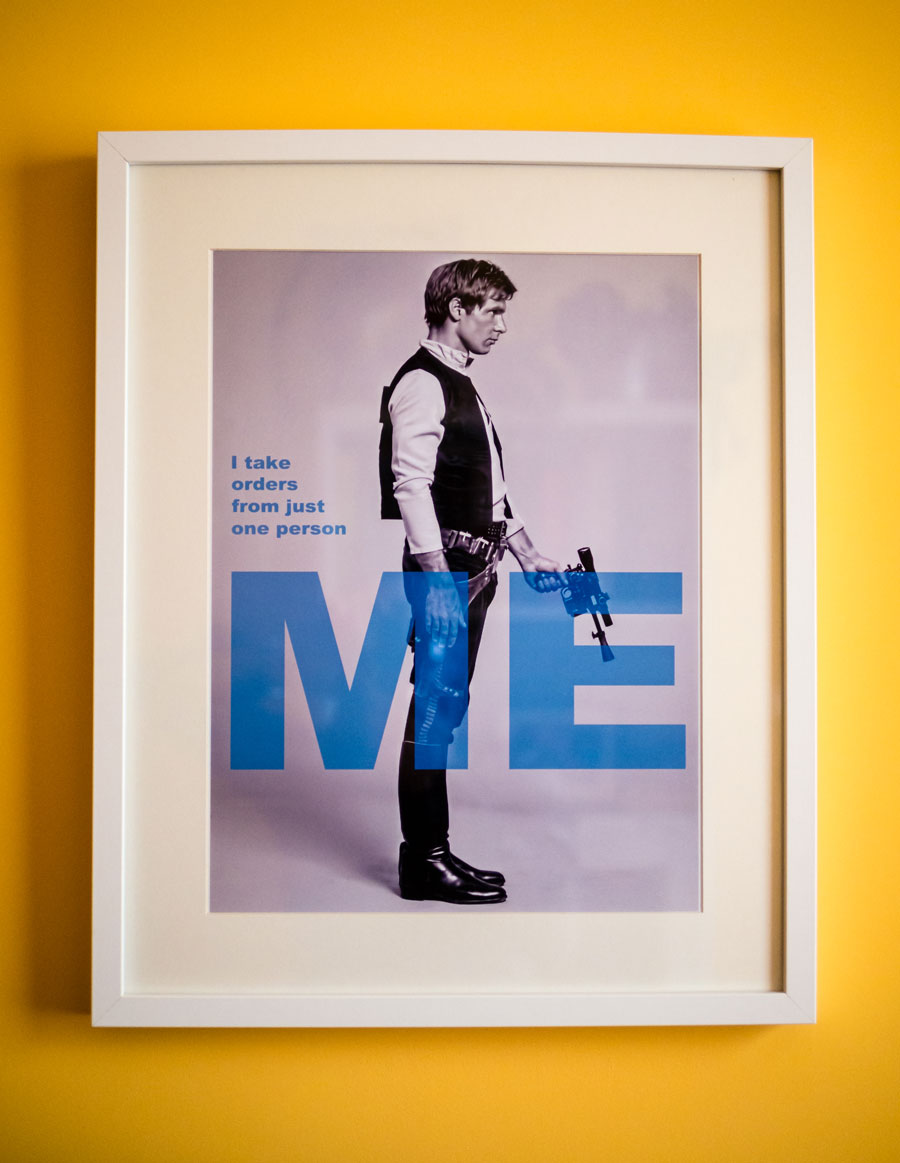 They say in order to write decently, you have to read a lot, and so I do. I've always been a very voracious reader, even before I picked up the writing bug. Every day I spend as many hours reading as I can and as such, the second half of my home-office is the reading corner: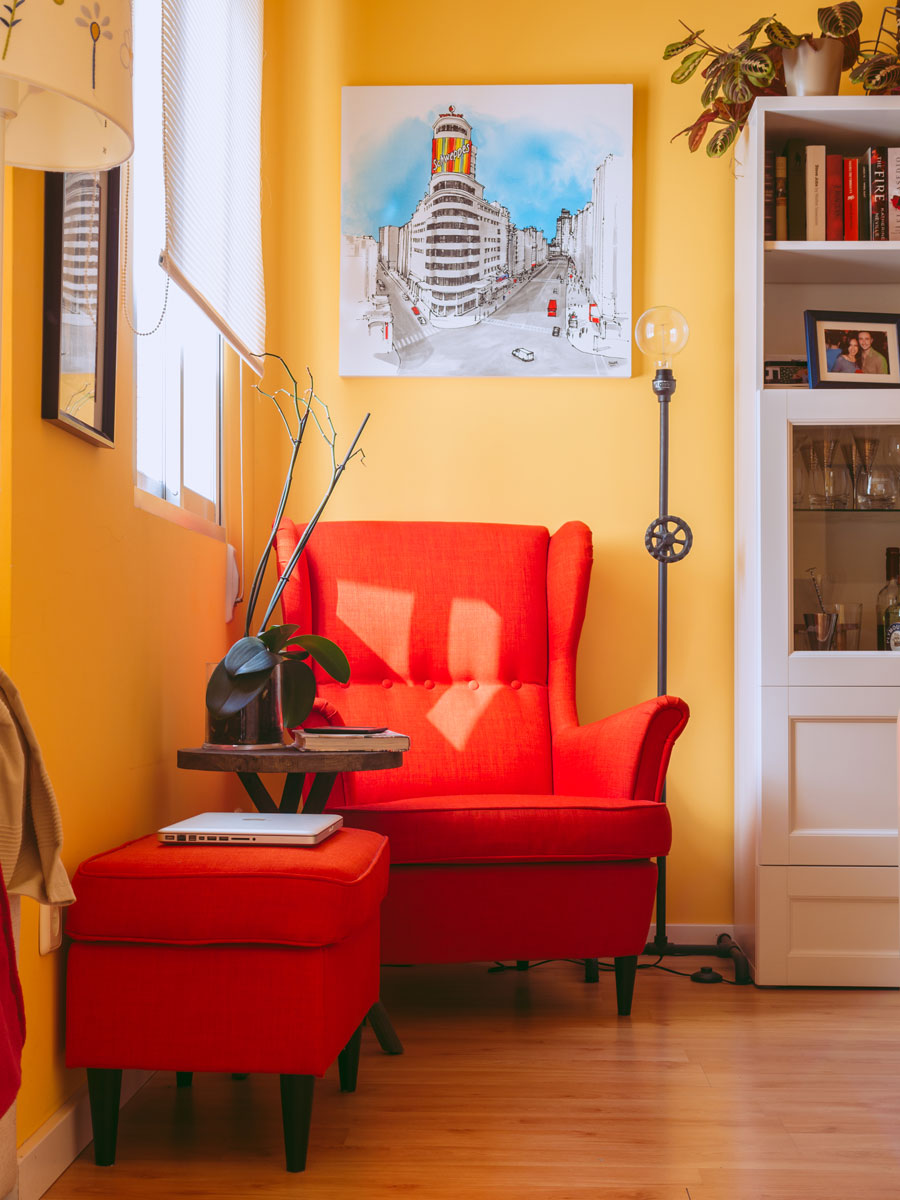 It's formed by a nice wing chair with matching footstool, a warm industrial lamp and a small coffee table that I also use as a prop for many of my product shots (see below). This corner is like a time portal where hours seem to go by in mere seconds, and I love it. For fiction literature and longer pieces, I usually use my 1st-generation Kindle Paperwhite. Besides ebooks, I'm also a huge fan of the increasingly rarer dead-tree variety, especially when a book has emotional resonance to me. Anything web-based I usually read on my iPad Air, but more on that later.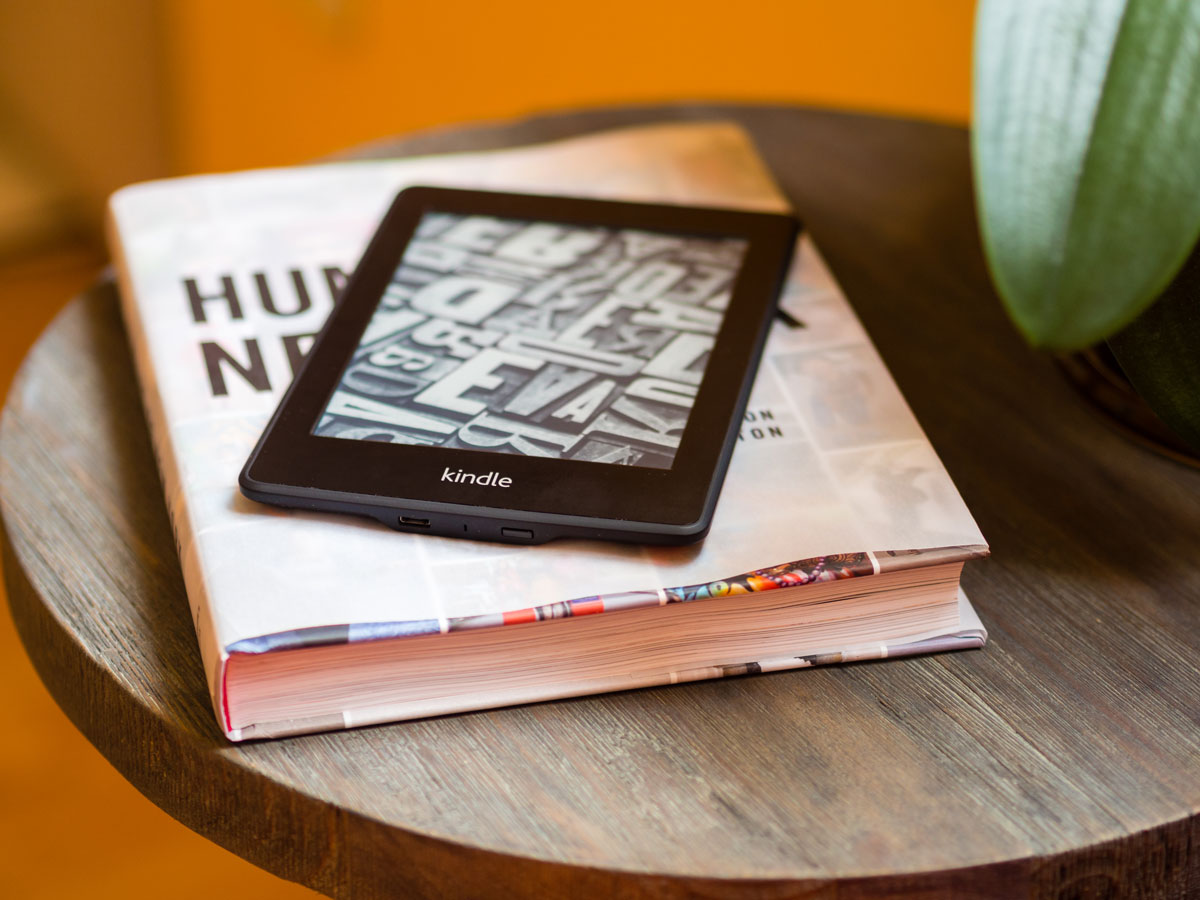 This just about covers my home office. Let's now see what my remote setup looks like: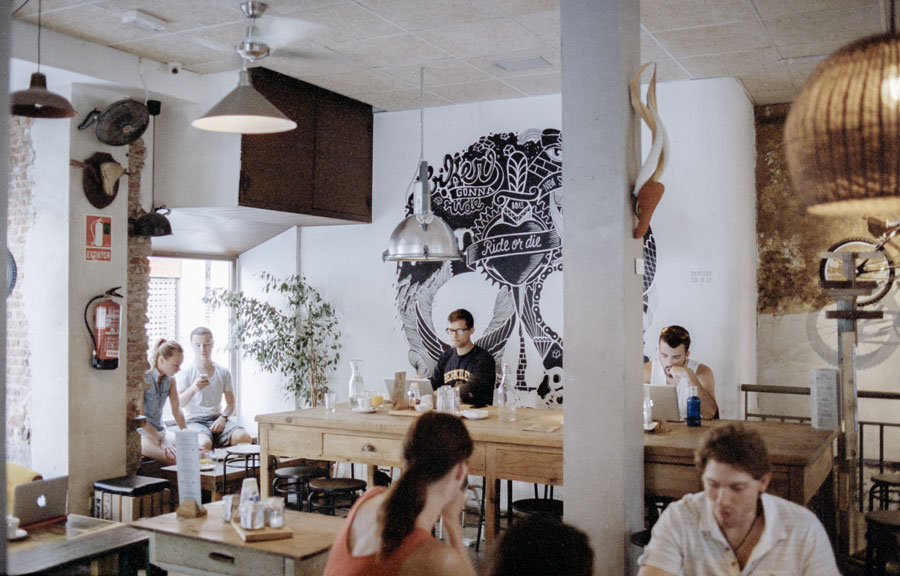 I love working out of a coffeehouse at least three or four mornings a week. The ambient noise in these places really helps me concentrate and boosts my creativity. It also helps me stay connected with the real world. I usually go to La Bicicleta Cycling Café & Workplace, a really cool place that's only a 10-minute bike ride away from home. This café doubles as a coworking space and it's awesome. I can take the bike inside with me, and there are several huge wooden desks, free WiFi and even lockers where I can store my laptop and other valuable items whenever I need to take a short break. Best of all, there's no fee for using the space, you just pay for whatever you order. I usually have a coffee early in the morning and a beer before going home for lunch.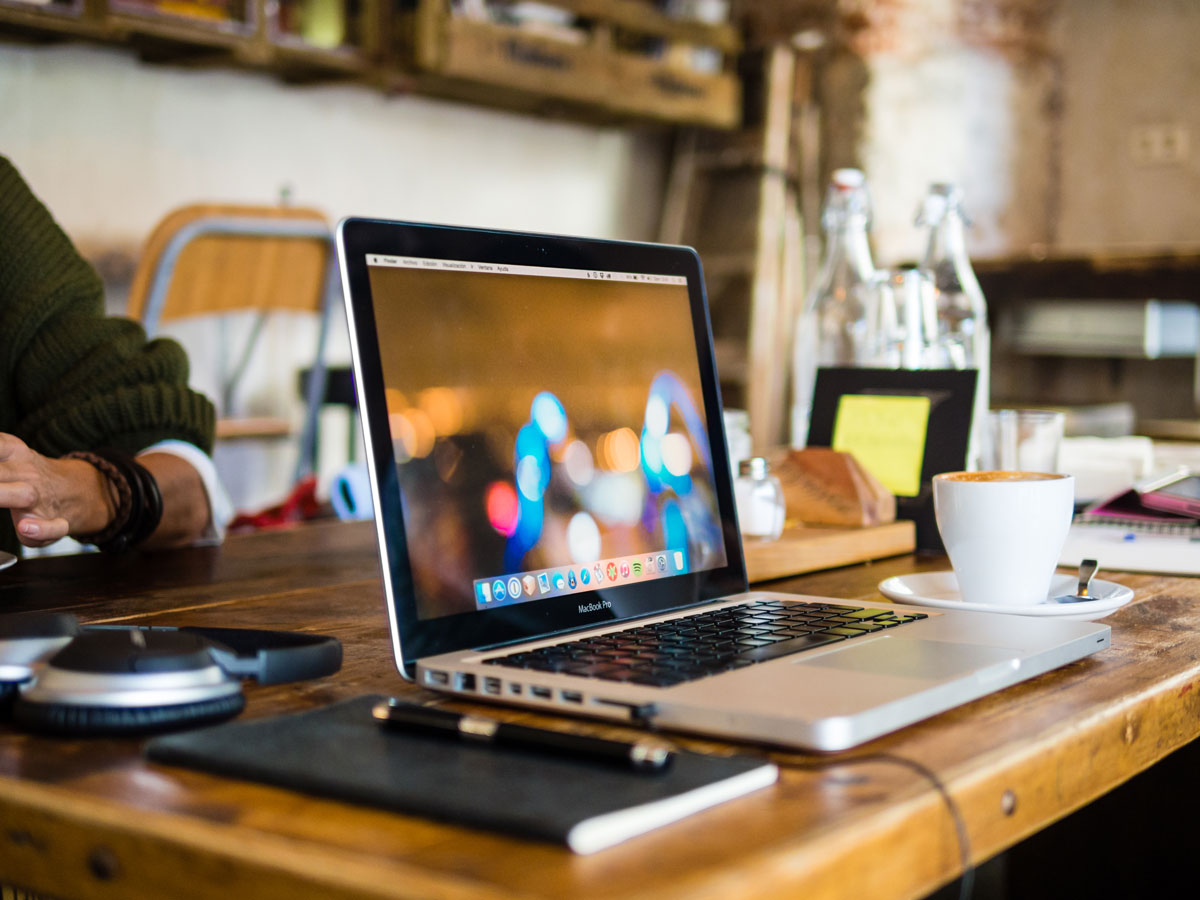 When I'm away from home I work on a 2010 13″ MacBook Pro (2.4 GHz Intel Core 2 Duo) running OS X Yosemite. This was the base model when I bought it and I've since upgraded it to 4GB of RAM (although it can take up to 16 GB). I also upgraded its 250GB spinning hard drive with a 250 GB Samsung 840 EVO SSD, just like the iMac. Since I don't use it for any computationally intensive tasks (basically writing and browsing the web for research), the SSD keeps it running just fine for my needs. Besides, this was the last MacBook Pro generation with Core 2 Duo processors, which had incredible battery life. I still routinely get about 8 hours of battery life on a single charge, which means every day I leave the charger at home. For a 4 and a half year old laptop, that's impressive.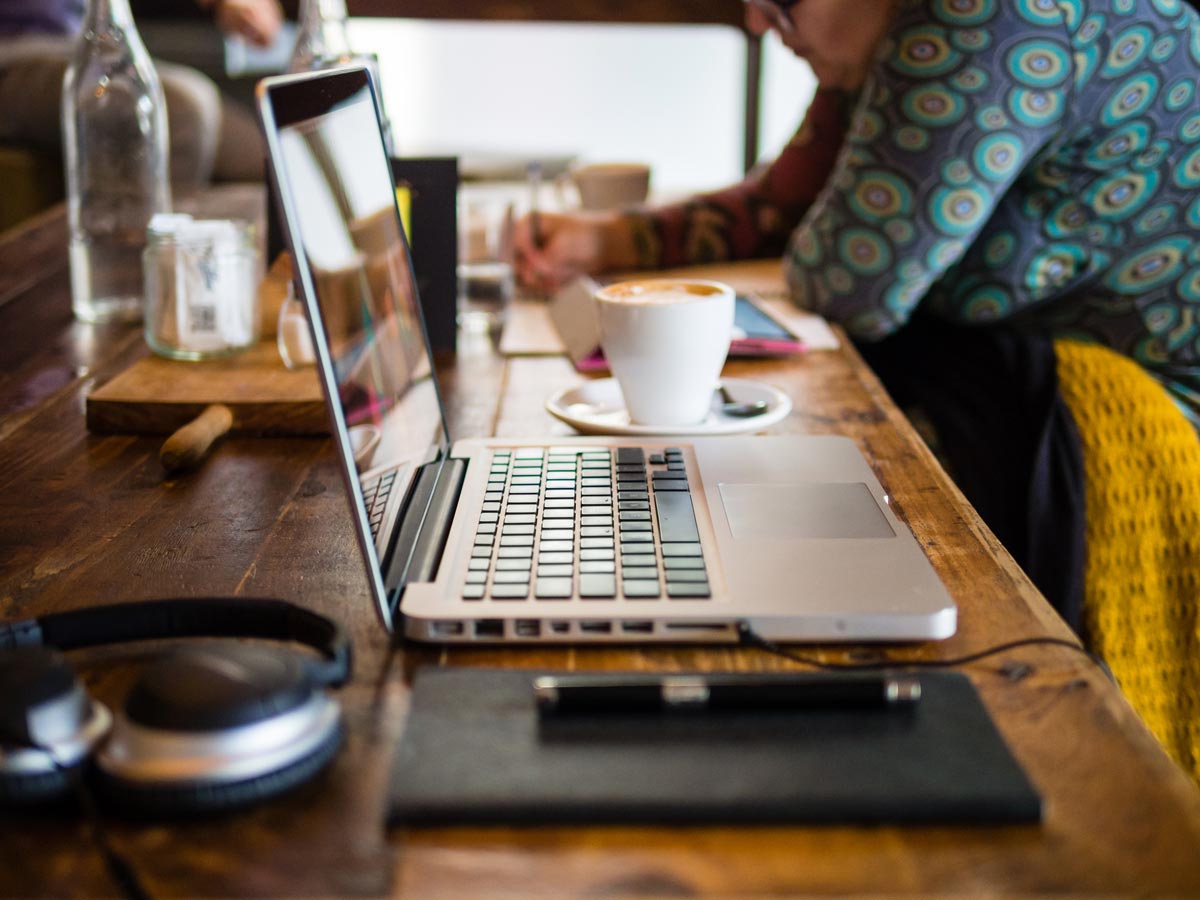 The wallpaper on my MacBook Pro is a picture I took from the rooftop of a hotel in Gran Vía, one of Madrid's main streets. You can download it from Flickr.
My Bose AE2i over-ear headphones usually come with me as well, in case I need to watch a video or listen to a podcast while I'm working there.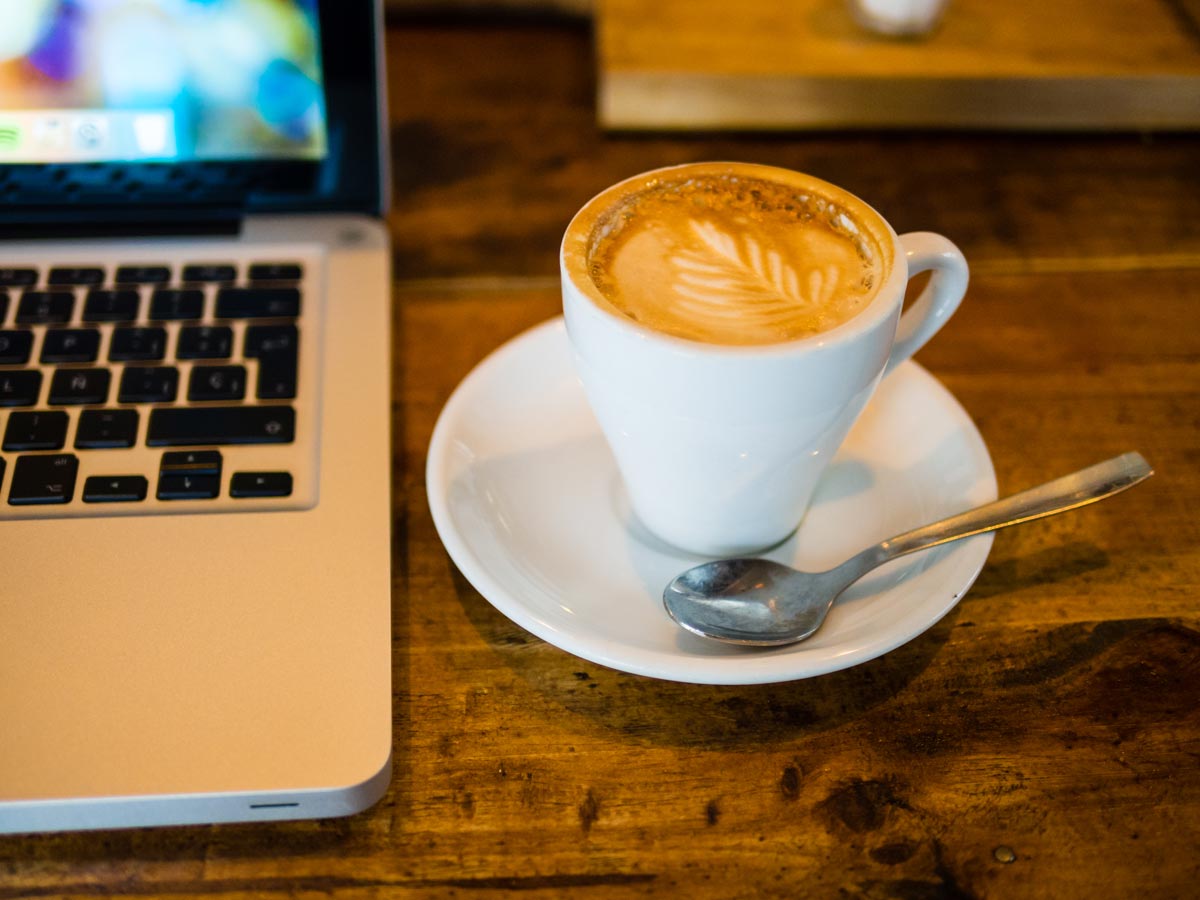 What software do you use and for what do you use it?
I use many of the same apps on both the iMac and the MacBook Pro, with only a few very specific apps living in one or the other. These are the apps I keep on the Dock:
Other apps and services I use regularly include:
How would your ideal setup look and function?
Software-wise, nothing would change, really. I'm pretty happy with my current set of apps and services, and I think they enable me to work and play just the way I want.
Hardware-wise, clearly both of my Macs could use an upgrade. The iMac is 6 and a half years old (!) and the MacBook Pro is four and a half years old. They're both in pretty good shape, so it's not like I feel limited by them in any way, but I would be lying if I said I didn't think about replacing them every now and then. If I could buy anything I wanted right now, my ideal setup would probably be very similar, only newer: a Retina 5K iMac and a 13″ Retina MacBook Pro would just about do it. I like to use my computers for as long as possible, so I would definitely choose the high-end model in both cases.
On a final note, I would also like to have a proper home office with, you know, walls and everything. It's the little things. Similarly, I'm considering investing in a quality chair like the Herman Miller Aeron, the Embody or the Knoll Chadwick. We're thinking about moving to a bigger place as soon as our finances allow for it, so hopefully that will happen soon enough. I'm not anxious about it though; my current setup works just fine as it is.
I'm a firm believer in investing in quality tools, but in my experience, we don't always need to have the latest and greatest stuff to do great work. In fact, I believe great work comes from getting to know your tools inside out, and that takes time. Having complete trust in your gear is a very liberating feeling, and I believe it enables us to unlock our creative potential and focus on what's really important.
iPhone and iPad Setup: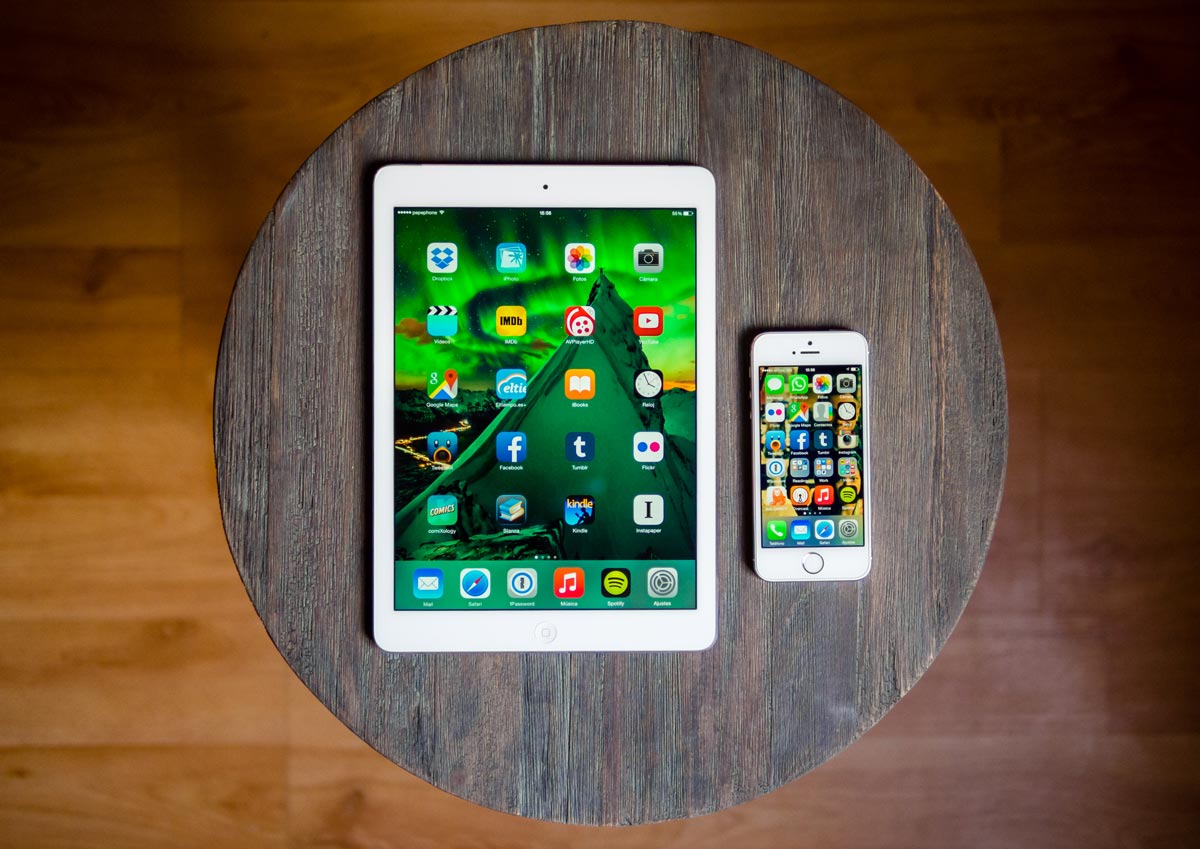 What iPhone do you have?
I have a factory-unlocked 32 GB iPhone 5S in silver/white. I really, really like the design and form factor of the iPhone 5S, and I feel it's just the right size for a phone. I have no intention of replacing it for an iPhone 6 anytime soon.
Here's a screen capture of my iPhone's first Home Screen: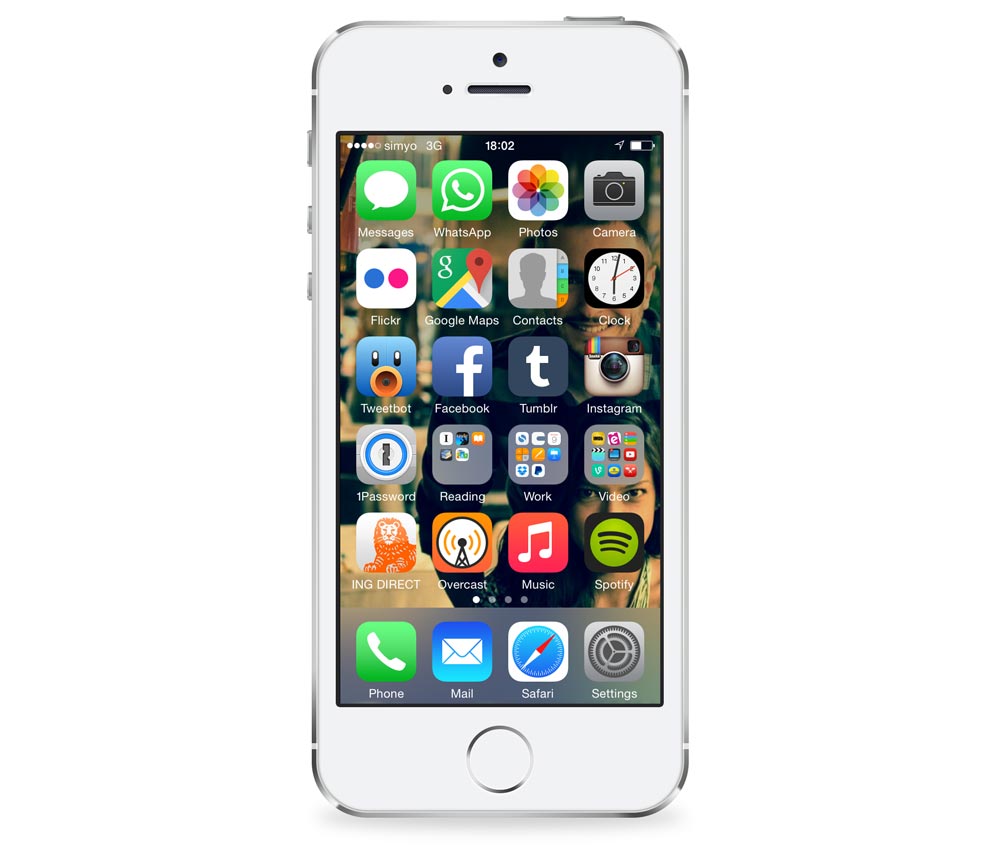 My iPhone wallpaper is a picture of me and my girlfriend in Cafetería HD, one of our favorite places to hang out in Madrid. It's on Flickr here.
Which iPad do you have?
I have a 64 GB LTE iPad Air in silver/white. It's amazing how thin and light the iPad has gotten in only 4 years. I remember the first time I held an iPad Air in my hands; it felt impossibly light, almost like a fake product mockup. The iPad Air 2 is even nicer and admittedly, I'd love to have one. However, I'm still very happy with my first-generation Air and I'm in no rush to upgrade it.
Here's a screen capture of my iPad's first Home Screen: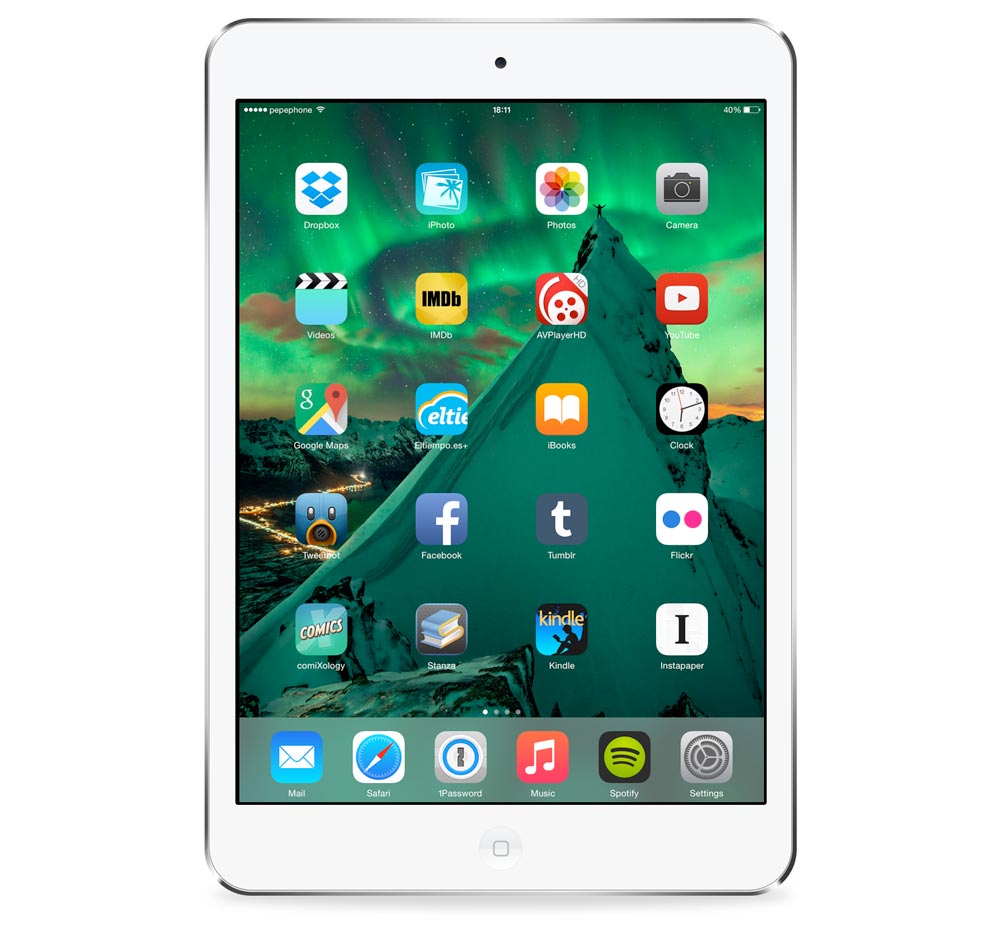 My iPad wallpaper is an incredible picture by Max Rive titled In Green Company: Aurora over Norway. It was featured as NASA's Astronomy Picture of the Day on November 3rd, 2014.
How are you using your iPad on a daily basis?
My iPad is my go-to reading device for all kinds of web-based content and digital media. I use Instapaper to read articles and blog posts every single day. I also use it as a media player: I play music with Spotify and sync my movies and TV shows with iTunes on my iMac. When I'm away on a short trip, the iPad is frequently my main computing device. I love how thin and light it is, its gorgeous Retina display, and its always-on Internet connectivity.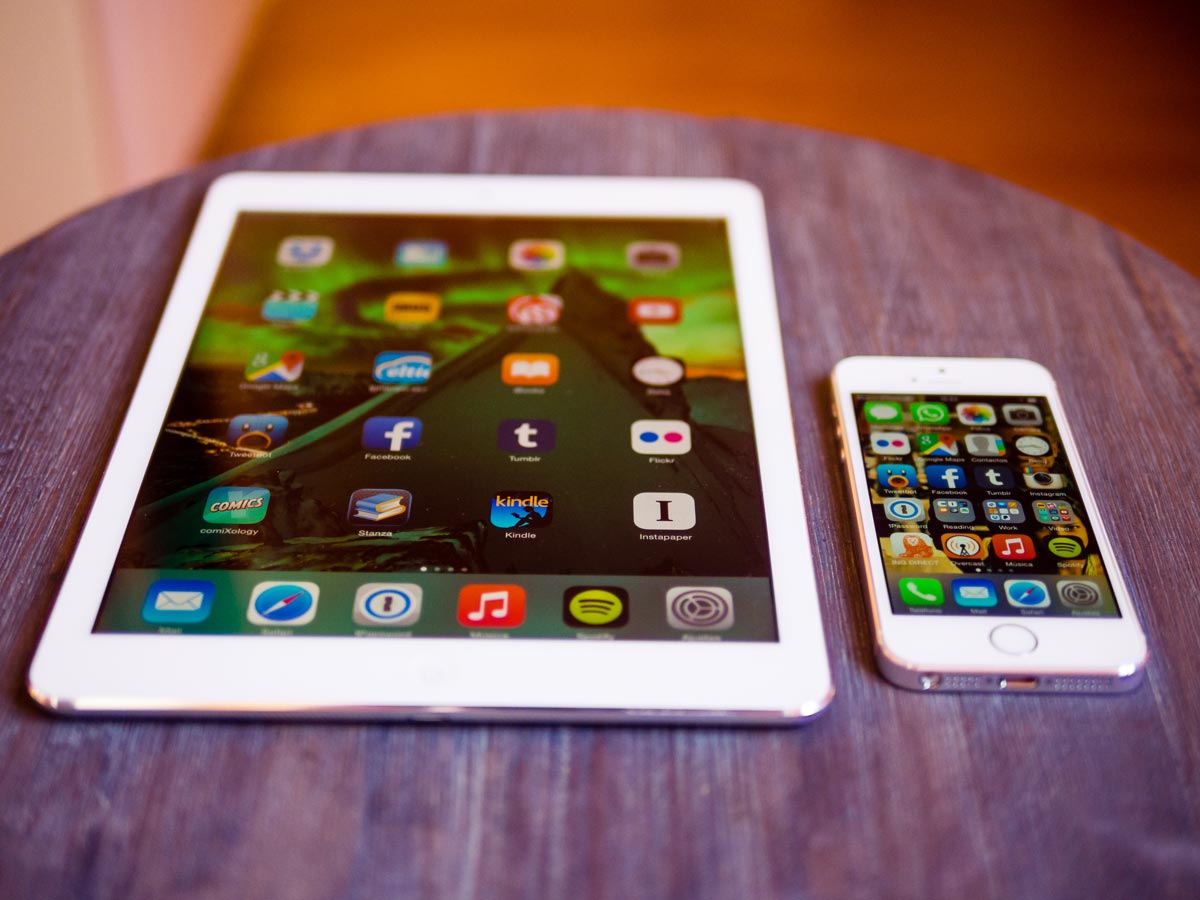 What apps do you use the most, and why?
My most-frequently used apps on the iPhone are 1Password, Tweetbot, Spotify and Overcast. I use 1Password, Tweetbot and Spotify pretty much as I do on the Mac. WhatsApp is the instant messaging app I use to stay in touch with my family and friends, and Overcast is by far my favorite podcast client on the iPhone.
On the iPad, I use 1Password, Dropbox, iBooks, Instapaper, Comixology, Stanza, Kindle, Spotify, AVPlayerHD and the built-in Videos app. Like I said, Instapaper is by far the app I use the most. I use Comixology quite often as well, although I still haven't updated it to the new version, simply called Comics. Besides that, I keep some of my comic books in the now retired Stanza app, which is no longer in the App Store but continues to work just fine. AVPlayerHD is my favorite media player for file formats such as MKV and AVI, which are not natively supported in iOS. Finally, I occasionally use the Kindle app to read when I don't have my Kindle Paperwhite with me.
Which app could you not live without?
The most essential app in both my iPhone and my iPad is 1Password, without a doubt. This app has truly changed the way I use online services and apps, and it's given me tremendous peace of mind, knowing that my information is always safe and accessible. Even though Apple is now offering part of the same functionality with iCloud Keychain, I still vastly prefer 1Password, and with iOS 8's Extensions and Touch ID, it's easier and more convenient than ever to use. I can recommend it without hesitation.
---
There are more Sweet Setup interviews right here.