AirPods Pro vs. Powerbeats Pro
March 31, 2020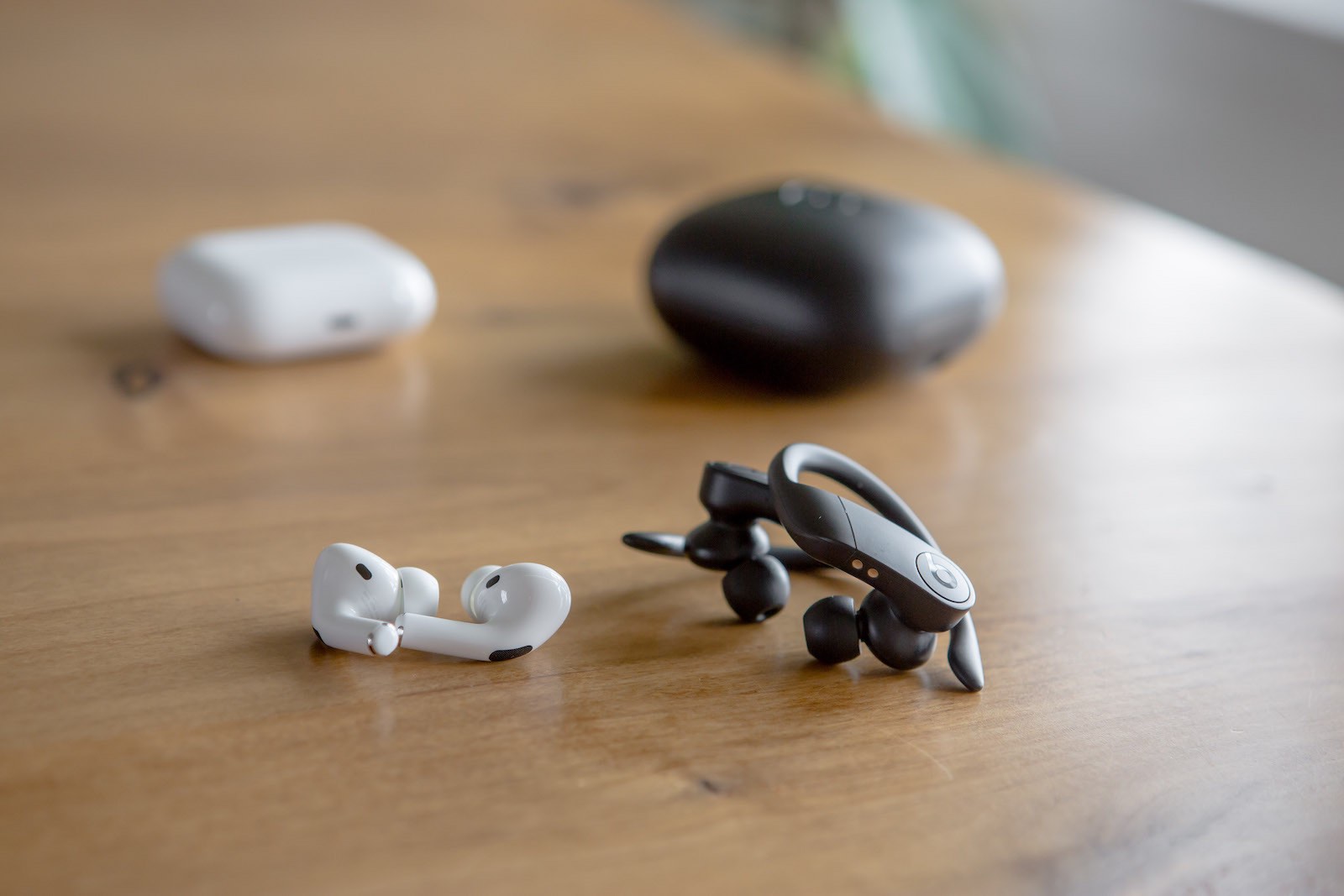 After much review of the AirPods Pro vs Powerbeats Pro, the obvious choice is… Well, you'll have to keep reading and decide for yourself.
Both the AirPods Pro and the Powerbeats Pro are amazing pieces of gear in their own regard, but it ultimately comes down to what your everyday needs are. My search for wireless headphones that were not over-the-ear came down to two contenders: the AirPods Pro vs Powerbeats Pro. After browsing a handful of articles and watching a video or two, I knew I was going to need to try them for myself. So I got both.
While my personal interest in these headphones stemmed out of my enthusiasm for fitness, it put an interesting spin on this matchup. This definitely colored some of my opinions about these two headphones. But through the process of putting both the Airpods Pro and the Powerbeats Pro through the paces, I honestly felt I was able to evaluate them from a few different angles.
Now, I realize these are not the only fitness headphone options out there, but a few things made them my finalists. Truly wireless, small form factor, sweat resistant, audio quality, and native Apple integration.
So, after using the Airpods Pro and the Powerbeats Pro headphones for close to a month, here's how they fared.
Be sure to checkout our AirPods Pro review as well as our Powerbeats Pro review for more on each individual headphone.
AirPods Pro vs Powerbeats Pro in Everyday Use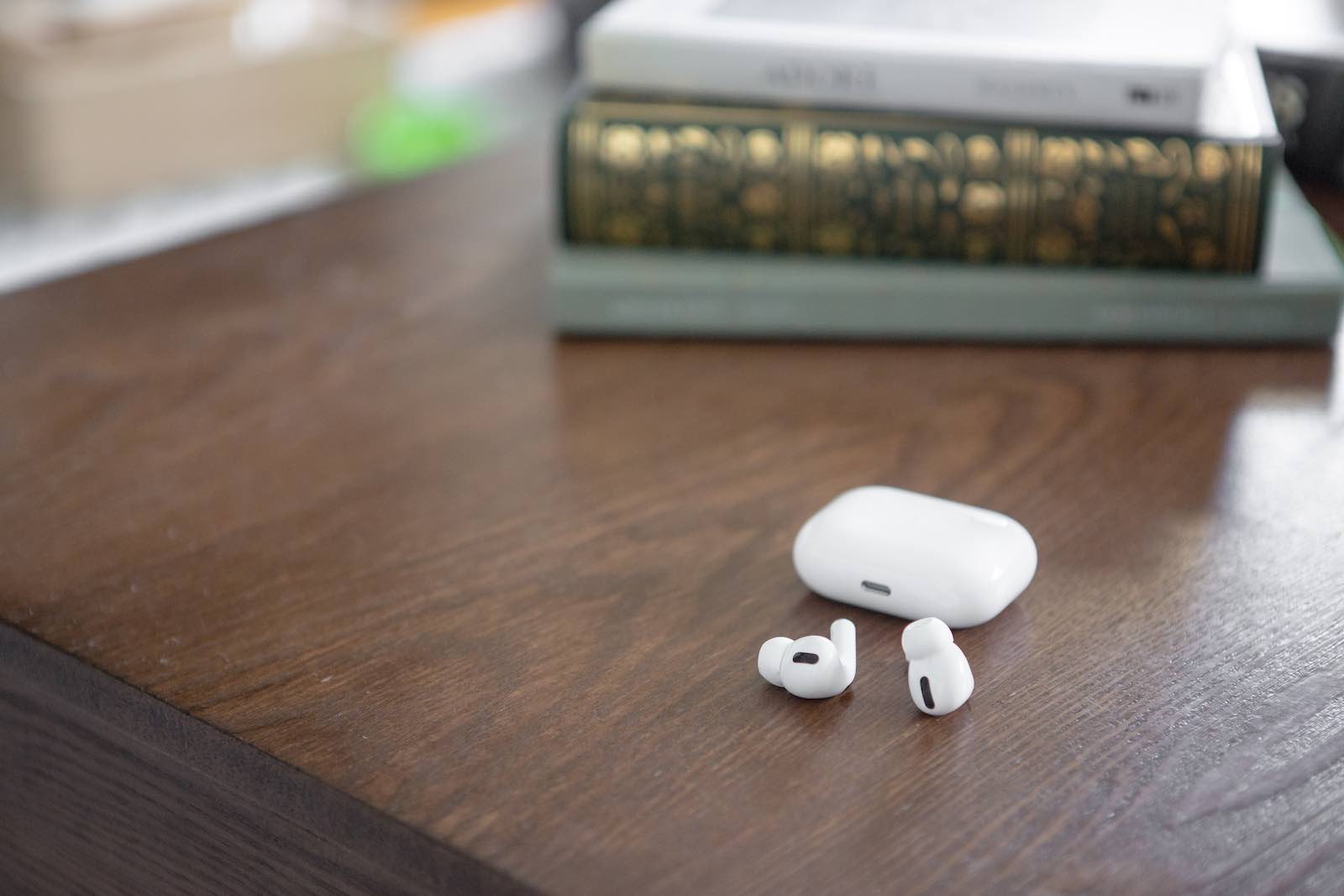 The world we live in is podcasts, conference calls, and jamming out to your favorite music in between. While the exact needs will vary from person to person, having a pair of wireless headphones in today's age is quite handy.
Airpods kind of changed the game in the everyday use category. While I theoretically could make phone calls with my noise canceling Bose Q35s, I wouldn't really want to anywhere outside of the office. And I'm also not one of those people that would go for a walk, or workout, or drive to work (is this even legal?) while wearing over the ear headphones.
With the advancement of wireless technology making its way into smaller earpiece-style headphones, it opened up the functionality of headphone use in different scenarios.
All that said, when it comes to the AirPods Pro vs Powerbeats Pro in everyday use, let's break it down into a few sub-categories.
Portability / Form Factor
The Powerbeats Pro immediately falls to a distinct disadvantage when pitted against the AirPods Pro in portability, but this ultimately comes down to the fact that they were designed for a very specific purpose: being active. More on that later. It makes for an almost unfair knock against the Powerbeats, but the truth is, the AirPods Pro are undoubtedly the better choice when it comes to portability.
The AirPods Pro slide easily into your pocket wherever you're headed, and for a guy that hates having things in his pockets, I pretty much don't mind.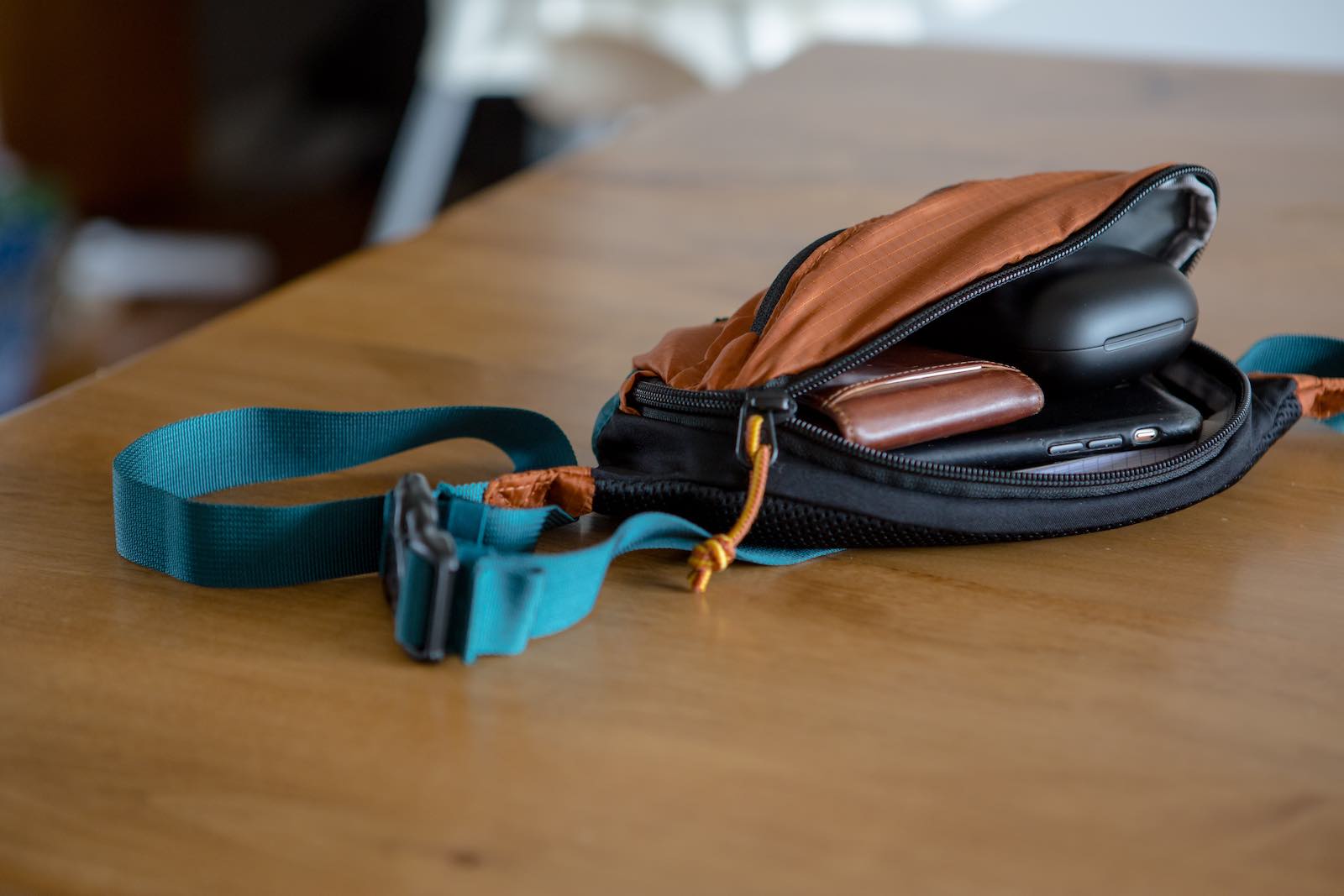 The Powerbeats Pro, on the other hand, are not something I'd put in my pocket. You could, but it would be awkward all around. If I'm heading out, the Powerbeats Pro slides into my manly "hip pack", or my everyday carry backpack.
Bottom line: You can live with the AirPods Pro in your pocket, whereas the Powerbeats Pro are either going to be loose, or in a bag of some sort.
Comfort
On the comfort side of things, both the AirPods Pro and Powerbeats Pro are in-ear, so if you're not used to headphones that go all the way into your ear, either option will take some getting used to. And in general, in-ear headphones are not going to be as comfortable as around the ear options like the Bose 700s or the Sony WH1000XM3.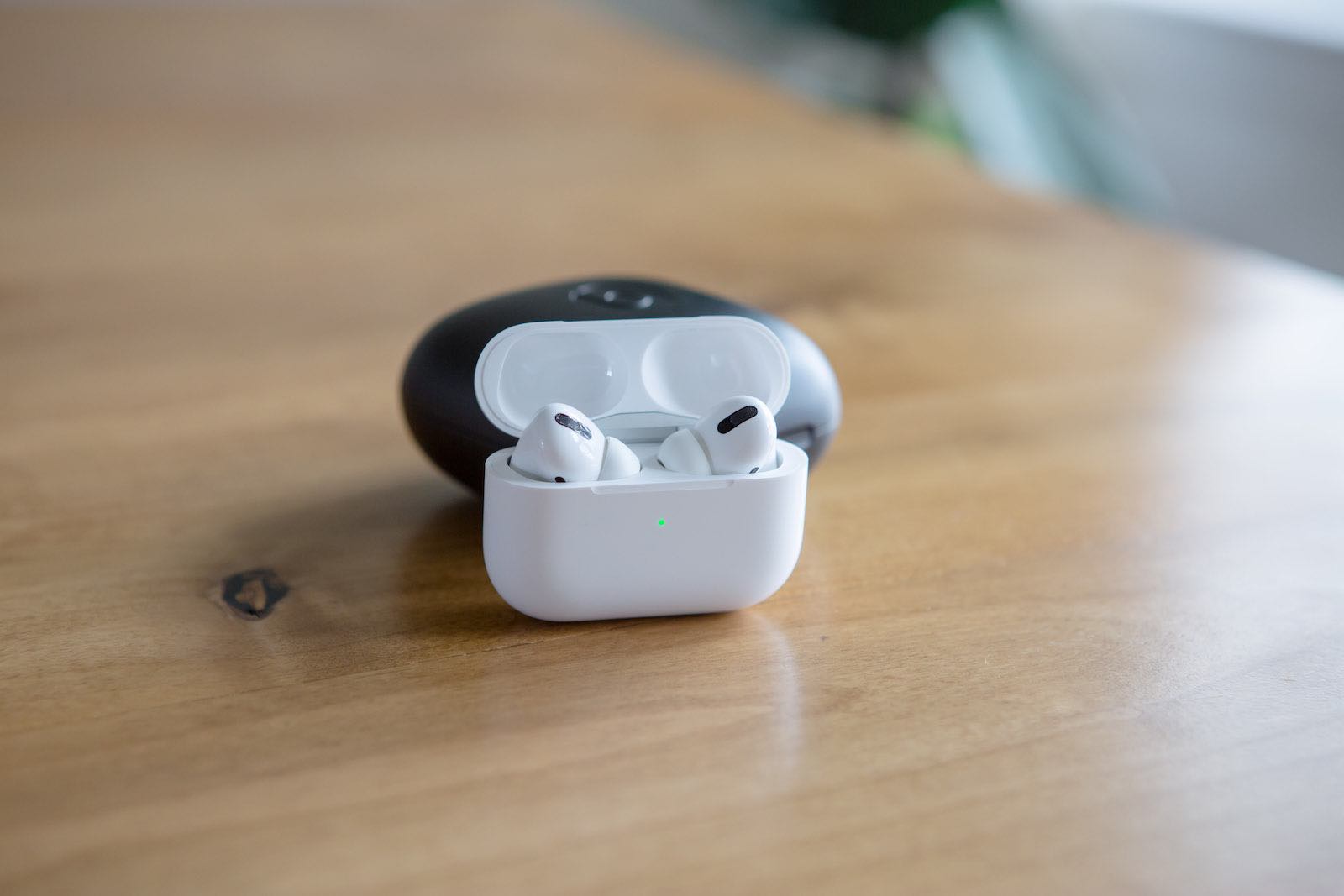 Of the two, the AirPods Pro were definitely more comfortable. With the Powerbeats Pro having the earhook design to help keep the headphone(s) in place, initially I couldn't wear them for more than 30 – 40 minutes at a time. But after a little acclimation, they no longer cause any discomfort.
The truth is, the AirPods Pro slip into your ears and you quickly forget that you even have them in. If it weren't for the trouble ofkeeping them in, they would be the ultimate headphone. But more on that later.
Bottom line: The AirPods Pro are comfortable to the point of forgetting you have them in — an especially good feature for those constantly using their headphones on-and-off throughout their day.
Microphone Quality
Lastly in the everyday use category is microphone quality. Should you be concerned that you'll sound like you are in an echo chamber while joining a conference call or talking to your mom.
I'll let the audio recordings speak for themselves.
Powerbeats Pro
Outside

Inside

Both outside and inside the Powerbeats Pro were a little too tinny for my liking. Granted, this isn't a dedicated headset for talking, but I still hoped for a little better.
AirPods Pro
Outside

Inside

The AirPods Pro didn't fare much better. Supposedly the mesh on the sides of the earpiece is suppose to help reduce wind noise. There was a mild wind when I recorded the outdoor test, and while it didn't sound awful, it sure wasn't great either.
iPhone 7 Plus
Inside for comparison

Truthfully, I was a bit shocked by how good the iPhone 7 Plus microphone pickup was. I recorded the test about 12 – 18 inches away from the microphone, and it puts the AirPods and the Powerbeats to shame.
So neither the Powerbeats Pro or the AirPods Pro sound awesome outdoors. That's expected. And for what it's worth, I think I actually liked the sound of the Powerbeats Pro recording inside more than the AirPods Pro ?‍♂️. Do with that what you will.
Bottom line: You should aim to use either headset indoors when recording or transmitting audio. While the AirPods Pro boast added wind noise reduction, it still didn't sound that great to me.
Battery Life & Charging
When it comes to battery life, both the AirPods Pro and the Powerbeats Pro perform as you would expect. That is, I never had to think about it.
Both the AirPods and the Powerbeats come with their own designated charging case, and both can be charged with a lightning cable. The AirPods Pro are Qi-compatible for wireless charging, so in that regard, they do have a one-up on the Powerbeats.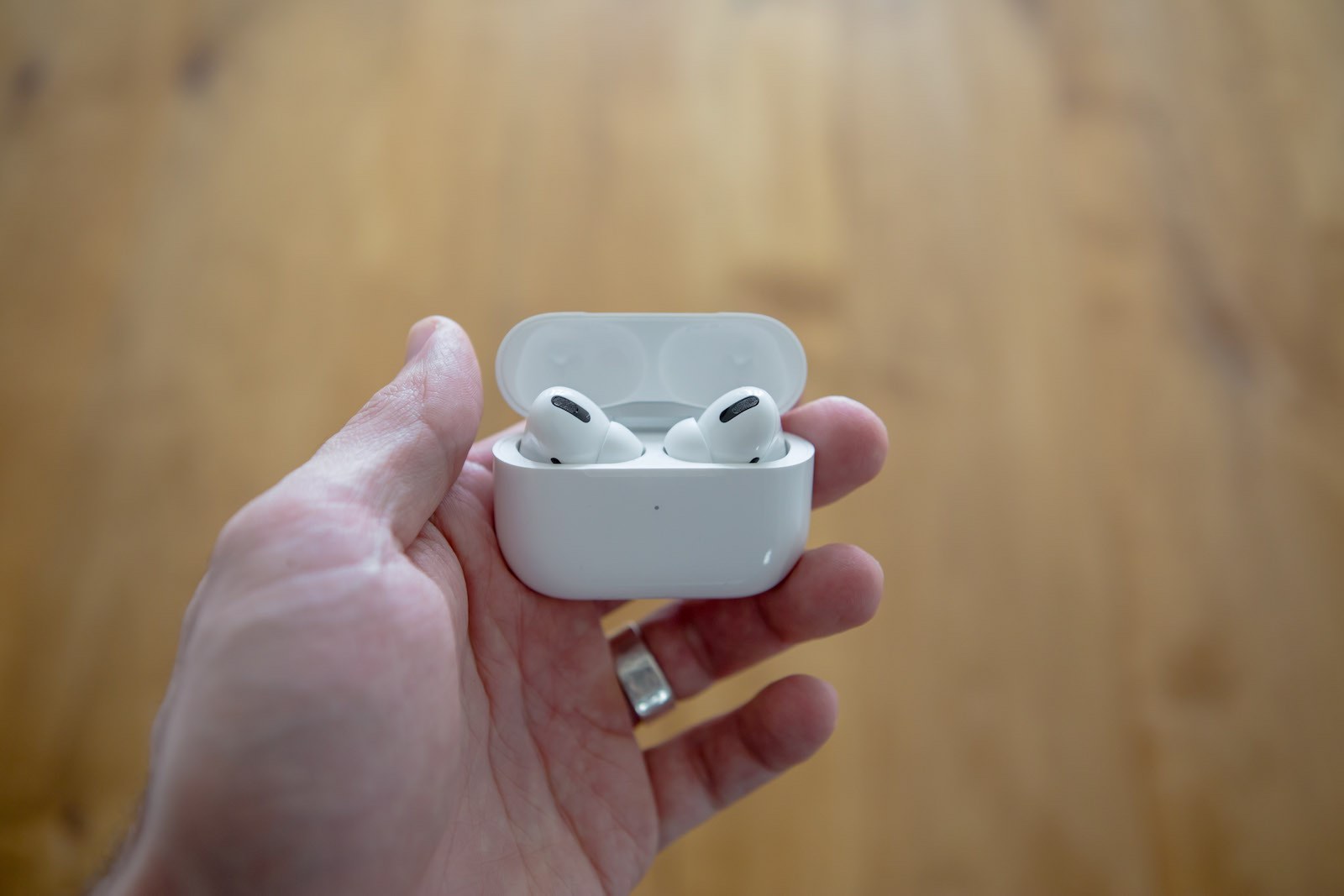 I will say the AirPods slide in and out of their case perfectly. I mean, the experience of pulling your AirPods out of their case is delightful, whereas the Powerbeats come up lacking. No fault here with regards to battery life or charging, just not the same experience.
Powerbeats
9 hours of listening time on a single charge
No wireless charging
A little Awkward to put in charging case
AirPods Pro
4.5 hours of listening time on a single charge
Wireless charging
Easy-to-use charging case
I never ran into a scenario with either the AirPods or the Powerbeats where I was literally running out of battery. I'm not in the habit of listening / using my headphones for stretches of time greater than four hours at a time.
For me, I take the headphones out of my ears and they immediately go into their case, where they start charging. Next time I pick them up, they are topped off and ready to go.
The Powerbeats Pro case design is a little funky. The headphones don't seat nearly as effortlessly as the AirPods do. You kind of have to finesse them a little to make sure they are properly seated on the charging mechanism. Our own Mike Schmitz has shared how he's had trouble with one of the ear pieces not seating properly and alas picking up his Powerbeats only to find one of them dead. This hasn't been my experience, but I could easily see how that could happen.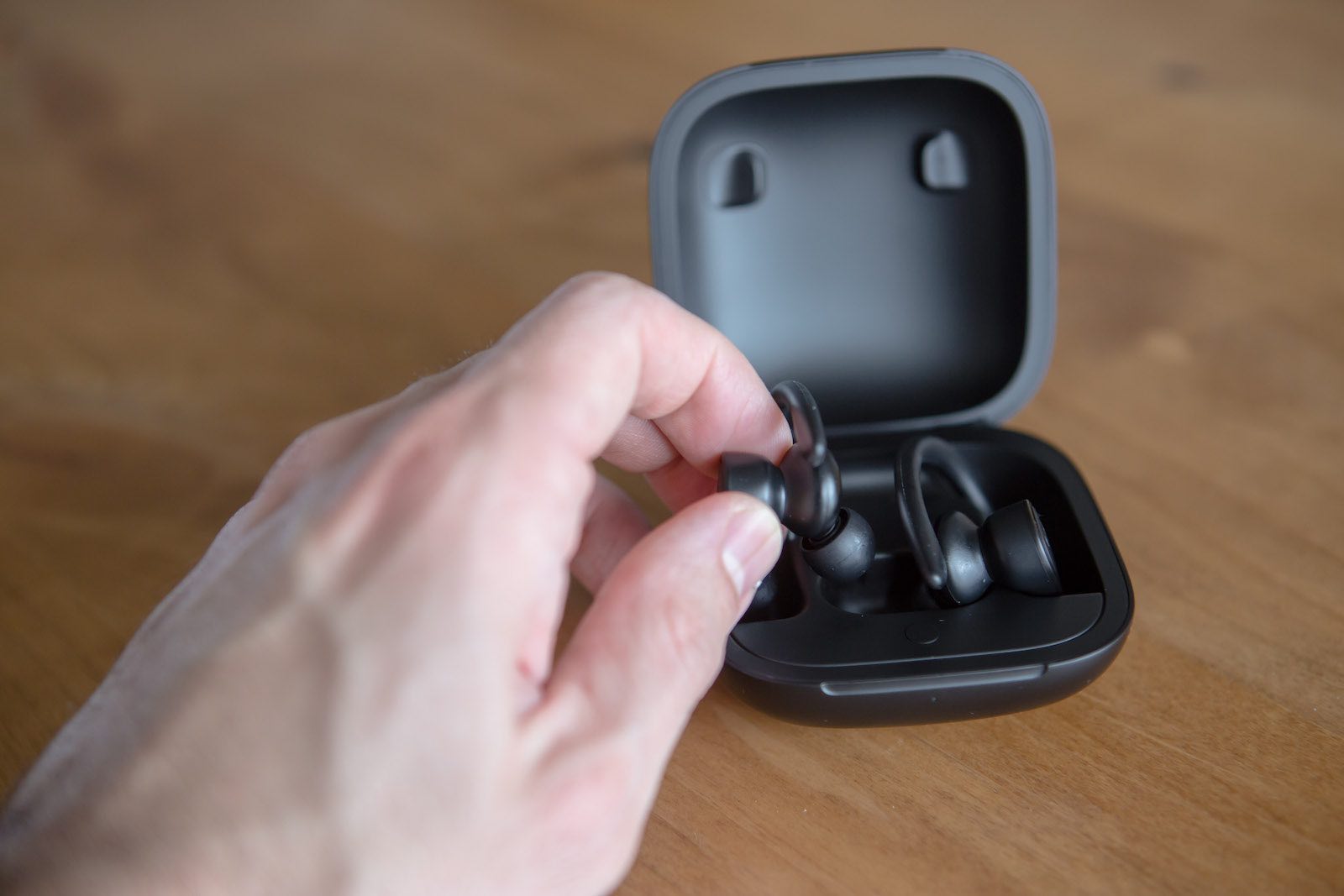 Bottom line: Battery life for the AirPods Pro and the Powerbeats Pro is sufficient for everyday use. The AirPods Pro do have the wireless charging which is a plus, and the Powerbeats Pro do have a minor design flaw related to seating properly in the charging case.
For Fitness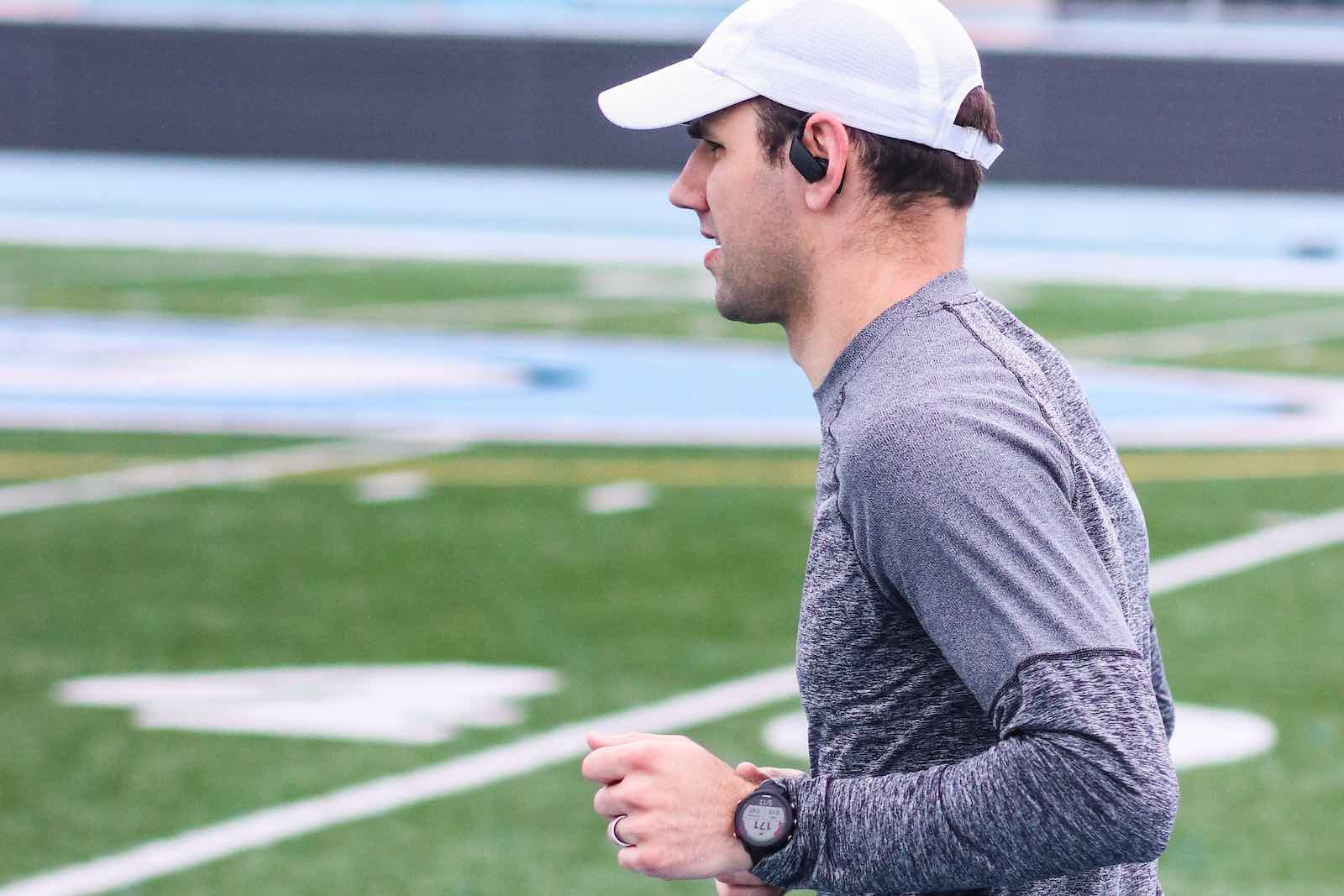 When it comes to the perfect wireless headphones for working out, it's the AirPods Pro that suffer a distinct design disadvantage. I mean, the Powerbeats were in fact designed with more active use in mind.
To me, the ultimate test comes down to how well the headphones will stay put in my ears. Because they end up being more of a nuisance if I'm having to constantly shove them back into my ear.
For the everyday gym workout, the AirPods Pro would probably be fine. They would easily survive lifting weights, low-impact cardio, and maybe even a core workout, but not much more than that. And truthfully, anything that involves working up a sweat will result in the AirPods Pro popping out within a matter of minutes.
For me, I'm a runner. And within the first mile of getting into a run, I'm having to push the AirPods back in. This is a deal breaker for me.
This is where the Powerbeats Pro truly shine. As they should. Pardon the pun, but this is their power alley.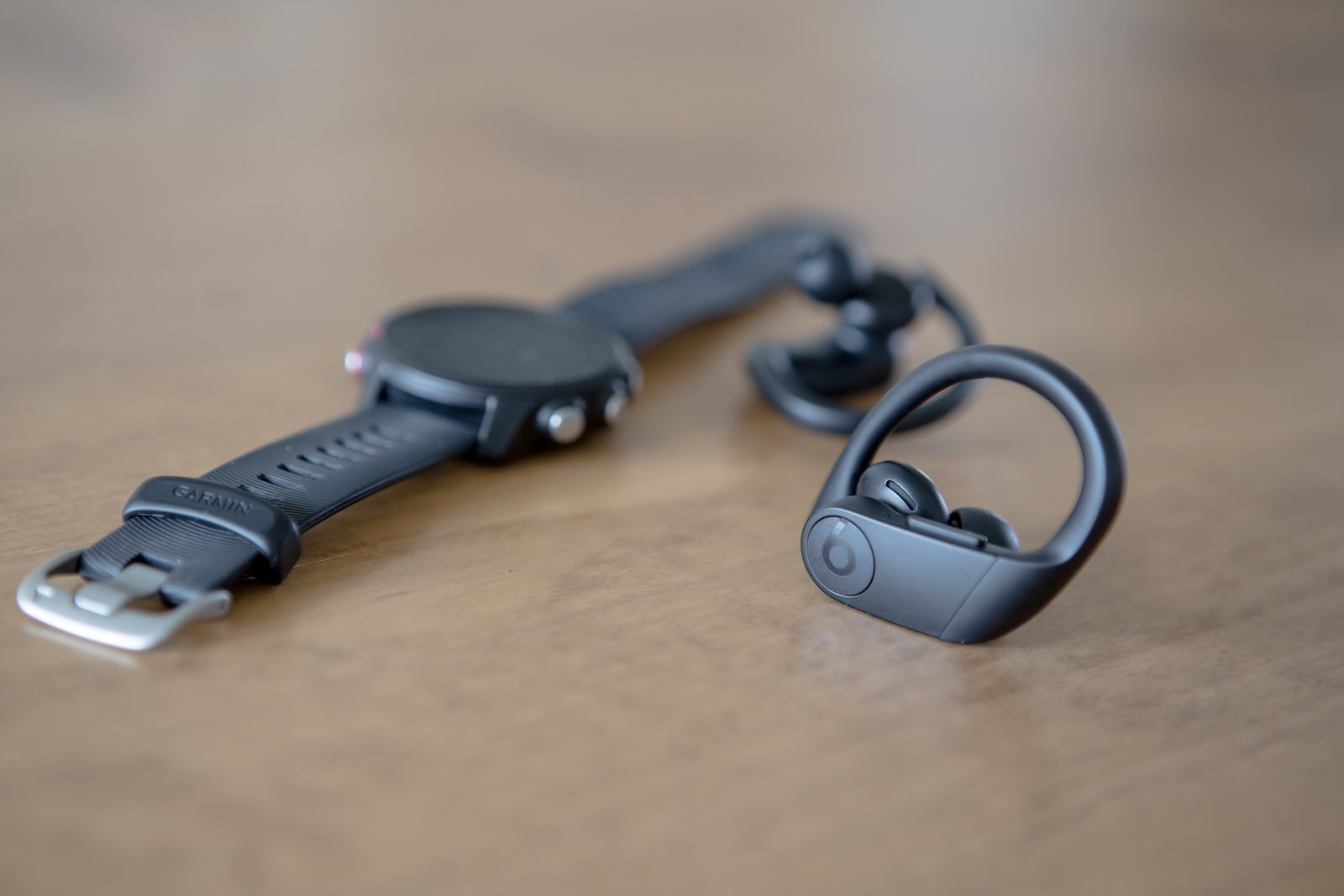 While the earhook design takes a little getting used to with regards to comfort, the Powebeats Pro is the perfect headphone for the active lifestyle. Sweat resistant, great audio quality, truly wireless, great battery life for long runs or rides, playback controls, and unlike the AirPods Pro, volume control.
If you're looking for the ultimate fitness headphone, the Powerbeats Pro are the right choice. Depending on your fitness activity the AirPods Pro may work, but it's hard to be frustrated by their lack of functionality here when it's just not what they were designed for.
Bottom line: Get the Powerbeats Pro if you regularly work out with music and want headphones that are up to the challenge. Just know that if you get the AirPods Pro, there's a good chance they won't be up to the challenge.
Audio Quality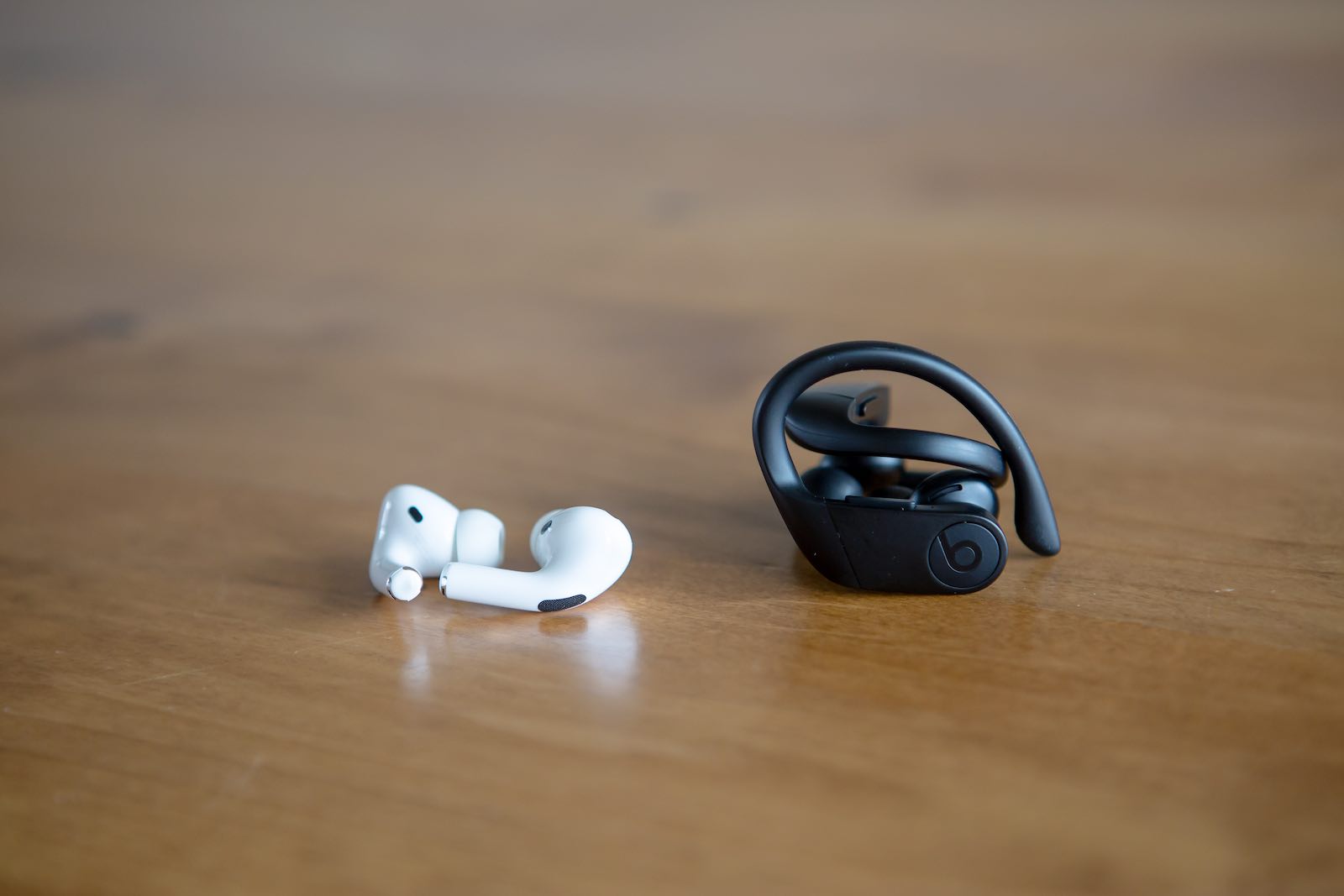 Pitting the AirPods Pro vs Powerbeats Pro was actually a lot closer than I would have imagined had I not tried both sets of headphones. Honestly, what I'm hearing may be a little controversial.
With the Powerbeats Pro being designed more as a fitness headphone, you'd kind of expect the typical fitness headphone audio quality. Which usually means slightly better than sucky sound packaged in a "fitness" design. But the Powerbeats Pro hold their own when it comes to audio and may even be hitting a little over their weight class. There's no doubt they are still earbuds, and they are still wireless, but even still, my goodness, they sound GOOD. Of course, they wouldn't be Beats without that extra heavy low-end, but I don't mind it.
In fact, after listening with the Powerbeats Pro then popping the AirPods Pro in, the AirPods sound a little thin. Not bad. Just not quite as full sounding.
Of course, we have to talk about the AirPods Pro active noise cancellation, which is no gimmick. Thinking back to when I first put the AirPods Pro in and the active noise cancellation kicked in, it was honestly surprising. Not competing on the level of over-the-ear headphones, but still quite good.
Another really neat feature of the AirPods is their "transparency" mode — using the microphones to pick up sounds around you and passing it through the headphones. I'm not sure I love this feature for the person that wants to wear their AirPods all the time, so much as when I'm running, cycling, or walking, and need to be able to be aware of my surroundings.
More than active noise cancellation, I wish the Powerbeats had transparency mode. A major concern for runners and cyclists for wearing headphones is losing awareness of their surroundings. I'd take transparency mode in the Powerbeats before active noise cancellation.
Bottom line: Sound quality is pretty equally matched between the AirPods Pro and the Powerbeats Pro. In a straight audio comparison, I'd even lean more toward the Powerbeats with the fuller sound. But, given the active noise cancellation and transparency mode, the AirPods Pro are hard to beat.
Final Thoughts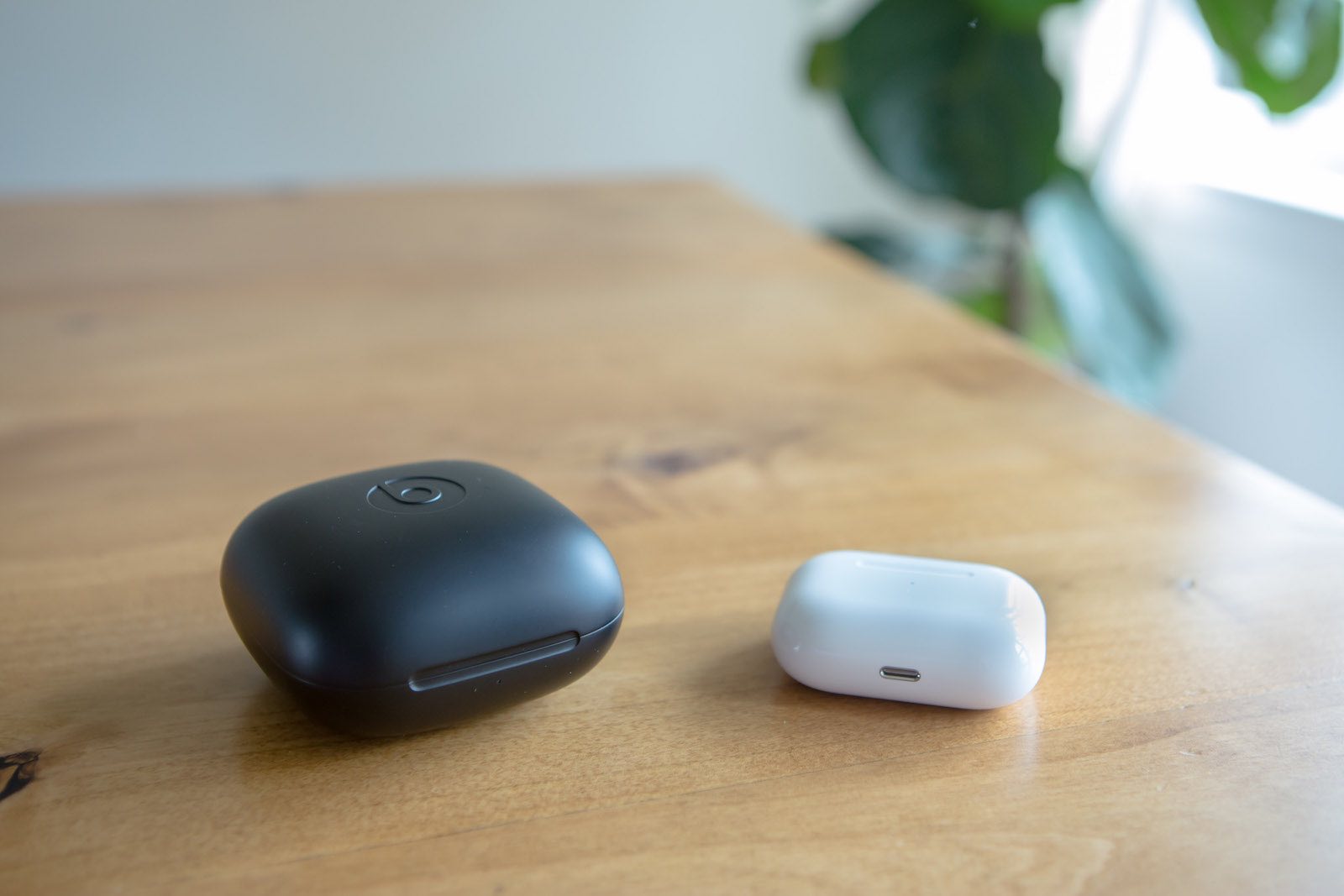 At the end of the day, the AirPods Pro and Powerbeats Pro are two entirely different functioning headphones, neither of which are very budget friendly.
If the everyday use category is what you're needing and looking for the most in a headphone get the AirPods Pro. Just know that you're not getting headphones specifically designed for fitness use, which will quickly become evident.
If you're a fitness enthusiast, and you really want to be able to listen to music, podcasts, or audiobooks while you work out, then get the Powerbeats Pro. While they may not be as convenient as the AirPods in everyday use, they are still very functional.