Actions for Obsidian: An Obsidian Companion App That Adds Additional Shortcuts Support
June 5, 2023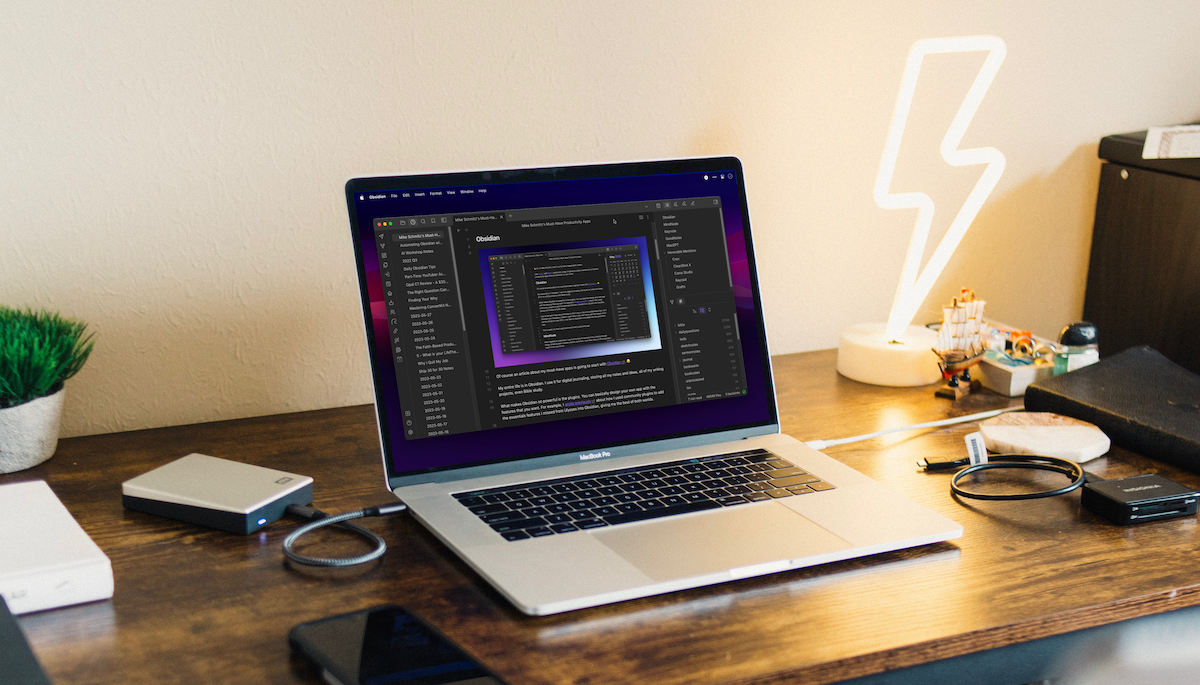 I love me some Obsidian, but one of Obsidian's weak spots has always been it's Shortcuts support (or lack thereof).
That's where Actions for Obsidian comes in.
Actions for Obsidian serves as the bridge between Obsidian and Shortcuts on the Mac, resulting in almost native support for Shortcuts actions that allow you to do some pretty neat things with the text you send to Obsidian.
To call Actions for Obsidian an app is a bit of a stretch. It's a macOS utility that serves as a graphic interface for adding over 30 additional actions to Shortcuts that Obsidian doesn't support out of the box. It also includes a tutorial for setting up Obsidian to take advantage of them, and gives you a link to an Actions & Workflow Library where you can download some pre-made example Shortcuts workflows to download and use instantly.
When you first launch the "app" you get a window with three options: 1) link your Obsidian vault, 2) open the Shortcuts app to use the actions, and 3) visit the Actions & Workflow Library to download pre-made workflows.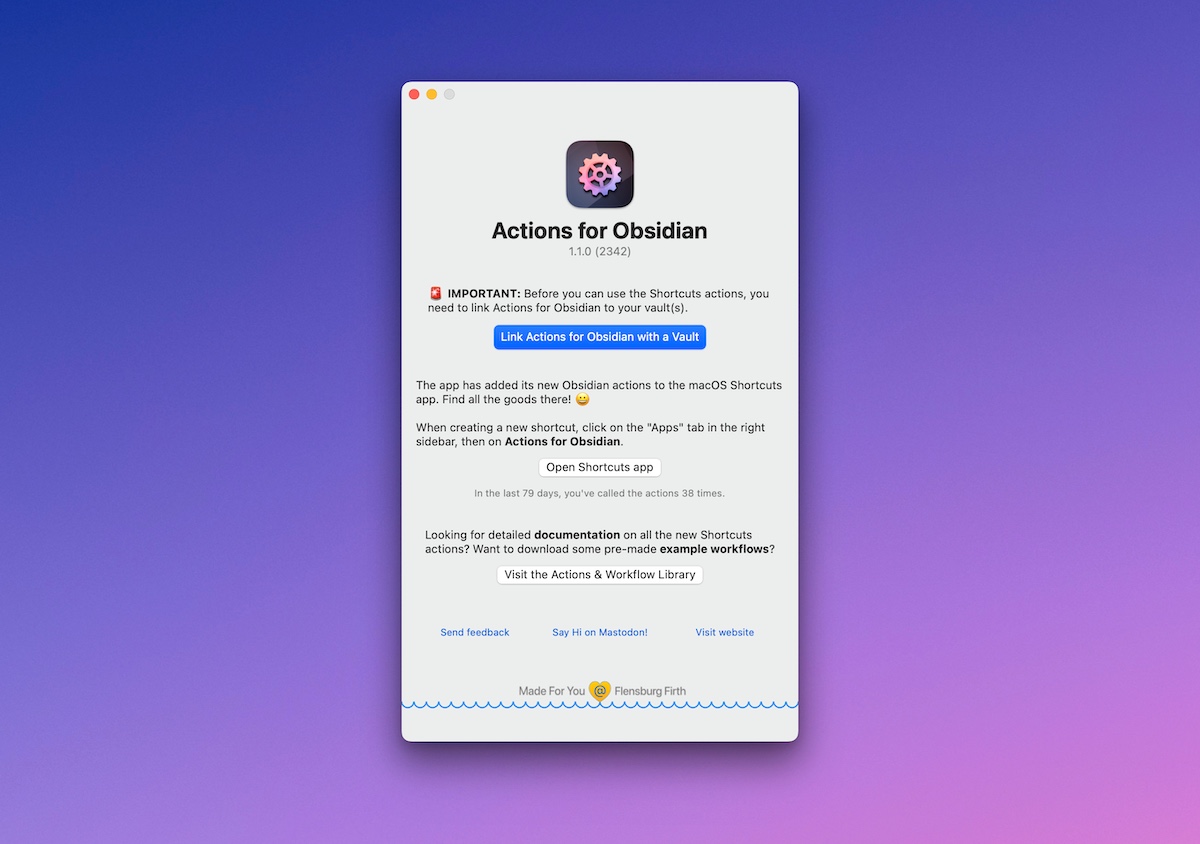 In order to use the new actions, the first thing to need to do is to link Actions for Obsidian with your Obsidian vault.
Click the blue button, and the app walks you through a short wizard that helps you set everything up and make sure it's all connected.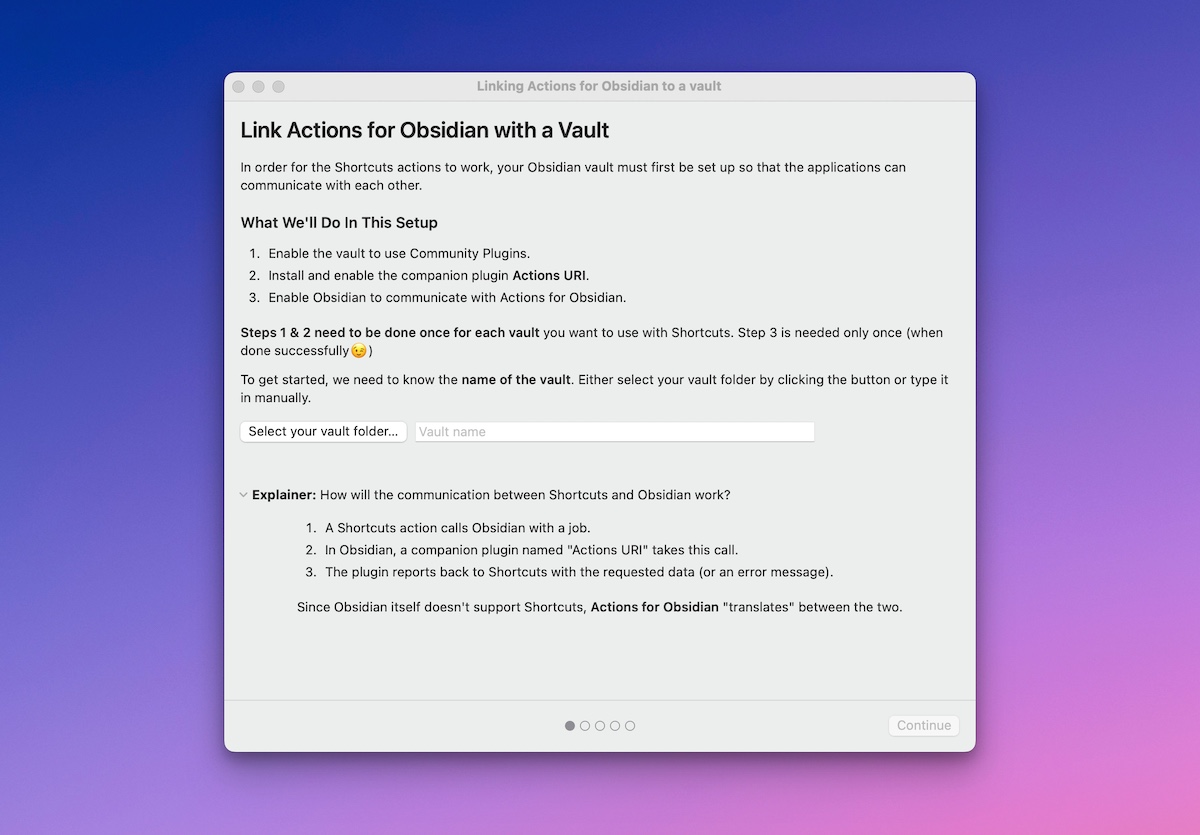 Once you link your vault, the next step is to go into Obsidian itself and enable a specific plugin that allows Obsidian to receive and act on the requests that will be sent to it from the Shortcuts actions. If you've not used community plugins before, it will show you exactly how to enable them first.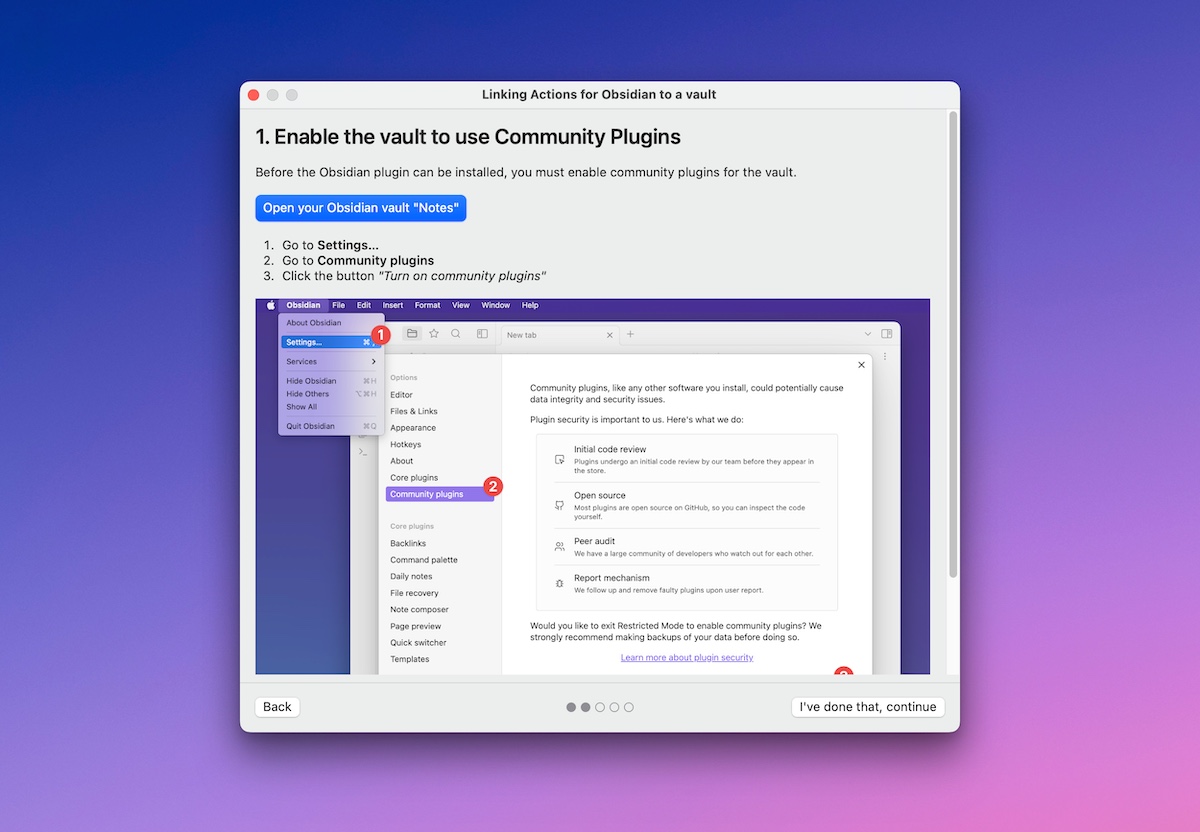 Once community plugins are enabled, Actions for Obsidian walks you through installing and enabling the Actions URI plugin needed for the Shortcuts actions to work.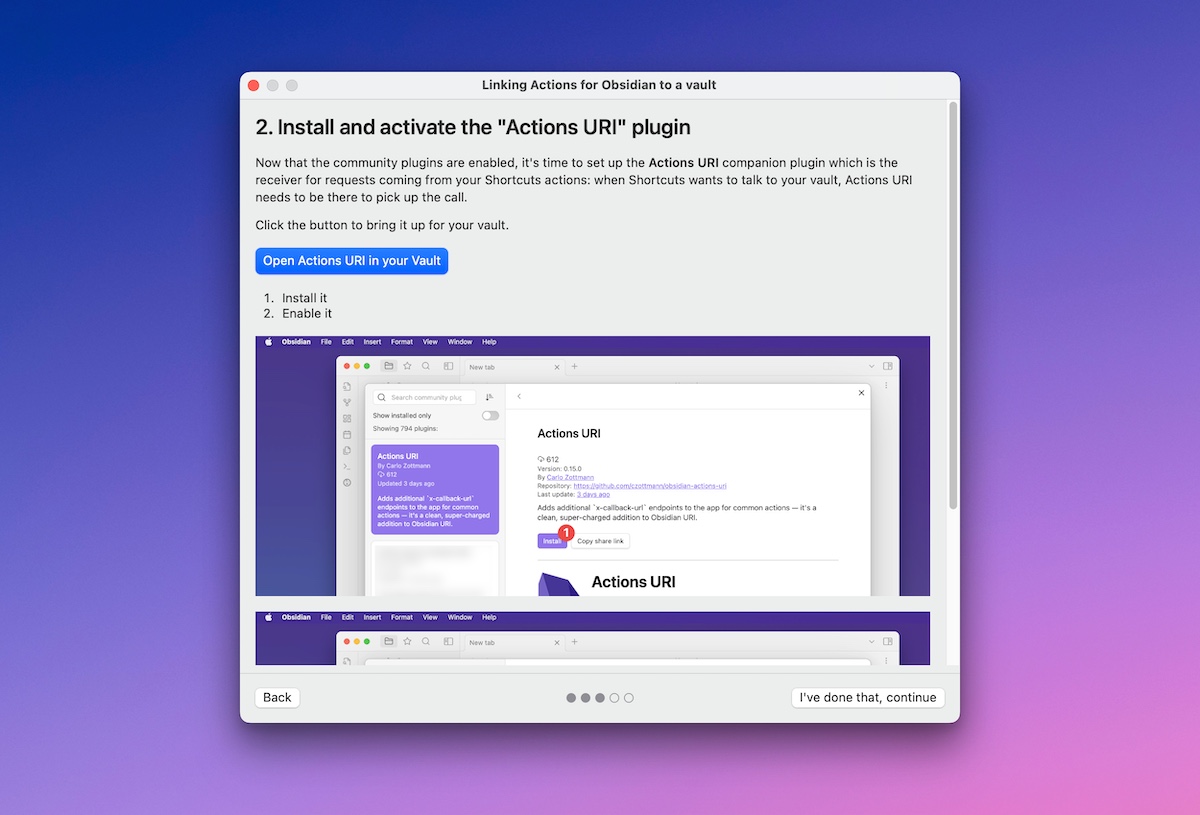 Once everything is configured, Actions for Obsidian will perform a test to see if instructions can be sent to Obsidian (and whether it can also send information back using callback URLs). Click the blue Ask Obsidian to call back button and you should see a confirmation prompt if everything is working correctly.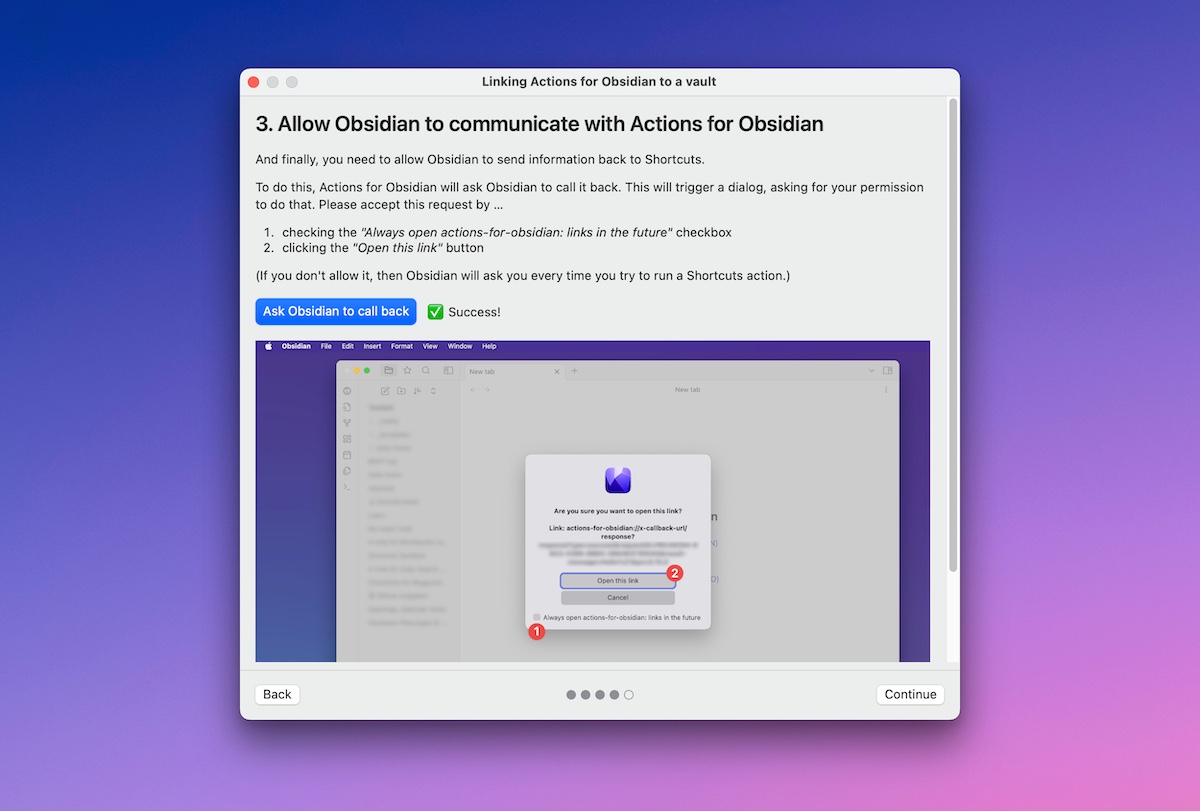 Once everything is good to go, you can start to use the additional actions by creating and editing shortcuts from inside the Shortcuts app. You can find the additional actions by looking for Actions for Obsidian under the Apps section.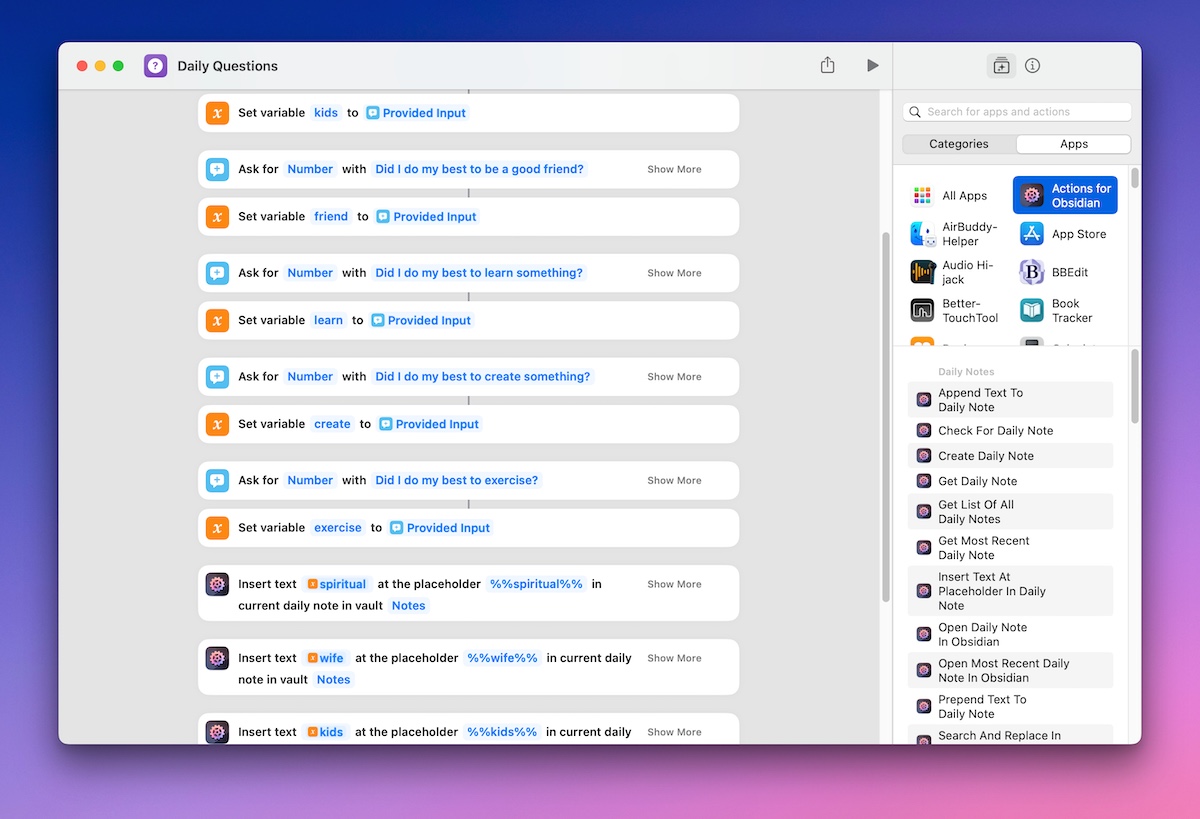 The actions are split into five sections:
Daily Notes
Dataview
Folders
Notes
Vaults
Some examples of things you can do with these additional actions are creating your Daily Note using a shortcut to help start your day, adding events to an appointments section of your Daily Note from your calendar, and even getting results from a Dataview table (another very powerful third-party plugin that can query your entire vault and return results in the form of a table).
While this does add a nearly-native level of Shortcuts support to Obsidian, there are some limitations. For example, the additional actions currently only work on macOS. The developer is working on adding support for iOS, but it's not surprising that there are some additional technical hurdles to be overcome there with iOS sandboxing. So right now you can build Shortcuts and fire them on iOS, but the extra actions will break the moment they need to communicate with your Obsidian vault.
Regardless, I'm thrilled this app exists and find it fascinating that a cross-platform Electron app like Obsidian can offer such extensive support for Shortcuts — with a little help from a utility like Actions for Obsidian.
The distribution model is interesting too, as Actions for Obsidian is free to download on the Mac App Store with an in-app purchase. There are three different price tiers to choose from based on how helpful you find the app, starting at $9 USD and going up to $15 USD.
I think this is a really interesting business model for a really interesting app. I hope it's successful, and I hope to see others create extendable Shortcuts like this for other popular apps. I know Obsidian is well-suited for this because of the third-party plugin architecture, but I think power users of apps like Notion or Craft would absolutely be willing to pay to have a little more automation power at their fingertips too.
Productivity Focus Booster 🚀 Simplify and update your task management
If your to-do list overfloweth and you have multiple areas of life to manage, it's time to get a system that actually works.
Get complete access to all the frameworks, training, coaching, and tools you need to organize your daily tasks, overcome distractions, and stay focused on the things that count (starting today).
Step 1: Refresh → Audit and streamline your current tools and systems and get clear on what's working for and against you.
Step 2: Upgrade → Build a productivity system that plays to your strengths (even if you find "systems" annoying).
Step 3: Nurture → Make your system stick. Create a flywheel that keeps you focused on what matters most day after day.
Get all this, and more, inside the Focus Accelerator membership.
Join 300 focused members who have access to $5,000 worth of our best courses and masterclasses, the Digital Planner, a Private Community Slack, 2x Monthly Coaching Calls, and much, much more…