A Quick Review of the Grovemade Felt Desk Pad
February 26, 2019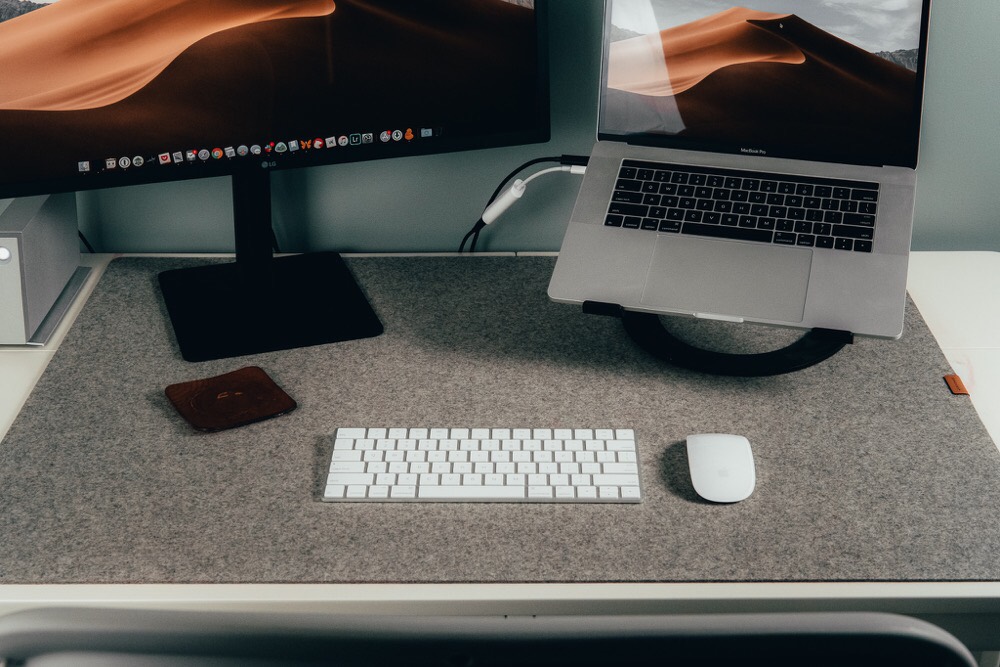 Due to the fear of collecting too much stuff, I've put off many home office accessories over the years. I have no mouse pad, no desktop monitor stand, no office lamp — all three categories have numerous lustworthy options (the Ugmonk Leather Mouse Pad, the Grovemade Desk Shelf, and the Anglepoise Original 1227 Desk Lamp, to name a few), yet I've somehow persisted in holding out.
My home office desk is pretty small — it measures a small 47-inches wide by 27.5-inches deep, and there are no storage options aside from two small drawers right underneath the tabletop.
I bought the desk from an outlet store which unloads damaged or mis-manufactured goods for a sweet bargain. The malady: the strapping used to secure the just-painted desktop left a pink residue behind, creating these garish pink lines running across the white desktop. They look pretty hideous and I work hard to hide the lines in any desk photos I take.
From the start, I've had two options:
Sand down the desk, get rid of the pink lines, and repaint everything.
Buy a desk pad that hides the lines from plain sight.
Evidently, I opted for option 2. Grovemade's Felt Desk pad is the first desk accessory purchase I've made in a long, long time, and while I wish I hadn't waited for so long, it's not a perfect fix for my desk situation, either.
Materials and Design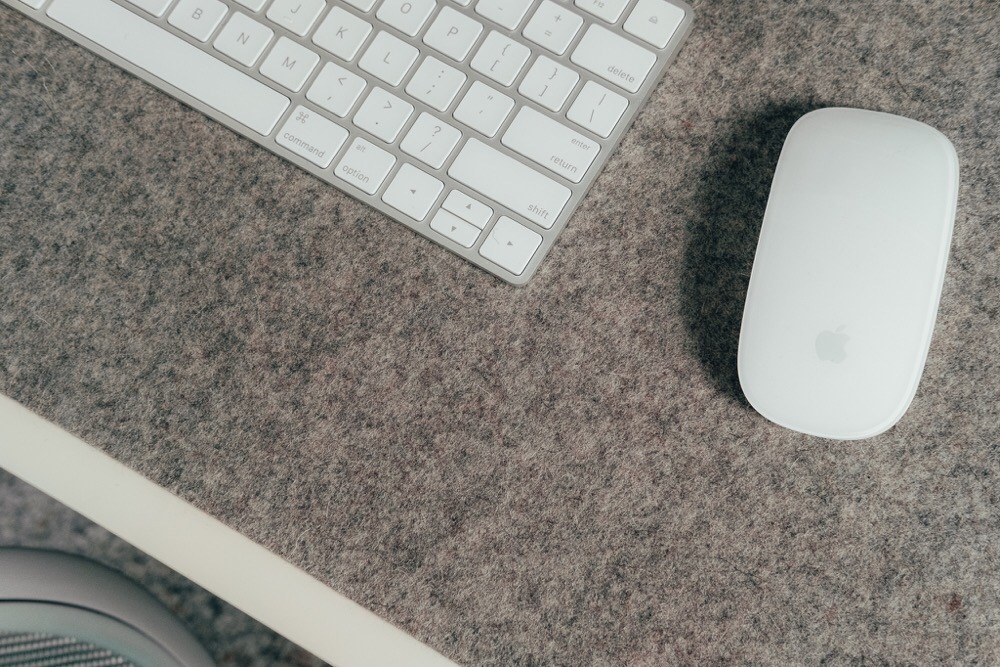 Grovemade's desk pad is made of a Merino wool felt and nothing more. It comes in two sizes and two colors — the large desk pad measures in at 26-inches by 36-inches and the small desk pad measures 11-inches by 25.25-inches, with both coming in a light grey or dark grey felt. Both sizes measure 3mm thick, making for a mat that feels neither too thick or too thin.
I've had felt products in the past which were much less finished than Grovemade's desk pad; over time, those unfinished felt products would end up with major pilling, especially at the edges. The Grovemade Desk Pad's finished felt doesn't give the impression it will pill immediately.
The feel of the felt is smoother than I expected — a Magic Mouse floats around with relative ease and a Magic Keyboard can slide if you mean to move it. However, there's enough tactility in the felt to keep items in their proper spots.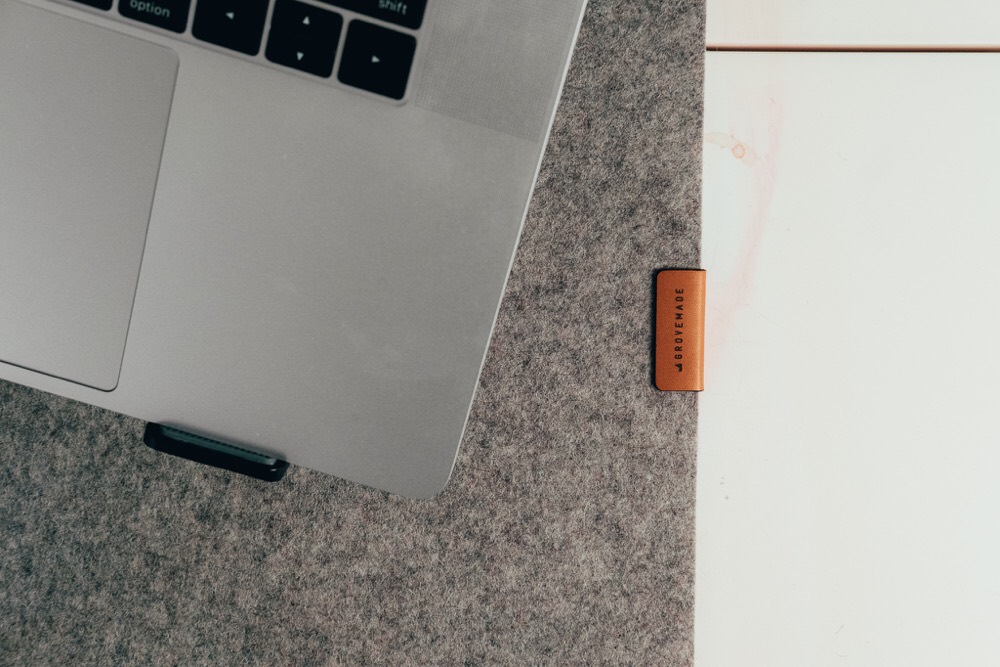 The only other materialistic element of the Desk Pad is Grovemade's own leather logo accent stitched into the side of the pad. It's neither obtrusive or over the top.
Two Positives and Two Negatives
I expected the Desk Pad to clean up the look of my desk, give my desk a more modern feel, provide better surfaces for both the Magic Keyboard and the Magic Mouse (I ended up selling a Magic Keyboard with Numeric Keypad because of a warping issue that resulted in the keyboard sliding all over my desk), and hide those pesky pink lines. My experience has been mixed.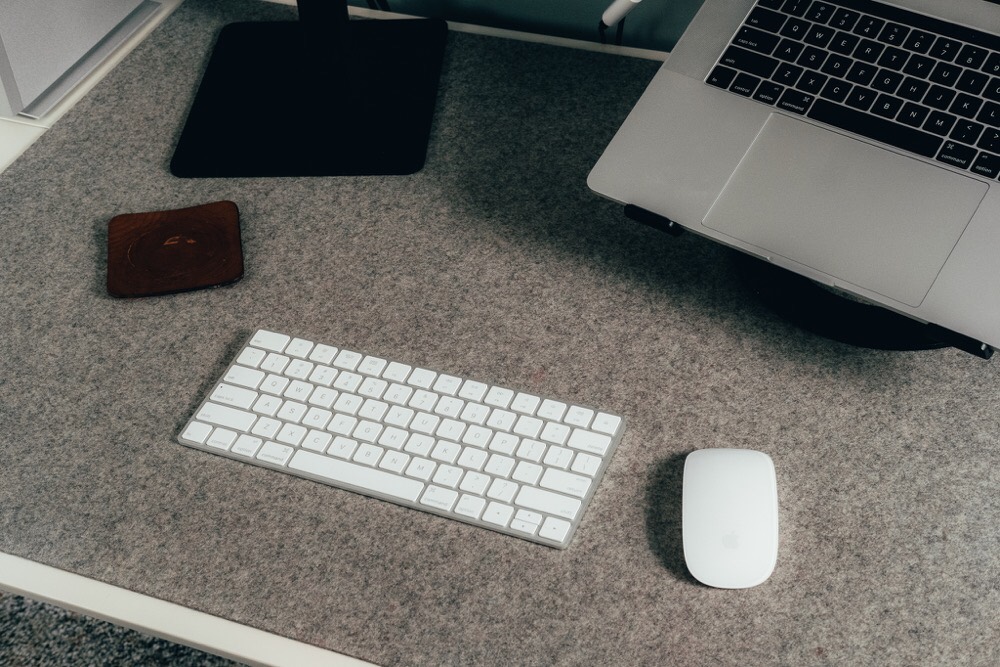 The first positive is related to the Magic Keyboard and Magic Mouse, but not in the way I expected. What I've noticed is an improved typing feel and clicking feel thanks to the sponginess of the felt pad below. I love the Magic Keyboard for short typing stints (think messaging, email, browsing, editing, etc.), but for long periods of typing, I often move to the Surface Ergonomic Keyboard because of the improved key travel. With the felt pad below the Magic Keyboard, there's an extra layer of material to absorb keystrokes, making the Magic Keyboard more comfortable to type with.
Same goes for the Magic Mouse, but to a more limited extent. The Magic Mouse's click is more absorbed and sounds to my unaccustomed ear like the click sound is travelling through a vacuum. I'm curious as to how the Magic Trackpad 2 sounds and feels on a felt desk pad.
The second surprising positive is how artificial lights are absorbed by the felt pad. When shooting some recent hero images for The Sweet Setup, I had my strobes and soft boxes set up to shoot at 1/2 to 3/4 power. The grey felt pad has no reflective materials for light to bounce off, making shadow control and harshness significantly easier to handle.
Talk about two unexpected, seemingly unrelating positives.
On the downside, the desk pad measures about 1/8 of an inch less in both directions than what Grovemade's spec sheets state, meaning my mis-manufactured desk still has evident scars that can't be hidden. The desk still looks better than before the desk pad, but it's not hard to see the issues.
Secondly, the desk pad isn't as abrasive as I expected, meaning you can actually slide the entire mat — along with all your devices and displays — across your desk with minimal effort. The desktop of this desk is quite shiny and finished, so less finished desks may experience this desk pad differently. There's enough weight on my desk pad to ensure it doesn't inadvertently slide off the desk, but it's clear to me this desk pad is better purchased in the smaller size alongside the bigger Desk Shelf unit. The smaller size would make it easier to slide your keyboard and mouse neatly underneath the shelf when not in use.
Wrap Up
I expected to be happy with the Grovemade Desk Pad from a photographer's perspective — the pad cleans up my poorly made desk and provides a new surface to showcase the latest devices. I never expected to prefer the Desk Pad thanks to how it handles harsh light, nor did I expect the Desk Pad to improve the typing experience of Apple's Magic Keyboard.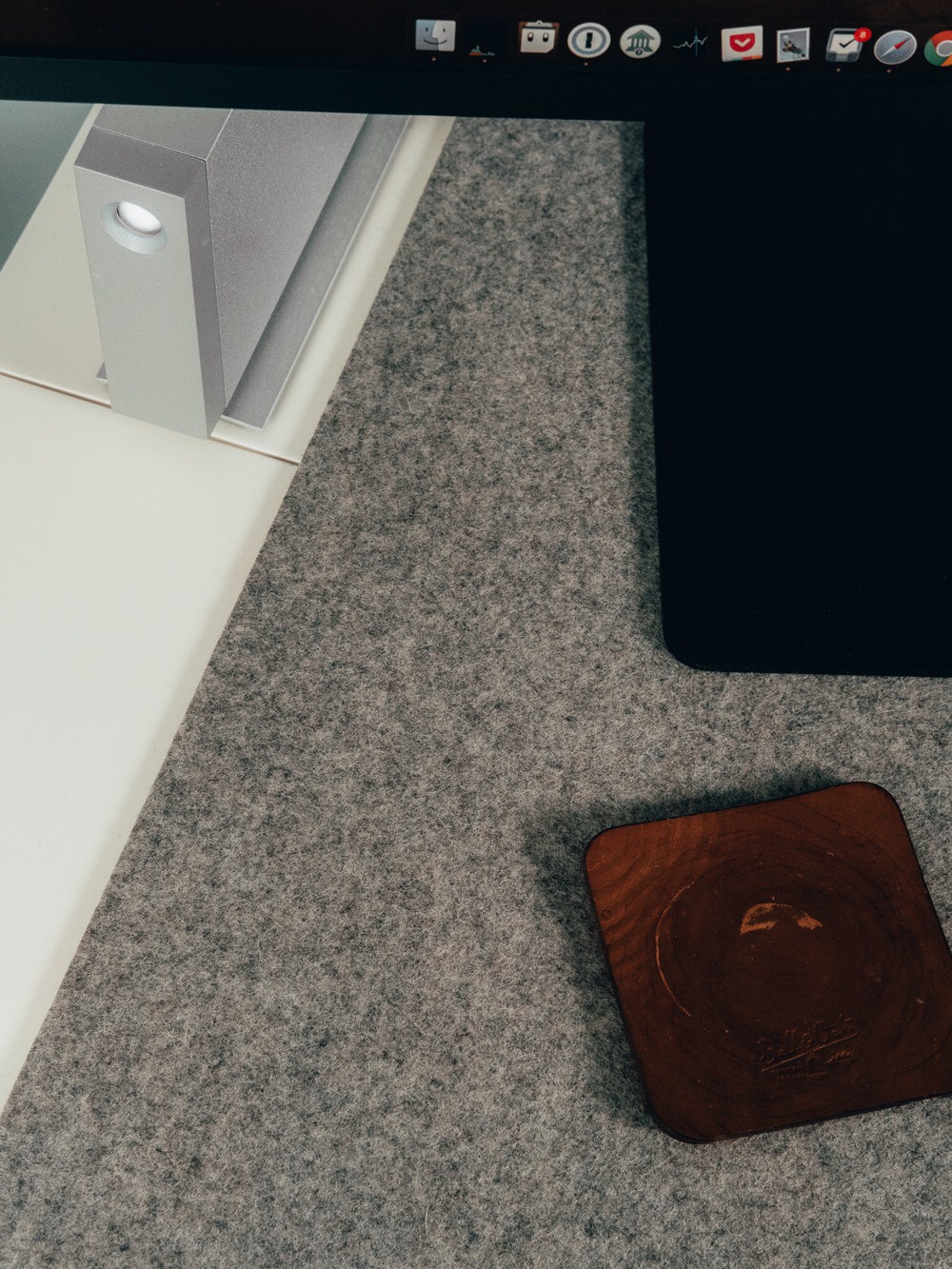 If you're in the market, I recommend considering the abrasiveness of your desk without a desk pad. If your desk is slippery and you would prefer the smaller Desk Pad, be prepared for the mat to be easily moved.
Otherwise, the Grovemade Desk Pad is, pretty simply, a desk pad that cleans up a workspace. A coaster set is probably up your alley in case of unwanted spills, but if you're looking at desk pads, you probably already have a bespoke leather coaster at the ready.
The large desk pad is $99 on Grovemade's online store in both light and dark grey. The small desk pad is $50 on Grovemade's online store.
---
Get Our Best Photography Tips & Workflows
Transform your photos and edits from average to awesome with our in-depth, mobile photography course. It's jam-packed with training, ideas, and lessons that can literally transform your photography overnight.