A First Look at the New Mac App Store in macOS Mojave
September 24, 2018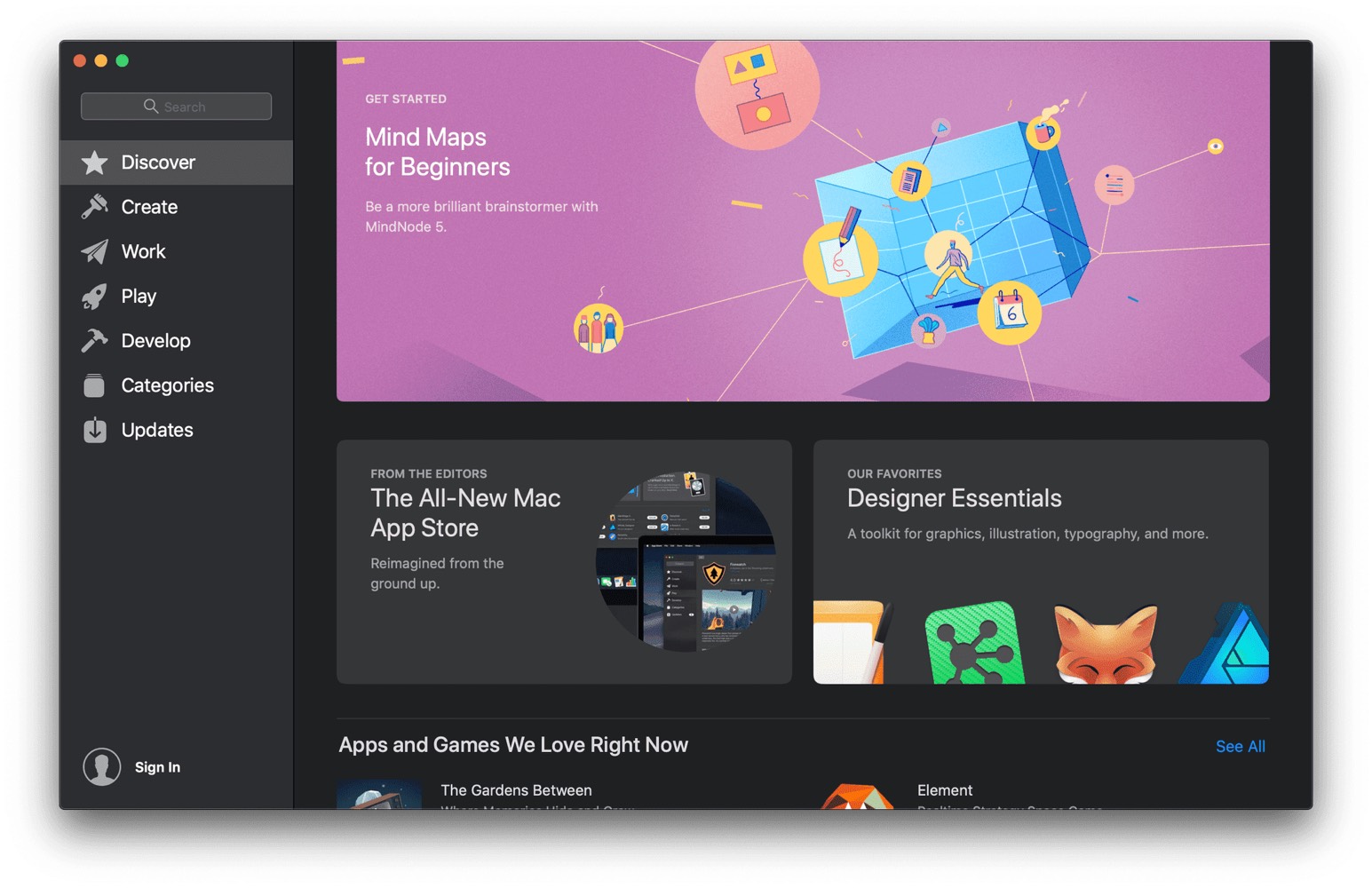 macOS Mojave comes with a whole new App Store, marking the first major overhaul to the storefront since it debuted way back in 2011 on Snow Leopard.
It launched with a strong start, boasting 1 million downloads in the first day.
The shine wouldn't last, however. Over the subsequent years, major developers left the Mac App Store over restrictions imposed on their apps in terms of sandboxing, and in protest of Apple's 30 percent cut of their revenue. The app itself became buggy and unstable, despite being home to both app and system updates.
In recent years, the Mac App Store has felt a bit like a ghost town, populated by Apple's own apps and a host of apps that should have never been approved by Apple. While many, many macOS customers still use it every day, there is a growing number of us who will always buy software directly from a developer's website, if at all possible.
Clearly, this is not the situation Apple foresaw seven years ago, and now the company is hitting the reset button.
Welcome to the new Mac App Store: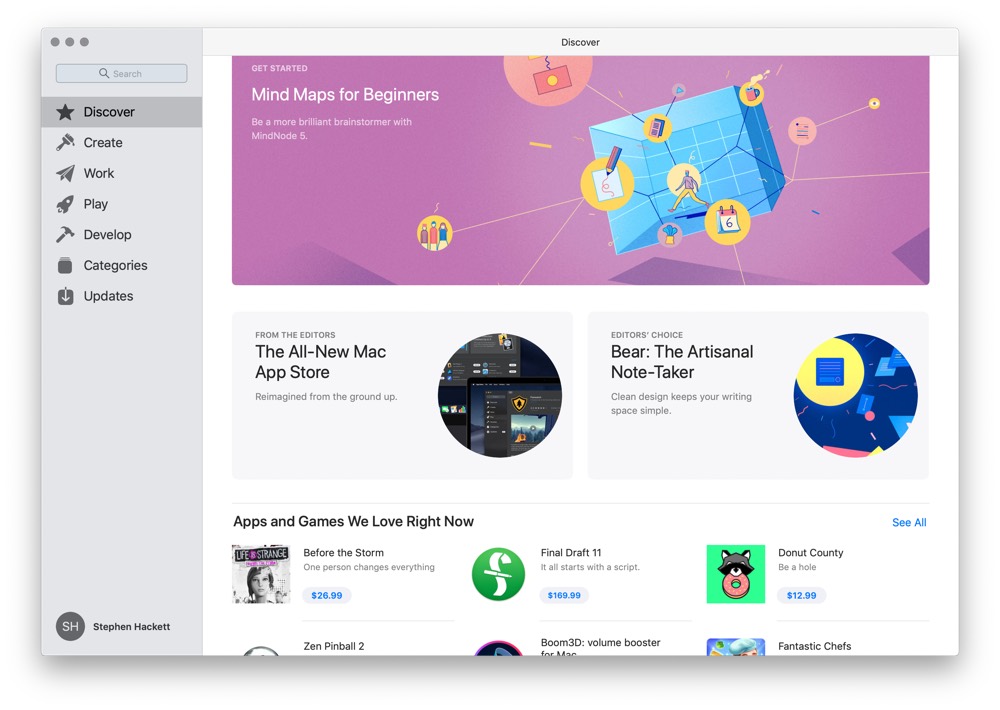 As you can see, the application has been completely reworked. Gone are the tabs across the top. They have been replaced with a new menu on the left side of the window, and all of the organization within the app has been changed, along with the design itself.
The new Discover tab is not unlike the Today tab in the iOS App Store, but will be updated less frequently than its mobile cousin. That makes a lot of sense to me, as the Mac App Store is a fraction of the size, with a smaller user base.
Frequency of editorial updates aside, Apple now has the same tools for storytelling on the Mac as it does on the iPhone and iPad. Apple's ever-growing editorial team does great work, highlighting apps and developers, creating compelling collections, and surfacing things from the store that might otherwise go unnoticed. It also helps reinforce the narrative that if you want quality apps, Apple's platforms are where you should be.
Take this recent story about MindNode 5 for example. When viewed in Mojave, it tells the story of an excellent mind mapping application, while also explaining the concept of mind mapping itself: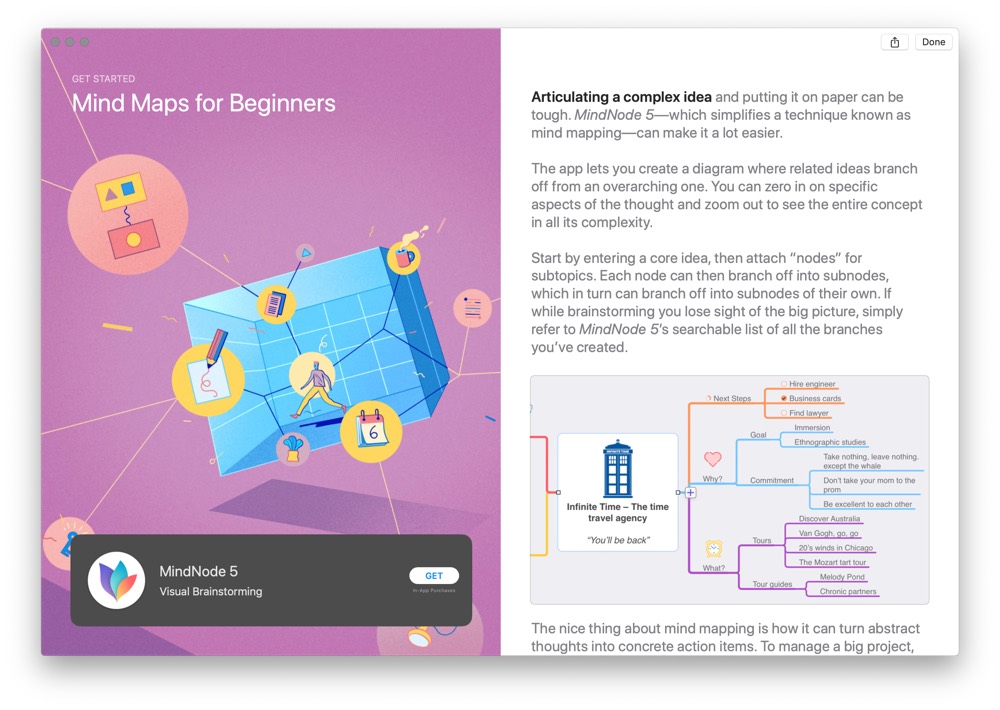 Beyond the large editorial content at the top of the page, the homepage of the Mac App Store features a handful of lists, including the old standbys of "Top Paid" and "Top Free," as well as a selection of apps that have been awarded "Editor's Choice."
From there, the new Mac App Store is broken into four main sections:
These sections all function as mini-homepages, each focused on Mac apps that fall into those broad buckets. Currently, the Develop tab is the least populated, but it still feels comprehensive, just smaller than the other sections.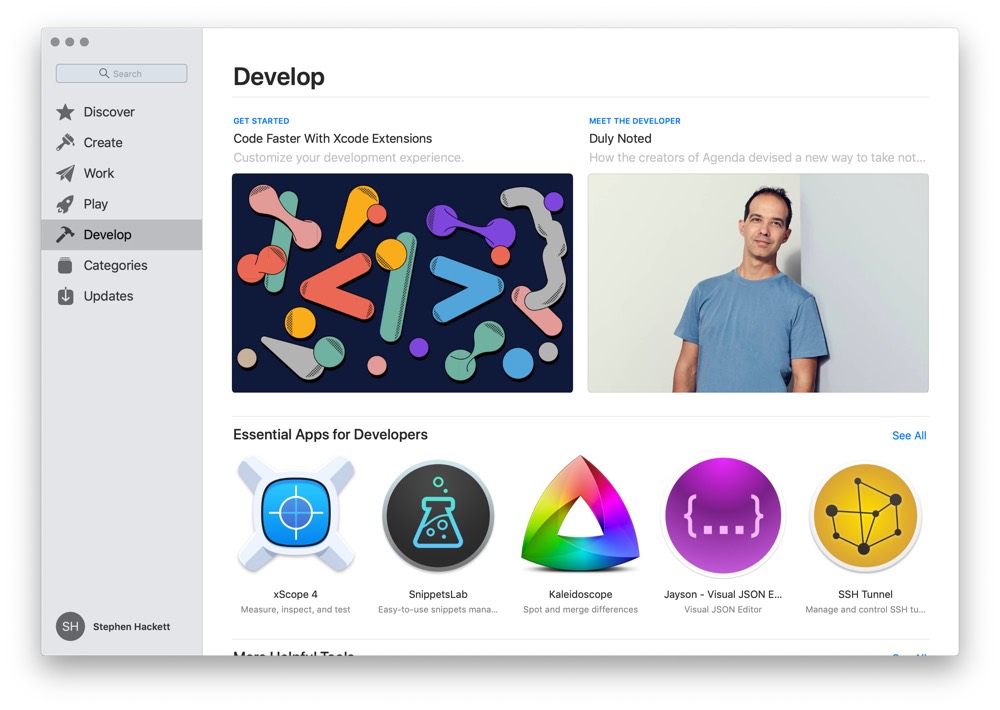 The next-to-last section is Categories, and serves the same function as it did in the previous version of the Mac App Store: to be a springboard into a specific section of the App Store for further exploration.
While the old App Store used app icons to spruce up the list, with Mojave, Apple is using a nice collection of icons. I think it's an improvement: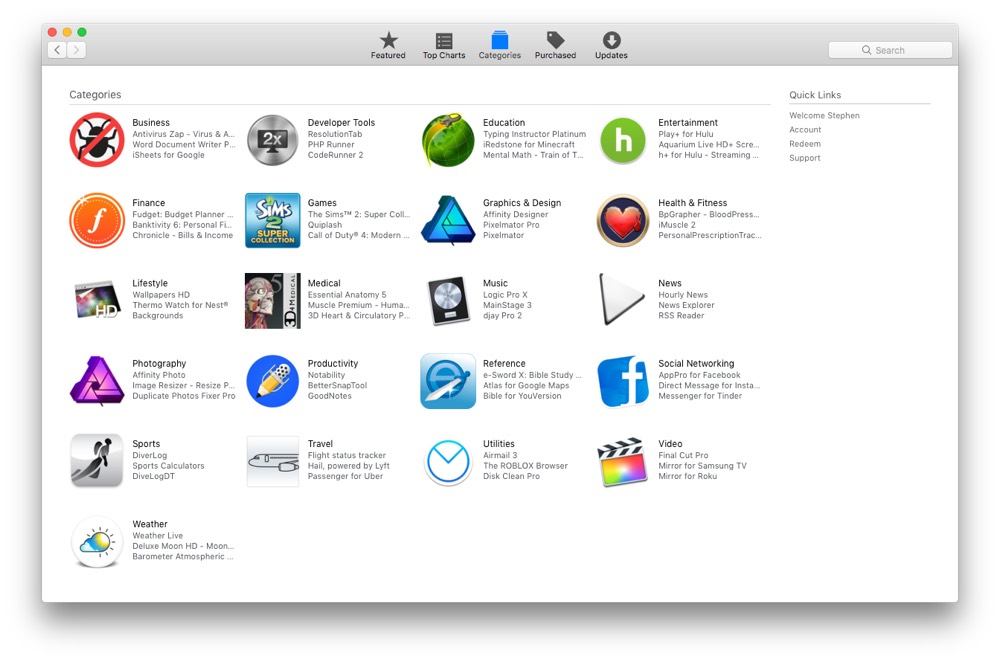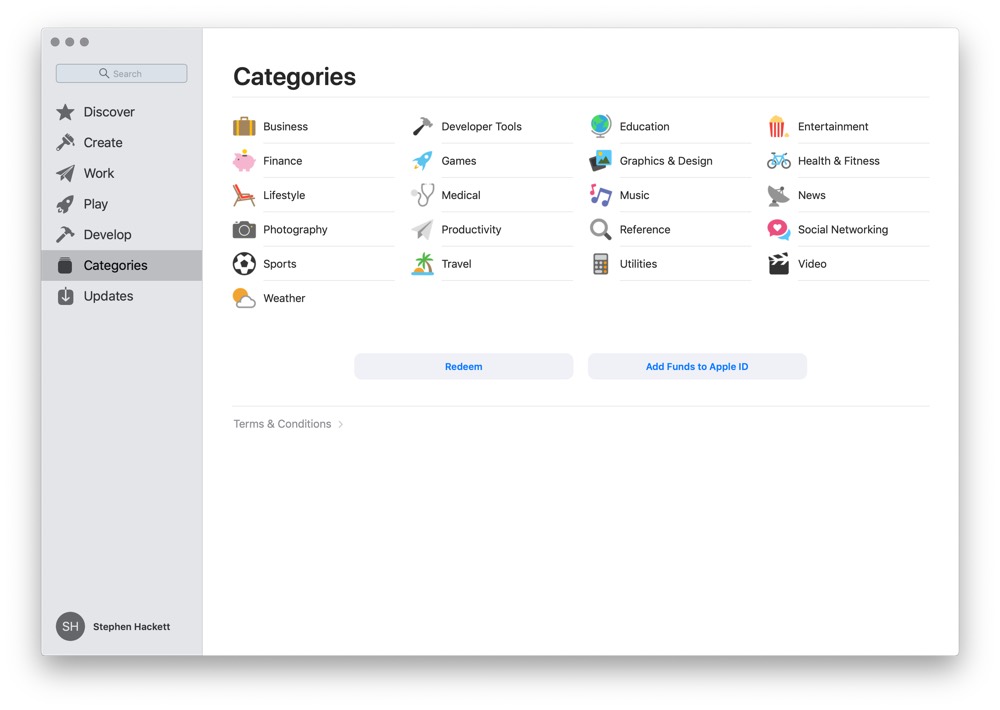 The final section of the new Mac App Store is Updates. It shows you any third-party apps that have updates, as well as a couple of recently-updated ones.
A big change this year is that system updates, such as macOS updates, security patches and more, are now accessed and installed via System Preferences: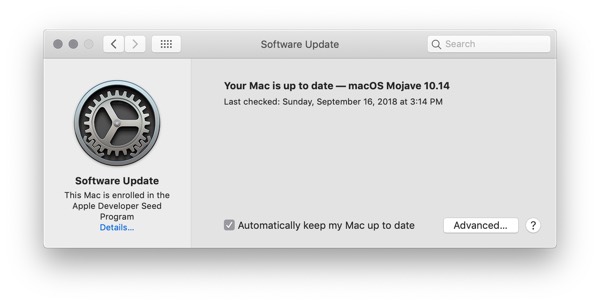 This preference pane is also used to manage what updates your Mac may download and even install automatically: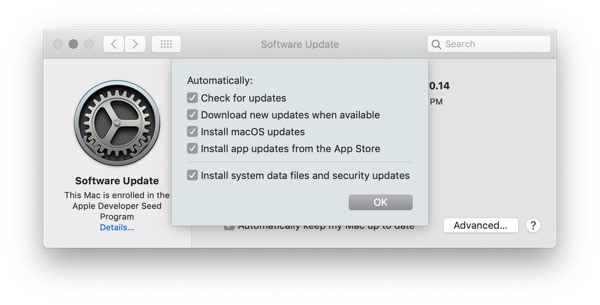 Some of these options can also be accessed via the Mac App Store's in-app preference pain, located under the App Store menu.
Other items, such as a list of previously-purchased items, access to account settings, and more are now all located in a single place. Simply click your name (or account name) in the far bottom-left corner of the App Store to reveal these features.
---
All of these changes feel positive to me, as a long-time Mac user. As always, Mac users can — and often do — install software downloaded from the web, but a strong Mac App Store is good for the platform. As iOS apps start to show up on the Mac starting with next year's macOS release, it's going to be a more important destination than ever. Apple is doing the right thing by pouring resources and attention into it now. If you've written off the Mac App Store in the past, give it another shot after upgrading to macOS Mojave.
Get Our Best Photography Tips & Workflows
Transform your photos and edits from average to awesome with our in-depth, mobile photography course. It's jam-packed with training, ideas, and lessons that can literally transform your photography overnight.