Wojtek Pietrusiewicz's Mac and iOS setup
April 24, 2017
Every week we post a new interview with someone about what software they use on their Mac, iPhone, or iPad. We do these interviews because not only are they fun, but a glimpse into what tools someone uses and how they use those tools can spark our imagination and give us an idea or insight into how we can do things better.
New setup interviews are posted every Monday; follow us on RSS or Twitter to stay up to date.
---
Who are you and what do you do?
I am Wojtek Pietrusiewicz, and I am a publisher, writer, photographer, and sometimes a human. Two of my friends and I co-founded iMagazine a little over 6 years ago — a digital lifestyle magazine that focuses on Apple products. While we're laser-focused on iMagazine, we have had a few side projects over the years.
What is your current setup?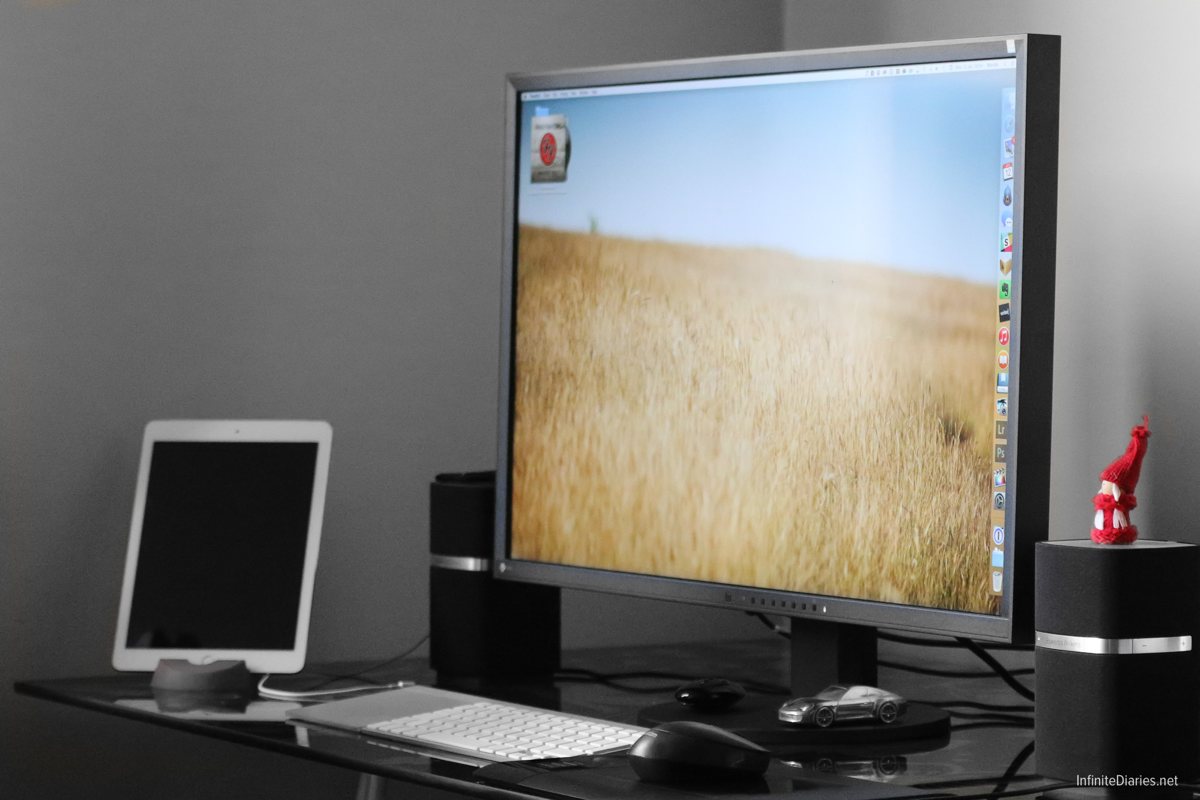 My Mac history: 17″ MacBook Pro (2008), 11.6″ MacBook Air (2013), and 13″ MacBook Pro (2014).
Currently, I have the new late-2016 MacBook Pro 13″. It has the base Core i5 2.0 GHz, 16 GB of RAM, and a US layout keyboard (instead of the English International default that we get). I upgraded to this machine shortly after returning my 13″ MacBook Pro with Touch Bar. Yes, upgraded. I am unfortunately not a Touch Bar fan — I need my mechanical keyboard.
I also have a Hackintosh as my desktop — unfortunately, the 2013 Mac Pro didn't satisfy my needs, hence I had to look elsewhere. It has an Intel Core i7 4770K 3.5 GHz CPU, 32 GB of RAM, two 480 GB SSDs in a Stripe configuration, two mirrored 3 TB HDDs, a Radeon R9 280X, and a pair of Bowers & Wilkins MM-1s that act as my audio output. My setup currently works with all the macOS technologies, such as iMessage, etc. thanks to a 2013 iMac BT/Wi-Fi module, which is fitted on a PCIe card. I am running a completely stock El Capitan — every component in this computer has full macOS support out of the box. The computer is connected to an Eizo EV3237 32" 4K display.
I also have a few accessories I wanted to mention:
Where can we find your macOS wallpaper?
I currently use a shot that I took over the Indian Ocean in 2014. You can download it in 5120K here: 33 Thousand Feet wallpaper.
What software do you use and for what do you use it?
Writing – I live in Ulysses. It's the best Markdown editor that suits my needs. It's not perfect, but I truly love using it.
Video editing – I use Final Cut Pro X for my video needs.
Photography – Adobe Lightroom CC and Photoshop CC are my software of choice for the post-processing of RAW files. I do most of the work in LR, but I do occasionally use PS for those rare moments when Lightroom isn't enough.
Text editing – BBEdit, naturally! Mainly for working on CSS and PHP.
File transfers — Transmit is my favorite weapon, although I did use ForkLift for a long time.
File sync – My desktop is my main machine, and my MacBook Pro is my terminal. This allows me to not lose track of where my files are — in iCloud or on both machines. I use Resilio Sync Pro (formerly BitTorrent Sync Pro) to share folders between machines. Selective sync allows me to not have to worry about the files taking up space on the 256 GB SSD in the MacBook, but I can download them whenever I need access. I also have a QNAP NAS (TS-451 with four 4 TB HDDS in RAID 5), which also runs Resilio Sync — that means that I can have my desktop off and still access everything that I need.
Other software
How would your ideal setup look and function?
A 13″ MacBook Pro with a quad-core CPU, 32 GB of RAM, and a 2 TB SSD, a dedicated GPU in a Thunderbolt enclosure for extra rendering power when I'm at my desk, and a 5K Apple Display, all connected to the MacBook with a single cable.
---
What iPhone do you have (color, size, etc.)?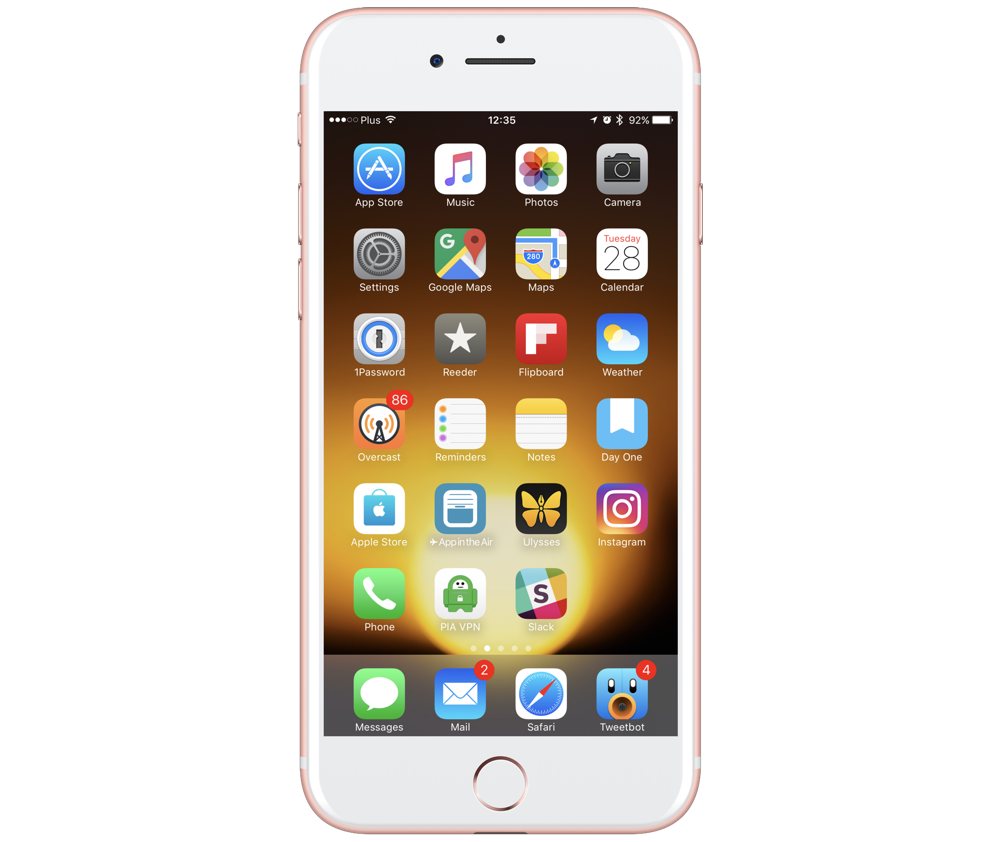 I currently use an iPhone 7 Plus in Rose Gold, 128 GB.
Where can we find your wallpaper online?
This is my photo, shot on 29/10/2016 near Wrocław, Poland.
What apps do you use the most, and why?
Writing – I use Ulysses for quickly outlining whatever I'm going to write about on my iPad or Mac. Apple's Notes are handy too!
Health – I have a few Health-related apps that track my laziness:
Podcasts – Overcast, the best there is.
Tracking travel – App in the Air is great for this.
Sync – Resilio Sync, works great with its Mac counterpart.
Advanced stuff – Workflow for iOS is a complete blessing — I couldn't love without it.
Calculator – PCalc! (Hi James!)
Games – Alto's Adventure, Mini Metro, Letterpress, and Threes!
I mostly use Tweetbot, Workflow, and iMessage of course.
Which app could you not live without?
---
Which iPad do you have (color, size, etc.)?
I currently have a 12.9″ iPad Pro, 128 GB WiFi + Cellular, in silver.
Where can we find your wallpaper online?
This is my photo, shot on 29/10/2016 near Wrocław, Poland.
How are you using your iPad on a daily basis?
As an alternative to my MacBook Pro in fact. I barely use the Apple Pencil, but I do like the Smart Keyboard. When not creating, I use it for reading — Twitter (via Tweetbot), Reeder (for my RSS feeds), Pocket for my saved items, and Safari for everything else.
It basically covers 90% of my needs — I can't do my photography work on it, prefer FCPX to iMovie for iOS, and I don't much like working with images on it — which allows me to take it with me instead of my MacBook when I need LTE and want to travel as light as possible.
What apps do you use the most, and why?
Reading – I love Reeder for getting through my RSS feeds (I use Feedly as the back-end), Pocket for "reading later", and Tweetbot for Twitter.
Writing – Ulysses, of course!
Video – Netflix and YouTube — the 12.9" screen is great for this.
Notes – I don't currently use Evernote (in the process of moving everything to Notes), but I really like using the Apple Pencil with Notability and Myscript Nebo. The latter can automagically translate everything into machine text, which I can then copy to Ulysses.
Images – I prefer Pixelmator for my low-end needs, mainly to prepare images for publishing online. I usually use my Mac for this, however.
Which app could you not live without?