Introducing the WFH Course Bundle
March 26, 2020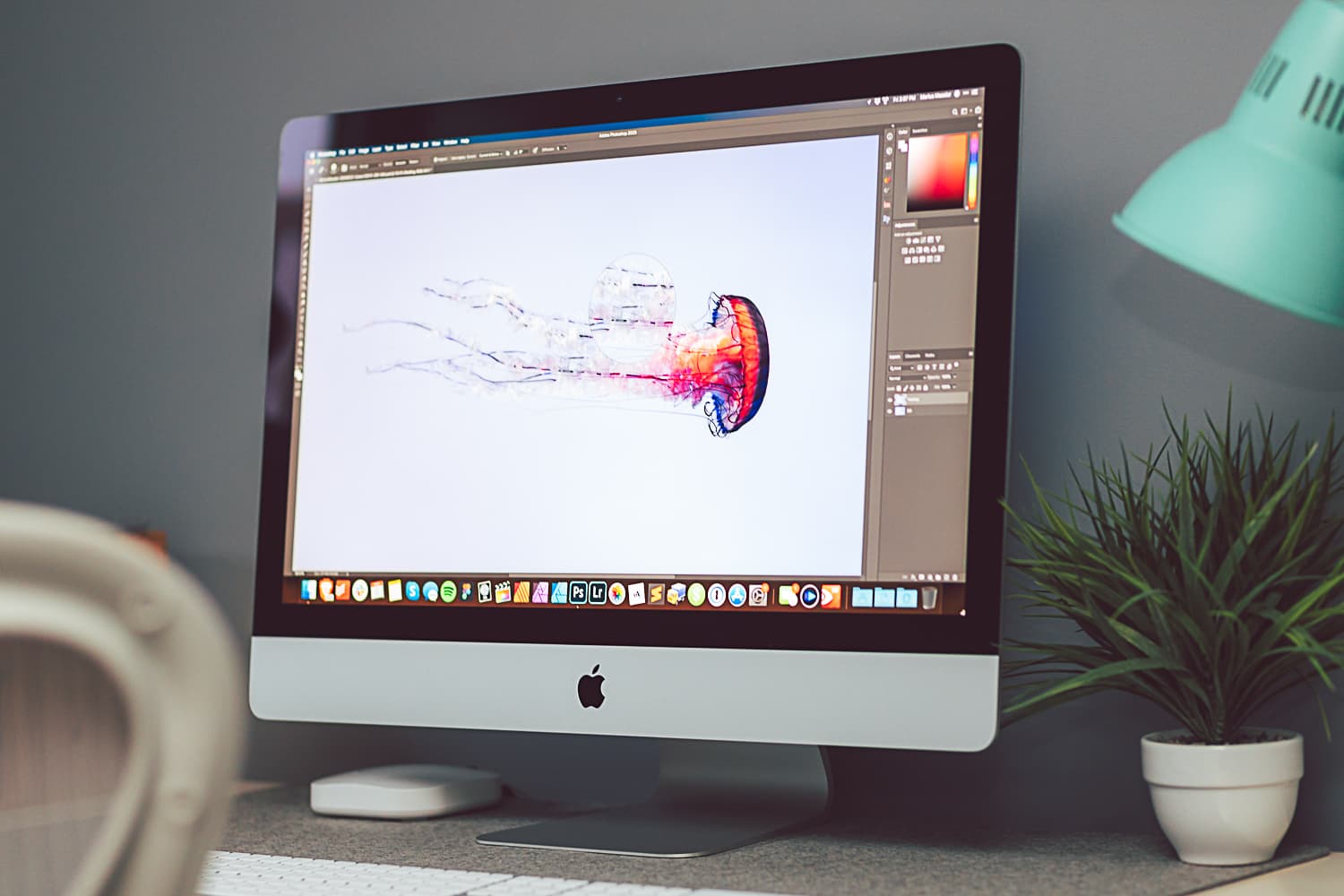 Yesterday, my 3-year-old took an entire roll of blue ribbon and cut it up into about 10,000 tiny little strips and while walking all around the house. (At least it wasn't the toilet paper.)
Needless to say, for the past few weeks, I've been using even Day One more than I usually do.
As far as must-have, essential apps, Day One (the journaling app) has been on the short list for a long time.
Life is so very different right now (to say the least). And I've been trying to keep a daily log to help process and document it all.
I've been adding photos from my day, tidbits about what happened, and how I'm feeling about everything.
And as I have been writing in my Day One through the midst of all that is happening right now, it has been super helpful for me. It has helped me stay calm and present with my kids, it has helped me manage some of the feelings I get when I'm not sure what is going to happen next week, and it has helped me navigate the big decisions I have been making about my family and my business in this time.
And, yeah. It's also just a much more productive way to spend 15 minutes in the evening after a jam-packed day.
. . . .
In addition to using Day One, I have also doubled down on the templates I use for weekly and daily planning.
Here in Kansas City we are under shelter-at-home order. And like so many others around the world, my whole family is at home all the time now. And my work schedule has turned upside down.
Fortunately, everyone in my home and family is healthy. But things are still different for all of us.
And in order to continue doing the work I need to get done, while also having to manage a new schedule and new expectations with my family life, my wife and I have both had to be extra focused and proactive each day.
. . . . .
The two things which have helped me be focused and productive at home are:
Journaling / writing.
My simple approach to managing tasks and time.
Oh, and coffee. Lots of coffee.
Alas. I can't bring you coffee. (I totally would if I could!)
But, as for productivity and journaling…? I happen to know quite a bit about that.
And I have some systems and workflows that I believe would be be helpful for you as well.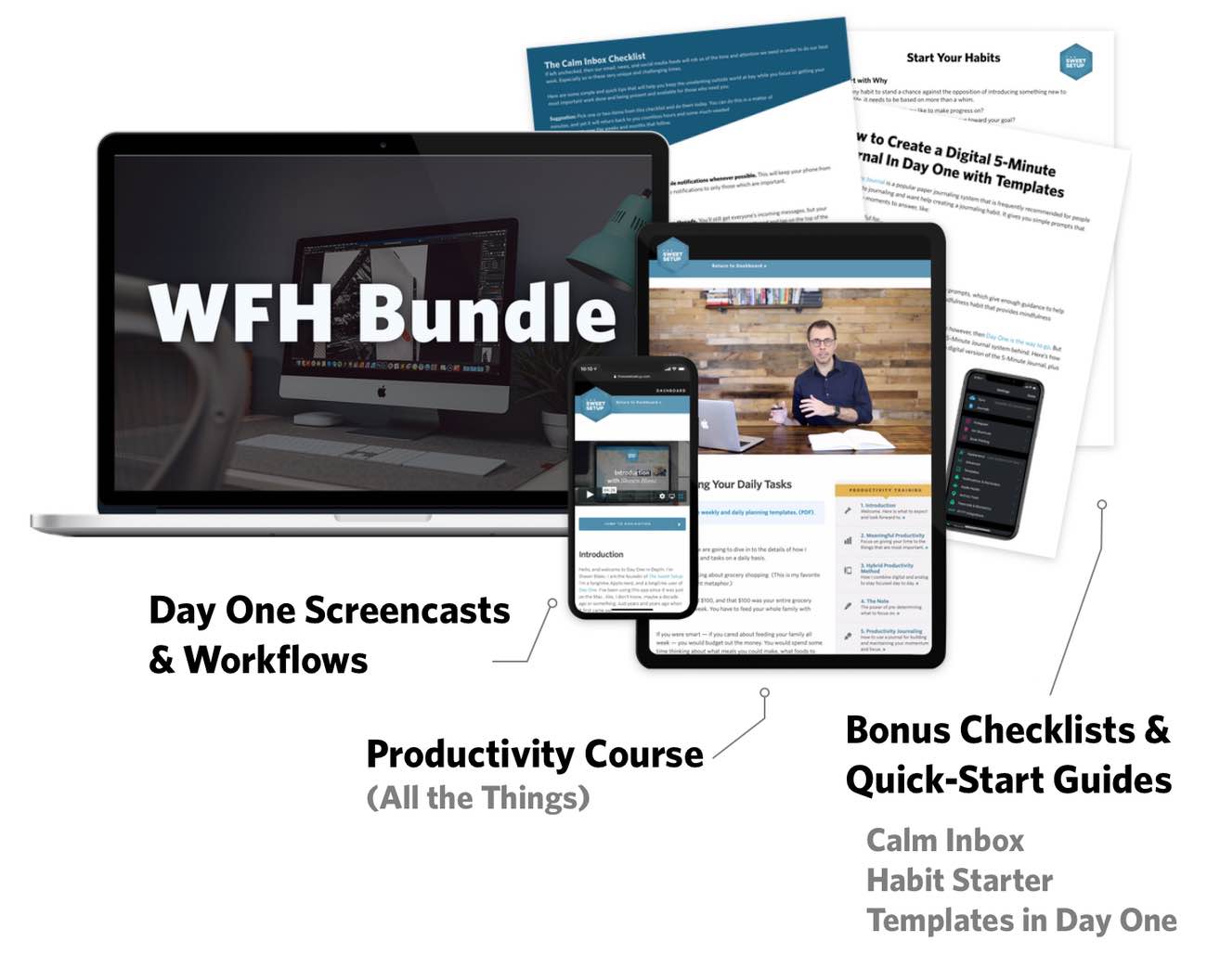 The WFH Bundle
We have bundled together our task and time management mini-course, along with our Day One screencast training, and a few additional bonuses. All for 30% off right now.
All the Things (productivity course)
Day One in Depth (screencast course)
Calm Inbox Checklist
Habit Tracking Quick-Start Guide
5-Minute Journal Templates for Day One
This "WFH Bundle" is 30% off the regular price for these programs.
In the programs and bonuses in this bundle, you will get:
Custom Productivity Templates: Our custom productivity templates in PDF format, so you can print them out or use them on your iPad in order to be a bit more productive and focused.

How to schedule your day for maximum productivity in the least amount of time. This is especially helpful if you and your significant other are juggling responsibilities of kids and home life while also trying to do work.

Weekly planning and reviewing. (A great way to get ahead of your upcoming week so that you can know what needs to be done and be prepared. Because our daily schedules are now so different, I have been giving myself "themes" for each day of the week so that I know one big thing to focus on.)

How to focus on just the most important thing. I'll share with you my simple and easy approach for how to make sure you spend time each day doing the single most important thing. So that even when life is crazy, you can still win the day.

Re-define what it means to be "Productive" right now. Life for all of us is wildly different. And instead of feeling frustrated or stressed out because you cannot get as much done as you are used to, discover a new, liberating mindset toward productivity that allow you to focus on giving your time to the things that are most important. (This works for family life and responsibilities as well as work life.)

In-Depth Screencasts for how to use Day One (the best journaling app). Eight videos that take you line by line for every feature, setting, preference, and option.

How to use day one in your life: A compilation of workflows and tutorials for how to use Day One to suit your own needs: from a morning writing time to a photo log, to a daily and weekly review time. Day One can do a LOT and we'll show you how.

3 Bonuses: The Calm Inbox Checklist, the Habit Tracking Quick-Start Guide, and Using Day One templates for the 5-Minute Journal.
Regular Price: $68
Bundle Price: $47 (you save $21)