Virginia Roberts' Mac and iOS setup
February 16, 2015
Every week we post a new interview with someone about what software they use on their Mac, iPhone, or iPad. We do these interviews because not only are they fun, but a glimpse into what tools someone uses and how they use those tools can spark our imagination and give us an idea or insight into how we can do things better.
New setup interviews are posted every Monday; follow us on RSS or Twitter to stay up to date.
---
Who are you and what do you do?
I'm Virginia Roberts, also known as The Heartographer. I'm an online dating coach, which is a weird job I sort of made up after meeting my husband and helping some friends meet their spouses. I sometimes supplement my coaching business with writing, software testing, linguistic work, and event planning. I also seem to take on a few too many volunteer commitments, like helping produce John Roderick's weekly live shows and helping organize and put on App Camp 4 Girls.
I also dabble with writing and podcasting—I blog at virginiaroberts.com, and I'm working on a short podcast arc to show a bit better what it's like to work with me for online dating help. I think I'm about to be a sometimes guest on a sort of comedy show that starts next week, too.
What is your current setup?
When I took my coaching business full time in 2013 (thanks in part to this episode of QUIT! on 5by5), I sprung for the early 2013 13" Retina MacBook Pro. Or MacBook Pro with Retina, if you prefer. :) This is by far the best computer I've ever had the pleasure of using, even though I had to have the display replaced because of a dead pixel in the first year.
I boosted the SSD size to 512 GB, which feels cramped to my spoiled cloud-eschewing ways but was all I could justify at the time. I also maxed out the RAM to 8 GB because I haaaaaate memory performance issues (dammit, if I say open 76 browser tabs, open them all and load them without whining!). It's got the 2.6GHz processor, which I think was the only element I didn't pay to upgrade. All those were worth it and I wish I'd gotten an even bigger SSD and that more RAM had been an option. Either way, I will NEVER go back to spinning disk drives again!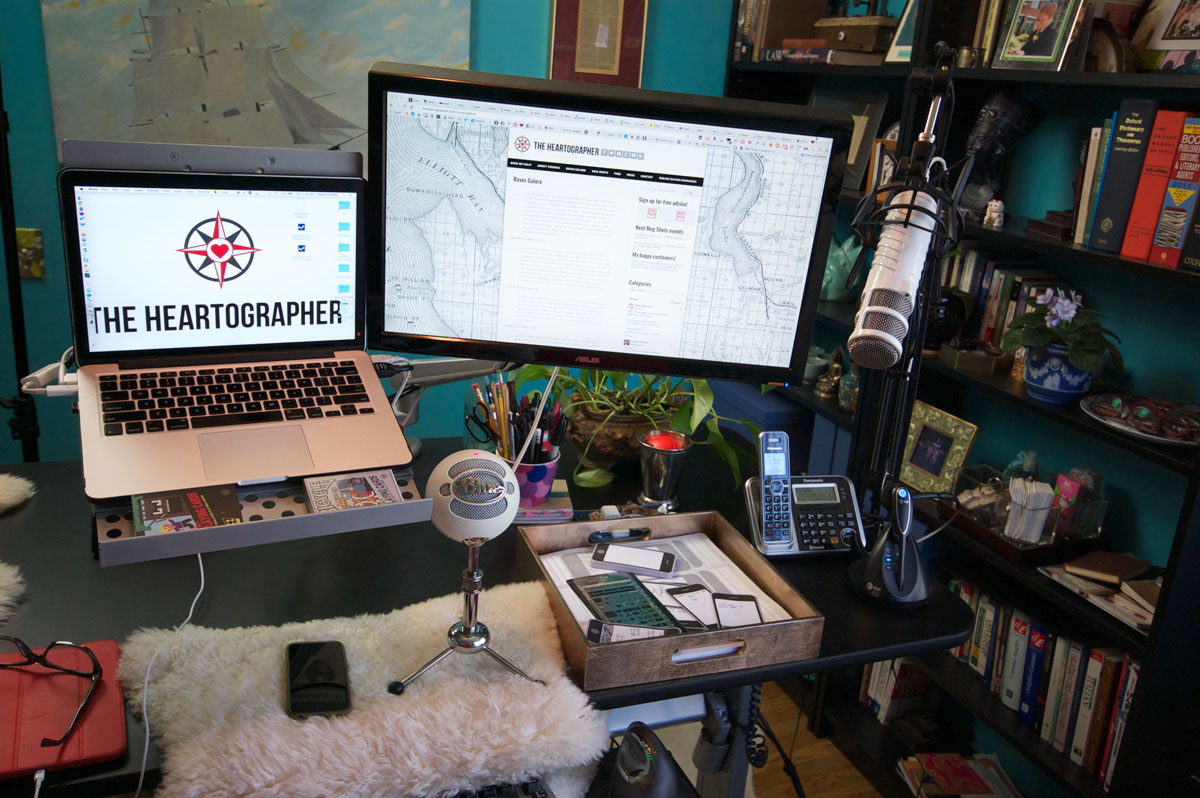 But my physical ergonomic setup is possibly more noteworthy than my actual computing hardware. I decided to detail all my ergonomic stuff in a blog post over here so as not to overwhelm you Sweet Setup folks with my novella about choosing the right keyboard tray, haha. Feel free to peruse if you're thinking of making yourself a more ergonomic workstation! Needless to say, there's a LOT of info on peripherals I've bought to make my home office more ergonomically friendly.
Oh, and my desktop background is just my company logo. I'd love to have something more elegant or creative, but I find that people sometimes eavesdrop in cafés or bars when I'm talking to a client or business partner about online dating stuff. I like them to be able to surreptitiously stalk me and/or look me up to contact me later if they want to hire me themselves, haha. That's only actually happened a couple of times, but hey, I'll take the free marketing!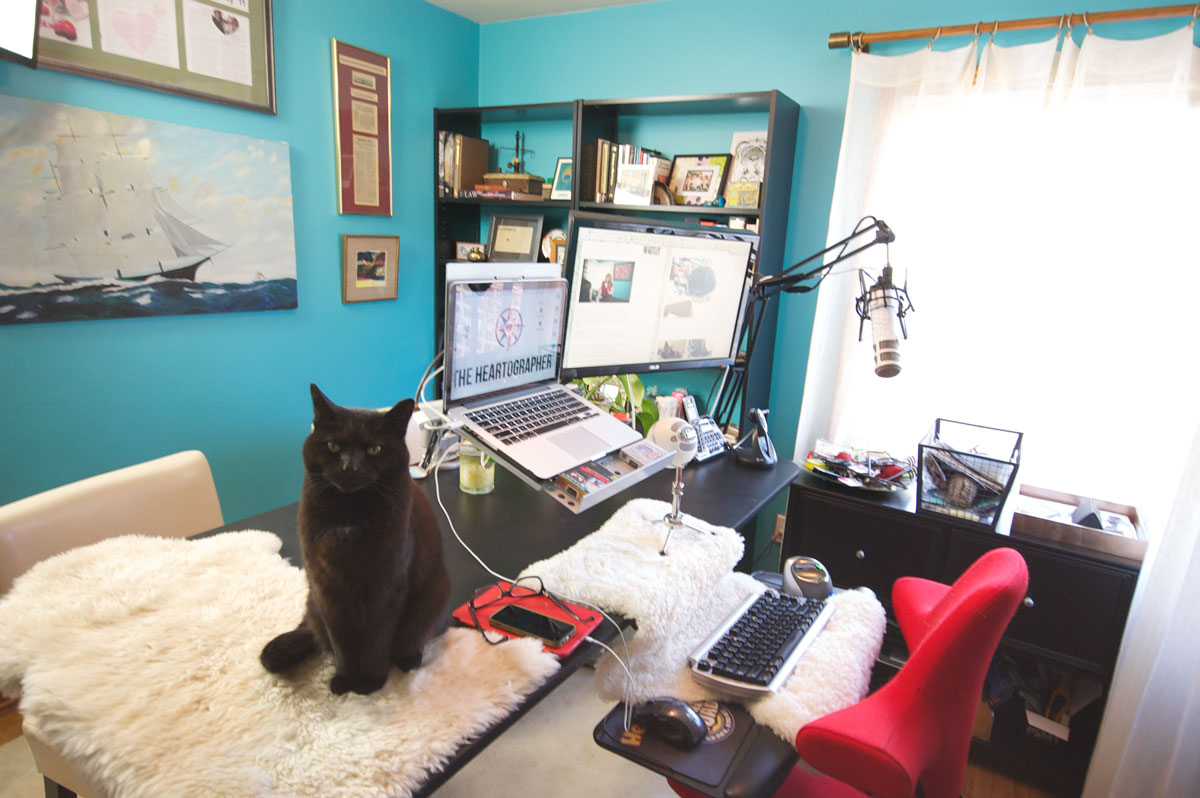 This is my office mate, Trumpet, who felt strongly that he should be included in this shot.
What software do you use and for what do you use it?
I grew up with Macs, but switched to PC through college and in my first administrative jobs. So in some ways, I still use my Mac like a Windows machine. I lean on Microsoft Word for a TON of my work with clients. I just know it so well. That's gotta be my number one software for doing Actual Work.
Chrome is my preferred browser, mainly because I have a very visual memory for favicons in my bookmarks bar, which Safari doesn't support. I also used Chrome on PC, so it was an easier transition and I loved that my favorite extensions could come with me when I switched to Mac.

After that are 1Password, Tweetbot, Skype and FaceTime in equal share, Messages, and TextExpander. Oh, and I have business partners who love Slack and Zoom, so I lean on those even though I'm not the one who chose them. I theoretically use OmniFocus, but please let's not talk about how poor a job I'm doing of actually ever reviewing anything ever. :) The Mac version of that software is sorely neglected on my machine.
When I podcast, I usually record with Piezo because it's pretty foolproof, but I'll occasionally fire up Audio Hijack Pro, Audacity, Garage Band, or Audition. Basically, I cater to the preferences of whoever I'm recording with, as they're often the more seasoned audio expert. Oh, and I use Screenflow for creating how-to videos. Those aren't a huge part of my business, but I have some less tech savvy clients who really appreciate my walking them through topics like how to set up a new eHarmony account.
I sort of forget to consider this stuff software, but I use Transmit, Dropbox, Backblaze, and RescueTime for RSS, file storage and sharing, backup, and productivity tracking, respectively. Oh, and I use Alfred 2, thanks to my many Twitter pals recommending me a good Mac Starter Pack—I never touch Spotlight or Launchpad.
I had a first-gen iPhone before I had my Mac Renaissance. So when I got my Mac, I instantly gravitated towards using Notes because of my prior experience with it on the iPhone and later the iPad. I take notes there during any important client meetings or phone calls, and I love that it syncs across all my iDevices.
However, my Notes.app dependency is a problem because I hate that I can't search for individual files in Notes.app with an Alfred 2 ' + term search. Frankly, I could use a text editor recommendation for something that syncs as well, but also creates discrete Mac files that can be searched and indexed.
As for more robust text editing, I do most of my HTML markup in web-based WYSIWYG editors like WordPress, at least for now. I never did get on the Markdown train so I feel like it's sort of too late to start; HTML (3-ish) is permanently embedded in my mind. I just use TextWrangler if I do occasionally need to write or save a code snippet.
My aspirational software is OmniGraffle and Xcode. I'm working on an app with a friend who set up some great Xcode playgrounds for me to tinker in, which is a great way to get started with programming in general and Swift in particular. I'm new enough at this that I still get giddy every time I execute a playground and something actually happens on my screen, you know? :)
My next Mac app purchase will probably be Bartender. I only realized about a month ago that I can't see every single icon that sits up in that top menu bar thingy. Oops! Moments like that make me realize how much of a Mac newbie I still am, even though the transition back has felt pretty natural for the most part. I still miss the black and white checkered cursor ball, though.
How would your ideal setup look and function?
The element I'm missing most is a good-looking external display. When clients sit in my desk facing me, I hate that they see the ugly ASUS monitor's butt, haha. It would also help my video chat setup greatly if my display had a built-in webcam, since that's a few crucial inches higher up than my laptop cam. A Thunderbolt Display would be perfect to solve this problem, and it could also serve as a dock so I didn't need a giant USB hub eyesore. But because these complaints are more aesthetic than functional, I just haven't been able to justify the business expense yet.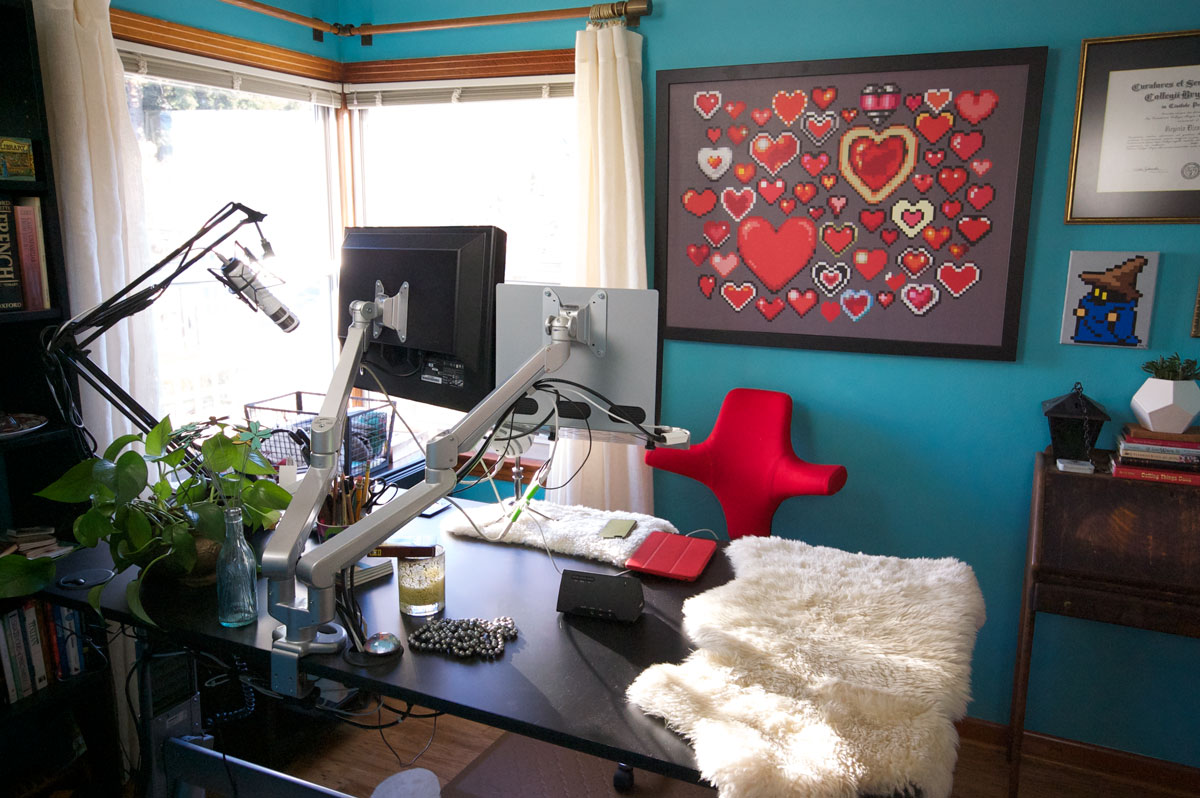 Another missing piece of my setup is a light to make me look less like a Dementor during evening video chats. I used to have a cheap Ikea task lamp I'd point towards my face during calls, but really, I need something dedicated with the right color temperature and a diffuser shade to minimize reflection in my glasses.
I'd also love to implement more/better echo dampening solutions for podcasting, but those have to be attractive—no black foam wall panels for this décor snob! :)
Oh, and my constant struggle is cable management. More on that topic on my blog, but basically, everything is always a mess of wires, which I hate.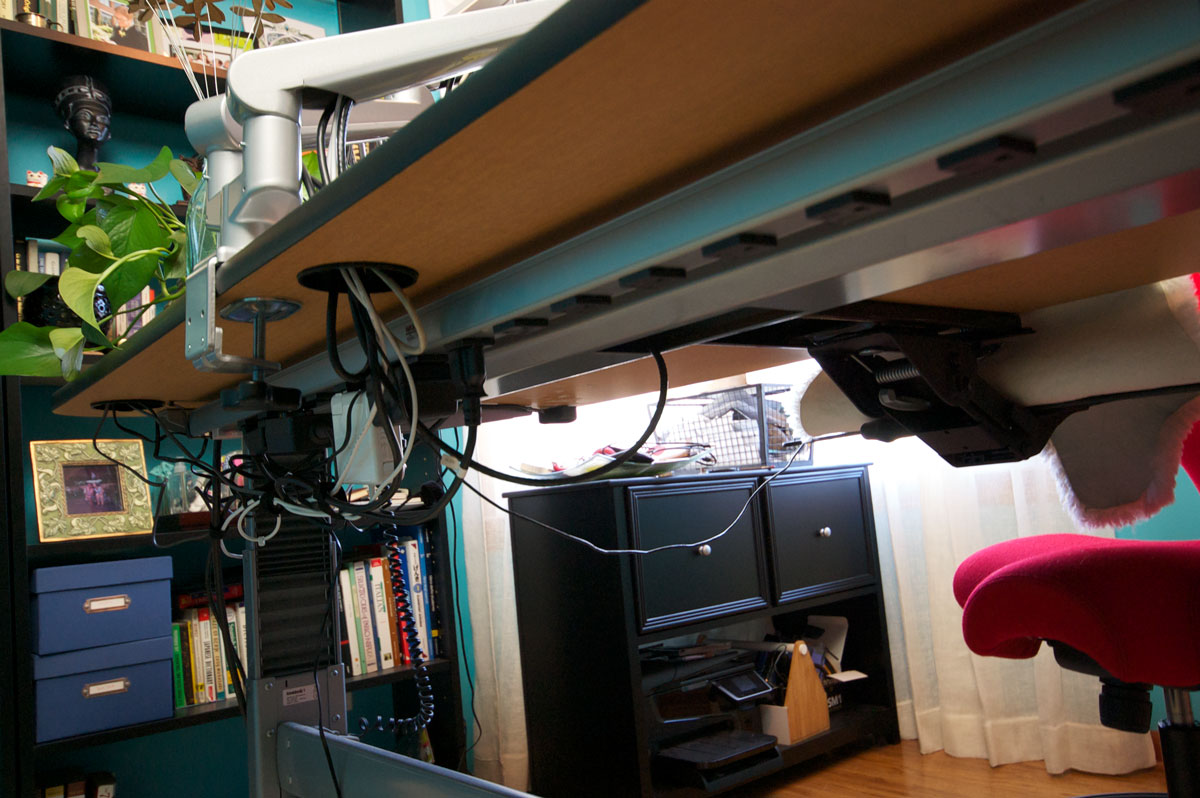 I may DIY a sort of drop-down frame around the parts of my desk that are visible to clients, but I haven't made any progress with that idea in months. There are cable management gadgets you can buy, but I find that I have so much plugged in that they don't cover everything I need. For now, I live with imperfection and a thousand black Velcro ties.
These sorts of tweaks may seem obsessively picky and vain to Sweet Setup readers! However, I care a lot about those details. Working for years as an editor and software tester, I'm always noticing little lapses that make an unprofessional impression, from e-commerce sites to restaurant menus; I hate others noticing those about me! And since video chat is my most important type of business interaction, I pride myself on presenting a more composed shot than your average Skype setup. (That's why my husband made me the cool pixelated hearts background; I wanted something thematically appropriate but with versatile positioning for my sit/stand desk.) And of course, our inner obsessive compulsives get deep satisfaction from proper cable wrangling. :)
I suppose that means most of my "ideal setup" factors involve a bunch of boring little incremental tweaks that slightly improve the looks and functionality of my overall setup. Sort of like each new iPhone, I guess!
Part of me wishes I could sleek it all up with a single stunning retina iMac that just sits on my desk with no modification necessary, but it's just not practical for my ergonomic or business needs. I'm tall with severe RSI so I need a customized desk setup, and I love having a full-on awesome computer in a form factor I can tote with me to meetings and lectures. I don't really get the folks who aim to go iPad-only for work—they fascinate me, but I totally can't relate!
---
What iPhone do you have?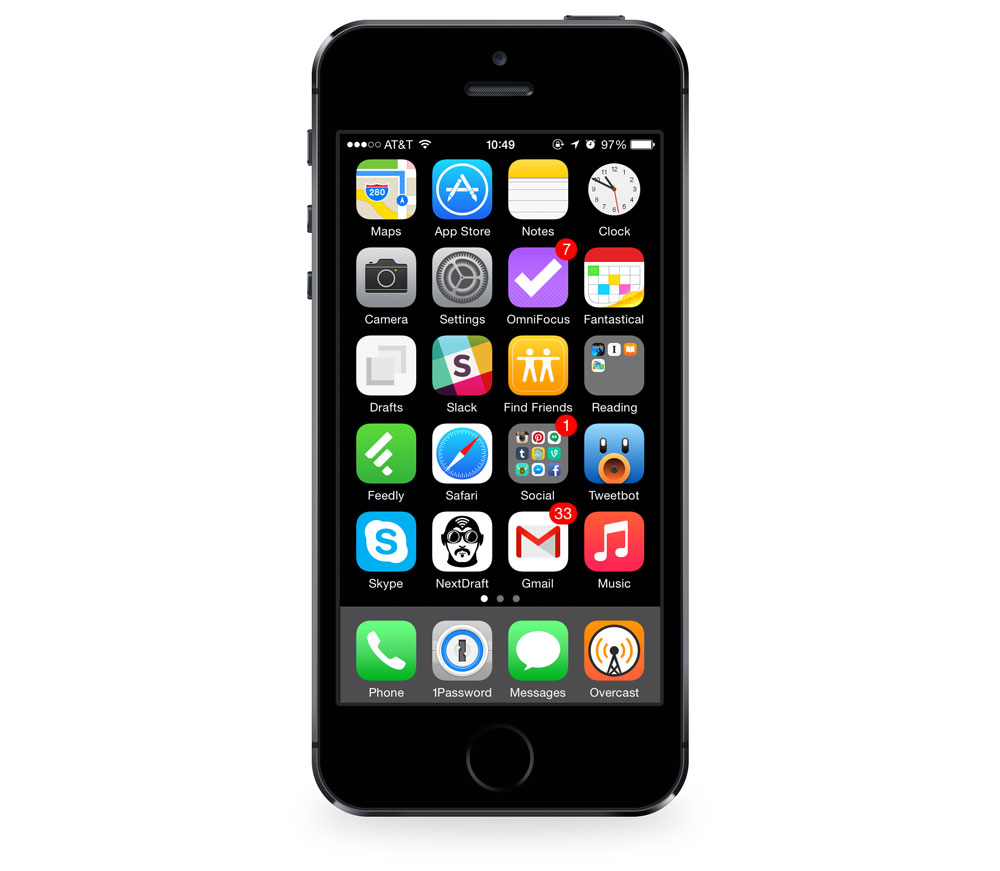 I'm still rocking a 5s (space gray 32 GB), even though I pine for a 6 Plus. My background is just black; I'm old school like that. I just find high contrast lets app icons shine and lets me find what I'm looking for a fraction of a second faster.
What apps do you use the most, and why?
I'm always playing podcasts in Overcast. I also hit Tweetbot, Feedly, NextDraft, Instapaper, and my Kindle app frequently. And of course, Messages and Phone. I also recently converted to Fantastical and I have no regrets, although I find its UI clunkier ever since iOS 8's predictive text got in the way. I'm splitting my time between my business and a contract at Microsoft right now, and it's been a lifesaver having a calendar that integrates both Exchange and multiple Google calendars in an iOS environment.
Which app could you not live without?
Does Siri count as an app? I use Siri more than most non-visually-impaired folks, mostly to reduce RSI strain from typing. But I've gotten pretty great at dictating over the years, so I know how to rephrase stuff to get the result I want (which I totaly shouldn't have to do, but good speech processing takes time, haha). I especially love the OmniFocus reminders sync feature—when I dictate a reminder to Siri with a specific time, I know it'll get captured reliably in another program that will remind me in a way I can better manage.
But if I have to state one specific app, I'd say Google Maps. On the rare occasions I need to take a bus in Seattle, it never lets me down. Public transportation integration is such a crucial feature; I still kind of can't believe Apple Maps dropped that functionality entirely. Does everyone in Cupertino just drive everywhere all the time? (Probably.)
---
Which iPad do you have?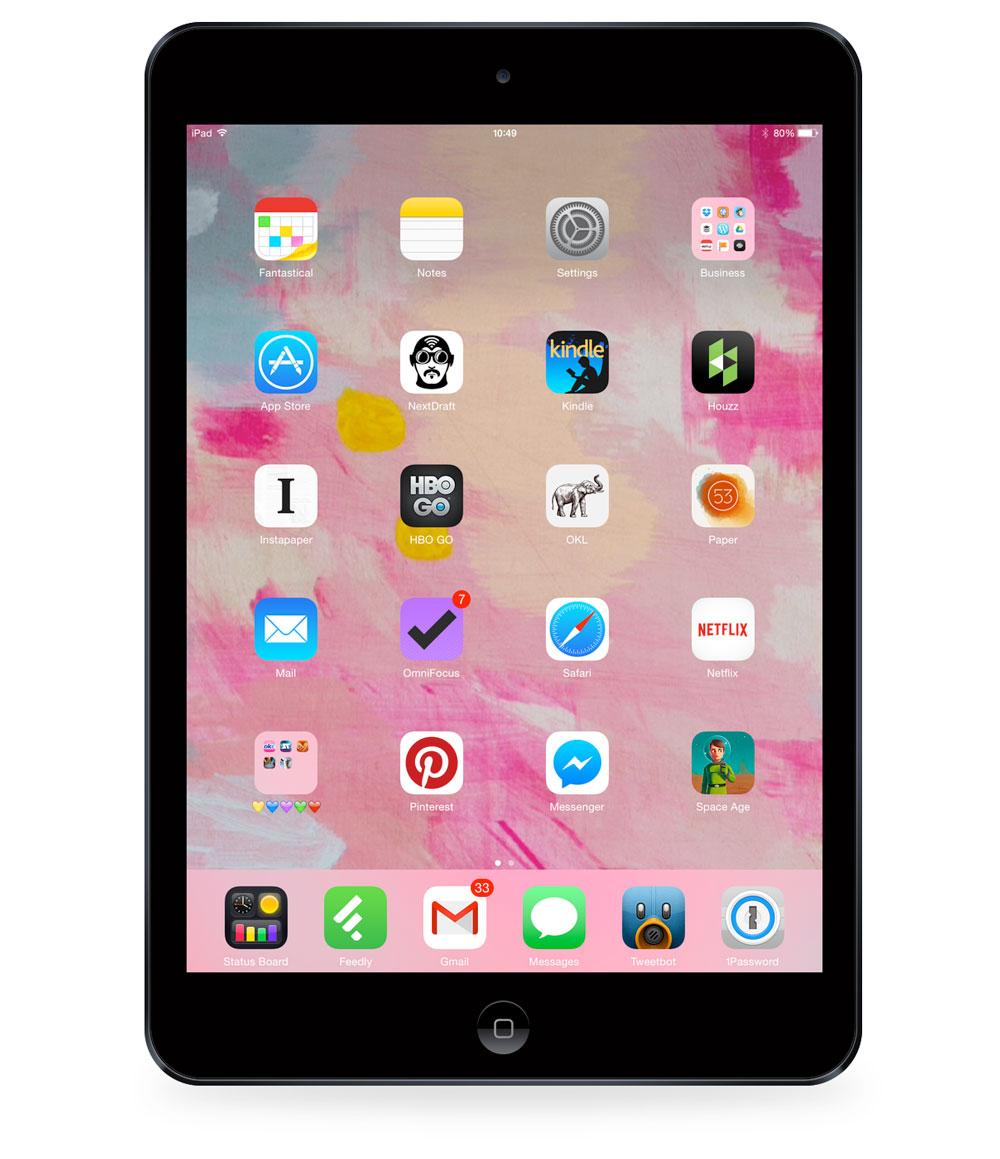 I've got the first iPad Mini with retina display, Wi-Fi only, with a tomato red Apple leather case (which is an unstable pain in the butt). I love the device for browsing, but I have frequent enough Wi-Fi issues that I wish I had insisted on a 3G version (it was a very thoughtful gift from my husband, after I begged and begged for a new iPad). I feel like a real jerk admitting this, but I'll probably sell it and go iPhone Only once I finally upgrade to the 6 Plus form factor. I may wait until the 6s cycle, though.
Oh, and my background is an abstract by Belinda Marhsall, which I got from the website Design Love Fest. The host of that site has a whole series of downloadable backgrounds that I can only stand to use on iPad—I don't like a busy background on iPhone for usability reasons, but on iPad there's enough space that you can actually enjoy the art behind the app icons. I used to always have photos I'd taken, but lately I prefer abstracts so I'm not missing anything crucial that my app icons cover up. Either way, I switch this background up every few months, because it's the one device where I feel like I can pull that off without irritating myself.
How are you using your iPad on a daily basis?
I mainly use it for web browsing and reading. I will occasionally check and compose emails or calendar items on it, but it's far from my ideal device. Really, I almost always prefer using a computer when I can, but my phone is the powerhouse that's always with me. My iPad is almost exclusively for recreation. Oh, but it does make for a mean recipe helper in the kitchen; my husband and I stick it in an open cabinet on a shelf that's about eye height whenever we're cooking something complex.
I'm not opposed to learning to use the iPad more for productivity based activities like writing, but it just hasn't really happened unless it was the only device I had on hand. Even with an external keyboard, it's just not as ergonomically comfortable as a laptop.
However, if I EVER want to send someone any kind of drawing or doodle, I go straight to Paper. And I LOVED having an iPad when drawing apps like Draw Something were all the rage. So I wouldn't be surprised if I missed my iPad immediately after I got rid of it. I'm fickle, I know! :)
What apps do you use the most, and why?
Definitely Feedly. After that, probably Kindle. Then come streaming video apps like HBO Go and Netflix—I'll put on a show I've already seen or a movie I don't much care about while I do chores around the house. Usually I'll pair it with my Oontz Angle Bluetooth speaker for a volume boost over noisy running water and appliances.
Which app could you not live without?
Spaceteam! I don't fire this game up often, but I use it every couple months as an icebreaker among my online dating clients when I'm hosting a photo shoot happy hour. Nothing makes people less aware of the camera or their lingering introverted awkwardness than having to yell at each other to shake in order to avoid an asteroid. There are some other great social interaction games (GameOven makes several) but Spaceteam is my #1 Jam for helping my fellow nerds fall in love!
---
There are more Sweet Setup interviews right here.