Unlock Your Setup's Beauty With the Grovemade Desk Shelf
August 8, 2022
You know how modern cities combat the whole "space" issue by building upwards, toward the sky? Turns out, there's a lot of unlockable vertical space for humans to grow into.
Same goes for your desk. Weird analogy, but let's go with it.
There are a multitude of good reasons for building your workspace upwards rather than across your desk:
Ergonomics: Very often, the built-in laptop display or an external display are positioned lower than the top of your eyes, causing undue stress on your back. Lifting those displays upwards can improve your workspace's ergonomics.
Clutter: Building up off your desk provides more space for storing your doodads and trinkets and provides more space for the accessories you regularly use.
Cable management: Building upwards provides some opportunities for running cables down rather than across your desk. If you use a desk stand, you can use the stand to hide cables. And if you use a monitor arm to build upwards, you can run those cables inside the monitor arm. Imagine the possibilities if you used both a monitor arm and a desk stand!
There are a variety of tools out there to achieve the above goals. You could purchase a desk stand, mount your display to a monitor arm, use an adjustable display (I'm looking at you Apple Studio Display), attach your display to the wall, or even stack your display on books. You can build your own stand. Or you can use both a display stand and a desk shelf. As long as you can adjust your workspace upwards, you can unlock some extra space for your setup.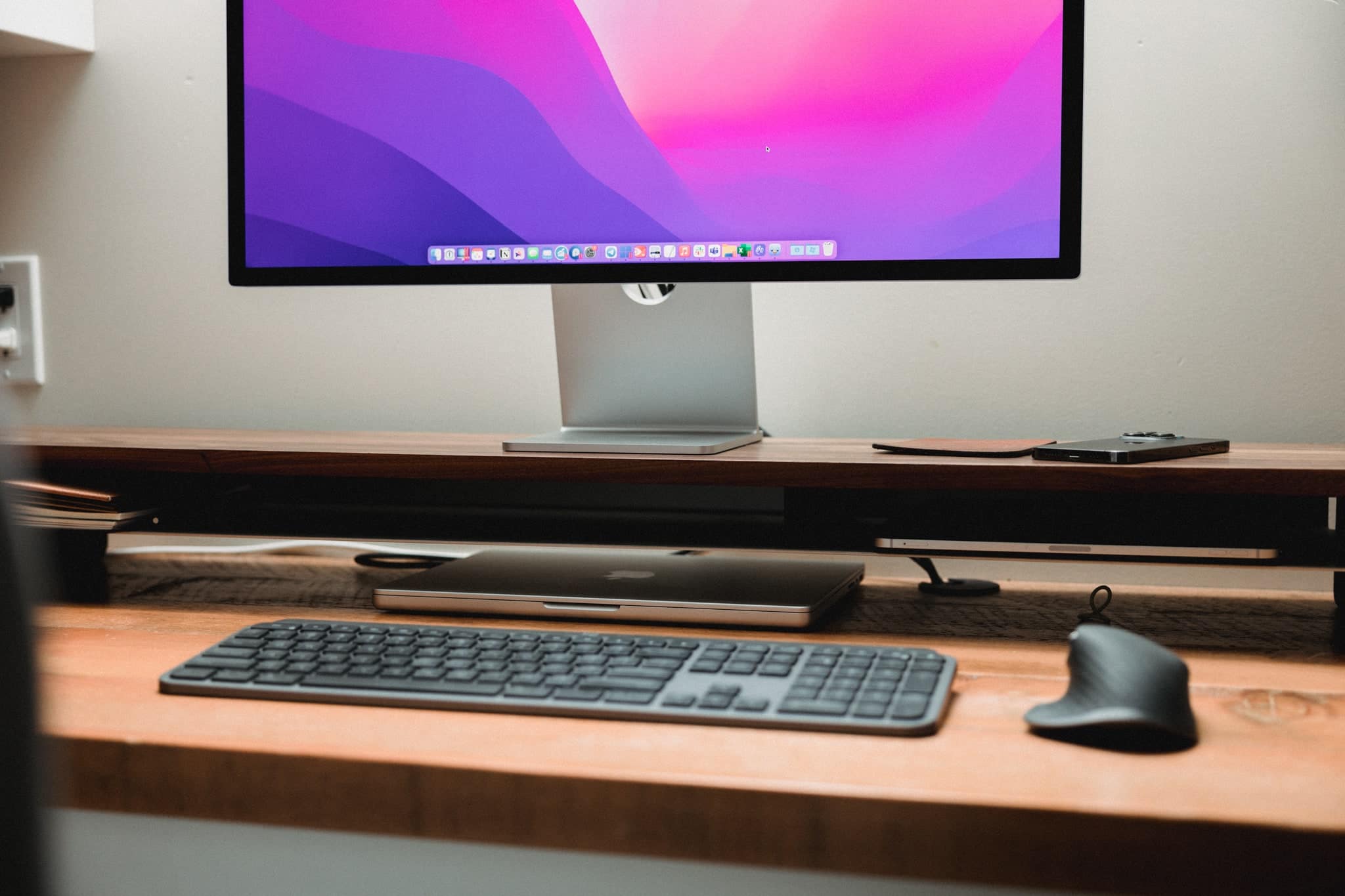 Grovemade sent me their Desk Shelf about six weeks ago and I've had a chance to put the shelf through its paces in my at-home workspace.
Since receiving the Desk Shelf in the mail, Grovemade has somewhat quietly released two new sizes of its widely popular Desk Shelf. A new small size measures 18.5-inches and is great for tighter workspaces or for those who only want to elevate a display. The new medium size measures 31.5-inches across and is great for storing a few small desk trinkets and still providing space for a laptop stand or lamp.
My shelf is original large size, measuring 46-inches across. At the time, this was the only option available. But if you forced me to pick a new size, I'd likely go with a small or medium stand. Both sizes would simply fit my space better than this large size.
The Sweet Setup Staff Picks for 2022
We spend an inordinate amount of time sorting through hundreds of apps to find the very best. Our team here at The Sweet Setup put together a short list of our must-have, most-used apps in 2022.
Build Quality and Materials
Grovemade is known for producing high quality desk accessories with environmentally conscious materials right in the USA. From the moment you peel away the cardboard box, materials and sourcing come front and center.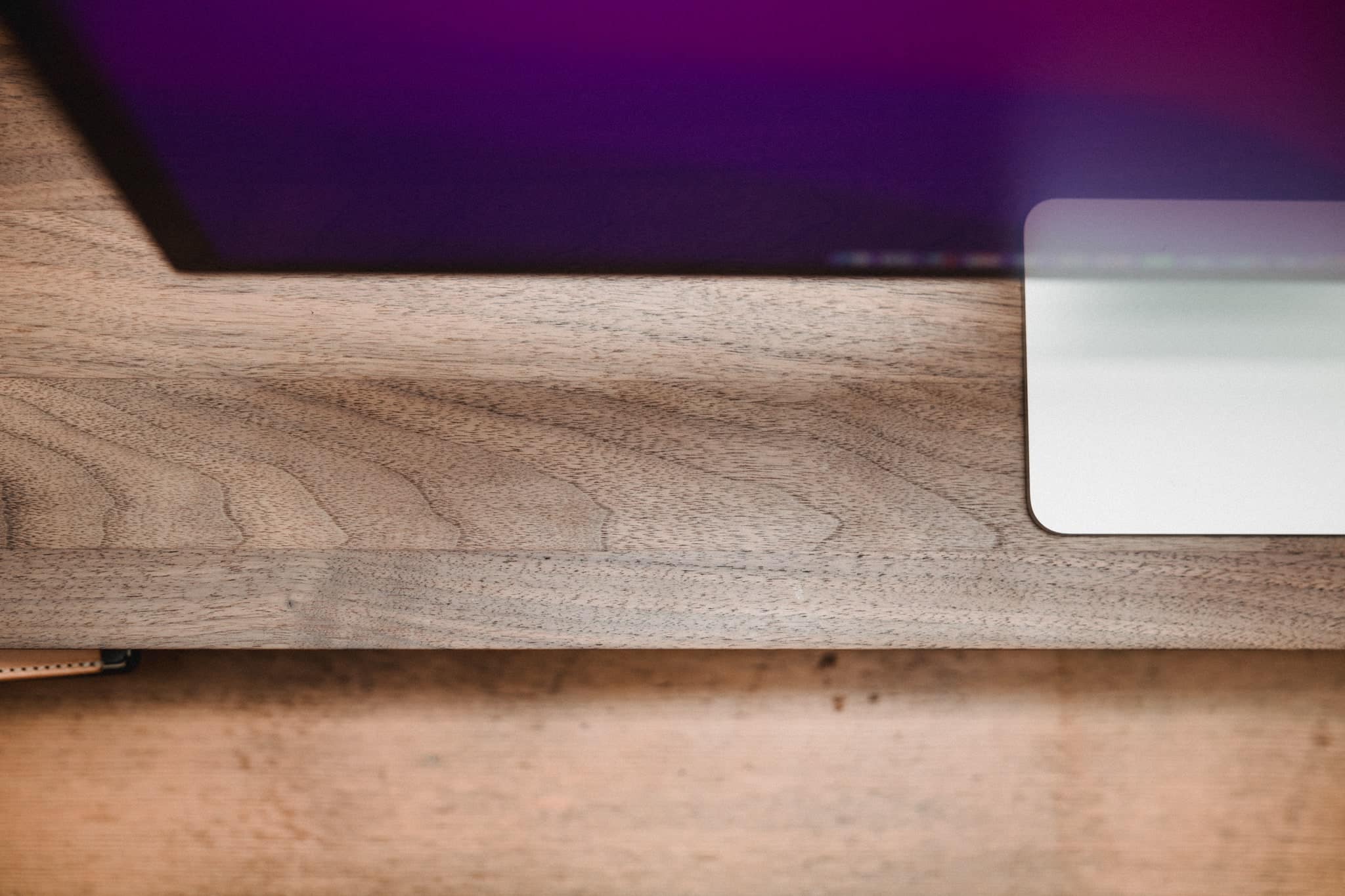 In the box is the shelf's slab of wood — solid walnut in my case (at least I think; the edge shows no evidence of being plywood, but the top slab is very clearly 2-inch strips of walnut glued/tongue-and-grooved together). The Desk Shelf also comes in walnut plywood, maple plywood, solid maple, or the new matte black or white slabs. There are also three cork shelf legs and a long metal shelf in the box. Just based on photos, it'd be easy to mistake the cork legs for a different material. However, the cork is immediately evident — you'll be thankful for some flexibility when putting assembling the shelf.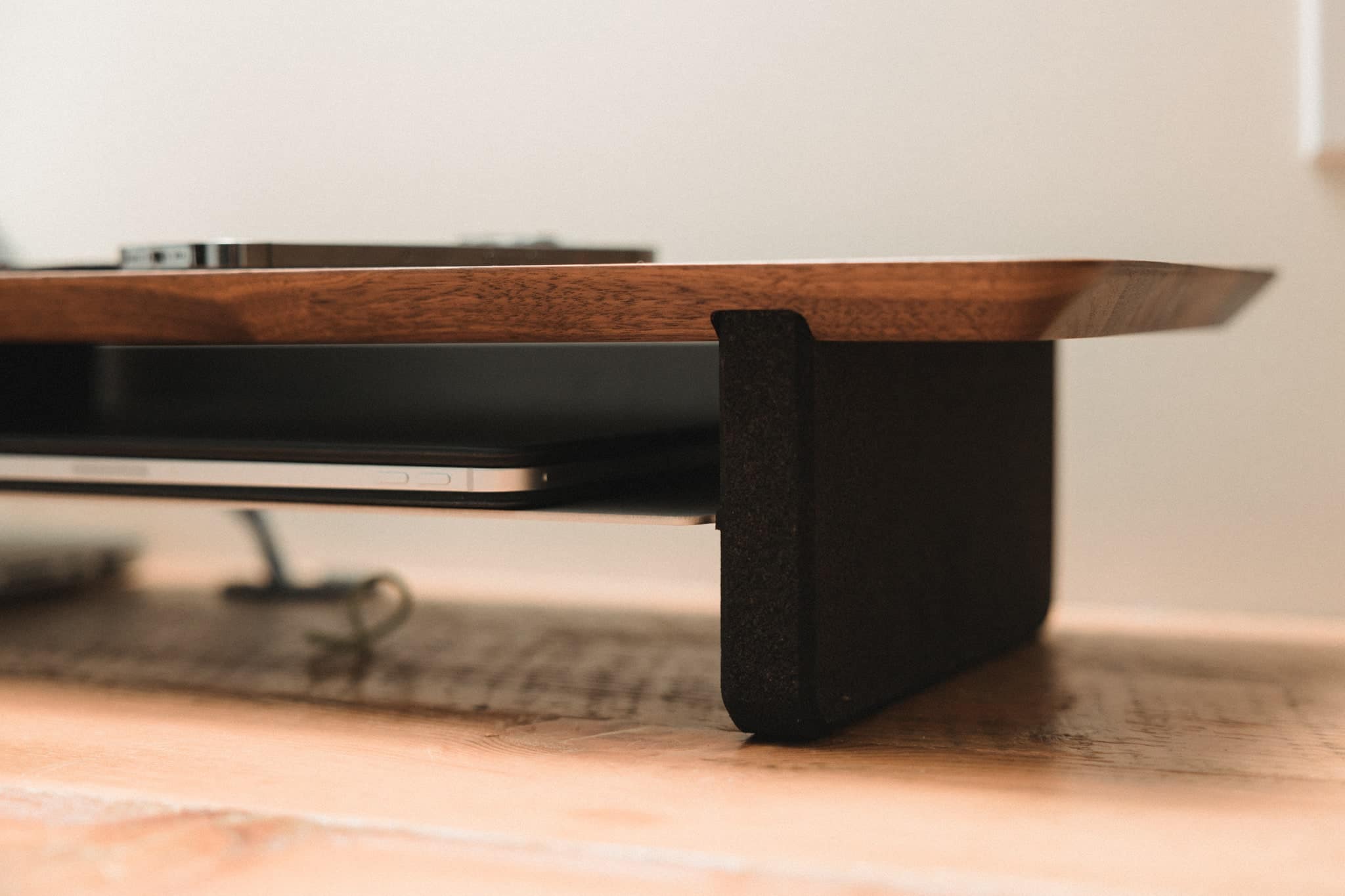 The Desk Shelf is surprisingly heavy, especially this solid walnut option. The cork legs are light, of course, but the heavy metal shelf and the slab of walnut make for a hefty package. Hefty is good though — you'll be resting some serious computer hardware on this shelf, so extra sturdiness is welcome.
Actually assembling the shelves and the cork legs took some patience. My box didn't come with any assembly instructions. Instead, it took me an hour to look at images online of how the final Desk Shelf should look and piecing together the cork legs and metal shelf unit appropriately. I had the whole thing assembled backwards at one point — I wanted to have a specific part of the walnut facing forward (there's a small knot I was hoping to have facing the wall in my workspace), but the cutouts and screw holes didn't align for that to be an option. After a few frustrated words, I reassembled the correct way.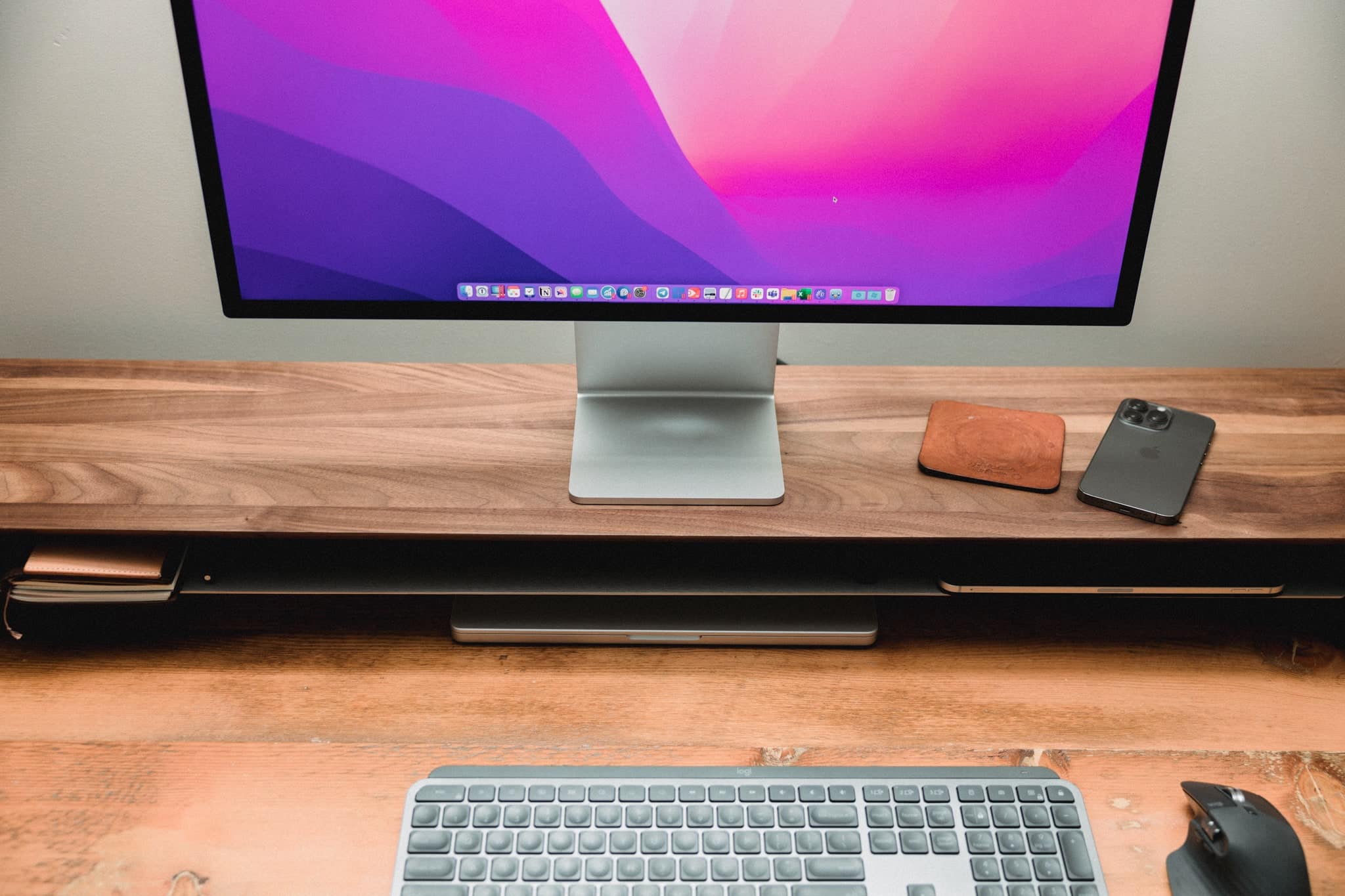 I put the Desk Shelf into my workspace and quickly marvelled at the beauty of the walnut slab. It's a tad darker than my fir desktop and parts of it are darker than the walnut laminate office furniture we are installing at the office. Though there are no complaints on my part — this walnut Desk Shelf fits visually wherever I could imagine putting it.
The metal shelf running along the length of the walnut slab comes in a sort of matte, unfinished-feeling metal. Were it glossy, perhaps some desk accessories would slide front to back if your desk wasn't perfectly level. As it is, the metal shelf has some tactility to it and keeps things in their place.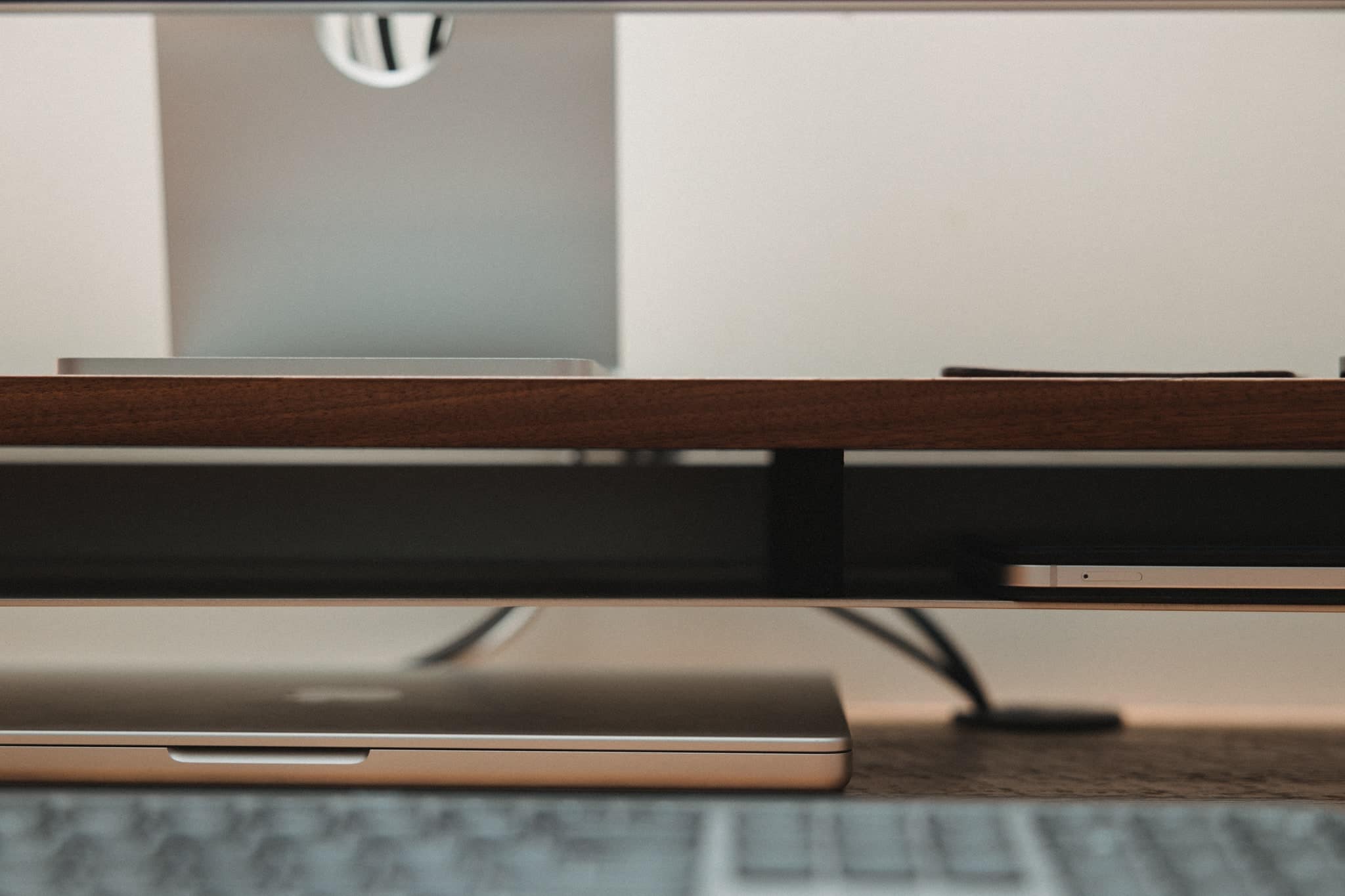 The metal shelf is divided asymmetrically to the right, providing for opportunities to slip an iPad or a notepad on the right and a longer keyboard on the left. You can also fill this space with Grovemade's other accessories, such as a pull out drawer perfect for pens, calculators, and other small items.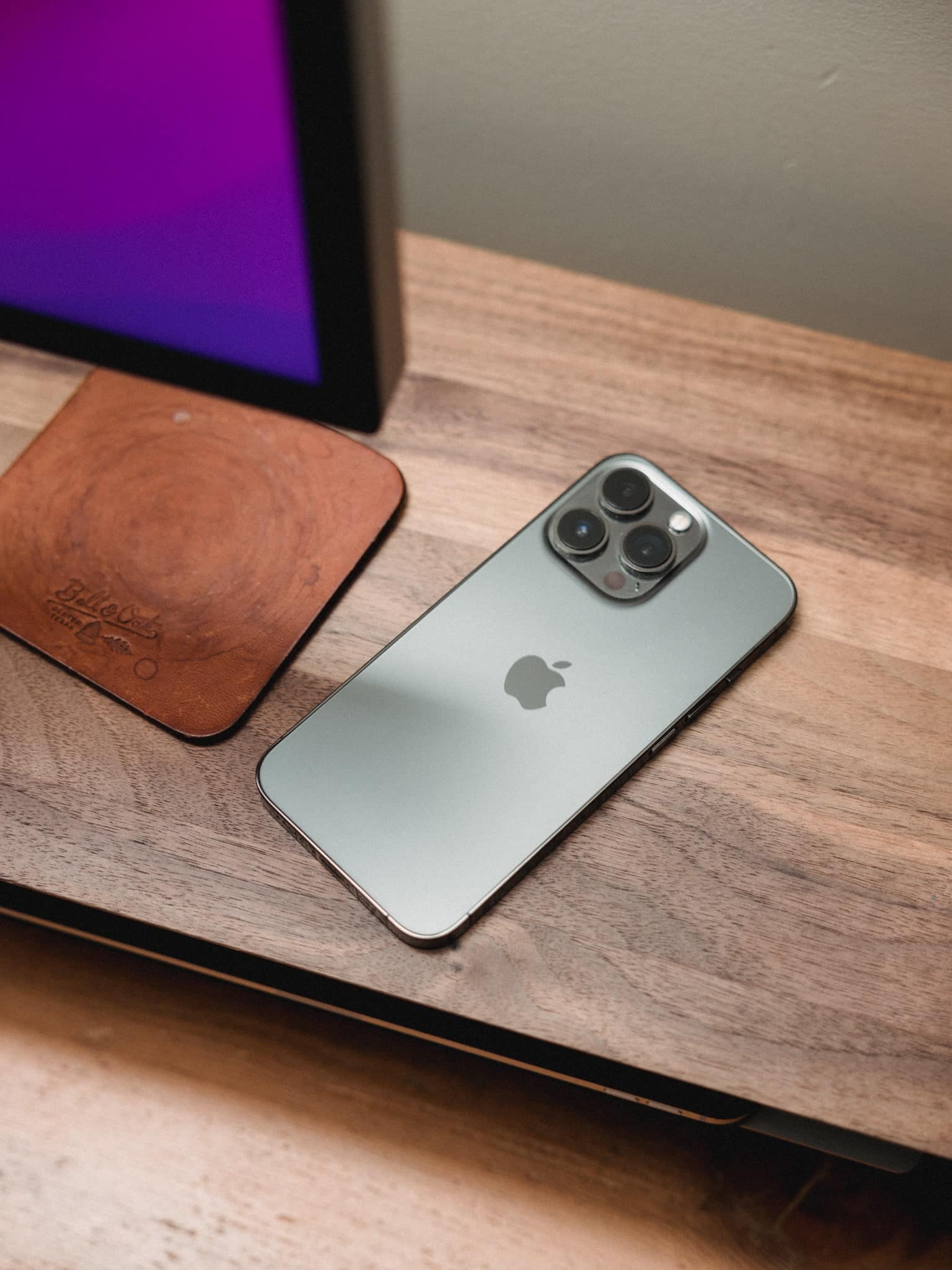 Grovemade's material choices and build quality here are really quite great. I'm not the biggest fan of the cork legs, but they are environmentally conscious and do provide a visual change from the rest of my woody desk.
Using the Grovemade Desk Shelf
As always though, actually using the shelf comes with its own array of pros and cons. Mostly pros! But there are points worthy of critiquing, especially at this $380 price tag if you opt for the solid walnut variety.
First, the Desk Shelf's height — 4.5-inches from desk to top of shelf — is a standard height for standard desks and standard displays. There are no adjustability options here, nor are there any custom options you can pick at checkout if you're looking for a lower stand.
Who cares? Well, this matters specifically if no other elements of your workspace setup are adjustable. For the last year or so, my at-home workspace has included a non-adjustable chair, a slightly taller than normal desk height, and a non-adjustable Apple Studio Display. The result was my putting a pillow on top of my chair to boost my eye-height for longer at-home work sessions. I felt stupid every time I sat on that pillow. My back felt even more stupid at the end of those work sessions.
I now have my adjustable chair back and my eyeballs come to a much healthier height with the Studio Display resting on the Desk Shelf. The learning lesson here: Ensure at least one element of your setup is adjustable in some shape or form.
Second, the Desk Shelf's mid-level metal shelf has some of the most cringeworthy metal-on-metal sounds imaginable. If you store your MacBook Pro inside or underneath the metal shelf, be sure to be extra careful when sliding it out. That sound is worse than fingernails on a chalkboard and is sure to cause damage to your MacBook Pro if you aren't careful.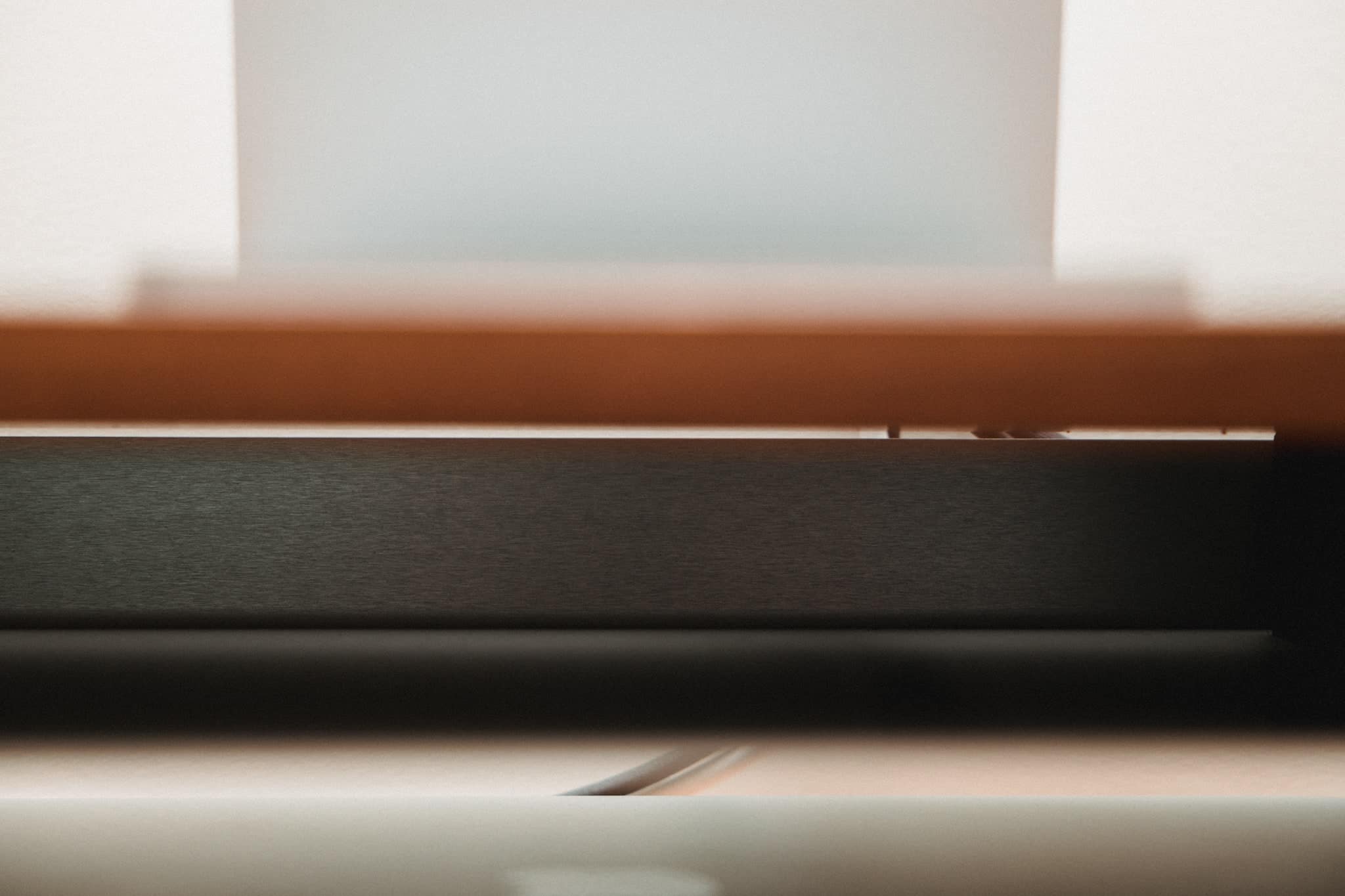 The back of that metal shelf has a nice curved stopper designed to keep cables hidden underneath the Desk Shelf. It's really quite nice, so long as you're not consistently plugging things in and out of your workspace. Once you have your wires nicely hidden away, you'll want to stay away from plugging devices in and out.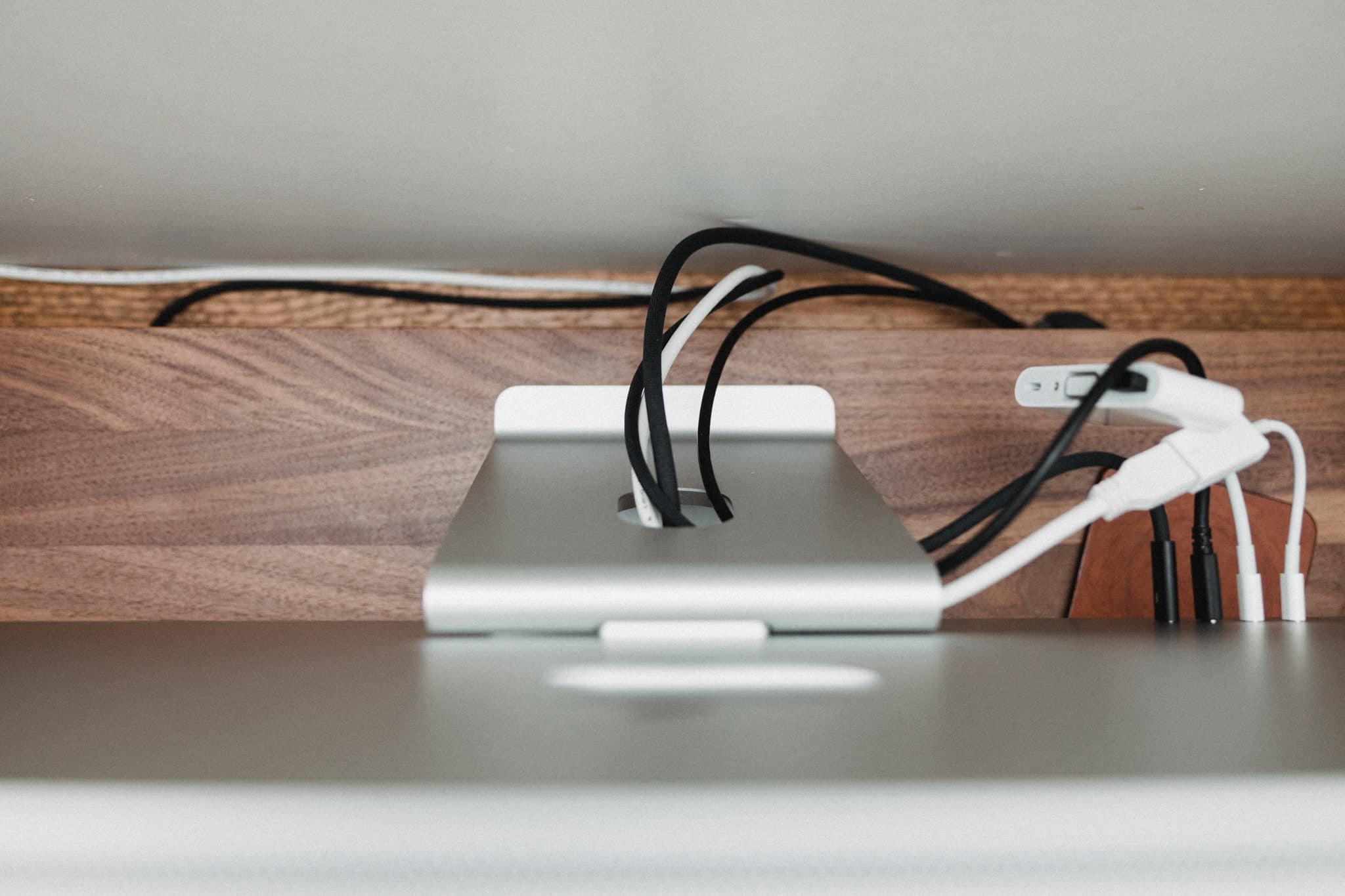 The Desk Shelf's cable management in general is one of my favorite features. You don't need elaborate management with the Desk Shelf — once your cables are hidden away and behind the shelf, you largely won't notice them. You don't need velcro or ties or other elaborate tricks to keep your cables at bay. Once you force those cables behind the Desk Shelf, it feels like they're gone for good.
Third, it's quite clear the Desk Shelf is just one part of an otherwise larger Grovemade desk accessory system. Having that previously mentioned pull-out drawer would be fantastic, as I don't yet have a good spot for pens and other small accessories. If you grab Grovemade's desk pads, they all nicely slide right underneath the Desk Shelf, allowing for quick context switching (like, say, from keyboard/mouse to physical notebook and pen). Or, if you want to put your laptop on display, you'll likely need Grovemade's laptop stand as Twelve South's Curve most certainly doesn't fit.
Finally, in my humble point of view, the Grovemade Desk Shelf is the best looking desk stand on the market right now. You may be able to make your own with better materials or a better finish, but you'd be hard-pressed to find any other stand right now online that fits more desks and looks better in photographs. So many of the most inspiring desk setups on r/macsetups or on Youtube opt for the Grovemade Desk Shelf for good reason. It's well-built and super snazzy — perfect if you want to find some inspiration in your daily workspace.
Wrap Up
Keeping in mind the three or four reasons to invest in a stand for your desk, the Grovemade Desk Shelf excels in every facet you could ask for:
The Desk Shelf boosts your display or laptop to a more ergonomic height, so long as you have other adjustable accessories in your workspace to dial in the exact ergonomic height you're looking for.
The Desk Shelf helps build your workspace upwards, unlocking more space to store your iPad, chargers, pens, headphones, and other desk doo-dads. This is especially nice thanks to the metal dividing shelf — you can actually store two levels of accessories without going overboard on the Desk Shelf's height.
The Desk Shelf nicely manages cables thanks to the rear metal shelf plate. You can slide cables in behind that vertical plate, or you can just jam cables behind the Desk Shelf. Though the latter is a little less pristine, you won't be able to see any wild cords if they're positioned behind the Desk Shelf in any way.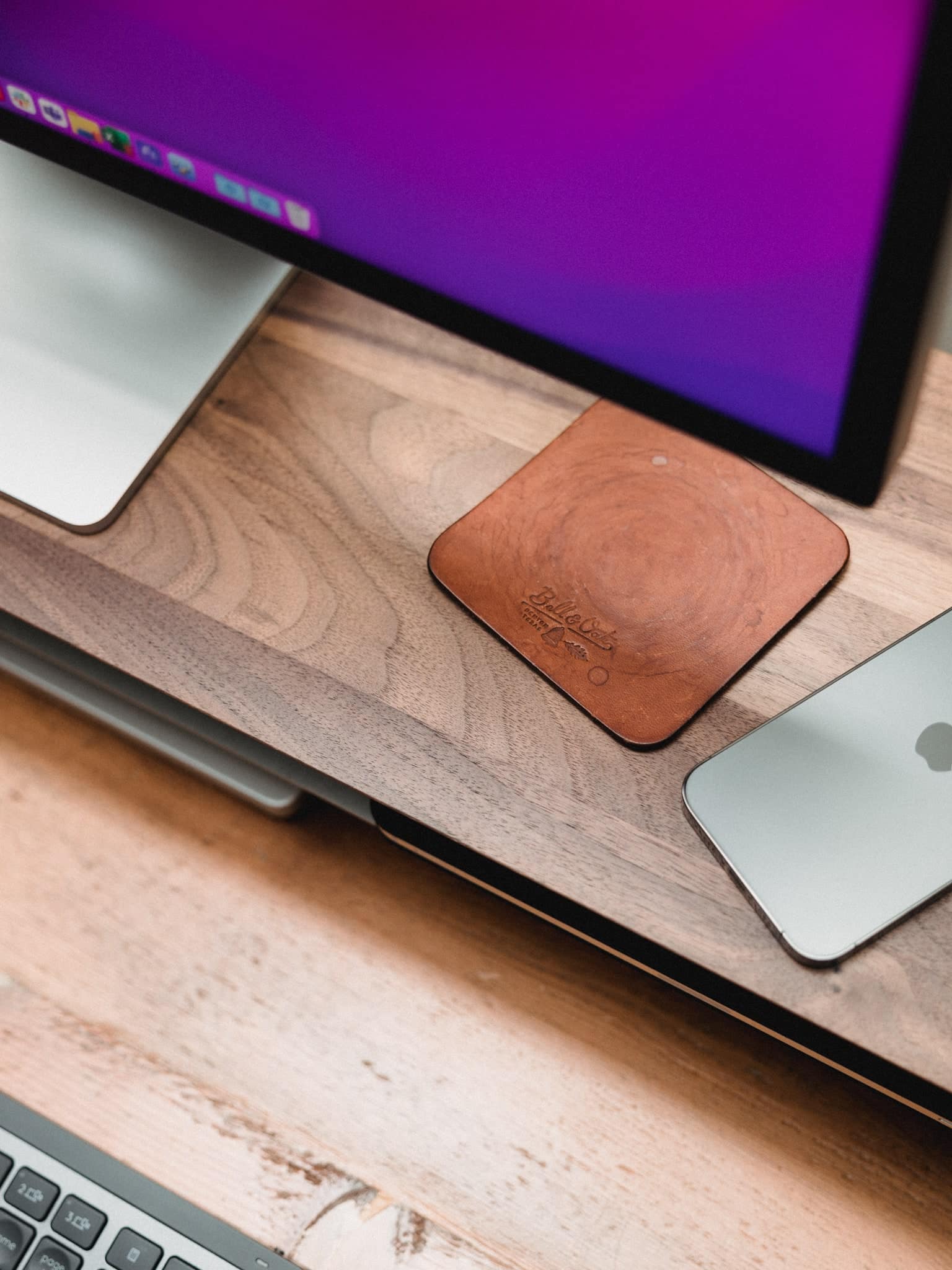 At $380 USD, this is an expensive proposition. It costs less to purchase a height-adjustable stand from Apple for the new Studio Display. And it costs only 1/6th of the price to do this yourself with a solid piece of walnut. If price becomes a barrier here, the walnut plywood model provides the exact same benefits for a substantial price reduction. Or you could opt for the new matte black or white options. Other than material choice, I can't imagine there being any differences between the models.
And, of course, this Desk Shelf is only the tip of the iceberg. I certainly want to invest in a few extra Grovemade accessories to round out my workspace. This only boosts the price further.
If you're looking for a pre-made desk stand for your workspace, the Grovemade Desk Shelf is a beautiful, utilitarian, and environmental option. It gets a "Wow!" every time I show someone my workspace. Whether that "Wow!" is worth the price tag is up to you to determine.
Thank you to Grovemade for sending this Desk Shelf for the purposes of review.
The Sweet Setup Staff Picks for 2022
We spend an inordinate amount of time sorting through hundreds of apps to find the very best. Our team here at The Sweet Setup put together a short list of our must-have, most-used apps in 2022.