Ulysses 17 Debuts Keyword Manager on iOS, Improved Fullscreen Mode for iPad, and More Export Formats
August 19, 2019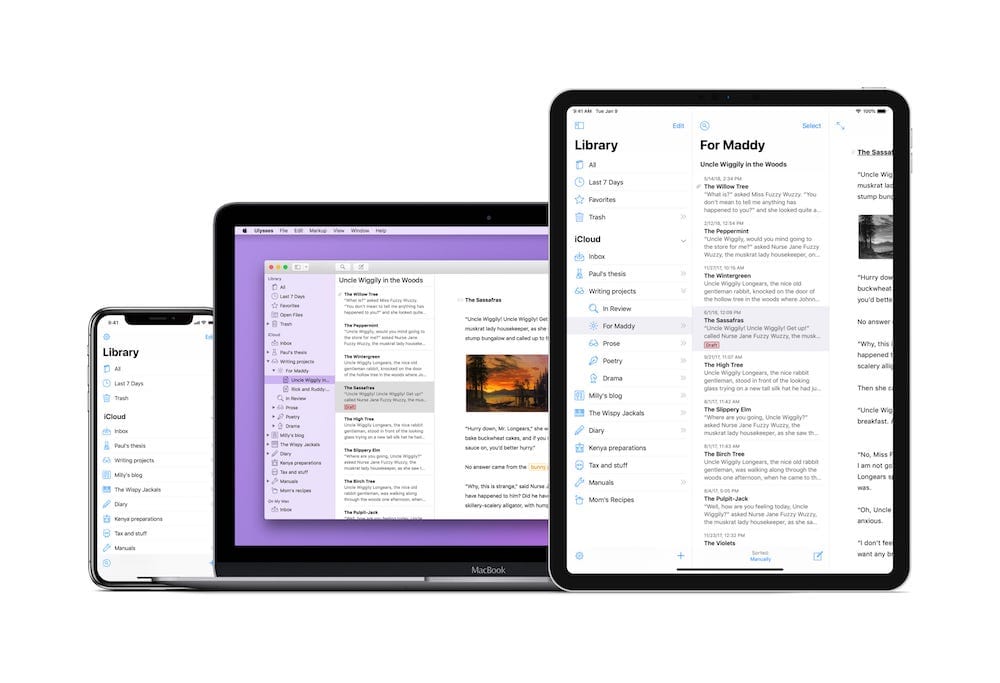 Ulysses is one of the most feature-consistent apps across iPhone, iPad, and the Mac — if you can do it on the Mac, you're almost surely able to do it on the iPhone and iPad.
That "almost" gets even smaller with the debut of Ulysses 17 today. With the latest update from The Soulmen, you can now manage your keywords on iOS just like you can on the Mac. The update also provides new exporting styles for very specific uses and Ulysses on the iPad now has an updated, distraction-free fullscreen mode for hitting your most extreme levels of focus when you're writing.
Keyword Management
Tagging your written work with keywords is a core facet of organization inside Ulysses. Until this most recent update, all your keywords would have to be edited, deleted, and color-coded on the Mac — you could only add keywords to your sheets on the iPad or iPhone.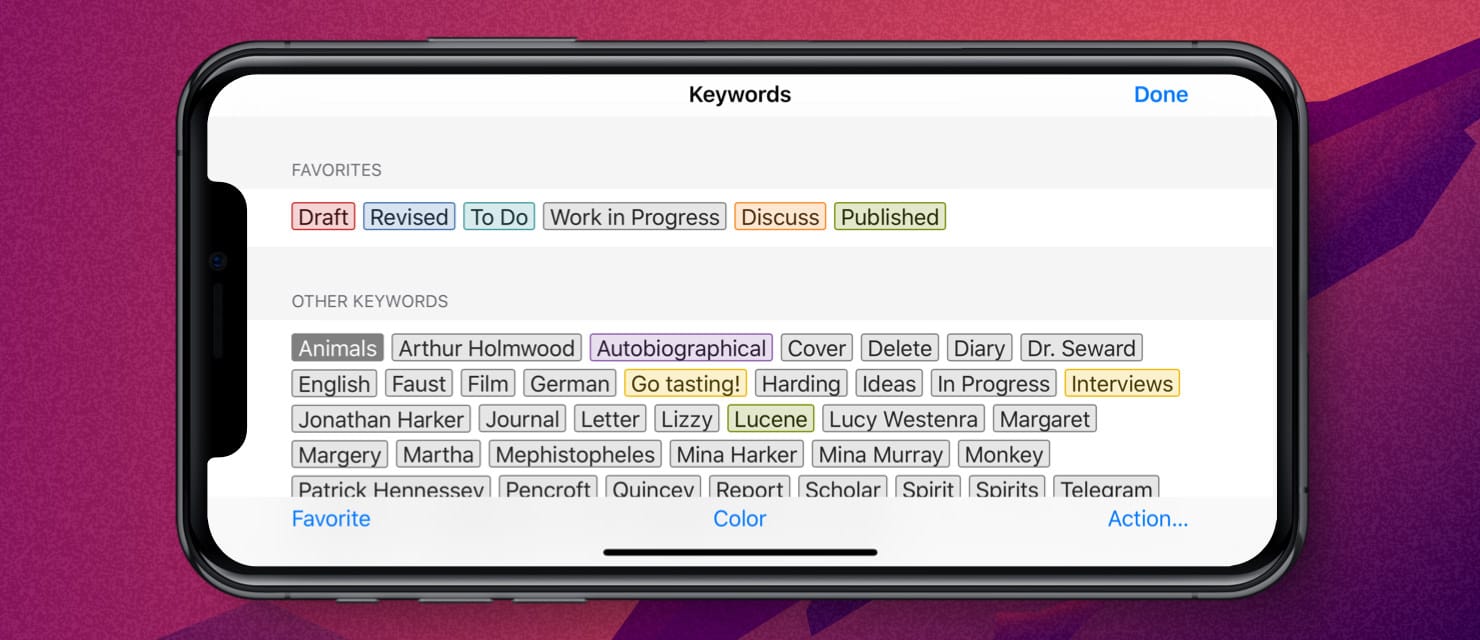 Now you can edit, delete, color-code, and manage your keywords in the Ulysses keyword manager on the iPad and iPhone. Ulysses 17 also provides the ability to mark your most-used keywords as favorites, allowing you to more easily access those keywords in the text editor attachment pane or in the sheet list.
This keyword manager has felt like a puzzling omission in Ulysses 16 and prior, and stood as a great feature that didn't have parity across all devices. Ulysses 17 continues the app's consistency across the Mac, iPhone, and iPad.
iPad Fullscreen Mode
Ulysses really jumped ahead of the competition with the release of split-screen writing and editing on the iPad. The ability to open a sheet in two spots — perhaps one for writing and one for editing — almost felt like a hijacked feature when Apple debuted multi-window support in iPadOS. The ultra-productive workflow of having two sheets open at once has been one of our favorite Ulysses feature debuts in the last year.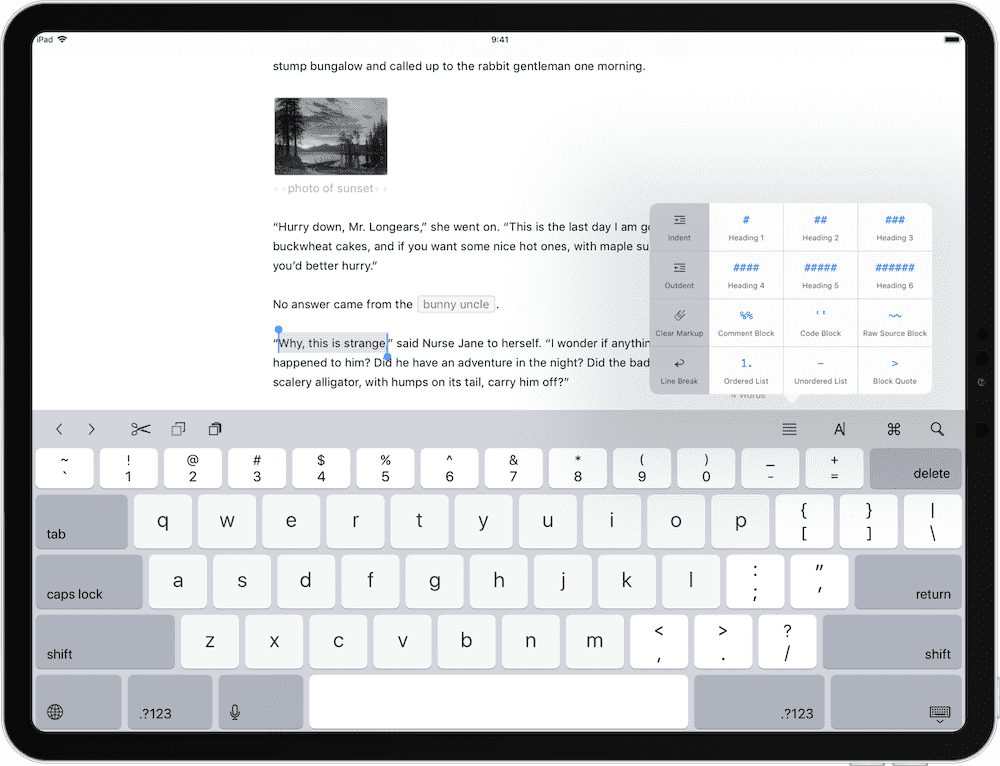 Ulysses 17's iPad fullscreen mode is, effectively, the exact opposite of that split-screen editor. The new iPad fullscreen mode has been completely redone — the interface is now exclusively text, with toolbars hidden and sliding in for quick interactions before sliding back out to get you back into your work.
While some may need multiple windows open to hammer away at their work, others need an ultra-focused environment for writing. Whichever personality you fall into, Ulysses now has you covered.
Export Styles
In my world, a semi-unknown (or, perhaps, just largely unused) feature inside Ulysses has been its export formats. I simply don't have to export my writing into any particular format other than a text file. However, for academics, business folks, screenwriters, and others, Ulysses's export styles are fundamental features.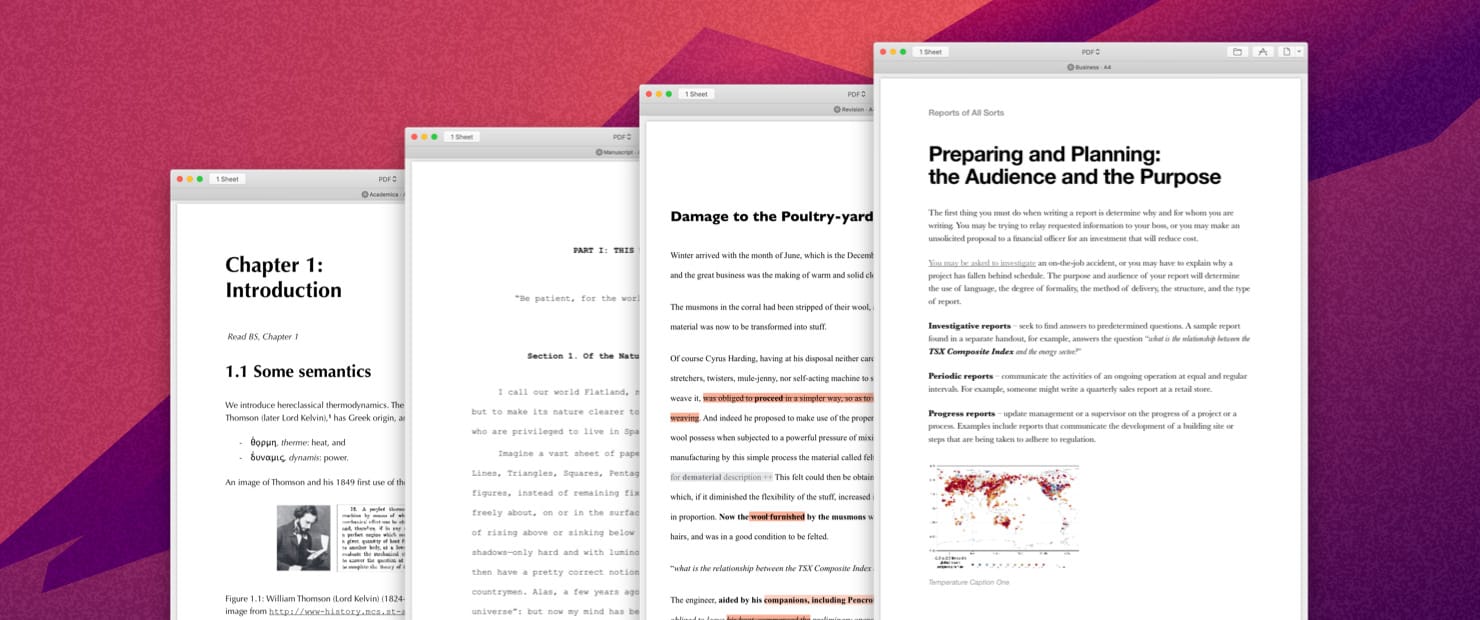 Ulysses 17 continues the growth of the app's export styles, introducing four new styles for a wide variety of users:
Business: For laying out reports, strategy papers, and proposals.
Academica: For university students who take lecture notes in Ulysses.
Review: For on-paper editing — perfect if you like to print a paper and use red ink to mark everything up.
Manuscript: For writers looking to submit literary works to publishers.
Each of these export styles will fit nicely for a particular use-case. There is now an extra long list for all sorts of exporting, from text and HTML to nicely formatted PDFs and Word documents.
Wrap Up
Our pick for the best pro writing app for iPhone, iPad, and the Mac continues to impress, and we're excited to see how Ulysses grows with the introduction of iOS 13, iPadOS, and beyond. Ulysses 17 helps to shore up a few missing features on the iPad and iPhone platform, while also helping to build out special uses and organizational features.
The latest Ulysses release is a free update for all Ulysses subscribers.
---
Stop losing your ideas and notes to multiple apps…

An online course to help you save time, organize your notes, and master the best writing app for Mac and iOS: Ulysses.
---