Ultimate Guide to Choosing the Best 2024 Planner for You
November 16, 2023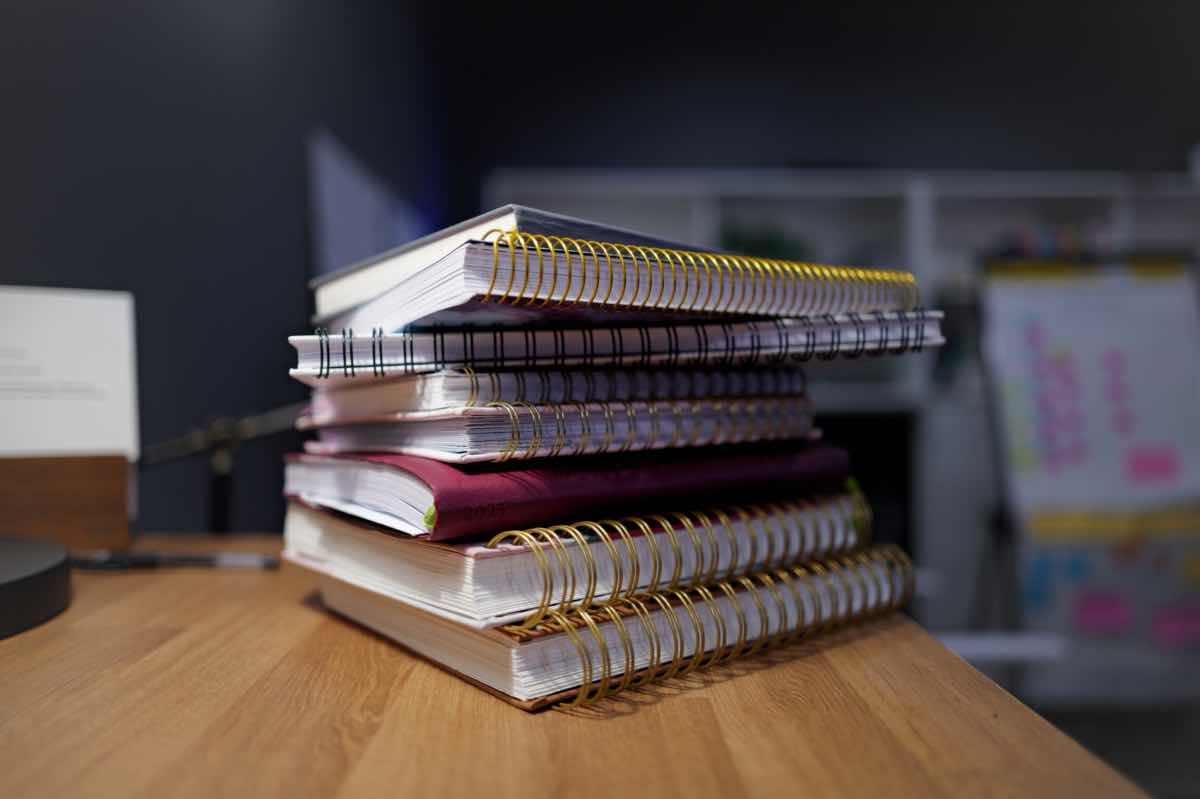 It's getting to that point in the year when we are looking toward the new year. I know the question is already on my mind, "What is the best planner for 2024?"
It might come as a shock, but I've always been a nerd and a major planner fan. As a kid I would ask for sticky notes and gift cards to Office Max for my birthday and Christmas. I used to buy new planners every year when I was in school, but I always had a hard time making them stick.
Choosing the right planner can be hard. Actually using the planner you choose is an even harder challenge. Just like with apps, there is no planner to rule them all. There are hundreds of different options and there are a lot of good ones. It comes down to choosing which one works best for you and deciding to actually use it.
In this article we are going to tackle the criteria for a good planner. We're also going to give you some of our favorite planners to recommend and what makes them so great (for both physical and digital planners).
Physical Planner Criteria
As I mentioned, I've been using (or attempting to use) planners my whole life. But I've discovered that my needs often change depending on what's going on in my life. The planners I loved when I was in college are very different from the ones that I prefer now that I'm a working professional.
My co-worker (the fantastic Joanna) and I dish about planners a lot. We have both done our fair share of testing and researching, but we have very different preferences in planner layout, etc. There is no perfect planner for everybody, and it all comes down to preferences.
So what makes a planner great? (These questions and prompts are all thanks to Joanna)
What is your planner for?
Before deciding which planner you grab, you need to assess what it's going to be used for. Is your planner for meal planning? To-do lists? Just keeping track of yourself or your family needs too? Are you a student or a freelancer? Purely time management?
Make sure to answer the question, what is my planner for?
When I was in college I needed a weekly layout where I could see assignment due dates and when my next exam was so I wasn't caught off guard. If you're a parent of small kids, you might need a lot of space to keep track of all of their little social lives (why is it that kids have much more active social lives than adults do?).
Layout & Style
This is where the rubber meets the road. Many planner junkies get in heated debates over layout. Here are the main things you should consider:
Daily Planner vs. Weekly Planner: Some planners have weekly pages that show you 7 days at a time. They usually have small sections for each day to write in your schedule, task list, etc. Daily planners usually also have a weekly overview, but also have dedicated pages for each day of the week.
If you want an overview of your week and not a lot of daily planning pages, then you're probably good with a weekly planning layout. But if you want to go more in-depth and have a larger dedicated space for each day of the week (or at least M-F) and a place to dump your daily tasks, then you will probably want daily planning pages to capture your entire daily schedule.
Do note that if you opt for daily planning pages, then your planner will be thick. Very thick. You might have to go with a 6-month version and buy your planner twice a year.
Hourly vs. Blocks
You can get planners that allow you to plan out your day in 30-minute increments. Some planners just have blank rows that you can use to block time as needed.
This comes down to how much of your schedule you want reflected in your planner. This might seem odd, but in this digital age it is a question to be asked. Do you want to use your digital calendar in tandem with your planner? Do you only want to use a planner for your entire schedule?
I actually use my planner to schedule my tasks. My schedule is kept in Fantastical. This allows me to peek at my calendar whenever on my devices without having to pull out my physical planner, but I still can't go a week without using my planner. Planning out my tasks and when I'm going to do them has become one of my cornerstone habits that set me up for success.
This all goes back to the question: what is your planning meant to do for you?
Monday Start vs. Sunday Start
If you are going to get a dated planner, you probably need to decide if you want Sunday or Monday to be the start of your week. I'm a vehement fan of Sunday Start, but there are those who prefer Monday.
If you choose to go for an undated planner, it might not matter. You get to choose when the week starts. Undated planners are also great because you don't waste as many pages. If you go on vacation and don't use your planner for a week, you don't lose all those pages — you just start back up when you want.
Size
Are you planning on taking your planner with you everywhere? Is it just going to live on your desk? There are lots of planner sizes, thicknesses, and materials to choose from. I usually carry my planner with me a lot of places, so I tend to go for a material that I think is going to hold up after getting jostled in my bag.
Some people love little pocket planners (usually around 3½" x 6"), while others want the full 8.5×11" planners. It really comes down to how you plan to use your planner and your own preference.
Style
I believe that my planner is an extension of myself. I don't want some boring, bland planner that doesn't bring me joy. We over here at The Sweet Setup believe that our tools should bring us joy.
Delight is in the details. What delights you? Do you like a colorful, fun look? Or are you more of a clean, modern planner fan?
Do you like spiral bound? Or do you like a more sophisticated bound look? The thinner the better?
Your planner should bring you joy and make planning more fun.
I've just given you a lot to think about (picking the best planner for 2024 is no joke), so let's look at a few of our favorite planners.
Favorite Planners
As I've mentioned, choosing the best planner for you is a personal decision. But here's a few that we love that might be perfect for you:
This is my current favorite. Golden Coil planners are almost completely customizable. When picking out your planner, you get to pick everything about it, starting with the cover.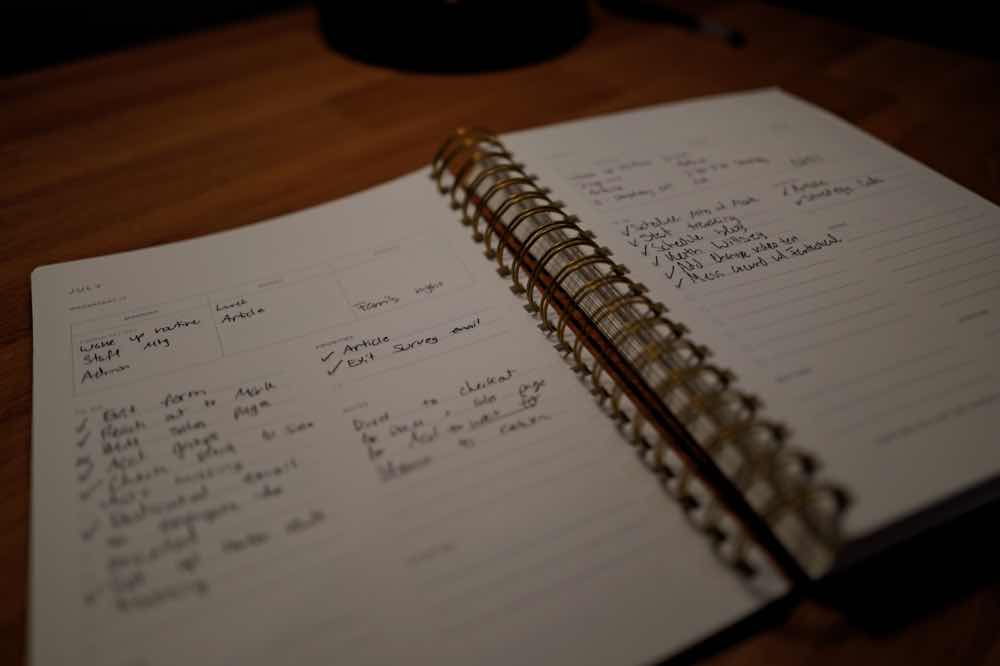 You choose from over 15 different cover options ranging from floral to faux leather (accommodating both those who want a more feminine look or those who want something more sleek or simple). You then choose the "fill page," basically the first page of your planner where you add your name and email in case you lose it. You can also add a meaningful quote or dad joke.
You can also import contacts for a contact page (but isn't that what our phones are for?). You then choose the date range on your planner, whether to include any important dates (like important holidays and national sugar cookie day), and you can even import a CSV of important dates you want added, like family birthdays.
Finally, you choose your layout. They have over 20 layouts to choose from (you can choose weekly or daily pages). This is why I really love Golden Coil. I get to choose the layout that bests suits me and how I like to plan. All the layout pages use a simple and clean design. I am not a fan of busy in my planner. My favorite layout page is the Daily – Horizontal 2 page (sexy name, right?).
They have "extra pages" to choose from, from blank notes pages to project planning pages.
They also have "add ons." These are quotes that you can choose to add to your planner pages. They have lots of categories like "Motivational / Inspirational," "Creativity," and my personal favorite "Pop Culture." Cause who doesn't love a surprise quote from Ron Swanson when flipping through your week?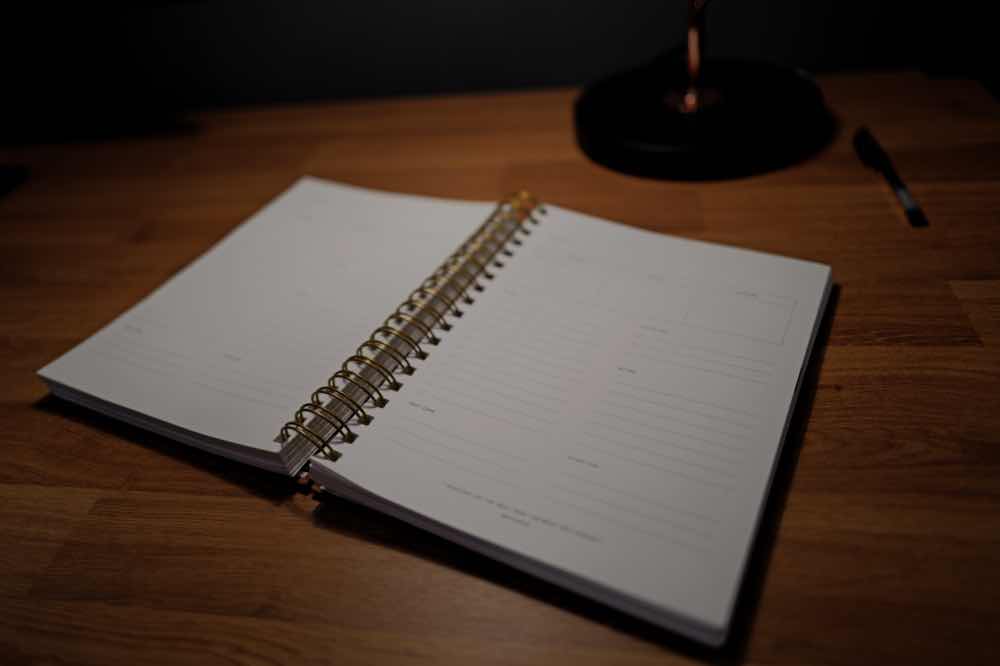 Seems like the perfect planner right? Well, almost. These fun customizations come at a price. Literally, they're pretty expensive.
You're most likely gonna drop about $100 on a planner with shipping costs. And when you opt for daily planning pages, you are maxed at 240ish pages. So you can only fit about 6 months in each planner. So you're potentially dropping $200 a year on your planner. And they only go on sale twice a year with only a 15% discount (Early November and Memorial Day).
As much as I love Golden Coil, it definitely comes with that caveat. But besides price, it's one of the best planners I've ever used.
TL;DR Golden Coil Review:
Golden Coil is an extremely customizable planner with over 20 layout pages to choose from, but it is definitely on the more expensive side. You're looking at dropping around $100 per planner.
My co-worker, Joanna, has been a sought-out planner expert in our community for years. She has tons of amazing recommendations. But her favorite planner is The Passion Planner. Joanna has been using it since its first Kickstarter in 2013!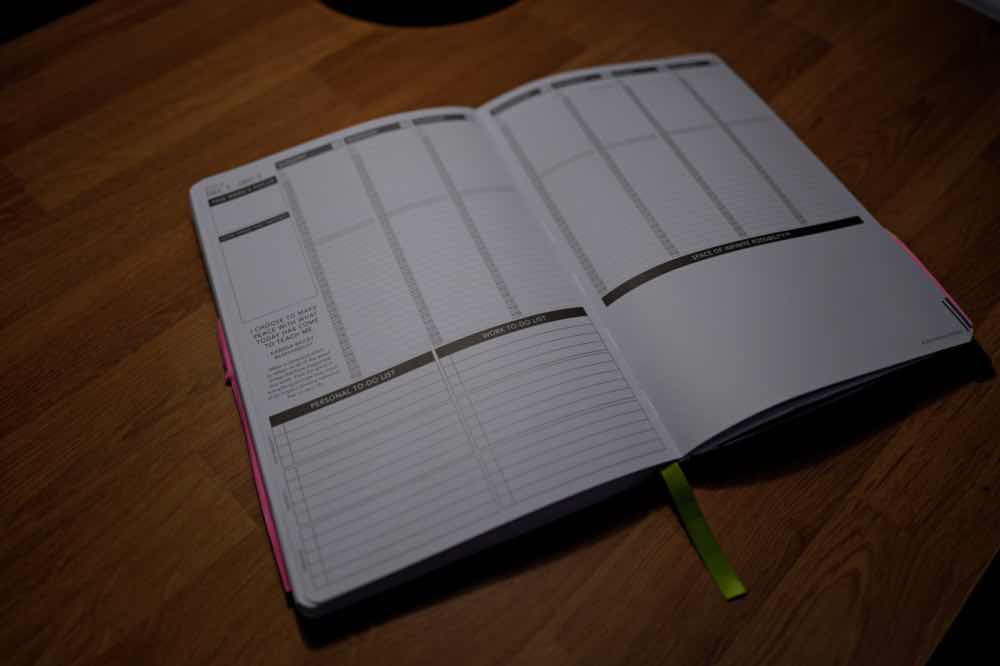 Passion Planner has been around for a while now and has become a cornerstone in the planner world. They not only have weekly and daily planners, but they also have a few academic planner options.
They are definitely on the cheaper side compared to Golden Coil. You're looking at around $40 a planner. They have lots of options to choose from (cover designs, undated vs. dated, size…).
Joanna uses the medium sized, weekly, dated Passion Planner in Sunday Start (you can find her exact version here).
"I love the simplicity of the design and layout. It's slim enough to carry in my bag, but spacious enough to write in. Personally, I need a weekly, vertical hourly view to best see my week at a glance and be able to assess my time between my schedule and my family's. The extra space included in the weekly layouts allow me to brain dump task lists, take notes or add a slew of post it notes, stickers, washi tape or at the very least, a collection of Zebra Mildliners allow me to make it mine." – Joanna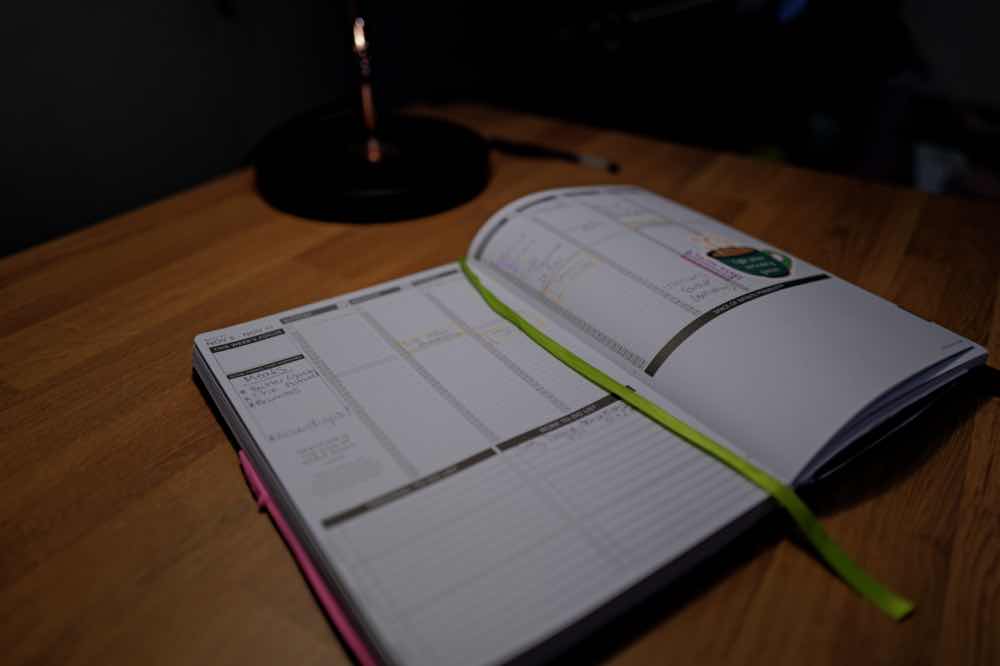 The Weekly Planning Page packs a lot of great features into a 2-page spread really well. It includes vertical time slots for each day of the week, with plenty of space to drop to-dos, quotes and challenges, and a spot to add your daily theme.
You can choose a Sunday or Monday start and what size you prefer (small – 5.8×8.3, medium – 6.9 x 9.8, or large 8.3 x 11.7). You can also choose between Daily and Weekly planners.
Passion Planner gives you lots of cover designs to choose from. They have some great floral options, sleek black covers, neutral designs, and even a few gold embossed covers.
TL;DR Passion Planner Review:
The Passion Planner is a very affordable planner option with great weekly and daily layouts. Consists of a simple design that is easy to jump into. Average price of a planner is around $40.
Before I jumped on the Golden Coil train, I used an Èccolo planner when I was in college. I needed a weekly spread to easily see all my papers and assignments that were due that week.
You can find Èccolo at their online store or at Target, Walmart, Amazon… They're easy to find. They're also pretty affordable, around $30.
They are widely available and have a great price point, but you lose some of the customized options. They have lots of cute covers to choose from (more on the feminine side), but you can't choose your layout.
Most of the planners have a durable cover, monthly tabs, and weekly spreads. It worked really well for me back in the day. (If you're a sticker fan, you'll be happy to know they come with several sticker sheets.)
They have a few different sizes to choose from. Each size has a slightly different layout. They all have monthly calendar spreads and weekly spreads, but no daily planning pages.
If you don't have a huge layout preference, Èccolo is a great option. Their planners have lots of colorful covers, dividers, and tabs. But if you're a planner junkie, this might not be the best option.
TL;DR Èccolo Review:
The Èccolo planners are widely available (Amazon, Target, Walmart…) at a great price point (around $30 a planner). But you are limited to basically one layout that has a monthly overview and weekly spread pages, but no daily planning pages. These are great if you just want to see your week at a glance and are looking for a fun, colorful planner.
Joanna has been using Passion Planner for about 10 years, but she did try and use a Plum Paper planner for a minute, but it didn't really stick. Though they are worth a mention.
Plum Paper is similar to Golden Coil in that you can customize your planner. You have lots of options to choose from. Their starting cost is between $40-50, and the price increases depending on the level of customization. You begin by choosing one of three different sizes: A5, 7 x 9″, and 8.5 x 11". You then choose your cover, add any customization you want to the cover (such as your initials), then you choose your layout. There's lots of options.
Some of the layouts feel pretty busy and a bit overwhelming. They really pack a lot of information onto a few pages. But if you are trying to keep track of a lot of things, they might be worth a look.
TL;DR Plum Paper Review:
Plum Planner is a very customizable planner where you get to choose your cover and layout (among several other customizations). They are about middle of the road in terms of price, the cheapest starting at $40. The layouts can be a bit busy.
Honorable Mentions
We have tried a lot of planners over the years. We went into more depth about some of our favorites, but there are several other models that are worth mentioning.
Cloth & Paper: Cloth & Paper is a trendy, modern stationery company. They have planners where you get to choose the type of cover you want (most are binders), papers inserts, and lots of fun add-ons like bookmarks, quotes, and dividers.
They have a pretty sleek design that is a big change from the traditional floral-in-your-face planner design. They have a wide range of covers. Some start at $11 (the plastic covers) and other leather covers are upwards of $250 (not including the inserts).
Full Focused: Michael Hyatt came out with his own planner a while back. Although there's not much customization available, the planners are created with productivity in mind. It has a very clean, functional design. You can choose between a linen or leather cover and whether you want coil bound or their "standard" binding.
The planners start at $40. Sounds great right?
Well it's $40 for a 3-month planner… There's lots of pages that are really helpful for each quarter such as goal setting and project tracking. But it ends up being a more significant financial investment if you use them for the entire year.
Sidekick Notepad: If you're not looking for a traditional planner you need to lug around with you, this might be a great option. The sidekick notepad is meant to sit on your desk and be an easy place to quickly jot down to-dos and notes.
It's not meant to be a place where you do lots of planning, but more meant to be an easy place to jot down your most important tasks and any notes that come up and then throw away at the end of the day. It has a great design and you can get it for $40.
No planner good enough? Try these notebooks
Sometimes you just can't find the right planner or you want something way more flexible. Bullet Journals, or your own version of them, are pretty popular right now. Our very own Shawn Blanc has created his own version of the bullet journal that he uses religiously (you can learn more about how he sets up his entire notebook in the All the Things course or here 👇).
Design Your Ideal Weekly Schedule
Free → Video Workshop + Productivity Templates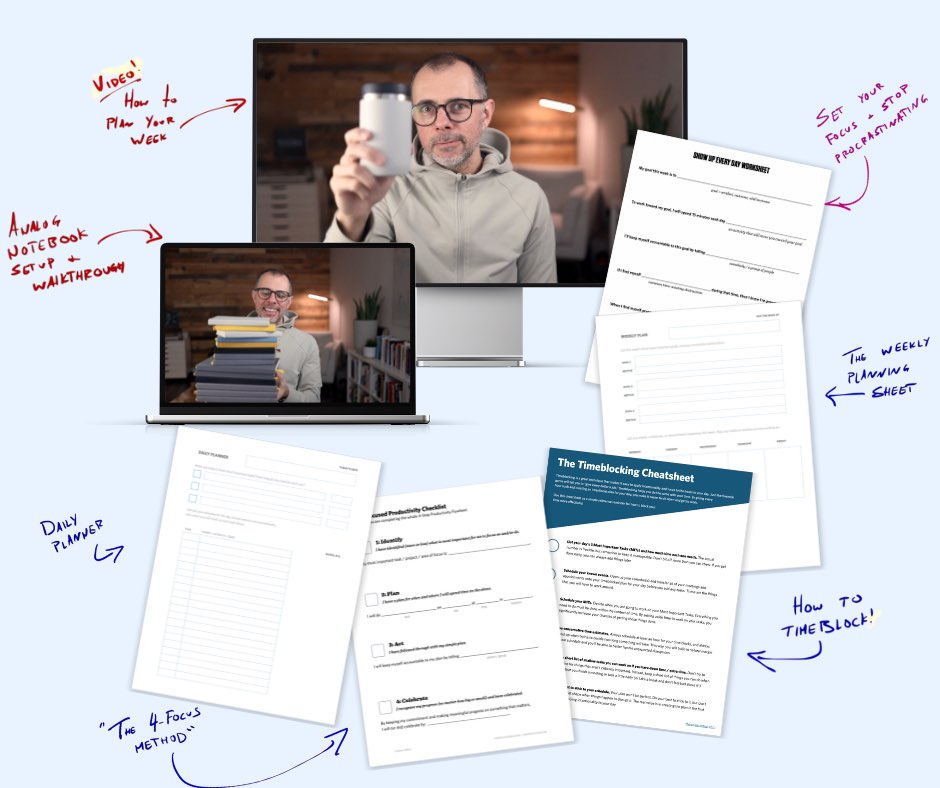 GET THE WORKSHOP + TEMPLATES
If you want to reduce the busywork and distractions, then sign up here for instant access to a brief video workshop on How to Plan Your Week.
♥️ Quick Note: You'll get access to the workshop, plus a few additional bonuses to help you overcome procrastination and deal with distractions so you can spend more time on the important work that matters.
But then comes the question, what notebook do you choose?
Baron Fig: We could not do this article without mentioning the magical Baron Fig Confidant notebook. Shawn has used Baron Fig notebooks for years. They are very sturdy and well made, and just pretty classic.
You get to choose your preferred size and paper type (dot grid, blank, or ruled). Their price is pretty reasonable too, the Confidant Hardcover Notebook (our favorite) ranges from $15-$25.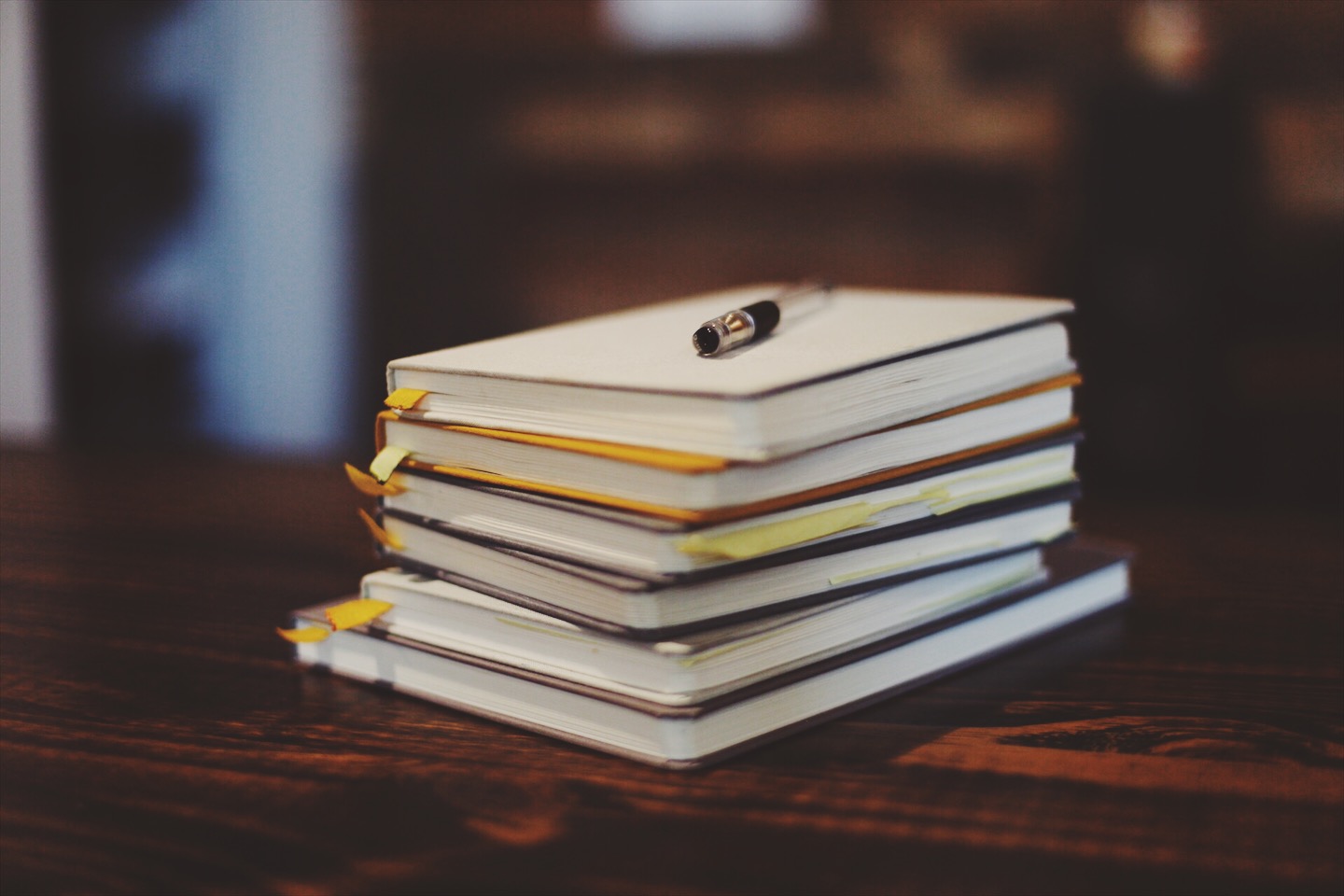 Plotter: Speaking of reasonable prices, let's jump into the opposite. A few months back Josh Ginter wrote an article about his hybrid productivity system using the Plotter. The Plotter is a leather 6-ring binder made from fantastic quality leather. You then choose your inserts (simple note-taking paper, schedule/diary pages, etc.).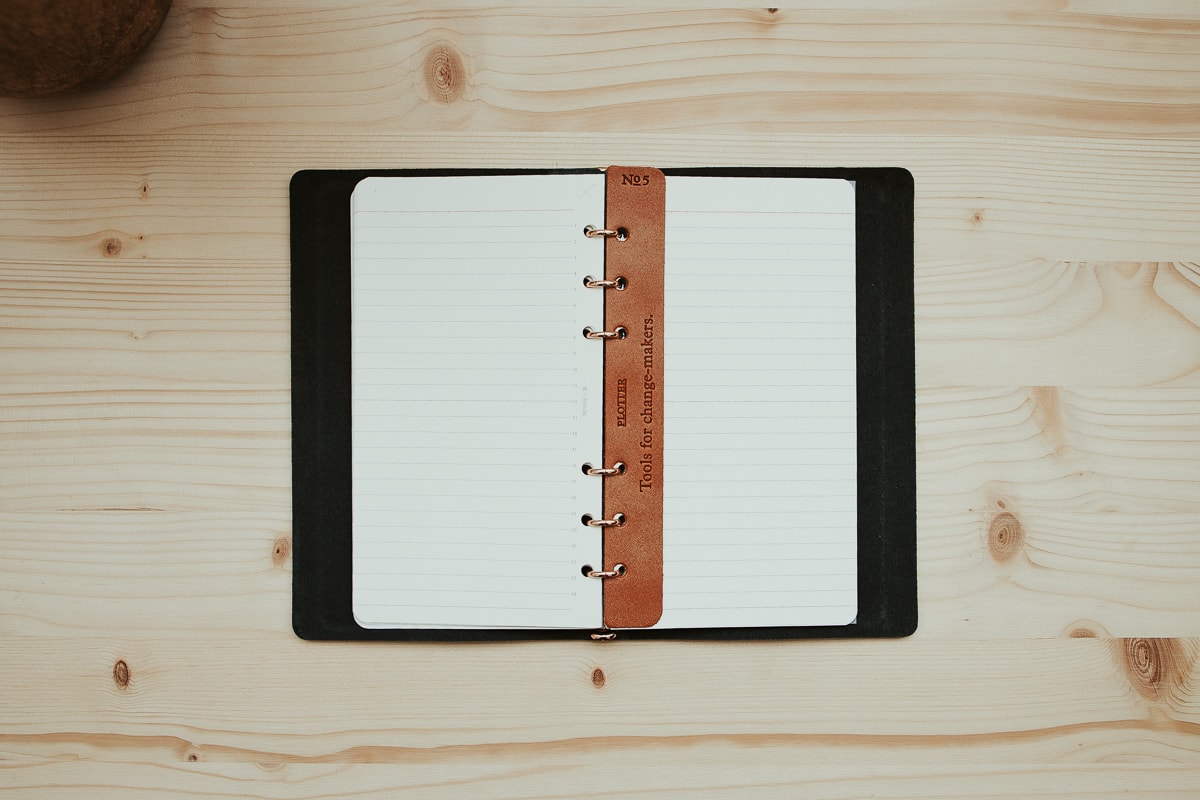 You're looking at dropping at least $160 on the binder, but more like $200. If you are looking for a fine leather binder/notebook that you will be able to use for years to come, then Plotter might be the right option for you. For the rest of us, we can just look and drool.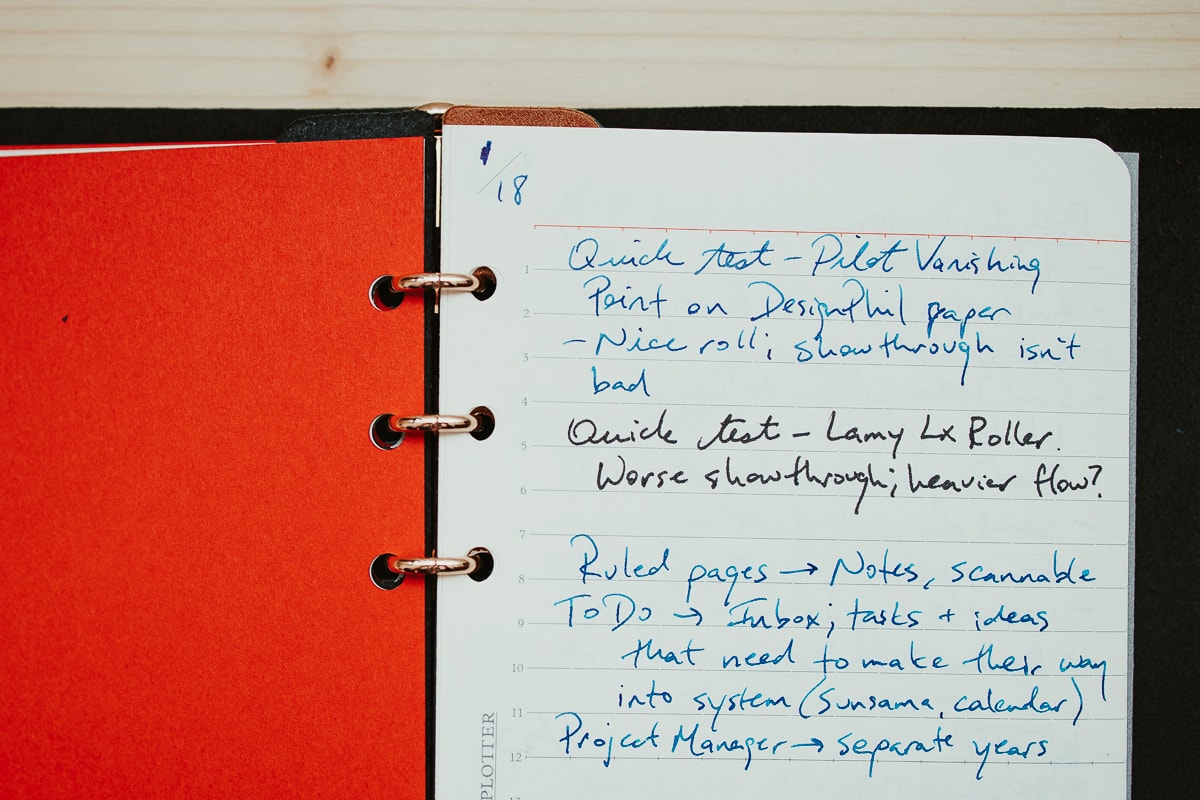 What if you want a 100% Digital option?
There are those who prefer to be 100% digital and throw the paper planner to the side. Luckily there's a pretty great option for a digital planner, and guess what? It's ours!
I don't want to toot our own horn, but I will. Our 2024 Clear Action Planner (built for the iPad) is pretty great. It has over 800 interlinked pages that allow you to jump all over the planner with ease.
We've spent a considerable amount of time thinking through the design of our digital planner. It has sections for your personal goals, monthly planners, habit tracker, and my personal favorite — phenomenal daily planning pages.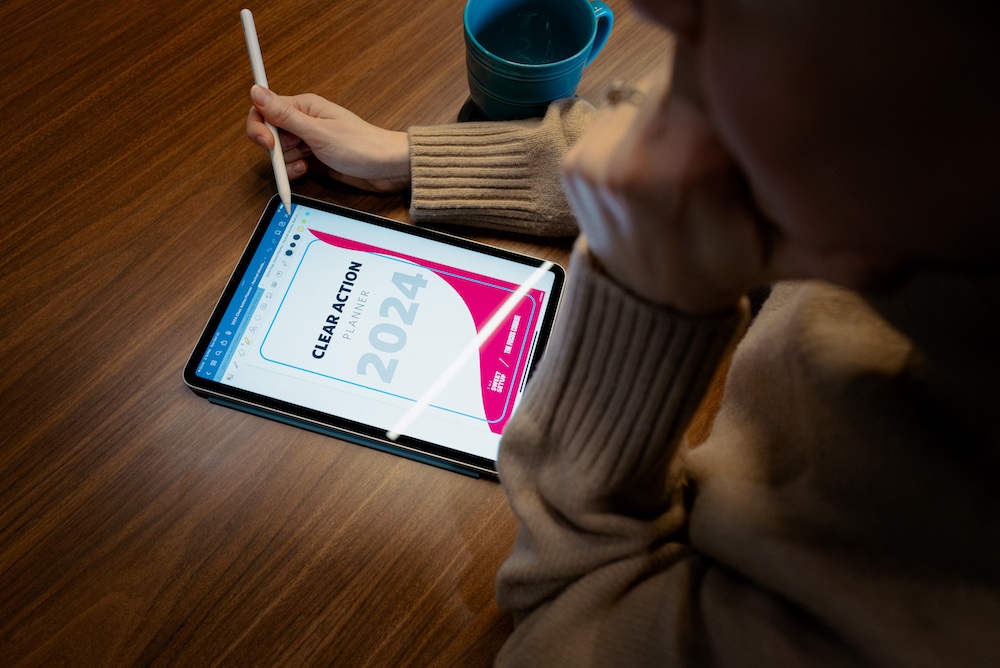 The 2024 Clear Action Planner is built for the iPad. We made it for apps like GoodNotes or Notability where you can easily use your Apple Pencil to mark it up and write in all your grand plans.
And for the first time ever, we've dropped the planner down to just $29! Check it out here.
Other Digital Options
There are so many possible digital planner options. Many of which you can get off of sites like Etsy. You can download templates that you save to an app like GoodNotes and mark up as needed to make it your own.
There are also some physical planner companies that have ventured into the digital planner world, like Passion Planner. We also include lots of planning templates that you can drop into GoodNotes in our All the Things course (but I'm nice, so you can get a few of them for free here 👇).
Design Your Ideal Weekly Schedule
Free → Video Workshop + Productivity Templates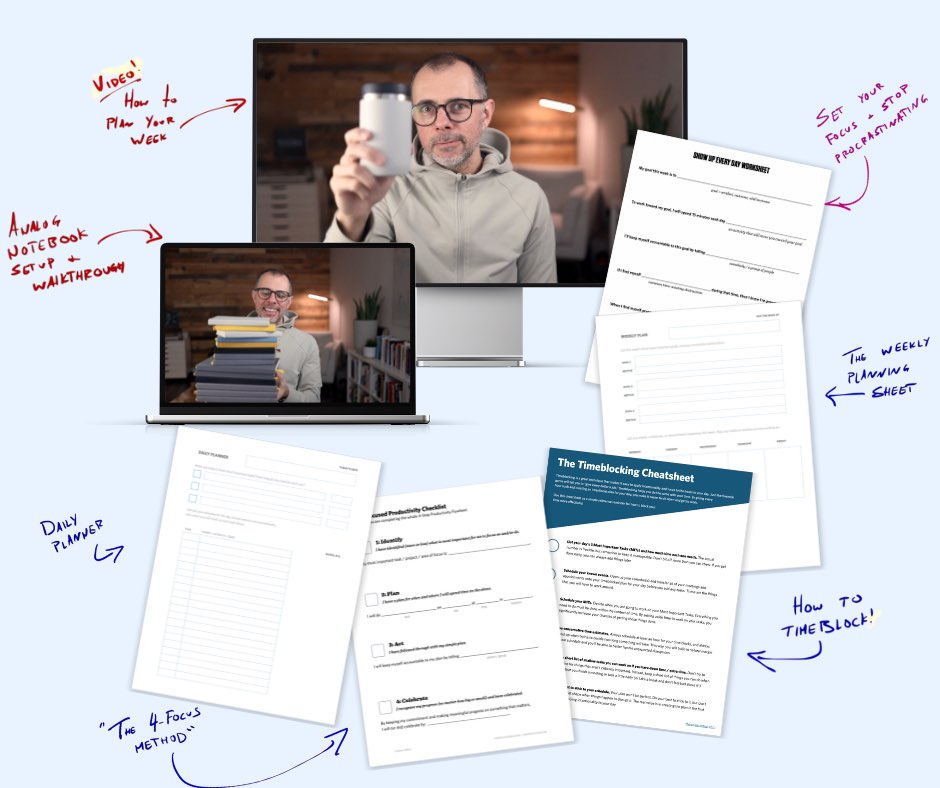 GET THE WORKSHOP + TEMPLATES
If you want to reduce the busywork and distractions, then sign up here for instant access to a brief video workshop on How to Plan Your Week.
♥️ Quick Note: You'll get access to the workshop, plus a few additional bonuses to help you overcome procrastination and deal with distractions so you can spend more time on the important work that matters.
There are too many digital planner options to cover in this article. If you are looking to go digital, I recommend exploring our Clear Action Planner, Etsy templates, or creating your own and dropping it into GoodNotes!
Wrap up
We've covered a lot of planner options in this article. There are thousands of planners out there and we're all about to be bombarded with all the options that are "going to change your life."
Makes you think maybe we should just come out with our own physical planner huh? cough cough
Unfortunately, there is no planner that is going to completely revamp your focus and habits. It takes focused small steps if you want to make any sustained, real progress. But the right planner can help you make those small steps, and not forget to pick up milk on the way home.
Your planner choice is a pretty personal decision. This article has provided lots of options, now you got to take that small step towards getting focused and pick the best planner for you for 2024 and then decide to use your new planner.