Toomas Särev's Mac and iOS setup
January 29, 2018
Every week, we post a new interview with someone about what software they use on their Mac, iPhone, or iPad. We do these interviews because not only are they fun, but a glimpse into what tools someone uses and how they use those tools can spark our imagination and give us an idea or insight into how we can do things better.
New setup interviews are posted every Monday; follow us on RSS or Twitter to stay up to date.
---
Who are you and what do you do?
I am Toomas Sarev, a cardiologist, leader, husband, dad of 5, granddad of 2, first-degree black belt in Traditional Korean Martial Arts (Kuk Sool Won), Harley Davidson motorbike enthusiast, Apple Gadgets lover, and productivity geek. I work for NHS; I am currently the head of a big cardiology department at Norfolk and Norwich University Hospital, Norwich, United Kingdom. I also work for my private company as an educator and trainer in topics related to Cardiology, productivity, and time management. I work as an independent medico-legal expert, and I do clinical consultations. My excitement and enthusiasm with Apple's gadgets began back in 1992 when I got my LCII.
What is your current setup?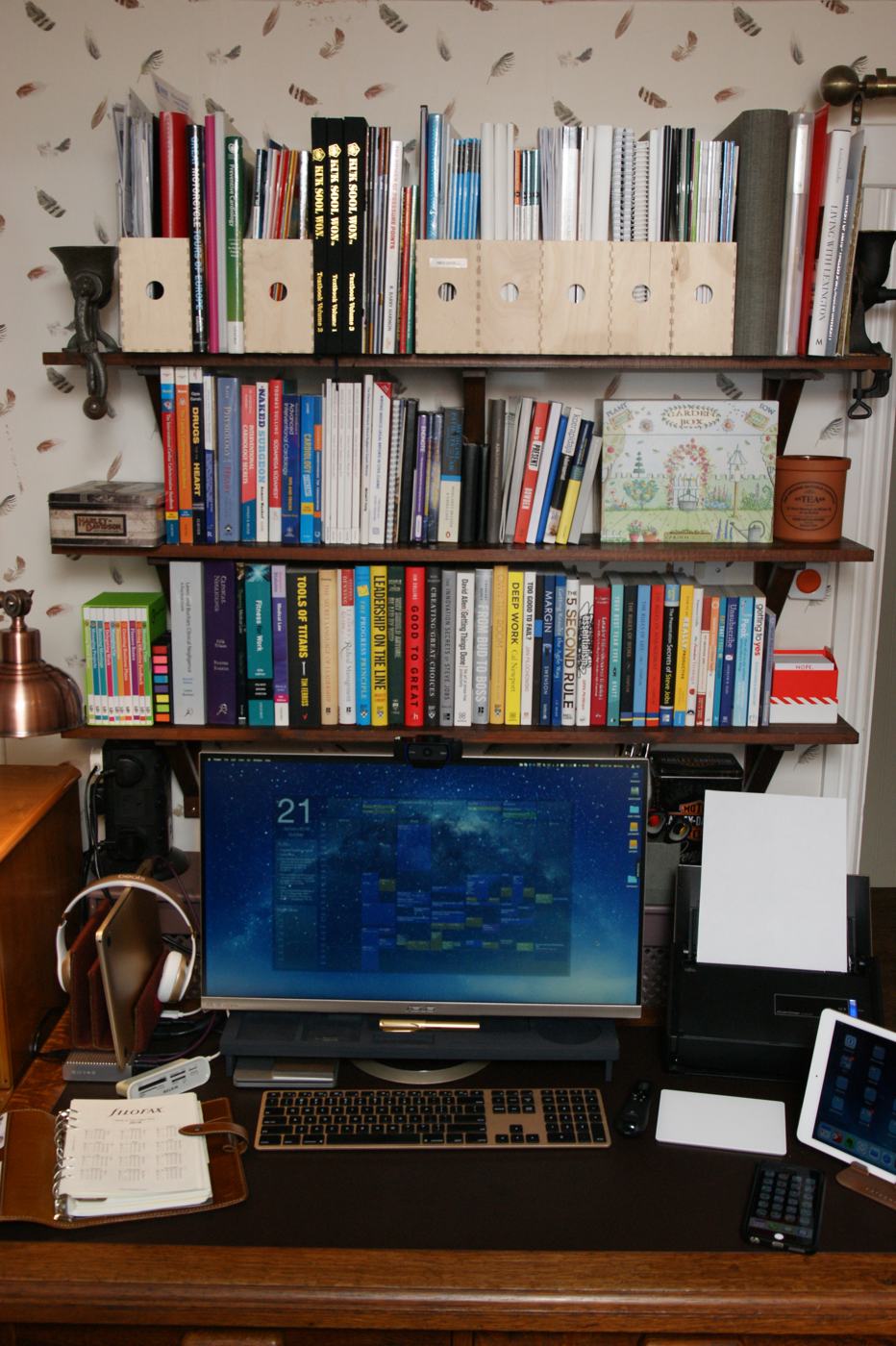 The heart of my often mobile office is my early 2016 gold Retina MacBook. I connect it to a Matias Bluetooth Aluminum Keyboard. This fantastic keyboard has long battery life, a number pad, Mac-friendly function keys to let you control screen brightness, volume, iTunes, and more. It pairs with up to 4 Bluetooth devices — Mac, iPad, iPhone, and Windows — and you can seamlessly switch between them. I love Apple's Magic Trackpad 2.
At work, I use a Magic Mouse 2 and Magic Keyboard. At my home office, I run my MacBook with CalDigit's 3-1 USB-C dock, which charges the battery and allows me to hook it up via a single USB-C cable to everything I need. I use an ASUS Designo MX27UC Eye Care Monitor through the HDMI port on the dock. On top of the monitor, I have a Logitech HD Pro Webcam C920, which together with Beats Solo 2 headphones I use for teleconferencing with my clients.
Caldigit's USB dock pairs nicely with Apple's SuperDrive, and also connects my Fuji ScanSnap ix 500 document scanner, which helps me make my office paper-free and can scan directly to several apps DevonThink Office, Graphic Converter or Evernote).
I do my backups on a LaCie Porche Design 2TB external hard drive. When I am giving my talks or training, I use Satechi Slim Aluminum Type-C Multi-Port Hub Adapter — this supports 4K HDMI video output and has 2 USB 3.0 Ports so that it can power the radio controller for my Logitech Wireless R800 Professional Presenter and still have space for a USB memory stick. To use its full functionality, I have made a special keyboard layout for it with the help of Ukelele app to make its "blank" page button work with Keynote. For VGA projectors I use Apple's original VGA to USB-C adaptor. I protect my MacBook with a Booq Viper Hardcase, which also accommodates my iPad Air 2 in a separate pocket.
For specific tasks like encrypted medical imaging, opening windows-attachments, and for medico-legal work, I need a Windows environment. Therefore, I installed Windows 10 Home Edition on a separate, 84 GB partition of my MacBook's drive via Bootcamp. All my peripherals work nicely under Windows as well — Apple's Superdrive included.
Where can we find your macOS wallpaper?
I use stock macOS wallpapers. My favorite is the Milky Way wallpaper, and my second favorite is the High Sierra one.
What software do you use and for what do you use it?
How would your ideal setup look and function?
I hope Apple will release a new Mac Mini. I would like to get the best possible version of a Mac Mini to integrate it with my peripherals.
---
What iPhone do you have?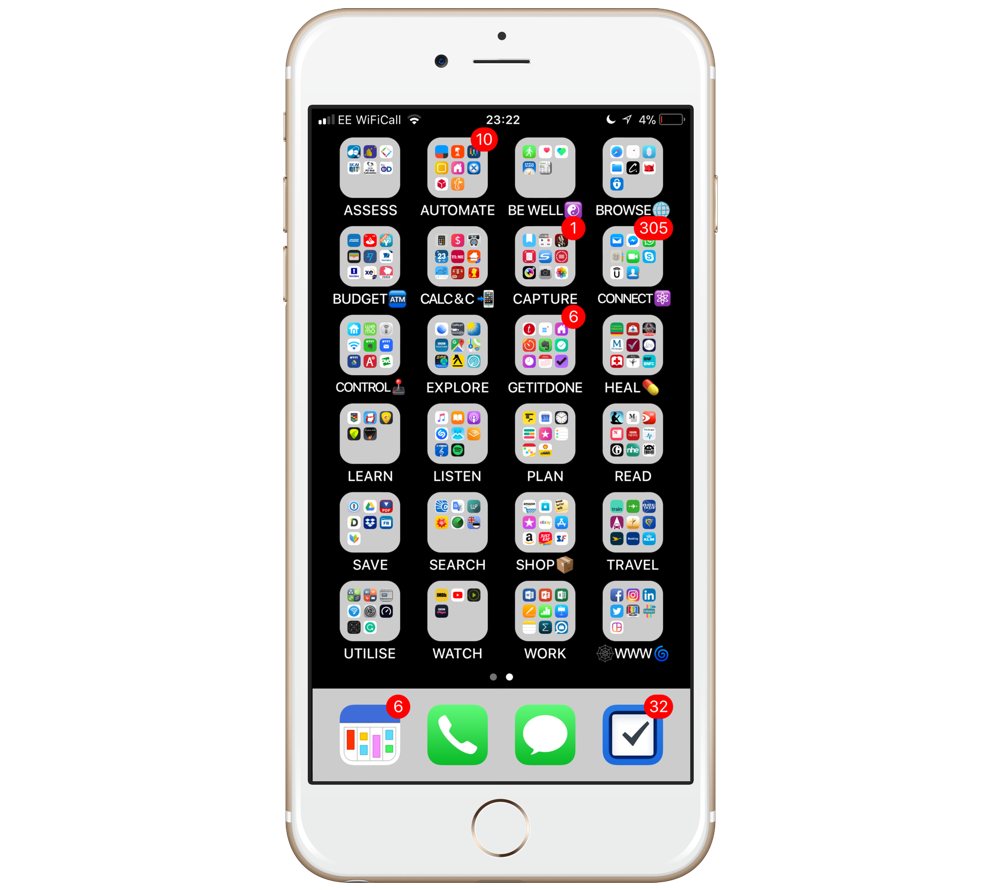 I have a gold iPhone 6 Plus with 64GB of space. I have arranged all apps into action/verb-based folders (Assess, Automate, Be Well, Browse, Budget, Calc and Convert, Capture, Connect, Control, Explore, GetItDone, Heal, Learn, Listen, Plan, Read, Save, Search, Shop, Travel, Utilise, Watch, Work, and WWW).
Where can we find your wallpaper online?
I made my wallpaper with a built-in message in case I ever lose my phone — it says where to call or email if found.
What apps do you use the most, and why?
My phone is my digital secretary; it keeps track of my tasks. I use it a lot for my medical practice – for dictating letters ( app Dictate + Connect) and as a medical reference. I use it for recording Electrocardiograms and I sometimes record meetings.
I use Workflow to share my availability, remind me of things, and let my wife know when I'll be home. I have TextGrabber to scan and extract text when I need.
My iPhone is my Nest Home Hub. I learn guitar with my phone. When I travel, Citymapper is my companion. WeatherPro is essential when the motorcycle riding season starts. For navigation I use CoPilot, as it allows voice-based guidance so I do not need to look at the screen whilst riding. Listening is the new reading, and I listen to audiobooks via Audible or iBooks when driving.
Which app could you not live without?
Easy! 1Password is essential.
---
Which iPad do you have?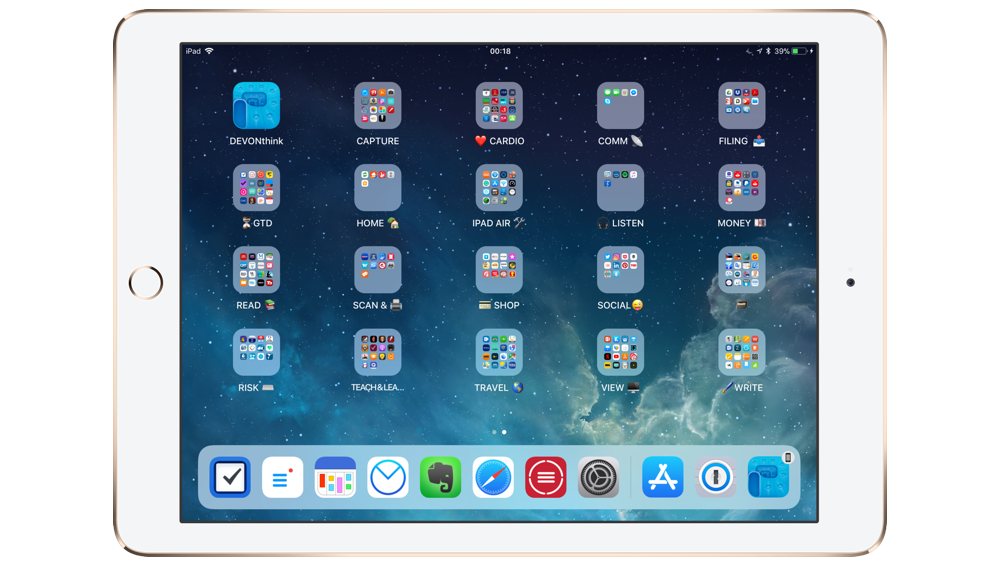 I have a gold iPad Air 2 with 128GB of space.
Where can we find your wallpaper online?
I use generic wallpapers.
How are you using your iPad on a daily basis?
I use it mostly to read books, when I run my private medical practice, or doing fieldwork and writing notes. I sometimes use it beside my MacBook to answer urgent emails.
What apps do you use the most, and why?
I use CardioSecur for recording electrocardiograms on my iPad and Keynote for teaching and presentations. I use Harvi to teach haemodynamics and applied physiology of human circulation.
Which app could you not live without?
---
There are more Sweet Setup interviews right here.
Want to share your setup? We'd love to hear from you. Just fill out this form with some basic information and we'll be in touch.
---
Wait. There's a Bonus….
Custom Productivity Templates
We have a set of custom productivity templates that work well with the iPad app, GoodNotes. And if you want to try them out, we've put together a free guide that can help you.
We'll show you…
How to create and save custom page templates in GoodNotes.
How to use those page templates to transform GoodNotes into your own productivity notebook (or any other type of notebook replacement).
Plus, we also have included a couple of our custom productivity templates for you to get started with. These templates are right out of our popular productivity course.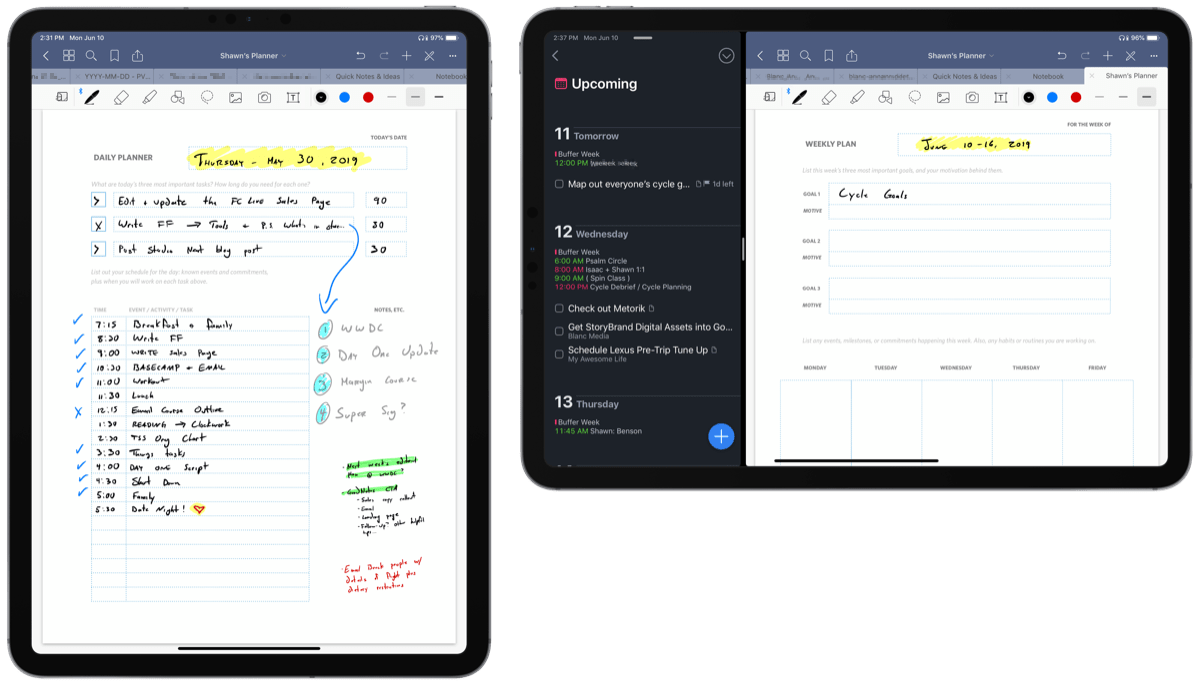 The custom templates and the guide are available for FREE to our email subscriber community. And you can get it right now. By joining the Sweet Setup community you'll also get access to our other guides, early previews to big new reviews and workflow articles we are working on, weekly roundups of our best content, and more.