Tony Lindkold's Mac Pro Setup
March 2, 2020
In this series, we post a new interview with someone about what software they use on their Mac, iPhone, or iPad. We do these interviews because not only are they fun, but a glimpse into what tools someone uses and how they use those tools can spark our imagination and give us an idea or insight into how we can do things better.
New setup interviews are posted every Monday; follow us on RSS or Twitter to stay up to date.
---
Who are you and what do you do?
I'm Tony, and I live in Copenhagen, Denmark where my company — Airflix — specializes in shooting and editing drone videos.
We do drone videos for commercials, feature films, corporate videos, and everything in between. Apart from videos, we also do a fair amount of drone photos and photo editing.
I have set up a grading studio in my office where I colorgrade videos and edit photos.
I have put an effort into making my workspace as clutter-free as possible and removing visual distractions as I'm very OCD about how things look, and especially how they function on my desk. ;-)
My desk is homemade with a shelf underneath painted in the same color as the wall, which for grading purposes is in a neutral gray color.
The purpose of the shelf is mainly to hide all the cables, ugly power bricks, and spinning HDD's (I have around 12-15 various drives for backups in there).
Keeping everything on a shelf under the desk also helps keep the noise level down. The desk is pushed a couple of inches away from the wall for ventilation purposes. This also allows room for a LED strip light on the back to show more light. The LED strip light provides backlight at an accurate temperature of 6500K, which is considered a neutral backlight when you color grade.
What is your current setup?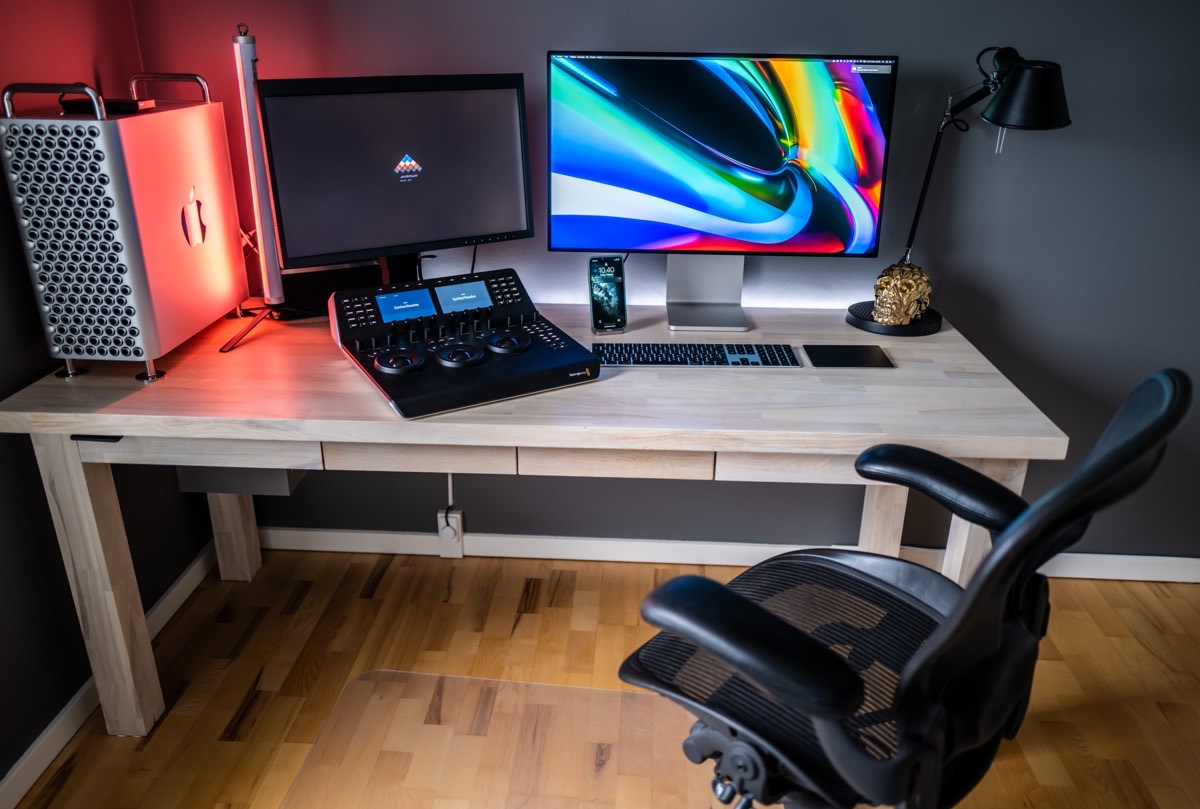 Mac Pro with 16 cores, 256 GB RAM, two AMD Radeon Pro Vega II GPU's, Afterburner, 4 TB SSD, and a lot of backup disks
XDR Pro Display (6K, 32″)
External monitor: Eizo ColorEdga CG248 — End of Line (4K, 10-bit HDMI).
OWC SSD (on top of the Mac Pro) scratch disk for working with 4/6K video files.
Speaker: Bowers & Wilkins A5.
Desk: Homemade — shelf under the desk for HDD and cables, painted in the same color as the wall.
Chair: Herman Miller Aeron (Mesh back, leather armrests) Comfortable and highly adjustable.
Astera Helios LED Tube. I use these for videos, but when I'm not grading, they look cool in the office.
LED strip from Waveform Lighting with a color temp of 6500K.
iPhone 11 Pro Max (Midnight Green with one of the preloaded Apple wallpapers that matches the Midnight Green color of the phone and my case).
Golden skull — My piggybank, but don't tell anyone.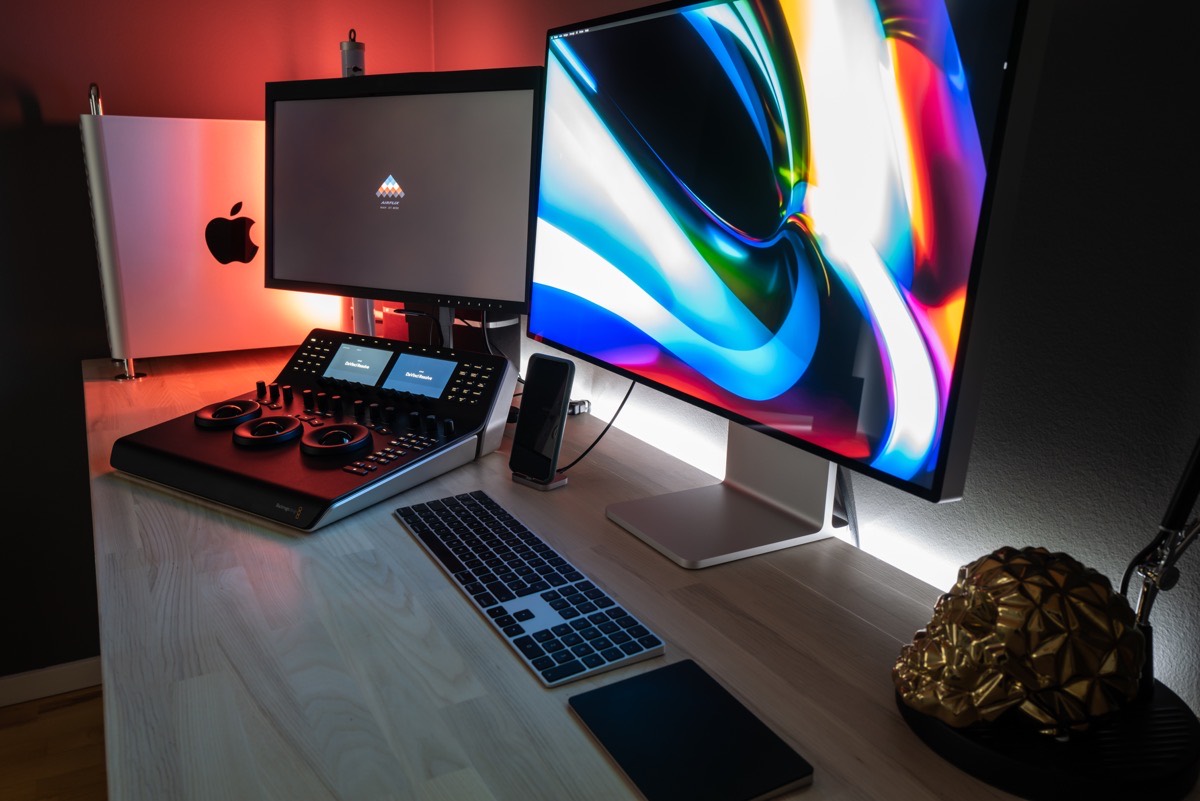 Where can we find your macOS wallpaper?
Since it's a brand new Mac Pro, I'm starting out with one of Apples own wallpapers, which looks stunning in 6K.
What software do you use and for what do you use it?
I mainly do video and photo editing on this machine.
For video, I'm trying to do the entire workflow in Blackmagic's DaVinci Resolve Studio.
Despite the low price ($299), this is a world-class grading tool with great editing features and superb VFX and audio editing capabilities — all built into one app. It's super fast, especially when working with ProRes (due to the Afterburner card in the Mac Pro), but also with BRAW (Blackmagic RAW), which is our preferred codec from or BMPCC 6K camera. And I also appreciate an app that almost never crashes and the effort BM puts into constantly upgrading the app and fixing bugs.
DaVinci is a very versatile app and I am constantly learning new things, improving the speed of my workflow, and finding other ways of reaching my end result. It's by far my favorite app and where I spend most of my work time editing drone videos for Airflix.
The external monitor is essential to accurately evaluating colors and getting the optimal result for color grading.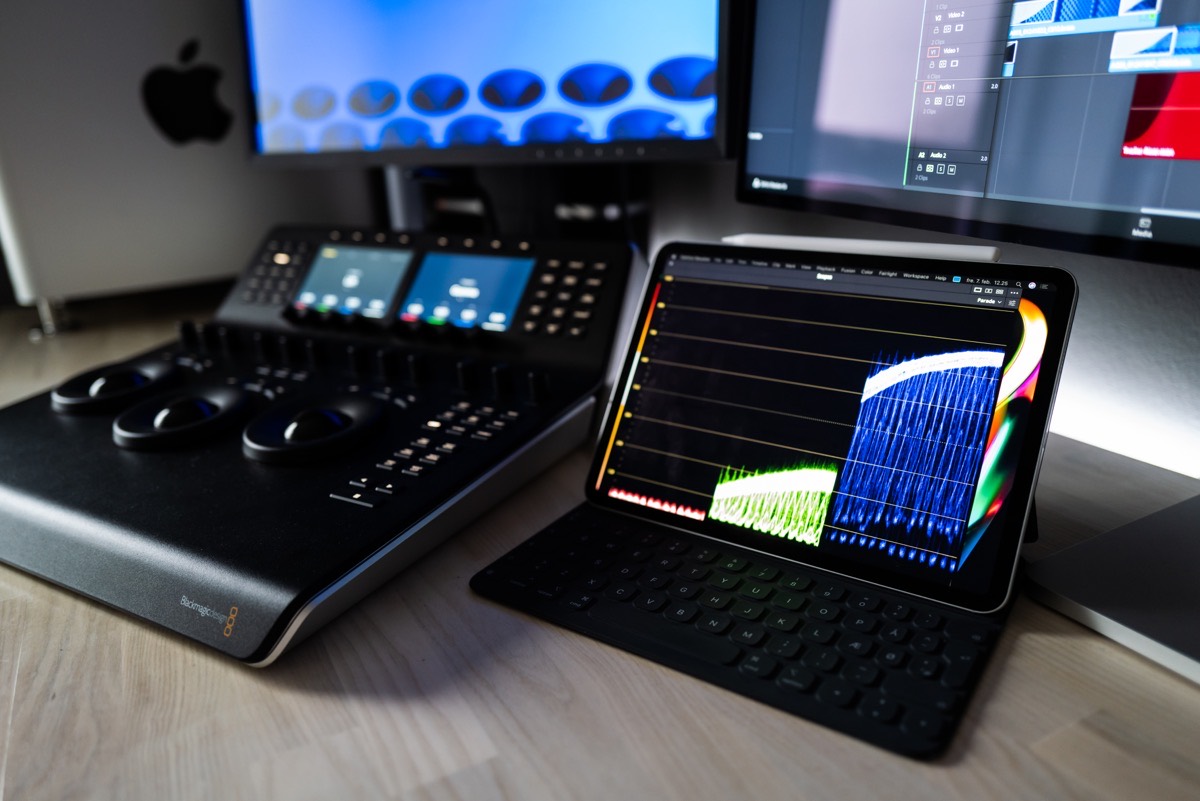 I often attach my 11″ iPad Pro via Sidecar to show scopes straight from DaVinci Resolve. It's very nice to be able to separate the scopes from the UI (freeing up more space on the monitor), and by doing that I always have the scopes window active and right in front of my external monitor. A great little tip.
For photo editing — and Digital Asset Management — I have just switched from Adobe's subscription model (Lightroom and Photoshop) to Affinity Photo and Capture One (both are one time purchases).
My main reason for the switch was to get out of the subscription model. Secondarily, Affinity Photo is written in new and modern code and therefore is blazingly fast compared to the older Adobe apps that I find to be slower and not fully utilize the potential of newer hardware. That really shows when working with 85MB RAW files from my Leica Q2. Affinity and Capture One cuts through them like warm butter. Obviously, a fast Mac Pro helps too, but the software difference was noticeable enough for me to make the switch.
Capture One 20 is growing on me, but obviously it takes a little effort when you switch from a photo editor you've been using for years to a new one, but I'm already liking the layer-based editing options for selectively editing and masking photos, which is something I was always missing in Lightroom. I'm also a big fan of the options to rearrange the interface.
The Apple Pro Display XDR is mind-blowing when it comes to photo editing. I love the screen real estate you get from a true 6K display, and photos looks absolutely gorgeous on this display.
For casual e-mail and surfing the interwebs, I use my MacBook Air or iPad Pro.
How would your ideal setup look and function?
I love a wooden desk, but in a perfect world I should be able to adjust the height up and down, and my office should be bigger to allow for a wider desk. Apart from that, I'm happy with my current setup. Although if I could fit a professional espresso machine into my setup, I would be even happier.
---
There are more Sweet Setup interviews right here.
Want to share your setup? Wed love to hear from you. Just fill out this forma>strong> with some basic information and well be in touch.
---
Wait. There's a Bonus….
Custom Productivity Templates
We have a set of custom productivity templates that work well with the iPad app, GoodNotes. And if you want to try them out, we've put together a free guide that can help you.
We'll show you…
How to create and save custom page templates in GoodNotes.
How to use those page templates to transform GoodNotes into your own productivity notebook (or any other type of notebook replacement).
Plus, we also have included a couple of our custom productivity templates for you to get started with. These templates are right out of our popular productivity course.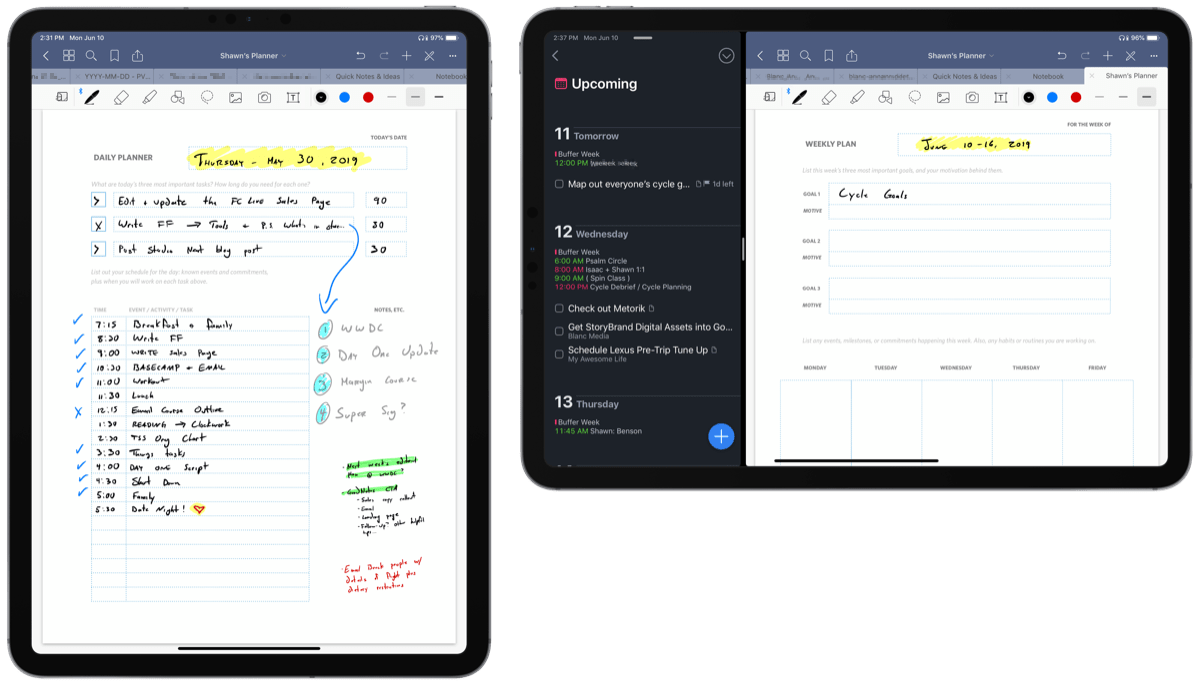 The custom templates and the guide are available for FREE to our email subscriber community. And you can get it right now. By joining the Sweet Setup community you'll also get access to our other guides, early previews to big new reviews and workflow articles we are working on, weekly roundups of our best content, and more.