All the Details About Our New Productivity Course, All the Things
February 12, 2018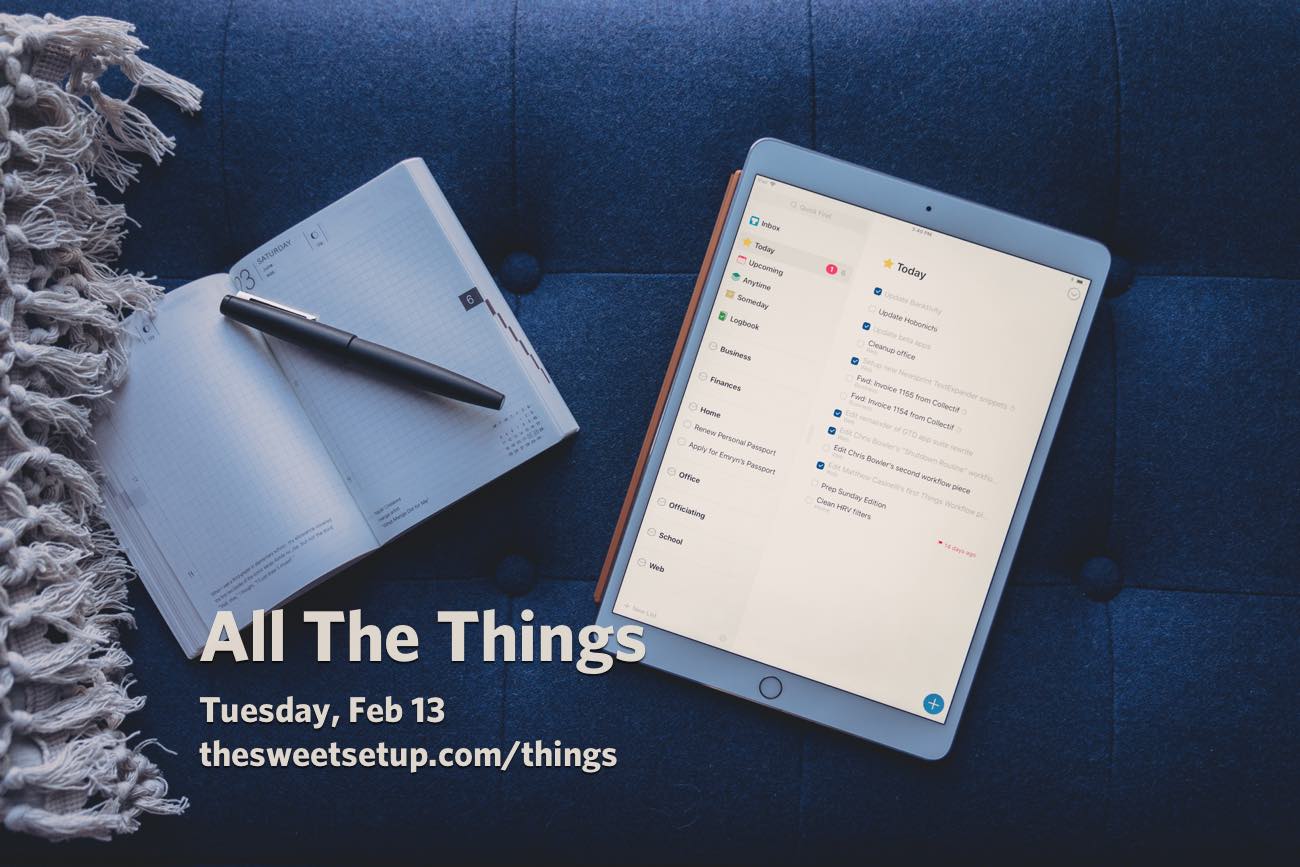 Our brand new course, All the Things, is now available.
This new course is MUCH MORE than some awesome screencasts for how to use Things 3…
There is also a full section of the course that also includes the best encapsulation yet of my productivity teaching and mindsets. (More on that below.)
In fact, if you're not a Things user, the you can buy the productivity videos on their own without the screencasts.
The price for All the Things is just $49. And for the first few days it will be available at an early-bird pricing of $39.
You can sign up for the course and dive right in, or wait to begin at a time that is best for you. Since you will get lifetime access to the website so there is no rush to start immediately if you're not yet ready.
Here, I want you to know exactly what you'll be getting when you sign up for All the Things. In this article I want to unpack the whole contents of the course in order to convey just how much value there is.

Let's dive in…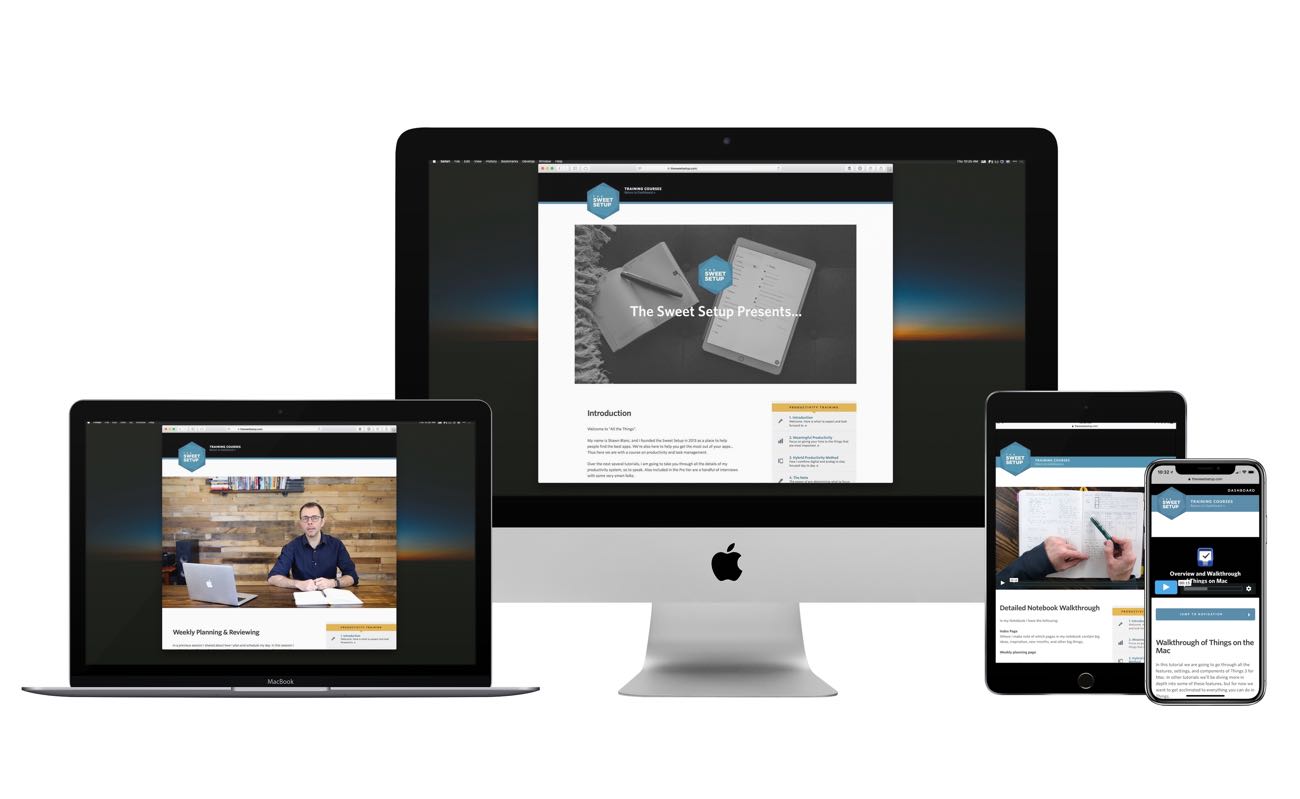 The Productivity Training Videos (8 Videos Total)
One half of the course is dedicated entirely to productivity and task-management training. These videos are valuable for anyone and everyone, regardless of which app you may use. This is also where I unpack my whole "Hybrid Productivity Method" and more.
Note: If you use OmniFocus, Todoist, or something else for your task management app, you'll be able to buy just these productivity videos without having to buy the Things 3 screencasts as well if that is something you'd prefer.
Meaningful Productivity: Discover a new, liberating mindset toward productivity that allows you to focus on giving your time to the things that are most important.
Hybrid Productivity Method: You'll see how to combine digital and analog tools to stay focused day to day and keep from being overwhelmed by an overflowing inbox.
How to Focus on the Most Important: There is a simple approach for ensuring you spend your time each day doing the single, most-important things.
How to use a Productivity Journal: Using a journal to track your regular progress can have a huge impact in building momentum and focus.
How to Schedule Your Day: Discover a simple way to schedule your daily tasks in order to maintain focus and breathing room in your day.
Weekly Planning & Reviewing: A simple and regular review session will help you stay focused and accomplish your goals.
Detailed Notebook Walkthrough: A detailed walk through of how Shawn sets up his weekly and daily schedule in his notebook.
Expert Interviews: Get access to six audio interviews with productivity experts, talking about focus, distractions, work-life balance, and more. (Featuring Jocelyn K. Glei, Erik Fisher, Benjamin Brooks, Mike Vardy, Havilah Cunnington, and Anthony Ongaro.)
Screencast Tutorials for Things 3 (8 videos total)
Walkthrough of Things on the Mac, iPad, and iPhone: Get a complete rundown of all the features of Things 3 on Mac, and iPhone, and iPad. You'll know Things 3 inside and out, with a clear understanding of everything the app is capable of and how you can make the most of it. (Two Videos.)
Anatomy of a Task: Knowing how to capture and then wrangle tasks in Things is central to making the most of this app. Discover every single component of a to-do item as well as all the unique ways you can create and capture tasks. I'll make it as easy as possible for you to quickly add items to your lists. (Two Videos)
Mastering Projects and Areas: An unorganized task manager is not a pleasant experience. I'll show you everything you can do with Projects and Areas, how to organize your tasks, and how to set up your Areas for simplicity, focus, and ease-of-use. (Two videos.)
Cloud Sync & Backup: Everything you need to know about Things Cloud Sync Features, as well as how to backup and restore your database.
Drag & Drop on iPad: Things on the iPad is a comfortable yet formidable productivity app. Here I'll show you some ways I use the iPad app with other apps to be productive.
Applescripts and Workflows: Discover ways you can script and Workflow Things 3 on your Mac, iPad, and iPhone.
Setup Interviews: Get a behind-the-scenes look at how others are using Things 3 in their day-to-day lives.
---
All in all, the course adds up to more than 3.5 hours of video content (with full transcripts, of course).
8 screencast videos.
8 productivity videos.
PDF Templates for your weekly and daily planning and reviews.
6 audio interviews with productivity experts (including Jocelyn K. Glei and Erik Fisher)
7 setup interviews from other Things users (including Federico Viticci).
What Others Are Saying
Last week we opened up early access to about 100 people, and here's what some of them have said about All the Things:
"Shawn's training on productivity has been so helpful to me. If your task list feels overwhelming, I think you would love All the Things!" — Joanna Eitel

"I simply can't believe the amount of value and content in this course." — Matthew Candler

"Shawn gets it. And best of all … he can help you get it, too. I found this course to be affirming and helpful." — David Sparks