Tommaso Nervegna's Mac and iOS setup
March 7, 2016
Every week we post a new interview with someone about what software they use on their Mac, iPhone, or iPad. We do these interviews because not only are they fun, but a glimpse into what tools someone uses and how they use those tools can spark our imagination and give us an idea or insight into how we can do things better.
New setup interviews are posted every Monday; follow us on RSS or Twitter to stay up to date.
---
Who are you and what do you do?
I am Tommaso Nervegna — Milan-based Digital Solution Architect, a long title that basically means "I'll do anything you ask me to, as long as it's digital."
When I'm not working for Accenture as Lead UX &UI Designer I can usually be found on a plane traveling somewhere, building drones, taking pictures, or writing on Way Out, a journal of my digital escape from thoughtless technology consumption.
My daily task is to educate my team and clients on emerging short-term and long-term technological and cultural trends that influence digital marketing and advertising strategies. The unyielding passion for beautiful design and experiences that delight the consumer make my skills a great fit for those who believe in what they do. I love working with passionate clients who want to share their passion with others.
My goal is to delight customers and users with functional, beautiful, and purposeful digital solutions by creating a solid bridge between design and user experience through innovation, always keeping in mind the synergy between great design and commercial effectiveness.
User experience is the tool by which I can connect with people through emotional and intuitive communication. Design is a concrete dream that every day allows me to color my projects and ideas by offering them the opportunity to have a voice, to exist.
For all the above reasons, productivity, design, and technology are my greatest passions. I love spending probably far too much time creating a digital ecosystem that helps me automate my life and have one day more time to focus on my other passions (like building drones or photography).
The problem is, I'm stuck in a loop since I love experimenting with new apps and services far too much.
What is your current setup?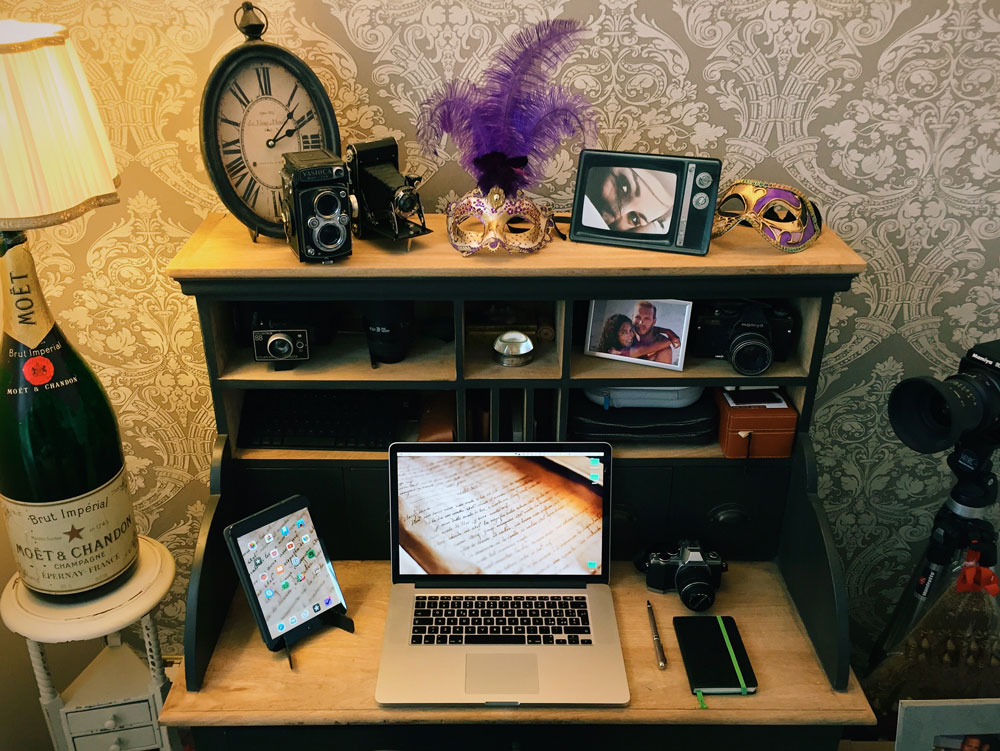 I'm currently using a 2015 Macbook Pro with Retina Display during working hours, and when traveling or working from home I'm using my good old Macbook Air that has been working like charm since 2013.
As a consultant I travel a lot, so I don't really have a fixed setup. A long flight can be both a curse and a blessing when it comes to getting things done. For this reason, I always bring a selection of life-saving gadgets:
Bose QuietComfort 25: You need do yourself a favor — Buy a pair of noise-canceling headphones. I was skeptical at first, but now I can't live without them.
Evernote Moleskine: Note-taking makes me focus on capturing big ideas. To write and draw makes the activity fun and enjoyable. Concepts, ideas, thoughts, and emotions are captured with drawings and type-blended together by creativity.
Transcend 2TB Hard disk: This blessed device is a USB 3.0 portable hard drive with three shock-proof layers.
HooToo TripMate Elite Travel Router: This little wonder allows you to both charge your devices during long flights, and it's able to stream two separate HD movies and some MP3s simultaneously on a flight. Plus, once landed and in the hotel, it serves as a great wi-fi router to replace the usually-not-so-good Hotel connection.
A Privacy filter: I've gradually grown tired of having people take quick glances of my work. People raise questions about stuff that is none of their business. A handy screen privacy filter is all you need. You can even buy one for your tablet if you, like me, prefer using your iPad to get stuff done during flights.
Olympus OM-D EM-10: One year ago I ditched my five kilo camera bag with my Nikon equipment for this marvelous micro-four-thirds camera. It's light and has interchangeable lenses. The quality is outstanding considering it's size, and I can't seem to go back to my bulky reflex. The best camera is the one that is always with you.
Where can we find your OS X wallpaper?
Since my first PC I always liked to craft my own wallpapers. There was a time when studying design that I gave myself a task to create a custom wallpaper every week. My current wallpaper showcases a pool of the Tirta Empul Temple near Ubud in Bali. It can be found on my Flickr or 500px profile.
What software do you use and for what do you use it?
With my daily workflow, I operate with a vast number of apps, so I'll mention only the ones that I really couldn't work/live without.
For my day job, I can't live without OmniFocus and (unfortunately due to corporate standards) Microsoft Outlook.
As a Design Team Lead, I live between the combination of OmniPlan, OmniFocus, Evernote, MindNode, and the Adobe Creative Suite with which I prepare concepts and wireframes (even if I'm gradually shifting to Sketch to design wireframes and interfaces).
My go-to app for photo retouching is Lightroom with a hint of Photoshop to clear up some details and enhancing my photos even more.
How would your ideal setup look and function?
As a matter of fact, I'm more than happy with my current setup. I've created a solid ecosystem that gives me the ability to swap my working station and have all my files synced up perfectly. I can work wherever I want as long as I can find a Wi-Fi connection every now and then.
Sometimes I'm afraid of loosing something, but I have a solid backup strategy that leverages Backblaze, Google Drive and Adobe Creative Cloud.
---
What iPhone do you have?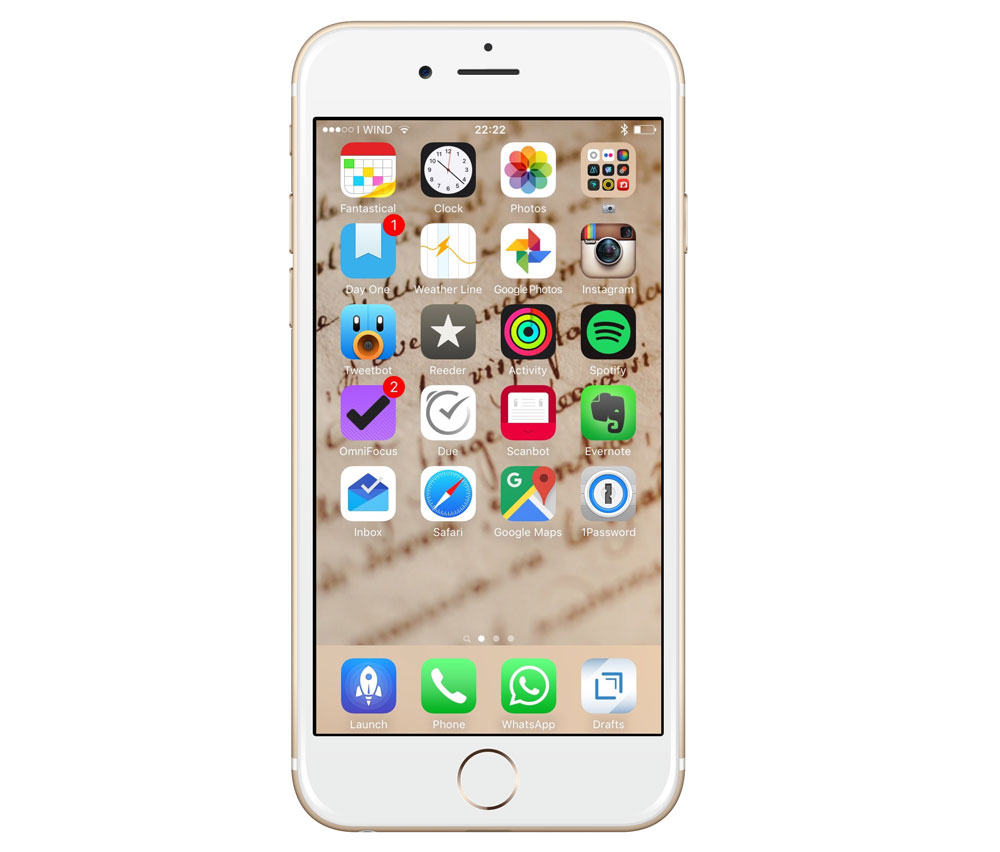 I own a 128 GB Gold iPhone 6. I'm completely in love with this device. So much in love with it that it usually gets me into trouble with my fiancé. In all aspects of my life, I rely on my iPhone and Apple Watch. The ecosystem I created has reached a point where I've automated the coffee machine to turn on and prepare coffee when my Jawbone Up24 perceives that I'm waking up.
Being an amateur photographer the iPhone is my most used camera.
Where can we find your wallpaper online?
As for all my devices, my wallpaper is usually a photo I took somewhere. On iOS I like to blur the photo to improve screen readability. My current wallpaper is a capture of a book taken at Isola Bella, one of the Borromean Islands of Lago Maggiore in northern Italy.
What apps do you use the most, and why?
I can't stop trying out new apps on all my devices. It's a terrible addiction. Fortunately, my job allows me to analyze and test many apps to learn about usability and interface design.
OmniFocus: One year has passed since I switched from Things due to the power of the iPhone App. OmniFocus is my go-to app for all kind of task management. Whether it's work-related or personal planning, I always rely on the powerful suite from The Omni Group.
Due: This is probably my most used app of all time. A true life saver. While I rely on OmniFocus for planning, Due is simply great for all of the tasks I tend to procrastinate. The Apple Watch App is a great addition and makes it reliable.
Instagram: The best camera is the one that is always with you. I'm not into Facebook, but Instagram is my most-browsed social network. Feel free to follow me.
VSCO: When traveling, I feel the urge to share landscapes and astonishing sights on the go. VSCO allows me to quickly edit my capture and post it to Instagram or elsewhere.
Enlight: When I need some further in-depth editing for my photos, my go-to app is Enlight. It's so powerful and immediate that I sometimes don't miss having Photoshop with me.
Evernote: Since I rely on the GTD method, Evernote acts as my archive. I archive everything that I can scan or throw into it. I would be lost without it.
Drafts: Drafts is quick and intuitive; can't think of a better note-taking app.
Launch Center Pro: This app is the fastest way to launch actions, batches, and apps on the iPhone. One of my favorite apps for iPhone, it's like speed dial for everyday tasks.
Google Photos: While I pay for iCloud to back up all of my files and photos on my iDevices, I find Google Photos to be incredibly reliable. It's so great to browse trough my entire library of pictures. Having "unlimited" storage is bliss.
Tweetbot: Not that I tweet much, but when I do, I can't think of doing it on any other App. Simply perfect user experience.
1Password: This is probably the first app I install on any device I get. They couldn't make this password manager more perfect.
Which app could you not live without?
Day One: As previously said, I don't tweet or use Facebook a lot, but I do try my best to keep a personal Journal. Day One lets me achieve this. It helps me archive memories with its non-intrusive notifications and input system that works on all my devices.
---
Which iPad do you have?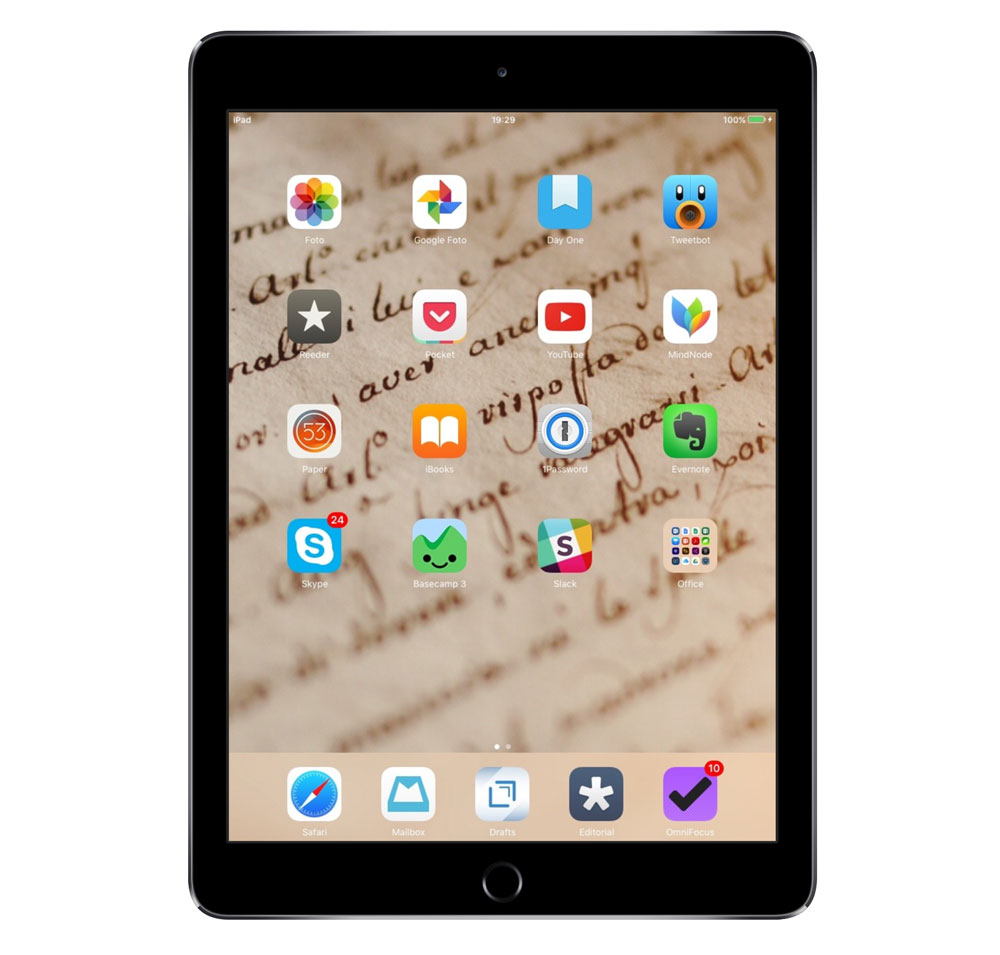 I own two iPads: An iPad Air and an iPad Mini.
The iPad Air is mainly used for entertainment. I stream movies, play Baldur's Gate or Final Fantasy VII (yes I'm a huge fan of RPGs), and browse through past memories thanks to Day One and Google Photos.
This iPad usually stays in my home or attached to a HoverBar from Twelve South on the edge of my bed (so that I don't end up falling asleep and making the iPad fall on my face in the process).
The iPad Mini, however, is used daily for business as well. I take minute notes with Drafts, sketch wireframes with Paper, and review estimates with OmniPlan. I bring it around with a Mini Clutch from Bally (even if it may not look manly; but hey, it's super useful). The Bally iPad Mini clutch can keep all of my essentials stashed away in this stylish zip around clutch. The textured leather case also works perfectly for short trips. The interior has two separate compartments: one with business or credit card slots, the other with an internal pocket where I place my Moleskine and daily essentials.
What apps do you use the most, and why?
Slack: Slack helps me stay in the loop with my teams. It drastically reduces the amount of useless emails I receive in my inbox.
OmniPlan: as a Project Planner, OmniPlan is bliss. If it only exported to Excel somehow it would be a consultant's paradise.
Trello: There are an enormous number of tools out there to help your daily project management, but of all of them, Trello has been my choice for successful Agile task tracking. Free, adaptive, and real-time collaboration, Trello is a no-brainer when in comes to tools for managing a new project. Having no boundaries regarding HOW you integrate it in your daily workflow can easily become complete mayhem. After a long period of trial and error, I found a few best practices to apply when starting a new project with Trello and Scrum.
Paper: During brainstorms, when I'm sketching websites or interfaces, I usually start on paper with a really low resolution and a thick-point sharpie, allowing me to focus on ideas, instead of all the small details that just don't matter in this phase of the project. With the iPad, I can do the same thing using Paper — a simple but flawless sketching app that mimics a Moleskine notebook.
Adobe Comp: If I need a slightly higher fidelity wireframe on the go, I rely on Adobe Comp. Its integration with Adobe Creative Cloud allows me to share my drafts with my team and never lose momentum.
Which app could you not live without?
MindNode: Something I love doing during my usual creative process is defining mind maps. MindNode makes mind-mapping incredibly easy. Creating a visual representation of my ideas has never been so easy.
---
There are more Sweet Setup interviews right here.