Tom Garry's Mac and iOS setup
April 9, 2018
Every week, we post a new interview with someone about what software they use on their Mac, iPhone, or iPad. We do these interviews because not only are they fun, but a glimpse into what tools someone uses and how they use those tools can spark our imagination and give us an idea or insight into how we can do things better.
New setup interviews are posted every Monday; follow us on RSS or Twitter to stay up to date.
---
Who are you and what do you do?
I'm Tom Garry, and I'm a primary school Deputy Head and Teaching & Learning Lead based in South London.
What is your current setup?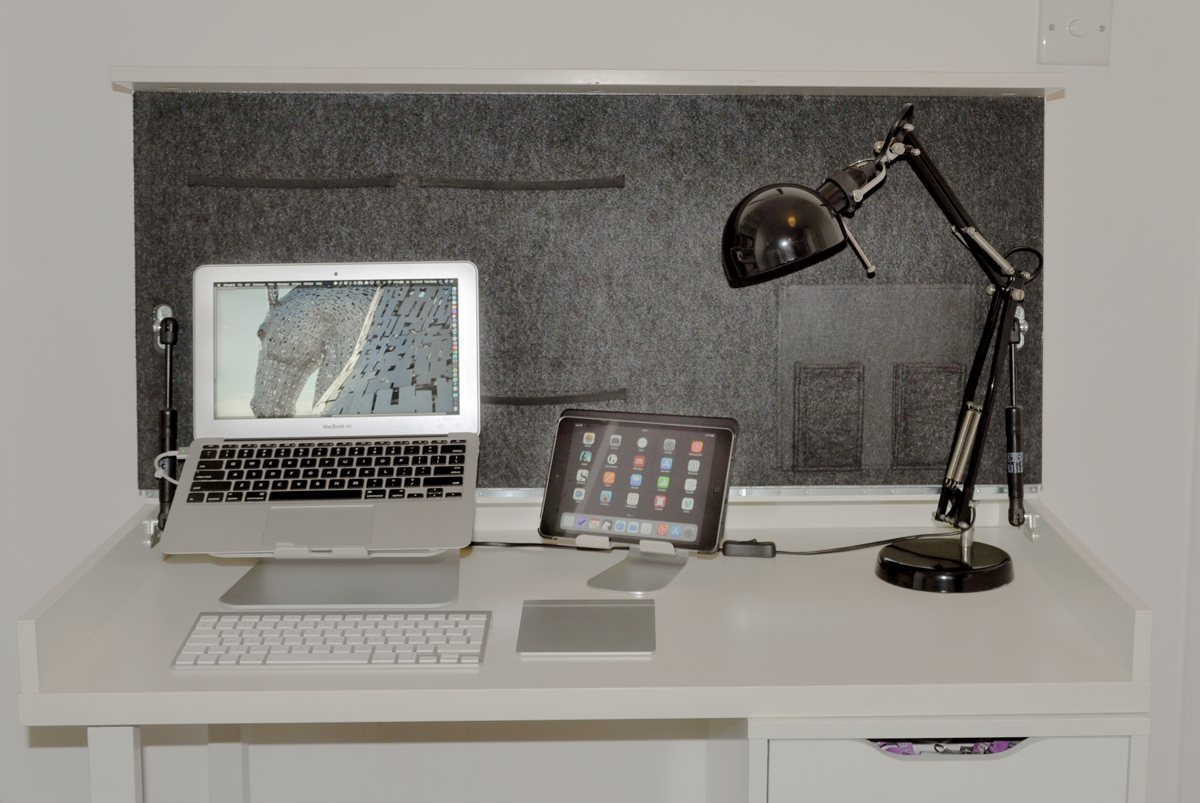 My Mac is a 2015 11" MacBook Air running High Sierra. I love the MacBook Air and will be disappointed when this one dies as the range has been retired. However, it is still running well for the time being. My job involves travel to several different schools, where I may be doing anything from running staff training and meeting teachers to observing or teaching lessons. For that reason, portability is really important to me: I like to be able to carry everything with me in a briefcase. Along with my MacBook, I always carry a presentation clicker and DisplayPort adaptor, so that I can plug in and go wherever I am.
Where can we find your macOS wallpaper?
It's one of my own photos that I took on a recent trip to Scotland. It's a photo of the enormous 'Kelpies' sculpture in Falkirk. – well worth a visit.
What software do you use and for what do you use it?
I need to stay well-organised for work, and the majority of my productivity revolves around four apps: Airmail, OmniFocus, Fantastical 2, and Bear.
I love Airmail for the way it manages my multiple email accounts, and for the ease with which I can archive, snooze, or send emails to OmniFocus. This allows me to keep my inbox empty and my emails organised.
In terms of task management, I use OmniFocus. After using both Reminders and Todoist for a while, I opted to take the plunge and upgrade, and I haven't regretted it at all. The ability to defer tasks easily and to organise them into nested projects are really useful, as is the level of detail that you can assign to each task and project.
Bear is a recent addition for me, having used Notes for some time, but I enjoy the concepts of tagging notes rather than organising them into folders. I use Bear to capture any of my thoughts for work that aren't tasks or events, as well as it being my digital filing cabinet.
Finally, Fantastical 2 – this makes organising my diary a breeze. The fact that it can handle shared Outlook calendars is a killer feature for me, as this is what we use for my school's master calendar. Fantastical integrates this seamlessly with my personal calendar and my own work calendar, and the option to have multiple views with clearly displayed information makes managing a variety of complex events relatively simple. The thing that unites all four of these apps is their aesthetics; they all look great as well as being satisfying to use.
I generally have to use Microsoft Office when creating documents to share for work; however, I use iWorks when I'm creating something for myself (or any document that can be shared as a PDF). A big part of my job is running training for teachers, so Keynote sees a lot of use in particular. I like to use a lot of visuals in my presentations, and the variety of shapes available in Keynote really help with this.
In my personal life, I'm a big fan of photography. I use Photos to capture anything taken on my iPhone or iPad, but process everything that I want to keep with Lightroom. My catalogue is saved on a WD hard drive to save on MacBook memory. I'm currently studying for a Master's degree, and also enjoy writing for pleasure, and I use Scrivener to manage all my writing projects. It has a steep learning curve (I'm definitely still learning), but its power and flexibility make it incredibly useful.
How would your ideal setup look and function?
I'm lucky enough to have a 27″ 2013 iMac at work, which I generally use as an external screen for my MacBook. It would be nice to have an iMac at home as well, or at least a high-quality monitor to connect my MacBook to, but my laptop stand, Magic Keyboard, and Trackpad make my home setup very useable, so I'm fairly happy with things as they are now.
---
What iPhone do you have?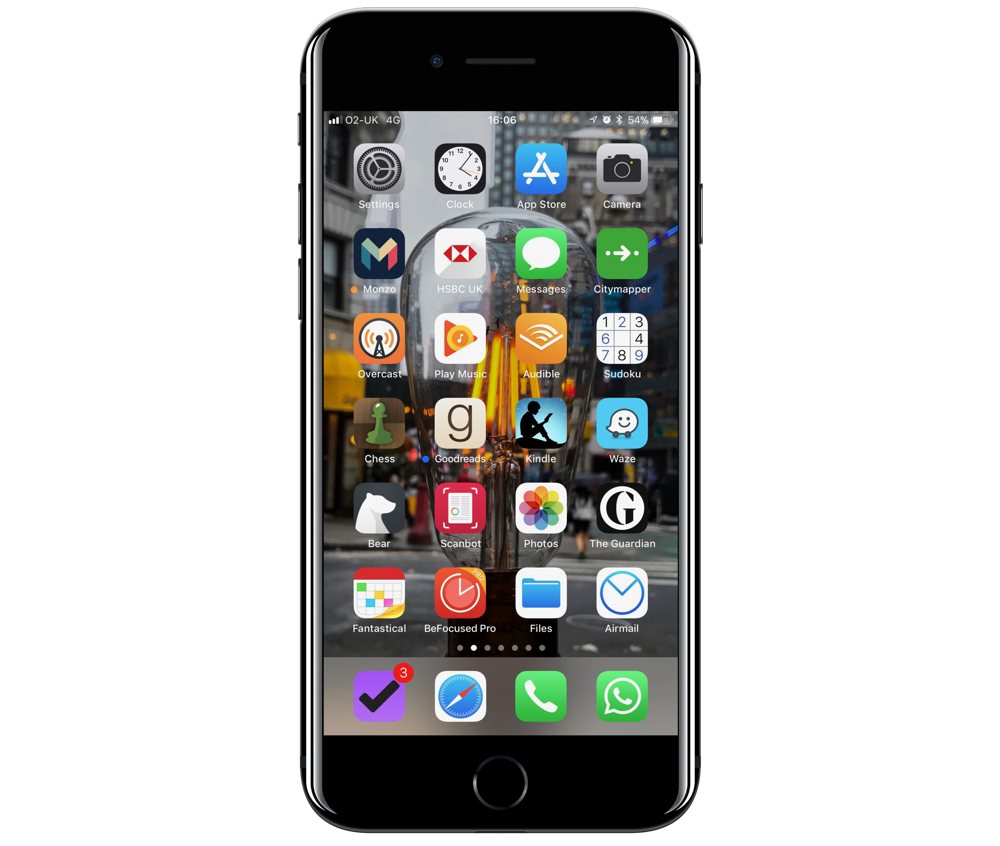 I have an iPhone 7 Plus 32GB in black.
Where can we find your wallpaper online?
My wallpaper is a photo that I took on a trip to New York in 2016. It's a photo of an Edison bulb in Brasserie Cognac on Broadway.
What apps do you use the most, and why?
Aside from the iOS versions of my productivity "big four" mentioned above (Airmail, OmniFocus, Fantastical 2, and Bear), my most used apps are probably WhatsApp, The Guardian (for news), and Kindle.
When driving, I use Overcast, Audible, or Play Music to give me something to listen to and Waze to point me in the right direction.
Other than that, Chess, Sudoku, and the crosswords in The Guardian app keep me entertained when I want some mental stimulation.
Which app could you not live without?
If I had to pick one, it would probably be The Guardian. My phone is handy for productivity, but I do the majority on my MacBook. If I'm out and about and need to pass some time, The Guardian would definitely be my go-to app.
---
Which iPad do you have?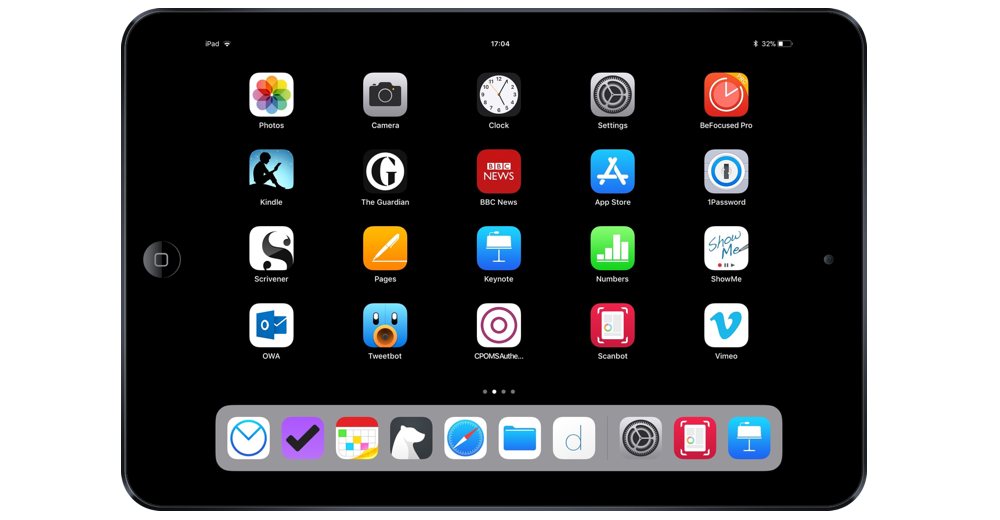 I have an iPad mini 2 32GB in Space Grey.
Where can we find your wallpaper online?
My iPad wallpaper is the stock iOS black background; I'm a fan of the minimalist look on here.
How are you using your iPad on a daily?
I often observe lessons as part of my job, and generally prefer to make notes digitally. I find that my iPad is much less intrusive than my MacBook for this purpose.
At work, I tend to bring my iPad to meetings as well, leaving my MacBook at my desk. As handy as it is in these situations, my iPad is probably the least used of my three devices; I would say that my MacBook and iPhone get used for 90% of tasks.
What apps do you use the most, and why?
Bear is my most used iPad app – it's a beautiful way of capturing my thoughts. Scanbot, and Tweetbot would both be up there too – Scanbot for capturing and digitising paper-based documents, and Tweetbot for sharing the best elements of maths lessons at my school with my followers, as well as keeping up with the latest educational tweets.
Which app could you not live without?
On my iPad, it would have to be Bear.
---
There are more Sweet Setup interviews right here.
Want to share your setup? We'd love to hear from you. Just fill out this form with some basic information and we'll be in touch.
---
Wait. There's a Bonus….
Custom Productivity Templates
We have a set of custom productivity templates that work well with the iPad app, GoodNotes. And if you want to try them out, we've put together a free guide that can help you.
We'll show you…
How to create and save custom page templates in GoodNotes.
How to use those page templates to transform GoodNotes into your own productivity notebook (or any other type of notebook replacement).
Plus, we also have included a couple of our custom productivity templates for you to get started with. These templates are right out of our popular productivity course.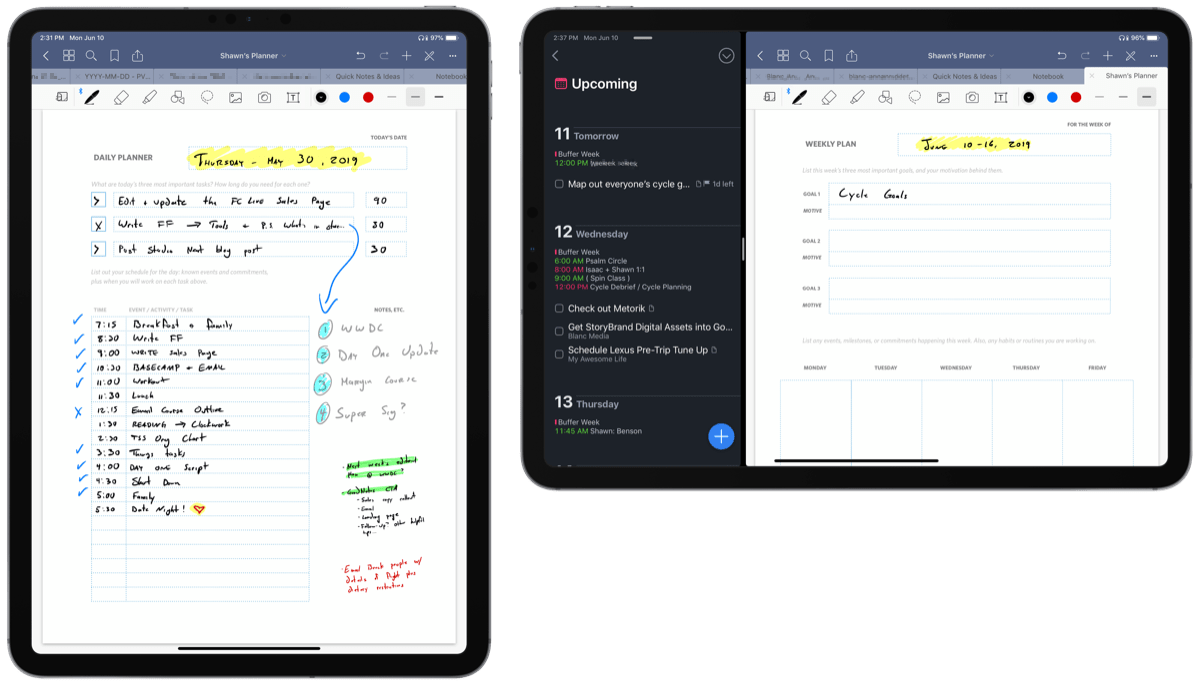 The custom templates and the guide are available for FREE to our email subscriber community. And you can get it right now. By joining the Sweet Setup community you'll also get access to our other guides, early previews to big new reviews and workflow articles we are working on, weekly roundups of our best content, and more.