Todd Henion's Mac and iOS setup
July 11, 2016
Every week we post a new interview with someone about what software they use on their Mac, iPhone, or iPad. We do these interviews because not only are they fun, but a glimpse into what tools someone uses and how they use those tools can spark our imagination and give us an idea or insight into how we can do things better.
New setup interviews are posted every Monday; follow us on RSS or Twitter to stay up to date.
---
Who are you and what do you do?
My name is Todd Henion, and I'm an airline pilot and instructor. I'm also a dad and a PTA president.
What is your current setup?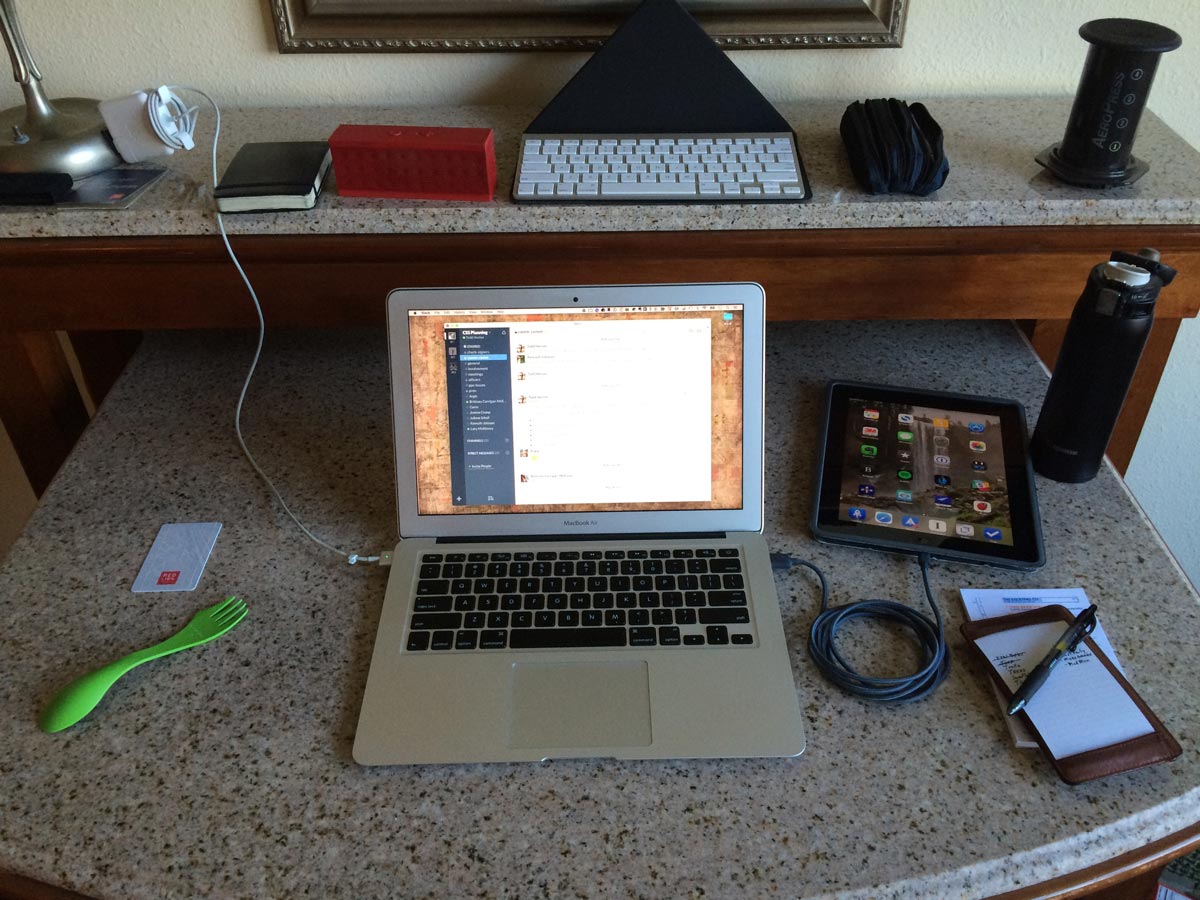 My MacBook Air is my main writing machine. I chose it for battery life and weight, and maxed it out with an 1.7 Core i7 chip and 8 GB of RAM. I don't upgrade hardware every year, so it has to last. I use a USB SuperDrive to load up on movies to watch in hotels. WiFi can be spotty even in nicer hotels, and Hulu et. al. are limited outside of the states.
I use paper (in a Levenger® Pocket Briefcase or various notebooks) to capture my thoughts and to create the quick lists that drive my life. I usually take notes on paper first and then transcribe to Simplenote or Evernote. The process helps me remember what I've committed to and where I have open loops. As a pilot, lists and checklists drive my every day. Interestingly, this interview invitation prompted me to delete nearly a fifth of the stuff on my phone as I reviewed my apps and thought about what I really needed.
Where can we find your OS X wallpaper?
My MacBook Air wallpaper is a print my late friend Robert Calvo created. He worked with maps, architecture, and color to explore intersections and a sense of place. It's a nice reminder of my friend and calming when I log on. My practice is to hide all apps except the one I'm using, so I do see my desktop pretty often.
What software do you use and for what do you use it?
My most frequent use beyond Safari, would likely be Slack. I discovered it two years ago and have moved our 30-person PTA to that platform. There's something going on there nearly hourly as we track events, fundraising, and group decisions. We've become so much faster and cleaner with all our communication in Slack.
Spotify is always running, too. I'm of an age where I like to hear the whole side of the album, and Spotify lets me hear what I want most of the time.
I use Byword for most of my PTA and work writing. I like the easy transitions between devices and the clean screen presentation. I'm fortunate to have moved away from MS Office (and the includedcomplexity) completely. It's just about the words now. My son just set me up with Kerbal Space Program, so we do a bit of that together.
How would your ideal setup look and function?
As you see, my office is often mobile in hotel rooms or sprawled over row 5 on breaks between flights, so nearly everything must be mobile. I'm not dissatisfied with any of my current tools, but always ready for the next release. My iPad is a 4th generation that was purchased by my company. We'll be moving to Pros soon, so that will be welcome. I've been using my Bluetooth keyboard with the iPhone a lot lately as it's so quick to set up. The iPhone writing environment is sufficient for most of my needs.
---
What iPhone do you have?
I've just jumped to the iPhone SE and I'm loving it. I like the size and love the design style. I'm much more interested in the stronger camera than 3D Touch.
Where can we find your wallpaper online?
It's just some Oregon coast sand messed with in VSCO.
What apps do you use the most, and why?
Overcast gets constant use. I've enjoyed podcasts for a decade, and they keep me company on the road and at home during quiet times.
Slack and Fantastical are essential. Streaks has been really powerful for me. I pick a couple of habits and the app gives me the reinforcement to lock them down.
I do a lot of planning and "what if" thinking in Solver. It's a great calculator for English majors.
And, Drafts is my scratchpad for nearly everything. I love the capture aspect, and it's never lost a single letter.
Which app could you not live without?
Instapaper was one of the first apps I bought for my iPhone 3G. I still use it daily. My profession has lots of planned and unplanned downtime. I always have something sensational to read.
I've used Todo as my task app of choice for years. It's a nice mid-range between the Omni apps and the Reminders app allowing for greater GTD and sorting options. I like the clean look and solid sync.
Simplenote has been with me forever, too. It's filled with memories, things to do, and restaurant recommendations in distant cities.
---
Which iPad do you have?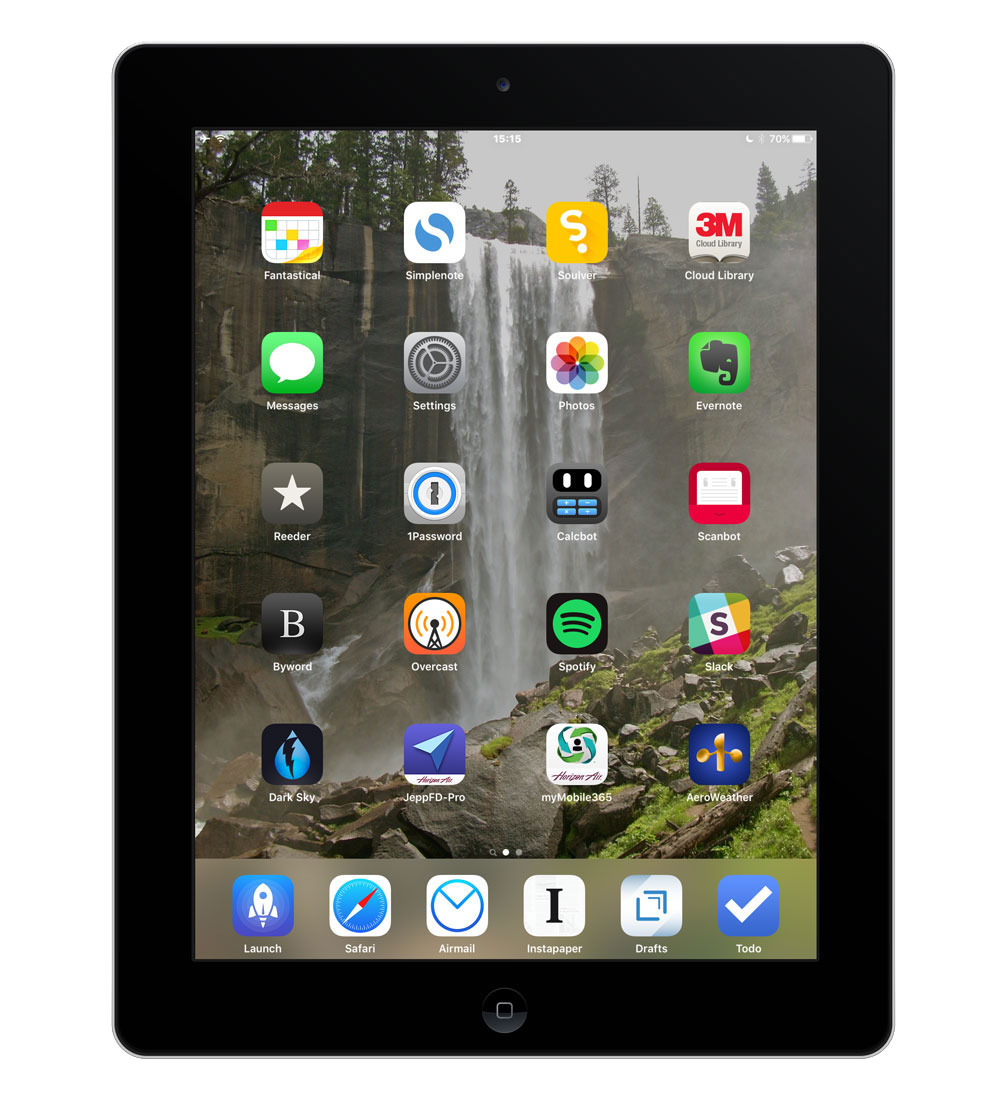 I use a 4th generation 32 GB iPad. It was issued to me by my airline.
Where can we find your wallpaper online?
This is my own picture from Yosemite. If you look just left of Byword, there's a big bear.
How are you using your iPad on a daily basis?
I use it in the cockpit daily. All our manuals, communications, and navigation charts are synced there. We also use the iPad for flight performance calculations, and I have several weather and mapping apps, of course.
What apps do you use the most, and why?
Outside of flying, the iPad is a frequent email tool, and I've just moved to Airmail 3 after Mailbox was killed.
I also read on the iPad constantly. Instapaper is primary, as I've mentioned, and also 3M Cloud Library is a really nice library book borrowing/reading tool that keeps my reading current (Check out Skyfaring if you're curious.) I've enjoyed Launch Center Pro on both devices, though am mostly using it as a launcher/dialer. I know it has amazing powers, and I'm still exploring. Everyone has 1Password, so just get it if you don't already own it.
Which app could you not live without?
Instapaper and Slack are my faves on the iPad.
---
There are more Sweet Setup interviews right here.
Want to share your setup? We'd love to hear from you. Just fill out this form with some basic information and we'll be in touch.