Tiffany White's Mac and iOS setup
February 20, 2017
Every week we post a new interview with someone about what software they use on their Mac, iPhone, or iPad. We do these interviews because not only are they fun, but a glimpse into what tools someone uses and how they use those tools can spark our imagination and give us an idea or insight into how we can do things better.
New setup interviews are posted every Monday; follow us on RSS or Twitter to stay up to date.
---
Who are you and what do you do?
My name is Tiffany White, and I am a student at the University of Pittsburgh studying Computer Science by day and work as a freelance developer by night.
What is your current setup?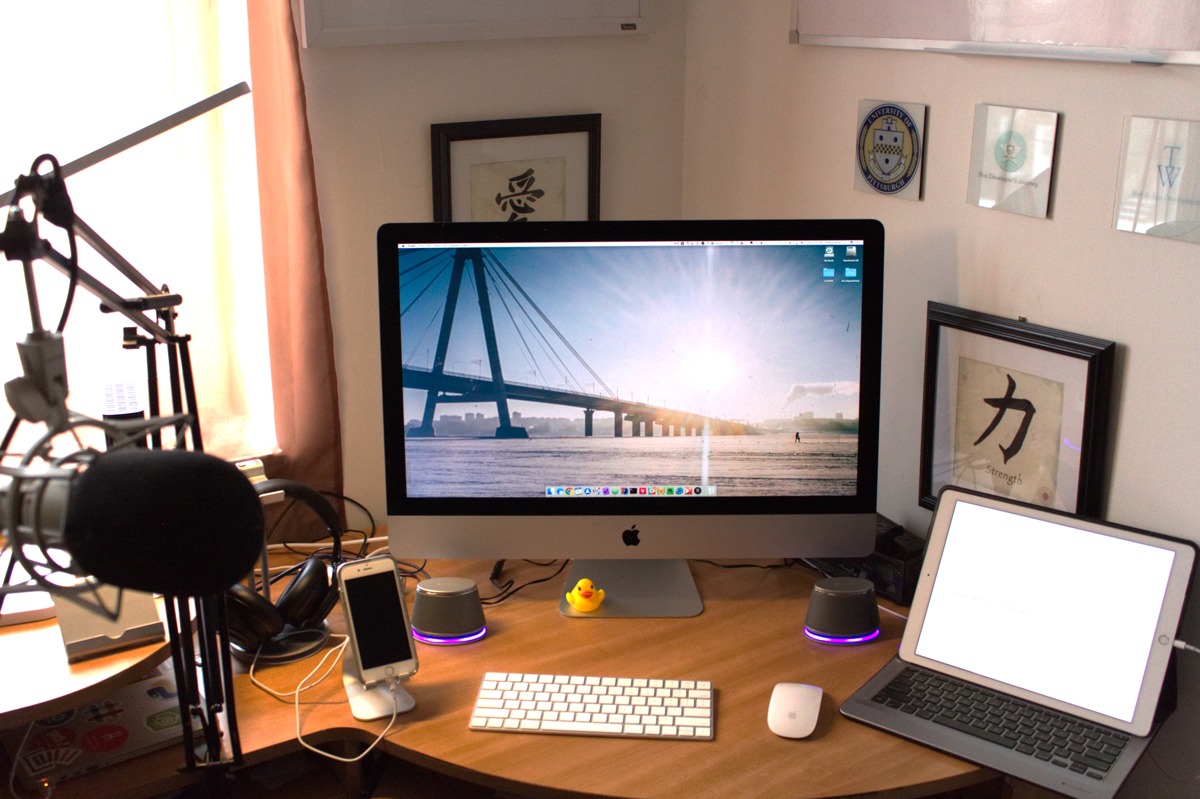 I have a late-2015 5k iMac with a 2TB Fusion Drive and 16GB of Crucial RAM that I installed. I will be adding more RAM soon to give me 32GB. I also have a late 2013 13″ MacBook Pro that I take with me to class.
I am also using an iPad Pro with Logitech Create Smart Keyboard and an iPhone 6s.
Where can we find your macOS wallpaper?
My wallpaper changes daily thanks to Wallcat, which just pulls fantastic stock photos from Unsplash.
What software do you use and for what do you use it?
I use Atom, PHP Storm, IntelliJ, and Hyper Terminal for my classes and freelance work. Those get installed on every machine I buy. I also couldn't work without OmniFocus, Evernote, PDF Expert, 1Passowrd, Transmit, BusyCal, BusyContacts, Ulysses, and various chat apps.
OmniFocus is a rock star when it comes to GTD and I wouldn't be half as productive without it. Evernote is for planning projects, storing web clips that I want to refefrence later, and dumping newsletters in. PDF Expert is for all the PDFs you get handed in university. Transmit is an excellent FTP client that I need for class. I use Ulysses to write all blog posts and newsletters for my blogs Just Another JavaScript DevBlog and my Apple blog That Mac Nerd. BusyMac makes great productivity tools and BusyCal and Contacts is the perfect CRM.
How would your ideal setup look and function?
Ideally, I'd have three 5k monitors. Programmers are notorious for their ridiculous multi-monitor setups, but I don't have the money or the space currently. I'd like an IKEA desk with plenty of room for other peripherals as well.
---
What iPhone do you have (color, size, etc.)?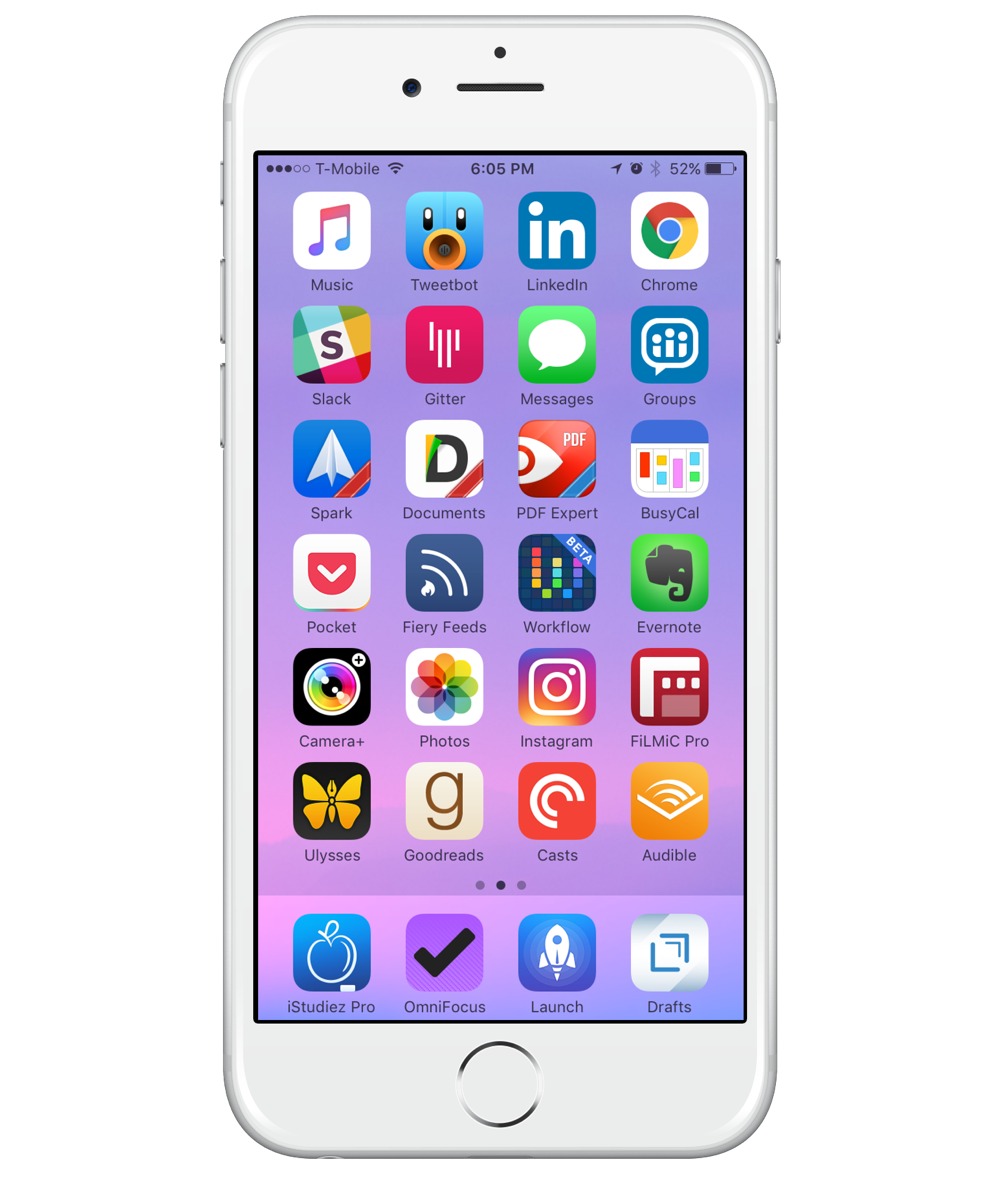 I have a Silver iPhone 6s with 128GB of space.
Where can we find your wallpaper online?
I found Cuto while reading an article here at The Sweet Setup. Great minimalist wallpapers.
What apps do you use the most, and why?
I use OmniFocus, Tweetbot, LinkedIn, Pocket, Music, Spotify, Workflow, and Pocket Casts the most. I have a long commute to school, so having podcasts ready really helps kill the time. On the way home, I often listen to music through Apple Music or Spotify.
I use OmniFocus with Siri for quick input just to get stuff out of my head and into the Inbox. Sometimes I'll use Drafts for this as well.
Workflow is amazing. The widget is what makes it one of the most useful apps on my iOS devices.
Which app could you not live without?
This is a hard question, really, as there are several. OmniFocus, Evernote, Drafts, Pocket Casts and Workflow are a few.
---
Which iPad do you have (color, size, etc.)?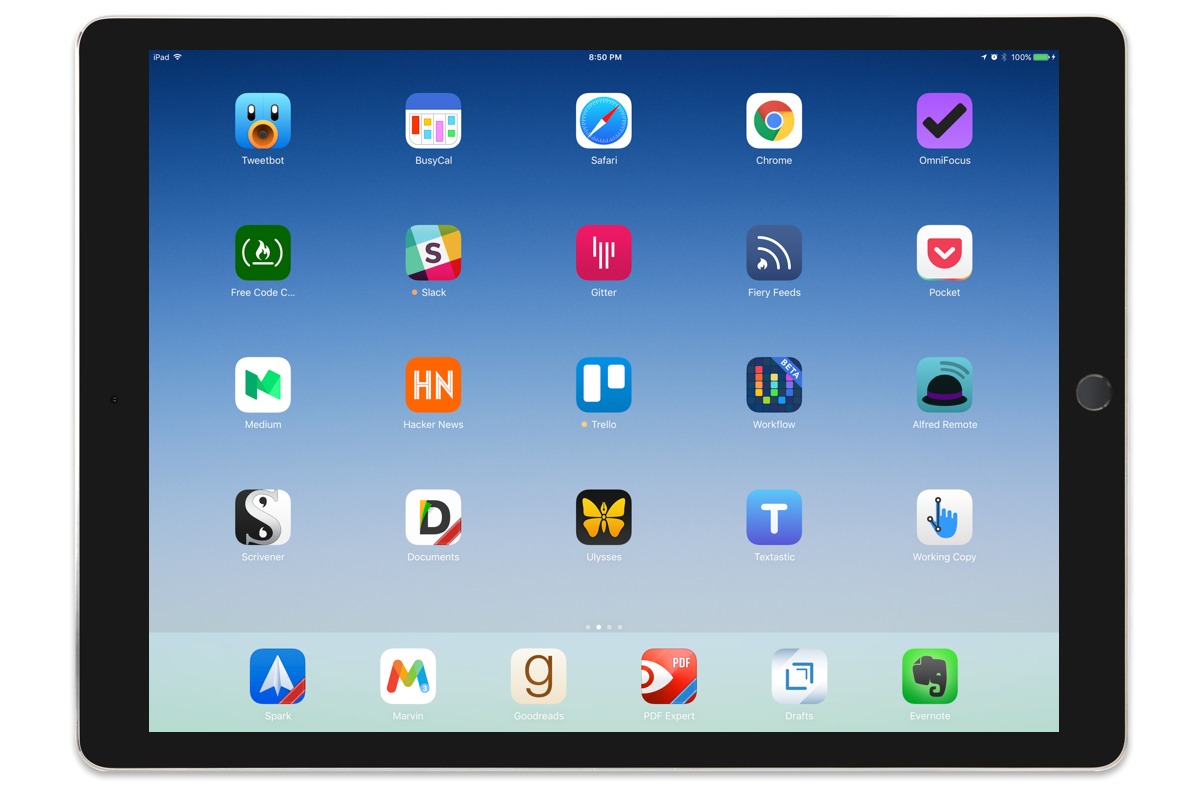 I have a Silver iPad Pro 12.9″ with 128GB of space and Wi-Fi only.
Where can we find your wallpaper online?
Same as my iPhone: Cuto.
How are you using your iPad on a daily basis?
I use my iPad to write blog posts, read, and construct some of my programming and productivity book projects in Scrivener for iOS. I prefer writing in Scrivener for iOS and compiling in Scrivener for Mac. I also make quick edits to my apps using Textastic, Working Copy, and Transmit.
What apps do you use the most, and why?
Which app could you not live without?
Marvin. I read far too much to not have it.
---
There are more Sweet Setup interviews right here.
Want to share your setup? We'd love to hear from you. Just fill out this form with some basic information and we'll be in touch.
---
The 5 Best Productivity Apps (Sweet Setup Favorites)
Download: We spend an inordinate amount of time sorting through hundreds of apps to find the very best. This list of must-have productivity apps includes app links, quick-start info, and pro-tip workflow recommendations for each app.