Three Signs You Need Margin
March 8, 2023
How would you describe your average day?
Here are some common answers I see to this question. People often describe their day as being:
Busy
Overwhelming
Stressful
Crazy
Full
In contrast, how would you describe your ideal day? How do you WISH your average day was?
For me, my average day is generally fulfilling, fun, and productive.
As much as I love a good vacation in the Colorado mountains, I would get a bit stir crazy if I didn't ever have something to put my hand to. And, of course, if all I ever did was work, I'd burn myself out — which is what I used to do.
I used to work 70 hours a week. In 2015 I only took about 10 days off the whole year. I even worked over my Christmas vacation! Yikes.
It took me years to become comfortable with taking time off. Evenings, weekends, long lunches, even vacations… I would feel guilty if I wasn't cramming every minute of my day with something productive and important.
Dr. Richard Swenson writes, in his book on Margin, that we must "develop the necessary underpinnings for margin that will allow us to accept its importance without guilt. For just as we need to eat and sleep, so we also need to breathe."
When you're at capacity, there is no room for anything else. But when there is space left over — when there is margin — that space enables you to breath.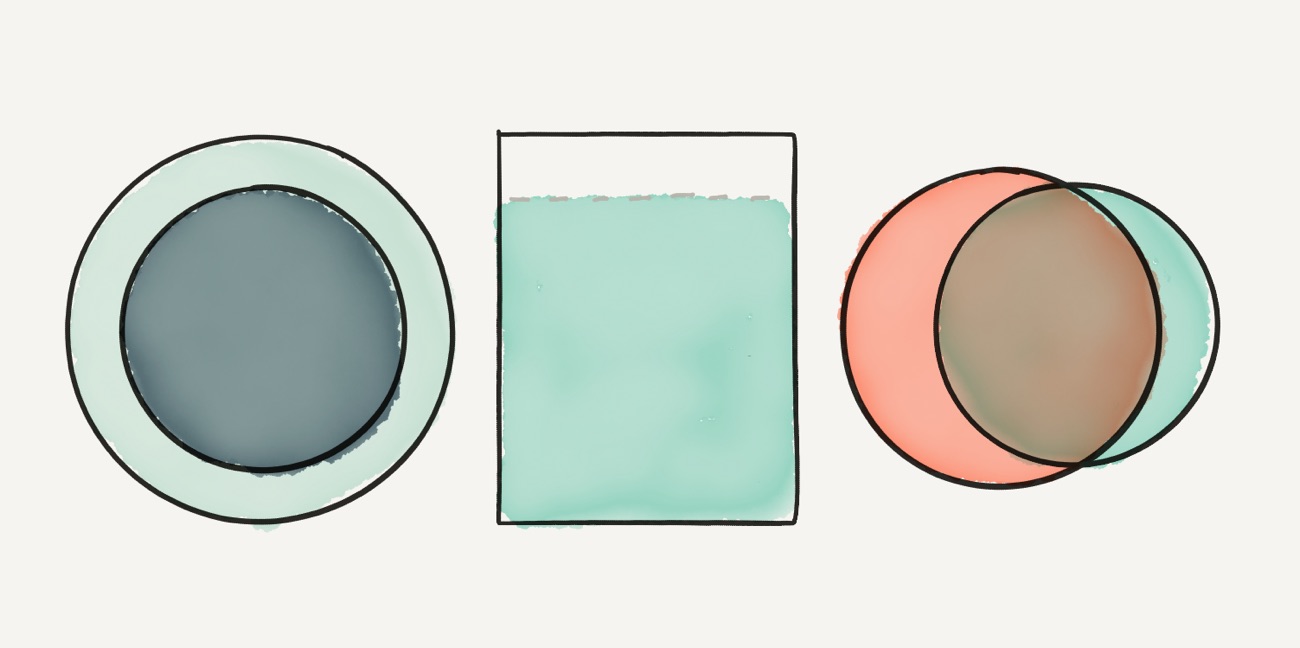 3 signs you may need some margin in your day:
You feel fatigued, hurried, and anxious rather than excited, calm, and secure.

You have little or no time for your own projects and passions because your day is filled up having to respond to so many other urgent issues.

You often wake up to your day, rather than waking up for your day.
If that sounds too familiar, good news: We've developed some simple frameworks and systems that help you create your ideal day — one with margin, flexibility, and freedom.
Margin Means Options, Flexibility, and Freedom
When you have margin in your life, you have more flexibility.
Flexibility that allows for breathing room in your life for things such as…
A calendar that isn't overflowing with obligations
The flexibility to adjust your schedule when you want or need, without consequences
Freedom to spend time with the people who matter most to you
Plenty of time to think and work without urgency and looming deadlines
---
I just taught an intro class on margin, and here was some of the feedback…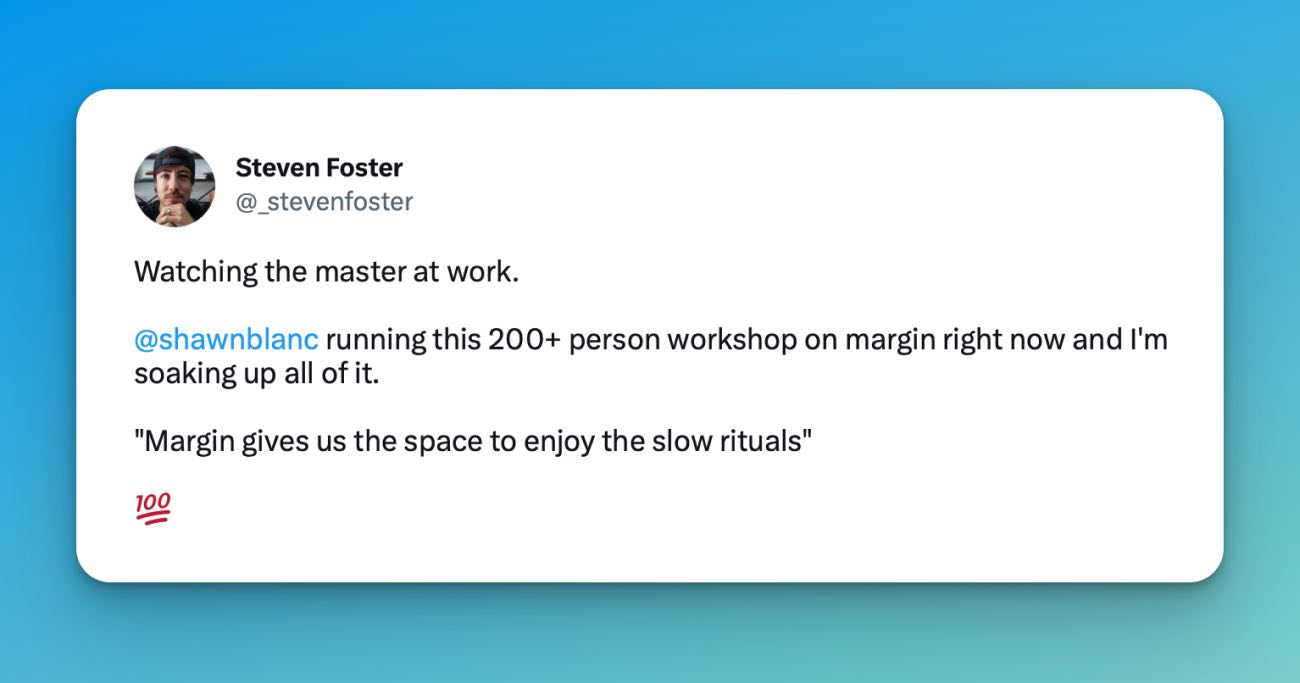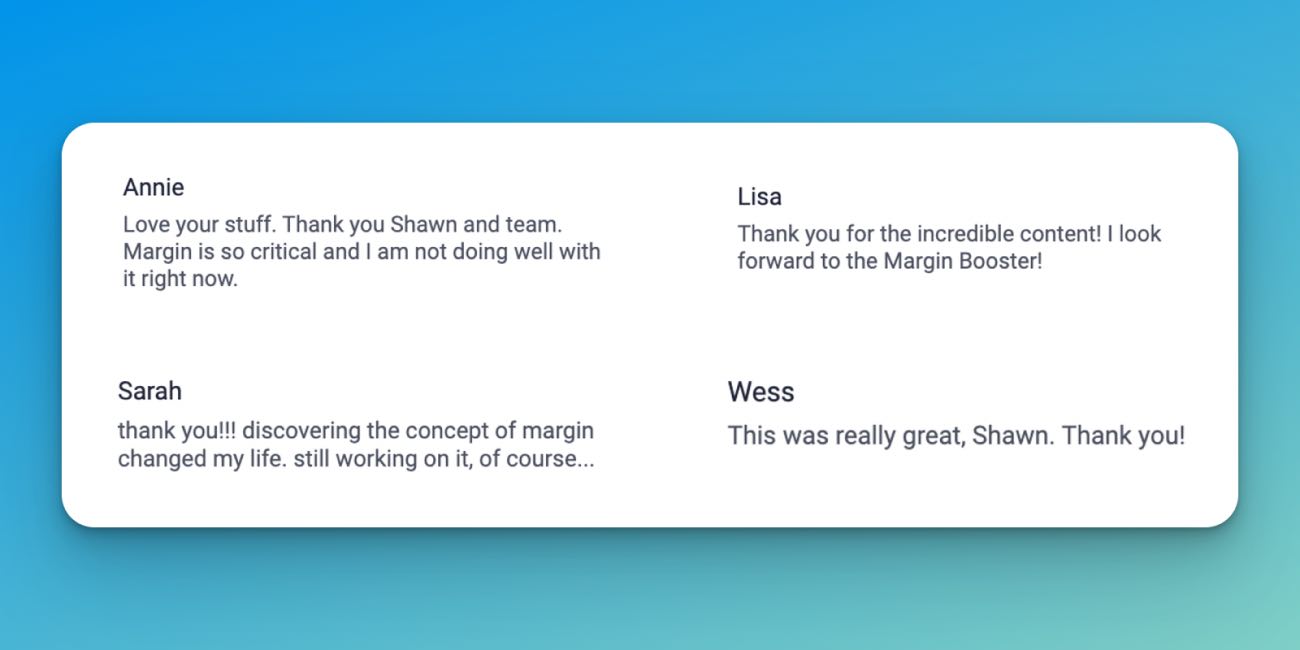 Join us for the Margin Booster (hands-on, in-depth training)
Starting this month (March 2023) we are kicking off an in-depth, live training for folks who want to get back margin in their life.
This is only for members of our community. And if you'd like to join, you can learn more and sign up here and you'll get instant access.
🚀 When Everything is Always Busy…
The Complete Guide to Margin (Get Your Time Back)
If you struggle to keep up with all your tasks, your busy schedule, and just feel overwhelmed…
Get Instant Access to our 2-part framework for restoring margin and breathing room (starting today).
Even if things feel overwhelming, you're not sure where to start, and you've already been there, tried that…
Inside our popular community membership, join us for the Margin Reset. Stop wondering why it's so difficult to keep breathing room in your life. Finally break free from the overwhelm…
You'll get instant access to the entire course library ($5,000 value), including our popular Focus Course, Margin masterclass, Time Management masterclass, productivity templates, and more…
Our simple, 2-part framework to restore margin
How we use these frameworks to take off 9 weeks paid vacation every year
How to get more breathing room in your own life (starting now)
Calm Inbox (email management masterclass)
All the Things (productivity course)
Productivity & Time Management Templates
From Busy to Not Busy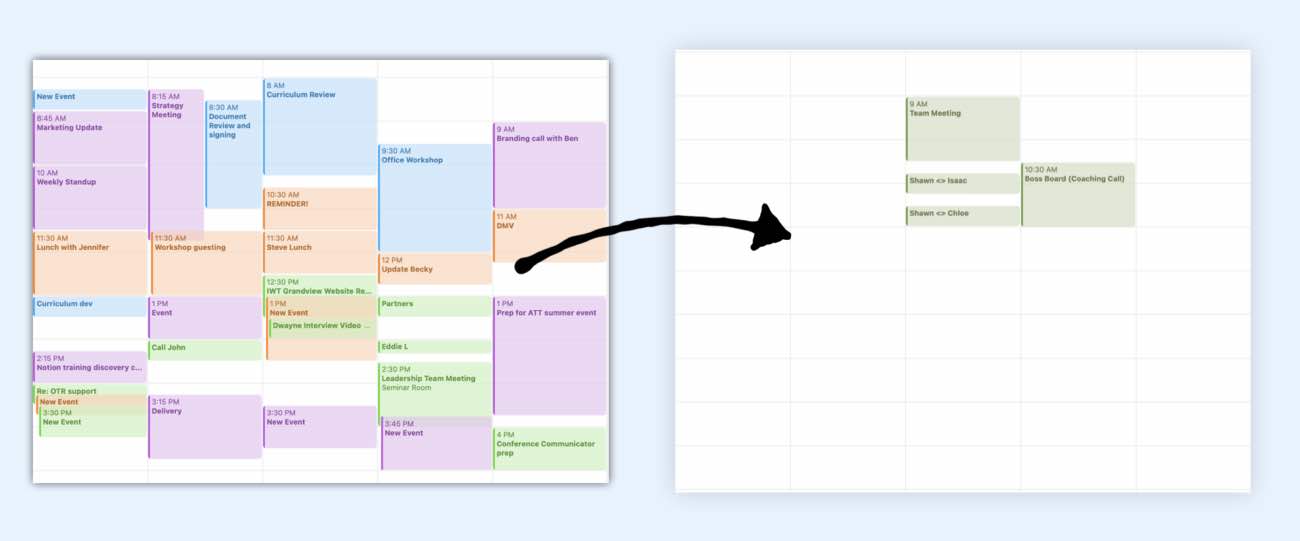 All this, and more, inside the Focus Accelerator
Join 300 focused members who have access to $5,000 worth of our best courses and masterclasses, the Digital Planner, a Private Community Slack, 2x Monthly Coaching Calls, and much, much more…