Three Apps We're Trying This Week: March 4, 2019
March 4, 2019
There are many apps that grace the Mac and iOS App Stores that simply don't get enough attention or admiration. Sometimes an app is so good at what it does, it becomes the default app for the task and is rarely questioned. Sometimes a new app debuts in a given category and, while it shows promise, doesn't quite live up to our pick for the best in that category.
There are millions of apps to try out on any given day, so here are three we're trying this week.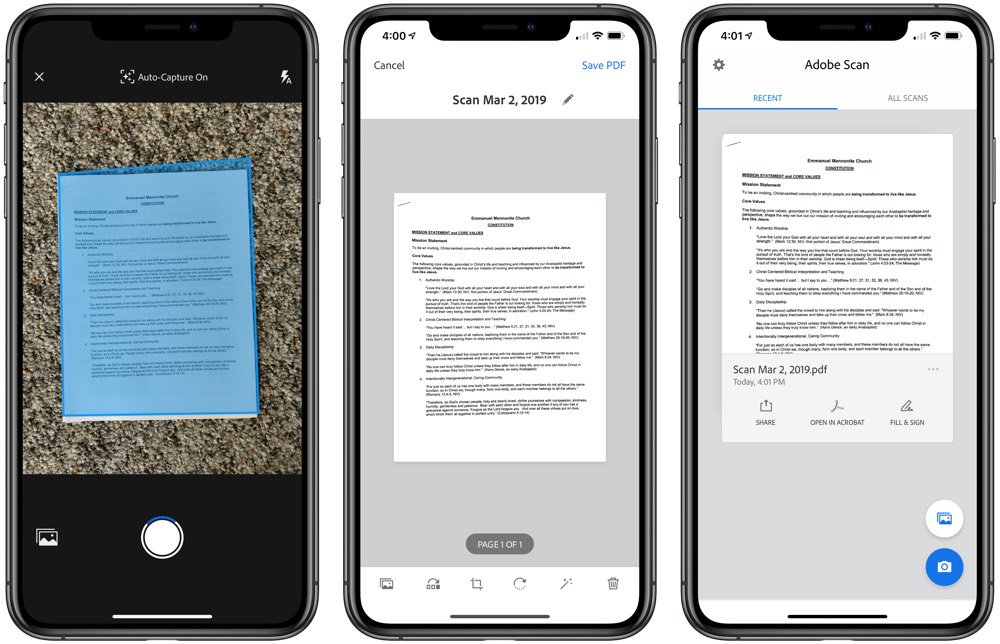 It's that time of year again: tax season. Aside from the long days spent in the office, another major headache of this season is the sheer amount of paper we work through. Printing tax returns, tax slips, notices, letters, receipts, and more becomes a nuisance, not to mention is hard on the environment. And, in order to get in touch with a client, exchanging business cards becomes the norm as well.
The app I'm trying out this tax season to get rid of this paper and business card headache is Adobe Scan. Much of Adobe Scan's functionality is duplicated by the scanning feature found inside Apple's own Notes app, but Adobe Scan takes things a step or two further.
When you open the app, Adobe Scan automatically goes into scan mode, searching for documents laid on a flat surface. Adobe Scan will begin to scan your document when you see the blue overlay on top of your document, and it automatically saves your scanned document to the bottom right corner until you tap on the thumbnail. Once in the preview screen, you can crop, annotate, and change parts of your scan. Tap Save as PDF to save the scan.
Now, once saved, Adobe Scan moves above and beyond what you can do in Apple's Notes app. Using OCR technology, Adobe Scan scans your saved PDF and offers quick options to fill in areas in the scanned document with a signature or annotation, or it offers a quick way to create a contact from contact information in the scan. This is perfect for handling business cards — simply scan, save, and allow Adobe Scan to pull contact information out of the business card and save to a new contact in your phone. What you do with the business card at that point is up to you.
Adobe Scan is a free download for iPhone and iPad on the iOS App Store.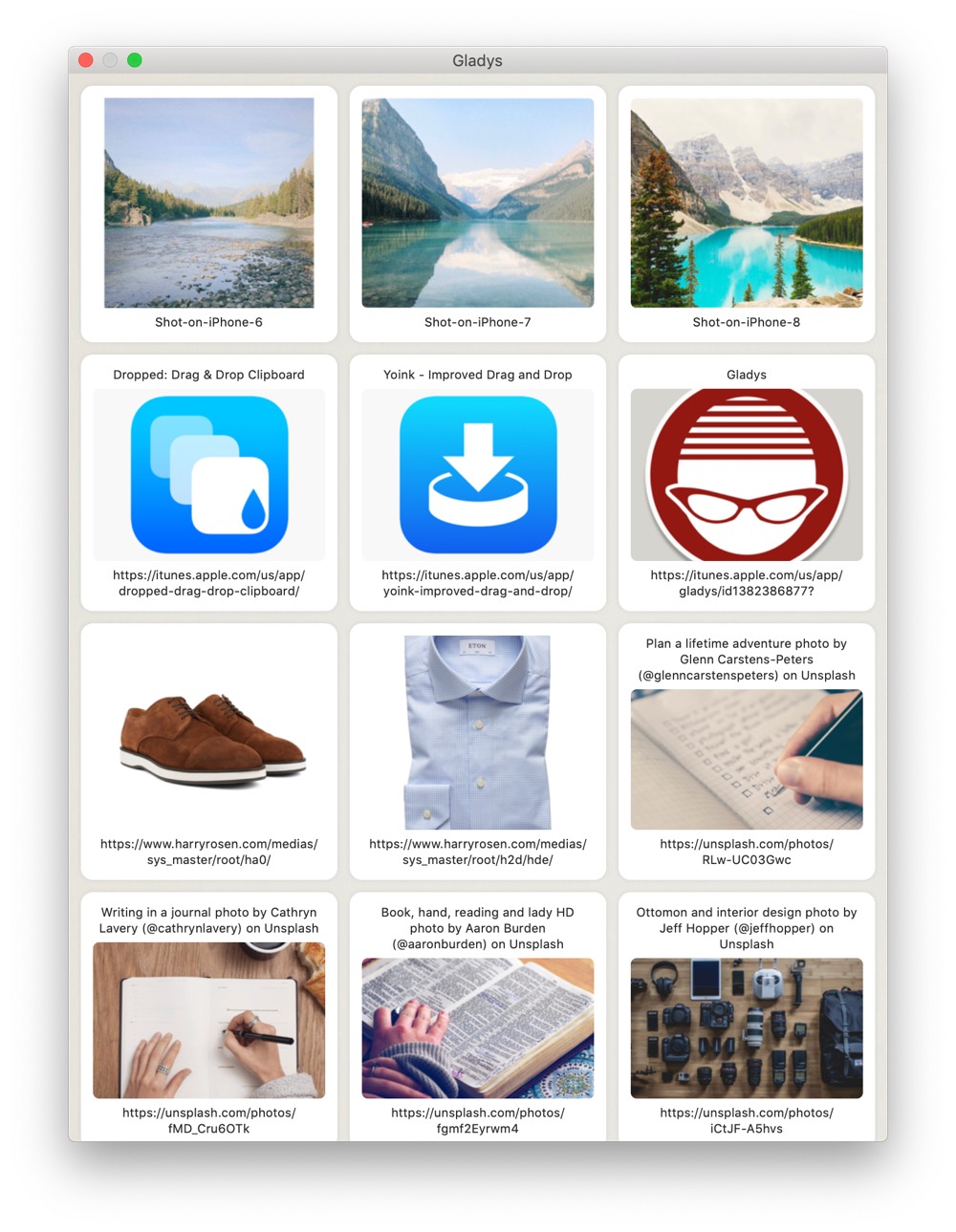 There was a mini development frenzy that took place sometime before the launch of iOS 12 when Federico Viticci discussed a category of app he'd like: a drag and drop shelf built into iOS that housed bits and pieces of things you want to save that can be dragged out later into your app of choice. This idea had long since been created on the Mac, but it felt much more aligned with drag and drop on iOS.
The ensuing apps to be released unlocked a new app category for iPads, with apps like Dropped, Gladys, and Yoink becoming mainstays on some people's iPads.
I tried to get onboard the drag and drop train, but the habit never stuck. I downloaded just about all the options, played around, and eventually returned to how I normally use the iPad.
In the latest issues of Club MacStories, John Voorhees documented how he uses apps like Yoink and Gladys on the Mac as a temporary file manager rather than as a drag and drop assistant. This has really opened my eyes. Voorhees:
For files I regularly need though, I still use Gladys as a sort of shallow file system that's easily accessible. Gladys is where I store documents I need to send out regularly via email, plaintext checklists that I can drag into a variety of apps, and URLs that I collect during the week and want to stash somewhere for a few days until I have time to take a closer look.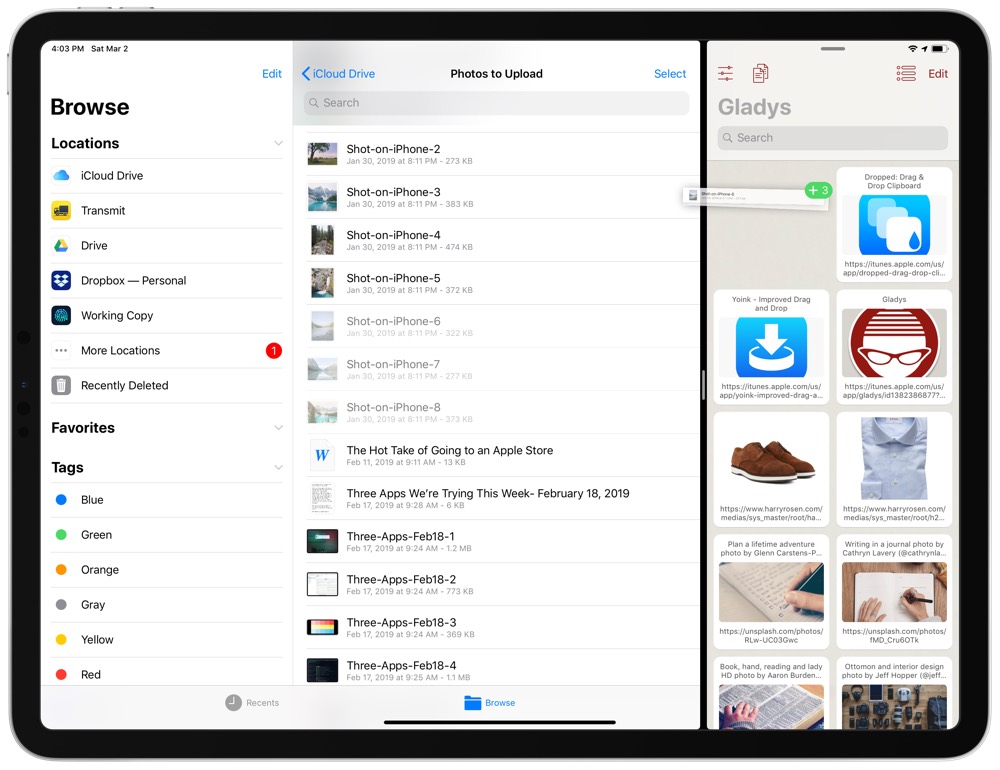 This use-case falls outside the box of a regular "drag and drop" assistant app and, at least on the face of it, appears to be a more natural way of using these "shelf" apps. I have a dedicated iCloud Drive folder for temporary items that I need to move in bulk between my iPad and my Mac or vice versa. This works well enough, but isn't an ideal workflow. I'm going to see if Gladys can take over this workflow instead.
Gladys for Mac is a free download and costs $0.99 for storing unlimited items (the free version allows up to 10 items to be stored at once).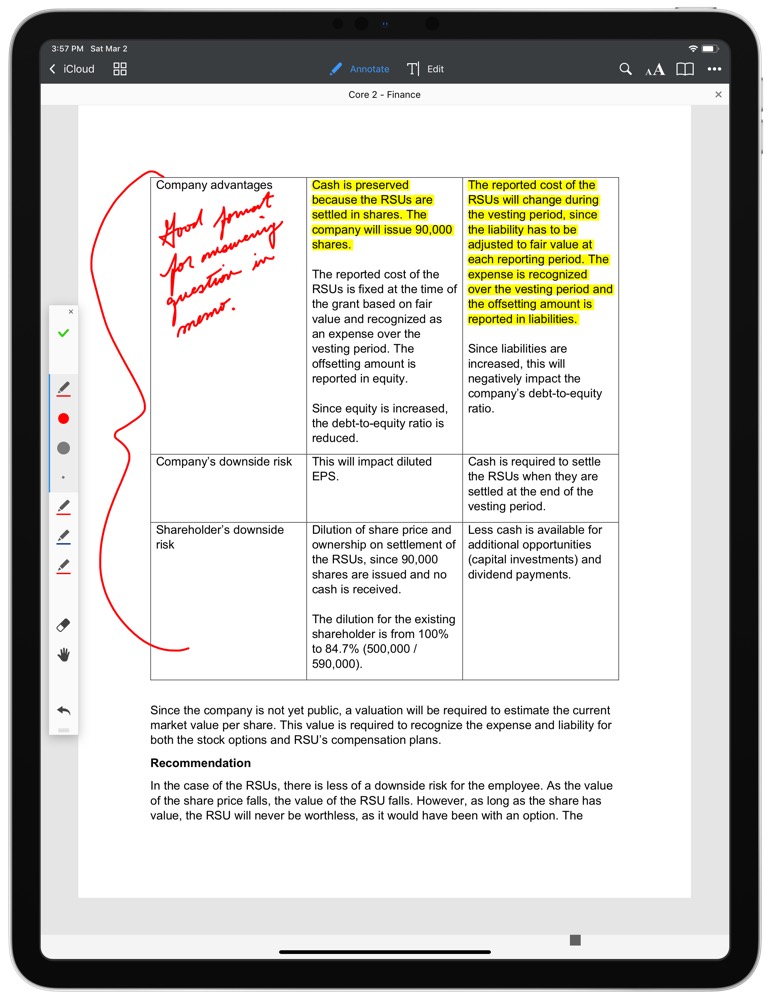 I continue to slog through accounting school every evening, and thanks to modern technology, textbooks come in the form of PDFs rather than expensive, 10-pound blocks of paper. I complete about 90% of my schoolwork on the iPad these days — be it reading, highlighting, and marking up PDFs when studying, writing out long-form answers in Word, or listening to webinars while taking notes in Notability.
You'd think, for all the time I spend in PDFs, I'd gravitate to the option chosen by The Sweet Setup. PDF Expert has been our pick for the best app for editing PDFs on the iPad for a long time, yet I hadn't used PDF Expert for study purposes until this past week.
This has changed, and I think it's a permanent change after only a day of use.
PDF Expert isn't immediately as easy to use as, say, Books (at least, once you have the PDF saved in Books), but it doesn't take long to understand how the left-side tool bar can be navigated and toggled to find the tool of your choosing. The highlighter tool works phenomenally well in PDF Expert, adhering strictly to line height and allowing black text to properly pop out at you. The pen tool also works well — you can change to a multitude of different colors, pen thicknesses, and transparencies.
But most important of all, you can have a tool initiated in PDF Expert (say, the highlighter) with the Apple Pencil and still use your fingertip to swipe between pages. In Books, if you have any annotation tool engaged, your finger takes the place of the Apple Pencil — instead of swiping to the next page of the PDF in Books, you're left with this huge, ugly yellow marker highlight strewn across your document.


The highlighter tool inside PDF Expert alone is enough to make me switch permanently over to Readdle's popular app, but the wide range of other features are sure to catch others' attention. Just look at the difference in highlight quality above between PDF Expert and Books. You can change PDF text, underline, strikeout, make comments, add signatures, and more — all of which are either impossible or very difficult to perform in Books.
PDF Expert for the iPad is $9.99 on the App Store and an additional $9.99 in-app purchase allows you to change PDF text, redact sensitive information, and edit images and links. For more information on PDF Expert, be sure to check out our full review of the app.
---
Get Our Best Photography Tips & Workflows
Transform your photos and edits from average to awesome with our in-depth, mobile photography course. It's jam-packed with training, ideas, and lessons that can literally transform your photography overnight.