Three Apps We're Trying This Week: February 18, 2019
February 18, 2019
There are many apps that grace the Mac and iOS App Stores that simply don't get enough attention or admiration. Sometimes an app is so good at what it does, it becomes the default app for the task and is rarely questioned. Sometimes a new app debuts in a given category and, while it shows promise, doesn't quite live up to our pick for the best in that category.
There are millions of apps to try out on any given day, so here are three we're trying this week.
A friend of mine created this really cool shortcut that takes text from any text editor and publishes it directly to my personal blog via Working Copy. All I have to do is format the Markdown with the title on the first line, body copy in the middle, and a link on the last line of the file for the shortcut to work. Tap a few buttons, slide through Working Copy, and a few minutes later, the blog post is live.
This is the extent of my knowledge of Working Copy — the shortcut moves through Working Copy in predefined ways, automating 100% of the process. I don't think I've ever actually interacted with Working Copy other than grabbing my Working Copy key.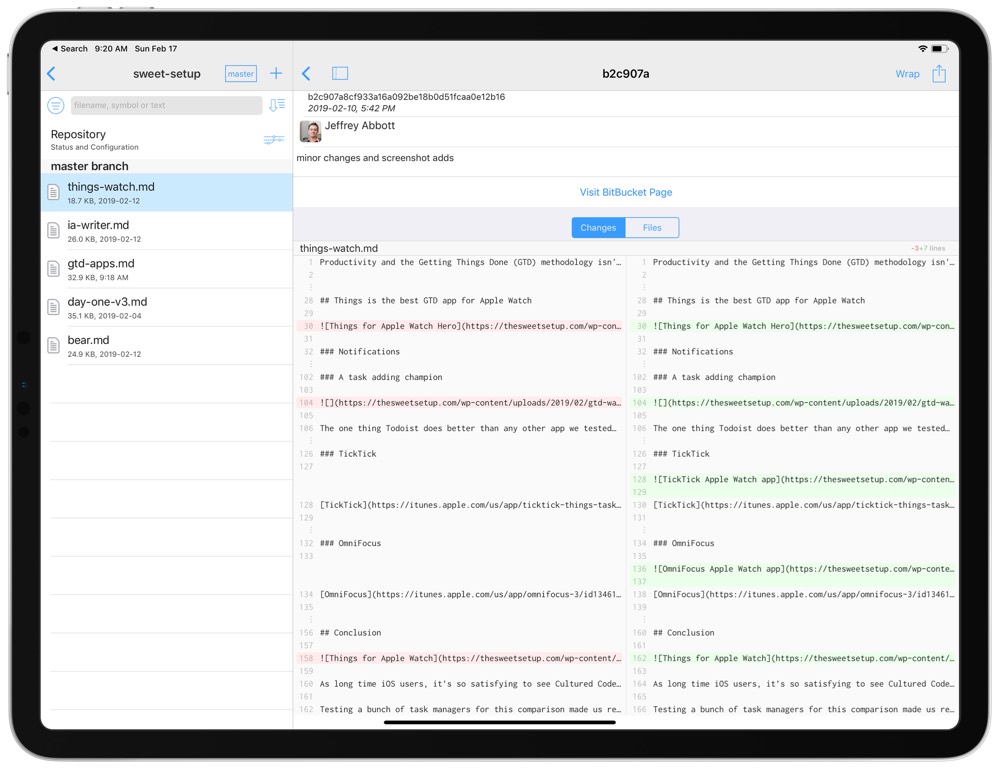 However, over the last few weeks, we here at The Sweet Setup have set up a workflow that uses BitBucket, Working Copy, and our favorite text editors to better collaborate.
Now that I've actually jumped into Working Copy, I've realized the app is one of the most geeky and most complex apps I've ever used. Terms like "Push," "Commit," and "Fetch" are riddled throughout the app, which for those like me, is overwhelming. After a little practice, I've got the basics down and have been sending changes on documents back and forth, all on the iPad and from wherever I happen to be.
Working Copy isn't the best text editor I've found, so I've found success in making changes in an app like iA Writer that has support for adding Working Copy as a document provider in the Locations area. Any changes I make in iA Writer are instantly tracked in Working Copy and ready for me to commit when I'm done editing.
It's clear apps like Working Copy are trailblazing the path for what the iPad is capable of.
Working Copy for iPhone and iPad is a free download on the App Store, with in-app purchase options to unlock all functionality.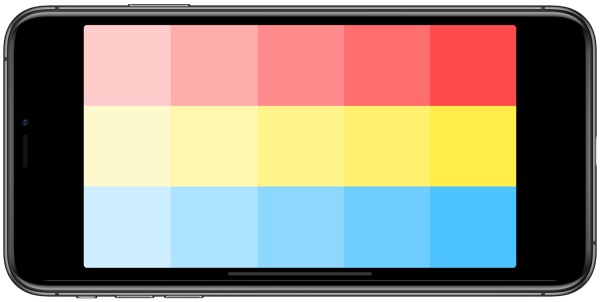 These glowing slabs of glass are magnets not only for our eyes, but for our kids' eyes as well. If an iPhone is within a 10 foot proximity, our little girl knows where it is and becomes determined to acquire it for herself.
A young child's hands can do a lot of damage to an iPhone — especially an unlocked iPhone. My 15-month-old daughter has taken hundreds and hundreds of 4K videos as she swipes and taps around, she's called her grandparents more than once, and she has called 911. We needed to find an app that kept her content and which still taught her something.
Baby's Musical Hands is one of the simplest apps on my iPhone. It hasn't been updated for the latest iPhones, but I'm not sure any infant is going to care. The app consists of three rows of five keys, each of which play different notes and different instruments. A tap on a key plays the sound and results in a little graphic of shooting stars, meant to provide feedback to your child as they play along.
What we realized very quickly is that Baby's Musical Hands is far more than a distraction app. The sounds, colors, and visual feedback provide multi-faceted learning opportunities for infants to discover. While sitting in front of a screen is the last thing I want for our daughter, I'm glad we can use these devices to teach our little ones in some manner.
Baby's Musical Hands for iPhone is $0.99 on the App Store.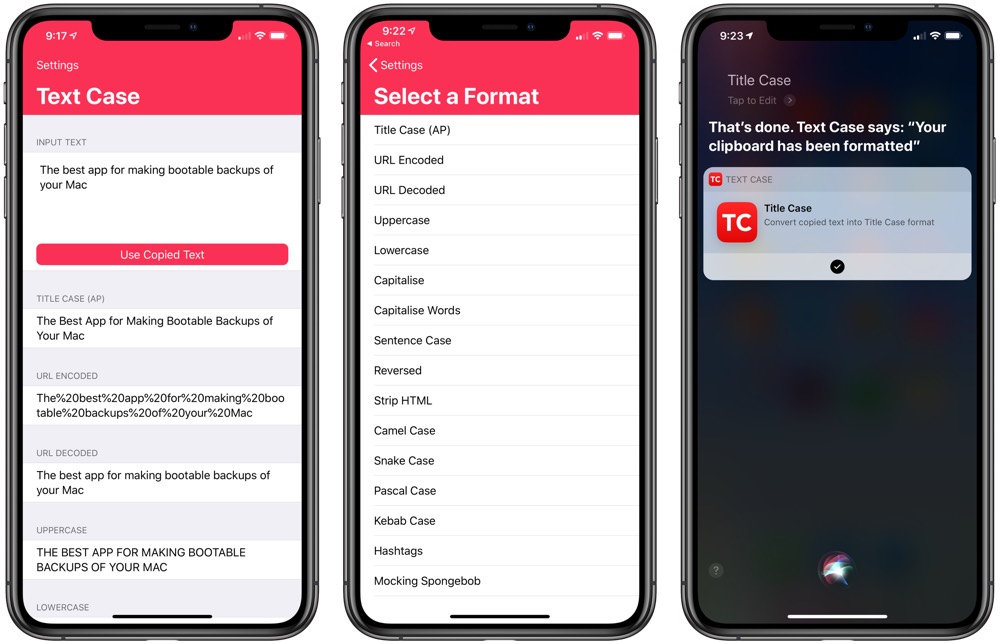 Text Case is another one of those apps that I've had on my iPhone and iPad for a little while, but one which I've baked into a shortcut and never interacted with again.
Text Case's premise is simple: Copy text from anywhere in iOS, jump into Text Case, and format the copied text as desired. Anything from title case, sentence case, URL encoded, and more is available, all with two taps in the app.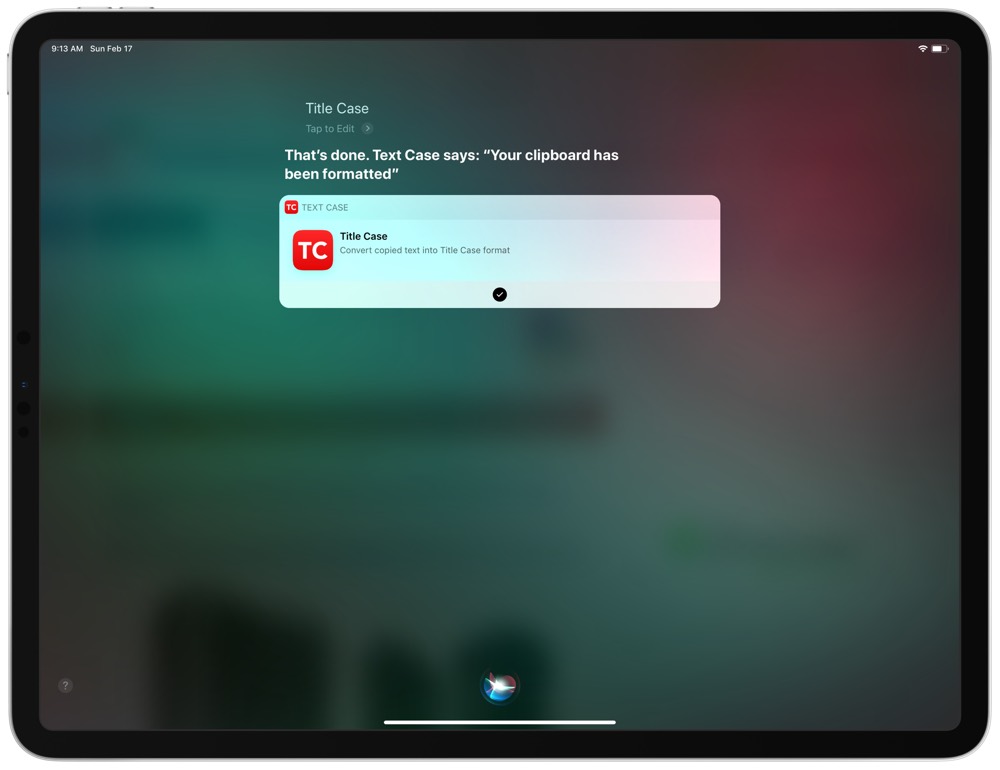 But I've found Text Case's power to be hidden behind Siri Shortcuts. You can record any phrase using Siri Shortcuts to automatically convert the text on your clipboard. For instance, I'll grab a title from an article I'm reading online that I want to share on my personal blog and use my voice to run a Siri Shortcut to format the title. Within seconds, the text is formatted, copied to my clipboard, and ready for pasting anywhere else.
Text Case is a simple app with a simple purpose, and it executes this in the simplest method possible.
Text Case for iPhone and iPad is $0.99 on the App Store.
Get Our Best Photography Tips & Workflows
Transform your photos and edits from average to awesome with our in-depth, mobile photography course. It's jam-packed with training, ideas, and lessons that can literally transform your photography overnight.