Three apps we're trying this week: July 2, 2018
July 2, 2018
There are many apps that grace the Mac and iOS App Stores that simply don't get enough attention or admiration. Sometimes an app is so good at what it does, it becomes the default app for the task and is rarely questioned. Sometimes a new app debuts in a given category and, while it shows promise, doesn't quite live up to our pick for the best in that category.
There are millions of apps to try out on any given day, so here are three we're trying this week.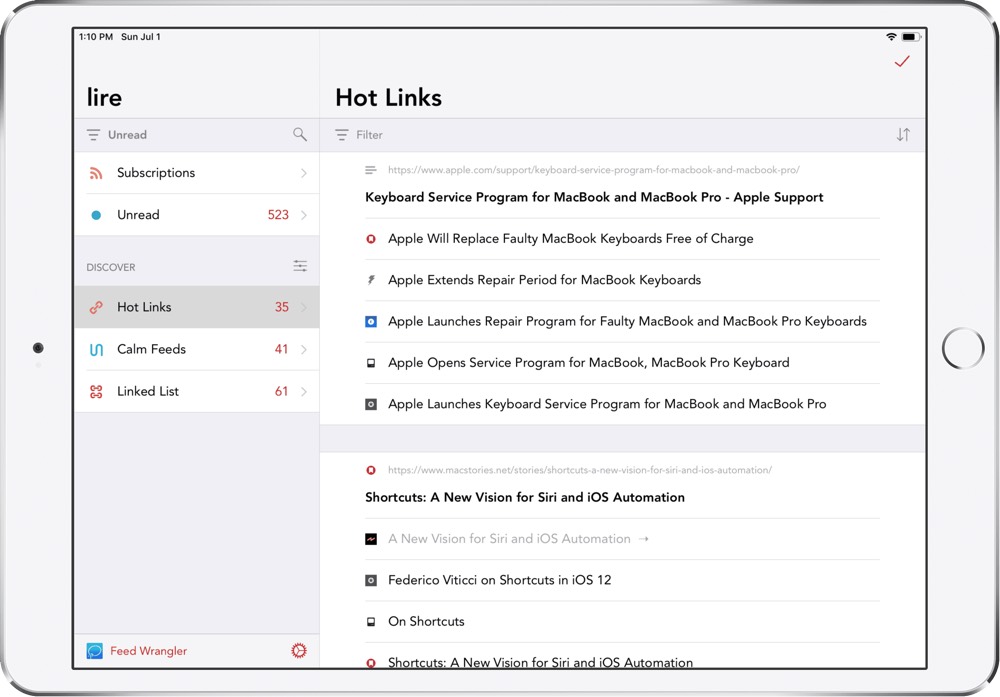 I have experience with lire as an RSS client for iPhone and iPad, given I wrote a chunk of our review for the best RSS clients for iPhone and iPad a few months ago. In that review, lire comes in as a runner-up (and a worthy runner-up at that) due to its wide range of features. The app doesn't have the same level of polish as our favorite RSS clients, but lire is sure to fit the bill for many people.
lire received a big update recently, bringing with it some RSS power features previously only seen in much more expensive apps.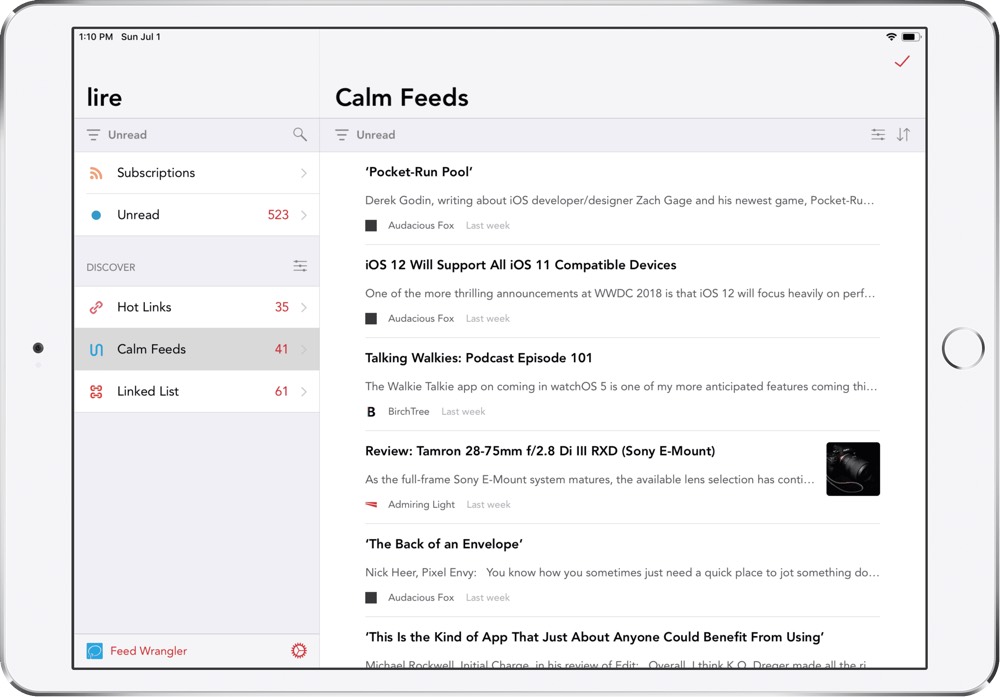 Chief among those new features is a new "Discover" section, which provides many of the same features found in the Fiery Feeds 2.0 premium subscription. lire 3.1 introduced:
Hot Links: Shows web-pages that get linked to from multiple articles.
Calm Feeds: Show articles from feeds with a low publishing frequency.
Linked List: Shows articles that are determined to be linked-list style articles
I've increasingly drifted away from RSS over the last few months, so I'm hoping to see if lire's new discovery features will kickstart a resurgence.
You can pick up lire for iPhone and iPad for $6.99 on the App Store.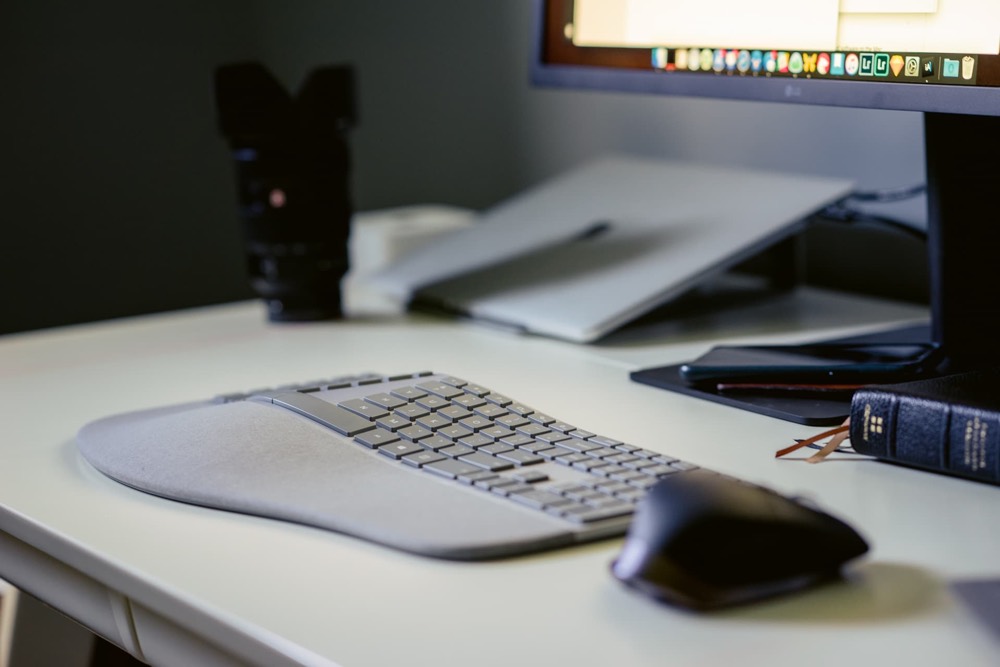 Obviously, this isn't an app. But it goes with a specific bit of software on the Mac side which some may find interesting.
Apple has royally messed up in the keyboard department over the last two years or so. The butterfly-mechanism keyboard on the MacBook and MacBook Pro can jam due to the smallest crumb or speck of dust under a key. Apple's Magic Keyboard line hasn't fared that much better. The Magic Keyboard with Numeric Keypad has horrendous feet, causing it to slip and slide around the desk, and the sides of the keyboard begin to warp over time.
The Microsoft Surface Ergonomic Keyboard is my latest attempt to find the one-true-keyboard (if there is such a thing). The Surface Ergonomic brings with it an ergonomic design, an alcantara wrist-base which looks as sleek as it is utilitarian, and a key design that doesn't appear to have any jamming issues.
The only issue so far? This is a Microsoft keyboard, designed for Windows software. There's no "Command" key, no "Option" key, and a bunch of the function buttons don't work as advertised. I had to download Karabiner to remap a few of the most-used function and modifier keys and ensure my muscle memory didn't have to dramatically change. Aside from that, it's been smooth sailing so far.
I'm excited to see how it feels over the next week or so.
The Microsoft Surface Ergonomic Keyboard is available for an ever-dropping price these days. It's currently available for $100 on Amazon.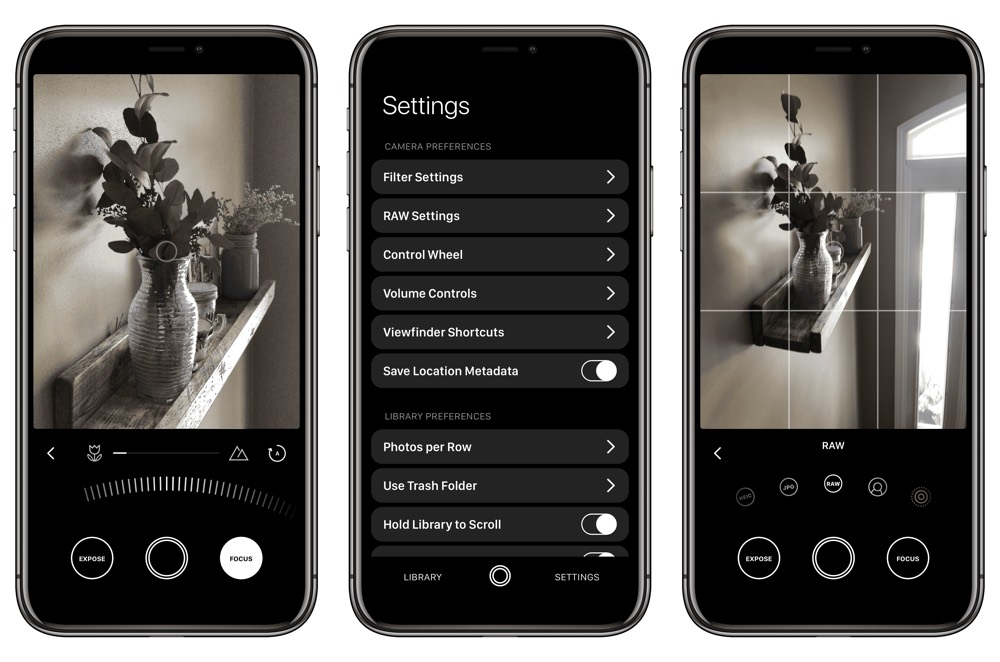 We're in the midst of writing a review of the best third-party camera apps for iPhone (set to be published shortly!), and Obscura 2 is a worthy competitor. I'd be remiss not to give it a shot considering its wide range of features.
Obscura 2 opens with one of the best permissions screens I've ever seen. Obscura notifies new users what types of features it requires (access to your camera and camera roll) and which features are optional (access to microphone and GPS location). Right from the start, it's obvious Obscura has no intent to overstep its boundaries.
Obscura 2's scroll wheel implementation is very unique. When in exposure mode, the scroll wheel provides haptic feedback as you scroll left and right to increase or decrease exposure. The scroll wheel is the control center of the app, so this haptic feedback is present whenever you make options changes (like switching from JPG capture to RAW or HEIC capture).
Lastly, Obscura 2 is heavily customizable. You can customize how the app handle single-, double-, and triple-taps in the viewfinder, and you can customize how the iPhone's side buttons are used for firing — you can have one side button act as a shutter button while the other locks in focus and exposure.
You can pick up Obscura 2 for iPhone for $4.99 on the App Store.