Thord D. Hedengren's Mac, iOS, and Watch setup
September 4, 2017
Every week we post a new interview with someone about what software they use on their Mac, iPhone, or iPad. We do these interviews because not only are they fun, but a glimpse into what tools someone uses and how they use those tools can spark our imagination and give us an idea or insight into how we can do things better.
New setup interviews are posted every Monday; follow us on RSS or Twitter to stay up to date.
---
Who are you and what do you do?
My name is Thord D. Hedengren, and I'm first and foremost a writer. I write books — mostly fiction these days, but also technical literature about web development. WordPress lovers who speak, or at least read, Swedish might know me from my WPSE weekly newsletter. If you're a Swedish business person, you might've read my tech columns in the Swedish tech daily Di Digital. Back in the day, I edited sites like The Blog Herald and Devlounge.
When I'm not writing, I build things. Some of those things are for clients. I'm the founder and CEO at the digital agency Odd Alice, which is in talks for some funky things that might or might not be official when this is published.
I also work with startups. I'm on the Tech Troopers (crowdsourced tech support) board, the author in residence at BlankPage (online writing app), co-founder at Damn Fine Novels, among other things. I like to keep busy.
What is your current setup?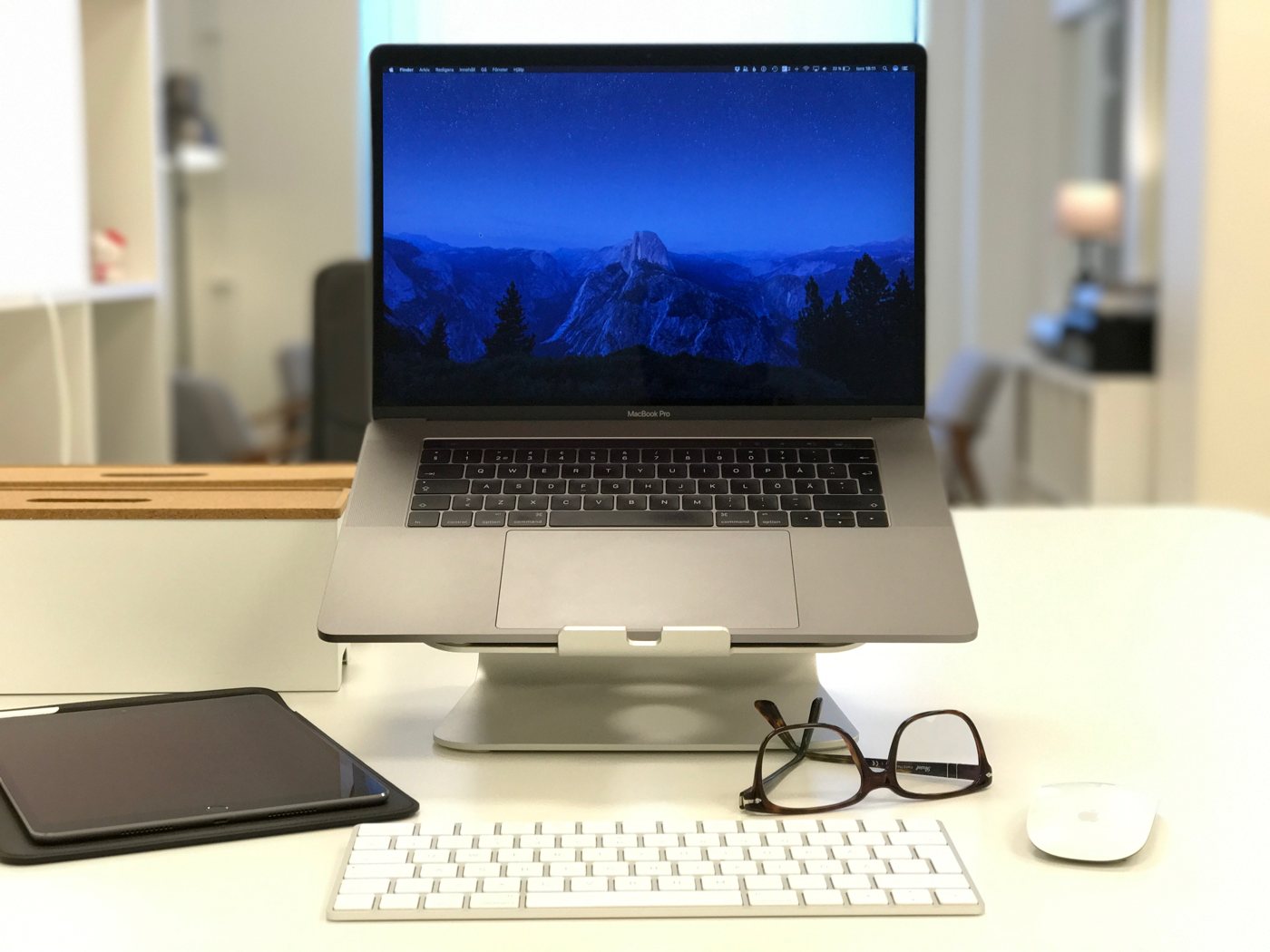 I'm primarily using a 15″ MacBook Pro with Touch Bar (3.3GHz i7, 16 GB RAM, 512 GB SSD in somber space gray), sometimes with a Magic Keyboard but almost always with a Magic Mouse. I like the Rain mStand, but unless I know I'm going to be working solely with code or design, I won't set it up.
I travel a lot between offices, homes, and other places, so I want my Mac setup to be as portable as possible. That means that all the fun stuff had to go, including nice 4K screens and whatnot. When I travel, and if I think I'll need a Mac (more on that later), I use a sleeve from Incase, which isn't particularly good nor fits well, but it does protect the MacBook Pro.
Sometimes when I travel I opt for the 12″ MacBook (1.2GHz Core M5, 8 GB RAM, 512 GB SSD) instead. It's in gold and oh so pretty. The iPad Pro has more or less killed the 12″ MacBook for me, other than when I want to travel as light as possible and know I'll need a Mac. The Kanex GoPower USB C battery is a nice companion to the 12″ MacBook in particular, by the way.
If you want to get into the nitty-gritty of my setup, I've got a page dedicated to it here. It's somewhat up-to-date most of the time.
Where can we find your macOS wallpaper?
You know, I really like the default Sierra ones and haven't changed it. Weird, right?
What software do you use and for what do you use it?
The Mac for me is almost only for design and development. While I do write on it from time to time, it's only because I happen to sit in front of it, or because I need to do heavy editing.
Brackets is my text editor of choice when developing for the web. It's not perfect, though. TextWrangler will open the more demanding things.
Tower for git (I use both Bitbucket and Github).
ForkLift for FTP. Everyone seems to swear by Transmit and I used to too, but some server configs just don't work that well with it. Maybe the new version solves that, but FTP'ing is something that I rarely do (git deploy, baby!) so I've got no inclination to change.
Adobe still does great software. I use Illustrator for logos, and InDesign for the rare print job. I subscribe to the whole shebang through Creative Cloud.
Pixelmator to touch up photos and resize for publishing online.
Sketch, because people around me swear by it.
Music rarely plays on my Mac, but when it does, it's Apple Music through iTunes. I'm not an iTunes hater, actually. Not that it's perfect or anything, but the hate is a bit silly if you ask me.
Todoist for tasks.
Slack, just like the rest of the tech world.
Mail lives in Mail. It's hard to beat the default in that area, and I wanted to use the same mail app on macOS and iOS.
Dropbox, Backblaze for backups, and Adobe's sync thing. Oh, and iCloud Drive obviously. I recently deleted Google Drive; what a piece of crap that was.
Finally, 1Password. It's a must, even though I'm not a fan of them moving towards their own cloud and sync servers.
How would your ideal setup look and function?
I'd like to use the Mac less, and I wish that the default apps looked and felt a little better, but other than that I'm pretty happy with what I've got. The setup will be perfect when I don't need it anymore. When that happens, I'll miss it, but not for long.
---
What iPhone do you have?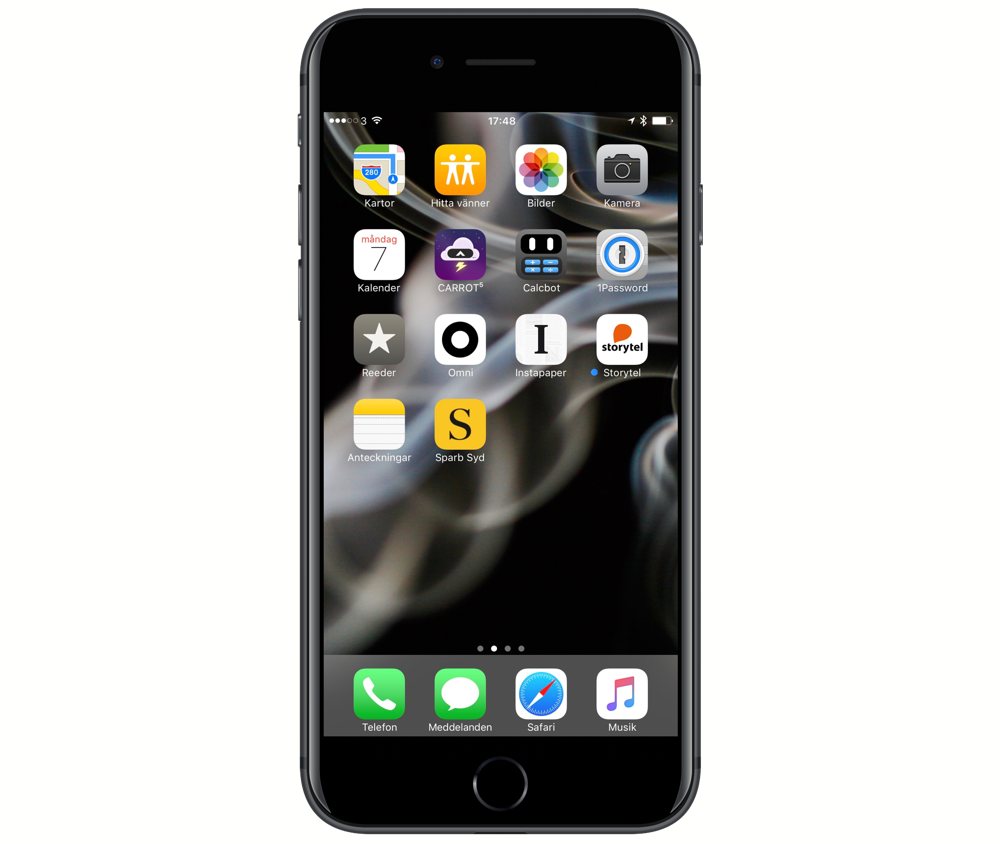 I use an iPhone 7 Plus, 128 GB space gray. I think the Plus models are too big, honestly, but so are the normal ones, so…
Where can we find your wallpaper online?
Sorry, no idea. I think I saved this one from one of those wallpaper apps, probably Cuto, but I'm not sure. I downloaded a bunch of those apps for research purposes. None stayed on the device in the long run.
What apps do you use the most, and why?
In this exact order:
Messages (I love iMessage)
Reeder 3 (RSS isn't dead)
Todoist (organizes my life)
Calendar (see above)
Notes (for ideas on the go)
Instapaper (reading break)
Photos and Camera (they merge in my mind)
Slack (as little as possible on the phone, though)
Mail (see above)
Day One (been journaling daily for years now)
Yes, I tweet (Twitterrific) and write (Ulysses and iA Writer) on my phone too, I use my bank's app, open things from Dropbox or iCloud Drive to email it, and stuff like that too. My usage changes depending on where I am. Local travel apps would top that list at times, for example.
I also play games on my iPhone. One thing that the Plus models do a lot better than the normal sized ones, at least if you've got hands the size of elephant ears. These are my current favorites on the go:
Which app could you not live without?
Most used isn't the same as most important, so it would be Todoist. It's my safety net for all the things I need to do, and having that reduces stress.
---
Which iPad do you have?
I've moved to the 10.5″ iPad Pro, 128 GB, LTE, in space gray, with the Smart Keyboard for when I travel, but I actually prefer using a Magic Keyboard in the Canopy stand/sleeve. An Apple leather sleeve not only protects my iPad Pro, it also keeps track of my Apple Pencil.
I'm really happy with the 10.5″ iPad Pro. It has replaced the 12.9″ model, which used to be my primary one. I've also gotten rid of the 9.7″ iPad Pro and my iPad Mini 4 thanks to the 10.5″ hitting the sweet spot. Also, I clearly had too many iPads…
Where can we find your wallpaper online?
It's another one of the default wallpapers. I haven't really had any inclination to change this one either. This surprises me, I used to tweak these things more back in the day. Oh well.
How are you using your iPad on a daily basis?
My iPad Pro is my primary work device. Almost everything lives on it, starts on it, and is finished on it. These days that also applies to code and design, although I will transition to the MacBook Pro when at the office for the screen real estate. Writing has always worked on iPads, especially with Bluetooth keyboards, but design work really took a jump when the Pro models were released. I love the Apple Pencil for these things.
What apps do you use the most, and why?
The more I've used my iPad Pro, the more I've come to rely on it as my primary computer. That means that I have several different use cases for it too, like getting work done for example:
I use the iPad Pro for leisure, too (not counting games):
Instapaper is where all my article reading is happening because most of the web is bloated and tailored to show ads, not get a message across.
Comixology for comic books and graphic novels. Comics look great on the larger iPad models.
Music gets used quite a lot too. I prefer Apple Music to the competition, but there's still a lot of room for improvement there.
Linea is another drawing app, but this one is purely for fun. I've gotten into drawing (crude) role-playing game maps, for some reason, and I like Linea for this.
I play a lot of games on my iPad Pro as well, especially when traveling. Here are my current top 5:
Finally, the general stuff that just overlaps everything else:
Safari, although I do sometimes use iCab Mobile.
Mail is so integrated into iOS that I keep coming back to it.
Which app could you not live without?
Whatever writing app I'm glued to at the moment, which these days is mostly iA Writer. Did I mention I'm a writer?
---
Which Watch do you have?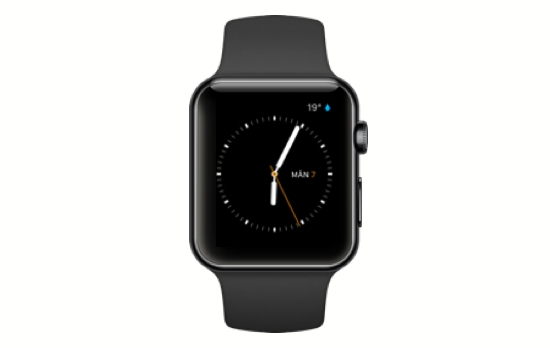 I have the 42mm Series 2 in black stainless steel, with the space black link bracelet.
How are you using your Watch on a daily basis?
My Watch is my notification center. First of all, I don't allow many notification to push at all. Second, my iPhone is always set to silent with no buzzing or anything, which includes phone calls. All that ends up on my Watch, which is also silent but allowed to tap me for a select few apps.
I also use the health features as well as workouts.
What apps do you use the most, and why?
That would be Carrot Weather, not counting whatever notification that pops up.
Which app could you not live without?
No single app, but having a way to glance at notifications without interrupting what I'm doing unless I want or need to is a really powerful tool for me. The Watch has made itself indispensable, and will probably stay that way until I turn off notifications altogether.
---
There are more Sweet Setup interviews right here.
Want to share your setup? We'd love to hear from you. Just fill out this form with some basic information and we'll be in touch.
Wait. There's a Bonus….
Custom Productivity Templates
We have a set of custom productivity templates that work well with the iPad app, GoodNotes. And if you want to try them out, we've put together a free guide that can help you.
We'll show you…
How to create and save custom page templates in GoodNotes.
How to use those page templates to transform GoodNotes into your own productivity notebook (or any other type of notebook replacement).
Plus, we also have included a couple of our custom productivity templates for you to get started with. These templates are right out of our popular productivity course.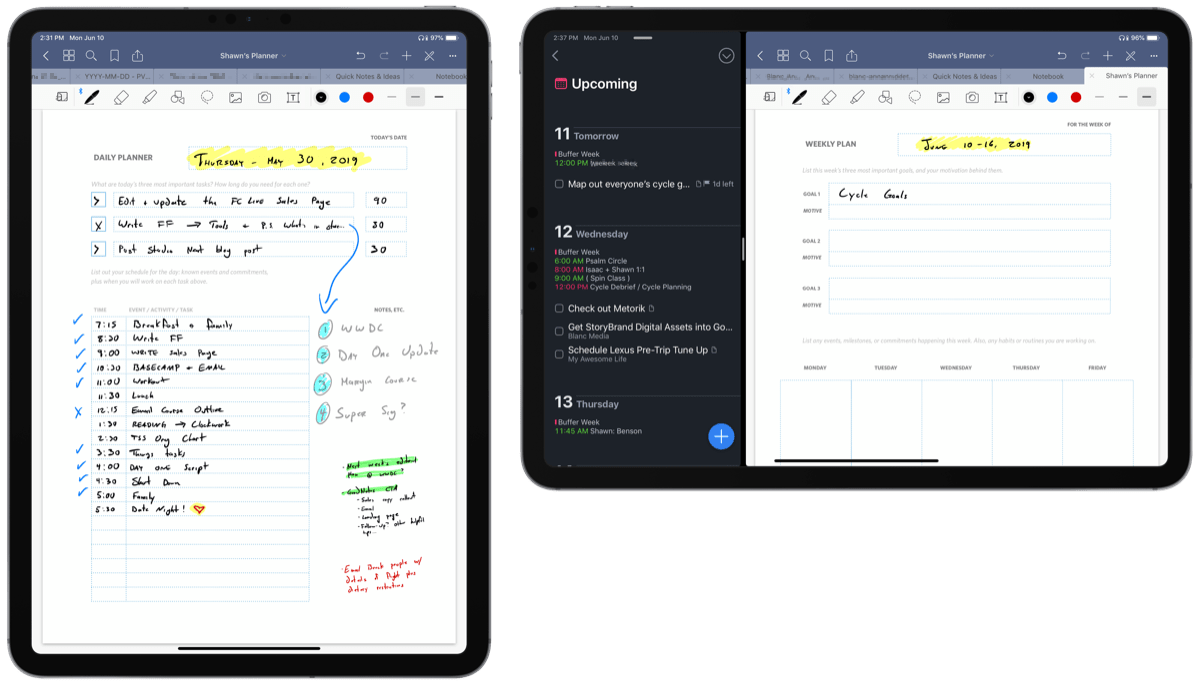 The custom templates and the guide are available for FREE to our email subscriber community. And you can get it right now. By joining the Sweet Setup community you'll also get access to our other guides, early previews to big new reviews and workflow articles we are working on, weekly roundups of our best content, and more.