Things 3.7 for macOS Mojave Introduces Dark Mode
September 24, 2018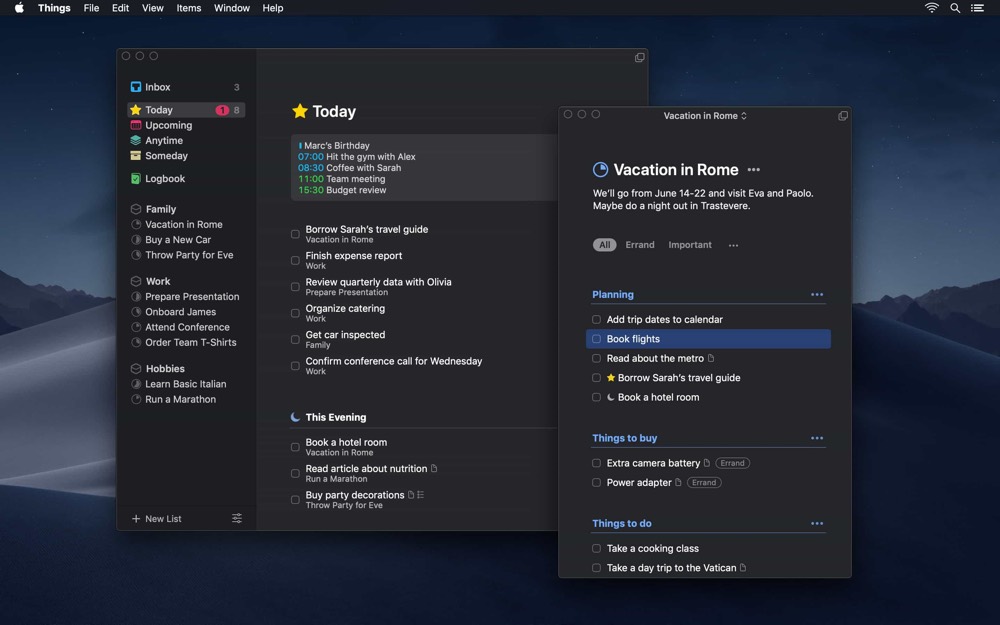 Last week, Things 3 for iOS reached version 3.7 and introduced Siri Shortcuts. The advent of Siri Shortcuts has been nothing short of revolutionary in my camp — more on this in the future — and the handy shortcut creator inside Things 3.7 for iOS has been extra handy for building out Things workflows.
This week's Things 3.7 for macOS release is much less revolutionary. That said, it might be one of the most beautiful updates you'll see hit the new Mac App Store today.
Things 3.7 for macOS Mojave introduces Dark Mode. That's it. Nothing more than that.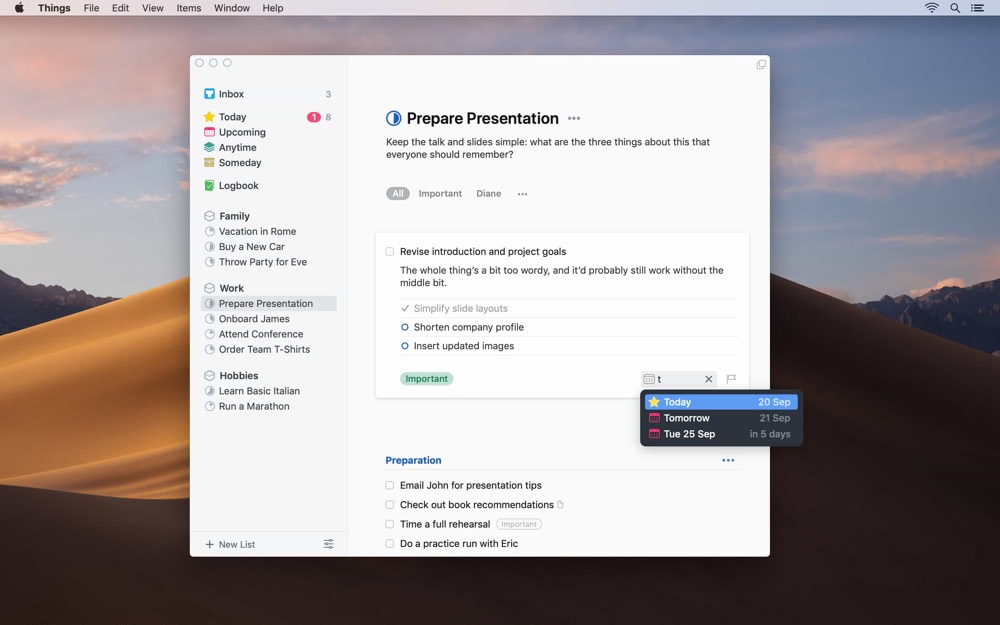 But for Things to venture away from its iconic white design is quite the leap forward. For many, Things 3 was the quintessential iOS app, with excellent use of white space, typography, glyphs, and splashes of color to keep your task list enjoyable to work through.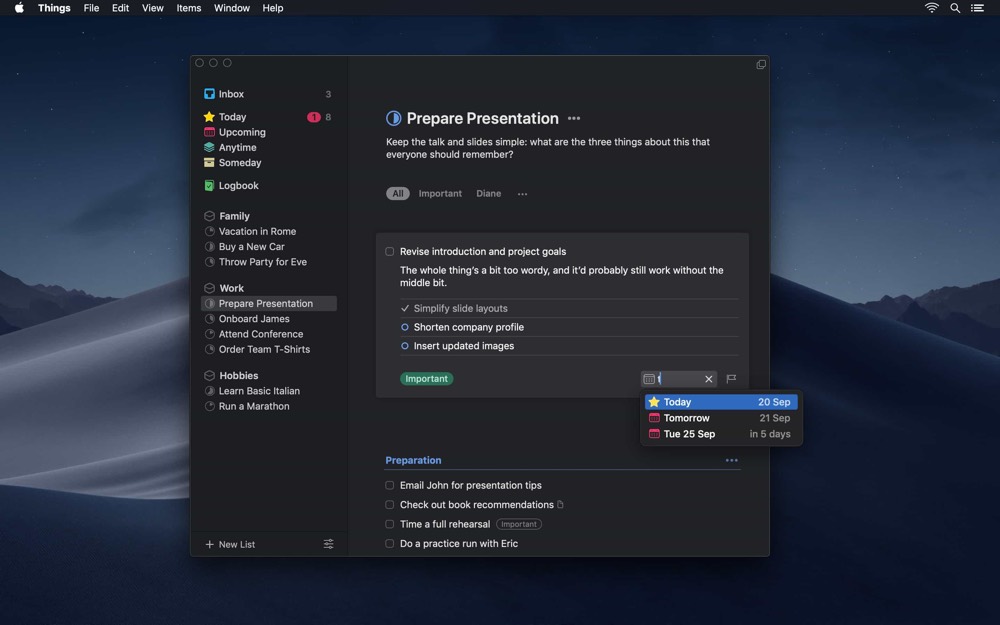 The advent of Things 3.7's Dark Mode dramatically shifts away from that white design, but does so without losing the charm and whimsy the app has come to be known for.
I said Day One version 3's Dark Mode was the best Dark Mode in the business a few weeks ago. Now, the Things 3.7 Dark Mode sure gives it a run for its money.
Things 3.7 is a free update for Things owners on the (all new) Mac App Store.
Bonus! One more thing…
The Complete Guide to Managing Tasks in Things (Video)
If you struggle to keep up with all your tasks, we can show you some organization tips that may help you.
We put together a video that shows you everything you need to know about a task in Things:
The difference between start dates and due dates and how to use them effectively.
How to set up reminders so you never forget an important task again.
How to use checklists for tasks that require more than one step.
How to configure daily, weekly, monthly, or even annual repeating tasks.
And more…
You don't have to use any of these things in your tasks if you don't want to. But knowing what they are and how they all work will help you be more organized, save time, and ensure you are using Things in the way that suits you best.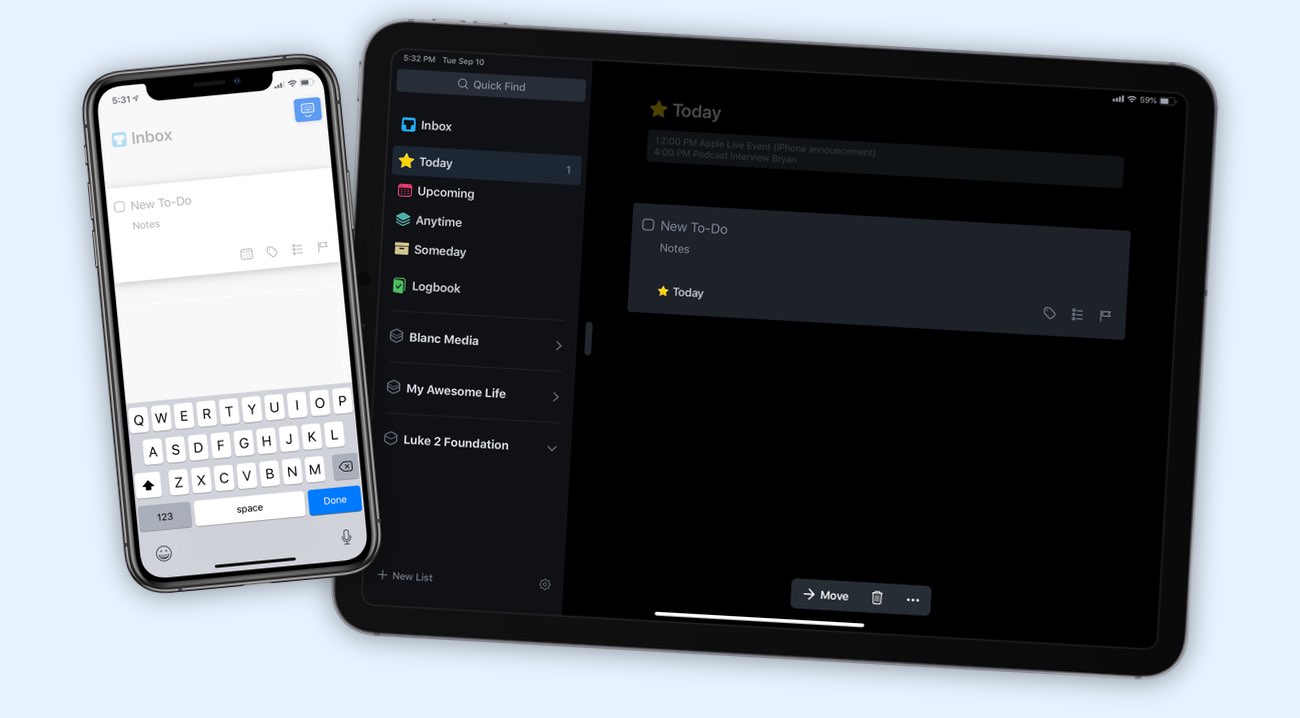 This video is something we have made available for free to our email subscriber community. You can get it right now. By joining the Sweet Setup community you'll also get access to other guides, early previews to big new reviews and workflow articles we are working on, weekly roundups of our best content, and more.