Things 3.7 adds Siri Shortcuts support and templates, plus Landscape on iPhone
September 17, 2018
In version 3.7 of Cultured Code's task management app, Things (iPhone and iPad) has added support for deep Shortcuts capabilities alongside the release of Siri Shortcuts with iOS 12, as well as landscape support for the iPhone app.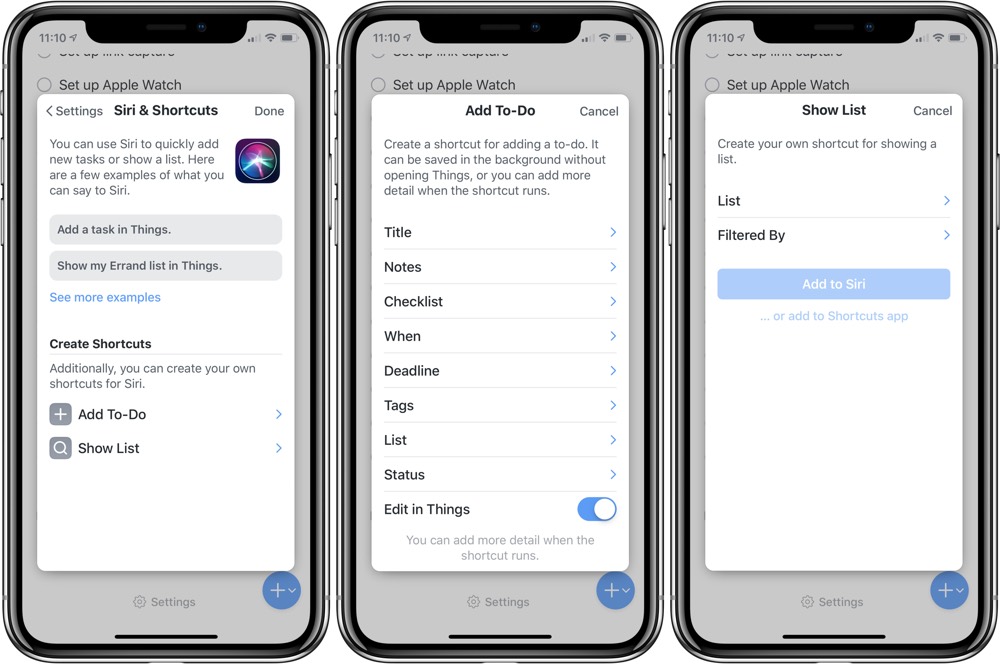 If you're not familiar, Siri Shortcuts is the overarching term Apple is giving to allow Siri to determine common actions you take inside apps and surface them outside the app, either on the Lock Screen, in Spotlight, or in the dedicated Shortcuts app. Apps can also present Add to Siri buttons, and users can add their own custom phrases to trigger those actions.
Quick actions for Things
With Things, there are three main ways you can hook into Siri and the Shortcuts app. You can:
Create quick actions to jump into lists.
Add pre-formatted items with Siri and Quick Entry.
Add complete checklists using a custom Siri trigger.
For any lists you use often, like Today, Anytime, or a specific project or area, you can set up a trigger phrase for Siri that you can speak and have Things open into that list. Plus, you can choose to filter that list before adding your phrase, so Siri can open into that list with the results culled down to just those with certain tags.
In addition, you can add template-like to-dos that are always the same — Things gives the example of a packing list or a favorite recipe. This lets you quickly add a pre-defined checklist easily, and Siri will even add it in the background so you don't have to break the flow of what you're doing.
And, in perhaps the most clever use of Siri Shortcuts support in the app, Things lets you trigger a customized Quick Entry field to show up complete with the tags, list, and even notes pre-filled — you just have to type in your title and save it. The Things team give a great example with errands: running the shortcut via Siri can open into Quick Entry, always have your Errands tag, and be set to add to your Personal list.
This is a great way for app developers to think about using Siri for useful shortcuts. Get information that doesn't change set up to be pre-filled, and let the user input the actual unique portion of the task at hand.
Setting up your Things shortcuts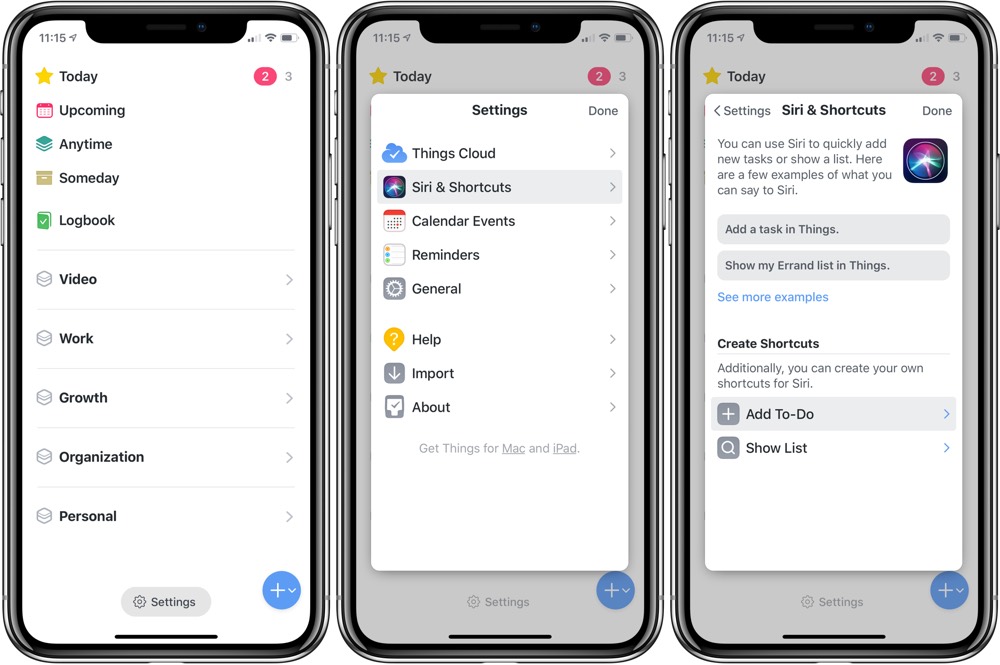 All three of these types of shortcuts can be set up in the Settings menu, which is located at the bottom of the list of areas and active projects in the Siri & Shortcuts submenu.
There you will find a couple of examples and the option to see more, plus the section to Create Shortcuts has two options:
Add To-Do lets you specify the title, notes, checklist, when to schedule it, the deadline, tags, the list, and the status of the project, as well as whether to edit in Things. Each of these can be filled out depending on your needs, and Edit In Things will let you determine whether to open Quick Entry to fill out more details when the shortcut runs or whether to add it silently in the background without opening the app — an important toggle.
Add to Siri also lets you record your custom trigger phrase, saving it to Siri so you can later invoke the action using the same phrase. Or, you can tap Add to Shortcuts app to have Things deposit your item as one of the Things options in the Siri Suggestions category of the Shortcuts app.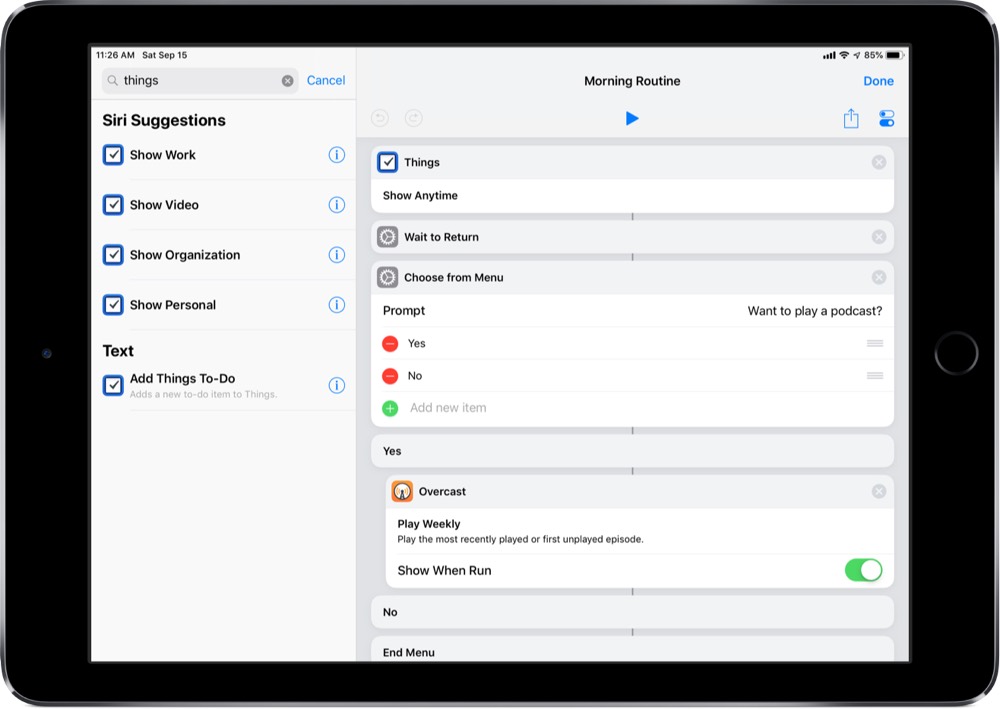 Adding to the Shortcuts app lets you then use the Things action as a step within your custom shortcuts, just one in many steps that can rearranged with drag and drop according the the order you want them to execute. This allows you to set up ways to open into Things or add to-dos as one part of a larger process, such as your morning routine or end of week check-in. Shortcuts will trigger each action step in order, then execute the Things task when it gets there, and continue on in the process later.
Landscape for iPhone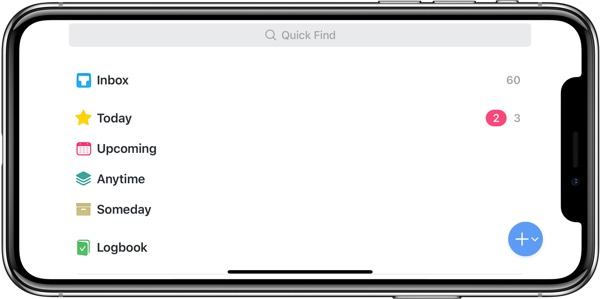 Along with all of these Siri Shortcuts features, the Things update also adds landscape view for iPhone users, giving the ever-larger phones an easy way to type with both hands on a wider screen. This is even more relevant with the increased sizes of the iPhone Xr and Xs Max. It will be especially interesting to test on the Max's huge edge-to-edge screen. This view doesn't show projects/areas alongside tasks, however, so it's not similar to the iPad or Mac views on iPhone X or smaller sizes.
Overall, Things 3.7 (iPhone and iPad) brings a welcome number of additions. The Siri support is better than ever, you can now add what are very close to full templates for projects using your voice or via the Shortcuts app, and iPhone users can manage their tasks in any orientation they desire.
We'll be taking more advantage of the Things shortcuts ourselves and sharing some more templates in the future, so stay tuned.
Bonus! One more thing…
The Complete Guide to Managing Tasks in Things (Video)
If you struggle to keep up with all your tasks, we can show you some organization tips that may help you.
We put together a video that shows you everything you need to know about a task in Things:
The difference between start dates and due dates and how to use them effectively.
How to set up reminders so you never forget an important task again.
How to use checklists for tasks that require more than one step.
How to configure daily, weekly, monthly, or even annual repeating tasks.
And more…
You don't have to use any of these things in your tasks if you don't want to. But knowing what they are and how they all work will help you be more organized, save time, and ensure you are using Things in the way that suits you best.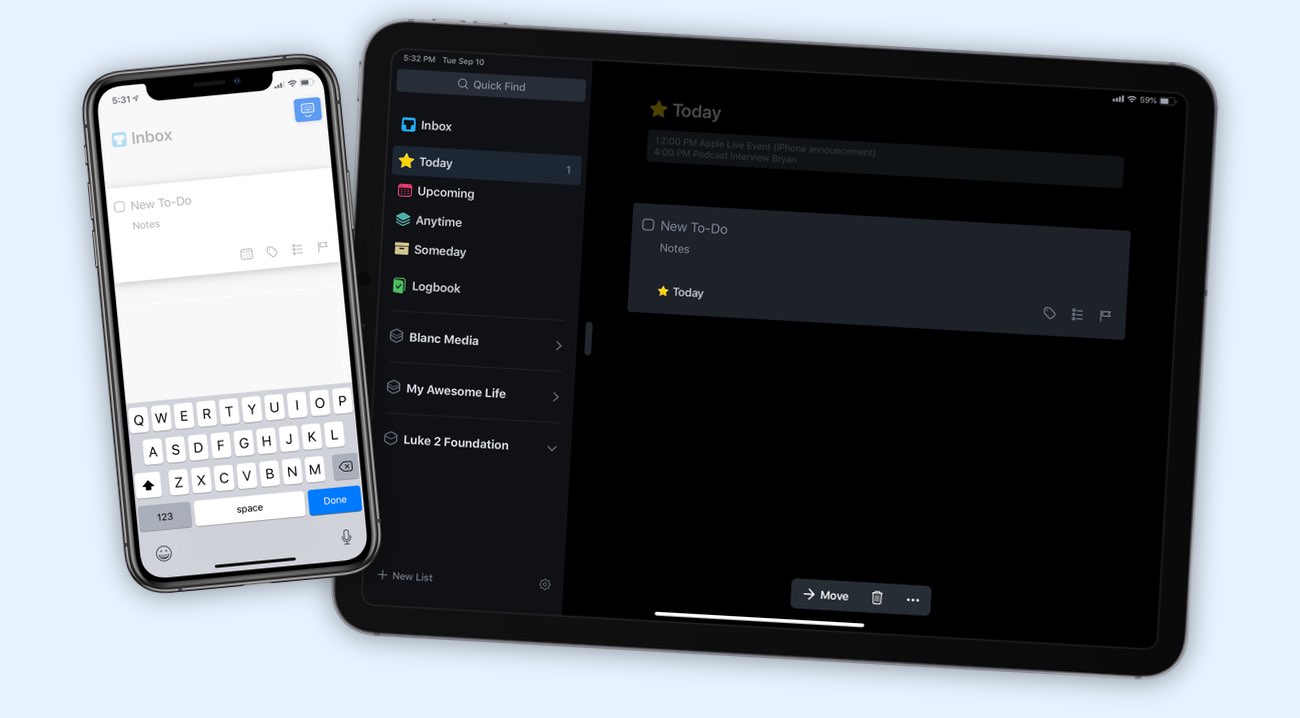 This video is something we have made available for free to our email subscriber community. You can get it right now. By joining the Sweet Setup community you'll also get access to other guides, early previews to big new reviews and workflow articles we are working on, weekly roundups of our best content, and more.