The New "Mail to Things" feature in Things Cloud Sync
December 12, 2017

Today, the folks at Cultured Code released an update to Things (iPhone, iPad, and Mac) that allows you to send emails to your Inbox.
You can enable the new feature by going to Settings → Things Cloud → Mail to Things.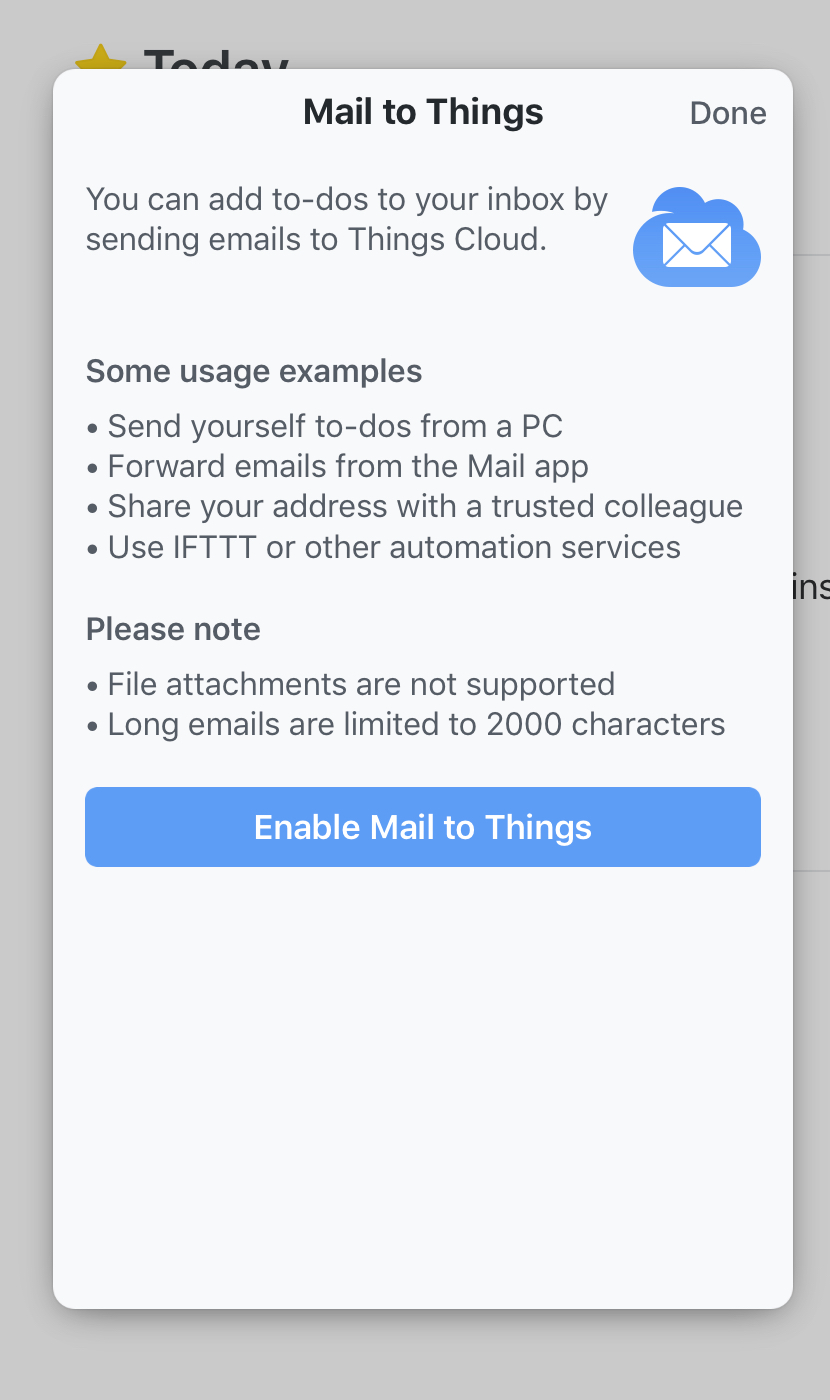 Once enabled, you're given a unique email address.
Any email you send to that address will be converted into a task and will be added to your Things inbox across all your devices.
As expected, the subject line of the email becomes the task's name and any text within the body of the email becomes the task's note.
---
Available now: our video course for Things 3 users…

---
Automatically Create new Tasks with IFTTT or Zapier
The biggest advantage of the new Mail to Things option is that you can now create automations via IFTTT and/or Zapier. These automations can connect from one app or service to another, and thus allowing you to automatically create tasks.
For example, any Tweet that you favorite could be added as a to-do item (by using IFTTT to connect Twitter and then sending an email with the relevant info and text to your Things Cloud account).
Seven years ago, I wrote about how great it would be to have a cloud-based task-management bucket where you could throw links, tips, bookmarks, and the like — all of which are actionable — and it would be able to receive these tasks via in-app services, email, or a browser bookmarklet.
With Todoist and its rich cloud-based features, this has been possible for a while now. Likewise with Omnifocus' Mail Drop. And, now it's also possible with Things via their new Mail to Things feature.
Getting Actionable Emails into Things
Moving actionable messages out of your email and into your task-management app is pretty much productivity 101.
And so, of course, another advantage of the Mail to Things feature is that you can simply forward email messages out of your email and into your Things inbox (thus, not letting your email inbox double as your task list).
Something else great is that Things will also add a message URL link at the bottom of the task, so that any email you've forwarded you return to the original message.
In my tests using Apple's default Mail apps on both MacOS and iOS, the message URL link worked for both regardless of which device I was on for forwarding the email or for tapping the message URL link in Things.
When on my Mac or iPad, I still personally prefer using the Quick Entry with Autofill or drag and drop respectively simply because it's just a bit cleaner.
Note that when forwarding an email into Things, any rich text and HTML formatting is stripped out and converted to plain text. Moreover, any attachments or inline images that are part of your email will get stripped out when the email is added to your Things inbox.
Give Other People Your Things Email Address (if you're so brave)
If you want, you could also give other people your Things email address and they can add to-do items into your Things inbox any time they want. Proceed with caution.
Side Note About the Update Cycle of Things 3 in 2017
I personally switched back to Things when the new update shipped in May of this year.
I was a Things user in the very early days, but switched to OmniFocus in 2010 because of OmniFocus' cloud syncing. Then, in January of this year I switched from OmniFocus to Todoist. But only for a few months as I never really felt at ease in Todoist.
When Things 3 came out in May, I switched to it and have been using it ever since. There are a lot of task apps out there and the truth is that most are great but none are perfect.
Things 3 has been getting consistent updates since it shipped in May of this year. With many of those updates rolling out some of the most commonly-requested features that I've seen: such as adding in the ability to have repeating to-dos within projects, keyboard shortcuts to iPad (basic, but still better than none at all), iOS drag and drop support, and now Mail to Things.
Things has been around for quite a while, and over the years Cultured Code has built somewhat of a reputation of shipping awesome updates and then going silent and letting their product begin to stagnate.
However, as mentioned, Cultured Code's development cycle for 2017 has been fantastic. With frequent updates for both small fixes and major new features. And that is awesome.
---
You can get Things on the App Store for iPhone, iPad, and Mac.
---
Available now: our video course for Things 3 users…

---