The sweet iPad setup of Federico Viticci
December 30, 2013
Every week we post a new interview with someone about what software they use on their Mac, iPhone, or iPad. We do these interviews because not only are they fun, but a glimpse into what tools someone uses and how they use those tools can spark our imagination and give us an idea or insight into how we can do things better.
New setup interviews are posted every Monday; follow us on RSS or Twitter to stay up to date.
---
Who are you and what do you do?
My name is Federico Viticci and I've been running MacStories.net for the past five years. Writing for MacStories is my job and we try to focus on how OS X and iOS apps can make people happier and more efficient. We also cover news — actual news, not rumors — and we regularly publish opinion pieces and tutorials. It's a lot of fun.
This year, I also started a podcast with my two co-hosts, Myke Hurley and Stephen Hackett, called The Prompt. When they're not making fun of my accent, we talk about technology, Apple, and strange things happening in our lives.
Aside from work-related activities, I'm a 25-year-old guy who lives in Italy and likes going to concerts, living with his girlfriend and dog, hanging out with friends, and eating pasta. I love Nintendo games.
Which iPad do you have?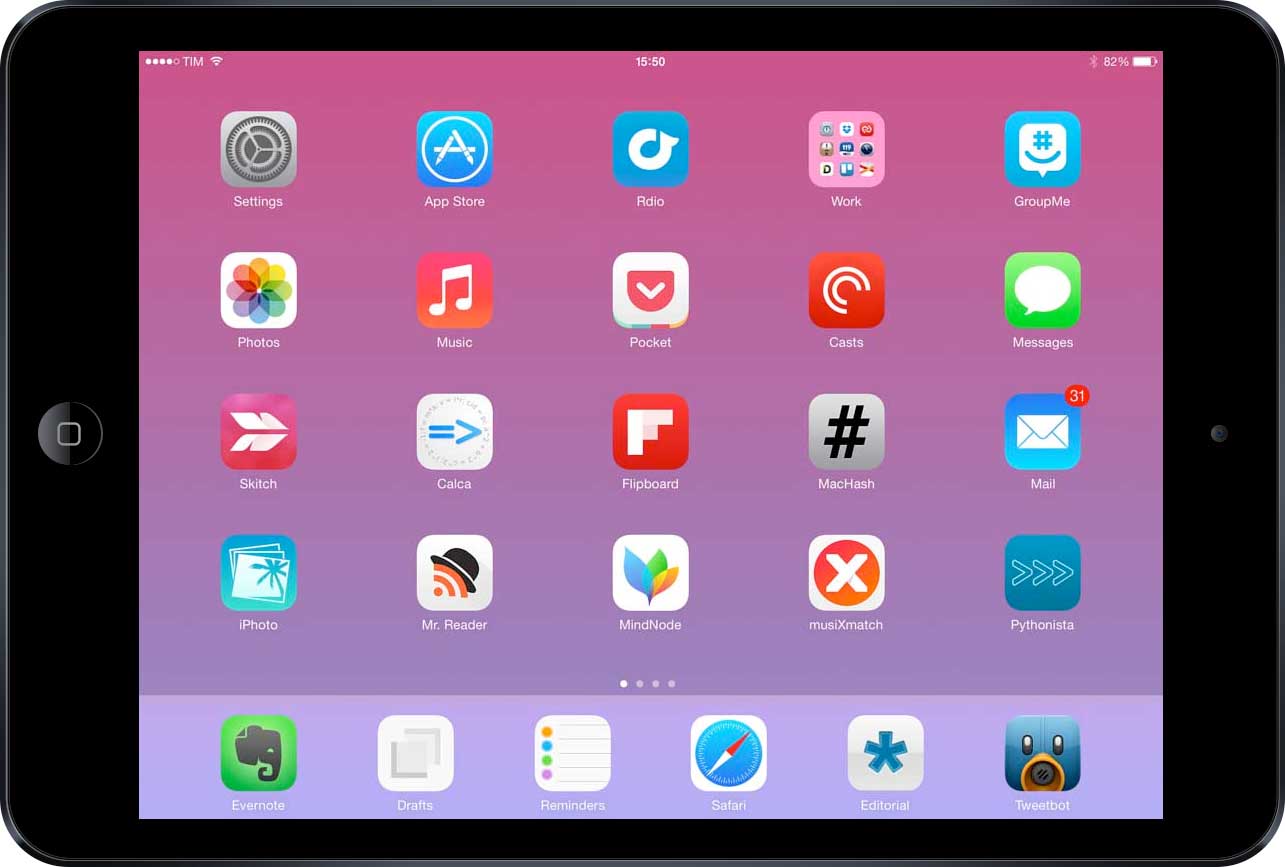 I have a 32 GB, Space Gray Retina iPad mini. I initially bought a white one because it was the only model available, but I later exchanged it because I didn't like it much. I bought a WiFi + Cellular iPad because I often work on the go and data plans are cheap enough in Italy for me to work reliably on 3G without spending a fortune each month.
How are you using your iPad on a daily basis?
The iPad is, essentially, my primary work device. In the past year, I was forced for various reasons to use an iPad, and while I came across a lot of limitations for my workflow in the first weeks of extensive usage, I ended up loving the iPad as a work machine. I think that a lot of people have made up their minds about the iPad based on prejudices and won't give the device a fair chance when it comes to using it for more than reading comics or watching Netflix on it.
I use my iPad as a research tool to read in Safari and save links to Evernote or Drafts; I use it to discover news using apps like Mr. Reader and Twitter (the official app, surprisingly good in the Discover section); I write on my iPad in Editorial, organize thoughts with MindNode, reply to messages with Mail — I just use the iPad as a computer I can hold and carry with me all the time.
What apps do you use the most, and why?
Safari. I love the new version of Safari on iOS 7 because it's fast and it packs useful features like Reading List, Reader, and Shared Links. I used to be a big fan of Google Chrome on iOS, but since I switched back to Safari earlier this year I haven't looked back.
Editorial. My Markdown text editor of choice is much more than just a text editor. This app changed the way I work from my iPad and how I can automate boring tasks that would take too long on iOS. Editorial doesn't have to be used as an automation tool — it's a fine text editor on its own — but its true potential lies in the workflow system.
Mr. Reader. It's the best RSS reader for iPad and it was recently updated to version 3.0, which added an iOS 7 UI and background downloads. Mr. Reader supports Feedly and Feed Wrangler — two RSS services I like — and, for me, it's better than Reeder and other apps because it has a configurable sharing menu that you can tweak with your own commands to send articles to other apps.
Evernote. Some people like to keep their notes and reference material archived as plain text in Dropbox or somewhere else online, but I prefer Evernote because it lets me save rich text and embed media within my notes. Evernote apps are gorgeous on iOS 7 and I like the new home screen design — a sidebar that gives me quick access to my shortcuts and recent notes.
1Password. This app has been my password manager for years and I don't know what I'd do without it. 1Password holds all my logins and secure information and it syncs over Dropbox with my iPhone and Mac, which is great.
Rdio. I am an iTunes Match subscriber, but Rdio is the main service I use to listen to music I don't personally own. I'm especially a fan of Rdio's iOS apps and Stations feature, which recommends songs based on my tastes and mood.
Which app could you not live without?
I couldn't live without Editorial, and not just because I wrote a book on it. Editorial is where I write my articles, edit them, and publish them to my site with automated workflows that allow me to save time every day. Editorial has enabled me to be more productive on my iPad than my Mac because its workflow system goes beyond text editing and lets me script and automate whatever I want.
---
There are more Sweet Setup interviews right here.