Steven Taylor's Mac and iOS setup
August 3, 2015
Every week we post a new interview with someone about what software they use on their Mac, iPhone, or iPad. We do these interviews because not only are they fun, but a glimpse into what tools someone uses and how they use those tools can spark our imagination and give us an idea or insight into how we can do things better.
New setup interviews are posted every Monday; follow us on RSS or Twitter to stay up to date.
---
Who are you and what do you do?
My name is Steven Taylor, and I run a creative agency in Macclesfield, UK called adomedia. We do everything from branding and web apps to traditional design services.
I largely specialise in Digital Transformation and cover all the project management and client-facing elements of the business.
In addition to that, in my minimal free time, I play bass in The Christophers, The Fields & The Steve Delight Travelling Blues Orchestra, which keeps me pretty busy. I use iOS devices for all my audio processing both live and in the studio.
What is your current setup?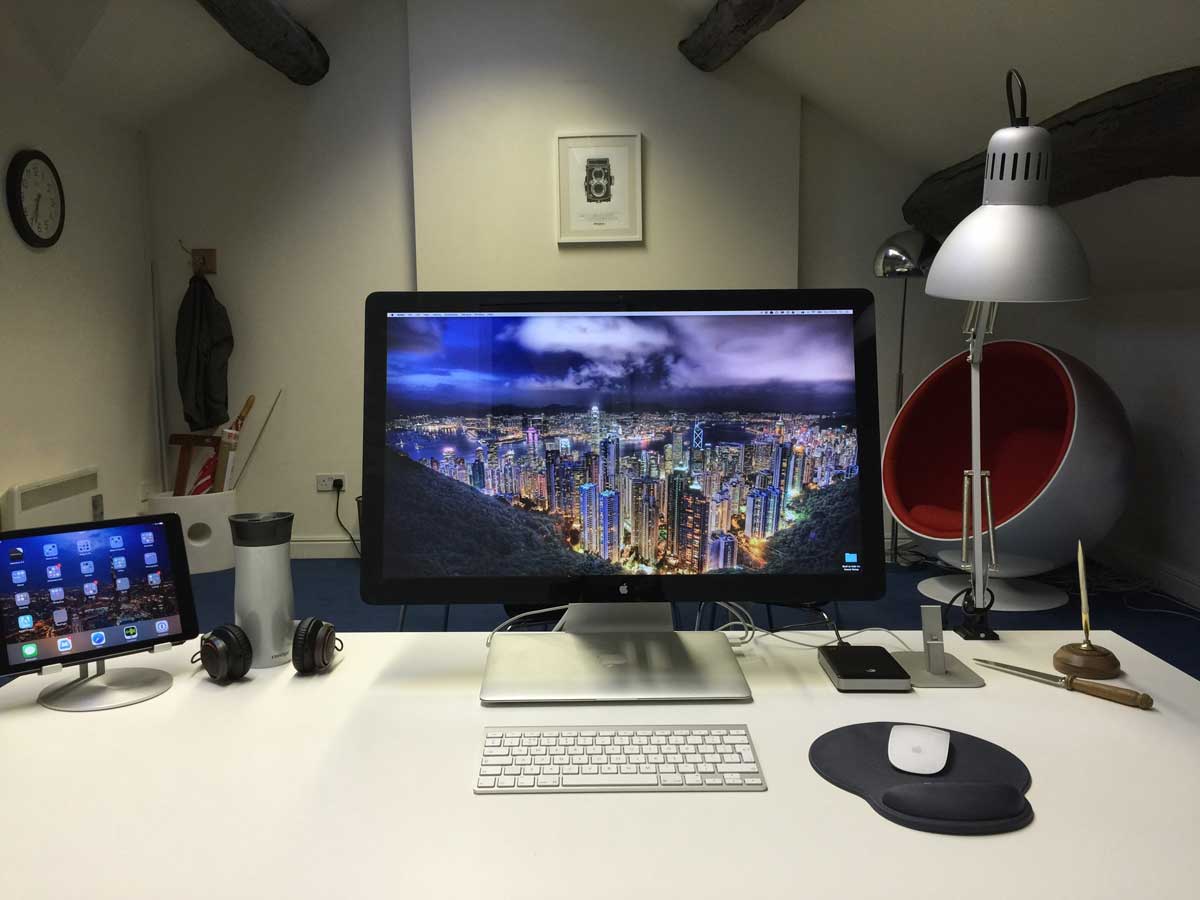 You can find Steven's desktop background here.
I also use a Chromecast to cast Trello to a TV in my office so I can see a general overview at all times.
What software do you use and for what do you use it?
Panic's Coda 2 – I do all my coding on this as it allows me to store all the access details I need to multiple servers, plus sync these details with my iPad and Diet Coda.
The only time I use something else is TextWrangler as it has great multi-file search and document comparison features (in case you're listening, Panic).
Evernote – this is where I store everything. It's my dumping cloud; all my meeting notes, paperwork, etc. goes here.
Mailbox – the beta is still a bit buggy, but the iOS version is great and has allowed me to better manage my emails and tasks. As such, I've almost been forced into using the desktop version.
I've managed to move a lot of what I do to the cloud so it affords me the freedom to access it anywhere and from any device. I find a lot of my day to day is looking over things and either giving feedback to staff members or forwarding on to clients.
As such, I've minimised my Adobe suite down to just Creative Cloud for reviewing and giving feedback on design work. Trello for project management and Slack to tie everything together. It could be better, but it's a start.
Probably most important is 1Password — I use it on everything and it is even better now that I can unlock it with Touch ID.
How would your ideal setup look and function?
I want to move from 3 devices to 2. I do most of my work on the MacBook Air and iPhone 6 Plus, but all of my personal computer use on the iPad.
If I'm honest, I'd like to replace the MacBook Air with the iPad and be more mobile, using screen mirroring to work on bigger displays. In fact, we're working on an app to make this more viable.
If I do continue to use a laptop, I'd like to try the new MacBook paired with the Thunderbolt Display (and some dongle adaptor for thunderbolt to usb c). That would be a killer setup, but I'm heavily focused at the moment on being more mobile.
I'd maybe like to mimic some of my smart home functionality that I have at home in the office with a Sonos speaker and some Philips Hue bulbs, but that's always a step in the wrong direction to being more free and mobile.
I'll likely get an iPad Air 2 with cellular and WiFi, upgrade my headphones to the Sennheiser Momentum 2.0, get a decent Bluetooth speaker and a case for the apple keyboard, and just bite the bullet and be out of the office more. Then, my whole office will fit in my bag and cover all my work and personal (& musical) needs.
Both of my portable hard drives are WiFi-enabled, but I'm slowly phasing them out with Google drive.
The amount of technology I can convince myself I need is astounding, so it's a daily battle keeping it simple.
---
What iPhone do you have?
I have a Space Gray iPhone 6 Plus 64GB.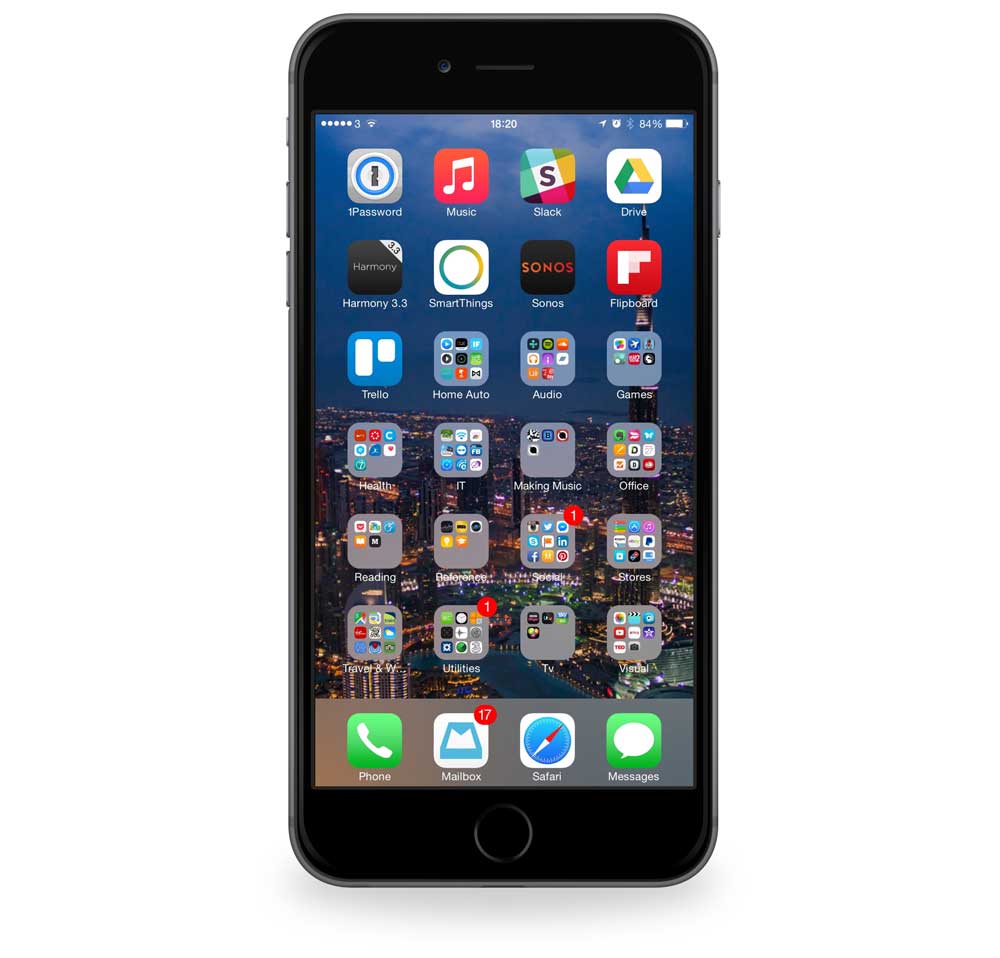 You can find Steven's wallpaper here.
What apps do you use the most, and why?
Slack – all of our internal communication is via Slack. It allows me to chat to all my team members no matter where I am, and I can see communications between members of staff so I'm always in the loop.
In addition to this, we've tied it into Trello so whenever tasks are completed, we're notified as a team. I never need to check on progress in Trello because of this. So, when I go into Trello, it's to do a task or assign more to the team, but I also email directly into Trello for convenience. If we could just integrate with Adobe Creative Cloud for file updates and comments, we'd have a single port of call for all internal and most external communication.
Flipboard – this collates all the websites and subjects I want to read. I can flick through a bit like a book and generally the experience is better than various mobile web experiences.
Pocket – Everything I think I might like that I see around the net I store here. I'll often go through Flipboard just saving articles to Pocket to read later when I feel more like it.
Evernote – Sooner or later it'll end up here. While its not as nice at processing websites as Pocket is, the search and related notes is really helpful with researching and relating them to client work and meetings I've had. So, once I've read it in Pocket, if it's invaluable I'll chuck it in Evernote.
We also run a team notebook where anyone can drop in anything interesting from around the net. This forms the basis of any adomedia tweets.
Mailbox – On iOS, it's flawless. Within 2 days of getting the app, I hit inbox zero after 3 years of trying.
I've also been using Command C as it makes my phone and tablet like a dual screen setup where I can copy from one to the other.
The list could go on and on.
Which app could you not live without?
For work, this is Slack. For the first time, I feel like I'm in the office when I'm out of the office.
Mailbox is also really important in creating that work life balance. If I've not got it done by the time I'm going home, it gets snoozed for tomorrow and as a result I feel there is less hanging over me in my personal time as I can't see it in my inbox.
For personal use, I can't do without Evernote. I honestly don't know how I used to find things before I got Evernote. It's allowed me to go completely paperless, and it manages all my personal tasks (any thing not suitable for Trello). It's great — I could write a whole series of blog posts on how I use it.
Again, an honourable mention for 1Password.
---
Which iPad do you have?
I have a Space Gray iPad Air 32gb with WiFi.


You can find Steven's wallpaper here.
How are you using your iPad on a daily basis?
The iPad is my main personal device. When I'm at home, I'm either listening to records or I've got the TV on in the background while I read, game, chat on social networks, play music, etc.
Now the iPad has taken a bit of a back seat to the 6 Plus, but that's due to the fact the 6 Plus is in my hands more often. If I get the iPad out I don't touch the 6 Plus. The iPad is still one of the nicest ways to consume media and as my office setup becomes more and more cloud and app based, it's really gaining ground on content creation (I wrote this whole piece on it using Daedalus).
I use my iPad for all my musical endeavours as mentioned above. This means all my practicing (playing along with tracks from multiple sources), effects, amp simulators, recording…everything. It's an incredible tool that has truly been life-changing. Most gigs I do now I can be offstage and out of the door on my way home within 2 minutes of the set finishing.
What apps do you use the most, and why?
Positive Grid's JamUp Pro. (I've been beta testing Bias FX, which is Positive Grid's next release and it is just killer).
Same as on the phone, I'm big into Flipboard and Pocket, though I find Flipboard on the iPad doesn't clip as much of the articles as on the phone, so you're always going to notice a fairly terrible in-app browser experience. Pocket, however, is even nicer on the iPad than it is on the phone.
Because I have an Apple TV at home, I don't watch too much on the iPad or phone. I just AirPlay it or use a native Apple TV app to play it on the bigger screen at home.
Which app could you not live without?
JamUp Pro. I use it for all my gigs, rehearsals, and recordings.
---
There are more Sweet Setup interviews right here.