Steve Goslin's Mac and iOS setup
May 2, 2016
Every week we post a new interview with someone about what software they use on their Mac, iPhone, or iPad. We do these interviews because not only are they fun, but a glimpse into what tools someone uses and how they use those tools can spark our imagination and give us an idea or insight into how we can do things better.
New setup interviews are posted every Monday; follow us on RSS or Twitter to stay up to date.
---
Who are you and what do you do?
My name is Steve Goslin. Born and raised among the corn fields near Columbus, Ohio, I began my working life in construction project management and shifted into the digital space about 18 months ago with a great opportunity at Dynamit. I've been sharpening practices and procedures around the SDLC, and continue to hone my skills as a Solution Delivery Manager on some awesome projects. To that end, I'm always leveraging software solutions for my responsibilities, and weekly look forward to The Sweet Setup to see what utilities and applications others use to make their lives and jobs easier.
What is your current setup?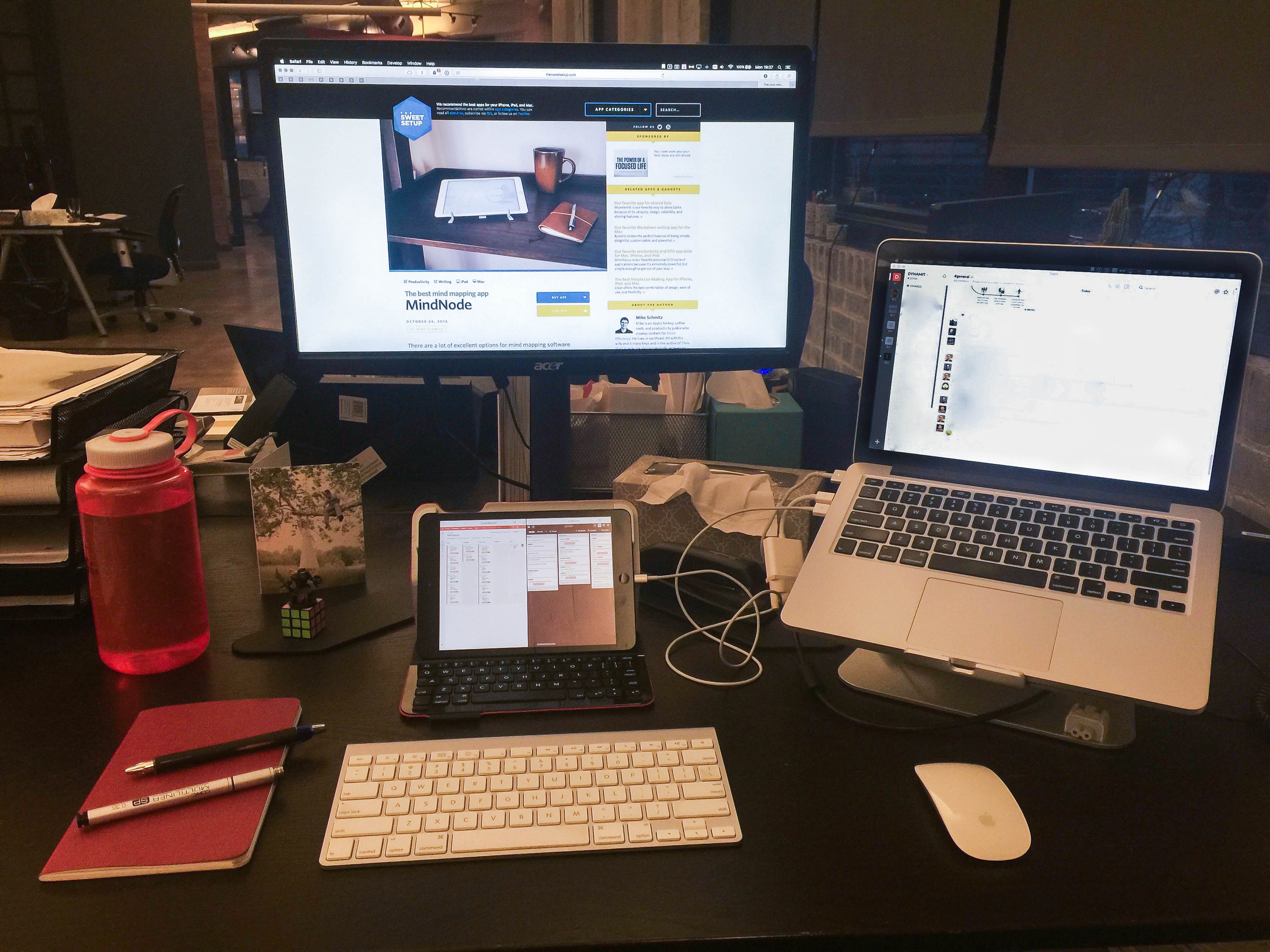 I am currently running a mid-2014 13″ Retina MacBook Pro (8GB RAM, 500GB SSD). It's my work machine and goes everywhere with me around our building, working remotely with clients, at the coffee shop, and home.
Where can we find your OS X wallpaper?
I've been using the default Solid Gray Pro Ultra Dark for a little over a year as I use my desktop for in-progress file storage (I can hear gasps now), and want a distraction-free backdrop.
What software do you use and for what do you use it?
Work
Safari — I'm not a Chrome guy, much to the chagrin of some of my colleagues. I like the native element for both OS X and iOS, especially now that pinned tabs has come to Safari.
Notes — I composed this article in Notes between the MacBook Pro and my 6 Plus when I was collecting the list of apps on the go. I have long appreciated ubiquity in my note-taking application, and Apple continues to compete strongly here. The iCloud backup, folders (nested!), and not too-terrible-editing, have made Notes grow on me since Yosemite launched.
OmniFocus — I tested this with at least 2 trial extensions (thanks Omni Group!) before taking the dive. I have not regretted it in the least. I was waiting to see if Things 3 would drop, but couldn't wait long enough. OmniFocus has been everything I've needed to establish and maintain a robust productivity system for all my projects. There is an awesome community around the suite, and that has been a huge help as well.
OmniPlan — Working from OS X is normally not an issue these days for PC-comparable software suites. The main exception and pain point for my role is Microsoft Project. Again, The Omni Group comes through with a well-designed and powerful equivalent to Project. I've only scratched the surface, but already have appreciated the thoughtfulness of the tool and the efficiency it has produced in adjustments to my projects.
OmniGraffle — Though wireframing and diagramming are not core activities in my day-to-day responsibilities, I have benefitted from having this as part of my toolbox, and only see that usage growing. I would stack this up against LucidChart as a great product with amazing templates and stencils right out of the box.
Fantastical 2 — I instantly bought the update for my iPhone when Fantastical 2 dropped, but was reluctant to spend $40 on the OS X update. After some deliberation, I did so and have not regretted the purchase. Two things stand out if you're already familiar with Fantastical:
1. The ability to "undock" the window helps immensely when I'm working in other applications and need to reference the calendar.
2. The full-screen year mode is great for a quick reference for month-out and beyond.
I leave it up to you whether the upgrade is worth the $40, but you might simply want to support great developers (as a tipping point for your decision). (As of this week version 2.2 is out and the Exchange support for scheduling with colleagues is superb—worth checking out!)
Slack — Slack really is a remarkable product, which you already know if you use it. If you don't, and you work on a team of 3 or more people, I would highly suggest you give this product a try. Simply put, it's a nearly frictionless chat tool useful for quick communication, easy file sharing, and instant collaboration. I have a channel for each of my projects and their dev teams, and can easily stay abreast as to progress and roadblocks during the week. Also: Integrations! (JIRA, Giphy, Jenkins, GitHub, Runscope, and on and on. Pro Tip: I've employed the convention of "burner" channels for one-off phone calls or meetings that we can quickly archive. Helpful to keep things tidy.
Messages — As if Slack weren't enough, Messages has also crept up as a go-to solution for chatting with my partner throughout the day, other team members who are traveling or working remotely, and group messages. Handoff works great after a few bumpy years. Messages is normally running during my day even though it might be minimized a good portion of the day.
1Password — Truly remarkable solution for not only remembering all the important secrets, but a fantastic password generator as well. With the added share sheet on iOS, it's truly become something I update globally across devices and leverage regularly with all of the two-factor login hoops I have to jump through (though I'm grateful for security).
Google Docs — The first role where I really leveraged these and want to give them an honorable mention as being a go-to for "always-on" tools I can quickly fire up to blast out a document, build a spreadsheet, and collaborate strongly. Hard to beat at this point, and it will be interesting to see what Dropbox and Office 365 continue to bring to the table.
Utilities
Personal
Day One 2 — I made the upgrade to support good development. Day One continues to be a gorgeous journaling application that always causes my OCD to boil up between analog and tech for recording life's important things.
Airmail — I've been testing the beta version for some time and may take the plunge. Personal email usage on my laptop is definitely back-burner and the paned-approach Airmail takes is light and nice to get in and out of in processing personal email.
You Need a Budget — I can't say enough about this product and what it's done for my finances (and marriage). Very great platform of education and app, and if you haven't already tested it, go right now and try it for a month.
Tweetbot — Tapbots make the sleekest products, and Tweetbot made me fall in love with Twitter in the best way. Pro Tip: I almost exclusively view Twitter via lists, and in Tweetbot if you tap and hold on the titleBar, you can swap between lists you have set up. It's a "contexty" way of viewing Twitter you should check out.
How would your ideal setup look and function?
The only notable application I have yet to acquire for Mac is MindNode (Easter egg in my workstation image).
---
What iPhone do you have?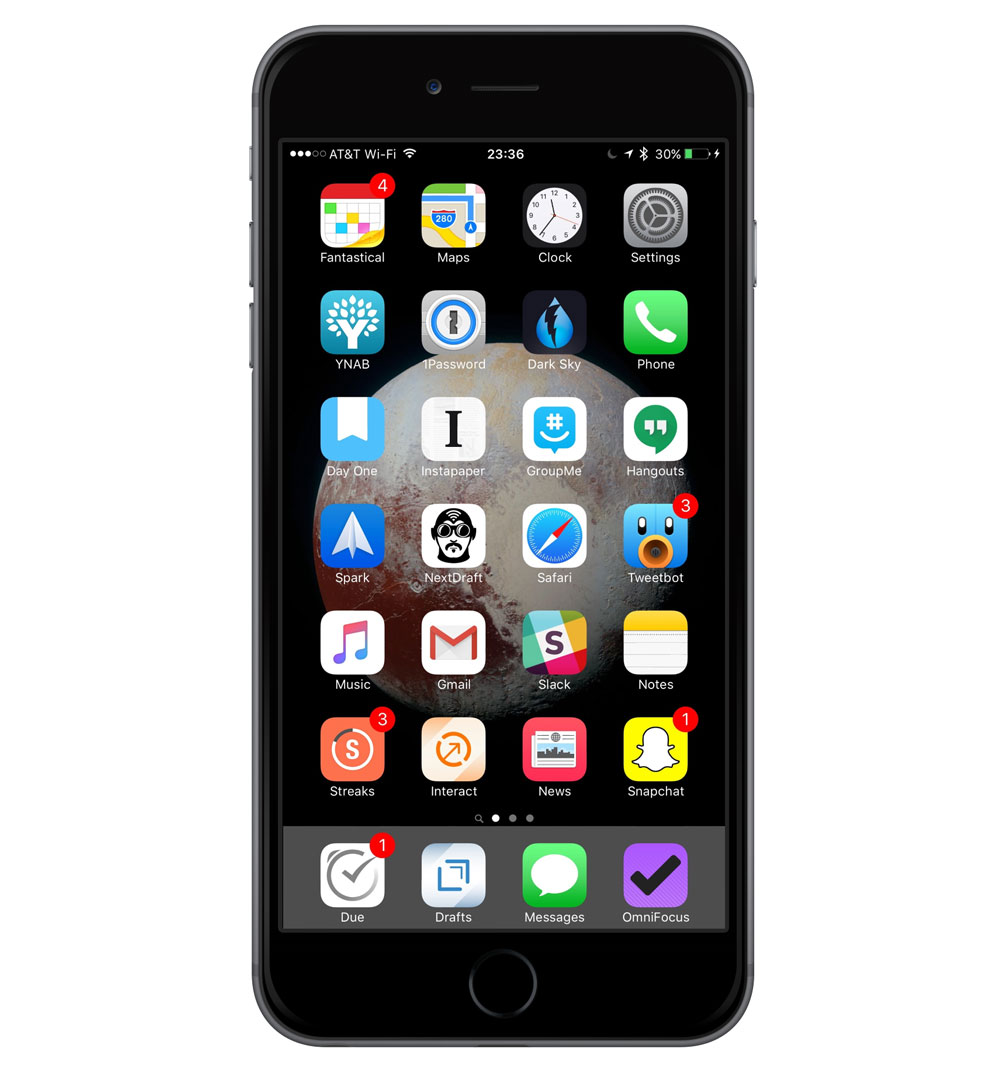 I have an iPhone 6 Plus with 32GB of space.
You can find Steve's iPhone wallpaper here.
What apps do you use the most, and why?
Due — See above, I wouldn't do without this. On iOS it's very well done and very malleable to one's workflow.
Messages — Green or Blue, this app is the workhorse on my phone (see note about Siri, below).
OmniFocus — The companion to the OS X version couldn't be better fitting. It's as robust as the desktop version, and triaging tickets on my phone is painless.
Fantastical — A well-built and pleasant app for sorting out your days and weeks. Pro Tip: Dictation into the input field (which is powered by Flexibits beefy natural—language parsing) will make your head spin.
1Password — Pairs perfectly with the desktop version.
Slack — Life's too short to sit at your desk, and taking Slack for a stroll is so easy
Tweetbot — I use Twitter most on my mobile, and Tweetbot is the only app for the job.
Notes — (See note in Mac section.) Notes on iPhone is extremely well done and runs very smooth. (Huge thanks to Drafts, which holds a special place in my heart and my Dock! I'm trying to forge a universe where these two products co-exist. Help?)
You Need a Budget — Do yourself a favor and invest time in a budget (not a sponsored post).
Spark — My go-to for personal email on the phone. I know I haven't tapped into even half of the beauty of this product, and I'm already very satisfied. Very well-built app.
OverDrive — Read often, and support libraries!
Kindle — Read often, and sometimes use Amazon!
Crossy Road — I just hit 155 characters unlocked, and boy was there a party. Thanks Hipster Whale for the game that brings me a smile, even when getting lit up by a Semi.
Utilities
Duet — Trying to figure this one out; as shown, I've used the iPad Mini as more of a status board (Panic Status Board) for watching some of our Scrum boards and, at other times, Slack. Duet is well-made, which makes experimenting fairly painless.
Mail to Self — If you don't have this utility installed on your iPhone, go get it right now.
AirDrop and Siri — Siri is a fairly faithful friend. Within the past two weeks, I had about 3 people mention to me that they notice (always with surprise) how much I use Siri and dictation. It surprised me because I chat it up with her all the time, and the results are steady and always improving. Also AirDrop has increasingly been a huge utility to get items off my phone and onto the laptop to work with, and vice-versa when I'm rushing out the door.
Which app could you not live without?
I don't like this question. Uggghhh…I'm actually going to go with Notes! I can write, build to-do lists, build outlines, format decently, draw, and (as of a couple weeks ago) password protect notes — and all with a very polished interface. Due and Tweetbot would be very close seconds…
Which iPad do you have?
I have a 1st generation iPad Mini.
How are you using your iPad on a daily basis?
Honestly we're not. After I got the 6 Plus, it simply hasn't been an EDC. That said, the fantastic Logitec Keyboard/case makes it very simple to toss in the backpack and carry to the coffee shop or park, or carry with me if I want to type a bit before bed.
I do find myself managing my website blog posts with Squarespace's Blog app (infrequently).
What apps do you use the most, and why?
GoodReader has been a fantastic application I've used for years. Early on, it served as a WiFi-connected way to transfer and share documents, podcasts, and music. I use it less often now, but still find that on the iPad it makes lot of sense.
---
There are more Sweet Setup interviews right here.