Steve Cholette's Mac, iPhone, and Watch setup
April 10, 2017
Every week we post a new interview with someone about what software they use on their Mac, iPhone, or iPad. We do these interviews because not only are they fun, but a glimpse into what tools someone uses and how they use those tools can spark our imagination and give us an idea or insight into how we can do things better.
New setup interviews are posted every Monday; follow us on RSS or Twitter to stay up to date.
---
Who are you and what do you do?
My name is Steve Cholette, and I am a full-time Fire Fighter/Paramedic for a suburb city near Detroit, Michigan. I have been an Apple fanatic for quite some time and I use my setup for home/hobbies.
What is your current setup?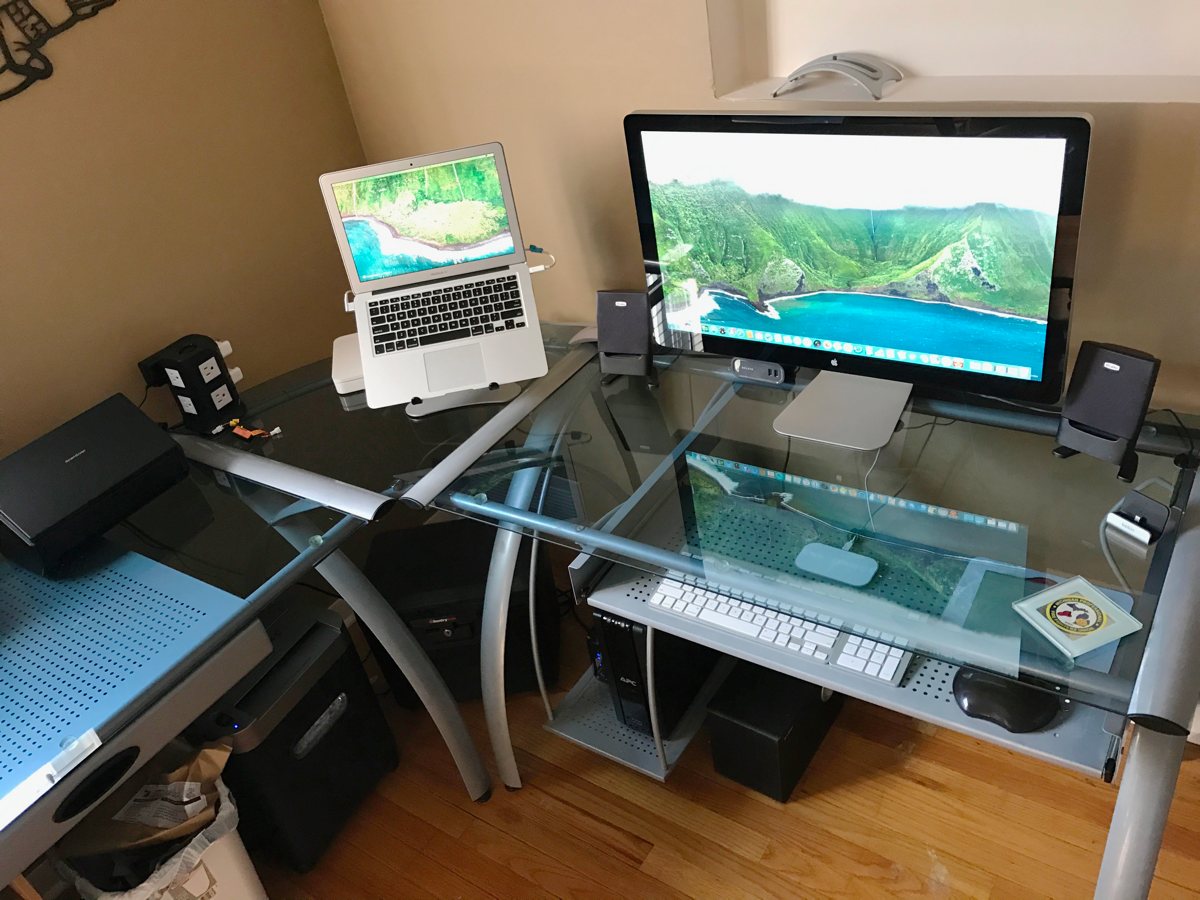 I have a mid-2012 MacBook Air with 8GB RAM and a 512 GB SSD. Additionally, I have my MacBook Air connected to a 27-Inch Apple Thunderbolt Display, Apple Wireless Keyboard, and Trackpad. I take my Apple Magic Mouse with me for when I am on the go. The Thunderbolt display is connected via Ethernet to my Apple 2TB Time Capsule. For my paperless workflow, I have the ScanSnap iX500. I have my MacBook Air sitting on a stand from Thoughtout Company. On my desk, I also have a Belkin iPhone stand, which I love because it works with different cases and phone sizes.
Where can we find your macOS wallpaper?
My wallpaper is from Twelve South Wallpaper Collection 4: Hawaiian Island Adventure. My wife and I visited Hawaii last year and it was beautiful.
What software do you use and for what do you use it?
I use a variety of Apple Software in addition to third-party software. My top 10 on macOS are:
How would your ideal setup look and function?
I love my current setup, but I wish I could afford to get a new Mac every year or so. I really can't believe I am still using mine from 2012. It honestly runs great and I would only be upgrading due to the new features of the newest Macs. My ideal setup would be a refresh of my MacBook to the Pro version with the Touch Bar and Touch ID, along with a high resolution LG or Dell display. Lastly, a refresh on the Trackpad and Magic Keyboard to the latest versions.
---
What iPhone do you have (color, size, etc.)?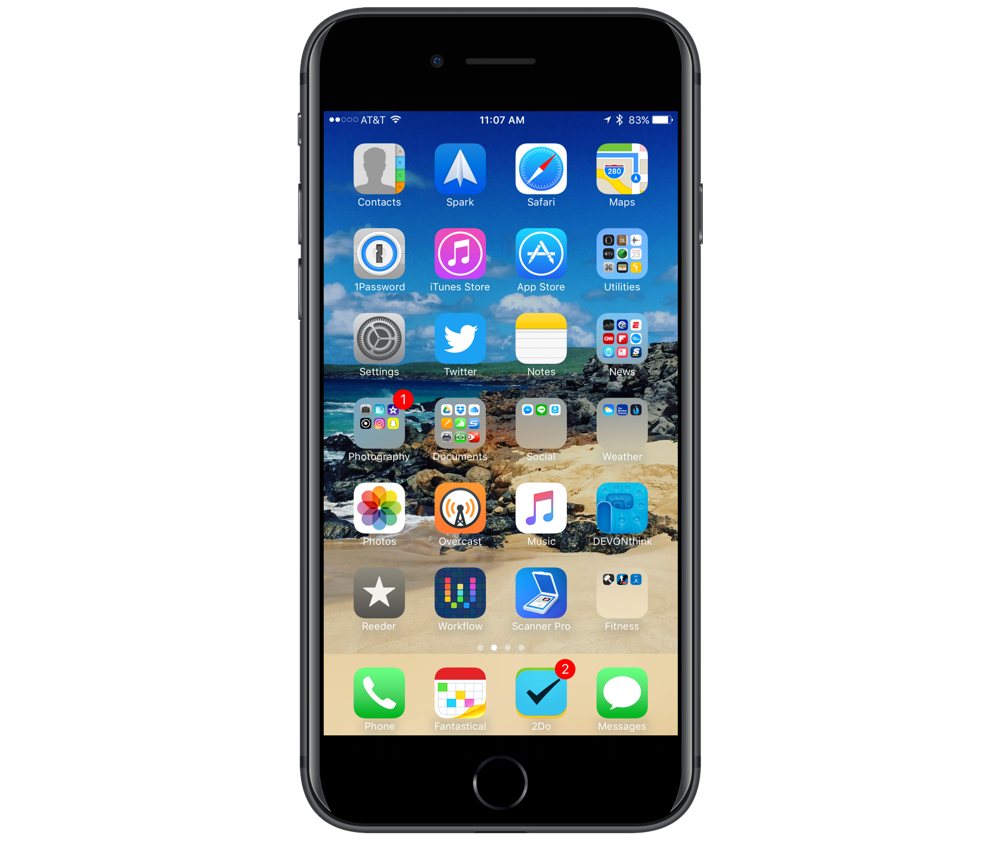 I currently have an iPhone 7 Plus in Space Gray with 128GB of storage.
Where can we find your wallpaper online?
It's a photo I took with my iPhone of a beach in Hawaii.
What apps do you use the most, and why?
In addition to the ones I have stated above, I use:
Overcast: I love listening to podcasts, and Overcast has a wonderful platform. My favorite podcast right now is Mac Power Users.
Reeder: My newest app on my iPhone; I love getting RSS feeds from my top websites.
2Do: This app is synced with my Mac and I love keeping organized with different tasks I have to complete. It keeps me focused on what needs to be done, even when I am on the go.
DEVONthink To Go: I work very had to have a nice workflow and this app keeps everything I need at my fingertips. This app is refreshed and has taken a huge leap from the previous version. It works very well and I am happy it uses a feature to keep all of the data off of your device until you need it.
Which app could you not live without?
Tough one, but I would have to say 1Password, which is a shock to me that I picked it. I can not stand not being able to log into a website or a bank account because I couldn't remember the hundreds of websites I have accounts for. I love this app because of all the features it offers on all devices and how keeps everything up to date. I feel that without 1Password I would be lost.
---
Which Apple Watch do you have?
I have the first generation Apple Watch in Stainless Steel with the black sport band, and I use it every single day.
How do you use your Watch on a daily basis?
My current screen is the Modular face: I use two complications from Fantastical, the Battery app, and the Weather app.
I also love to use my Watch on my motorcycle. I have a handlebar mount that I use, and I use my Watch to simply switch songs on the Music app while I ride. Lastly, I love using the Watch with my Apple AirPods!
---
There are more Sweet Setup interviews right here.
Want to share your setup? We'd love to hear from you. Just fill out this form with some basic information and we'll be in touch.
---
Wait. There's a Bonus….
Custom Productivity Templates
We have a set of custom productivity templates that work well with the iPad app, GoodNotes. And if you want to try them out, we've put together a free guide that can help you.
We'll show you…
How to create and save custom page templates in GoodNotes.
How to use those page templates to transform GoodNotes into your own productivity notebook (or any other type of notebook replacement).
Plus, we also have included a couple of our custom productivity templates for you to get started with. These templates are right out of our popular productivity course.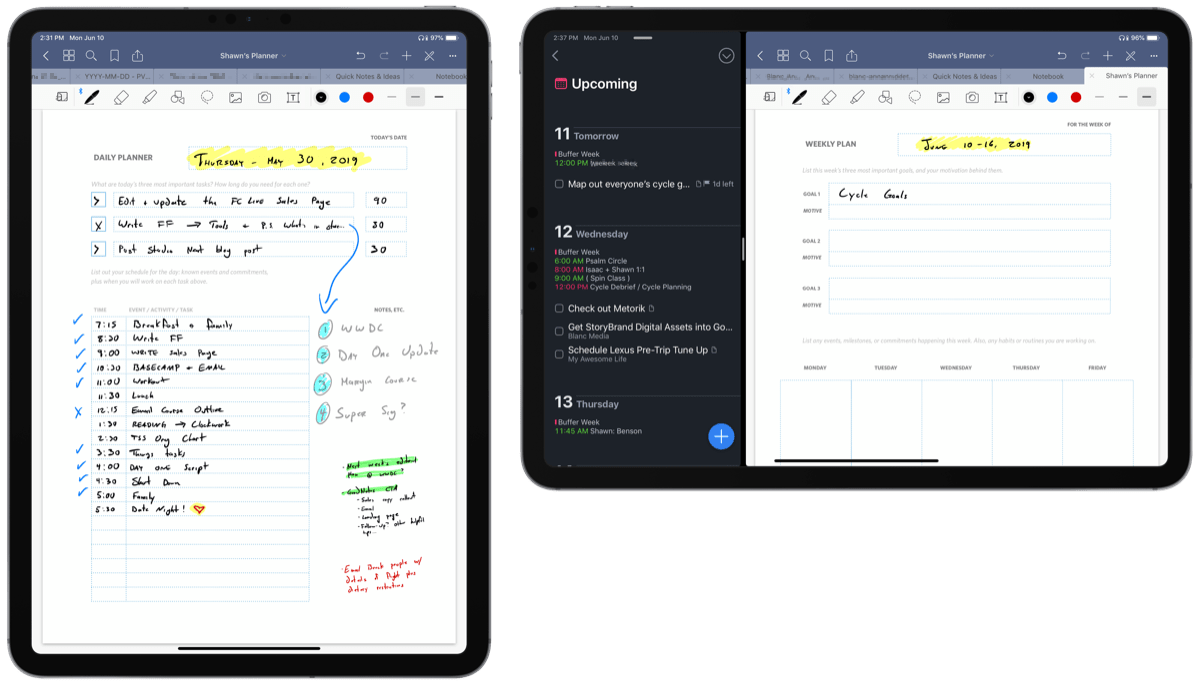 The custom templates and the guide are available for FREE to our email subscriber community. And you can get it right now. By joining the Sweet Setup community you'll also get access to our other guides, early previews to big new reviews and workflow articles we are working on, weekly roundups of our best content, and more.