Stephen Hackett's Mac and iOS setup
August 29, 2016
Every week we post a new interview with someone about what software they use on their Mac, iPhone, or iPad. We do these interviews because not only are they fun, but a glimpse into what tools someone uses and how they use those tools can spark our imagination and give us an idea or insight into how we can do things better.
New setup interviews are posted every Monday; follow us on RSS or Twitter to stay up to date.
---
Who are you and what do you do?
My name is Stephen Hackett. I'm the co-founder of the Relay FM podcast network. Starting about a year ago, I've been working on Relay FM as my full-time job. I also write a blog named 512 Pixels and work as an editor here on The Sweet Setup.
What is your current setup?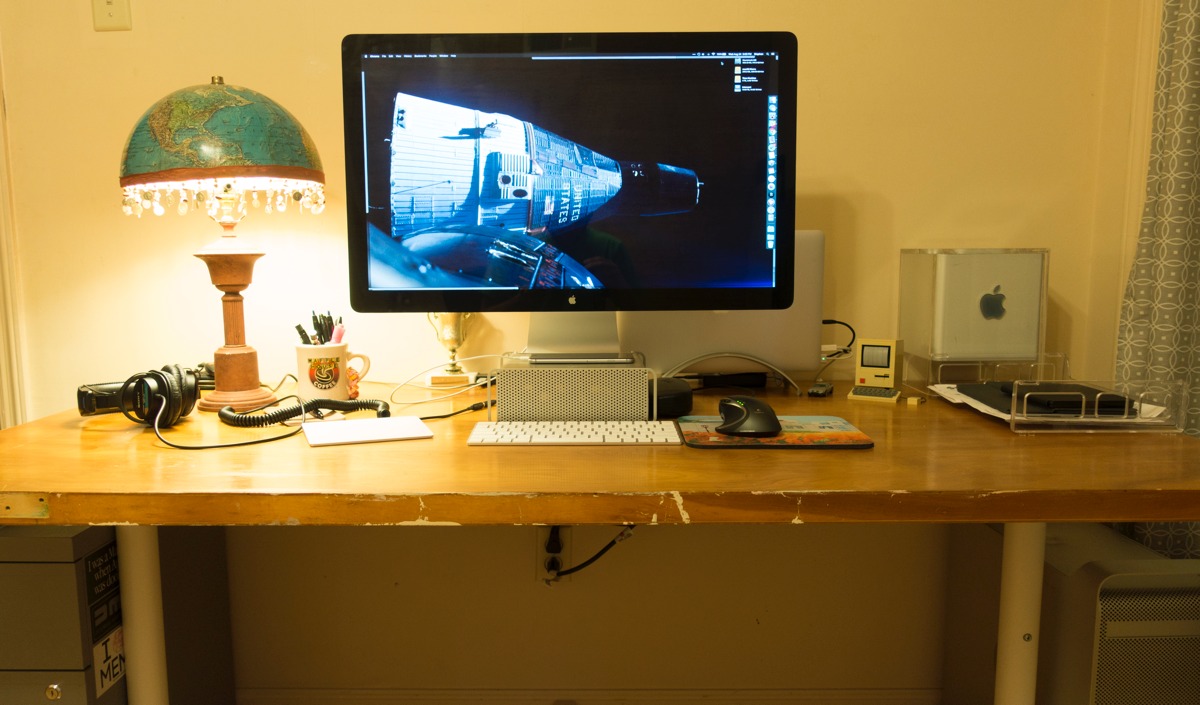 My current Mac is a Mid 2015 15-inch MacBook Pro with Retina display. It came fully-loaded, complete with the goofy Force Touch Trackpad.
Here at home, it's docked to a 27-inch Thunderbolt Display that sits in a Twelve South HiRise. I use the Apple Magic Keyboard, a Logitech Performance MX mouse, and a Magic Trackpad 2.
My Thunderbolt Display sits atop a HiRise to put it at eye level. It also gives me a little storage space that's out of sight.
I don't podcast in my home office. I do that in some rented space. You can check out that setup over here.
The PowerMac G4 Cube and G5 tower you can see in the photo are just for decoration, as are the Apple IIc, eMate 300 and various Macs on display in my office.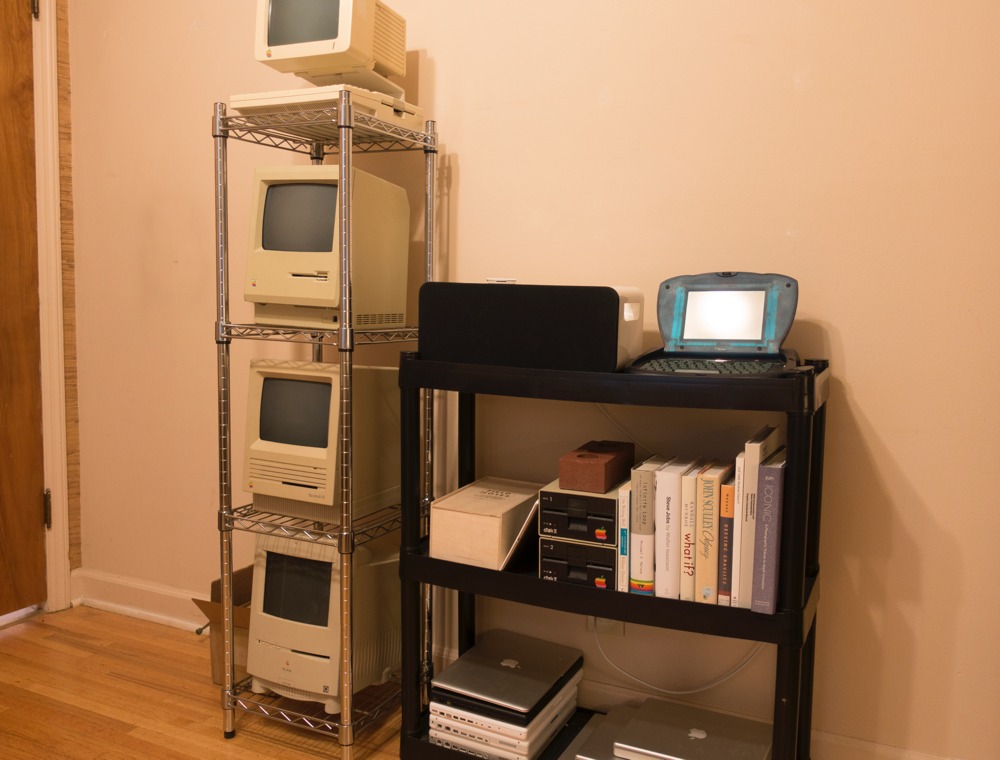 (They all work, though.)
Where can we find your OS X wallpaper?
It is a photo of Gemini 6 and 7, the first time two crewed spacecraft were rendezvoused in orbit.
What software do you use and for what do you use it?
Day to day, I live in applications like Slack, Mail, Tweetbot, 2Do, and Byword.
On days I record or edit podcasts, I'm in Skype, Audio Hijack Pro, and Logic Pro X.
How would your ideal setup look and function?
I'd like to move back to a 13-inch MacBook Pro. If Apple can deliver me one in Space Gray that can drive an external Retina display, I will give them all my money.
---
What iPhone and iPad do you have?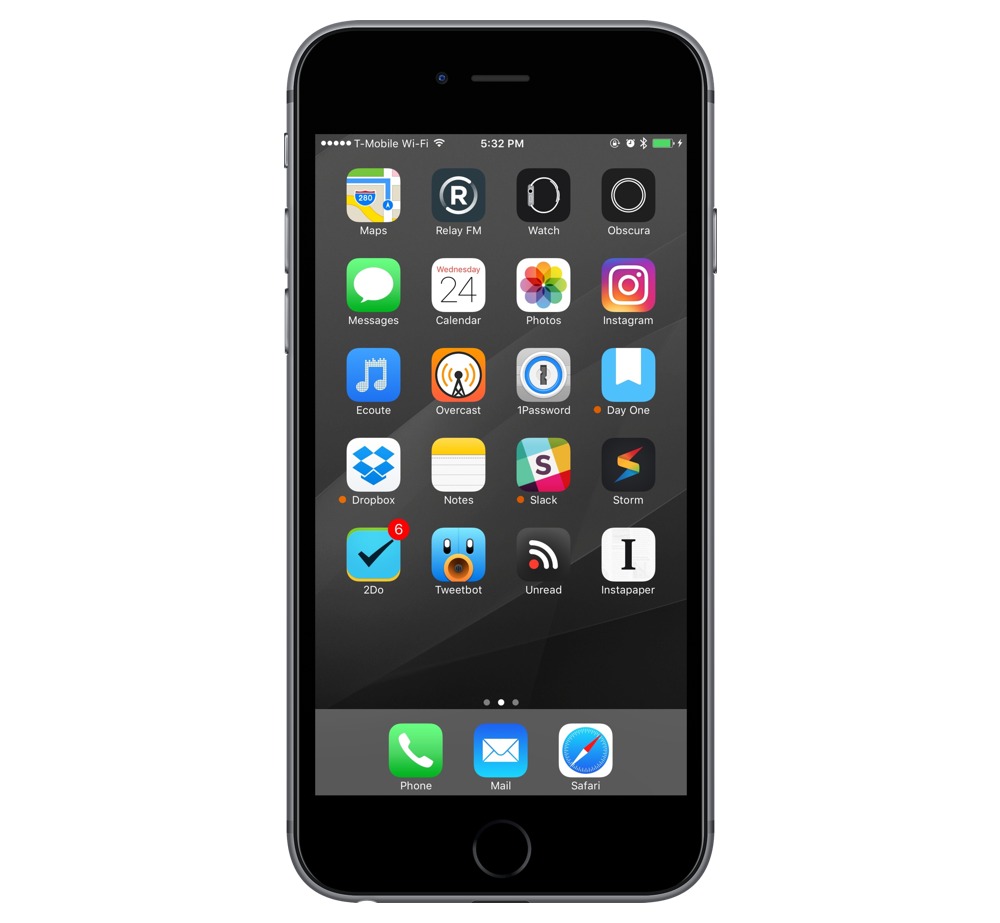 I'm using a Space Gray, 64 GB iPhone 6S Plus.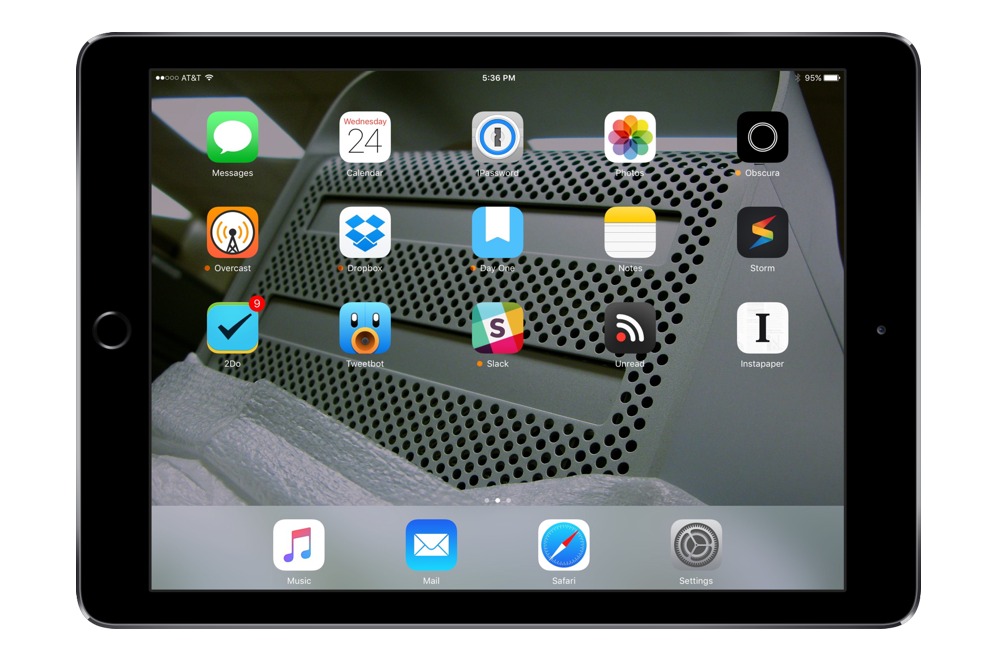 On the tablet side, I have a Space Gray, 9.7-inch iPad Pro.
Where can we find your wallpaper online?
On my iPhone, I use a grayscale version of Mac OS X Tiger's default wallpaper.
I like my iPad wallpaper to be ironic. It's currently a photo I snapped as I was unboxing a Mac Pro at a previous job.
What apps do you use the most, and why?
In many ways, my iPhone (and iPad) are set up to recreate my Mac environment on the go.
On my iPhone, I use social apps like Tweetbot and Instagram a lot more than on my iPad. There, I try to focus more on things like email, my task list, and writing in 1Writer.
Which app could you not live without?
If I'm not at my desk writing, I am listening to a podcast in Overcast. Part of my job at Relay is to check out what's going on across the vast podcast universe, and Overcast makes it easy to discover what other people are recommending. Beyond that, podcasts are my preferred entertainment.
---
There are more Sweet Setup interviews right here.
Want to share your setup? We'd love to hear from you. Just fill out this form with some basic information and we'll be in touch.
---
Free Productivity Guide: Download our simple guide to productivity to help you improve your workflows and be more focused with your time and attention. Get it here.