Stephen Hackett's Mac and iOS setup for 2017
October 2, 2017
Every week we post a new interview with someone about what software they use on their Mac, iPhone, or iPad. We do these interviews because not only are they fun, but a glimpse into what tools someone uses and how they use those tools can spark our imagination and give us an idea or insight into how we can do things better.
New setup interviews are posted every Monday; follow us on RSS or Twitter to stay up to date.
---
Who are you and what do you do?
I'm Stephen Hackett. I'm the co-founder of the Relay FM podcast network, home to a whole bunch of nerdy shows. I co-host several of them. Relay FM has been my full-time job for a little over two years now.
In addition to podcasting, I've been blogging at 512 Pixels for nine years. I write about Apple, tech, journalism, design, and anything else that comes across my plate that I find interesting.
I also serve as an editor here at The Sweet Setup.
What is your current setup?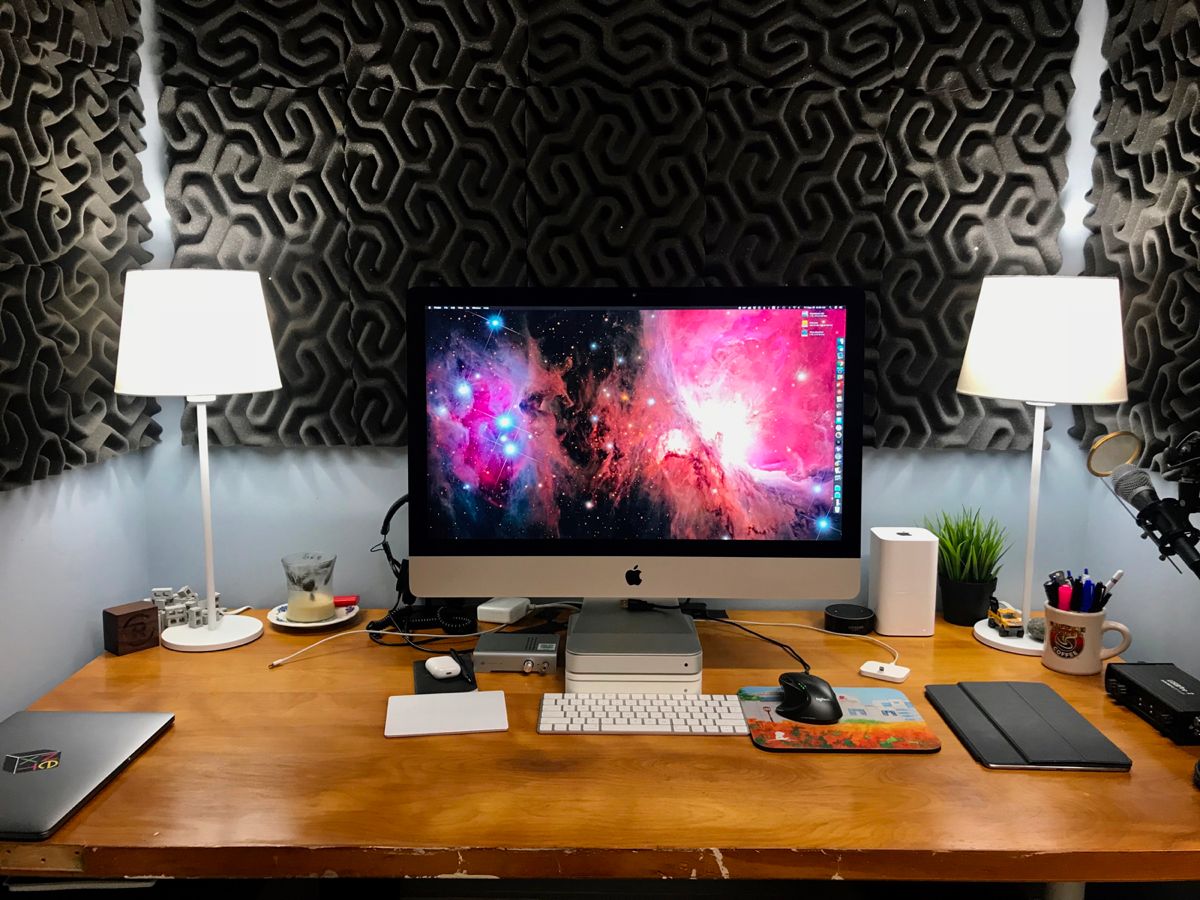 My production machine is a Late 2015 27-inch iMac with 5K Retina display. It's my first desktop machine after a long line of notebooks, and I couldn't be happier with it. I get a ton of screen space and power without the hassle of docking a MacBook Pro with an external display.
The iMac sits atop an original Apple TV and a dead Time Capsule to get the height correct. I use Apple's Magic Trackpad 2 for swiping around my editing programs and Magic Keyboard for text entry. My mouse is the Logitech Performance MX. I tried the MX Master after hearing good things about it, but it just wasn't for me. I keep a spare Performance MX in storage so I'm set when this one dies.
My desk is an old door that I cut down and put on a set of IKEA legs. The sound-absorbing panels are SoundTrax PRO Studio Acoustic Foam. You're supposed to use sticky tabs to affix them to the wall but I nailed them up because it was way faster to install them that way.
As a podcaster, I have a fairly robust and way-too-expensive setup for recording audio:
(That audio interface is overkill for almost everyone. My go-to recommendation is the very-good-and-affordable Tascam US-2×2 USB Audio Interface).
You can read more about my complete gear list, including what I use to produce my YouTube videos over on this page at 512 Pixels.
Beyond the iMac, I also have a Late 2016 13-inch MacBook Pro with Touch Bar. I use it for our live shows and working outside of my home studio. I have an old, almost-dead Mac mini as a home sever with a Drobo attached for network-accessible storage. Everything gets backed up with Time Machine and Backblaze.
Where can we find your macOS wallpaper?
My wallpaper is a photo of the Orion Nebula, the closest star factory in the universe to us. It can be downloaded here.
What software do you use and for what do you use it?
Slack is Relay FM's office. We use it for everything, like many companies do these days. Passwords are in 1Password; memories are in Day One. Tasks are kept up in Todoist. I use regular old Mail.app for email, and a ton of other built-in apps like Calendar, Notes, Photos, and iTunes.
For recording podcasts, I use Skype with Ecamm's Call Recorder running as a backup to Audio Hijack Pro, which I use to capture my microphone's output into one file and the Skype call in a second.
Any audio with background noise or other problems gets taken for a spin through iZotope RX6, which has the best noise cancellation I've ever used.
I then edit in Apple's Logic Pro X and publish shows via Relay FM's custom CMS.
How would your ideal setup look and function?
When the iMac Pro ships later this year, I will take a long and hard look at it. My 5K iMac has no problem keeping up with audio, but when editing 4K video in Final Cut Pro X, it struggles with long render times.
It'd probably be smarter to wait and see what the Mac Pro has to offer above the iMac Pro, but at this point, I'm really happy with my all-in-one setup.
---
What iPhone do you have?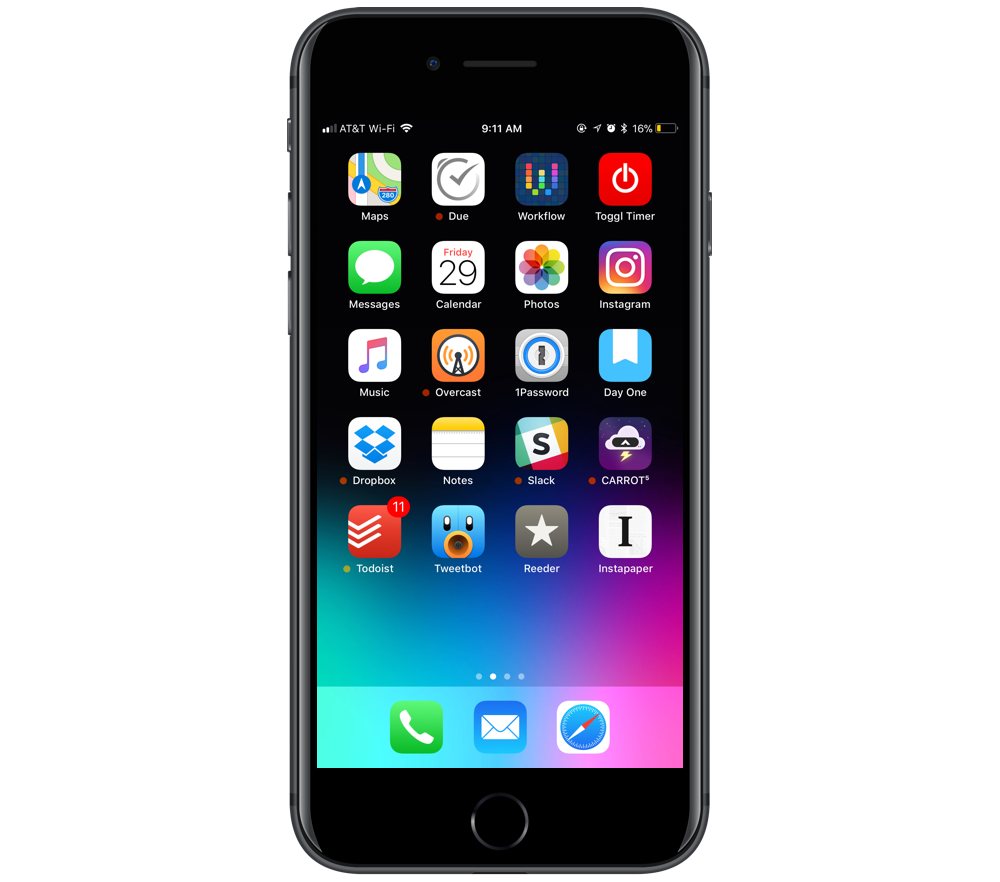 I have a matte black iPhone 7 Plus on AT&T, the only carrier that seems to provide coverage in my neighborhood, which basically looks like a suburban street got planted in the middle of a forest.
I found my wallpaper in an app called Vellum, but I've linked to it directly here.
What apps do you use the most, and why?
Other than all the audio work, my iPhone is really a mirror of what I use on my iMac — Notes, Photos, Music, 1Password, Day One, Reeder, Tweetbot, and Calendar all enjoy home screen positions.
I use Workflow to execute workflows that make every day tasks on iOS faster and less annoying. I track time in Toggl and share photos on Instagram.
In terms of sheer hours used, Overcast is probably the winner. When I'm not making podcasts, I'm usually listening to them, and Overcast is my preferred way of doing so. Its audio engine is incredible, and being able to add single episodes of a show easily is a huge part of my workflow when checking out new shows as part of work.
---
Which iPad do you have?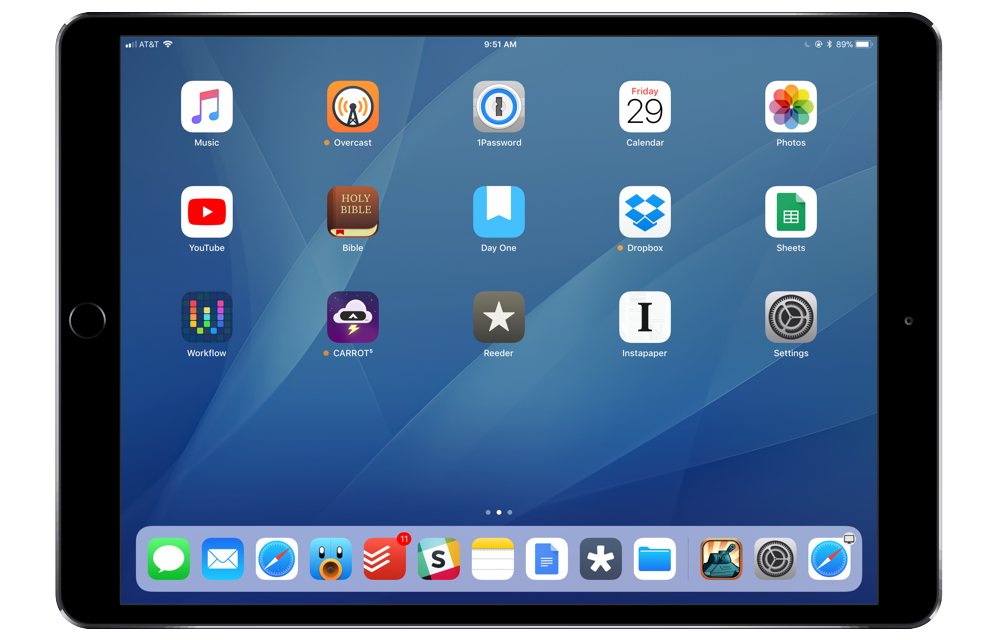 I have a 256 GB Space Gray 10.5-inch iPad Pro. The wallpaper I use is a 5K version of the default wallpaper from Mac OS X 10.4 Tiger.
How are you using your iPad on a daily basis?
This is a complicated question. Some days, I can do almost all of my work on my iPad. If I'm preparing notes for an upcoming recording session, knocking out admin work, or just blogging, I often grab my iPad with its Smart Keyboard and open up Google Docs, Notes, or Editorial.
On days when I'm busy in Logic or Final Cut, the iPad is pushed to the side.
What apps do you use the most, and why?
The app setup on my iPad is very similar to my iPhone. I like my iOS devices to be basically interchangeable. The speakers on the iPad Pro blow away the ones on the iPhone, so I listen to podcasts on the iPad around the house when I'm home alone, and of course, use it for a bunch of YouTube and Netflix consumption.
---
There are more Sweet Setup interviews right here.
Want to share your setup? We'd love to hear from you. Just fill out this form with some basic information and we'll be in touch.
---
Wait. There's a Bonus….
Custom Productivity Templates
We have a set of custom productivity templates that work well with the iPad app, GoodNotes. And if you want to try them out, we've put together a free guide that can help you.
We'll show you…
How to create and save custom page templates in GoodNotes.
How to use those page templates to transform GoodNotes into your own productivity notebook (or any other type of notebook replacement).
Plus, we also have included a couple of our custom productivity templates for you to get started with. These templates are right out of our popular productivity course.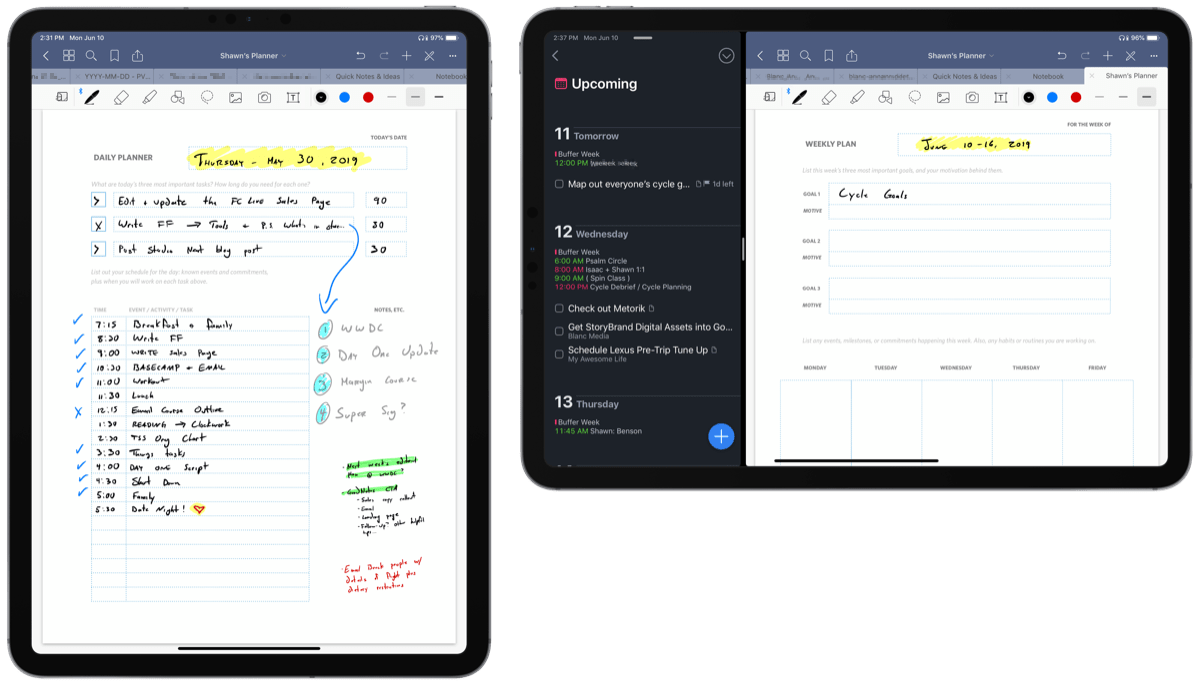 The custom templates and the guide are available for FREE to our email subscriber community. And you can get it right now. By joining the Sweet Setup community you'll also get access to our other guides, early previews to big new reviews and workflow articles we are working on, weekly roundups of our best content, and more.