How to speed up your initial Backblaze upload
July 20, 2017
Backblaze is the best cloud backup service for macOS. I've been using it for a number of years, and it's the best $50 per year that you can spend.
When you install Backblaze onto your computer, it runs in the background and you never have to think about it again. It starts by backing up all the documents on your computer. Then, it keeps track of when you create a new file, change a document, etc. When you do, Backblaze uploads the new/modified documents. The great thing about this service is that if your house suffers a flood, fire, or robbery, your data is still secure.
The problem is that the initial upload can be quite daunting. If you have 500+ GB, it might even take a few weeks depending on your upload speed.
If speed is your ultimate goal, here are some tips to improve your initial upload.
Raise the upload speed limit
Go to  → System Preferences → Backblaze → Settings.
Under the Performance tab, uncheck the Automatic Throttle option. The Automatic Throttle setting attempts to limit the rate at which Backblaze uploads files to 70-90% of your total internet speed. Unchecking this will allow Backblaze to run as fast as it can. This may slow down other activities, though.
Increase Backup Threads
You can also increase your Backup Threads limit. This feature came out in Backblaze 4.
Threading is designed to optimize bandwidth utilization when network latency is present. Our implementation works by having multiple processes independently sending encrypted blocks of data over the wire. The first process sends a block of data, and while it is waiting for an acknowledgement from our data center, the void is filled by a second process that sends its block of data right after the first process in done sending. Once the second block is done sending a third process can send a block of data, and so on. Optimally, most of the voids are now filled with data being uploaded.

Obviously, the wire can get overstuffed with too many processes and the upload speed can slow down to be even less than when you started. That's why, if you do activate threading, you need to start with 2 threads and work your way up, monitoring network resources along the way.
I found that increasing my Backup Threads greatly impacted my upload speed when I started a fresh backup last year. Keep in mind, both of these tips will increase the amount of data and processing power that Backblaze is using at any given time. I would recommend plugging into wired ethernet, plugging in a power source (if you're using a laptop), and then let it run overnight for a few nights.
OH today: There are two types of people … those who backup their data, and those who will.

— Bob Frank (@chicagobob) May 31, 2017
Don't delay in signing up for Backblaze.
---
We have more helpful tips right here.
---
Wait. There's a Bonus….
Custom Productivity Templates
We have a set of custom productivity templates that work well with the iPad app, GoodNotes. And if you want to try them out, we've put together a free guide that can help you.
We'll show you…
How to create and save custom page templates in GoodNotes.
How to use those page templates to transform GoodNotes into your own productivity notebook (or any other type of notebook replacement).
Plus, we also have included a couple of our custom productivity templates for you to get started with. These templates are right out of our popular productivity course.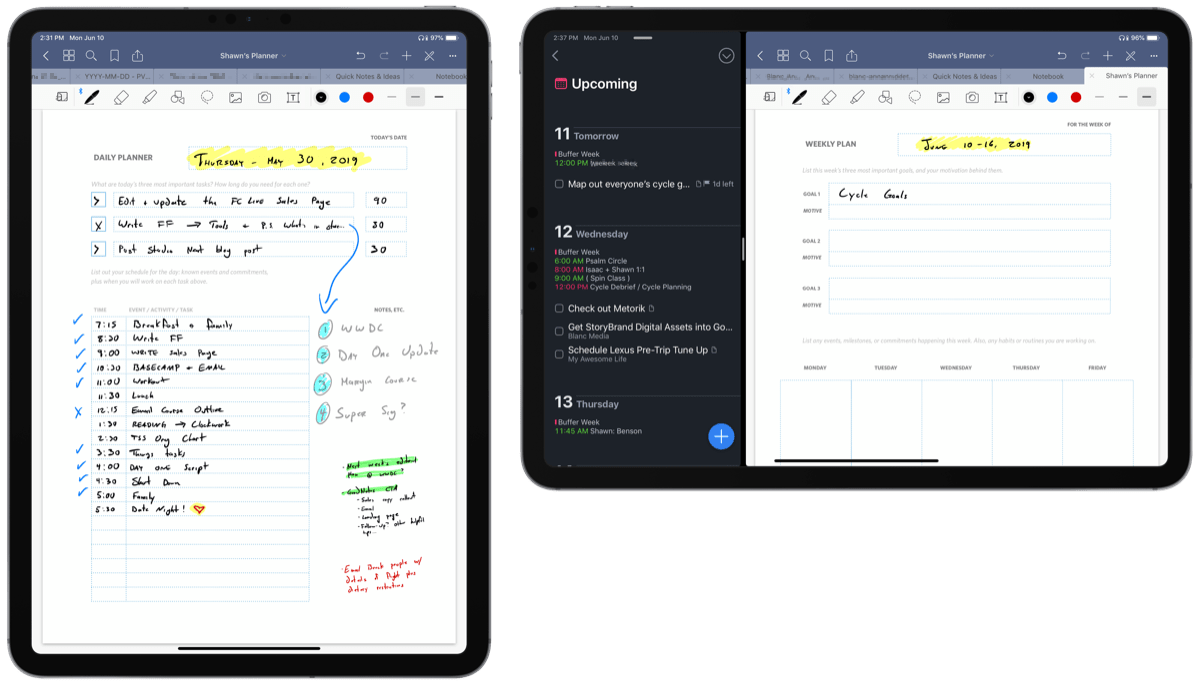 The custom templates and the guide are available for FREE to our email subscriber community. And you can get it right now. By joining the Sweet Setup community you'll also get access to our other guides, early previews to big new reviews and workflow articles we are working on, weekly roundups of our best content, and more.