Shana Russell's Mac, iOS, and Watch setup
May 29, 2017
Every week we post a new interview with someone about what software they use on their Mac, iPhone, or iPad. We do these interviews because not only are they fun, but a glimpse into what tools someone uses and how they use those tools can spark our imagination and give us an idea or insight into how we can do things better.
New setup interviews are posted every Monday; follow us on RSS or Twitter to stay up to date.
---
Who are you and what do you do?
My name is Shana Russell. I am the Campus Technology Specialist for a private school organization in Houston, TX. I blog at www.hitechmom.com and just started a new site at smarthomerecipes.com (smart home automation). I also dabble in app development and created an iOS and tvOS app called NiteFan — a white noise app that plays fan sounds.
What is your current setup?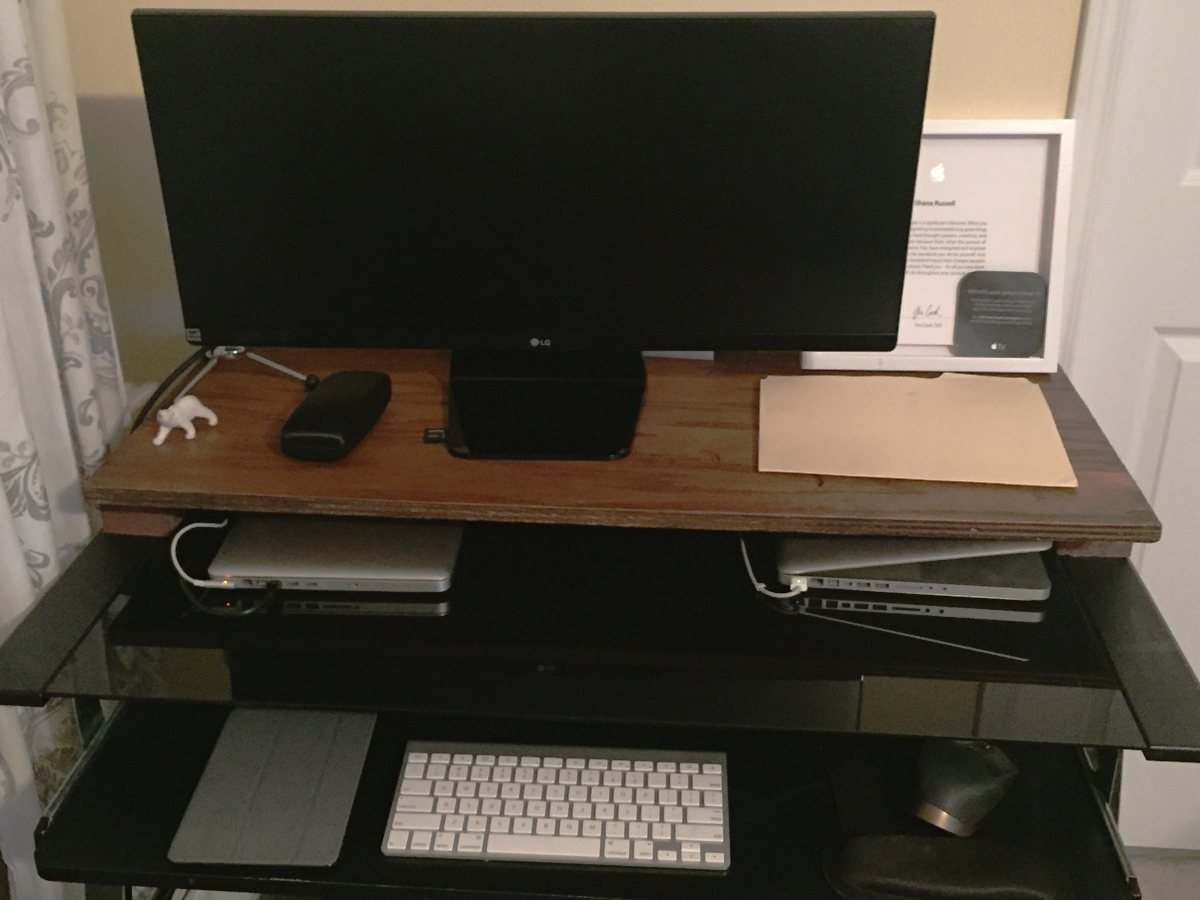 My main computer is a mid-2012 13" MacBook Pro. I love this machine. When it started feeling a bit slow, I upgraded to an SSD and added more memory, which gave it a new life.
I also have an older 15" MacBook Pro. I don't use it very much, but I can't bear to sell it or to just let it sit unused. Its current purpose is to send automated tweets that I have scheduled using a script and to hold all of my personal files that I don't want on my work laptop.
At home, I have a makeshift shelf under my LG widescreen monitor where I can slide both machines. I plan to build a custom desk at some point. The personal laptop is usually left slightly open so it will tweet throughout the day. I slide my other laptop under the shelf next to it and use it in clamshell mode. I just connect whichever machine that I'm using at the time to the display. I use an Apple wireless keyboard and a Logitech MX Master mouse. A coworker suggested this mouse and I've since purchased 2 because I move around a lot and tend to forget to put it in my bag. I like the ergonomic design of this mouse as well as the ability to map all of the buttons.
At the office, I use my monitor as an extended display and keep my Macbook on a stand.
Where can we find your macOS wallpaper?
In system preferences – solid color. When I'm "in the zone," I usually leave windows all over the screen like a maniac, so I prefer a plain color desktop to minimize the clutter.
What software do you use and for what do you use it?
I use a massive amount of software. I find it exciting to try new software and to try out a bit of everything. It's madness. I tend to use about 6 on a regular basis: Mail, Safari, Calendar, Evernote, Todoist, and Messages.
Mail: I've tried other mail clients, but I really like the ability to drag current folders that I'm using up to the favorites bar. I have way too many email accounts and associated folders, and this feature gives me quick access to folders that I'm currently working with.
Safari: I always come back to this browser because of iCloud and the continuity features. I can start browsing on one device and pick up right where I left off on another.
Evernote: This is my second brain. I dump everything in here, like random thoughts, blog posts, scans of all of my paperwork and bills, notes for work, checklists, workflows, and everything else. I use an IFTTT recipe that links it to the reminders app so I can use Siri to send my random "driving thoughts" to Evernote.
Todoist: I use this for my lists because of its integration with IFTTT. I like to add to it using Alexa and Siri, which I also wrote about.
I love Pages and Keynote and use those as much as I can, but, unfortunately, I work in a Microsoft Office world and have to support people who use those applications, so I also use them (mostly against my will).
For photos, I use Image Capture, edit in Photoshop and then upload to Google and Flickr. I used to use Aperture, but I found that it's not ideal to have my large photo library trapped inside any kind of library system. My children all have the login to my Flickr account so they can have access to all of our family photos. I upload to two different cloud services as a precaution because I can't bear the thought of ever losing photos. I use the auto-upload feature in each of the iOS apps to send them to the cloud.
On a regular basis, I also use Adobe Illustrator, Photoshop and InDesign; Firefox for things that don't work well in Safari; Microsoft Remote Desktop, Apple Remote Desktop, Apple Configurator, Casper Suite (now Jamf Pro), and Data Rescue for work; Forklift (FTP) and Data Wrangler for updating random website files; XCode for app development; CloudClip to share my clipboard between iOS and macOS.
For window management, I use an app called Magnet that snaps a window to a particular screen location based on which part of the screen you drag it to. It also allows you to use keyboard shortcuts to snap a window to a certain position.
I like to create workflows in Automator for repetitive tasks.
I use 1Password + the Safari extension for all of my passwords.
All of my files are saved to my Dropbox for business account, personal Dropbox, and OneDrive. I used to use Google Drive instead of OneDrive, but it gives me issues on our school network. My music is in iTunes Match, but I listen to Amazon Music more than iTunes.
How would your ideal setup look and function?
I would like to have a desk with a place for every device (including my Commodore 64 and vintage Macs). I'd have a Mac Mini always running at my desk and a new MacBook Pro (with all the dongles) for when I'm on the go. Because I work or save everything in the cloud, I could use them interchangeably. I might even run the Mac Mini as a file server with a RAID where I could dump everything that's currently on external hard drives.
---
What iPhone do you have?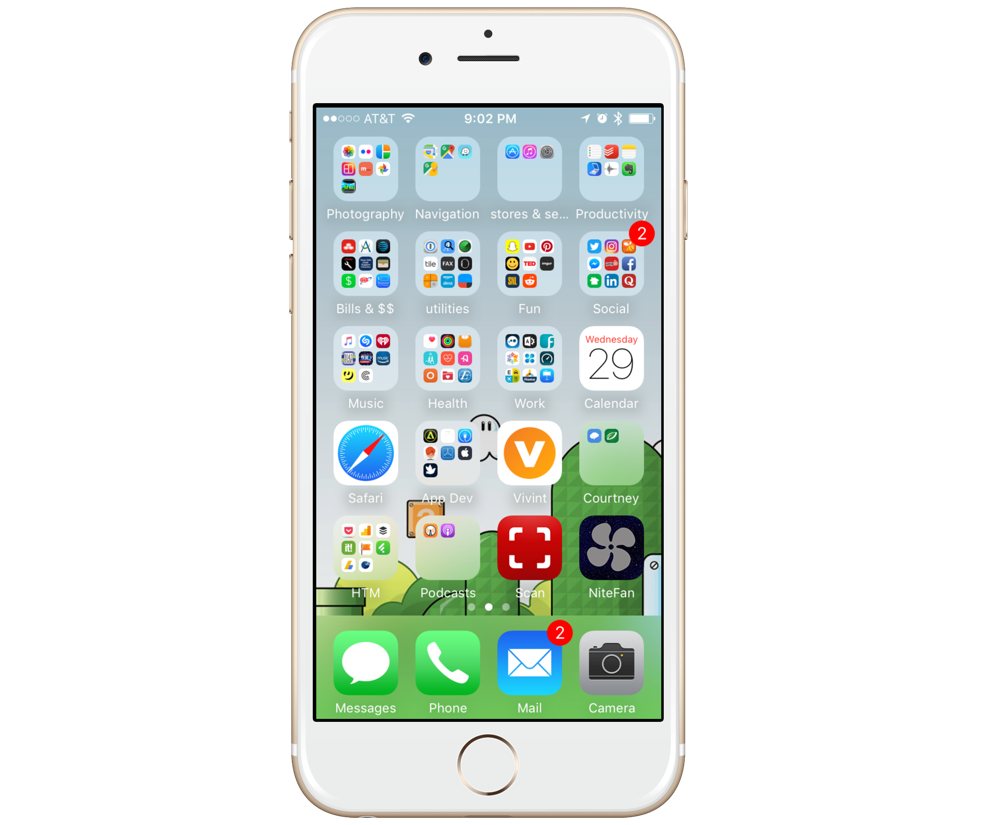 I currently use a Gold iPhone 6.
Where can we find your wallpaper online?
I've don't remember where I found it – I think a coworker may have shared it with me a couple of years ago.
What apps do you use the most, and why?
Snapchat for spying on my children.
Twitter for marketing my website and getting technology news.
Messages for communication.
Overcast for listening to podcasts, Audible for audiobooks, both of which I listen to on one of my longer work commutes.
NiteFan for falling and remaining asleep when the kids are up late at night or when traveling.
Vivint to monitor the cameras and alarm system at home.
Amazon Music and Alexa.
IFTTT for applets that automatically monitor which campus I'm at, that allow me to use Siri with Evernote and Todoist, and retweet articles from one of my favorite blogs.
Waze for the most accurate traffic information.
Which app could you not live without?
Messages!
---
Which iPad do you have?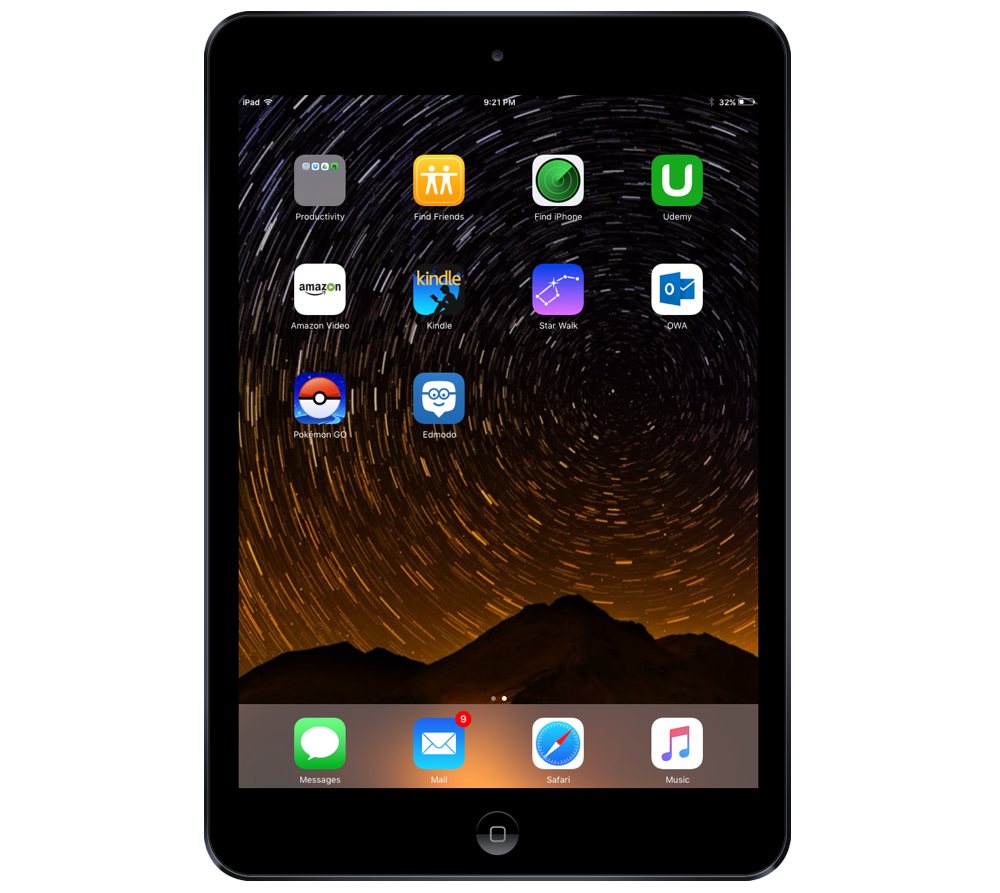 iPad Mini 16 GB 1st gen; Sometimes I use an iPad Air from work.
How are you using your iPad on a daily basis?
I really struggle to find a good use for an iPad in my daily life. My computer and iPhone are really all that I need.
I get the most use out of it when we travel. I usually erase it and just load videos, podcasts, or audiobooks that I want to have on my trip. When I go to conventions where I will only be taking notes, I like to use an iPad Air with a Bluetooth keyboard since my older MacBook is quite heavy to carry around all day. When I was taking college classes, I used Notability to take notes instead of a notebook. I also use an iPad Air to test out apps and configurations that our students will be using on their iPads.
What apps do you use the most, and why?
I am constantly erasing my iPads and loading them with different apps depending on how I'm using it at the time.
When it's used for entertainment when I travel: Udemy, Overcast, Audible, Kindle, Amazon Video.
For note taking: Evernote, Notability, Office Lens, Dropbox, OneDrive, and Office apps.
For our high school students: Notability, Edmodo, Office apps, Mail, Safari, Camera, iMovie, Google Drive, Dropbox, OneDrive, and iBooks.
Which app could you not live without?
Does the App Store count?
---
Which Apple Watch do you have?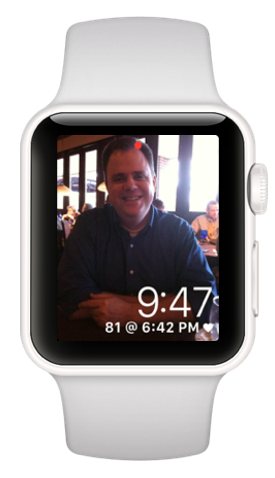 I have a 1st Gen Sport — I ordered it on the first day that they went on sale at 2am.
I use the custom photo face (my sweet husband) with a complication to show my most recent heartbeat reading.
How do you use your Watch on a daily basis?
I use my Watch mostly for text notifications. It's usually more appropriate to look at my watch instead of my phone at work, especially when I'm with a teacher or student.
I also use it to keep track of my activity, distance walked, heartbeat, and workouts, and it's also handy as a remote for music and podcasts.
Sometimes I even use it to see what time it is!
Apps used most often: Runkeeper, Cardiogram, Overcast, Messages.
---
There are more Sweet Setup interviews right here.
Want to share your setup? We'd love to hear from you. Just fill out this form with some basic information and we'll be in touch.
---
Wait. There's a Bonus….
Custom Productivity Templates
We have a set of custom productivity templates that work well with the iPad app, GoodNotes. And if you want to try them out, we've put together a free guide that can help you.
We'll show you…
How to create and save custom page templates in GoodNotes.
How to use those page templates to transform GoodNotes into your own productivity notebook (or any other type of notebook replacement).
Plus, we also have included a couple of our custom productivity templates for you to get started with. These templates are right out of our popular productivity course.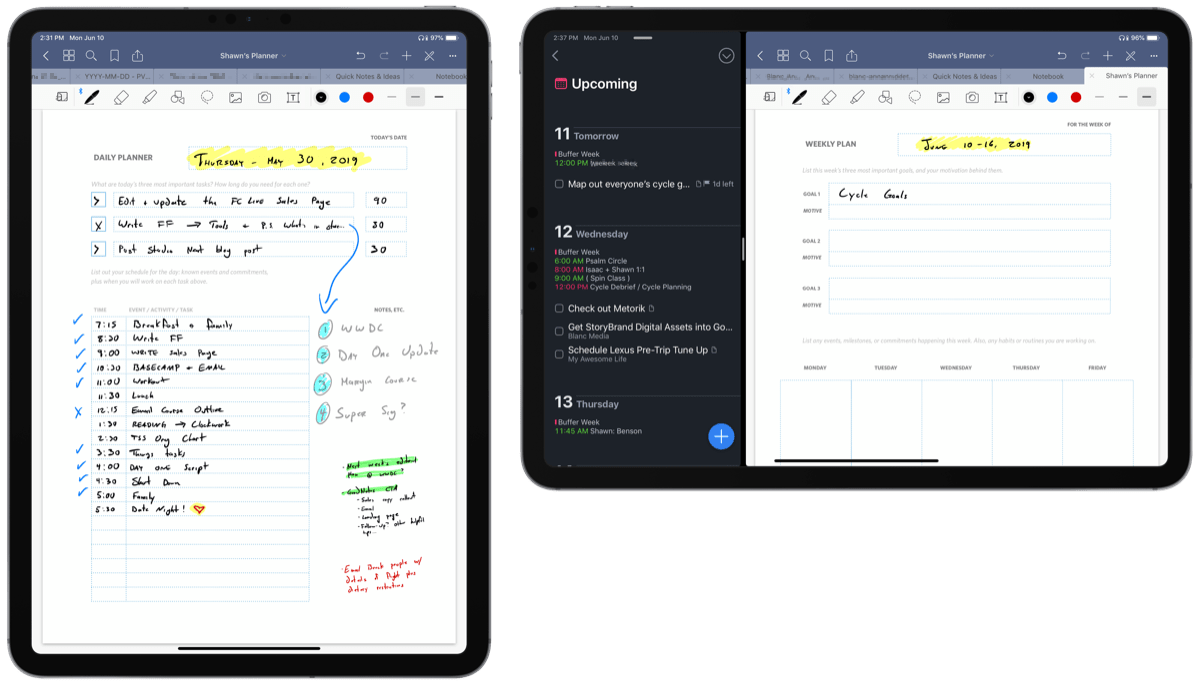 The custom templates and the guide are available for FREE to our email subscriber community. And you can get it right now. By joining the Sweet Setup community you'll also get access to our other guides, early previews to big new reviews and workflow articles we are working on, weekly roundups of our best content, and more.